One of the greatest challenges a growing merchant must face is warehousing inventory. After a certain point, they'll outgrow their garage or basement and will have to find a location to store their items. The cost of real estate can quickly add up. On top of that, warehouse logistics (picking, packing, and shipping) is a totally different challenge.

Luckily, there is a fulfillment service offered by Amazon called Fulfillment by Amazon or FBA for short. FBA is an order fulfillment solution that lets all types of sellers store, manage, and ship their products from Amazon warehouses. Using FBA takes the burden of the order fulfillment process off the extensive task list of a typical ecommerce business.
What is Fulfillment by Amazon?
Fulfillment by Amazon is a service that helps sellers store their products in Amazon warehouses. Sellers on any platform can use this service, which contributes to its popularity. FBA is a great option for sellers because Amazon handles the packing and shipping of the products while sellers can focus on running their business.

Pros of FBA
Amazon's FBA program has a lot of positive points — 92% of sellers agree. Some of the benefits that FBA sellers enjoy include:

Ease of scalability. With FBA's services, you can grow your business without new investments in warehousing, capital, or staffing. Instead, sellers can focus on marketing and sales to reach a larger audience and generate more revenue.

Cheap storage and shipping. FBA offers sellers cheap inventory storage, shipping, and packing costs. If your product sells through Amazon, you're looking at $1.04 per unit in packing costs and between $0.50 to $0.60 per pound of weight in handling costs. So if you sell items that weigh three pounds on average, you'd pay about $2.50 per order for shipping. Also, if your item sells through any other channel and Amazon is fulfilling it for you, then your standard-sized parcel ships for $1.90 for standard shipping, $0.60 for packing, and $0.45 per pound of weight in handling. So for the same three-pound product, you're looking at $3.85 per order for shipping, which is still very cheap. In comparison to what it would cost you to fulfill orders independently, this is a much cheaper option. You can read more about the costs of using Amazon FBA here.

Hassle-free shipping and returns. Order fulfillment is hard work with a lot of moving parts. You might be able to afford an employee or two to handle the process, but as your business grows, fulfillment will be harder to manage efficiently. Enter Amazon FBA. The fulfillment service puts your products through Amazon's simple customer returns process. You don't even have to deal with the customer or the logistics of shipping if you don't want to — all of that is done through Amazon.

Automatic Prime. When you fulfill with Amazon FBA, your items automatically qualify for Amazon Prime shipping. All Prime members get free two-day shipping for your products. The Amazon Prime badge is a huge sales motivator (and 84% of Prime members agree) — because the prospect of getting your products delivered quickly and for free is attractive to buyers. Most of the time, if an item is available from two sellers, one via Prime and the other via regular shipping, the Prime seller will get the sale. What's more, you don't have to pay anything more as a Prime seller — you'll be charged the same rate, regardless of whether or not your customer ordered via Prime or regular shipping.

Buy Box priority. Along with Prime, you may have noticed two things: sellers using FBA are higher up in the Buy Box, and they also have a little emblem saying "✔️Prime." In listings where 20 or more people are selling the same product, every inch you can move higher in the Amazon Buy Box could mean hundreds more orders.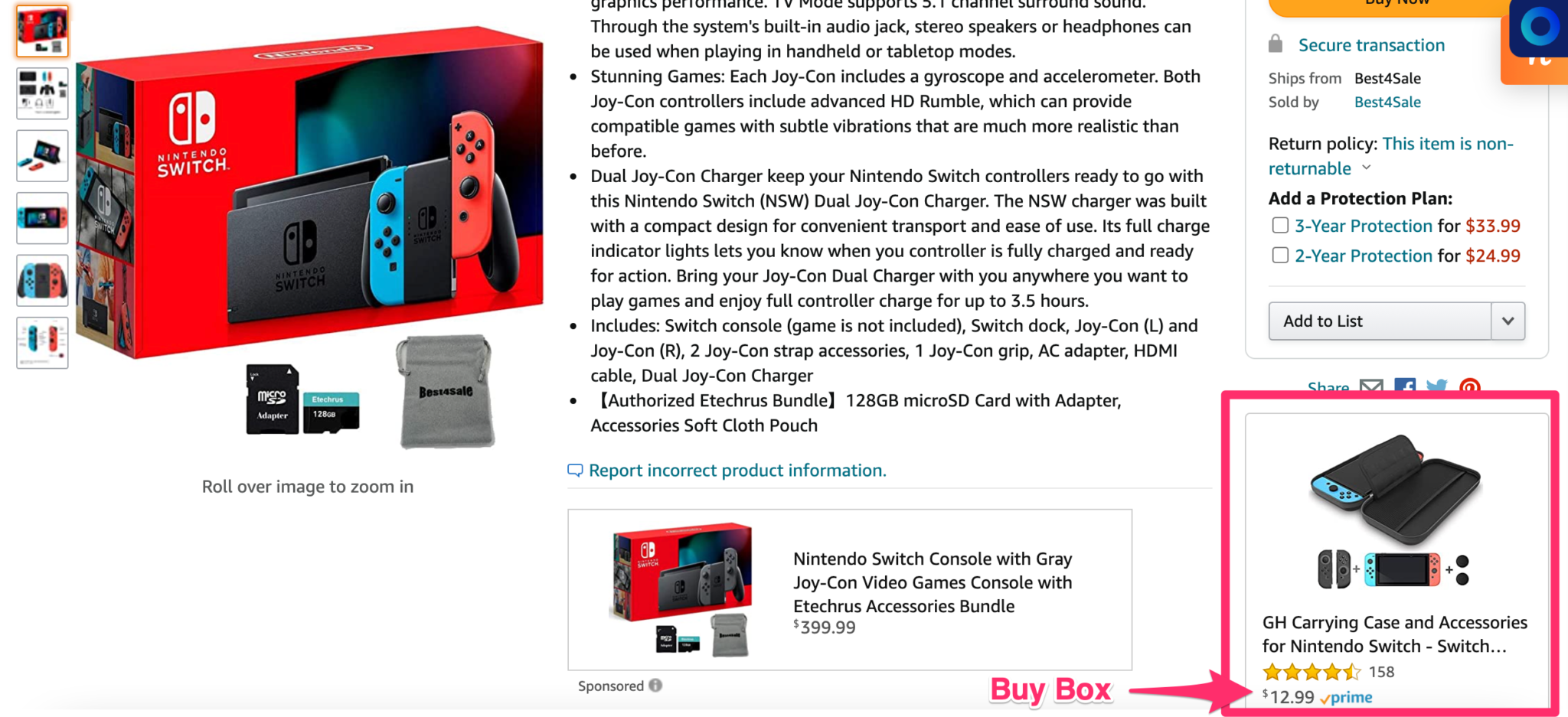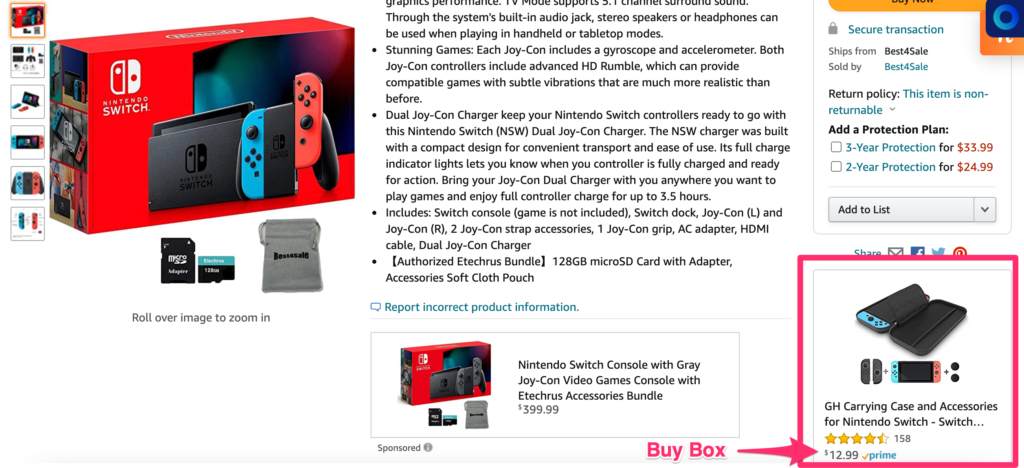 Source

Multichannel fulfillment. You're not limited to just selling on Amazon's marketplace. Third-party sellers can sell their products through any channel while storing and shipping their multichannel orders with Amazon fulfillment. There are even solutions that will automatically send your orders to FBA for you.
Cons of using Fulfillment by Amazon
No service is perfect, including FBA. Here are some downsides to using this service.

Stale inventory. Like any other warehouse operation, if you have hundreds, if not thousands of products in Amazon FBA, it's highly likely that not all of them will sell. You'll probably end up with quite a bit of stale inventory that you are paying long-term storage fees for and not selling. However, Amazon now offers sellers ways to manage and track excess inventory in their warehouses. Sellers can view all inventory-related information through the Inventory Management Dashboard. Amazon also provides extensive resources for sellers to learn and implement inventory management.

Pooled inventory. Due to the sheer quantity of products and sellers in Amazon's warehouses, not every merchant gets their own bin location for every product. Quite often, your inventory will be pooled with the same products from other sellers. This is generally not that big of a deal, but what it means is that the physical product your customer actually receives may not be the exact one you sent to Amazon. It may be one from another seller. There is a chance another seller will be selling the "same item" but of lesser quality or potentially even counterfeit.

Difficulty in shipping products to Amazon. Amazon has a very strict ASIN/UPC system, and you have to label each and every one of your products individually, pack them up into multiple shipments (that go to Amazon's multiple warehouses), and send them off. So one shipment to FBA will actually be three or four shipments, which will also add to your bottom-line costs. Amazon does offer a service where they will handle product labeling for you at $0.20 per product, so that may be worth considering as you are starting out.

If these cons are not deal breakers for you, then FBA just might be the perfect way for you to fulfill orders.
How much does Fulfillment by Amazon cost?
Amazon charges sellers to use FBA — sellers must carefully weigh the fulfillment fees and decide whether the service is the right approach for their business before taking the plunge.

For example, Amazon states that storage for standard-size products is $0.75 per cubic foot of storage per month, with the price varying by the time of the year. To be a little more conservative, let's assume a $0.90 rate. That's still pretty cheap compared to what you would pay in rent, utility, employee, and supply costs per month for a decent-sized warehouse. However, it may not be worth it for every seller.

Sellers can also expect to pay either a $0.99 flat fee per item sold or a $39.99 yearly fee depending on their account type. Shipping costs are included in these flat fees, which is a plus for sellers.

However, FBA might not be ideal for every situation and seller. For example, low-value items might not benefit significantly from the service because Amazon takes 15% off every product sold through FBA.

For a more detailed look at FBA fees, check out Everything You Need to Know About FBA Fees.
How to get started using Amazon's fulfillment service
Amazon has made it very easy for anyone to set up an FBA account. To do so, you'll need to follow these steps.
Create an Amazon Seller Account. If you don't have one already, set up your Amazon selling account. We have a great guide for new Amazon Sellers setting up their first account here.
Set up FBA. If you already sell on Amazon, you can register for FBA by going to Seller Central and clicking Get started.

Source

You'll need to choose between their pricing plans: Individual and Professional.


Source

Here's a more detailed guide to adding FBA to your account.
3. Create product listings. You have the option of adding products to your store "one at a time, in bulk, or by integrating your inventory management software with Amazon's API." For a more detailed explanation, we have a great guide to listing products on Amazon.
4. Prepare your products. You'll need to prepare, package, and label your product properly for smooth transportation. Amazon has certain requirements regarding how they receive products, which you can find out more about here and here.
5. Ship your products to Amazon. Whether you'll be shipping within the U.S. or internationally, you'll need to create a seamless shipping workflow. Create your shipping plan, label your products properly, and send them to Amazon fulfillment centers.
Once your products have been delivered and processed at the fulfillment center, they will be available for customers to buy.
Is Fulfillment by Amazon worth it?
The answer is: it depends on your business model. There are definitely sellers who have made significant gains using FBA and others who haven't. Much like any service, you need to weigh its benefits, downsides, and pricing against your existing business and budget to decide whether it's worth it for you.
Note: An earlier version of this article was written by Shabbir Nooruddin. We've updated this post and these are not necessarily all the original author's words.