Business naming is big business. In fact, there are entire companies whose sole product is helping entrepreneurs identify the perfect name for their venture.

Naming a business is not only difficult because of the endless possibilities available. It's also challenging because so much can ride on a name. In fact, 77% of consumers make purchases based on the brand name.

A great name can have a significant impact on your business, and that's no different when you're deciding on your Etsy shop name. Here are some important factors to keep in mind when selecting the perfect name for your Etsy shop.
1. Make it Reflect Your Business
A popular naming strategy is to name your store in a way that tells people what to expect from you. Take Just Bulbs in NYC. They sell, you guessed it, just bulbs. Nothing else. It's not only practical to name your business in such a literal sense, but it could also benefit you from an SEO-perspective.
Try an Etsy Shop Name Directly Related to Your Products.
If you're a niche vendor and unsure where to begin, a good formula for Etsy shop names is to focus on the product you plan to sell. To get started, try plugging in words to Shopify's Business name generator.

You can also pair a product name (or a product you intend to focus on) with an adjective that reflects your business' style or vibe. Names like these can be suggestive, descriptive, and emotive, and a little good old-fashioned clarity never hurts.

There are some inherent downsides to following a naming formula like this, though. If you decide to expand or change your product offering down the line, your name may no longer be an accurate representation of your business.

For inspiration, here are a few Etsy shops that were named with the chief product in mind:

TheHousePlantNursery, a shop specializing in plants and related products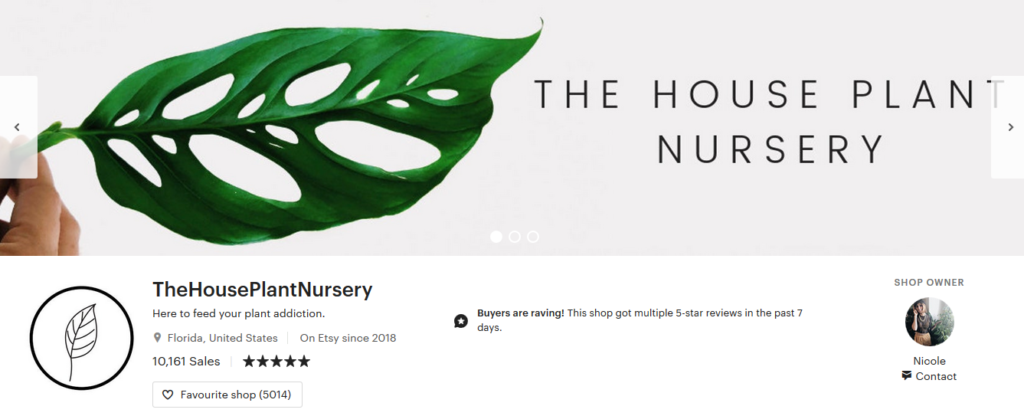 ReclaimedWoodUSA, a shop specializing in 100% eco-friendly creations


Use Your Name or Someone Else's.
Many business owners opt to name their business after themselves, someone else who's involved, or someone near and dear to them, like their child or pet.

If you (or the namesake) are an integral part of the business, naming it after yourself/them can be endearing — especially if people are familiar with your/their name and craft. One of the absolute best advantages to this practice is that your shop name won't restrict you by product type, leaving you free to expand your offerings over time.

Before you hop on this bandwagon, though, there are some key disadvantages to this naming practice to bear in mind. It's not great if the chosen name is not well-recognized by potential customers or if the namesake won't be the sole producer, artist, or proprietor. The vagueness of such a name may also make it difficult for new customers to decipher what you sell.

For inspiration, here are a few Etsy shops that were named using this common naming practice:

ShopCollinGarrity, a shop owned and operated by designer, woodworker, and minimalist, Collin Garrity


JenniferCasady, a shop specializing in unique handmade jewelry from owner/operator Jennifer Casady

2. Make it Original
Choosing an original Etsy shop name is a must. For one, Etsy doesn't allow copycat names unless they're altered just enough to be deemed original. But choosing an unoriginal business name can also be detrimental to your business in several ways.

Registering a domain for an unoriginal business name is challenging. If you have a website, you might not be able to purchase a domain name for it if your desired name is unoriginal. If the .com domain you want is taken, you can often work around the issue by purchasing something slightly different, like .life, .org, .web, .ca, etc., but that comes with its own downsides.

Another domain challenge is that if your desired shop name is a cliche, the domain name may be available, but only for an exorbitant price. For example, DinnerHere.com is available for the high price of $3,235.29. It's cost-effective to be original.

You might confuse customers and inadvertently send them elsewhere. This applies to both unoriginal business names and domain names. Potential customers may search for your business by name or type in your store name tacking on a .com without thinking about it. As a result, they may wind up on another company's website.

Creating social media handles for an unoriginal business name is challenging. It's best to use your shop name for your handles on social media as well. In fact, it's ideal if you can use the exact same handle across all your channels and platforms because it could become a major pain for your followers to find you online if you can't. Better safe than sorry, so search well online before you commit to any name — no matter how good it sounds.

A business may sue you. It's important to research if another business has trademarked your desired business name. If you don't, and you adopt it as well, there could be serious consequences. For example, if you use a business name trademarked by another company, the business may ask you to stop using it. That business could also take legal action against your company if you refuse to change your name.

Best practice is to search for existing trademarks on your desired business/shop name before adopting it for your business. Be sure to check with your local trademark authority before you commit.
Try an Abstract Name.
Your Etsy shop name doesn't have to be reflective of anything. Using a little psychology, it can be totally abstract.

You could opt to use a made-up name or an abstract word that is in no way reflective of your products, personal name, or shop's vibe. This is a popular naming strategy for good reason. Abstract names are great from an originality perspective, which even helps with SEO.

Before you put all your eggs in one basket, though, there are some disadvantages to this naming practice worth your consideration. They can be forgettable, and few things are worse in business than being forgotten. Abstract names are also unintuitive, so customers will have to work a little harder to figure out what you do.

For inspiration, here are a few Etsy shops that were named using this practice:

TataSol, a store that sells embroidery kits and embroidery patterns in PDF form
wildblacksheep, a shop that specializes in made-to-order clothing and accessories

TheSilverWren, a shop that specializes in personalized and layered necklaces

freefille, a store that specializes in handmade macrame plant hangers

Onata, a shop that specializes in handmade jewelry made in an Earth-conscious way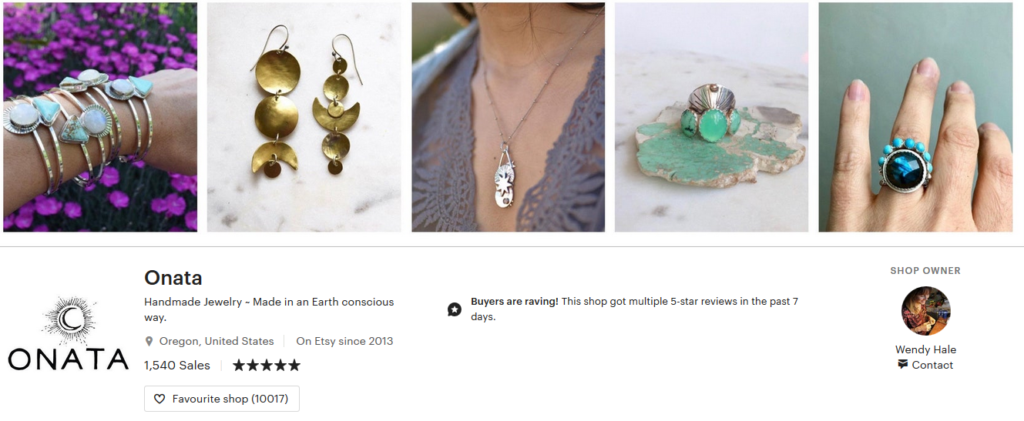 3. Make it Memorable
Making your Etsy shop name memorable is important for a multitude of reasons. It increases the likelihood of referrals and word-of-mouth business. A memorable name also stays on the tip of the tongue, which makes it easier for customers to recommend you to others.

And it makes ads more effective. If the goal is for people who encounter your ads to remember your shop by name, a forgettable name will work against you.

Then, of course, put the memorability of your shop name to the test by mentioning it to friends and family. Wait a few days, then ask them to pronounce and spell it.
4. Make it Short and Sweet
Word of mouth matters greatly to the success of your business. If those who have heard your business name cannot easily pronounce it or spell it, they might never find it online or recommend it.

A short name is best, as Etsy and social media platforms have character limits on usernames, as outlined below.
Etsy: No more than 20 characters long
Twitter: No more than 15 characters long
Instagram: No more than 30 characters long
Facebook: No more than 50 characters long
Keep all of this in mind in the brainstorming phase.

If your Etsy shop name is difficult to spell, your online search results could also suffer. This is because fewer potential customers will be able to find you online. If online shoppers misspell your name on search engines like Google, you could lose out on site traffic.

5. Make it SEO-Friendly
You should factor Etsy SEO best practices into your business name choice — but that should be pretty easy to do now because the naming best practices we discussed above play into SEO. Ultimately, your goal is for your business to appear as a top search result for your products and services and your business name. Here are some key SEO considerations to keep in mind when choosing your business name:

Consider your product. Including the key focus of your business in your shop title can also help with SEO. Your Etsy shop title will be the page title of your shop page and is the first text people see when a search engine links to your shop. So make good use of this opportunity and consider an Etsy shop name that identifies the products you sell.

SoapMakingTools, a shop that sells only soap-making tools

Be different. The more unique your shop name, the better it will rank in search engines. Avoid adopting the same name, or a similar name, as a major competitor that you will actively compete with in search.

Make sure there are social handles to match your desired shop name. If you've narrowed down an original business name, ensure you can secure social handles to match before you pull the trigger.

Avoid keyword stuffing — where you attempt to squeeze multiple keywords into your business name. While including lots of keywords in your shop name may seem like a great idea, it could result in your domain being blacklisted. If you stuff keywords into your business name, its originality will suffer as well. As a result, you will struggle to compete in search results.
What Will Your Etsy Shop Name Be?
We hope you use these tips to create the best possible Etsy shop name to help you on the road to ecommerce success.

The more strategic you can be about the process from the get-go, the better. Don't be too intimidated by the permanence of all of this — you can change your shop name on Etsy as many times as you want before you go live, and once your shop is open, you can still change the name up to five times.