Etsy and eBay are two of the most notable online marketplaces in the world. Chances are, you've probably bought something from them — but have you sold something with them? Each platform has its pros and cons for sellers. We've put them head-to-head across a number of categories so you can see exactly how they stack up for your business.
Customer Base
eBay is a leading online marketplace where just about anything (both new and used, but mostly new) is sold to a largely American customer base looking for well-priced and often mass-produced items. Etsy, on the other hand, is a smaller global marketplace where mostly American buyers flock for handmade, unique, vintage finds, and products with creative flair.
Etsy
While Etsy is a smaller platform than eBay, they attracted a significant 45.7 million buyers in 2019. If you're trying to target customers who value product quality and are looking for artisanal goods, this may be the best platform for you.

If building a loyal customer base is essential to your business strategy, Etsy is a good place to set up shop. In 2015, Chad Dickerson (former Etsy CEO) revealed that 81% of Etsy's sales sales were, "repeat purchases made by new, retained, and reactivated buyers."

If your sights are set on U.S. customers, rest assured that Etsy attracts a largely American customer base — with only 34% of purchases coming from outside the U.S.

And many successful sellers have turned their Etsy shops into full-time jobs.
eBay
In comparison to Etsy, eBay is a behemoth marketplace. As of the fourth quarter of 2018, eBay was the second-largest market in the United States. It had 183 million customers worldwide by the fourth quarter of 2019, and more than 70% of its customers are American, with customers from other countries accounting for very small percentages (China accounts for 1.93 percent, Canada accounts for 1.84 percent, Russia accounts for 1.75 percent, United Kingdom accounts for 1.69 percent). Though pretty much anything sells on eBay, it's worth noting that the majority of sellers sell new, mass-produced products.

What you choose to sell on eBay will potentially determine your level of success there. The platform's Electronics & Accessories category is the top seller (16.4), and electronic items with Bluetooth capabilities sell best in that category. In fact, 5 out of eBay's 12 top-selling electronics are Bluetooth-enabled. Clothing & Accessories is the second top-selling category (16%).

Eighty percent of goods sold on eBay are new — but don't jump to any conclusions about eBay being an unsuitable platform for selling used items. Internationally, over half of the used items listed on eBay sell, and only a third of new items listed sell. For ebay.com (U.S.), 56.3% of new items listed sell, and 39.8% of used items sell.

Shipping
Both eBay and Etsy go out of their way to make shipping easy for sellers, but it's important to note that if you decide to sell on eBay, you may feel obligated to offer free shipping in order to compete with other sellers. Both eBay and Etsy offer sellers handy shipping tools and resources to make managing shipments easier. The tools and resources vary platform to platform.
eBay
On eBay, there is considerable pressure on vendors to offer free shipping in order to compete. This is at your own expense, so you need to factor it into your listing pricing. Not everyone can afford to offer free shipping, but shipping for the majority of purchases made on eBay (71%) is free.

There is additional pressure to sell low-priced items on eBay. The marketplace is known for competitive low pricing, and users can even sort search results by lowest price + shipping, as illustrated below. As a result, offsetting free shipping with your listing pricing could be a challenge.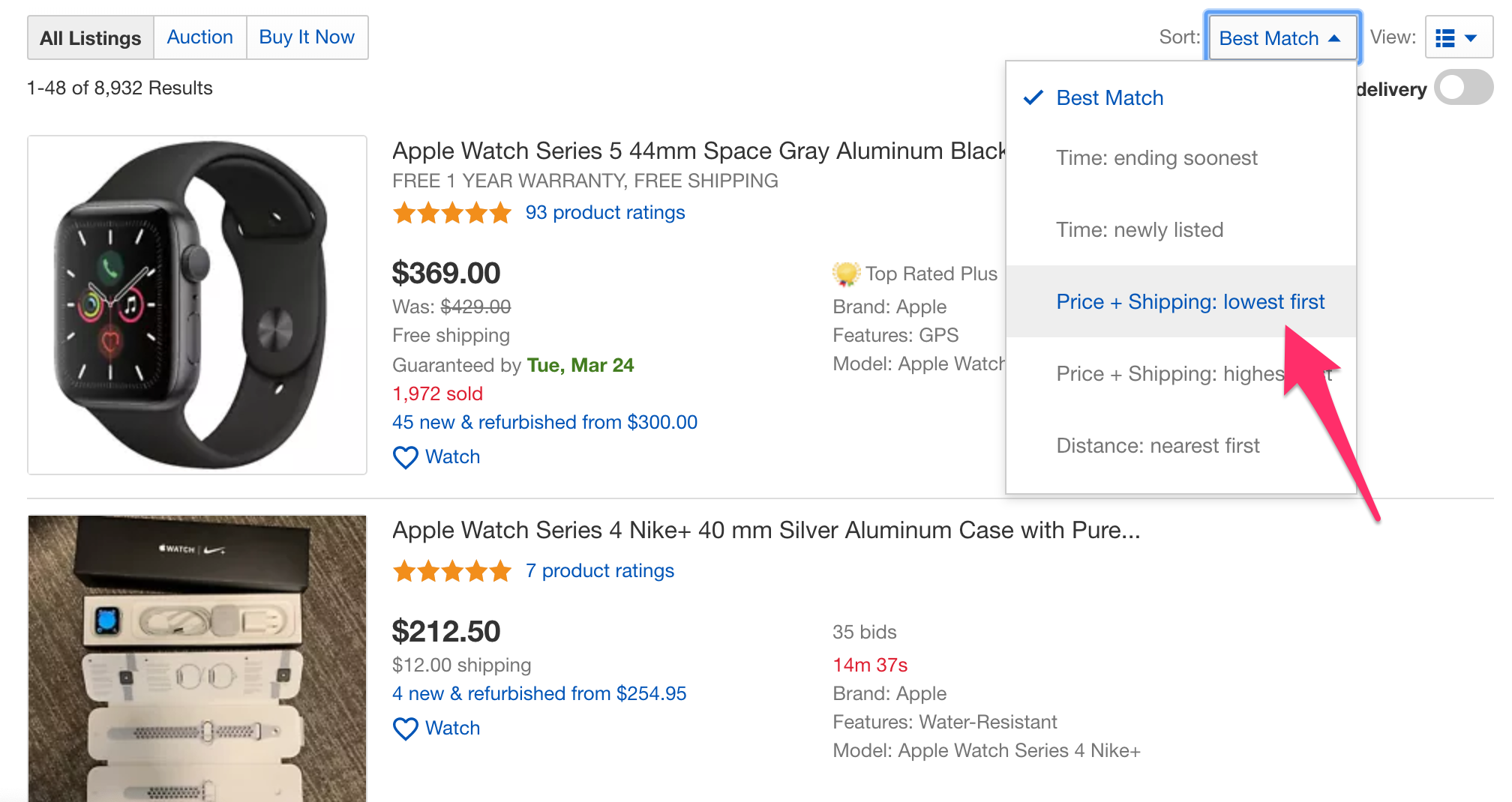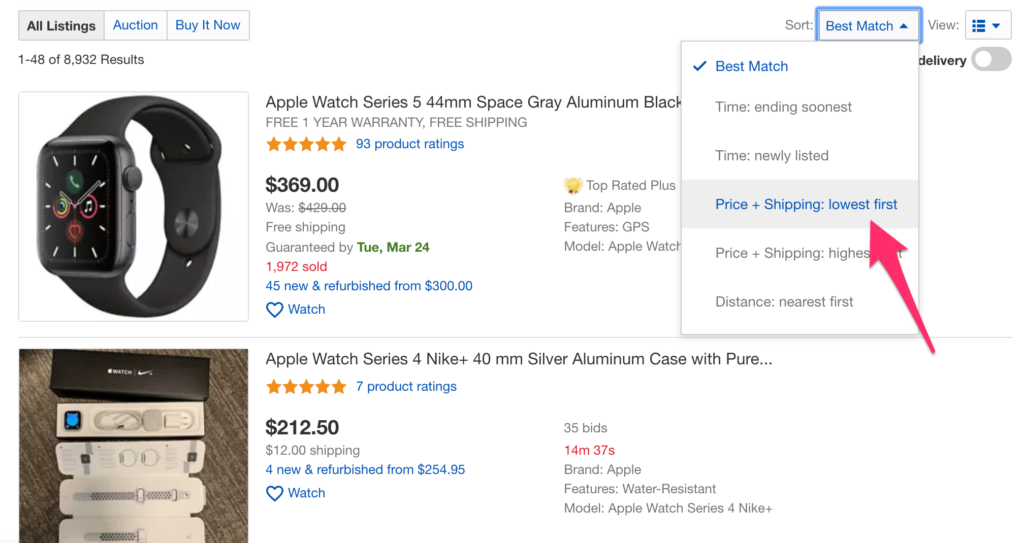 eBay makes shipping easier by providing its sellers with certain shipping tools and capabilities. They include shipping labels, which they can print at home; free co-branded shipping supplies; a shipping calculator to estimate cost of shipping via various carriers; the option to ship internationally; and the ability to offer buyers shipping discounts, flat rates, and free shipping.
Etsy
Shipping with Etsy is worthwhile. It's cheaper than shipping directly with most carriers because Etsy offers sellers discounted postage labels (for carriers like USPS, FedEx, and Canada Post).

Much like eBay, Etsy offers its own handy tools and capabilities that make shipping easier for sellers, such as calculated postage. Convenient shipment tracking so you can feel in control; the ability to create, edit, and bulk edit delivery profiles to automate shipping; and assistance with customs forms, so crossing borders is a breeze.
Seller Fees
At first glance, eBay seems more inviting for new sellers because it incentivizes them with up to 50 free listings per month. Etsy doesn't roll out the welcome wagon in that way, but its fees are more predictable than eBay's. Etsy always requires listing fees, but those fees are more defined and standardized than eBay's fees — which can vary greatly, depending on a variety of factors determined by the seller. Both platforms enable users to create an online store, but Etsy's Pattern stores are more affordable than eBay's.
eBay fees
Sellers on eBay must pay the platform's monthly and/or annual fees. These fees vary seller to seller, depending on the number/type of listings they publish, the number of items they sell, and any advanced listings that they purchase.

eBay's fees can be paid automatically or via one-time payments. Your eBay fees will vary dramatically if you're a casual seller or have an eBay store. Stores on eBay require a subscription. The fees for an eBay store subscription are as follows:
If paid monthly:

Basic plan costs $19.95
Premium plan costs $59.95
Anchor plan costs $299.95

If paid annually:

Basic plan costs $24.95
Premium plan costs $74.95
Anchor plan costs $349.95
Listings on eBay incur Insertion Fees (listing cost) and Final Value fees (percentage of final sale) that vary based on the seller's use of eBay (if they do or don't have an eBay store subscription). eBay gives sellers up to 50 free listings each month to incentivize them to sell more on eBay. If eBay fees are left unpaid, sellers are issued late fees, and their accounts can be suspended. You can explore eBay's Fees Table for exact figures here.

Etsy fees
Fees on Etsy are better defined and more consistent than on eBay. Listing and listing renewal fees are priced at $0.20 per item, and Etsy's listings expire after four months. Listings are renewed automatically unless otherwise terminated via manual termination.

For listed items, no additional listing fees are charged to sellers who wish to put those listings on their Etsy Pattern store (Etsy's personalized website tool), and sellers incur no listing fees for Pattern-only listings. Unlike standard listings, Pattern-only listings do not expire. Etsy does not charge sellers to edit listings. When listings sell, sellers incur transaction fees, which are deducted from the seller's balance (5% per sale plus any delivery and gift-wrapping charges).

Etsy sellers in good standing are eligible for Etsy Plus — a subscription that helps Etsy sellers take their stores and sales to new heights. It costs $10 USD/month and is deducted from the seller's balance monthly.

Payment processing fees for online sales apply if you use Etsy Payments (these fees vary based on bank account location). Sellers may also incur payment account currency conversion fees to convert from USD.

If you use Etsy Pattern, your site is free for the first 30 days, followed by a $15 USD/month subscription fee — much less costly than the eBay equivalent.

Advertising Fees
Etsy's and eBay's advertising fee structures for their in-platform ad programs are distinct from each other. The fees for Etsy's in-platform advertising program, Etsy Ads, are fairly standard — comparable to Google AdWords and Facebook. Etsy requires sellers to choose a daily maximum ad spend and pay cost-per-click (CPC) fees. eBay's advertising fee structure is based on a percentage model — one that Etsy recently adopted for its new external ads program.
eBay
eBay's advertising rates are chosen by the seller and based on a percentage of the item's sale price. As a result, an eBay seller knows exactly how much they will pay to advertise and sell the item from the outset.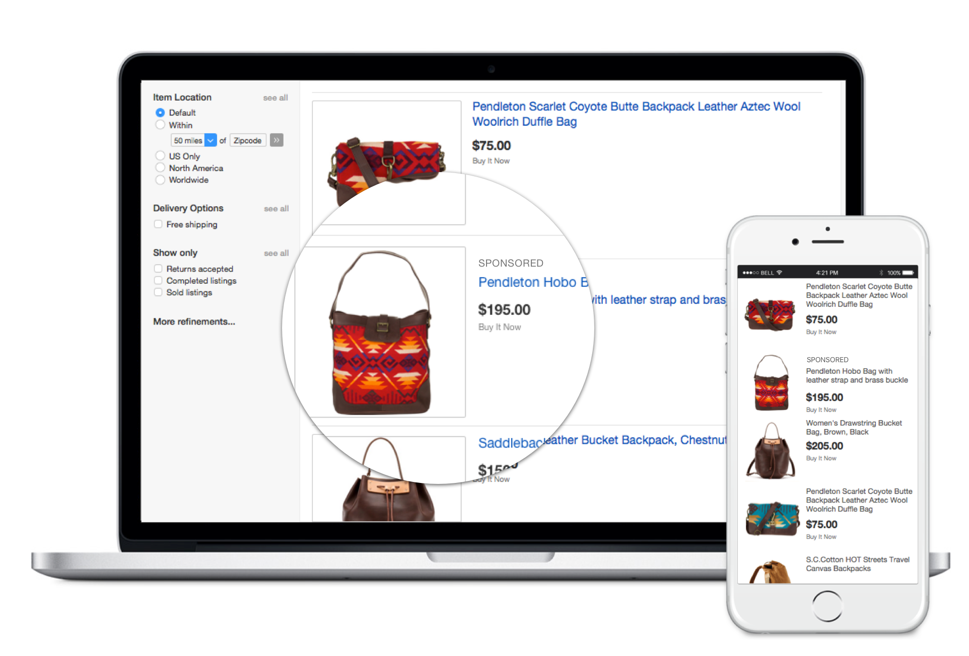 eBay ads are lower risk than classic Etsy Ads because the seller pays only when the item sells on eBay. Etsy Ads, Etsy's in-platform ads, are charged per click regardless of whether the listing sells. The eBay ad rate is charged only when a buyer clicks on a promoted listing and purchases it within 30 days of the click. The fee is based on the ad rate that was in effect at the time of the first click.
Etsy
Just like Facebook ads, Etsy's advertising rates for its in-platform Etsy Ads are based on a daily budget set by the seller — their maximum daily spend. Etsy's default minimum daily budget is just $1.00. Sellers are charged when ads are clicked, and CPCs are calculated daily and added to the payment account of the seller on the following day — which means Etsy advertisers are paying up front without any guarantees that their ads will pay off.


In February of 2020, Etsy introduced a new advertising service called Offsite Ads. It's designed to be risk-free — Etsy users get charged a percentage (12% if the vendor makes over $10,000 USD in 12 months, 15% if under) only when they make a sale. These Offsite Ads are promoted exclusively outside of Etsy's platform on Google, Facebook, Instagram, Pinterest, and Bing.
Seller Experience
Seller experience is quite different on eBay vs. Etsy when it comes to performance, tools, and more. A major difference is that eBay is a more competitively structured platform, while Etsy is more communal.
Performance: eBay
Seller performance matters greatly on eBay. The more hard work you put into it, the more eBay will reward you. Sellers are encouraged by eBay to create a pristine customer experience and make lots of sales in exchange for eBay's stamp of approval — seller levels. These levels are like badges of honor that let customers know they're in good hands — which in turn helps the seller make more sales on eBay. Seller levels (like Top Rated and Above Standard) let customers know that buying from the seller will most likely be safe and enjoyable.

To become a Top Rated Seller, you'll need to have an eBay account that's been active for at least 90 days; have at least 100 transactions and $1,000 in sales with global and/or U.S. buyers over the past 12 months; comply with eBay's selling practices policy; and meet the requirements for transaction defect rate, cases closed without seller resolution, and late shipment rate.

eBay's seller levels aren't the only seals of approval on the platform. eBay customers can also provide sellers with public feedback via eBay feedback scores. These scores show potential customers what they can expect.
Performance: Etsy
On Etsy, a seller's performance is less critical and is not as highly scrutinized by the platform. Customers' opinions matter most. Etsy Reviews allows buyers to rate their experiences with Etsy purchases.

Sellers are members of an extensive maker community on Etsy. It enables sellers to offer each other support and helpful critiques through Etsy's community forums. Etsy encourages sellers to follow their company policies and gives guidance on ways to improve their selling (like via good marketing and advertising) but doesn't rate sellers.
Seller Tools: etsy
Etsy has a more relaxed community vibe than eBay. This approach makes it well suited to small businesses. Sellers are encouraged to help each other succeed, and Etsy gives free practical advice on how to sell well via the Etsy Seller Handbook. This digital handbook provides advice and inspiration to Etsy sellers via articles on key topics such as product photography, pricing, and getting found.

In addition to the handbook, Etsy community forums offer sellers the opportunity to support each other directly, share advice, and provide friendly critiques.

For the seller on the go, the Etsy app helps sellers manage their business while out and about.
Seller tools: eBay
eBay can be a highly competitive marketplace. Sellers are encouraged to scale up, expand their listings, and thrive. To help them do that, eBay offers the following professional tools that are designed to help sellers hit and surpass their goals:
Etsy vs. eBay: Which Will You Choose?
Where will you choose to sell? Do you really have to choose?

Both eBay and Etsy are outstanding online marketplaces that could potentially be a great fit for your business. It all depends on what you intend to sell and who your potential customers are.

While Etsy is undoubtedly a more niche marketplace that's well suited to smaller businesses that sell handmade, creative, artistic, unique and vintage products, eBay can potentially work for any seller because of its massive reach and vast diversity of inventory. We hope this cross-comparison helps you find the right online marketplace for your business.