With more than 60 million items in its marketplace, and total sales of nearly $4 billion in 2018, Etsy is one of the most popular platforms for online sellers. While many of its users sell their wares simply to share their creative works or supplement their incomes, others have turned their Etsy stores into full-time endeavors.
In fact, about 26% of sellers run their Etsy shops as full-time businesses, according to Jennie Smith, Etsy's former seller growth manager.
How did these crafty entrepreneurs transform their stores into profitable businesses? Take a look at the unique approaches these sellers took to become Etsy success stories.
1. Maeven Vintage: Pay attention to analytics.
Amy Yee launched her Etsy shop, Maeven Vintage, which sells vintage clothing and accessories, in 2012. Within a year, she was able to turn her passion for collecting, repairing, and reselling antique items into her day job. Her ability to quickly make her ecommerce venture not only profitable but also a career was possible because she researched past sales and used Etsy Stats to gain insights into the website's vintage market and track customer behavior.
Etsy Stats provides sellers with their shop's analytics, which allows them to look at a variety of data, including key metrics like views and visits, traffic sources, and revenue, among many others. Sellers can also see which terms brought buyers to their shop and can easily see their most- and least-visited listings.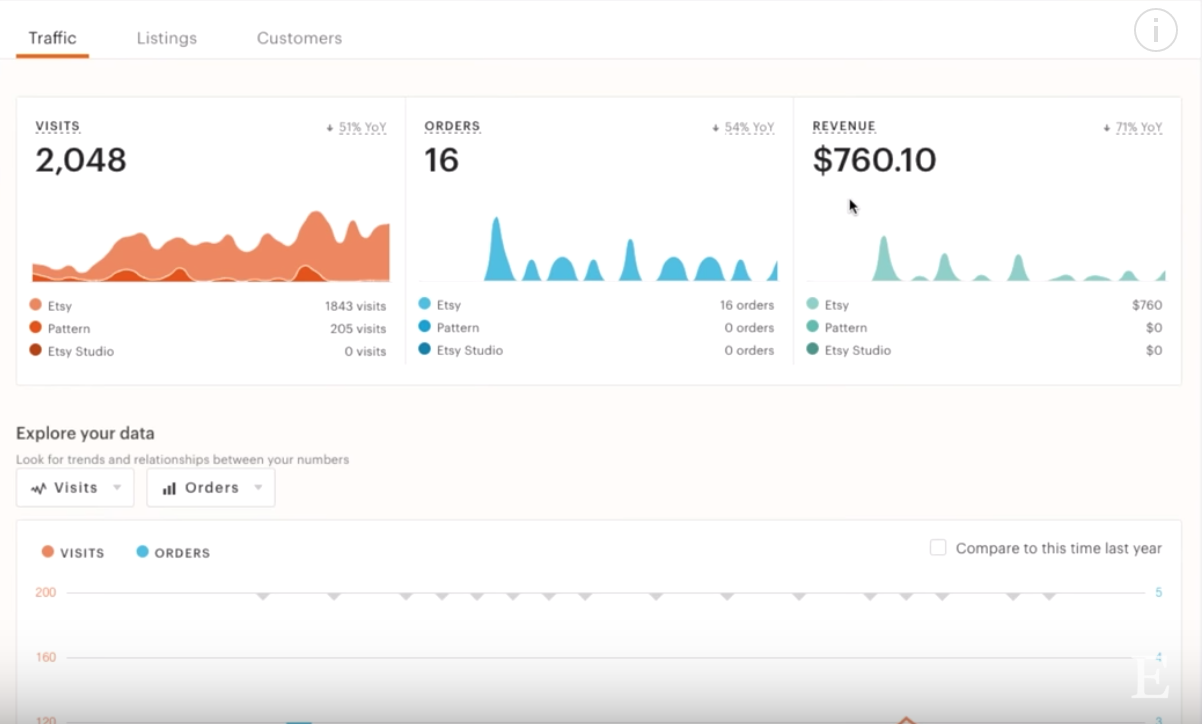 Yee took advantage of these tools to track what types of vintage items were selling on Etsy and at what price points, which helped her determine what customers wanted. She also used the marketplace's analytics to see where her customers were based and which keywords they used to find her shop. Armed with this knowledge, she was able to optimize her shop for search, reach new customers, and, ultimately, turn a profit.
Using this data also enabled her to identify long-term trends and keep a close eye on how revenue grew over time. This helped her create a budget and prepare for next steps in making Maeven Vintage a full-time job. "When I decided to go full time, I wrote a business plan with my expenses and costs," she says. "What would my cash flow look like?"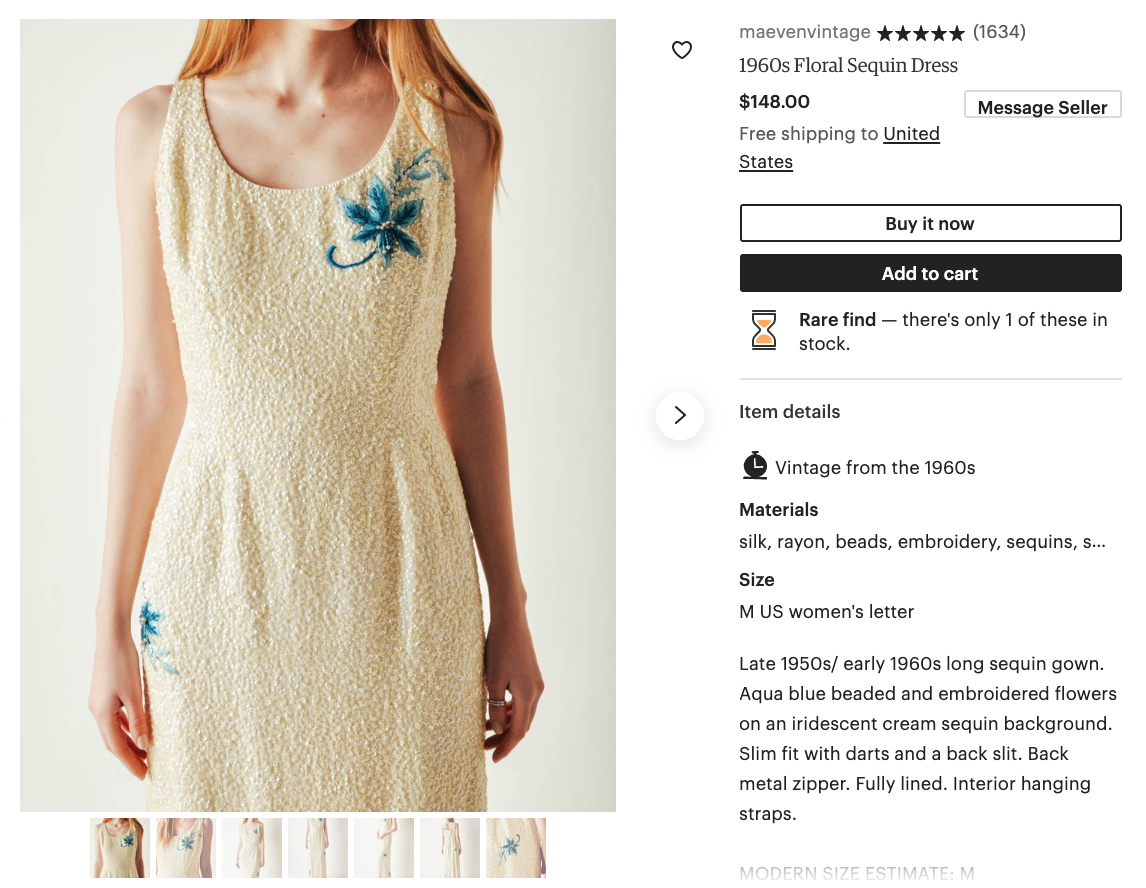 With a budget and business plan in place, Yee was able to expand her shop beyond the digital space and now hosts numerous pop-up shops with her products in New York. Maeven Vintage has also been profiled in numerous websites and publications, including Refinery29, which highlighted her shop as one of New York City's best.

2. Three Bird Nest: Let photography sell your products.
Alicia Shaffer, often referred to as Etsy's richest seller, made numerous headlines for raking in $70,000 a month in sales. In 2015, her shop, Three Bird Nest, earned nearly $1 million on the platform. She attributes much of her success to how she presents her products, using professional lighting, models, and photographers for each of her products, making them distinct among other listings.
While Shaffer now sells her products exclusively on her own website, she still employs the same tactics she used on Etsy to ensure that each item stands out photographically. In addition to quality imagery, Shaffer considers styling for every product, whether it's a dress or a romper or a hat or a pair of earrings.
Each listing not only features the individual product but also showcases the item as part of an outfit, complete with accessories. And, instead of employing a simple white background to showcase products, Shaffer's models are shot in a variety of indoor and outdoor locations, showing her apparel and jewelry in the real world and helping Three Bird Nest truly establish itself as a lifestyle brand.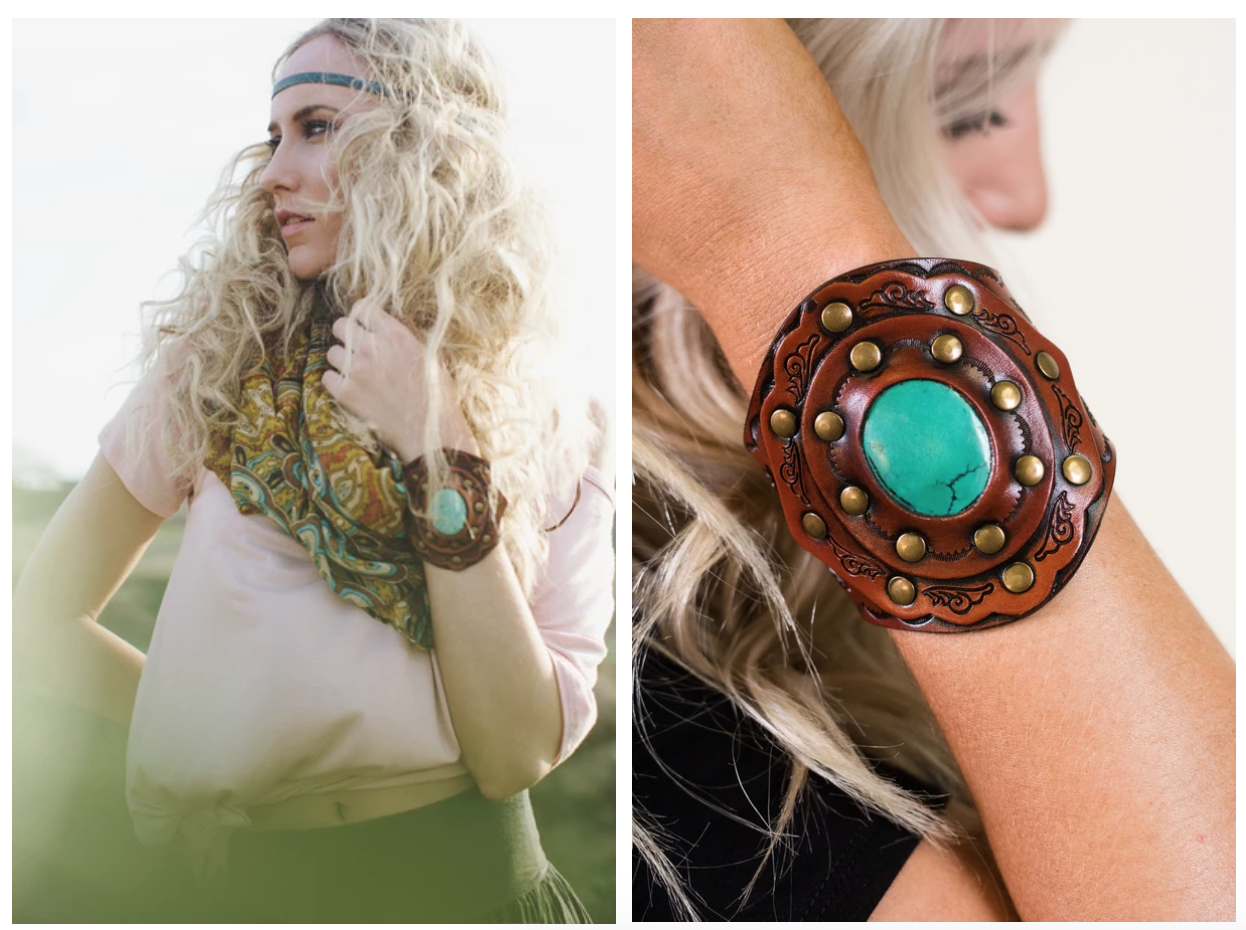 When Shaffer was selling on Etsy, she paid close attention to competitors who were selling similar items and identified what was and wasn't working with their product imagery. She also requested feedback to see if her product photos were enticing. "I always ask other Etsy shop owners, 'Would you click on your item?'" Shaffer told Fast Company in 2015. "If you search 'lace headband,' 24 headbands show up. Which do you click? You want to make sure you're looking at your shop from the shopper's perspective."
3. Skin Foodie: Put customers and kindness first.
The raw, organic ingredients Aubrey B. puts in her Skin Foodie products are all about being kind to your body, and it's a message she communicates in all of the interactions of her brand, which has enabled her to offer incredible customer service.
Whether it's in interviews with bloggers or on Skin Foodie's Instagram account, Aubrey B. is open, kind, and transparent with customers and users, even going so far as to share her own setbacks when it comes to her personal efforts to practice kindness. Skin Foodie achieved its five-star Etsy rating by responding to customer feedback — both positive and negative — and answering customer queries promptly. So while customers may arrive at her store seeking natural skin care solutions, what keeps them coming back is the top-rate customer service this Etsy shop offers.

However, while quality service is a benefit in itself, there's another upside to killer customer service: improved search ranking. Etsy's algorithm considers a shop's customer service rating and whether the shop is in good standing with the marketplace's policies to calculate the shop's "customer and market experience score," which determines search placement.
Skin Foodie's excellent score has helped place the shop higher in search, and today the shop is Etsy's top seller in bath and beauty products, according to eRank.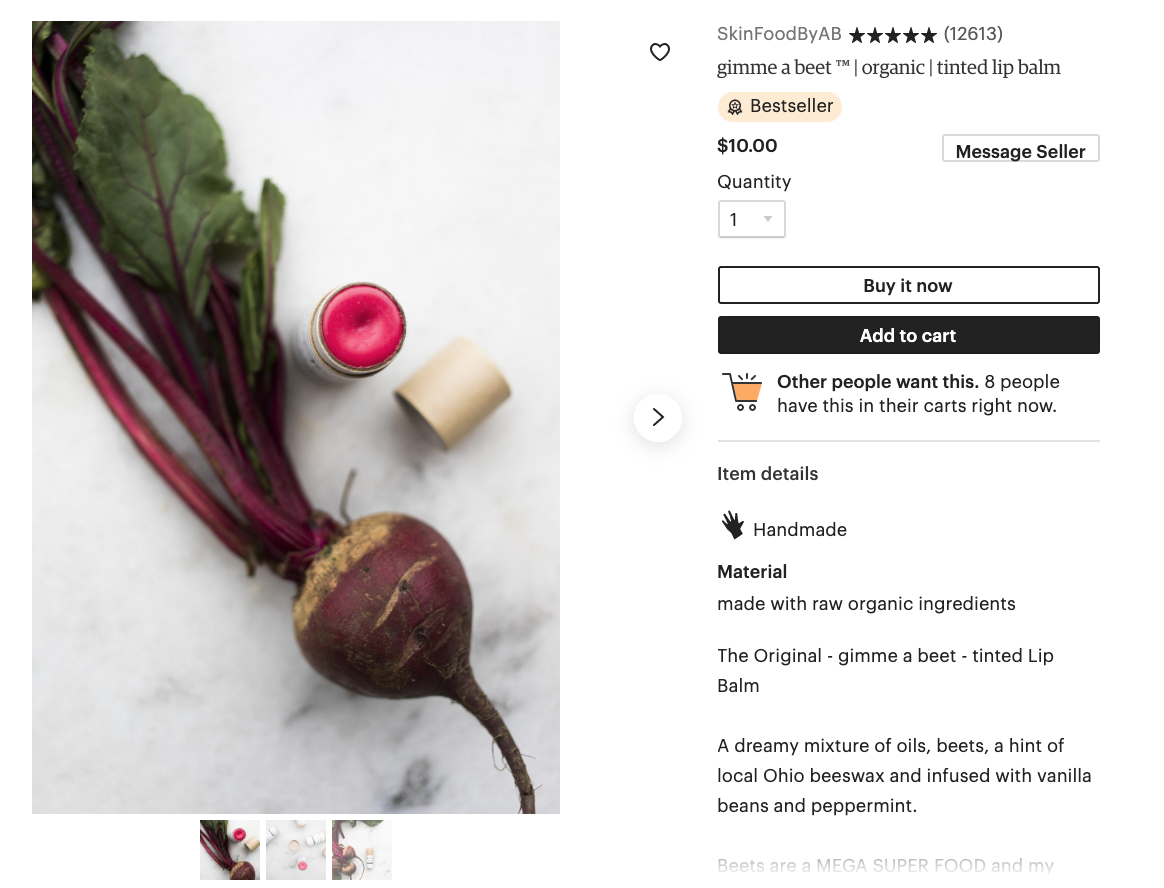 4. Bohemian Findings: Focus on parts instead of the whole.
With more than 1 million sales, Bohemian Findings is one of Etsy's greatest success stories, and the store has created a unique niche for itself by selling bulk supplies at a low cost rather than finished products. In other words, to use a popular saying in the startup world, Bohemian Findings chose to "sell pickaxes" instead of "mine for gold," a reference to how some of the most profitable businesses during the California Gold Rush weren't those that mined for gold but those that sold supplies to miners.
Founded by Hope Milner, Bohemian Findings provides items — including beads, chains, charms, and clasps — that are often used in other Etsy products, particularly those from jewelry makers, contributing to their success stories as well.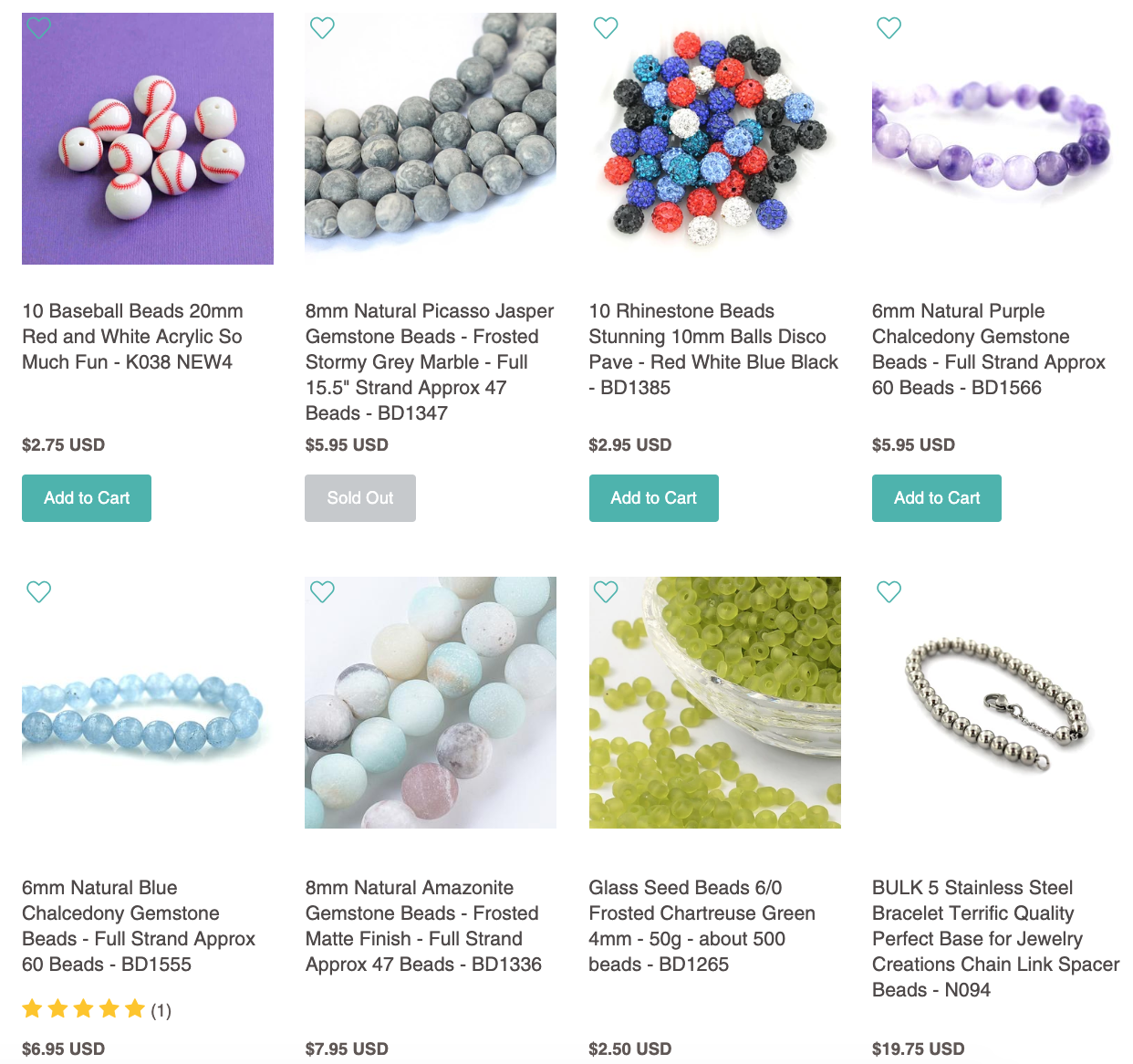 The Milners originally launched their Etsy shop simply to liquidate a small number of charms left over from a previous jewelry-making venture, but as orders came streaming in, they had to purchase more supplies. Within two months of starting the store, they were hiring people to help them fulfill customer orders. "At one point I believe we had four or five part-time and full-time people flowing through our house, and at that point it became pretty clear that it was time to move (the business) out of the house," Milner said.
While many Etsy store owners report being satisfied with 10 sales a month, Bohemian Findings was fulfilling up to 500 orders a day before it launched its own ecommerce site. But Hope says it's more than just her products that keep customers coming back. "We really knock ourselves out to make sure we take every order really seriously. We do whatever it takes to keep the customer happy. And I think that's why customers have stuck with us in addition to finding stuff that nobody else has."

5. LePapierStudio: Diversify your business.
Vana Chupp started her first Etsy shop, LePapierStudio, which specializes in illustrating unique custom silhouettes, in 2008, and the store's success inspired her to pursue other business ventures, including some outside the realm of ecommerce. Her decision to diversify allowed her to pursue multiple passions and to work full time for herself.
Today, Chupp runs a second Etsy shop, Wedded Silhouette, and she also does graphic design work and coaches women who are interested in running their own businesses. She says that developing these multiple revenue streams has been key in consistently turning profits. "Diversification keeps you from putting all your eggs in one basket," she told Etsy. "It guarantees that when times are slow in one area of your business, the other is still keeping the cash flowing."
When it comes to business, Chupp says people tend to think linearly, selling the same product or service and simply working longer hours. She suggests that, instead, entrepreneurs should try thinking outside the box to determine how they can leverage their skills and expertise in new ways to create additional income.
She says one easy way to start is by positioning yourself as an expert in certain areas and instructing others, such as Melinda Wood of Melinda Wood Designs. When Wood launched her Etsy store, in 2013, she sold only original photography and hand-drawn prints, but as she learned more about the Etsy marketplace, she became a self-made expert on topics like Etsy keywords and Etsy-friendly design. She realized she could help other sellers — as well as generate a new revenue stream — by sharing her knowledge of Etsy best practices. So she wrote a series of ebooks that she now sells alongside her art, and they're among her most popular items.

"With a little time and some resources, you can build upon your skills to create a new product and offer it to another person or a small business that would benefit from it," Chupp says.
Keys to seller success
While these five Etsy shops grew into full-time, profitable businesses in various ways, it's clear that they also have a few things in common.
For one, they know their brands and communicate them consistently and successfully both in their individual stores, as well as across social media or on their own websites. Secondly, they engage with their customers, respond to feedback, and offer top-notch customer service to help them solidify those five-star rankings.
Or, as Smith puts it, "The best Etsy sellers are particularly good at telling their story and good at making connections with people who buy their goods."