eBay has a history of raising its fees. In the past two years alone, the online marketplace increased its listing upgrade fees and final value fees, and it also began hitting under-performing sellers with penalty fees.

Despite this, eBay is still the third-most preferred online marketplace for U.S. sellers, and sellers ranked it as the top ecommerce site for profitability, according to a survey by EcommerceBytes.

Like all online marketplaces, eBay charges fees to sell on the site. These include insertion fees, final value fees, and listing upgrade fees, which you can learn more about here.

Are your eBay fees too high? If so, read on to learn why your fees are so high and discover ways to lower them.
1. Calculate fees and profits before listing items
Before you list an item for sale, make sure it'll be worth the time and effort it takes to sell it. After all, it takes just as much time to list a $100 item for sale on eBay as it does a $10 item.

We suggest using an eBay fee calculator to help you determine which items are worth your time to sell. It lets you plug in detailed information about the item you're selling and the type of listing you intend to make to estimate your profits.

You can also use an eBay fee calculator to help you determine a strategic selling price to ensure you make your intended minimum profit.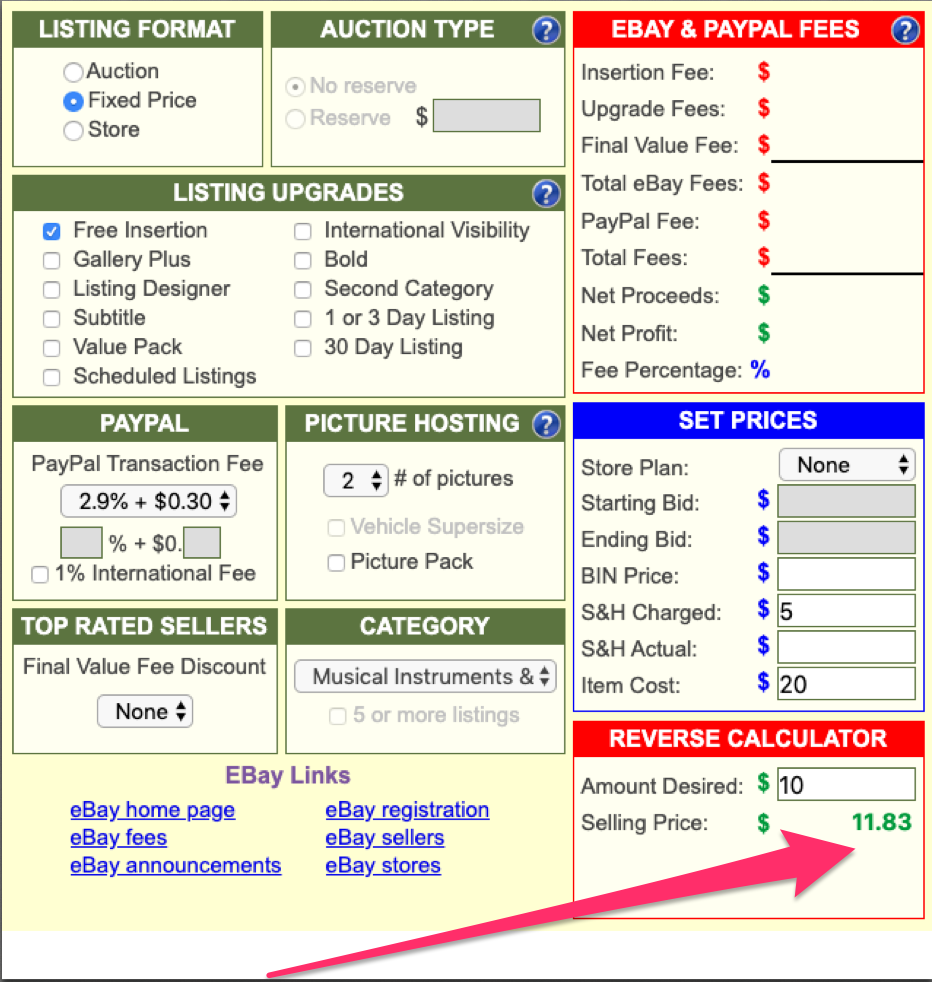 For example, if you want to make at least a $10 profit per sale, you can use the reverse calculator to set your desired profit. Then simply plug in relevant information like your cost and any shipping and handling fees. This will provide you with the ideal selling price, so you won't lose money or just break even.

2. Reconsider your eBay store subscription type
You may be spending more than necessary on eBay fees if your store subscription isn't the right fit for the amount you're selling.

eBay offers five different store subscriptions that come with certain benefits. You can find a full list of eBay store subscription, prices, discounts, and benefits here.

Let's say you have a Starter store subscription, but you're listing and selling fewer than 50 items per month. In this case, it may be worthwhile to outright cancel your subscription since you can list up to 50 items per month for free with no store subscription at all.


Here's another example: If you're selling 150 items per month with a Starter subscription plan, you'll pay $4.95/month + $15 in additional insertion fees, which brings you to a total of $19.95/month.

By upgrading to a Basic subscription, you'll pay a bit more at $21.95. However, on this plan, you can list an additional 100 items for sale at no additional cost, and you'll receive a substantial discount on your final value fees. In this case, upgrading to the Basic subscription could actually save you money.
3. Become a top-rated seller
This may sound like a lot of work, but if you focus on your business and provide excellent customer experience, you can reap some serious rewards. That's because eBay users who meet the criteria to become a top-rated seller receive a 10% discount on final value fees.

And these savings really add up. For example, if you average $1,000 in final value fees each month, being a top-rated seller could save you $1,200 a year.

To become a top-rated eBay seller, users must:
Be an eBay member for at least 90 days
Have at least 100 transactions and $1,000 in U.S. sales within the past year
Comply with eBay's selling practices policy
Meet eBay's requirements for transaction defect rate, cases closed without seller resolution, and late shipment rate
Another benefit of being a top-rated eBay seller? You won't be at risk of being charged any penalty fees for being an under-performing seller.

4. Request final value fee credits
eBay charges final value fees whether sales are completed or not, but that doesn't mean you always have to pay them. Sellers are eligible for final value fee refunds in the following circumstances:
The buyer doesn't pay, and you report the unpaid item to eBay
You and the buyer agree to cancel the transaction
A full refund is issued for a returned or missing item
You're an eBay-managed payments seller and issue a voluntary refund during a payment dispute
If you're eligible for a final value fee credit, you have varying amounts of time to make the request, depending upon your situation.

When a buyer doesn't pay for an item, you have 32 days to report the unpaid item. If the buyer doesn't pay or respond within four days, you'll receive a credit on the fifth day.

For a mutually agreed upon cancellation within 30 days of the sale, you'll receive a credit once the buyer is refunded.

And if you issue a refund to the buyer for a returned or missing item, you'll receive a final value fee credit, which will appear on your next invoice.
5. Evaluate eBay listing upgrades
There are numerous options available to upgrade and promote your eBay listings. These include larger featured images, customizable listing designs, additional text, bold font, scheduled listings, international site visibility, and auction format upgrades.

However, each of these listing enhancements has a cost associated with them.

For example, if you create a 30-day listing for an item, here's how the costs of various listing upgrades break down: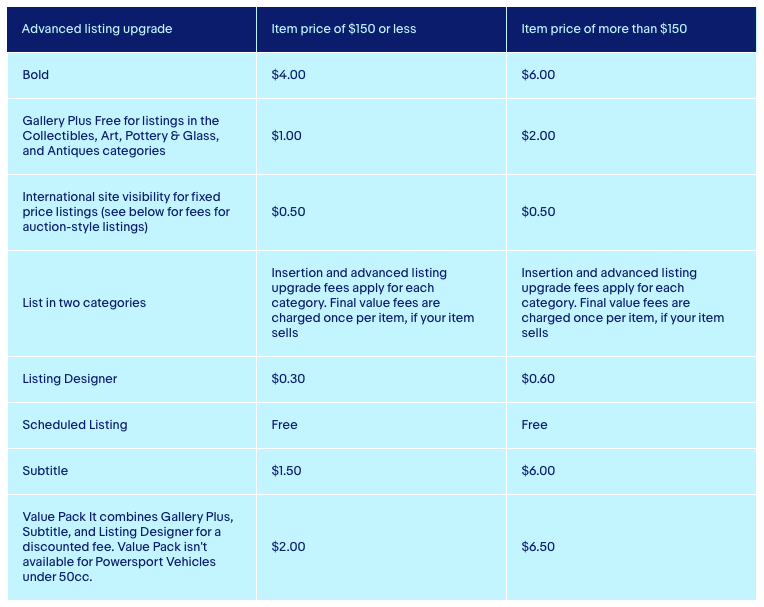 For a full list of eBay listing upgrades by type of listing, check out this page.

Sellers can experiment with various upgrades to see which, if any, result in more bids or increased sales. If you want to avoid paying anything additional for a listing, always check the bottom of the page for your total fees before submitting a listing.
Maximize your eBay profits by rethinking your fees
It can be easy to fall into the habit of simply listing and re-listing items on eBay without re-evaluating the profitability of final sales. However, by assessing your profits on a regular basis, you'll be able to easily identify ways to minimize your eBay fees and maximize your profits.

Looking to increase your eBay profits even further? Check out these 10 eBay selling tips from crazily successful sellers.