Now
100% FREE
for small businesses!*
The easiest way for Shopify and Shopify Plus store owners to list and sell their products on Amazon, eBay, Etsy, Walmart, and more.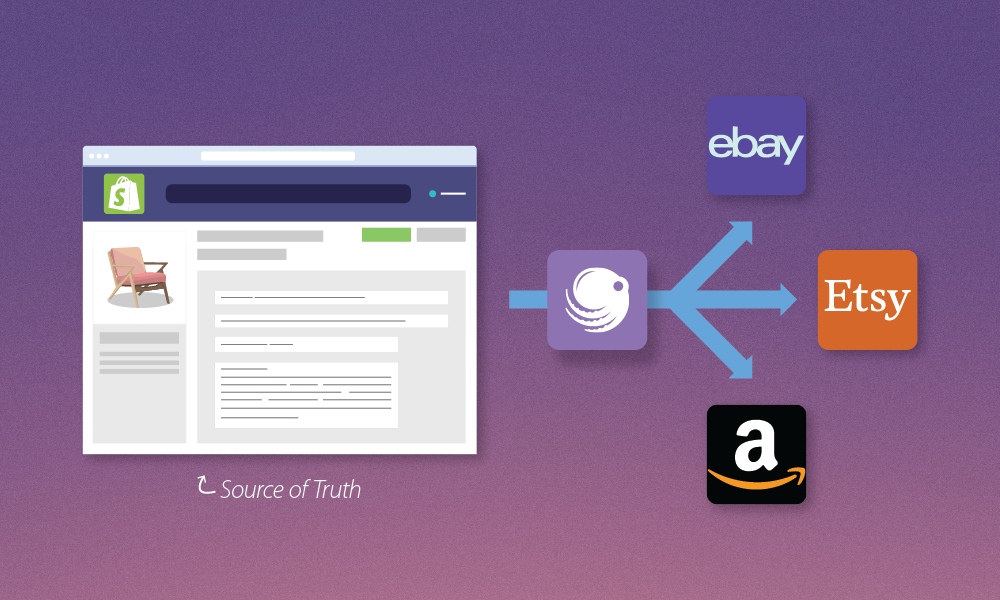 Your secret weapon for marketplace success
*Free plan available for businesses doing less than 30 orders/mo.
Paid plans start at $19/month. See pricing
One click integrations with:
Inventory qty, pricing, & order sync only
(no listing functionality):
Everything you need to grow a multi-channel business on Shopify
We know how difficult marketplace integrations can be. We struggled with them ourselves, which is why we made Sellbrite.

Sellbrite for Shopify helps you create new marketplace listings to increase sales, as well as better manage existing product listings, right from your Shopify store. It also gives you inventory rules to control the quantities you show on the marketplaces, pricing rules that allow you to customize each channel, and the ability to fulfill all of your orders right from within Shopify.
Highly rated by multi-channel brands & retailers everywhere
I recommend this tool to all of my friends and podcast listeners because its intuitive and powerful yet has finesse when handling your data. In addition the support team is one of the best for getting back to you with good information when you need it most.
I've been selling online for over seven years, and this is one of the best systems I've ever seen to make the whole process easier and more simplified. If you are selling online, especially on more than one channel, do yourself a favor and sign up with Sellbrite for Shopify. They are the best bar none.
Sellbrite for Shopify is exactly what I've been needing. It has helped to centralize and sync my inventory between 3 different selling channels, along with easy posting from one shop to the other. Not to mention, their customer service during the entire learning process has been TOP NOTCH!
Read some frequently asked questions.
Is there a difference between Sellbrite for Shopify and Sellbrite?
Yes. Sellbrite for Shopify is for sellers who want to control their marketplace listings using the data in Shopify, as well as fulfill their marketplace orders from Shopify. With the original Sellbrite configuration, Sellbrite is the source of truth syncing out to all your channels – this is great if you have multiple Shopify stores.
What happens if I go over my plan limit?
That's a great thing! Your business is growing! If you're still within your 30-day unlimited access period and receiving more than 30 marketplace orders per month, you'll be prompted to subscribe to a paid plan to continue using Sellbrite for Shopify. Otherwise, you'll continue on the Free plan until your business grows!

If you're already subscribed to a paid plan and you exceed that plan's limits, we'll automatically adjust your plan to the next tier up to accommodate your business growth. If it is seasonal growth and you know your orders will decline the following month, you can adjust your subscription back to your original plan at the start of your next billing cycle.
Can I create new listings in bulk?
You sure can! With Sellbrite, you can list up to 100 products at a time per channel.
Do you offer a DIFY (Do it for you) service?
We do not but we made it easy to get set up. We have a simple 3-step set up wizard to get your products into Sellbrite, connect your channels, and sync your inventory. If you need additional support, we have an Onboarding and Setup Webinar with a live Q&A to help answer any questions you have. If you run into problems while working on Sellbrite, send over a question through our in-app chat.
Can I price my products differently on each channel?
Absolutely! In fact, being able to have control over pricing is what separates Sellbrite from other listing tools. You can set up customized price rules for each channel or sync your pricing to match across channels.
Do I need to sign up for my own marketplace accounts or does Sellbrite do it for me?
Sellbrite for Shopify connects to your existing marketplace accounts. If you would like to expand to a new marketplace, you will need to sign up directly on the marketplace before connecting the account to Sellbrite. While some marketplaces require an application and approval, most take no time at all to get started.
Can I create brand new ASINs on Amazon for my products?
Sellbrite for Shopify does not support new ASIN creation just yet. However, thousands of sellers with unique products still use Sellbrite to grow their Amazon sales! All you need to do is create the ASIN on Amazon directly, then import that listing back into your Sellbrite for Shopify account. It will link to the matching Shopify product automatically, and you can enjoy all the same price, inventory, and order syncing functionality.
How long does it take for inventory quantities to update on my listings?
The free plan of Sellbrite for Shopify updates listings every 2 hours with the available quantities from the linked Shopify inventory, as well as pricing and product data changes. Marketplace orders are retrieved and sent to Shopify for fulfillment every 2 hours as well. The paid plans of Sellbrite for Shopify perform all of the above tasks every 10-15 minutes.