Inventory Management Software Made Easy
Sellbrite automatically syncs your available inventory to your sales channels to prevent overselling.
Inventory management software from Sellbrite helps you gain complete control of your inventory in every warehouse, across every channel. Sellbrite eliminates overselling of out of stock items by automatically adjusting your inventory as sales are made. Available inventory is synced to all your sales channels in just minutes.
Sellbrite offers enterprise-level inventory management features, like multi-warehouse support, API access, individual user permissions, and inventory transaction history. All of these are available right out of the box in a simple-to-learn interface.
Centralized Inventory Management
Whether you sell hundreds of items, or hundreds of thousands, Sellbrite gives you centralized inventory management from one easy-to-use interface. Easily view and manage your available, reserved and on-hand stock levels across all your warehouses, and make changes quickly using our Excel-like bulk editor.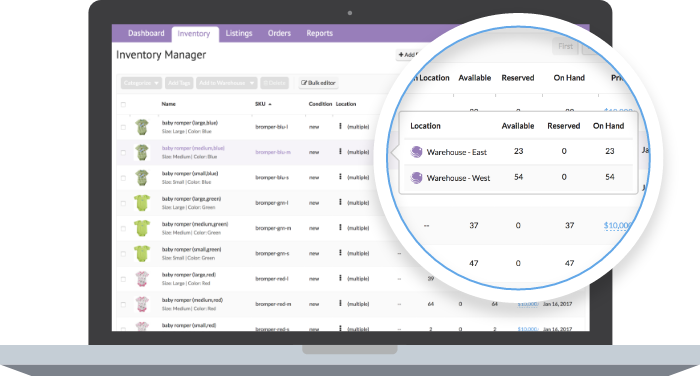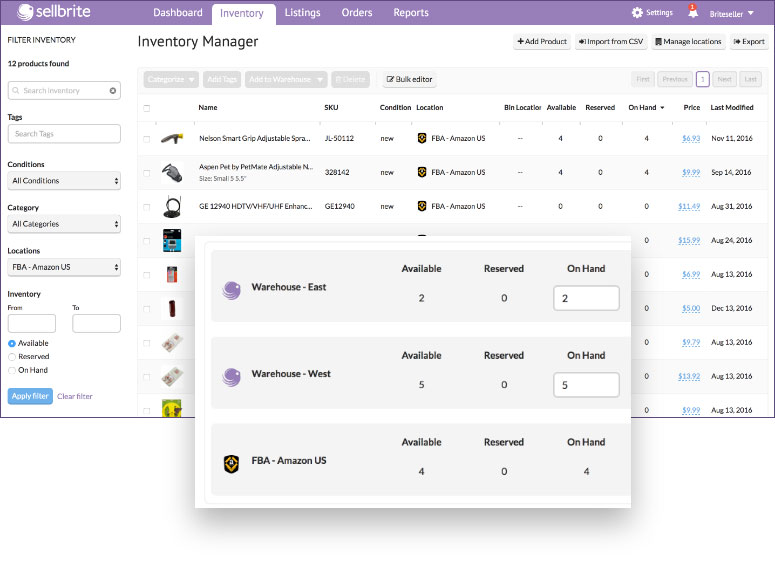 Fulfillment by Amazon (FBA) Inventory Management
Unlock your full sales potential. FBA inventory management from Sellbrite lets you sync your FBA quantities PLUS with your merchant-fulfilled quantities across all your channels.
Automatic inventory adjustments between Sellbrite and Amazon keep your stock levels accurate without lifting a finger.
Rapid, Continuous Inventory Sync
Eliminate overselling (or underselling) for good with automatic and continuous inventory syncing. Sellbrite's cloud-based inventory management software runs 24/7, so it's working even when you're not. Quantities are automatically adjusted as sales occur, and available inventory gets synced across every channel within minutes of an adjustment.
Gain a competitive edge with customized inventory rules for each channel. Simulate stock scarcity, show heavy stock, or keep a reserve – your powerful multi-channel inventory management strategy is waiting for you.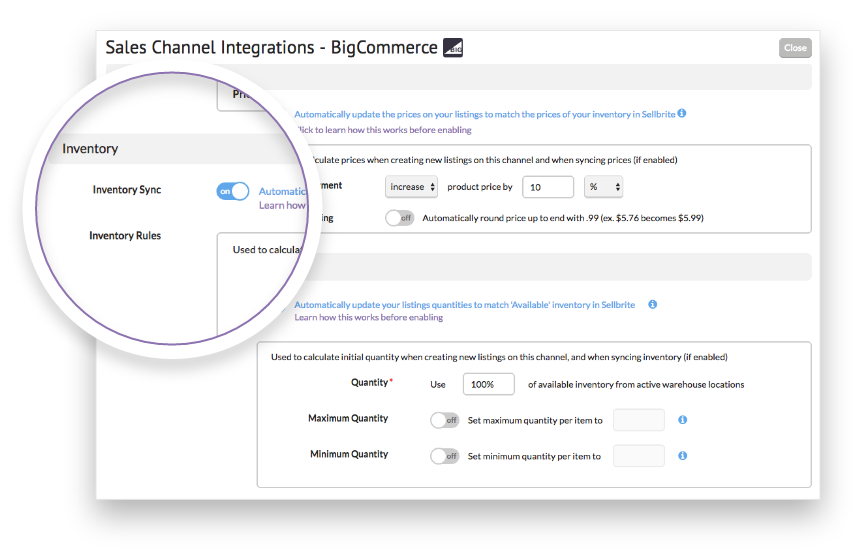 Multi-Warehouse Inventory Management
Inventory management with multiple warehouses is not a problem with Sellbrite. Track inventory, including FBA, and route orders for fulfillment with ease. Prioritize your warehouses by channel for complete control. Sellbrite is one of the only solutions that lets you automate order routing between various warehouses and fulfillment partners.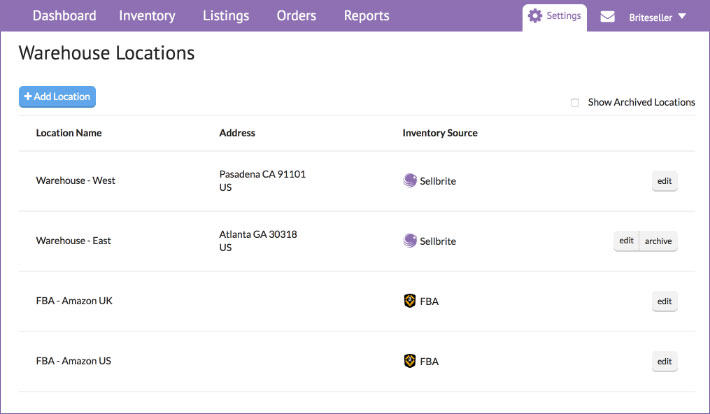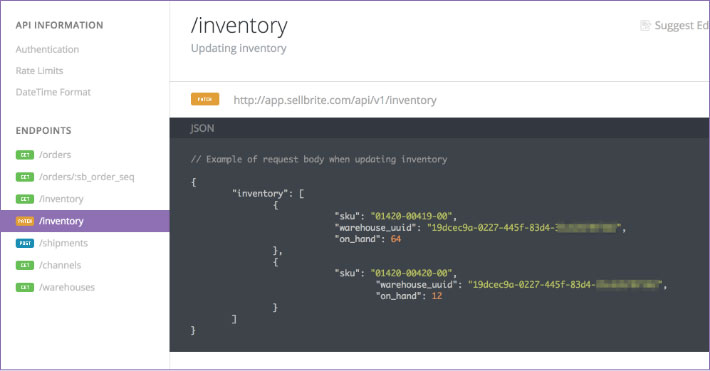 Inventory & Orders API
Sellbrite's APIs allow developers and ERP systems to integrate directly with the platform. Connecting Sellbrite to third-party solutions enables you to automate various tasks. Pull real-time inventory levels for any combination of SKU and warehouse, or update on-hand inventory in Sellbrite from an external source, and let Sellbrite manage the connection to your sales channels.
"We can't say enough about how FANTASTIC Sellbrite has been for us! We tried several other multi-channel software platforms before Sellbrite and this is the only one we continued after the initial trial period."
SEE WHAT OUR USERS ARE SAYING