We've all been there.
We sit down with a warm cup of coffee in one hand and a long list of backlink-building tactics in the other.
Somewhere in that list is the magical answer to building backlinks to your business site.
However, have you ever noticed a pattern in these lists?
Not only do they never focus on multi-product eCommerce sites, but the advice and tactics they offer are either outdated or beaten to death by your competitors. "Publish amazing content, mention brands on social media, fix broken links." All things you're likely already doing.
What if I told you there was a way to build thousands of backlinks without using any of these tired old tactics?
In this post, I'm going to show you eight such unconventional tactics to build backlinks to your eCommerce store.
1. "Steal" links from closed competitors
8 out of 10 businesses fail within their first 18 months.
The success rate is particularly low in retail. As per one study by the SBA, only 37% of retail startups are still functioning four years after launch.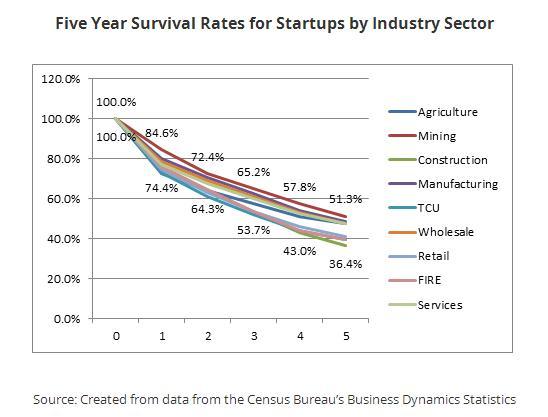 As an eCommerce store owner, you already know why: Retail is a tough nut to crack with razor thin margins and intense competition.
This, however, also presents a powerful link building opportunity.
Think about this: Every year, dozens of your competitors go out of business. Each of these competitors likely has hundreds of links pointing to its website from resource pages, magazines, and blogs.
These links are now essentially pointing to a dead page, something few webmasters want.
If you can point out these dead links to webmasters, there is a good chance they'll link back to you.
To use this tactic, start by searching for stores that have gone out of business recently.
Use search operators like this:
[your niche] + "shuts down"
[your niche] + "has closed"
[your niche] + "out of business"
[your niche] + "rebrands"
For example, searching for fashion retailer + "shut down" shows me this (note: play around with  the singular and plural versions):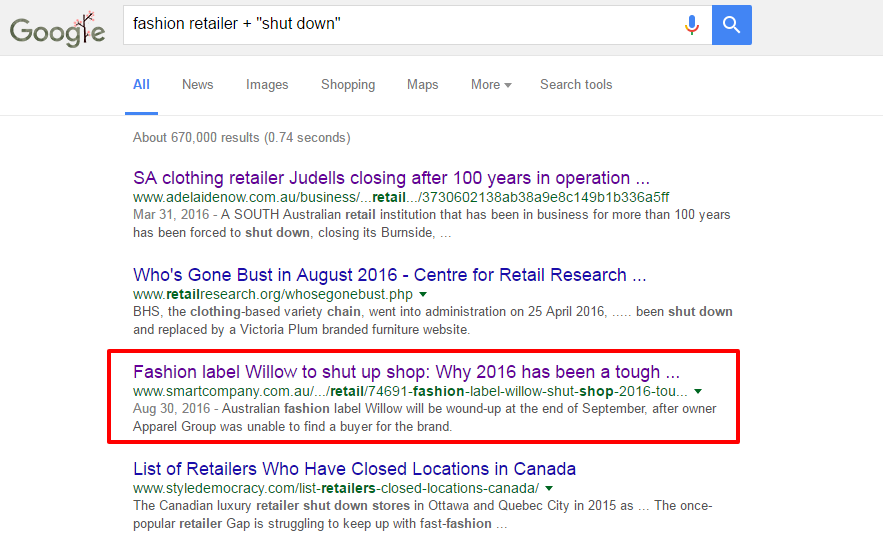 The third result—Willow shutting down—looks promising enough. Since it has just been announced, it likely has lots of dead links pointing to it.
Next, use your favorite SEO tool to find pages linking to the dead startup.
Looking up willowltd.com on SEMrush shows over 361 backlinks from 69 referring domains:

Not bad at all…
This includes do-follow links from top-tier domains such as NYmag.com, Oprah.com, and Vogue.it.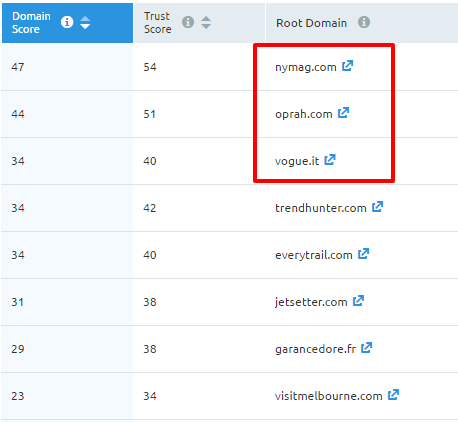 If you had a competing product, you could likely get some of these sites to point to you instead of a dead page.
Finally, make a list of all sites that are linking to your dead competitor.
Next, find a way to contact the webmaster or editor. Use this article from Life Long Learner to find anyone's email address.
Once you have a list of contacts, send them a personalized email pointing out the broken link, then subtly suggest your own site as an alternative offering similar products.
Since you will have a long list of prospects, there's a good chance you can get tons of backlinks using this method.
Now, let's be real for a second, chances are you won't get backlinks from NYmag, Oprah, or Vogue, but if you target bloggers or directory sites, for example, you're more than likely to get those backlinks.

2. Send your product to influencers for free
We all know the power of influencers.
Getting a single link from an authority figure or site will give you more link juice than a link from ten mediocre or low-quality sites.
This is one reason why influencer marketing ranks next to PPC when it comes to ROI according to AudienceBloom.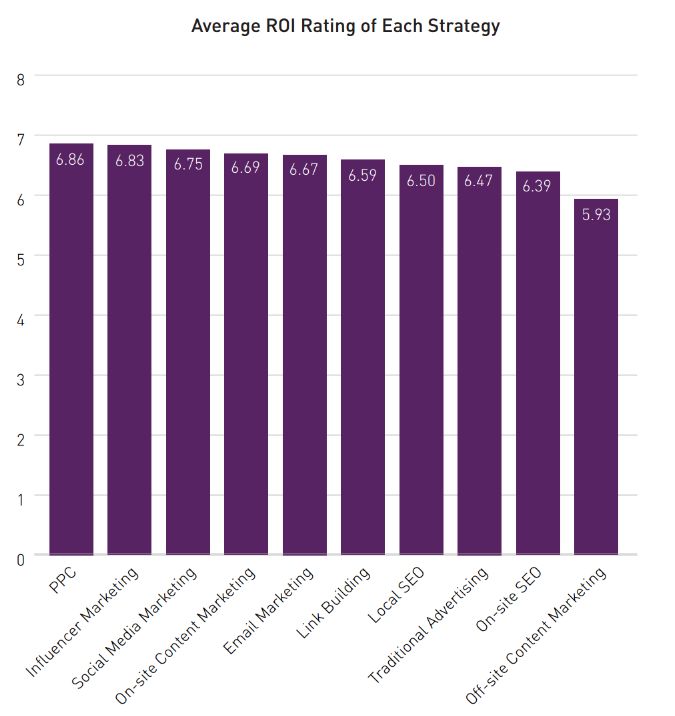 One way to get influencers to link to your product is by having them review it.
And by that, we don't mean sending an outreach mail asking for a review.
Instead, send them your product for free.
You can't expect someone to review a product that they've never used before. Furthermore, sending them a product will compel them to leave a review (see: the principle of reciprocity).
For example, to promote their newly launched family car, Ford Australia reached out to a popular beauty blogger, who happens to be my good friend, Stephanie Casidy. They literally sent her a model of the car for a few days to use.
What was the result?
A backlink with and a great in-depth review of their product to go along with it: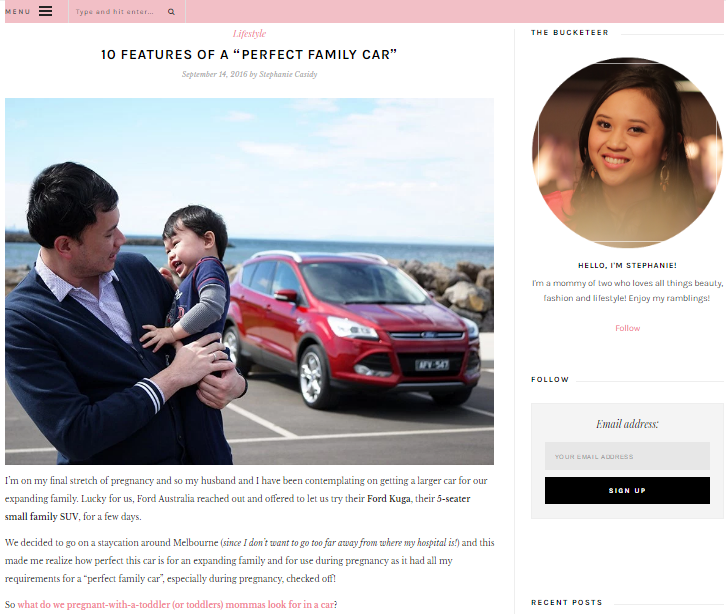 .
Ford had tried something like this in the past with the Ford Fiesta Movement campaign that got it millions of YouTube views and thousands of articles from bloggers.
And this was not a one-off occurrence.
Because Stephanie writes in-depth product reviews, she gets a ton of free products from other companies who want a review of their product.
Check out some of her other product reviews, like this one for Charlotte Tilbury: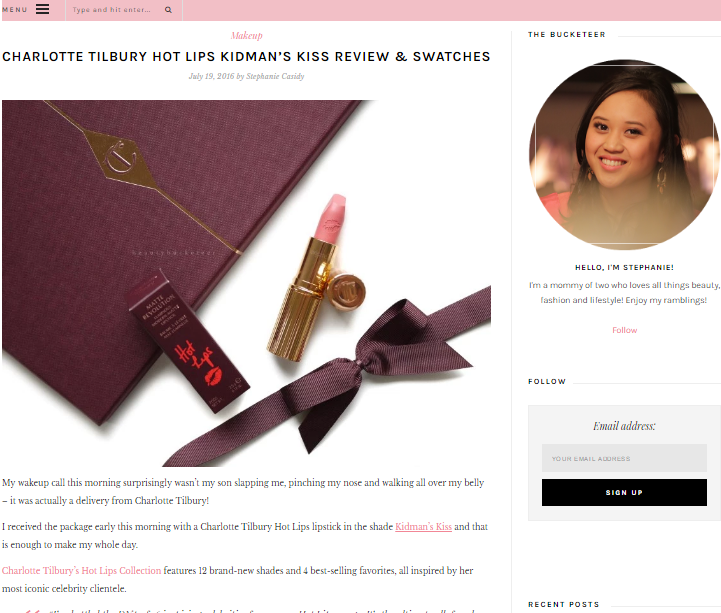 So how can you do this for your own store?
The first thing you want to do is avoid any platforms that promise to get you reviews.
Nothing against them, but these platforms are usually abused by both bloggers and advertisers.
Plus, if you pay for the review and get a backlink, you are flouting Google's ToS, which can tank your site in the SERPs.
Instead, do what Will Reynolds of Seer Interactive calls "Real Company Shit."
This means that you skip the platforms and:
Find prominent bloggers with a real audience
Send them stuff without any expectations of a review/link
Do this and you'll get more than just links; you'll develop long-term relationships and brand loyalty.
To find such influencers, you can use a tool like FollowerWonk. Search for your keyword and sort the results by social authority or total followers.

Next, reach out to each of these bloggers with a short email.
Shopify recommends sending a short, casual email like this:

You don't even have to mention reviews. Remember, you're doing Real Company Shit now, and "real" companies can afford to send gifts and products to people without expecting anything in return.
More often than not, if the product is good, the blogger will happily talk about it without you even asking.
This will not only get you links but an influential fan as well.
3. Generate PR through "product linkbait"
You've probably heard of the term linkbait (content that draws links by being highly shareable).
Generally, linkbait focuses on content. Think of Buzzfeed's posts like this list of 61 memes for teachers.
The problem with content-focused linkbait is that it has already been done to death. You'll be lucky if your list of "31 best vintage pictures" ever gets any traction with bloggers.
There is, however, an alternative: creating linkbait products.
This is exactly what it sounds like. Create a product or category that is obviously fake but still  captures the attention and imagination your audience.
Check out how ThinkGeek did it with their "canned unicorn meat" product: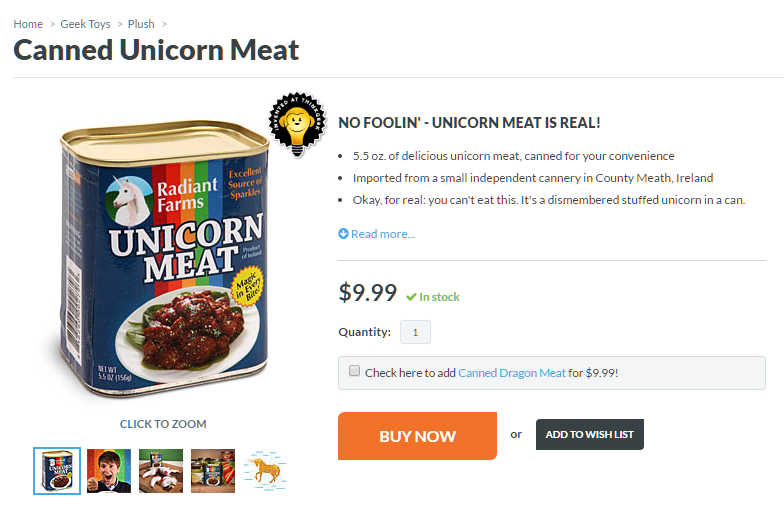 This hits the internet's favorite obsession—unicorns—and is outrageous enough to capture attention.
It also earned ThinkGeek thousands of backlinks. Per Ahrefs, nearly 1,000 domains link to this product page:

This includes links from NYT: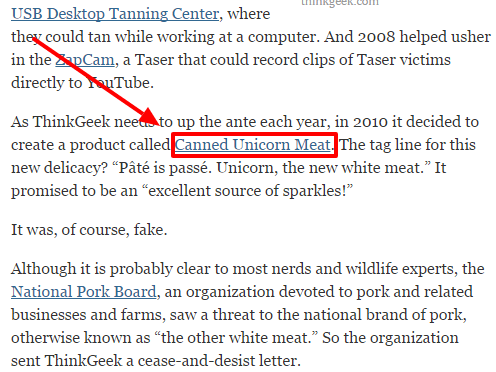 And "unboxing" videos with thousands of views: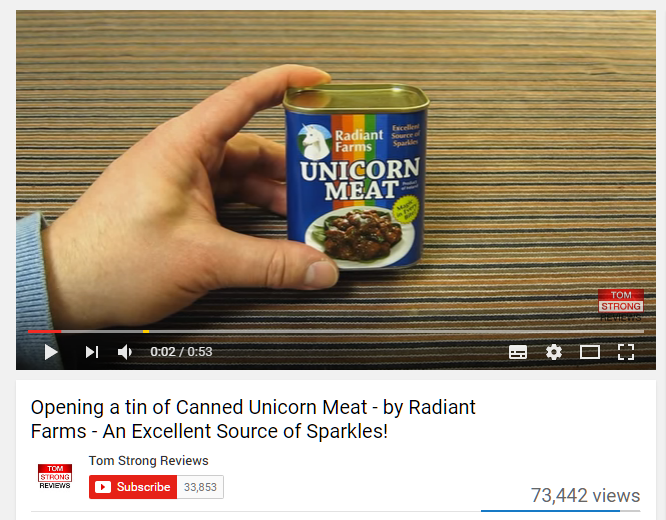 You can also link your product to a weird pop culture phenomenon like Wish UK did with their how to fight zombies bootcamp.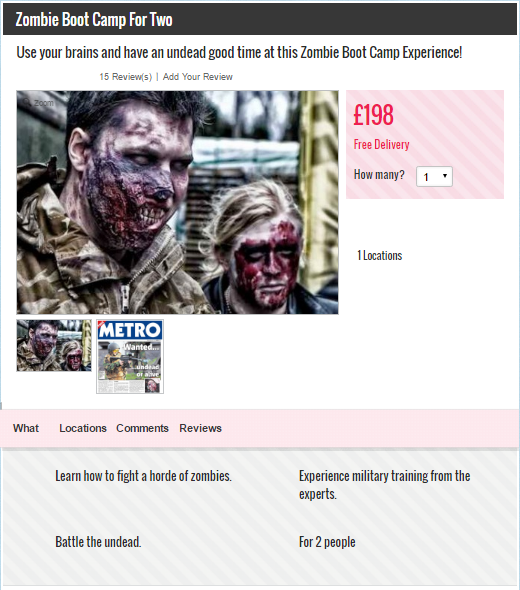 This bootcamp advertisement came out during the mid-season premier of the popular TV series, The Walking Dead.
This got them nearly 500 backlinks from over 100 domains.

Unfortunately, there is no step-by-step approach to coming up with these creative product ideas. You'll have to brainstorm ideas that fit your business and have some connection to internet culture.
Here are some tips you can follow:
Create something based on a popular meme or pop culture phenomenon (such as the Walking Dead connection to the zombie bootcamp).
Keep track of outrageous products on sites like ThisIsWhyImBroke.com
Use sites like KnowYourMeme to keep track of memes. Pay special attention to their "Trending" list on the homepage.
4. Create instructographics
We've all heard and seen infographics but an instructographic?
That term is probably new for most of us, so let's talk about what exactly an instructographic is.
We all know that an infographic is a beautifully designed piece of visual content.  It is frequently used to present complex data in a easy-to-understand and entertaining manner.
Similarly, instructographics do the same, but they go beyond by teaching their audience rather than simply informing.
Think of them as a cousin of the infographic or a better version of an IKEA manual.
Check out this instructographic from Bed, Bath, and Beyond's blog page: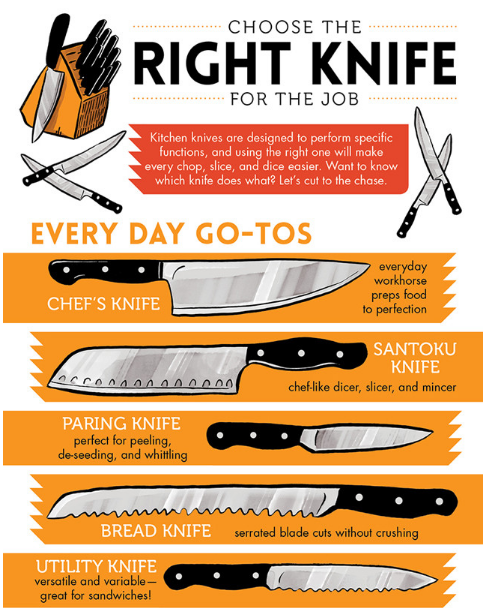 Or how about this one from Simply Karendipty: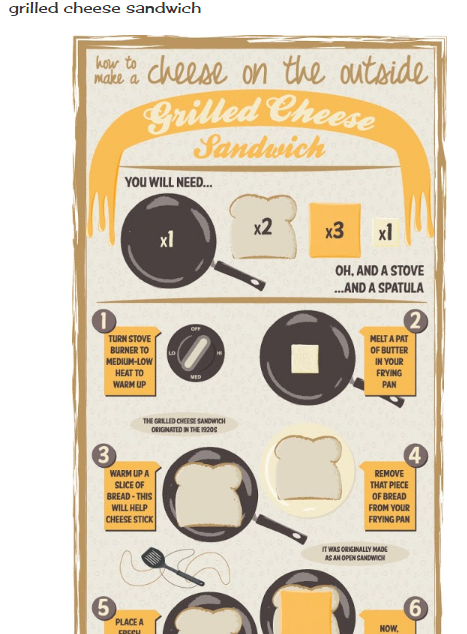 To create instructographics, first pick a highly specific skill or piece of knowledge that's easily transferable to a visual medium.
"How to build a guitar," for instance, is too complicated for an instructographic.
"How to stir fry," on the other hand, can be easily visualized and is something most people would be interested in (see an example here).
One way to find ideas is to browse a site like Instructables. Pick a category (such as "Crafts") then sort results by "popular."
The first instructable, "How to make a cravat,"  would make for a great instructographic.

Once you have an idea, use your in-house designer or a service like Visual.ly, Venngage, or Piktochart to turn your instructions into an instructographic.
5. Create buying or how-to guides for your main and sub-categories
When people set out to buy a product, they are usually overwhelmed with the variety on offer, especially if it's a first time purchase.
Help them select the right model by creating purchasing guides that educate them about products associated with your business (preferably based on your main or sub-categories).
For example, if you have a section of lampshades on your site, create a guide that helps visitors pick the right one based on their needs.
Make sure to avoid sales talk and keep your tone casual.
For example, check out this buying guide from Revzilla: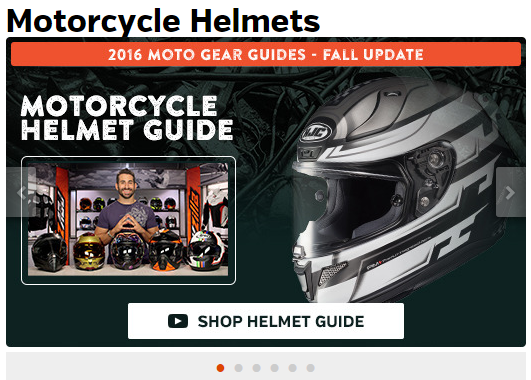 Not only does this guide help Revzilla's customers decide what kind of helmet to buy, it has also earned them links from nearly 100 domains.

If you feel that creating a comprehensive guide like this is too much work, consider creating an interesting twist on a simple topic.
For example, check out how this blogger created a YouTube video demonstrating all the different ways you can wear a scarf.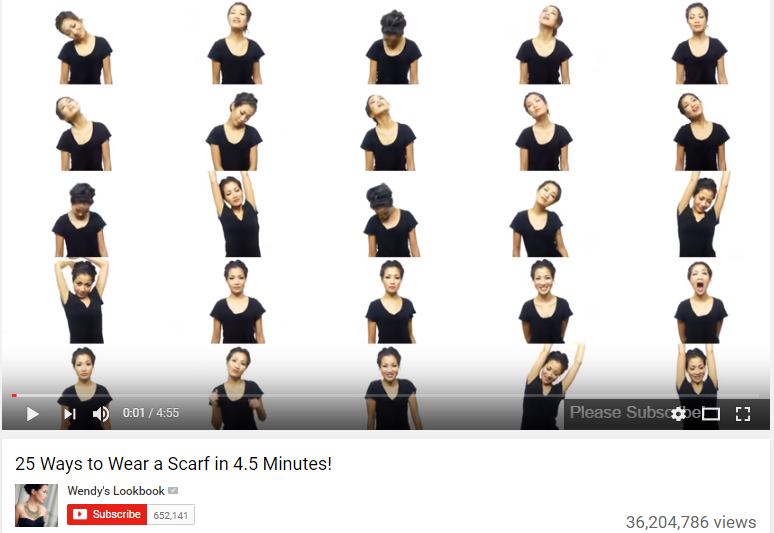 The video has already received over 36 million views.
However, as the blogger was unable to use its popularity for backlinks directly, she created a "behind the scenes" blog post which describes her experience of making the video.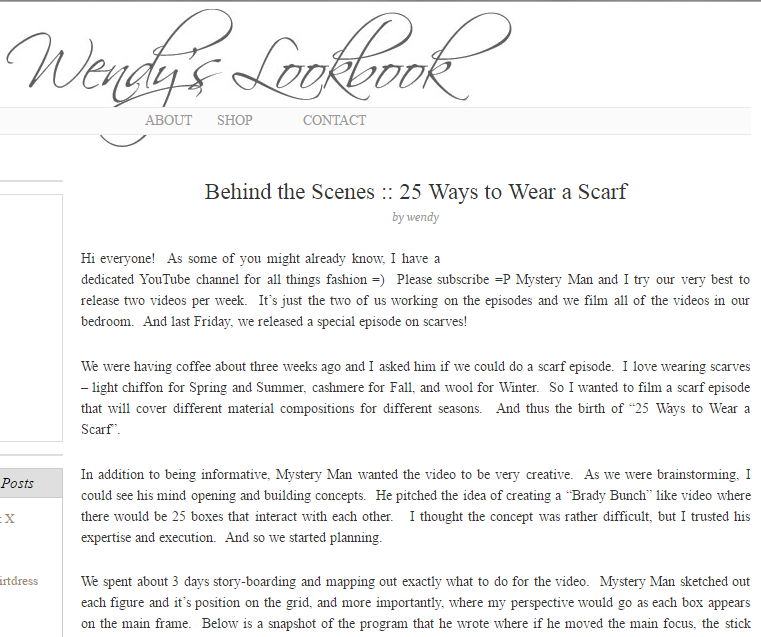 The result?
Backlinks from nearly 200 domains!
Furthermore, if you're building super helpful in-depth guides, there's no reason why you can't get listed in a "Best-of" roundup post in your niche.
All the standard content creation rules apply when creating such guides. Check out my recent post on creating long-form content to understand these rules in more detail.
6. Host a competition (with a twist)
People love free things.
(Of course)
And that's why sites have hosted competitions and giveaways for as long as they have been around.
However, most eCommerce stores create a separate page with a unique URL each time they have a new competition.
Like this ModCloth competition: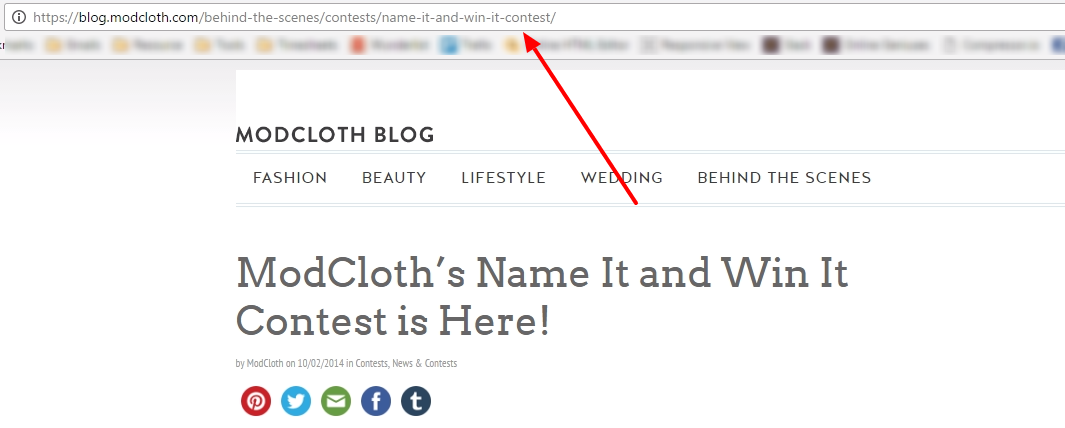 Instead of doing that, host the contest directly on the product page of the item you intend to give away as a prize.
That is, instead of this:
http://yoursite.com/promotions/contests/my-contest-1
You'll have a URL like this:
http://yoursite.com/products/shoes/white-shoes#contest
This way, instead of link juice going to the contest page, you'll get links directly to the product page itself.
7. Use creative category pages
Just because you are an eCommerce store doesn't mean you have to list your products in a boring square graphical fashion.
Does every physical storefront follow the same pattern of displaying its products?
Spice up your product pages by redesigning them into something that is more than just another page displaying products.
Check out how Dutch discount retail store transformed its product page into a Rube Goldberg machine.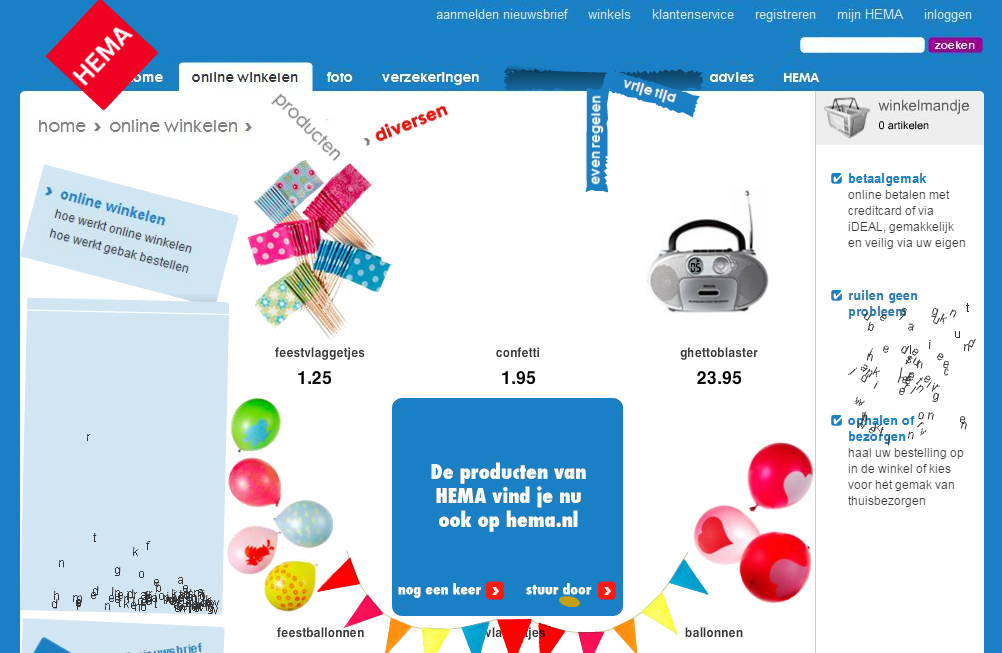 This helped it earn links from a whopping 5.26k domains.

If that's too innovative, here's another example of a visually dramatic category page courtesy of Emporium Pies: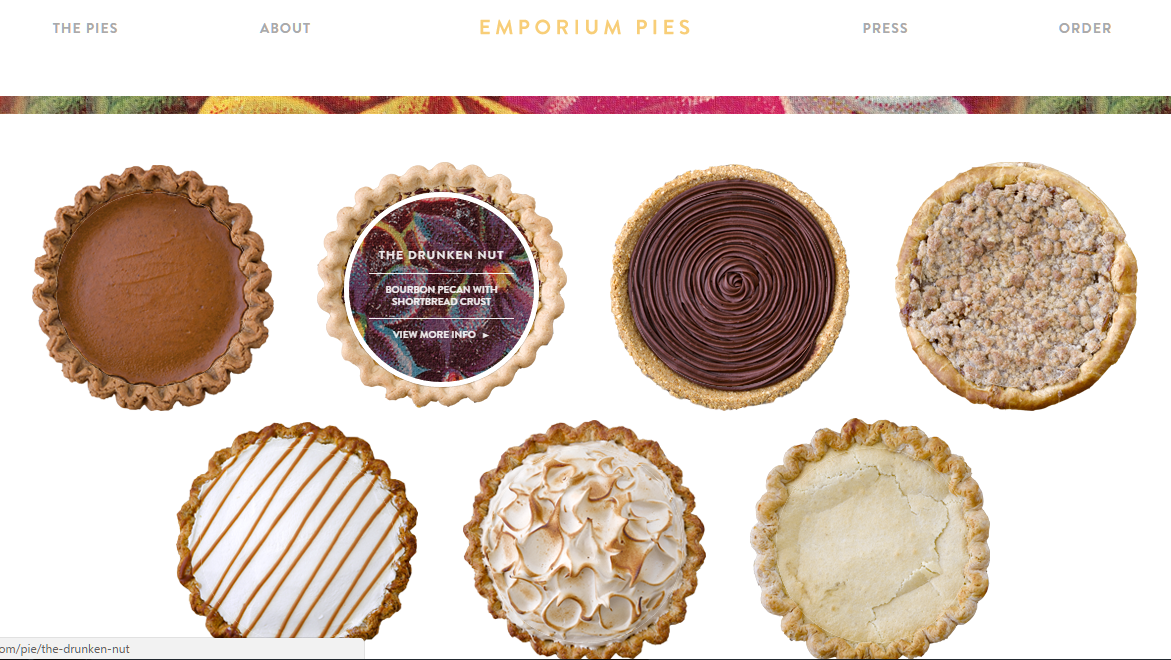 Or try this visually stunning hat showcase from Optimo: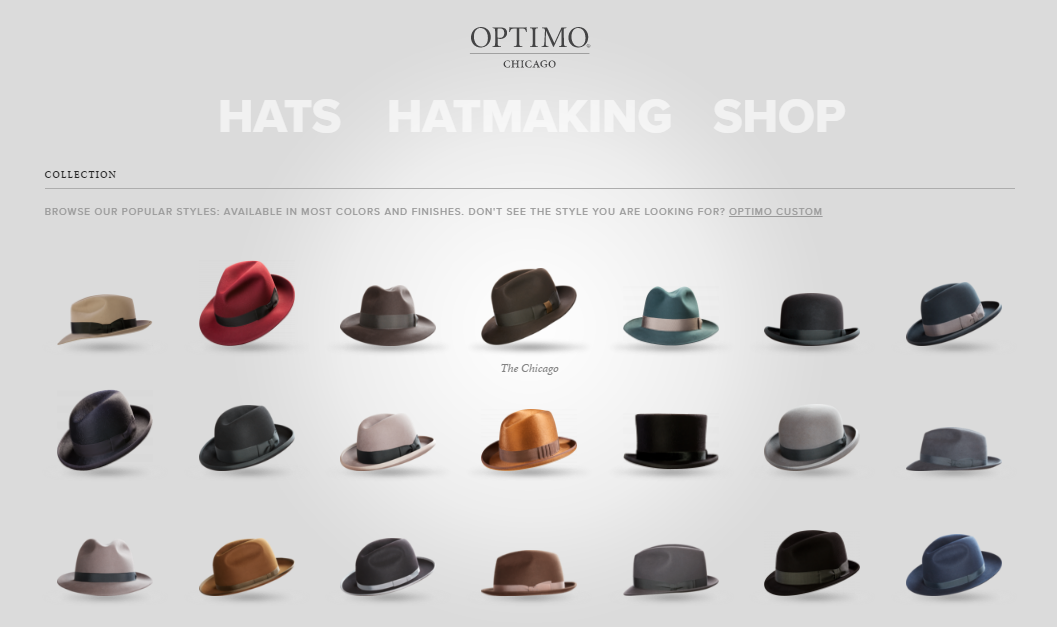 The idea is the same: do anything different than the usual product grid.
8. Maintain a single sales/deals page
Every eCommerce site runs various deals and promotions on products year round.
However, what most eCommerce site owners don't realize is that deals can be used for much more than just driving sales. You can build backlinks through your offers.
How?
Instead of creating a new page for every different promotion, have a single page where you list all your ongoing, past, and future promotions.
This way, when you target relevant bloggers and media to let them know about your deals, they will have an opportunity to directly link to your integrated deals page.
Furthermore, having a single page will allow you to utilize it repeatedly and let you accumulate backlinks over time from different domains.
For example, check out this weekly specials page from Sephora:
This page has nearly 400 links from 168 referring domains:

GameStop does something similar with its deals page: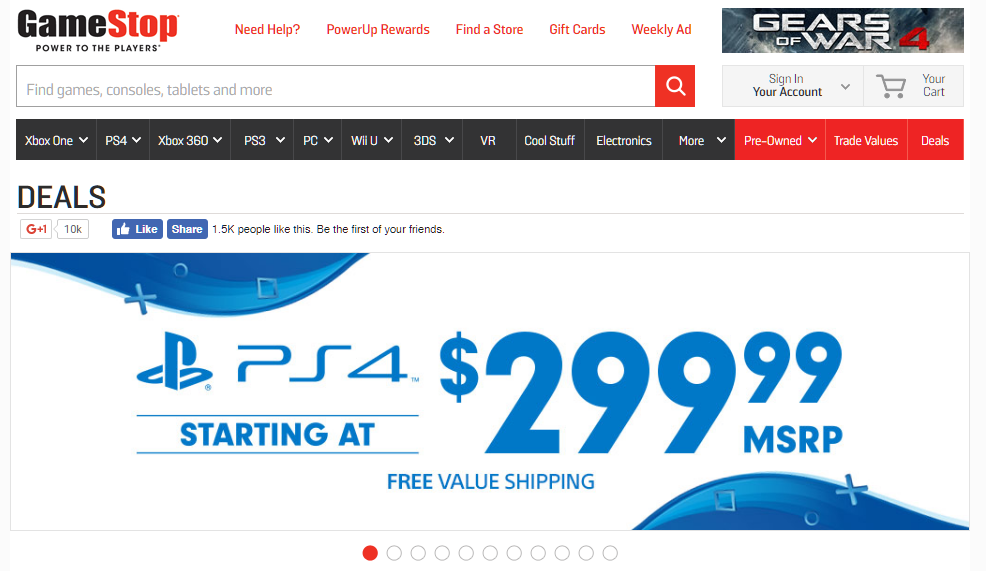 To do this, all you have to do is tag your deals and create a separate page listing all of them. The next time you reach out to bloggers to promote an offer, link to this deals page.
As bloggers and customers share this page, you'll capture more and more links.
Over to You
Building backlinks for an eCommerce store can be complicated but not impossible.
Be patient in your efforts, set a target, and follow through. Be sure to use some of the tactics mentioned above and over time you'll have more backlinks and a steady stream of traffic.