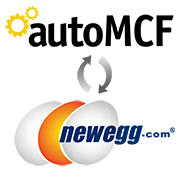 One of the requests we get most often from customers is for an integration with Newegg.com, so last night we launched the first of many new integrations, starting with Newegg!
Newegg has over 22 million customers, and offers the lowest commission rates of any major online marketplace. Learn more about their program here.

Now, with AutoMCF, you can automatically send your orders from Newegg to Fulfillment by Amazon (FBA) to be shipped, just like you already do with eBay, Sears and Rakuten. Once Amazon ships the orders, AutoMCF will update your orders on Newegg with the tracking information, and will also keep your Newegg inventory in sync.
In the coming weeks, we will be announcing some more major marketplace integrations, as well as adding support for some shopping cart solutions. So keep an eye out for more exciting news!