Ecommerce SEO sucks. Building backlinks, particularly.
You're competing against the big guys, like Amazon and eBay, and everyone knows and trusts them. Furthermore, how often do you see pages linking to ecommerce brands?
You'd probably see more quick wins by throwing a little more cash at a Facebook Ads campaign.
Plus, as a brand manager, you've probably got better things to spend your time on. Other forms of marketing, product development or finding ways to function more efficiently. Ecommerce growth hacking isn't high on your to-do list.
But you didn't come read this article to be told what's difficult.
You came here to learn how to build backlinks to your ecommerce store.
Well, you're in luck. Because building the right backlinks to your ecommerce store can make you outrank Amazon and eBay. Simply put, it's a great way to build your brand from the ground up.
Furthermore, good backlinks decrease the amount of money you need to spend on PPC marketing.
But what's the best reason to undertake a link building campaign for your ecommerce store?
Most of your ecommerce brands don't know the first thing about building backlinks to their ecommerce pages. As a result, you may only need a few backlinks to outrank them and reach the top position for some well-researched keywords.
Before you get too caught up in the hype of backlinks, you need to know this:
Getting good backlinks isn't quick.
It isn't easy.
It isn't overly fun, and there is no guarantee that any of your work will pay off. You spend a lot of time doing research and sending emails that may all amount to nothing.
Building quality backlinks is hard.
But it is single-handedly the best thing that you can do for the SEO profile of your online store.
In this article, you won't see why backlinks are important or be taught anything about SEO. It's assumed that you know the basics about SEO and the importance of backlinks.
And that's exactly what you'll see in this behemoth article: Actionable strategies that you can use to build backlinks to your ecommerce store.
So let's get started!
Not all backlinks are created equal
And that's not in reference to the Domain Authority of 2 different websites.
Let's zoom out for a second.
There are two kinds of backlinks:

Ones that give SEO juice.
If you're not familiar with the phrase 'SEO juice', it's an (unofficial) industry standard term that's really important. You'll see it pop up a bit in this article.
What it essentially means is that websites that have a high authority (Forbes, TechCrunch, BuzzFeed) than smaller websites (fredsblog.com).
100k links from fredsblog.com would be worth 1 link from Buzzfeed, for example. Some websites can give you a no-follow link. This is a link that doesn't pass on any SEO juice. The only benefit is referral traffic.
Ones that give Referral traffic.
Referral traffic is the amount of traffic that actually comes through a link to your page.
Using one of my personal favorite SEO tools, Ahrefs, you can see all the links that your website currently has.
You'll get the most from this article if you head over and sign up for a 7-day trial of Ahrefs for a whopping $7. (Believe me, it's worth it).
Here are a few examples of good and bad backlinks to my company, Packhelp.
Good backlink:

Here, you can see Shoplo links to a Packhelp blog. Shoplo has a high DR, the page linking to us gets a lot of referral traffic, and it's a Do-follow backlink – Packhelp gets that sweet SEO juice.
Bad backlink:

This is a perfect example of an almost useless backlink. The website has a low DA, the page linking to Packhelp has no traffic, and it's a nofollow backlink – you can tell as the anchor text is strikethrough.
Good Backlink:

Here's an example of a good kind of nofollow backlink. Entrepreneur.com has an insanely high DR, but the link to Packhelp is a no-follow, so no SEO juice.
But take a look at the traffic to this page. The referring page is still getting a good amount of traffic. Therefore, no-follow backlinks are fine, as long as they're giving you traffic.
In summary, the best kind of backlinks you can build are high DR, do-follow backlinks with a lot of referral traffic.
Feel like building some backlinks yet?
Well, no, not yet.
You can squeeze the most SEO Juice out of all your backlinks by making sure your ecommerce store is laid out correctly. Here's a brief overview:
Lay your store out properly and maximize your SEO juice.
The way your site is laid out is important to the SEO of your store. If your web store is laid out incorrectly, all the backlinks in the world aren't going to help you.
The best rule to follow when figuring out your store layout is this:
Keep every page 3 or fewer clicks away from your homepage.
If navigating around your web store is difficult for your customer, Google isn't going to like it.
Just like a retail store, make it easy for your customer to visit every corner with the minimum amount of effort. This way, your backlinks will have a better effect for you.
As you'll see, the easiest page for you to build links to is your homepage. By making each page relatively close to the homepage, your SEO juice will trickle down to more pages.
Another thing you'll see later in this article is the role that a blog can play in your SEO marketing efforts. By laying your page out in a simple manner, any links you get to your blog content will pass SEO juice on to the rest of your web store.
Ok, now that you know the different kinds of backlinks out there and how to squeeze your SEO juice, let's look at actually getting those backlinks!

Start with low-hanging fruit
Juice, fruit, why all the food analogies?
That's because backlinks are kinda like food – quality over quantity. Give me a grass-fed Australian porterhouse steak over an all you can eat buffet any day.
And the best way to get yourself your first good quality steak, I mean backlink, is to look at what's outdated, or what's broken?
Why?
Because it's much easier and more efficient, to ask for a link to be updated, rather than to ask for a new link altogether.
So start gathering your low hanging backlinks, by finding your competitors broken backlinks.
Low Hanging Fruit #1: Scoring broken links
Our first method of building backlinks is finding links to our competitors that are broken. That is to say, the pages that are being linked to, simply don't exist anymore.
Let's say my company makes dog accessories, and I'm on the hunt for more backlinks. One of the most fundamental things about being in business is to know who your customers are. As a result, I know that one of my competitors is The Bark Post.
I throw their URL into the Ahref's site explorer and click on Backlinks -> Broken.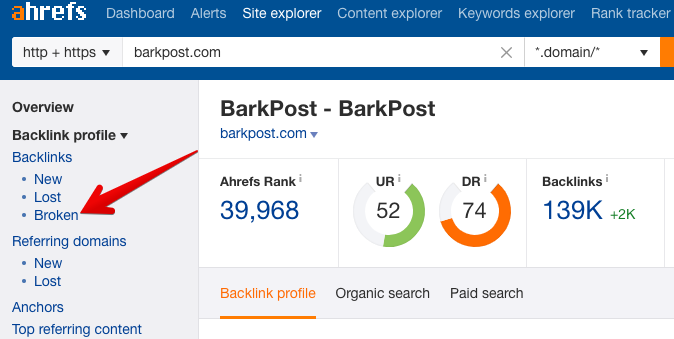 Now, I'm presented with a whole lot of backlinks from other websites, that link to broken pages on The Bark Post.
451 backlinks that are broken, from pages like Huffington Post and Buzzfeed! Look at those DR scores, too! Straight away, this is a little goldmine that we've stumbled across!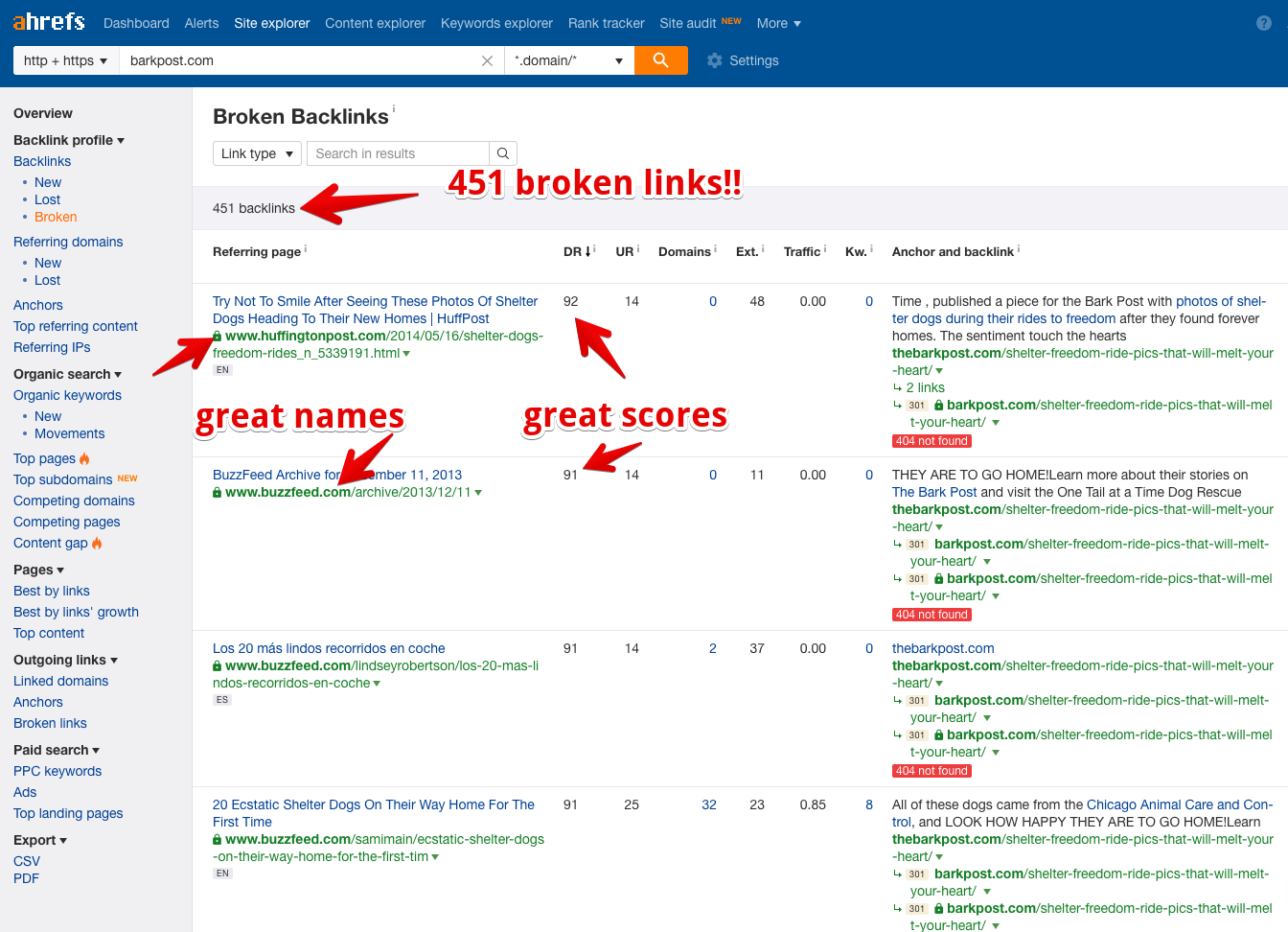 Here's a great example of a potential link for our web store:

As you can see, it's got a good DR of 50, it's a do-follow backlink, and the referring page has a bit of traffic!
Now, take a look at the URL of the page that petslady.com links to – 'Reasons why your dog makes the best Valentine'.
Naww isn't that cute. Almost as cute as a good quality backlink for free.
So what now?
Well, you can do a number of things. The most beneficial, but also quite time-consuming option, is to go and recreate this content that's no longer on the Bark Post website.
I don't know about you but I'd have no problem writing about why my dog makes the best Valentine.
Before you get stuck into creating new content though, let's take a closer look at this 'Pets make the best Valentine' article in Ahrefs.
By putting this URL into Ahrefs and clicking on 'Referring domains', you can see all the domains that are currently linking to this non-existent piece of content:

Only 4 domains and only one is giving a do-follow link. This isn't revolutionary, but remember 2 things:
If your online store has no backlinks, 4 backlinks from a page with a DR score of 50 is a great way to get your foot in the door
After creating this 'Why your pet makes the best valentine article', you'll be able to use some of the techniques mentioned later in this article to generate even more links.
Repeat this for each of your competitors, on every broken link they have, and you'll end up with a solid base of backlinks to start building more.
Low Hanging Fruit #2: Domains for sale
You may not know the best keywords for your website yet, but you'd know if a word was relevant to your own business, right?
That's all you need to take advantage of this method. This idea comes from Brian Dean at Backlinko.
Copy and paste this text into Google:
"This page is parked FREE, courtesy of GoDaddy.com" + "domain is for sale"
You will then see a list of domains that are parked with GoDaddy and are currently for sale. You may need to scroll down a little bit, or even go to page 2 of the Google search (When was the last time you did that?).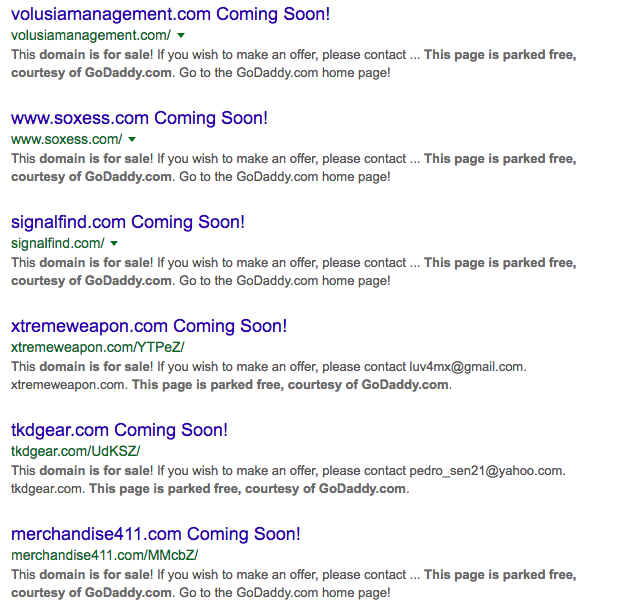 All these domains are for sale. Now you're not going to buy any of these, but you're instead going to browse them all and try and find domains that are relevant to yours.
Then put those domains into Ahrefs and assess the quality of the backlinks that are pointing to them.
If they are of any value, reach out and ask for the link to be changed to your website. Not many webmasters will like having a link to a parked domain that's for sale!
This is a time-consuming task, but it can result in a few golden backlinks from quality sites.
ProTip: Use a tool like expireddomains.net to find expired and deleted domain names. You can order them by the number of backlinks, and filter them for relevant keywords. Tread carefully though, this can lead you into black hat SEO territory.
#3 – Content is king – and more link-worthy!
There are still more low-hanging links to be found, but these sorts of links are easiest to find if you're creating content – mainly, a blog.
In fact, by running a blog alongside your online store, you open yourself up to the possibility of a staggering number of linking possibilities.
Create content about the problems your product solves
No matter what you're selling, your product solves a problem.
High-quality clothing, for example, solves the problem of having to repeatedly buy new clothes every season.
Cheap furniture means that new homeowners or first-time renters don't need to spend their life savings to get their house completed.
Every product out there solves a problem, it's just a matter of finding out how it does so. And when you know how your product solves certain problems, you can write a blog about it.
Loca Bikes are a small, handmade bike company from Poland. They solve the problem of a high-quality bike made exactly to your body size.
They had a lot of inquiries about the same question – is a fixed gear or single speed bike best for me?
So what did they do? They created a blog article.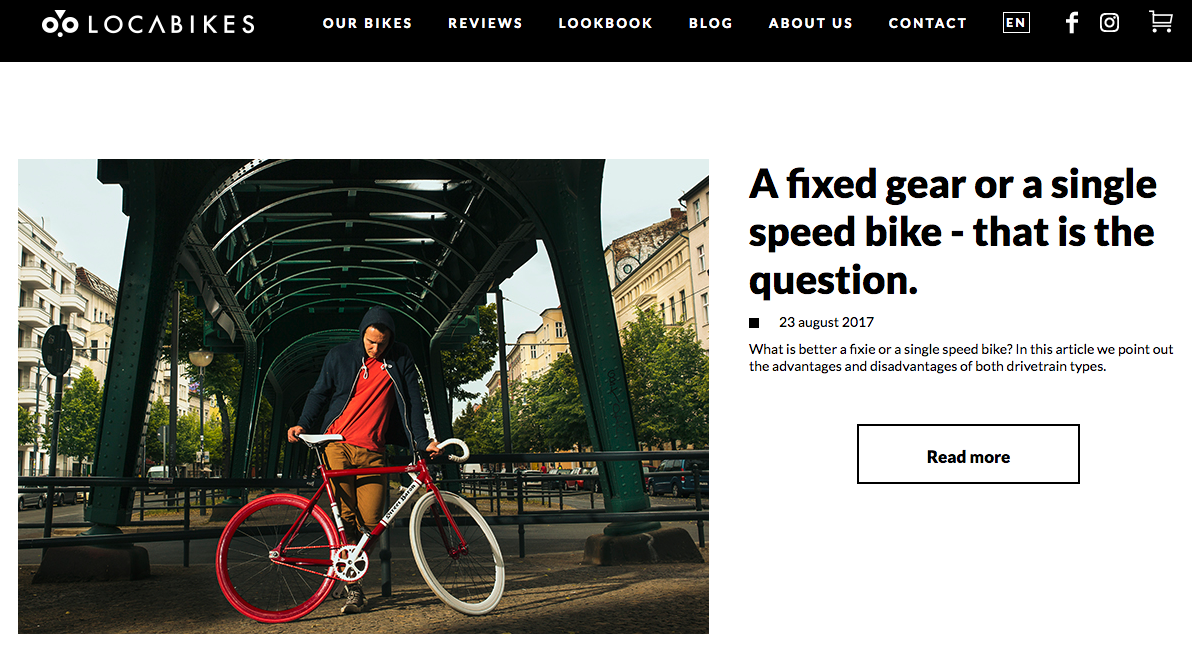 In it, they explain the differences between a fixed gear and single speed bike, as well as which riders would benefit from each application.
They also use the article to show fixed-gear and single speed bikes that they make.
That way, anyone that visits the blog can see which gearing option is best for them, and the kind of bike that they can buy directly from Loca bikes.
This is a pretty simple concept – using blogs to support customer inquiries, but how can it generate backlinks?
Take a look below:
#4 – Overtake old & outdated content
Using Ahrefs, we can take the phrase 'fixed gear vs single speed' and check out the search volume, keyword density and a lot of other things, like the SERPs:
In this image, you can see the top 10 results, as well as the number of backlinks that point to each page.
Take a look at the last result – it has 26 backlinks from 12 domains. Not bad. Let's take a look at those domains!

The first result has a DR of 30 – not fantastic, but better than nothing. We could reach out here and ask for them to update the backlink to some fresh, new content – like the Loca Bikes article!
Now let's take a phrase that's related to our content, but not exact – 'what is a fixie bike' will do for now.
Put this keyword into Ahrefs and again, check out the SERPs.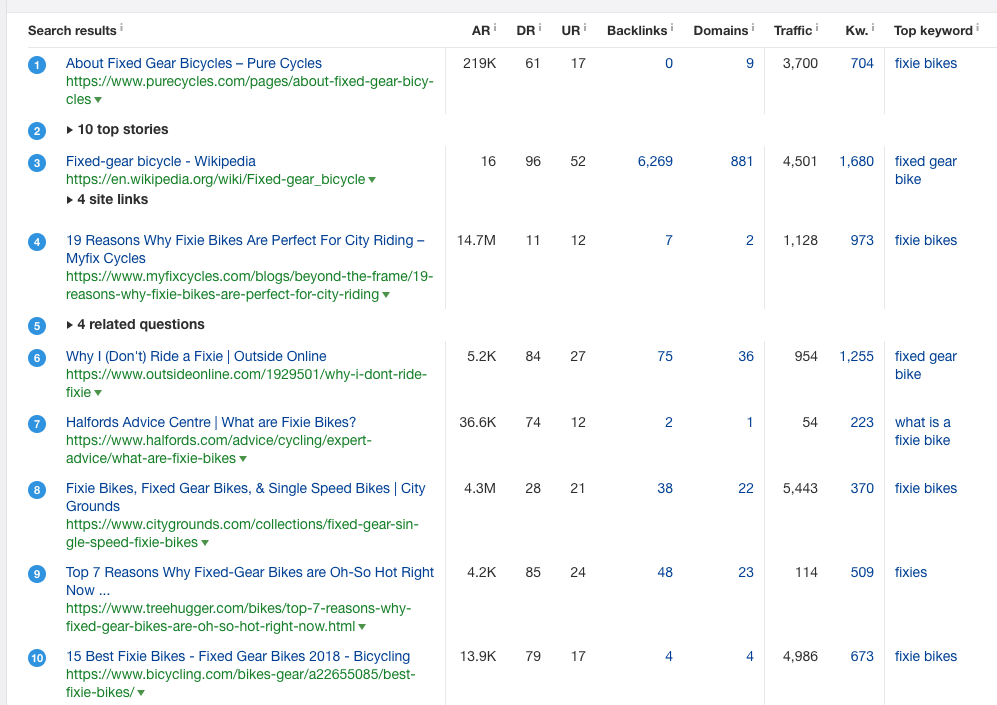 Now that's a lot of backlinks! Of course the Wikipedia article has an insane amount, but the other results have got a good number of backlinks, too.
The citygounds.com article has 75 links from 36 domains!
But how can this benefit our article and get us backlinks?
Well, we know that all the pages linking to these pages in the SERPs mention fixed gear bikes – because they link to an article about it. We can check out these pages and see if they mention 'the difference between fixed gear and single gear bikes'.
If they do, we ask for a link.
If they don't, we ask for a link.
Hey [first name].
I see that your article links to the cityground.com article about fixed gear and single speed bikes.
That article is great, but it doesn't talk about the difference between the two articles. Perhaps you could link to my article that focuses on the differences and benefits of the two types.
Feel free to add a little wit and charm to your email to get the attention of who you're emailing, too.
Repeat this process with every result that's in the SERPs, including the Wikipedia article, and you'll be on your way to getting more SEO juice to your ecommerce store!
#5 – Guest posting for backlinks
Again, this idea is nothing revolutionary, but it can help build links to your store – even your product pages.
The trick to a good guest post is to write for the audience that frequents the website you're writing for. In other words, don't write a guest post that's aimed at your audience.
If you sell handmade shoes and you're writing for a fashion blog, you can write something like '10 best Winter boots for this season'. But what will resonate better with those readers is tying in your area of expertise with the value that the website offers.
A better guest post would be 'The relationship between shoes and the rest of your outfit'. It more generic, more broad, and it involves fashion and shoes. It involves the specialty of the website as well as your area of expertise.
When writing a guest post, it's best to only link to your own domain once or twice and to do it in context. No one, and I mean no one, is going to put your guest post on their website if it's just 300 words of selling your own product.
Case and point, this article you're reading now.
I work for Packhelp, a company that makes customized boxes – but I'm writing an article for Sellbrite about my area of expertise – SEO and link building. And in this article, you'll only find one link back to our website and not once do I mention product packaging – because it's not related to backlinks.
Furthermore, good quality guest posts help you build a relationship with the company you're writing for.
In the case of selling shoes and writing for a fashion blog, you can offer the readers a discount in your store. If that idea works well, you can offer the blogger to become an affiliate of your brand – every sale you make that comes from their blog, the fashion blog gets a cut.
If your blogger has an affiliate page or a 'special discounts' page, you'll get another backlink from there, too.
#6 – Get involved with popular content
For this example, I will be a merchant that sells high-quality stationery, specifically for home office use. I'd like to get links to the product page of my best-selling desktop organizer.
How can I do that?
I can look at the most popular content for that keyword. And the best way to do that is to simply search for your keyword – in this case, 'desktop organizer'.
Note: 'Organizer' has two different spelling. British English is 'organisers' and American English is 'organizers'. Depending on your target audience and your preferred spelling, your search results may be different. This is the bane of all SEO'ers.
Once you'd done the simple Google search, screen the results and see where you might be able to get a mention.
Take a look at the image below for the results.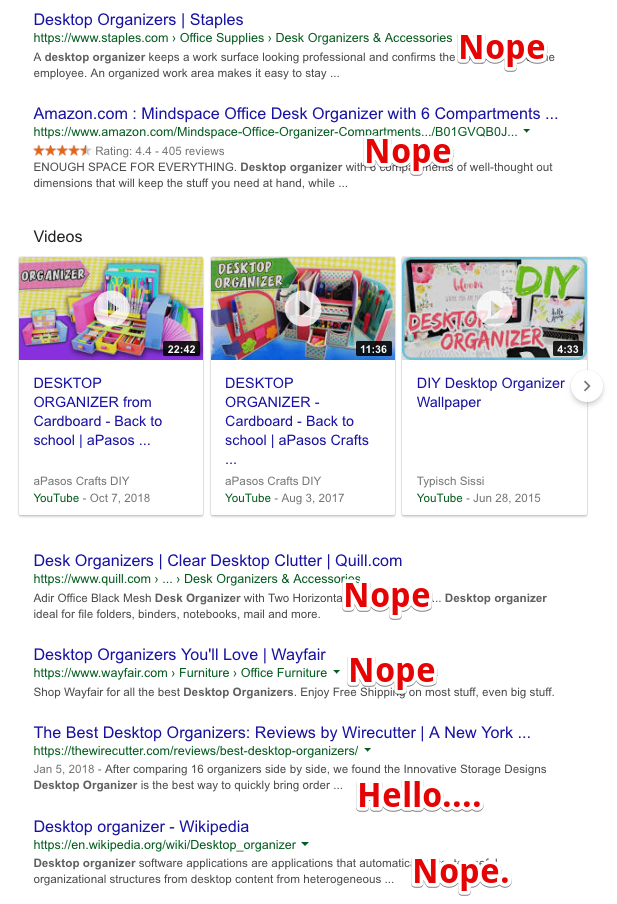 Staples, Amazon, Quill, Wayfair, they're all ecommerce pages themselves. They're direct links to the category page of massive online retailers.
Obviously, this is what we want for your store, but we're not quite ready for that…yet. There's a Wikipedia page for Desktop Organizers which is…weird.
Anyway, this second last result is interesting.
'The Best Desktop Organizers: Reviews by Wirecutter'.
After clicking on it, we can see that it's a listicle – 16 desktop organizers put head to head. There's no reason that we can't reach out to the writer and ask to make that 17 desktop organizers.
Before doing so, take a look at the links to the products mentioned. If the links to the product pages are affiliate links (that is, the writer gets a percentage of each sale), you may need to set up the same process.
Find the email address of the writer, or approach them on LinkedIn and offer the following:
What you want – a review of your desktop organizer in their article
Why your products are worth mentioning – Your products are different to the others because they're handmade, made by hand, made from recycled materials, I donate to charity etc)
A reason to do it – by offering a 17th option, they'll be offering more value to each of their readers and providing them with a unique option that currently is not on the list.
An incentive to do it – they'll get a certain percentage of each sale that comes from their website.
A contingency plan – are there any other ways that you can help contribute to the WireCutter website and get a backlink
Again, just like most reach out emails, you need to be charming witty and memorable. You may also need to send more than one email – 4 or 5, possibly.
Now keep in mind that we found this website by searching the term 'desktop organiser'.
Repeat the above process for just about any keyword that's relevant to your product.
For example, the keyword 'best desktop organiser' comes back with 8 results that compare different products.
Each one of these is an opportunity for you to build backlinks to your online store. Rinse and repeat this process for each and every product in your store!
#7 – Get listed alongside your competitors.
Your competitors have probably been around a little longer than you. In that time, there's every chance that they've accrued a few backlinks that you can also get in on.
You may have noticed that a lot of brand mentions that have backlinks simply link to the homepage.
Case and point, this leather company, Buffalo Jackson has over 30% of their backlinks are branded anchor texts that go straight to their homepage.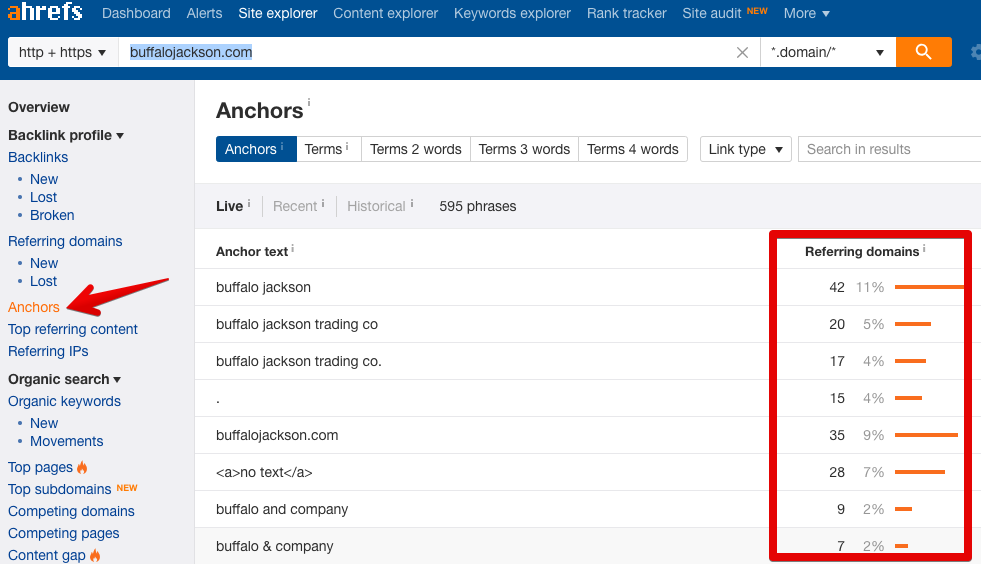 This isn't bad, it's actually quite good. As you read earlier, if your site structure is correct, the SEO juice will flow down to every page.
To use this technique, again you need to know who your closest competitors are. We'll also be using Ahrefs again (I like Ahrefs, can you tell?)
For this example, I'm selling leather wallets.
I know my competitors are Buffalo Jackson (as mentioned above), Popov Leather and JooJoobs.
Using Ahrefs' 'Site explorer', enter your competitor's name and click on the 'Backlinks' section of the sidebar. You'll be presented with every single link that directs to that domain.
I like using the filter function here to see only one link per domain and only do-follow backlinks I think sort each domain according to it's DR.
Note: Remember that no-follow backlinks are ok if there are a lot of traffic. Before filtering for only do-follow backlinks, check if there are any no-follow backlinks that get a lot of traffic, like below:

Now you can see a list of high-quality backlinks to your competitors.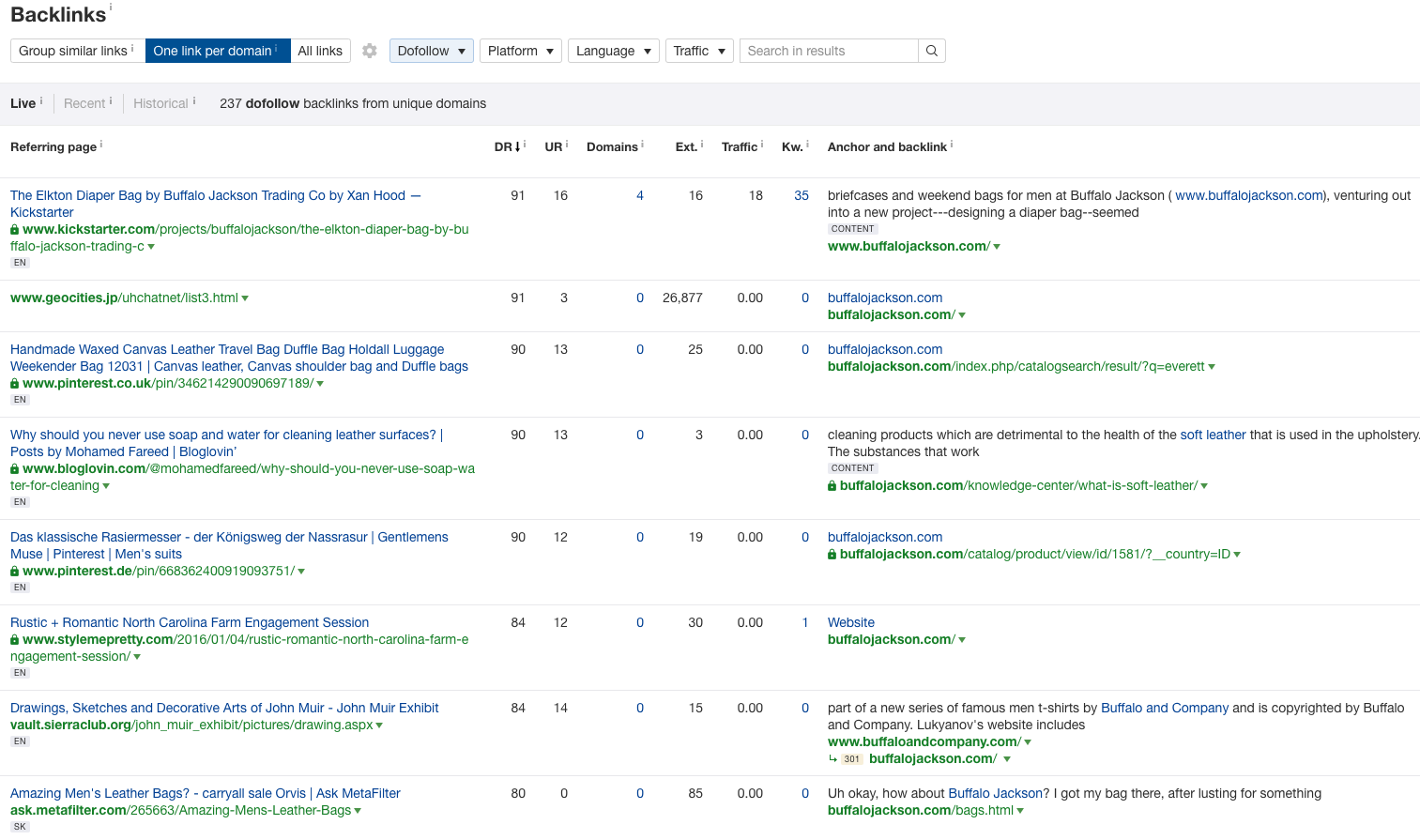 The task now is to search through these, visiting each referring page and ask yourself 'why did they link to the competitor and not to me?'
Our first result is a backlink from kickstarter.com. We're probably not going to be able to get a backlink from their exact kickstarts campaign, but there's an idea for another high-quality backlink. Your own Kickstarter campaign.
Here's a link to out other competitors, JooJoobs, where the blogger has done a review of one of their products.

Checking out the website:
It's a good quality website
It's a thorough review, and
In the above picture, we can see that it's got a fair bit of traffic, too.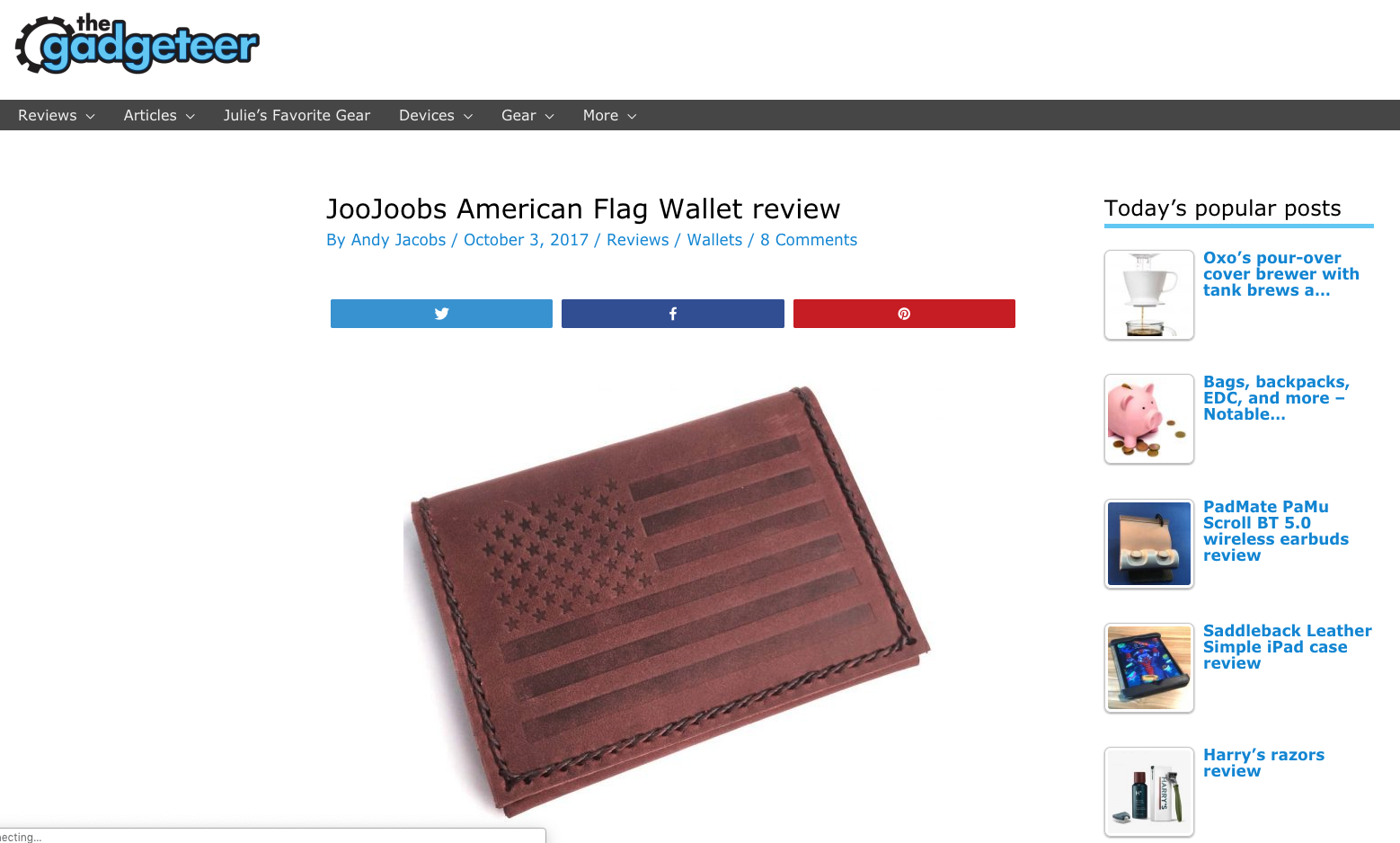 Reach out to our writer and see if they could do a review of one of our products. This may mean giving a product away for free, but if that's the price you're willing to pay for a good quality review, so be it!
Back to the page of backlinks that point to our competitor, we can see another opportunity:

Bestleather.org sounds like a directory listing.
On closer inspection, that's exactly what it is.

Now it's just a matter of exploring the site a little and finding a way that we can get our brand mentioned in this directory!
Later in this article, we'll go into more detail about getting backlinks from reviews and directory web pages.
#8 – Create content using data from your customers.
Everyone knows that being able to provide supporting evidence helps you prove your point a little more.
Whether you're in a political debate, or arguing with mum, evidence is important – most of the time.
Many bloggers and writers know this and often refer to statistics to back up what they're saying.
Statista is a fine example of a business that's based just around collecting and presenting both raw and processed data.
Their article, Retail e-commerce sales worldwide from 2014 to 2021 has over 366,000 backlinks.

That is a s-t-a-g-g-e-r-i-n-g number of backlinks to one specific article.
So clearly, presenting data in a digestible form is a great way of building backlinks.
But how can all this create backlinks for you?
By creating statistic-based content about your customers and their buying behavior.
If your business has been around for a while, there's a chance that you've established a large email database for email marketing. If you're able to survey your email database, you're able to create this information and data.
For this example, I'll be a merchant that sells nutritional supplements. I have an email database of 2750 people.
Using a tool like Typeform or SurveyMonkey, create a survey of your customers that asks some unique questions. For example:
Is buying 'natural' or 'organic' important for you when buying supplements?
What is the average you spend on supplements every 3 months?
Do you prefer to buy supplements in store or online?
Create a set of questions, perhaps 12-15, and send this email out to your entire database.
ProTip: You may need to offer an incentive for each and every customer to participate. 'Complete our survey to get 20% off your next order' is a great way to re-engage email subscribers who haven't bought from you for a while.
Similarly, 'Win a year's worth of supplements' is a great way to get more people into your email list. Creating a survey around an incentive such as a prize or discount is a double-edged sword.
You get your data, more subscribers and/or more sales.
Once your survey has been completed, you should have an insightful amount of data. Take this information and put it into a blog in a unique way.
76% of customers surveyed feel that buying organic is important
⅔ customer surveyed spend over $250 on supplements per quarter
Online is still the preferred way to buy supplements
By referring to the raw data in a blog article, other agencies will naturally link to you. Consumer articles are stronger when they have the data to back up their statements.
So by publishing findings and the insights of your own customers' behaviors, you'll naturally build backlinks.
#9 – Write a testimonial for a product you like
Is there a product that you find yourself using day in, day out? For example, a product that helps you with your digital marketing?
Become an advocate of it! Many SaaS (software as a service) companies rely heavily on users' testimonies and case studies to help increase their sales and build trust.
For example, you can see here how Sellbrite has written case studies about their users: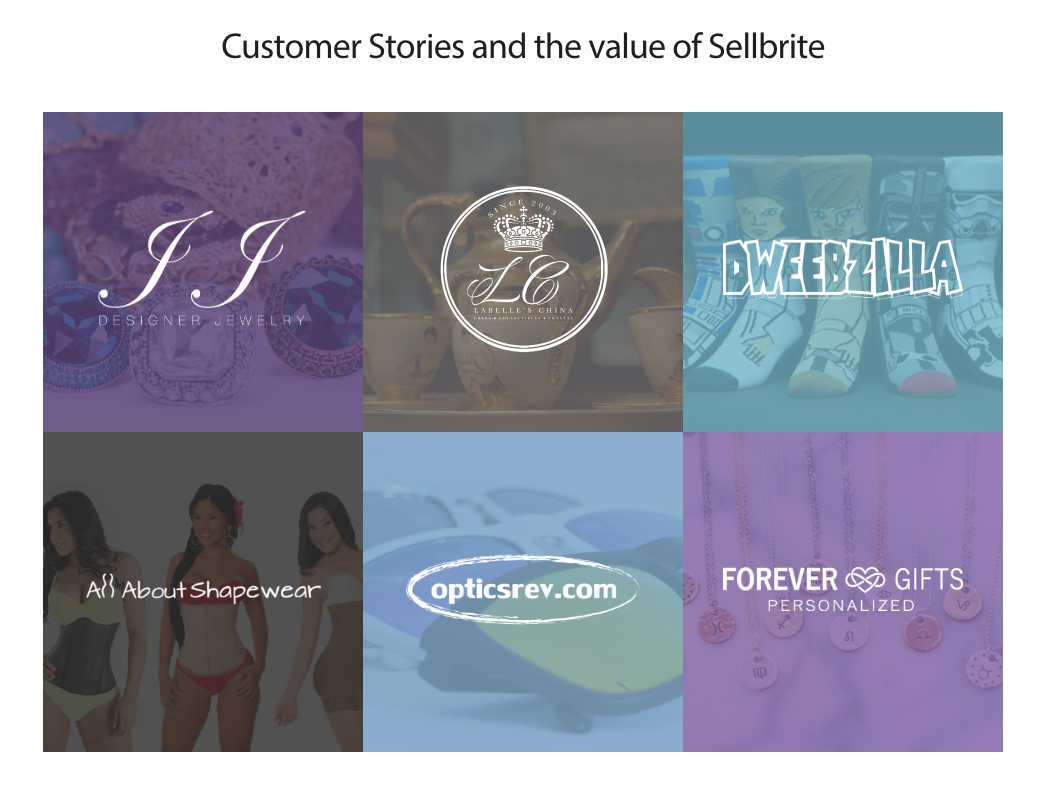 In each case study, the writer goes into great detail about how the company used Sellbrite to make their lives easier.
And guess what:

Included in the article is a nice juicy backlink to their customer.
Make this work for you, by reaching out to any companies whom you pay to use their product.
Mention that you're interested in being the focal point of a case study, and you may very well end up being just that.
Remember that if a case study isn't of interest to the company, you can still get a backlink from a short testimony.
Here's an example of DevSkiller linking back to a customer that has given them a testimony:

At the end of the day, both a case study and simple 1-sentence testimony will give you the backlink you're after!
#10 – Get a link from suppliers and manufacturers
Do you use a certain kind of material for your clothing?
Perhaps you always use a certain kind of paint for your paintings.
More often than not, ecommerce entrepreneurs like you are buying directly from the supplier or manufacturer to keep the prices down.
Believe it or not, these suppliers and manufacturers like to know and show off the ways that their products are being used.
One area where this is being proven is with drop shipping. With more and more Chinese manufacturers wanting to know how their product is being used, some are wanting to make contact with their resellers and be a part of the process.
This idea is kind of like a case study that you just read about, but for a physical product, rather than a SaaS product.
If you've been using the same supplier or manufacturer regularly, reach out to them and make it know what you do with their products.
Many of these companies have a resource directory to show which companies use their products.
#11 – Consumer guides
Consumer guides are a great form of content to get backlinks from, as the kind of person that reads them are usually at the 'decision' point of making their purchase.
They know they want to buy a product and they've made the decision that they need to buy a product. They're now researching the best product to buy.
But what is a consumer guide and how can it help you?
A consumer guide is a collection of products that meet certain criteria or restriction. For example:
Best wedding shoes of 2018
Best leather luggage under $500
Top 5 Day trips from Munich
This is an example of Elle, a very well known fashion magazine, and one of their consumer guides:

In this example, I'm a merchant selling high-end rain jackets for men, women, and kids.
Now, you may have seen that a lot of these consumer guide start with the word 'best' or 'top'. So let's Google these terms and see what we come up with.
ProTip: Put your keyword (In this case, best 'women's rain jacket' into Ahrefs.

If the search volume is high and the Keyword Difficulty is low, consider creating your own consumer guide to your own products – it mightn't be too hard to rank on page 1!)
After Googling our keyword, we see that a lot of the results are as expected – guide to the best women's rain jackets.
Now it makes obvious sense to reach out to all of these pages and ask to be mentioned – that's the only way you'll get a backlink.
But the secret sauce to this technique is to think of different consumer guides that your product could be mentioned in.
For example, alongside 'Best women's rain jacket' you can also have:
Best women's hiking jacket
Best wet weather clothing for women
Best rain jacket for women under $200
Essential winter hiking gear for girls
Best Seattle-based clothing brands
Best entry level outdoor gear
A simple Google search and a little creative thinking can have your product listed in a wide range of consumer guides.
Remember to check the Keyword Difficulty of each keyword – you may be able to create some sale-inducing consumer guide yourself!
#12 – Directories that you forgot existed
There are many many underutilized online directories out there on the internet. Most of them are locally based guides – for example, small businesses in the Fort Worth area.
It's nothing more than a collection of small businesses based around Fort Worth. More often than not though, these directories give out a juicy, do-follow backlink when you register.
How do you find these local directories? Well to start, Hubspot has put together this huge selection of local business directories.
Start by working your way through this list and seeing if you can get a backlink from each directory.
Next, search for business directories in your specific county, suburb or region (Tarrant, Wise, Parker). Then take a step back and search for business directories in Fort Worth. Then directories for Dallas and Oklahoma, if you service those cities. Then finally try state and country-wide directories.
Geographical directories are only one thing. Think about the other values that your brand aligns with and find directories relevant to those points.
Here's the business directory by the North Texas GLBT Directory of Commerce:

Here is a directory of organic clothing companies.
Here is a directory of food brands that support charities.
The number of backlinks that you can build from directories like this is limited only by your imagination.
Furthermore, some of these directories can provide a solid stream of traffic that's looking for businesses that align with their values.
#13 – Monitor brand & keyword mentions
There are many existing backlink opportunities out there for you right now that you simply don't know exist. The name of your brand may even be mentioned, but there's no link there for you.
Simply Google your brand name and see what the results are. Are there any pages that mention your brand name, but don't link to you? There's a backlink opportunity right there.
For this example, let's use my real personal blog, Expats Poland. My blog is dedicated to showing expats new to Poland all about Polish life and culture.
So by Googling the term 'Expats in Poland', I see lots of potential link opportunities.
Here's a great example of a high DR page, mentioning my brand name and not linking to me: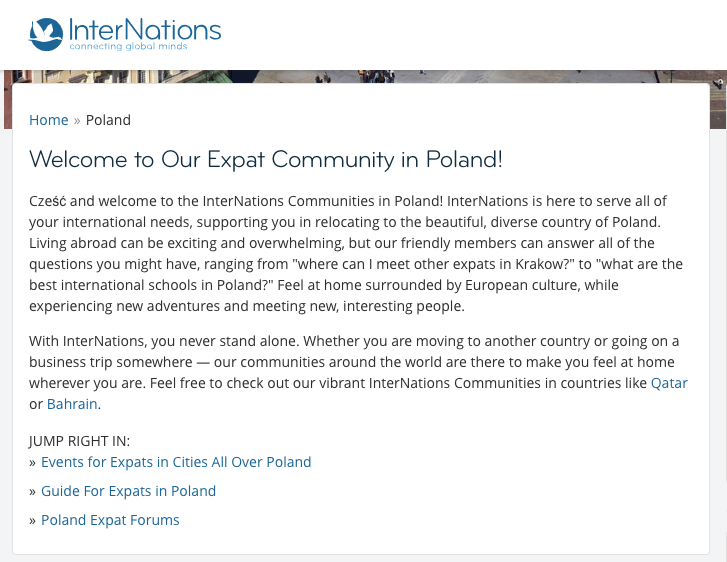 So now I craft a clever email and reach out, asking for the article to be updated!
You can take this method to the next level by using a tool like Brand24: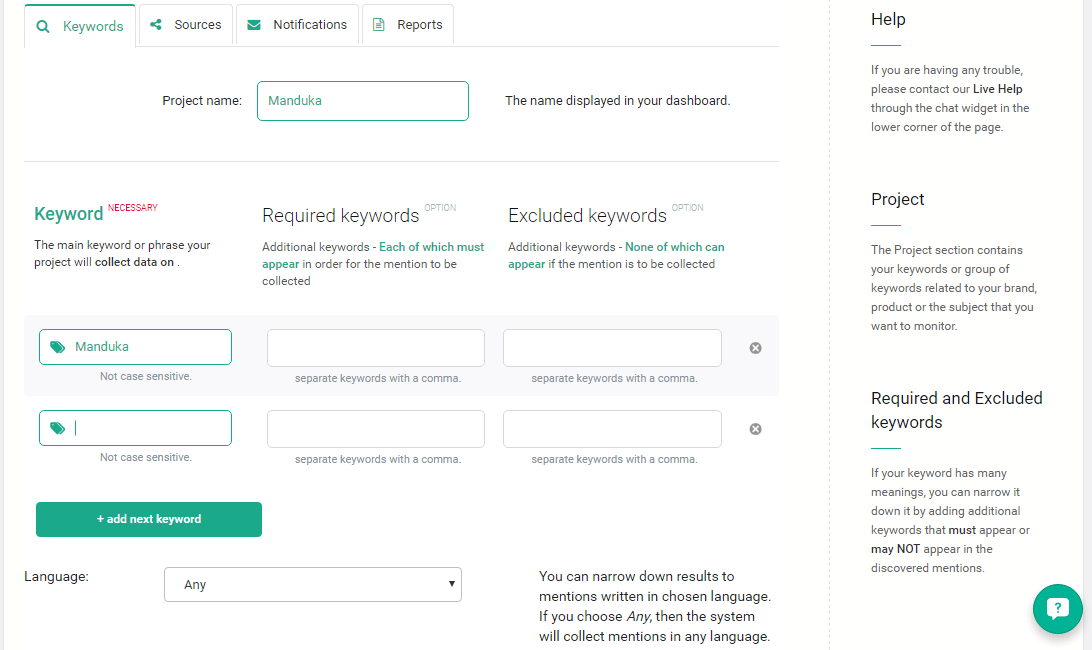 Using Brand24, you can enter your brand name, product names and any other relevant keywords. Then, whenever your brand or one of those keywords is mentioned online, you're alerted.
Now all you have to do is follow up with each mention and get that backlink! Bonus points, as Brand24 also monitors social media.
This means you can interact with anyone who drops your name on Twitter, Facebook, Instagram or just about anywhere.
#14 – Leverage your competitors backlinking skills
Your competitors know the importance of backlinks, too. Chances are that your bigger competitors are actively looking to build backlinks. If they've been around longer than you, they've probably got it down to a fine art.
But this isn't a bad thing. If anything, it's advantageous to you.
Firstly, it proves that people in your industry are giving out backlinks to products like your own.
Secondly, it means that the hardest part of your job – finding space for a new backlink – is done!
My favorite backlink tool, Ahrefs, has a fancy 'alert' feature.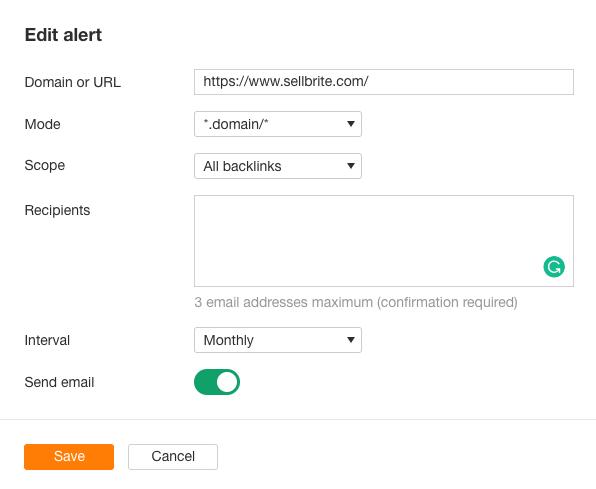 This tool is pretty much as simple as it comes.
You enter your competitors URL (in this case, Sellbrite), select exactly which kind of backlinks you'd like to monitor, and the frequency at which you're notified, and you're done!
Monitor these backlinks, and if you notice that your competitor is getting some quality backlinks, you can start to do some sleuthing.
Look at how and why your competitor has got these backlinks.
Can you get backlinks from the same site just by asking?
Do you need to create some even better content for your website?
Monitoring your competitors' backlinks is something that you should regularly do if you're dead serious about increasing your ecommerce stores SEO profile.
#15 – Sponsor teams, groups & local charities
There's a lot of backlinks and traffic to be found by implementing some traditional PR methods. Sponsoring a local club, group or charity is a great way to do this.
Of course, the biggest benefit here is one that comes from working closely with a local community. Many local groups, from boy scouts to animal shelters and aged care facilities, have websites that they rely on for many reasons.
On their websites, they usually have a page dedicated to sponsors, supporters or recommended companies. A backlink from here can provide some good SEO juice as well as a steady stream of localized traffic.
Add to this, a mention in the group's regular email newsletter, and this can be a great boost to your sales, notoriety and your SEO profile.
Working with schools or university teams has another added benefit – a .edu backlink.
.edu backlinks carry a little more weight than a link from your average .com or .co.uk domain.
Why?
.edu domains regularly post high-quality content
To get a .edu domain, you need to be a certified educational institution
.edu domains are usually quite old, have loads of links pointing to them and have a high DA.
There are many more reasons that .edu backlinks are great, but that's a different story.
So getting backlinks from a local school, college or education facility is a killer way to boost your SEO profile.
ProTip: Offer a student and staff discount and you'll be listed on a school's 'benefits' page: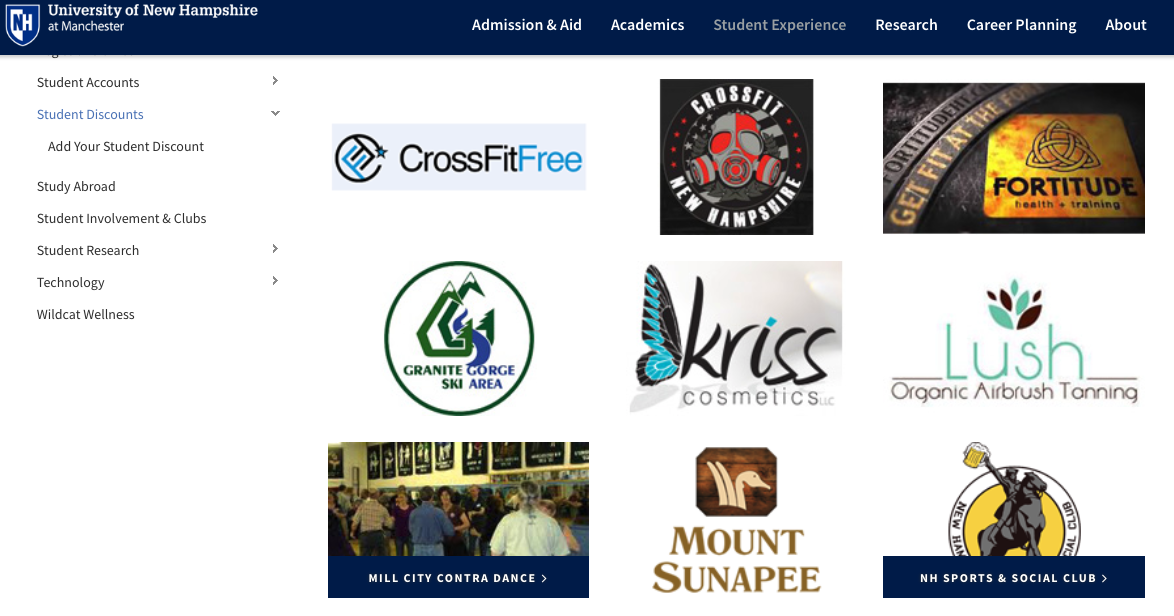 #16 – H.A.R.O – Help A Reporter Out
HARO is a fantastic PR email that goes out a few times every day. In it, journalists, writers or bloggers place requests for certain experts in certain fields to contribute their opinion or experiences on a certain topic.
Here are a few samples of the HARO email that went out today: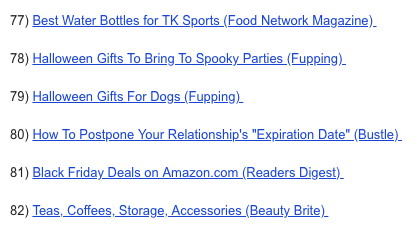 When you click on the link, you're taken to a more in-depth description of what the journalist is after: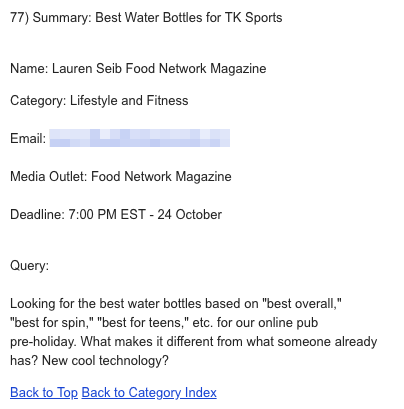 Simply reply to the email with your insights, and there's a chance that the journalist will reply to you and include you, and a backlink to your website!
This is great for not just your ecommerce page, but also for your blog articles!
ProTip: Form a relationship with your journalist if they do use your content. Make yourself available for any other situations where your input may be of value. That way, they're more likely to reach out to you specifically next time around.
#17 – Bundle products with those of other brands
For this example, I'm going to be a merchant that sells men's cosmetics.
I have my range of moisturizers, exfoliants and whatever else I may sell. I notice that a lot of my customers also have beards or facial hair of some kind.
What's a product that many of my customers may also have an interest in?
Beard oil.
This isn't a product that I want to start developing and selling under my own name, but it's a complementary product that my customers may also be interested in.
Therefore, I'm going to reach out to my favorite beard oil brand and ask them if they'd like to work together.
As a partnership, they will sell my skin care products, bundled together with their beard oil on their website. In the product description, they link to my website. I do the same with their products on my page.
This symbiotic relationship does a multitude of things:
You get seen by a wider audience
This wider audience is exposed to your product
More people become fans of your brand
You get your backlinks
You start a relationship with a complementary brand
A great example of this, albeit on a much larger scale, is computer brands. Brands like Dell and Asus sell their products with Microsoft products already installed.
Just like most of these examples you've seen, these backlinks can provide Seo juice as well as some good quality referral traffic.
Final thoughts
This monster article has shown you many many ways that you can build backlinks to your online store.
Most of these ideas are not specific to an ecommerce store, but revolve around simply using good content, and having a creative mind.
That being said, the ideas specific for building backlinks to your ecommerce store are ones that you can just about guarantee your competitors aren't using!
Armed with this guide, go out there and spend some serious time researching, assessing and emailing people in order to build backlinks.
As mentioned earlier in the piece, link building is a time-consuming process. There's no guarantee that your hard work will bear fruit, or that you'll rocket to page one. You may very well do that, but there's certainly no promises in the world of SEO.
Google is always changing its tune. Almost monthly now, those of us who focus a lot on SEO are witness to another Google algorithm update. Some people are hit hard, some people see unexpected success. For others, there's no change.
What's most important with backlinking and SEO though is that you keep at it. If you keep building those links, you'll build your authority. After you've established yourself as an authority, you'll also find that backlinks from higher and higher domains seem to come organically, without you even asking for them.
What are some of the link building techniques that you use to build links to your ecommerce store?
Let us know in the comments!