Referrals have been hailed as one of the top three drivers of traffic for ecommerce sites. But harnessing the power of word-of-mouth referrals is hardly a novel marketing tactic. What is new, however, is how best to implement this highly effective strategy in an age governed by social media when what your consumers say about your brand directly influences the purchasing decisions their friends, family, and connections make and impact how your brand performs in the long term.
When you consider that 84% of consumers trust referrals from friends and family and are four times more likely to buy if a brand has been personally recommended, the value of a solid referral program for customer acquisition takes on a whole new appeal. To ensure optimal results, your referral program should leverage your existing customer base at every possible touchpoint with the aim of converting your consumers into your avid brand ambassadors.
So how exactly can you fast track your referral program and boost your customer acquisition rate?
By following these best practices for smart ecommerce merchants:
Placement Is Critical
Ideally, you want to catch your consumers at strategic points of delight when they'll be more motivated to participate in your referral program. Use heat maps and A/B testing to find out the best location to place your referral program widget on the website.
In most cases, the perfect time to ask your consumers for a referral is just after payment is confirmed, so embed a referral box prominently at the end of the online transaction or shipment notification, place a reminder sticker on the delivery box, include a flyer with the invoice and/or a thank-you card posted sometime later. Or have one of your call center consultants mention the referral program during post-purchase confirmation.
Other top strategies include:
Create a standalone landing page for promoting your program via email, social outreach, and other outbound messages.
Allot a small amount of real estate for your referral program on your website, app, mobile site, newsletter, or transactional emails to direct users back to the standalone landing page.
Send text reminders to refer a friend once an order is confirmed.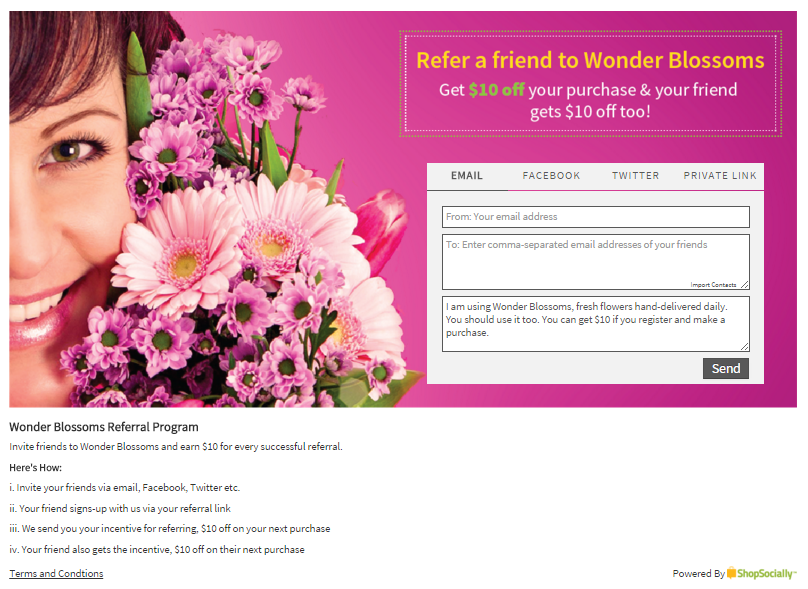 Keep It Simple
Texas Tech reports that 83% of consumers are willing to refer after a positive experience, but only 29% actually do. This is why the easier you make it for consumers to refer their friends and redeem the referral rewards, the more likely they'll do so. Providing the option to refer friends using social media channels is a great way to achieve this goal, as the only action required by the consumer is the simple click of a button. A click-through option for the recipient on a referral email or post also makes your brand more accessible and helps drive conversion.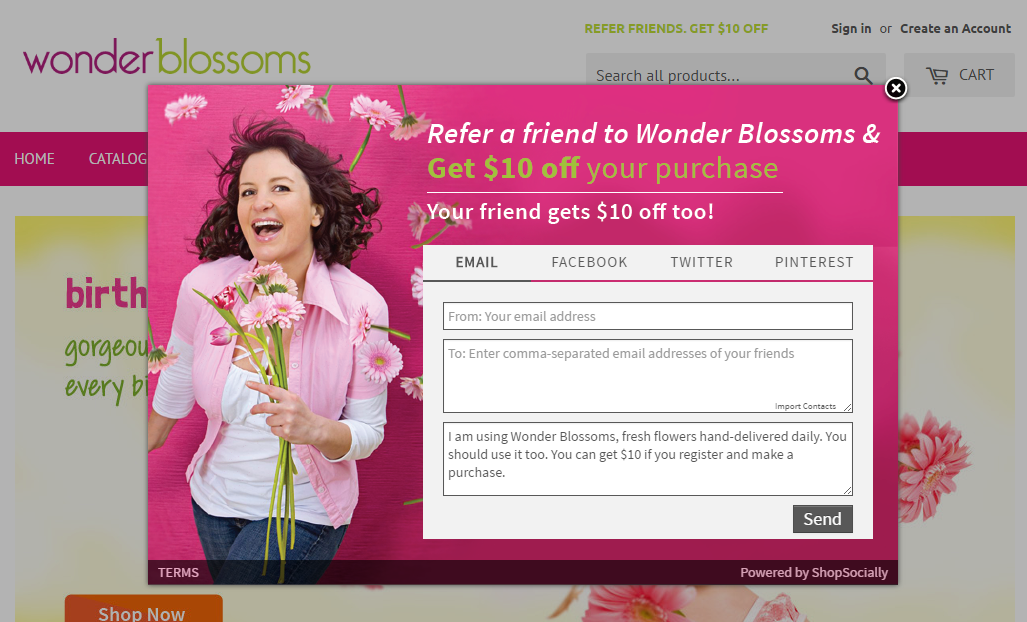 Offering Incentives
According to B2B Marketing Mentor, 39% of respondents say material incentives such as discounts, free swag, and gift cards greatly increase their chances of referring a brand. 44% of respondents under the age of 34 are more likely to give a referral after receiving social recognition. Certainly, rewarding consumers for being loyal brand ambassadors is a sure-fire way to keep them motivated and encourage them to make more referrals in future. It's also worth noting that double-sided rewards—those that reward the advocate and referee equally—are the most successful.

A/B Testing
Most referral programs allow you to implement A/B testing to determine which incentives your particular target audience responds to most favorably. A/B testing also enables you to identify your consumers' preferred social channels, e.g. Email, Facebook, Twitter, Pinterest, and so on. This means you can adapt your program accordingly and ensure your consumers can use their favorite channels to make referrals and so encourage continued participation in your program. The more you know about your consumers, the greater your insight into which direction to steer your brand to boost acquisition and maximize ROI.
Bragging Rights
Tap into your consumers' delight at their new purchase by embedding a referral widget that pops up just after they've placed and/or paid for an order and lets them brag about their latest best buy—and your brand—on social media. This type of "Share-a-Purchase" pop-up is an excellent channel for consumers to promote your brand, particularly as they are bound to be pretty enthusiastic when they've just made a purchase. So be sure to take advantage of this strategic moment to amplify acquisition.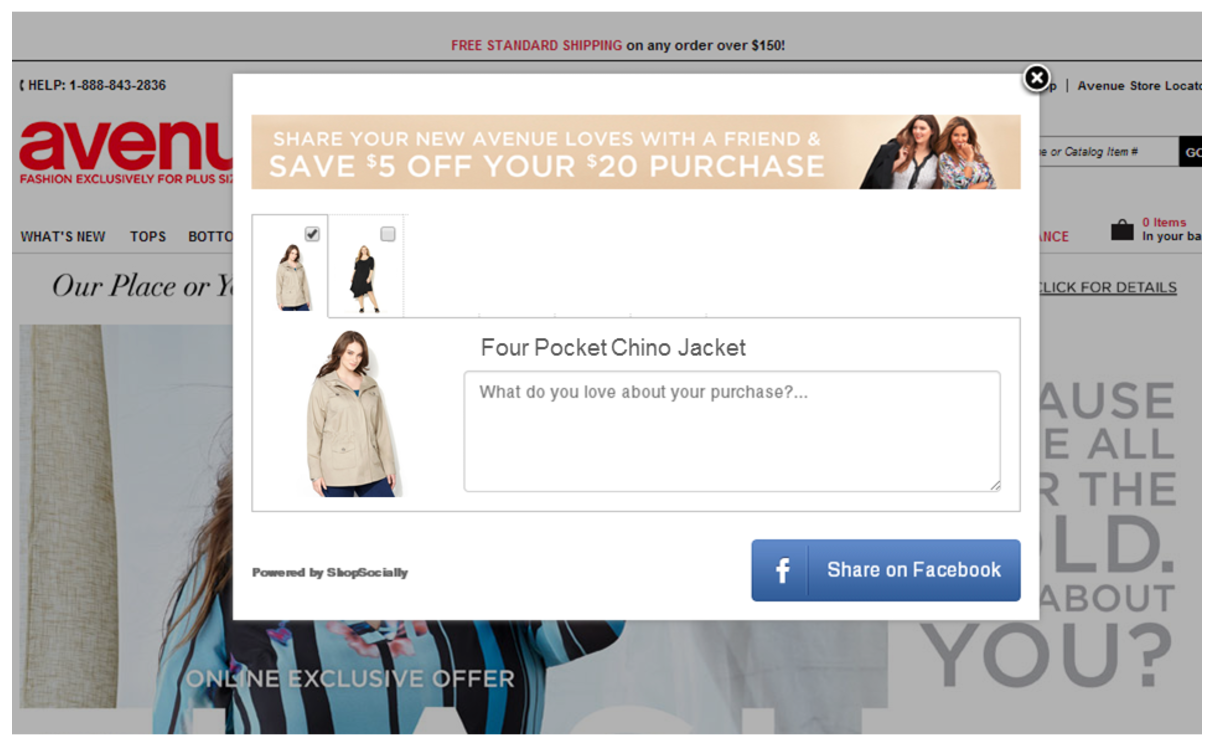 Omni-Channel Integration
Your referral program is, of course, not complete without an omnichannel approach. It's vital that your referral program is integrated across all relevant social media channels and adapted for mobile devices, in order to present a unified brand image. Remember, a consumer purchasing "journey" may well have a number of touchpoints along the way; many consumers today start a task on one device and complete it on another, and they expect continuity when switching channels. The recipe for marketing success lies in creating a seamless customer-centric experience.
Take for example Denby USA, a company that has been making quality pottery items for the US and international markets for over 200 years. By embedding a Refer-a-Friend widget on its homepage, Denby managed to boost its referral traffic conversion rate by 13.49%. The referral program enabled Denby to harness the power of word-of-mouth referrals and help its historic company continue to thrive in an age when social commerce rules.
The bottom line is, brands without an integrated omnichannel referral program are missing out on the opportunity to leverage the power inherent in their consumer base. These consumers have the potential to become your biggest advocates; with just a little encouragement, they can help you exponentially boost your new customer acquisition rate and, by extension, your ROI. How your eCommerce company performs in the long-term simply cannot be separated from how many of your consumers feel motivated to sing your brand's praises to their friends, family, and connections.
So get going and build a solid referral program today!