As you may have read in their Spring, Summer and Fall Seller Updates this year, eBay is transforming their shopping experience to be product-based, where all listings for the same product are grouped together much like they are on other competing marketplaces.
The sheer number of products listed on eBay has grown so large that, until now, search results have overwhelmed buyers. Digging though dozens or even hundreds of listings for similar items has made it difficult to find what you're looking for and has made the shopping experience time consuming and frustrating. This has driven buyers away from eBay and onto marketplaces that follow established retail standards.
eBay plans to change that, ensuring that buyers return to shopping on eBay first.
The new Product-Based Shopping Experience (PBSE) on eBay will make it easier for buyers to find the merchandise that meets their search criteria, and quickly decide which products they want to purchase. The search results will be grouped together by product to help buyers quickly find the specific product they are seeking.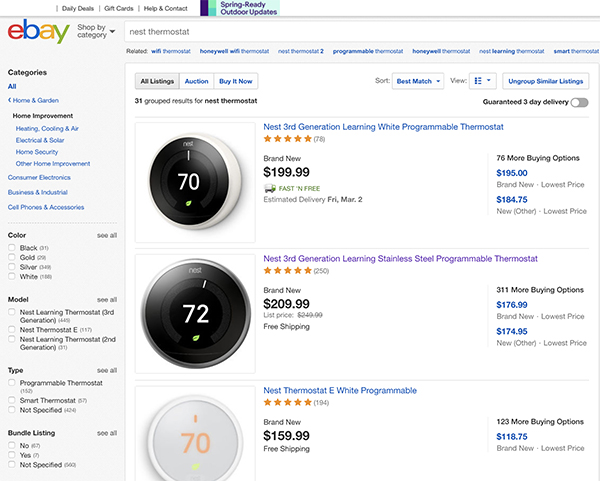 The product page shows the best options for the product in each condition available (new, used, refurbished, etc.), along with product reviews and other programs that further highlight the value of the items you are selling.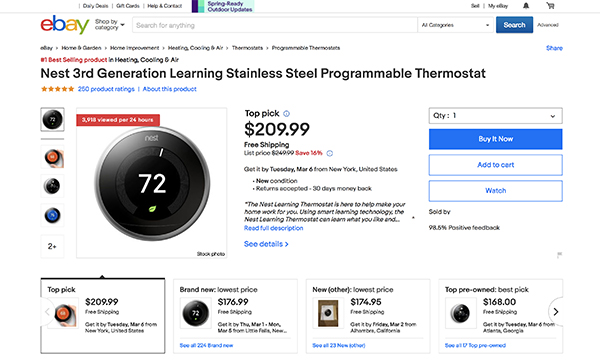 It will also – over time – make the process of listing your products on eBay much easier, as you no longer will need to provide each and every detail about your products. By associating your products with the eBay catalog in these categories, your listings will gain access to product identifiers—key to optimizing your search performance. Your listings will also qualify for product-based shopping, an industry retail-standard experience that buyers have come to expect when they shop online.

Key dates for the product-based shopping experience
Throughout 2018 and 2019, eBay will expand their catalog in phases and require that listings in certain categories be associated with a product in eBay's catalog to ensure visibility in search results. Starting in mid-August 2018, sellers will need to associate their listings with the eBay catalog in these categories.  If you do not associate your active listings with the eBay catalog, your listings may have minimal or no visibility to buyers. If you do not associate new or revised listings with the catalog you will not be able to successfully complete the listing.
eBay will be rolling out new versions of this experience in the US, UK, CA (English), AU, and Germany sites throughout 2018.

PBSE and Sellbrite
Sellbrite has been updated to fully support PBSE and the new listing requirements. Sellers can use Sellbrite's eBay Product Lookup Tool when creating listings to dynamically search for the correct product in eBay's catalog. Once a product is selected, the eBay Product ID (ePID) is automatically added to the listing, which is then ready to publish. Sellbrite will automatically search for the correct product if the seller has supplied a UPC or other identifier in their product data in Sellbrite, making the listing process even more streamlined.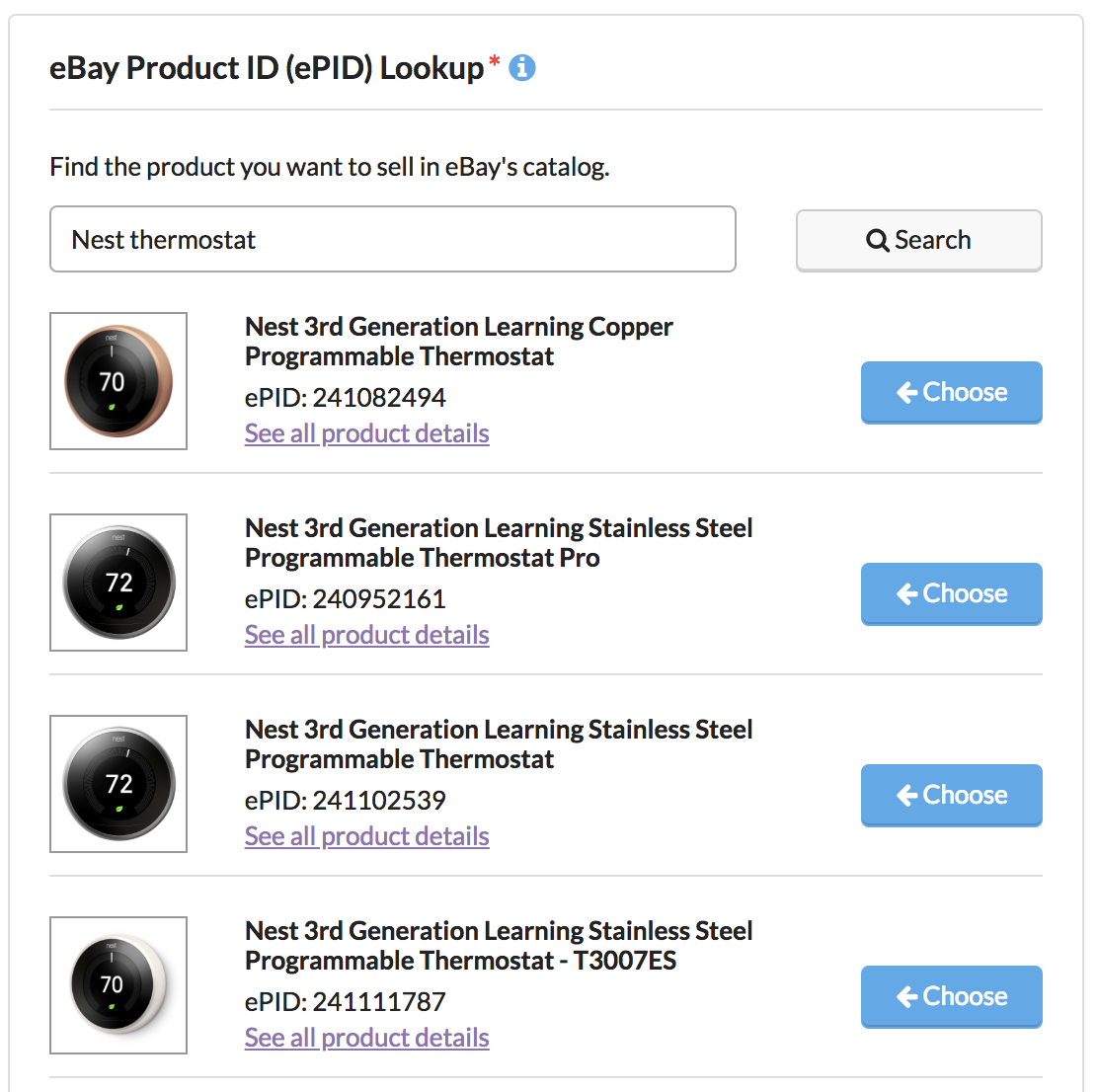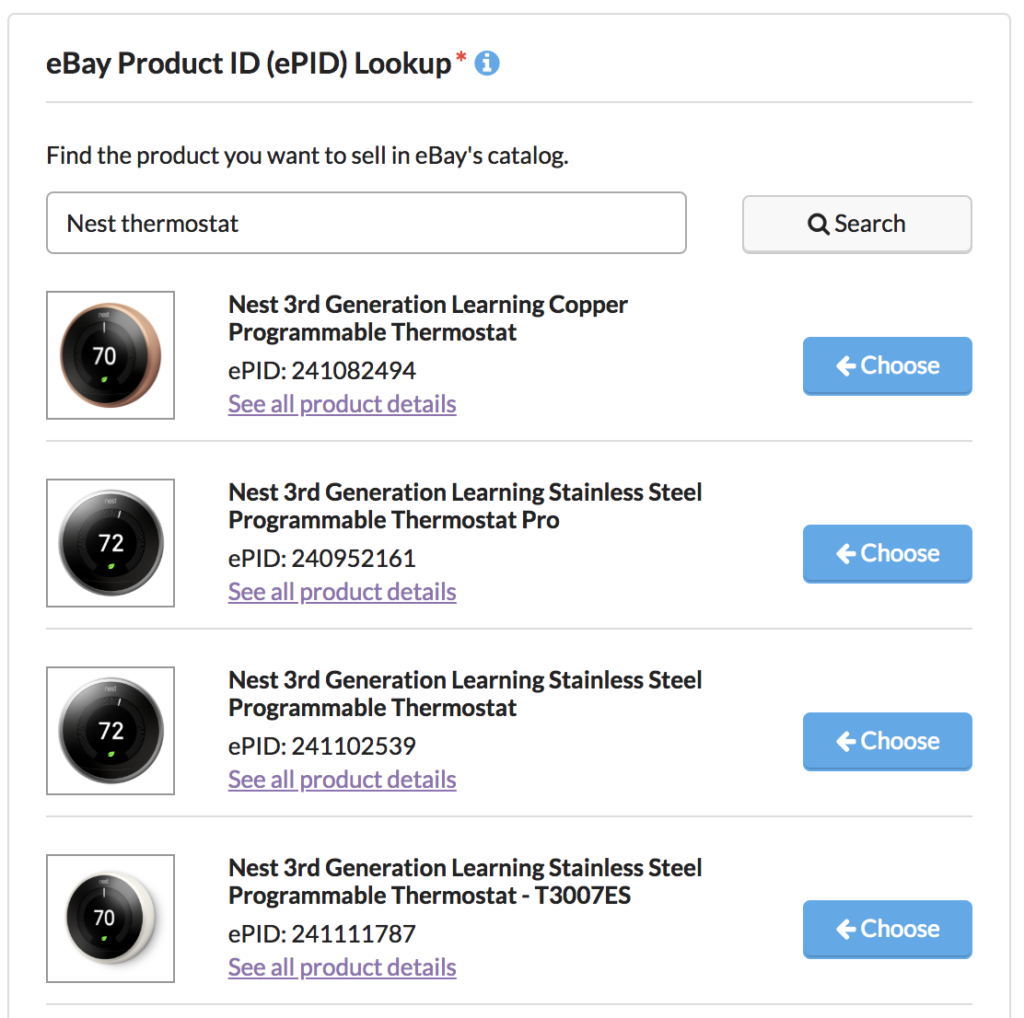 For active listings that are not complying with product-based listing requirements, Sellbrite now has a "Non-Compliant" status for these listings. In many cases, a recommended product from eBay's catalog will be displayed in these listings, and the seller simply need to confirm the selection and publish the revised listing. If no recommendation is found, our Product Lookup Tool can be used to search for the right product in same way you would for a new listing.


For more information about the eBay Product-Based Shopping Experience, refer to their PBSE Overview.