They say the best things in life are free. Then again, they also say that nothing in life is free…
As a retail business owner, you want to make sure you give your very best experience to each customer. If you can offer part of that experience for free, then you greatly enhance the perceived value of your overall offering. Since there is more to the experience you offer as a merchant than just the product you sell, whether it be finding your store, browsing your products, paying for the products on your site, or receiving your package through the mail, there are a lot of different ways you can give your best.
The holiday season brings with it the expectation of discounts and freebies. Free accessories, a free consultation, free shipping, free returns. However, one freebie is a win/win for both the shopper and the seller. For retailers that run a physical store location in addition to selling online, what's truly "in" this season is adding an extra option to get your product to your customers: free in-store pickup.

With the sound of sleigh bells and the excitement of discount-deranged shoppers around the corner, we recommend in-store pickup as a way to cut costs, increase efficiency, and upsell your shoppers. Here are our 3 reasons why you should get busy utilizing in-store pickup before the holiday rush hits.
1) It's cheaper for both the buyer and the seller
Like many these days, I will confess that I am on the verge of becoming an ecommerce shopaholic – the only thing stopping me is how quickly everything adds up! With free-shipping options and discounts, there's still a minimum purchase that often exceeds what you're willing and able to spend. As buyers, we try to look for the best deals with the least amount of hassle and investment.
Rather than making shoppers buy a certain amount of product to qualify for free shipping, or even make them pay a shipping cost period, an option to pick up the item in store gives them a way out. While there actually is a cost for the buyer to perform an in-store pickup, (gas burned, time spent, etc.), the perception is far greater that dollars are saved.
As a merchant, you no longer have to worry about subsidizing the cost of shipping to your buyer. Whereas you may offer flat rate $4.99 shipping but end up spending $7 to ship the item, now your only cost is picking the item off the shelf and reserving it. Some retailers will also adjust prices to cover some of the cost of shipping, and without that additional cost you can price your products more closely to how they should be priced.

2) It's faster for both the buyer and the seller
Shopping online can be deceiving. I always thought that by shopping online I was getting a better deal and a better experience than shopping in a store.
Sometimes this is indeed true. There are always sales happening somewhere, and purchases are delivered to my doorstep without me needing to get out of my pajamas.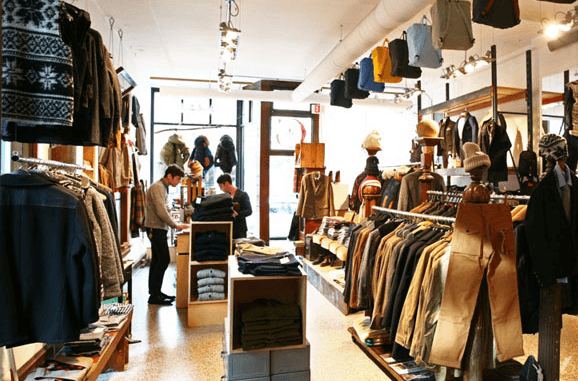 However, there are other costs, like the cost of my time. Whether it's days or weeks, I have put out cash for something that I am not yet able to use. Also, if it's really been a long time since the purchase, I may have lost my passion for the item and not enjoy it as much once it arrives, or decide I don't really need it.
By choosing in-store pickup, I don't have to wait for my item to ship and can enjoy it sooner. I can get my item same-day. Not only that, when I go to pick it up, often times I can skip the lines and go straight to the counter.
As a merchant, you save time as well. Packing and handling orders for shipment is no longer necessary. Buying and printing postage, finding the right box, and running to the post office are out of the equation.
3) "Click-to-Brick" gets buyers in your door
I can go on and on about how amazingly effective and adjusted we are to our mobile devices. The same goes for buying online. However, as more purchases shift to online, the luxury of a great in-store shopping experience seems to grow closer to being a relic of a bygone era. But perhaps that's just a perception.
According to Forrester research, 80% of customers prefer to research their purchase online, but 75% still prefer to actually buy their product in-store. Interesting, right? It's no surprise that consumers are increasingly purchasing online. Convenience, efficiency, and speed of service are all pretty obvious factors that are driving this. However, the in-store experience still provides significant value and security to the buyer, knowing you can hold your product in your hand, address questions to a staff member, and grab any necessary accessories. It's really the insecurity of buying without trying that is still sending shoppers to the physical store.
Sellers should embrace this insecurity and promote "click-to-brick" behavior to get customers into their store. If a seller's storefront is attractive and well-merchandised, getting shoppers in the door creates an opportunity to build your brand relationship with the buyer, so they feel more comfortable. It creates a destination for your customers to shop, seek customer service, and handle their returns. It also gives you the chance to sell them more product!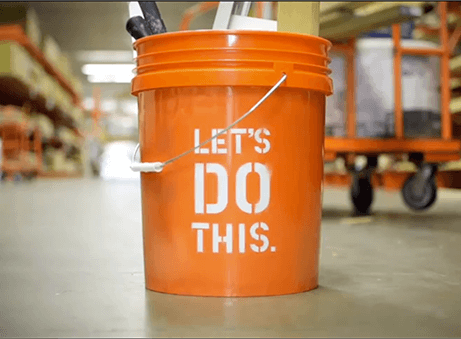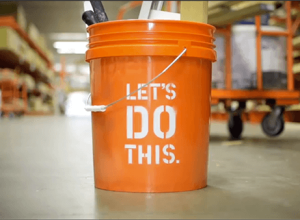 When a buyer opts for in-store pickup, the become immediately more likely to be upsold on their order with other merchandise. According to a study from The Hope Depot, 43% of buyers are likely to buy additional items when then visit a store than when they shop online. Hope Depot does a great job encouraging this by offering their bucket baskets to shoppers. Who doesn't want to fill that bucket with goodies!?
While it is common to pay online with a debit or credit card, in-store transactions also target customers that wish to pay in cash. This is also a win-win for merchants as they can avoid payment processing fees.
Final thoughts
While ecommerce offers customers the convenience of buying online and having products delivered to them, the cost and time investment of having a product delivered can offset the overall satisfaction of the shopping experience. In-store pickup creates competitive leverage over purely brick-and-mortar and purely ecommerce merchants. Give your customers your very best of both worlds, offer a simple shopping experience online coupled with a quick and easy in-store experience, and become a more profitable retailer with stronger customer relationships this holiday season.