One of the biggest mistakes you can possibly make as a business owner is to attack a market that… doesn't exist. You can have the best product or service in your niche, but if no one is looking for it, you won't be able to build a successful ecommerce business. As they say, the road to bankruptcy is paved with great products.
The good news is that for ecommerce business owners, there's a plethora of different tools and utilities out there for you to use in order to gauge demand for new products you're planning to stock. Here are just three [free] ways in which you can determine whether there's sufficient demand for your product or services…
Google Keyword Planner
The Google Keyword Planner is the first place to look when thinking about an ecommerce business. Simply type in a keyword and click the "Keyword ideas" tab. You'll see a list of keywords associated with the seed keyword you entered – you'll also see the number of monthly searches after the keyword. It's from this number you can start to gauge some kind of demand for your products.
The quality of the results you see from the Keyword Planner will be influenced by the settings you select. Remember if you're only planning to sell in one country, add only that country under the "Targeting" section.

Likewise, if you don't want pages upon pages of broadly related terms, click the option to enable "Only show ideas closely related to my search terms".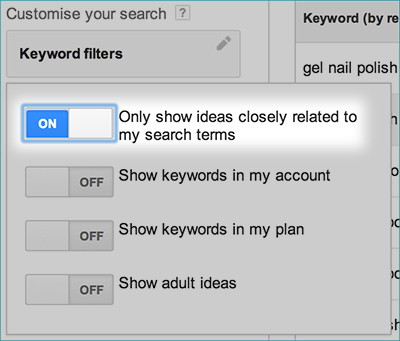 With my website we sell predominantly false eyelashes. From the Keyword Planner results above, you can see that there are roughly 7,000 searches per month for the term "false eyelashes" in the UK. That's a large number of people – however once you start adding the specific brands and types of false eyelashes, that 7,000 per month easily doubles.
Remember to not just look at the metrics surrounding a broad product description (such as "car", "candles" or even "makeup") – also take time to find metrics for brands and types of the products you're selling to get a true representation of the number of people searching for those particular products each month.
Of course there's no formula or other sum to determine how many of those searchers will end up buying from you – or if you'll even make a sale. Lots of different factors will come into play. The point of using the Keyword Planner isn't to guarantee you'll make sales – no one can guarantee that. The point is simply to satisfy yourself that there's sufficient demand for the products you're planning to stock.

Google Trends
Google Trends is another powerful, free tool to use when assessing the demand for your product. Google Trends measures the popularity of particular keywords over a specific time period. The more searches for a specific keyword – and the more times that keyword is mentioned in content throughout the internet – the higher the graph appears. Take a minute to look at the two screenshots below: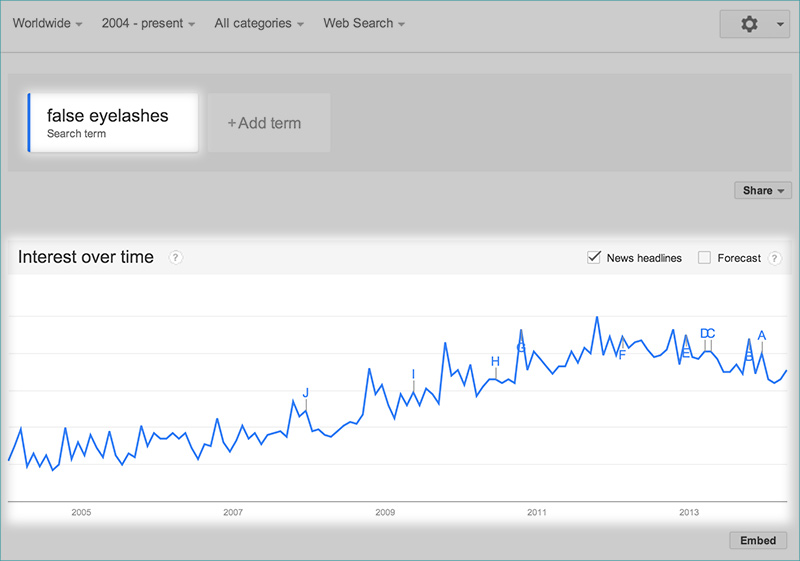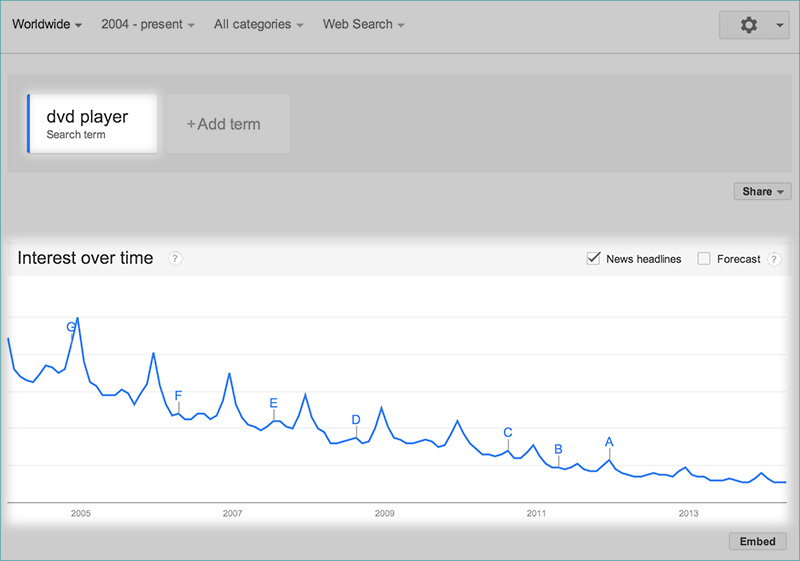 You can clearly see on the false eyelash graph that searches have been increasing over the last few years, so it's fair to assume that demand has increased too.
If you look at the DVD player screenshot however, it's apparent that the number of people searching for DVD players is declining gradually. The main reason for this is obviously that DVD players are nearing the end of their product life cycle – nowadays people watch Blu-Ray movies – or stream them using a service like Netflix. If you really want to watch a DVD, you can always put it in your PC or laptop – or even your games console. Setting up a new ecommerce business selling DVD players in 2014 is probably a bad move – Google Trends alerts you to that fact in the event you've been living under a rock. 🙂
Using Google Trends doesn't guarantee you'll find the perfect niche for an ecommerce business, nor that your business will flourish once setup – but it does allow you to separate good niche ideas from bad niche ideas. If you were thinking about stocking a particular product but Google Trends shows a sharp downward slope, you would know it's a smart idea to shelve that particular product and look for something else.

Scoping out the competition
Looking at your potential competitors is always a smart move. For one, it shows whether or not there's anyone else out there offering the products you're planning to sell. It also allows you to benchmark prices. If there are ten potential competitors in your industry and they're all selling products at below your cost (and this happen more often than you think) you'll know to avoid that niche. There might be demand for products, but who's going to pay your prices if they're two or three times higher than the competition?
Initially, I always do a Bing or a Google search to look at competition. We already sell false eyelashes, so let's pretend I'm thinking about entering the nail polish market. I'd simply go to Google and type in "nail polish" – here's what it looks like: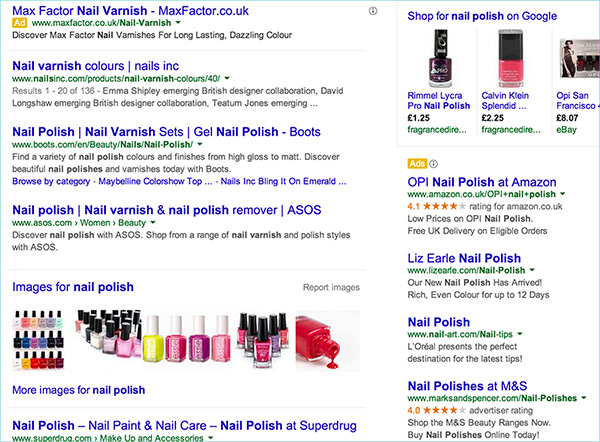 Yikes! On the results page there are thirteen paid links to nail polish websites (a mixture of AdWords text ads, and Product Listing Ads). The organic listings include a smattering of big company names too (ASOS, Boots, eBay and Superdrug to name just a few).
The fact so many people are paying to advertise for the phrase "nail polish" tells me it has to be a lucrative market. The fact most of the links on the homepage go to ecommerce websites tells me there's a lot of competition – but also a lot of demand.
Let's go back and tie this in with our first step – by entering "nail polish" into the Keyword Planner tool, you will see Google currently estimates 8,100 people per month search the phrase (in the UK). You can also see lots of related phrases like "OPI nail polish" and "Essie nail polish" gets tens of thousands of searches each month in the UK alone.
The fact so many competitors exist in the nail polish niche tells me it's a fairly popular product. This is good because I know there's a lot of demand, but it means when I procure my nail polish stock, I need to get the lowest price possible (again, why would anyone pay over the odds to shop from me, if they can purchase the same items from my competitors at a big discount?).
Aside from using Bing and Google to look at competition, why not try Amazon and eBay too? If you can't find the items you're planning to sell on either Amazon or eBay, the chances are they're completely new – or there's no demand for them (yet). If there are pages upon pages of products however, you'll know you might just have found a niche you can develop.
Final thoughts…
Before I started selling false eyelashes, I did a lot of research into the size of the market. A few people told me by selling such a narrow line of products, I was handicapping my business. A few other people told me it'd be a great idea to corner the false eyelash market. No one was right or wrong – it was all just opinion. At the end of the day, I went out and did some research into demand for false eyelashes – I came to my own conclusion that there was definitely enough demand for false eyelashes to justify me starting a business supplying these products.
It wasn't just existing demand that tipped my decision to stock eyelashes – I believe as we exit the global recession, false eyelashes (a luxury item and rising trend) will become an essential part of every make-up bag out there, just like lipstick and mascara. I could be wrong, but based on the data I've seen and the research I've conducted, I was able to draw that conclusion.
I've seen a couple of great products in the past that are way ahead of their time. People poured time and effort into procuring and developing these products, but they never got off the ground because no one had ever heard of them before. These people spent lots of money on flashy branding and nice ecommerce websites, but they made very few sales – before going bust.
Starting an ecommerce business is a great thing to do, but make sure you've first taken time to gauge demand for new products and found a bunch of hungry buyers you can market to – otherwise you might end up wasting your time.