#AmazonDomination: This series will take you start-to-finish through the process of finding a profitable retail opportunity and successfully capitalizing on it on the Amazon Marketplace. Part 1 is about using the Google Keyword Planner to identify a product opportunity with low search competition.
#AmazonDomination is finally kicking off!
I'm really excited about this series, mostly because I'll be experimenting right alongside you guys. Hopefully by the end of it, we'll all have a high-ranking page on Amazon's marketplace that is bringing in a steady stream of orders!
The first edition of #AmazonDomination is about keyword research. Like I mentioned in an earlier post, keyword research is the basis for success in online business. Without knowing how and where your customers are looking for you, it's impossible to get found.
Search itself is also evolving – search engines are getting smarter and smarter, and if you think ranking is as easy as keyword stuffing and link blasting, you're gonna have a bad time!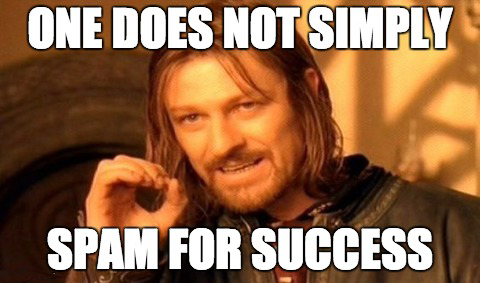 Still, it's Amazon that we're working with, and just being on Amazon lends you a good bit of authority, so hopefully, we can use that to our advantage.
For the bulk of our keyword research, we will be using the Google Keyword Planner Tool.
To use the Keyword Planner, you will need a Google account that has been set up with Adwords. Just head over to http://adwords.google.com, and sign in with your Google account. Follow the next steps and you will be taken to the main dashboard. You can ignore the part where they ask you to set up a campaign, and you don't need to enter billing information, either.

What we want from the Keyword Planner
From the Keyword Planner, we will get two very valuable pieces of data:
Search volume: For every keyword and location parameter we enter, the Keyword Planner will show us roughly how many people are searching for that exact term every month. This number is usually lowballed by Google, as I've had ads receive WAY more impressions per day than it should according to what the tool says, but even then, this number is what we will use to initially gauge whether or not a keyword is worth our while or not. After all, why go after something that only gets 20 searches a month? Unless that thing happens to be for thousands of dollars and even one sale would make our month…
Related keywords: When we type in a keyword, it's going to be purely guesswork, right? We have no idea whether or not other people are searching for it or not. Luckily, Google is smart. Really smart. So Google will also dig up keywords that it thinks are related to our keyword and show us volume data for those, too. Google's suggestions aren't the end all, be all, but they are decent enough to get us moving.
With that out of the way, let's get to it. The video is just under 13 minutes long, so make sure you have the time to soak it all in!
Other keyword research tools
The tool of choice for most people is Google. However, it's always a good idea to diversify and get some more ideas and inspiration from other data sources as well. While none of the other tools will provide volume information like Google does, they will provide lots of insights into variants.
Variant keywords are as important as head keywords. Like we saw above, search is getting smarter and smarter, so the more variants you can also weave in(tactfully and sensibly), the better it is for your page to get ranked and get found.

Here's a list of some of my favorite keyword research tools apart from Google:
Long Tail Pro
Long Tail Pro is a downloadable software that works on both Mac and PC. It gets its data from Google, but the real value comes from its competitive features. You can search for multiple keywords at once, and you can also see the 1st page results for any keyword, along with some of their key metrics, like MozRank, backlinks, Domain authority, and page authority.
These metrics provide great insights into analyzing whether or not a keyword is worth pursuing or not. If all the top ranking pages are solid pages on solid domains, ranking for that will mean you have your work cut out for you.
It's a $97 investment, but it occasionally goes on sale, too.
Bing Keyword Tool
The Bing Keyword Tool is the Bing version of its Google namesake. Because Bing isn't as widely used as Google, the volume data won't be of too much value, but the real takeaway from Bing is that they will throw some really neat suggestions your way so you'll get some good ideas. Speaking of good ideas, let's get to…
Promediacorp Suggester
The Suggester Tool by Promediacorp is an incredible timesaver. You know how when you start typing something in Google, it automatically suggests queries?
Did you know that every new word you type brings up more suggestions? So if you type in "red shoes," Google will suggest some related searches from "red shoes," and if you type in "red shoes with" Google will suggest some related searches from "red shoes with."
The only problem is that Google shows only 3-4 suggestions, and you'd have to go through the entire alphabet to see everything they suggest!
The Suggester Tool handles all of that for you. Just type in a word or a phrase, and it will spit out a giant list of suggestions from A-Z. The only issue here is that you don't have any way of finding out volume unless you plug those keywords back into the Keyword Planner.
You don't need to do that for all of your keywords, of course – just the ones you find promising.
Worldwide Brands
Let me tell you this: WorldWide Brands is just plain AWESOME. They are a little expensive($300 for a lifetime membership), but they are awesome!
Along with being a very large and comprehensive dropshipper/wholesaler directory, they've also got a built in keyword tool where they pull in data from multiple sources. With their tool, you can see both keyword data, data from Yahoo! Shopping, eBay, as well as general search volume for that keyword and related keywords, too.
Conclusion
Well, that wraps up part 1 of #AmazonDomination. I hope you got some great takeaways from it. Here's what you have to do now: Head on over to the keyword tools we've talked about in this post and start experimenting! The more you use the tools, the better you will become. In the next post, we'll do a little digging for a good keyword to target our Amazon product with. See you soon!