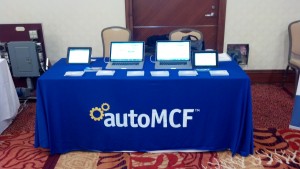 Hey folks,
I just want to give a belated thanks to everyone who dropped by our booth at SCOE this year, it was a lot of fun!  It's always so interesting to talk to other sellers, each business is truly unique and the tools and resources each uses are always different.  Also, there are so many great people in the selling community that genuinely care about sellers and are willing to help out if they can; it's great to be a part of an event like this and makes us even more committed to helping out sellers with our products.
If you are looking for help on how you can grow your business with Amazon and eBay, please check out some of the people below.  They've helped us so much already with our young business that I'm sure they can be of service to you as well.

Janelle Elms — Janelle is a selling guru and professional yo-yo'er, who seems to know everyone in the industry.
Kat Simpson — Kat has a radio show and does speaking engagements, and is one of the hardest people to track down because she moves 100 miles-per-hour!
Lisa Suttora — I first heard Lisa speak at last year's SCOE, and she is a wealth of knowledge about eBay and Amazon and the secret ways to increase profits and source inventory.
Skip McGrath — Skip has been coaching eBay sellers for years and is also an AutoMCF customer (for which we're very grateful, thanks Skip!)
I know I'm leaving out a bunch of other people, but thank you to everyone who is there to help sellers!
And we met folks at other cool companies as well!  Be sure to check out how these services can help your business:
Reply Manager — Customer correspondence management for ebay and Amazon sellers
Kabbage — Quick and easy cash for your business
Seller Engine — Dynamic repricing for Amazon sellers
ShipStation — Painless shipping management
Thanks again for a great SCOE, and Happy Selling!