From buying new sneakers on the GOAT app, to restocking paper towels via Amazon, to making the most of our cheat meals (I'm looking at you, way-too-greasy pizza) with UberEats, the way we as consumers buy things online is pretty similar:
We realize we want or need something
We do some quick research on the product page (reviews, pictures, etc.)
We hit "buy" and move on with our day
Whether you are reeled in by an Instagram ad, hear about a cool new product from a friend, or get a half-dozen texts from your wife reminding you to order more filters for the coffeemaker, most quick B2C purchases we make follow the above pattern.
The ecommerce sites we're buying from understand this and that's why, for the most part, the user experience is generally the same from site to site. If an ecommerce site we've never been to throws us a curveball or forces us to click through a handful of unnecessary category pages…Amazon, here we come.
What does this have to do with B2B ecommerce?
Simple: If you want to sell more and satisfy your customers in the process, it's time for you to ditch the old-school B2B mentality and draw a little inspiration from the B2C world.
In this post, I'm going to cover five specific reasons why B2B ecommerce sites can (and should) take lessons from their B2C counterparts.
Let's get to it.

Reason 1: More B2B Purchases Are Happening Online
The way B2B buyers want to buy is changing.
B2B purchases no longer happen exclusively over the phone, in boardrooms, or on the golf course.
In fact, Forrester forecasts that B2B ecommerce in the US will hit $1.8 trillion by 2023, accounting for 17% of all B2B sales, up from just 12% of total sales in 2018.
Every year, B2B buyers are acting more and more like B2C buyers.
Are there differences between B2B and B2C purchases? Of course:
The price tag is typically higher in B2B
The buying cycle is often longer in B2B
More people are usually involved in B2B purchases
But here's the thing: B2B buyers are B2C buyers.
That CMO you're trying to sell to? She's the same CMO who just bought a brand-new Toronto Raptors jersey online for her 14-year-old son.
She's the same CMO who opens up her Amazon app weekly (sometimes daily) to restock pretty much everything her family uses around the house.
And she's the same CMO who just ordered a brand-new pair of Sperrys from DSW online.
The takeaway?
B2B buyers aren't just B2B buyers—they're people too.
And people are used to buying things online. Amazon, Etsy, UberEats, Nordstrom—many of the B2C purchases they make are happening online.
So if they're already making most of their purchases online, why throw them a curveball when it comes to buying what you're selling?
Reason 2: B2C UX Is The Expectation For All Buyers
According to Maven eCommerce, 73% of millennials working in B2B are involved in purchasing decisions for their companies—and one-third are the sole decision-maker.
According to Google, in 2015 almost half of all B2B buyers were millennials—two times more than just three years prior. And that number has almost certainly grown significantly since then.
The key is this:
Millennials are dominating the B2B buyer group more and more every year.
If you want to sell more in B2B, there are a few things you need to keep in mind:
Millennials grew up online
They know what a good (and bad) user experience (UX) looks like
They're not scared to leave your website forever if it sucks
In order to keep millennial decision-makers happy, the first step is to understand why they leave B2B ecommerce websites in the first place.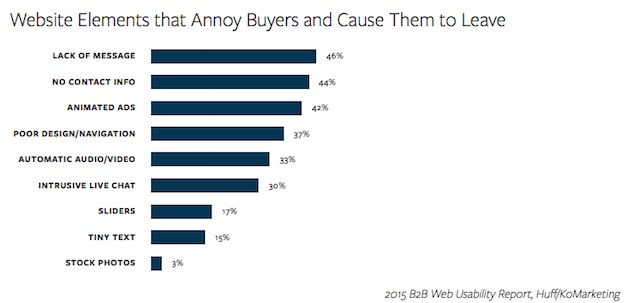 According to survey results from Ko Marketing & Huff Industrial Marketing, the number one UX factor that drives potential buyers away is simply not understanding what your site is offering (46%).
If you're forcing visitors to dig for information on what you're selling and why they should buy it, I've got some news for you: They won't.
What else is driving them away?
44% leave if no contact information is available
37% leave due to poor site design and navigation
33% leave if you have video or audio that auto-plays when the site loads
30% leave if you have an intrusive live chat app
15% leave because the text is too small to read
Remember: People are people.
Your B2B buyers (people) are used to seeing product pages that look like this: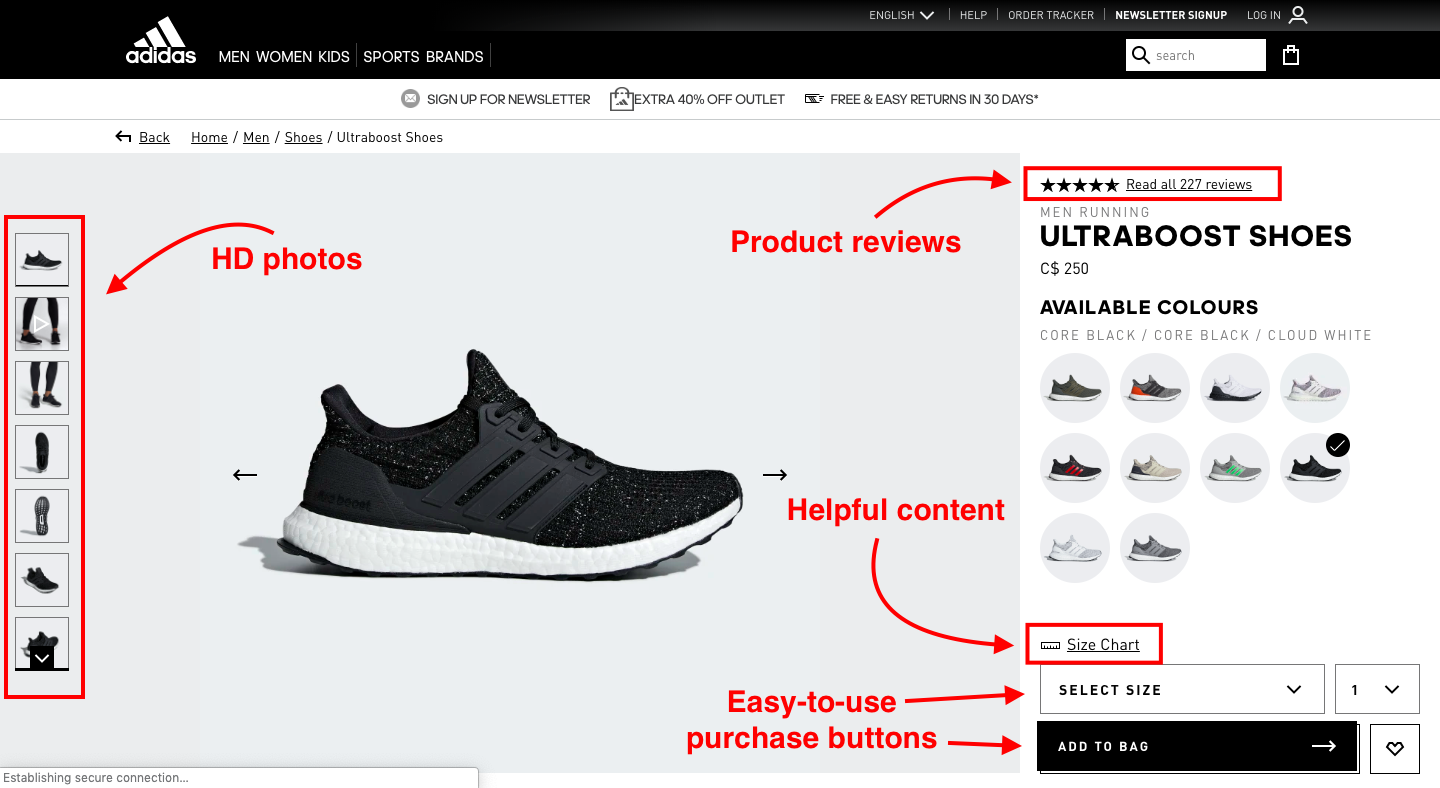 People expect features like these to come standard:
Product reviews to see what other buyers thought
High-quality photos of the product
Helpful content and guides to make sure they order the right product
Purchase buttons that are obvious and easy to use
So if you're expecting these same people to stick around on your product pages that are just a big bundle of tiny text, blurry photos, and hidden purchase buttons…
Good luck.

Reason 3: B2B Buyers Are Still B2C Consumers
No one who works in a corporate office lives 24 hours a day, 365 days a year in a suit and tie thinking and breathing corporate. People are people.
And people use a wide range of different channels to learn about things happening around them and ultimately inform their own taste. The rise of video may have started in B2C, but it's quickly becoming a trend in the world of B2B as well. The rise of stories on LinkedIn, which originated from Snapchat and Instagram, is a prime example of how traditional consumer-driven experiences are driving B2B adoption.
This is a reality that every B2B brand needs to realize.
Most B2B ecommerce sites mistakenly ignore some of the most popular trends influencing B2C and, as a result, miss out. A few trends that are currently popular in the world of B2C ecommerce that could help your brand include:
Exit Intent Pop-Ups: Have you ever tried to leave a site after almost buying from a clothing company or brand you stumbled upon via Instagram to be met with a pop up that gives you a 10% offer? These pop-ups are extremely effective at keeping people on your site and getting them back into your funnel.

B2C brands have been embracing this model for years. A few B2B brands who have already established a strong online presence are also embracing this experience to generate leads who were on the cusp of leaving. Whether it's a discount or a last-minute CTA asking them to download a guide, B2B brands can also find value in exit intent pop-ups.

Influencer Marketing Works: Over the last few years there has been a significant rise in the investment in influencer marketing. The majority of this investment has happened on the back of Instagram Influencers who have built up a massive following sharing content regularly with their fans.

B2C brands have capitalized on this heavily by paying these influencers to share product shots, unboxing videos, walkthroughs, and tutorials. The investment has paid off and helped many brands go from hometown names to international brands.
B2B brands are starting to see the value of influencer marketing as well. Here's a great video breaking down a few things to know before you make the leap into it:
EMBED: https://www.youtube.com/watch?v=e4dX2Q28nSA
Integration With Artificial Intelligence: We've all seen the hype and buzz surrounding the world of artificial intelligence. The entire world is slowly (but surely) figuring out the opportunities that come with artificial intelligence. B2C brands, in particular, have started using AI to create a more personalized and tailored shopping experience.

One of the most popular AI applications in ecommerce is the use of chatbots. The rise of chatbots started in 2016 when Facebook announced bots for messenger. Immediately after the announcement, site owners rushed to take advantage of the technology and launched their own bots. A lot of consumer brands have embraced bots that help customers make decisions on products, get notifications surrounding their orders, or get answers from an automated support system. The opportunity for B2B brands to do the same is now.
Reason 4: Amazon Has Entered The B2B Landscape
It's no secret: Amazon is the king of B2C.
They're absolutely dominating the ecommerce market in the US: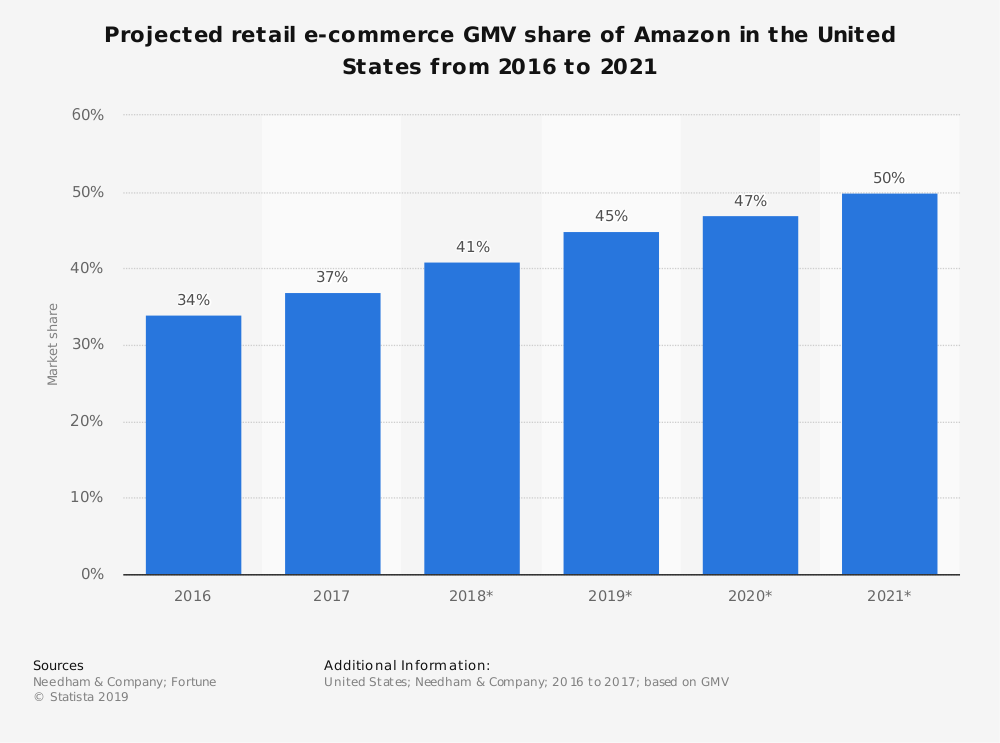 Yes, you're reading that correctly—by 2021, Amazon is projected to own 50% of the entire US ecommerce market. That means for every $1 spent on every ecommerce site not named Amazon, $1 is spent on Amazon as well.
That includes retail giants like Adidas, Nordstrom, Home Depot, Apple, Best Buy, Sephora, H&M, Walmart, Target, and more.
That's why 33% of millennials said the one app they couldn't live without isn't Facebook, Instagram, Snapchat, or even Gmail—it's Amazon.
[Embed: https://twitter.com/TheCoolestCool/status/902136693276516352]
So when Amazon makes a move into B2B, that's a strong signal the behavior of B2B buyers is changing.
During the first twelve months after their Amazon Business rollout in 2015, they reported over $1 billion in sales.
And according to Amazon's Q3 2018 earnings report, they currently have over 1 million Amazon Business customers, 150,000+ sellers, and over $10 billion in annual sales.
What does that mean for your B2B ecommerce website?
If your user experience isn't up to the standards buyers have come to expect from online retailers, they'll happily open up Amazon Business and look for alternatives.
Which segues nicely into reason #5…
Reason 5: It's Time To Put Your Buyers First
Since B2B ecommerce came to be, B2B brands have been putting themselves first.
Instead of putting themselves in the customers' shoes to understand what they want the buying experience to look like, B2B brands are just trying to simplify their own systems.
What's best for our own ERP system?
What are our technical requirements?
How can we keep ecommerce costs low?
It's 2019 and the truth is this:
B2B buyers couldn't care less what's best for your back-end systems.
They want an experience that lines up with their needs. If the buying process on your website is long and confusing for your buyers, they're going to do everything they can to find an alternative.
So what do B2B buyers want?
The truth is…it depends. (I know, I know—no silver bullets here.)
While there's no one-size-fits-all user experience that's guaranteed to work every time for every business, ShopifyPlus outlined five capabilities to keep top-of-mind when you're designing your user experience: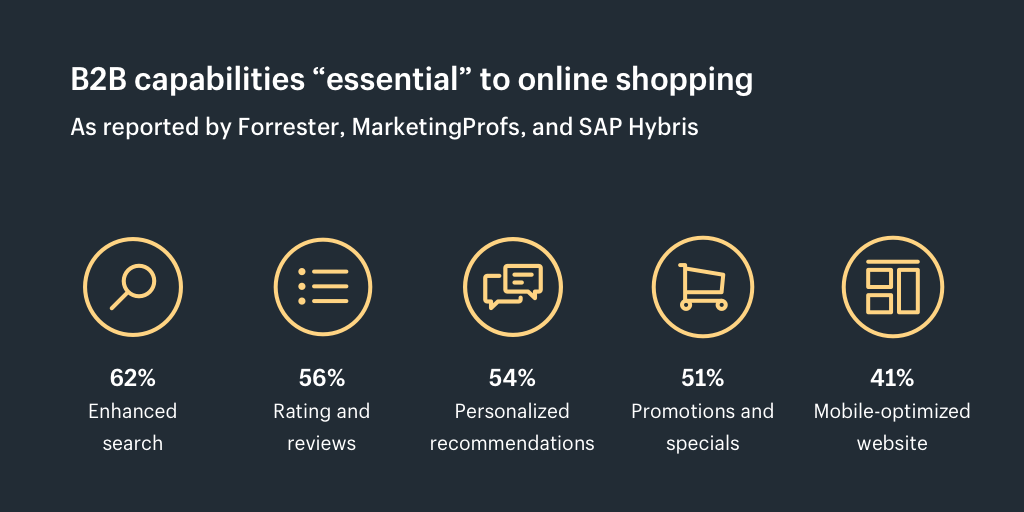 Based on research from Forrester, MarketingProfs and SAP Hybris, here's what features matter most to B2B buyers:
62% want better search functionality (don't make them hunt for what they need)
56% want to see ratings and reviews for products
54% want personalized recommendations based on their actions
51% want promotions and special offers
41% want a mobile-optimized website
The key theme here?
Everything buyers have grown accustomed to in B2C—search, reviews, recommendations, simplicity—they want to see when they're shopping for B2B products as well.
If you're forcing B2B buyers to completely change the way they think about buying online just because it's easy for you, they'll be moving onto the next supplier ASAP.
The best B2B brands selling online know this:
They're investing in customer research
They're actually talking to their customers
They're creating buyer-centric experiences
Instead of creating your ecommerce system with a me-first mentality, talk to your customers. Research what they want from you, how they want to buy, and what they want to see (and don't want to see) on your site, then build a system that delivers.
Wrapping Up
There you have it: five reasons why B2B ecommerce sites should be looking to the B2C world for inspiration and key lessons.
And here's a quick recap in case you skimmed your way to the bottom:
More and more B2B purchases are happening online
Millennials are dominating the B2B buyer demographic
Amazon is leading the way in ecommerce (and moving into B2B)
It's time to put buyers first and create experiences they're familiar with
What other B2B ecommerce trends have you seen that stem from B2C? Leave a comment below.