Over the last month or so I began mentioning my next venture, which is a monthly ecommerce subscription business.
The product is a monthly curated box of goods in the nail care space, with which I have experience, and about which I've written a good bit on the ecommerce blog. The box launched earlier this month – it's called nailbox, and it's available exclusively from http://nailbox.co.uk.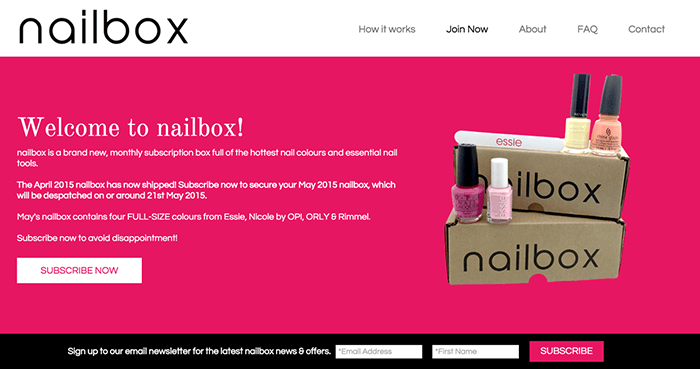 In my quest to setup nailbox, I wrote a post outlining the 10 steps to starting an ecommerce subscription business. Since I penned that post, I've been immersed in the subscription box business model, so I want to bring you up to date with my experience, and share a little more about what I've learned so far.
But first…
I just want to point out that the launch of nailbox has been a big success. We've got more subscribers than we could have hoped for at the outset, and our first box has already shipped.
We're now in the process of building and packing our second box, which will be dispatched towards the end of May. Subscriptions are flowing in steadily, and the feedback we've had so far has been really good from all angles.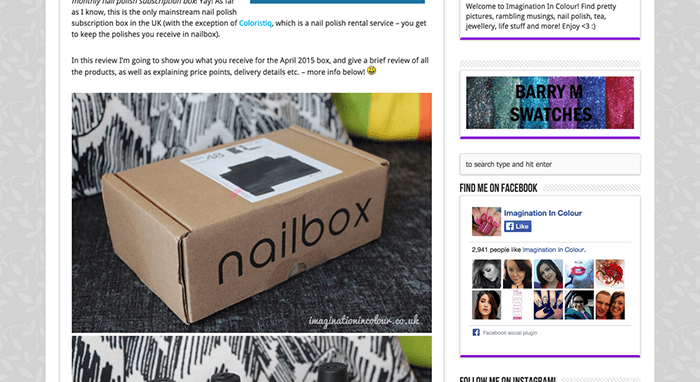 Our first nailbox has been featured on lots of beauty and fashion blogs – it has also been featured in several magazines, and on a national newspaper website. We're currently exploring exciting new ways to drive subscribers to nailbox, including Facebook ads and more offline advertising.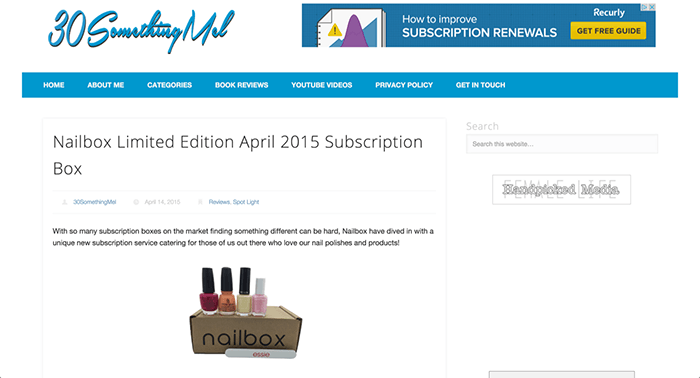 Of course we're a long, long way from breaking even at this point – but with a subscription box business like nailbox, I think it's important to take a longer term view, rather than expecting to see profit in the first month or so.

What I've learned
Despite thinking I was pretty clued up about ecommerce, the subscription business model has caught me off guard a little in a few areas, including:
Customer service time increases
I love talking to our customers when they email, call or tweet us. They're the people that keep our business going, they're extremely important. I didn't expect to see our customer service contacts increase three fold after launching nailbox, but they did.
The subscription aspect of the business had a few people worried, so we spent quite a lot of time confirming and clarifying exactly how the subscription works, when customers will be rebilled and so on. When you launch a subscription box business, be sure to budget for time spent assisting customers. Luckily I already have a great customer service team in place, and we've thoroughly enjoyed talking to customers with questions and helping them sign up to nailbox.
Things go missing
When we sent a few sample boxes out to bloggers and press contacts, several went missing. That's only to be expected, but it's something I completely overlooked. We had to bring in a little extra stock to compensate for lost items in the mail – including any press samples that go missing, and of course any boxes en-route to customers that don't show up.
Billing terms can be confusing
Re-billing, cut off dates and other terminology… get it clear in your own mind, then take time out to explain it to your staff and colleagues. This business model is totally different to standard ecommerce, where you pack and dispatch items as the orders come in.
It took me a good few days to actually understand the whole cut off thing – the most confusing aspect being that the dispatch date is different each month, because every month has a different number of days in it.
After watching this Cratejoy video on loop I finally cracked it! A couple of days later, my staff cracked it too. Explaining to customers can be tricky, so it's super important that my staff and myself understand what we're talking about.
Everyone wants samples
It's flattering to hear that people want to try nailbox, but it's a bit disconcerting when so many people want a free box. For the first month, we made a commitment to sending out as many sample boxes as possible to bloggers and media contacts. From May, onwards, we'll send out just a few – then from June we won't send any at all.
I'm not gonna lie, we got a lot of angry and frustrated emails from people devastated they couldn't get a free sample. Unfortunately we just can't afford to send out a free box to everyone, they're not cheap to put together!
Packing boxes takes foooreeeeveeeer
Allocate a sensible period of time to getting your boxes packed up, and don't leave everything until the last minute. For each box we send out, we rely on eight or nine suppliers (the products, packing, outer box, printed materials, and the courier we ship it with). If just one of these suppliers lets us down, we're in big trouble. With that in mind, we aim to have the stock and supplies for each nailbox with us six weeks before dispatch. That gives us plenty of time to build and pack each box ready for us to ship the box in a timely fashion.
Final thoughts
I chose to run nailbox as a standalone business, but it's perfectly possible to complement an existing ecommerce website with some kind of subscription box offering. Here in the UK a company called Look Fantastic runs a subscription box alongside their normal ecommerce website that deals in beauty and cosmetic products.
Since reading The Automatic Customer by John Warrillow I've been thinking about the subscription business model night and day – and I'm really happy to have finally launched my own ecommerce subscription business.