The play button has become the greatest call-to-action.
In the last few years, a lot of traditional content marketing has transitioned to video. Since the introduction of YouTube, businesses have started to create their own channels to increase brand awareness, share product information, generate traffic, and boost consumer engagement through video marketing.
As a result, businesses have seen a dramatic increase in business growth, sales, and revenue. But if you are new to video, you may not know where to start.
How do you effectively grow your ecommerce business with video? Here are five ways to help you get started.
Video is Here to Stay
Did you know that video web-based content is viewed more often and at a higher rate than TV-based content? Users love it, and ecommerce businesses everywhere are using it to boost traffic and sales. Clearly, video isn't going out of style any time soon. Video content has proven itself over the past 10-20 years as the most viable communication and entertainment medium out there.
However, companies now need to produce videos quickly which takes time, money, and resources. That's why it's important to have a strategy from the beginning to ensure your videos will be effective and can be repurposed and used across multiple platforms.
There's no waiting around when it comes to video. The future is now.

5 Ways to Use Video to Grow Your Ecommerce Store
Finding new ways to appeal to your audience while giving them useful information so they convert into customers can be tricky.
Video can be the most impactful piece of content; a short video can give a user the same amount of information as a 2,000-word blog article. And with video becoming ever more popular, Cisco has predicted that video will account for 82% of all internet traffic in 2021.
To make your ecommerce business's video strategy simpler, here are 5 ways to get started:
1. Creating Meaningful Product Tutorials and Educational Videos

Product tutorials are helpful ways for consumers to understand the full potential of the product they're interested in buying. Educational videos can be a great way to answer questions your consumers may have asked about a specific product.
The camping equipment shop, Outwell, started their YouTube channel in 2010 with simple videos explaining what a product is and how it can be used. Their videos have developed over the years and are now very informative and stylish tutorials that use modern graphics to demonstrate to their 14,000+ subscribers why they should buy the product.
Creating your own video tutorial can be difficult to do, especially when you don't know where to start.
Fortunately, there are some great tools that assist in the production of informative videos including:
2. Let Customer Testimonials Speak for Themselves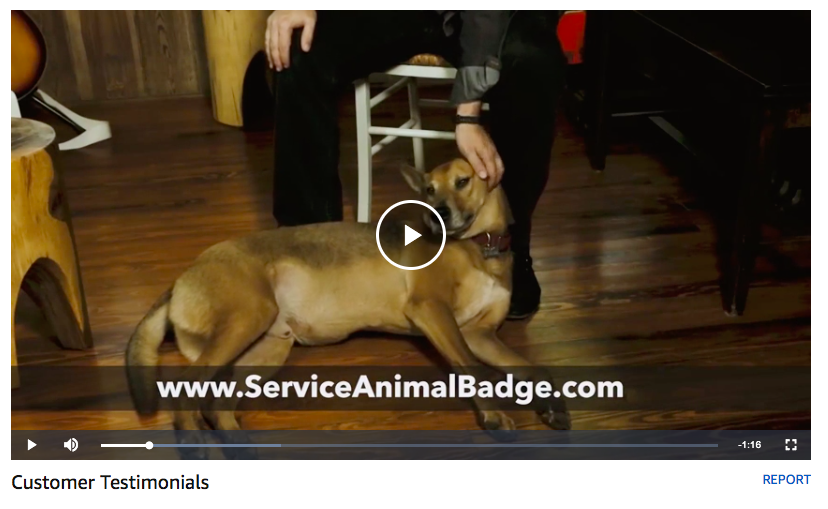 Source: https://www.amazon.com/vdp/3bee6ad3499545b0b4b4e95e17213b5c
What's the best way to tell consumers that you're the solution to their problems? Get other people to tell them, of course!
Video customer testimonials are a great way to convince buyers you are the best solution to their problem. Most of the time, customer testimonials will explain the customer's problem, why your solution was better than anything else in the market, and how the problem has been resolved since adopting the solution.

For example, Wiley Publishing's customer testimonial of Hootsuite is very impactful. The video interviews employees from Wiley Publishing explaining what their problem was, and how Hootsuite's tailored solution helped them to improve their position. Additionally, employees from Hootsuite detailed how they were specifically able to help Wiley Publishing.

Customer testimonials usually have a certain look to them. They are professional, have high audio and video quality, and make their customers look good. These tools can help you achieve the most from your customer testimonial videos:
3. Use Video Conferencing for Face-to-Face Customer Support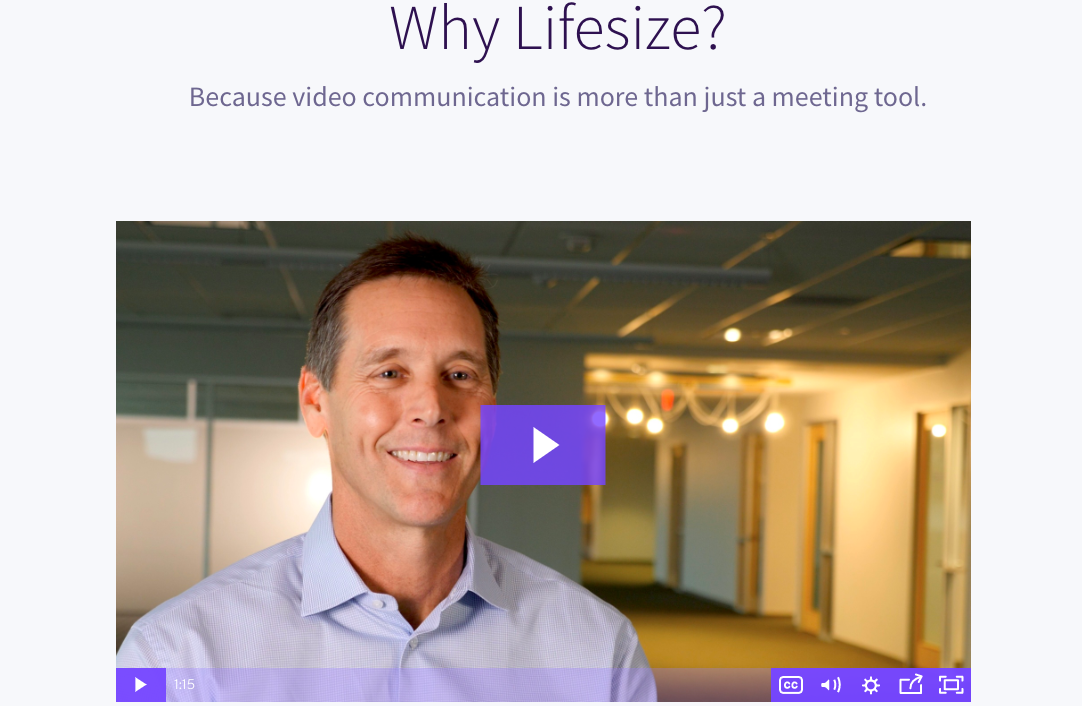 Source: https://www.lifesize.com/en/why-lifesize
Video for business purposes can be a great way for people to communicate internally as well as externally. 93% of what we communicate is non-verbal; 55% is body language and 38% is the tone of voice. So, video conferencing a client or team member can dramatically improve the quality of communication and collaboration.
FINRA, an investor protection company, uses a video conferencing tool to have face-to-face meetings and deliver presentations to people inside and out of their business. They use this tool to communicate with offices around the world while maintaining high levels of security to ensure company information remains confidential.

Finding the right video conferencing tool for your business needs isn't easy. There are a host of tools available, all with different features, from instant chat to fully-encrypted calls for increased security.
We have found this tool has a variety of features that will suit all your business needs:
Lifesize allows you to easily connect with colleagues, friends, and clients wherever they are in the world. This free cloud-based meeting tool connects participants via web or mobile browser (so there's no need to download software) and lets you easily share your screen with HD quality. In addition to the free calling service, the company also manufactures 4K conference room systems to enable larger meetings with 4K video and 4K content sharing. And because their video solution is securely encrypted, you won't have to worry about jeopardizing your or your customers' security.
4. Convert More Omnichannel Shoppers with Product Videos
Nike's new product unveil video for social media marketing.
Research from Invodo states that "40% of shoppers are more likely to make a mobile purchase if they have access to product videos." By reaching out to audiences with content that is relevant, interesting, and engaging on more than one platform, marketers have a higher chance of attracting consumers who have a genuine interest in their brand and are more likely to convert.
Many have heard of DollarShaveClub.com for their stand out product video that went viral a few years ago. Their unique approach enabled them to present a new shave solution in a fun way. They combined useful information—like what the product is and how it can help a consumer—with a bear, a tennis racquet, and a toddler. Who wouldn't like it?
Some of the best product videos are animated, as it can tell an audience about your offering in an interesting and eye-catching way.
Here are some great tools to create your own product video:
5. Leverage Pre-Existing Content to Create Compelling Videos
Ecommerce businesses, like Mattress Insider, often repurpose old blog posts as informational videos to get more traffic and sell products through YouTube.
Content marketing is becoming a bit chaotic. From the content types marketers need to constantly put out to the number of channels a brand needs to actively be on, it's a lot to keep up with.
However, repurposing your old content into something new and fresh like video can have a huge impact on the way you work and how a consumer engages with your brand.
This article by Mahlab details how businesses have repurposed their old content and received fantastic results because of it. In particular, one example is Jay Baer, founder of Convince and Convert and creator of Jay Today TV. Jay Baer created the new platform to repurpose his already existing three-minute videos into new formats, including blog content, social media promotions, audio podcasts, and even new video podcasts. Jay Today TV achieved great success and was even shortlisted for awards.
Once you've identified what content to repurpose—e.g. a blog post—it can be difficult to know how to recreate it in a video format. These are the best tools for turning existing content into videos:
Conclusion
Video is by far the most engaging type of content. When done correctly, a video can be a great way to educate your audience, encourage them to buy your products, understand why existing customers like it, and serve as a useful way of transforming traditional types of content.
With a wide variety of tools out there to help you get started creating your own unique video collection, your only real challenge is making sure you can get them out quickly enough!