Headless ecommerce is the new industry buzzword. It seems everyone from BigCommerce to Shopify to WebFlow and a whole handful of newer ecommerce startups are touting the capability, use cases, case studies, and more.
And there's good reason for that touting.
Headless ecommerce –– that is, ecommerce solutions you can plug in via APIs without having to replace entire systems –– are the evolution of the single platform play.

The Early Days of Ecommerce Technology Disruption: AKA Shopify
Shopify built its massive success on that single platform promise.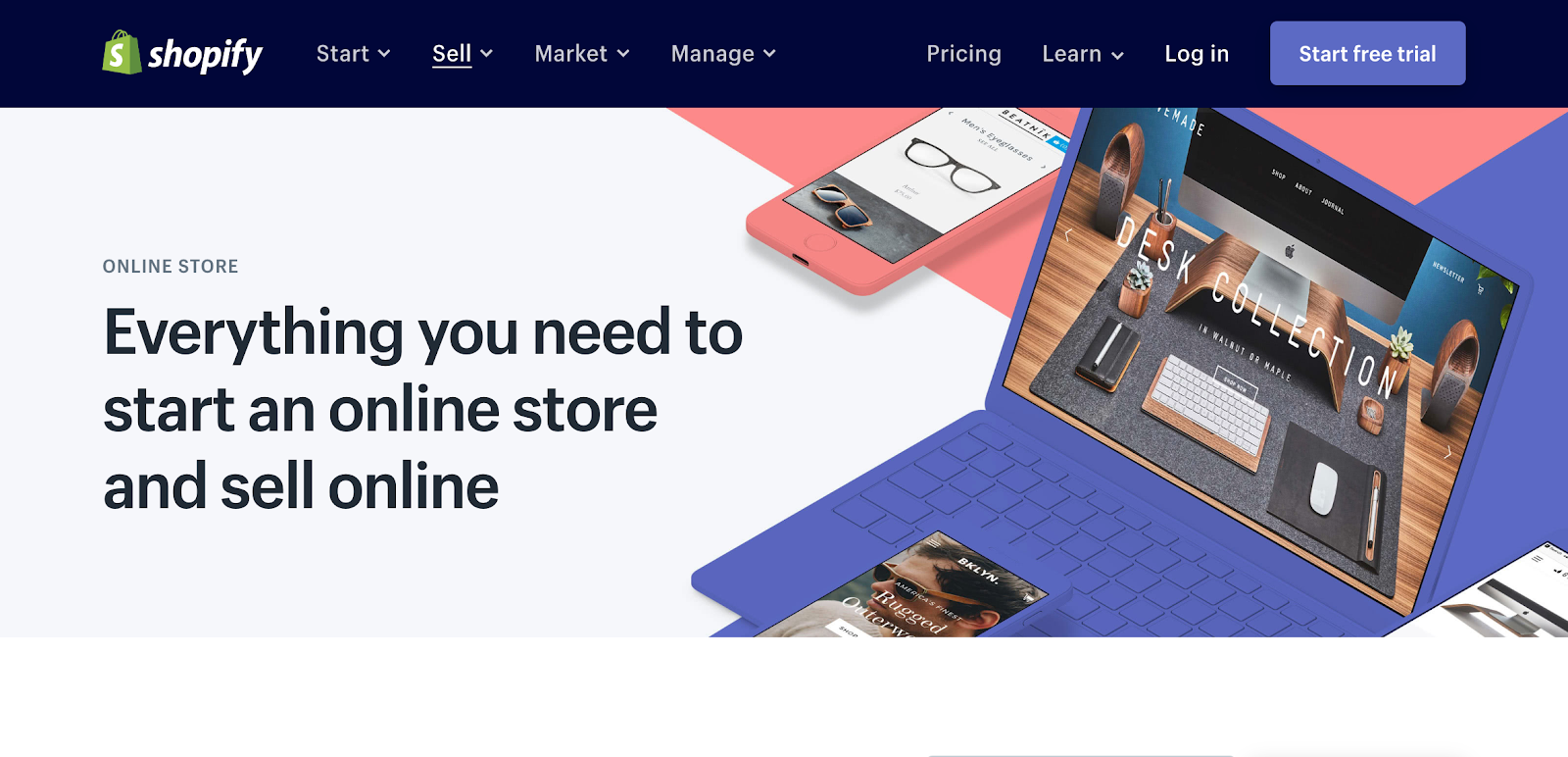 And hoards of small and upstart ecommerce businesses took them up on the promise and disrupted the entire industry. Brands like Chubbies, Allbirds, ThirdLove, and hundreds more.

The amount of money these brands saved by using an all-in-one solution like Shopify reduced the barrier to entry in the ecommerce market, and allowed them to spend that money instead on Facebook Ads, back when the LTV:CAC ratio on Facebook was incredibly high.
That's not the world we're living in anymore. Facebook advertising costs have skyrocketed, drastically reducing the LTV:CAC ratio, making it a revenue loss channel for many startup brands.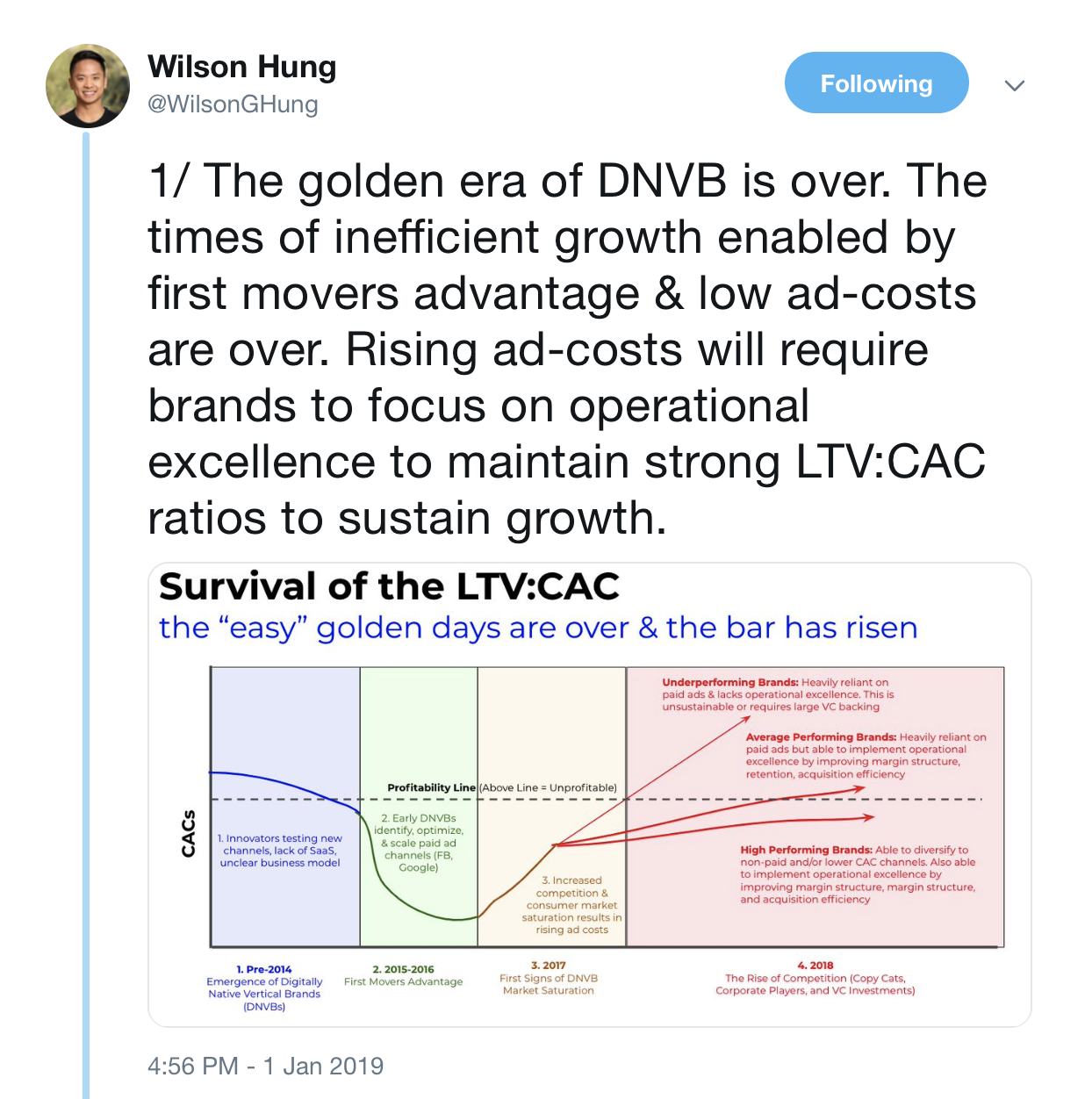 [Embed: https://twitter.com/WilsonGHung/status/1080236415219322880]
Indeed, the pendulum has swung again –– from the removal of the middlemen (larger retailers like Target, Neiman Marcus, etc.) and a heavy focus on direct to consumer acquisition through paid social media spend to brands seeking out larger retailer deals once again to avoid the high cost of online advertising for customer acquisition.
From Allure Magazine when CBD Cannuka was the first skincare brand to launch in Ulta (a similar title they hold with many of their other retail partners):
Cannuka, which was already available from retailers like Neiman Marcus and Free People, just became Ulta's first-ever CBD skin-care brand. If you're not yet familiar with Cannuka, that may be because it's relatively new. Founder Michael Bumgarner, who, according to the brand's own site, has made it his mission to legitimize the cannabis industry and increase awareness about the "powerful anti-inflammatory and pain-reducing properties of CBD," worked with his dermatologist wife, Kelly, to create a small but thoughtfully crafted line of products for face and body.
Retailer partnerships aren't the only method of lower cost customer acquisition, though.
Many brands are also focused on building content and community, too. Because where Facebook was a catch-all, content builds niche communities and loyal followers that spread word of mouth and organic social posts to other like-minded individuals (and thus, potential customers).
From Web Smith, founder of 2PM and an ecommerce analyst:
For DNVBs to position themselves for scale, it helps to have a built-in audience. Consider the successes of Fenty Beauty (Rihanna's audience), Kylie Cosmetics (Jenner's audience), Fashion Nova (Cardi B and 13 million Instagram followers), and Glossier (Into the Gloss).
This pendulum swing, as well as a new focus on content and community, poses challenges for all-in-one-ecommerce platforms.

Solving a New Problem with an Old Solution Won't Work
One of the main challenges for all-in-one ecommerce platforms is exactly what they were built for: ecommerce.
Ecommerce brands growth hacking their way to success today see Facebook ad spend as a necessary evil, but their site experience and content as their differentiator. In that regard, ecommerce has taken a backseat to an older technology: the content management software.
Perhaps it was WooCommerce years ago that made the right bet –– using WordPress as the content engine and Woo as the cart. BigCommerce and Shopify have since made adjustments, but their solutions were not headless (i.e. it wasn't possible to decouple the front end layer from the backend so plug in the front end experience of your choice) until recently.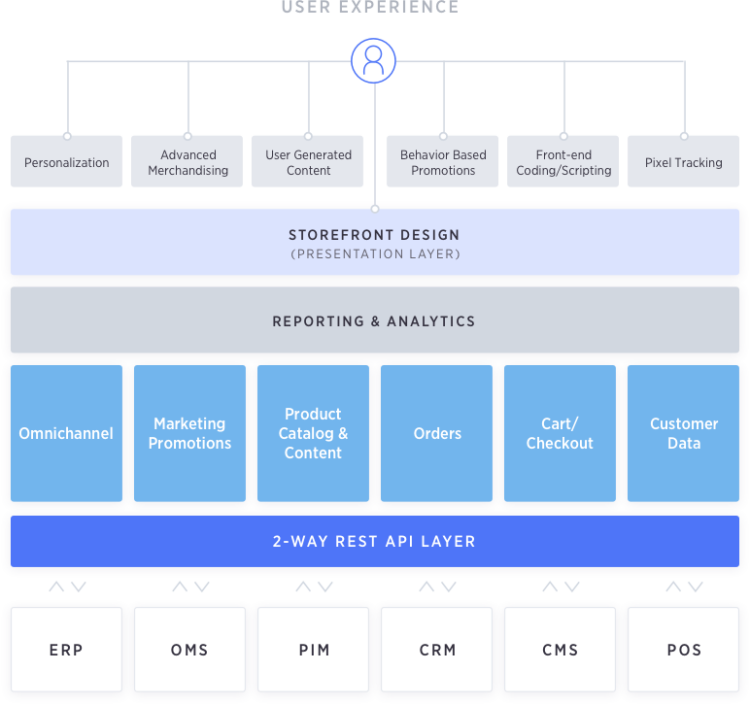 And even now, as they tout headless, they are still ecommerce first.
This means that on Shopify, for instance, you typically have to redirect folks to a cart subdomain for checkout. BigCommerce, on the other hand, doesn't have the limitation –– on WordPress at least. Either way, the shopping cart is still center stage.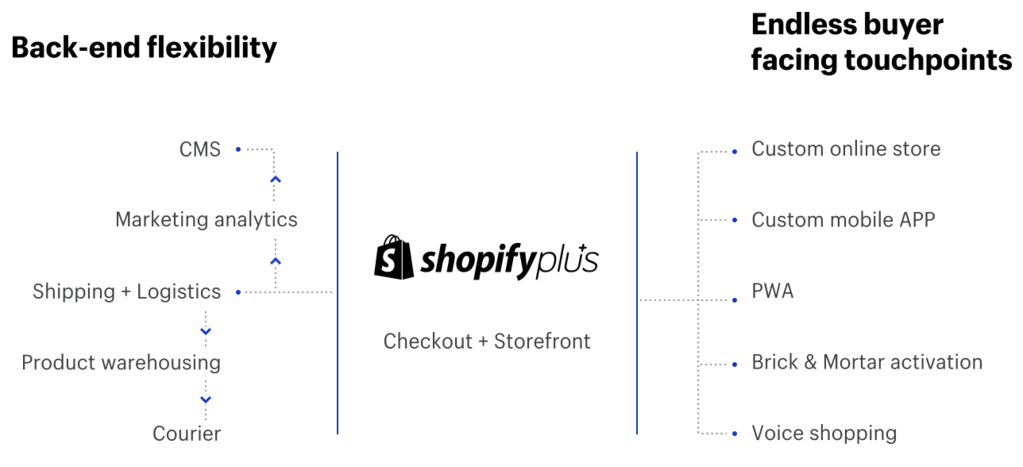 So, what's the problem here?
You are still solving a content and experience problem with an ecommerce solution. And some of the fastest growing brands are decidedly not choosing this route, including:
What are they doing that is different? Well, it still has something to do with headless…
Headless CMS is on the Rise
These brands and hundreds of others are choosing a new solution for the content problem: headless CMS. A headless CMS solution is similar to headless ecommerce, except in that the tool's core function is content and experience.
This matters the main problem these brands are trying to solve is content and experience management. Why is this the problem du jour to solve?
Because Google continues to prioritize site speed, time on site, and site engagement (clicks) within algorithms. This means that your content needs to load fast, offer an experience that makes consumers want to take around longer, and offers an experience that gets them to click –– on something, anything.
These three focuses within that algorithm (which is the algorithm that pulls interested consumers top of funnel) have many speculating that while long-form content and videos today are performing the best, Google is getting close to making true interactive content #1 on its search.
None of the all-in-one ecommerce platforms do interactive content well, while still accounting for page load speed and site speed overall.
But headless CMS does. Here is why:
HEAD
With a headless CMS solution, your tech stack looks something like this:
Static (JAMStack) via a language like Jekyll.
Site hosted on a provider like Netlify.
Headless CMS solution serving content based on API calls –– those solutions include Contentful, Forestry, Prismic, Butter and others.
Headless Ecommerce via API for cart needs. Many of the Headless CMS solutions have direct integrations with Shopify, meaning you can keep folks on your same URL and the headless CMS will do the push through work.
This stack optimizes for site readability, site speed, site uptime, site security, and site SEO, all while also hitting high bars around user experience, design, content management, and checkout flows.
OK, But What Does This Cost?
That's a great question –– and the answer is this: it isn't the least expensive option. But it is comparable to what you'd pay to go with headless ecommerce.
Yes, this is a custom build, but it future proofs your business in a way headless ecommerce as the focus doesn't do. Instead of making ecommerce the core of your business, you make content and community the core of your business. And you make it 10X easier for Google to rank your site, so your future customers can find you –– no ad spend necessary.
So, for the brands we mentioned above already doing this…what angle are they taking? Easy:
For brands just starting up or without funding, an all-in-one-ecommerce platform like BigCommerce or Shopify is probably still right for you (low cost). Just make sure you publish great content, too. And keep an eye on when you'll be able to afford to amp up your tech stack.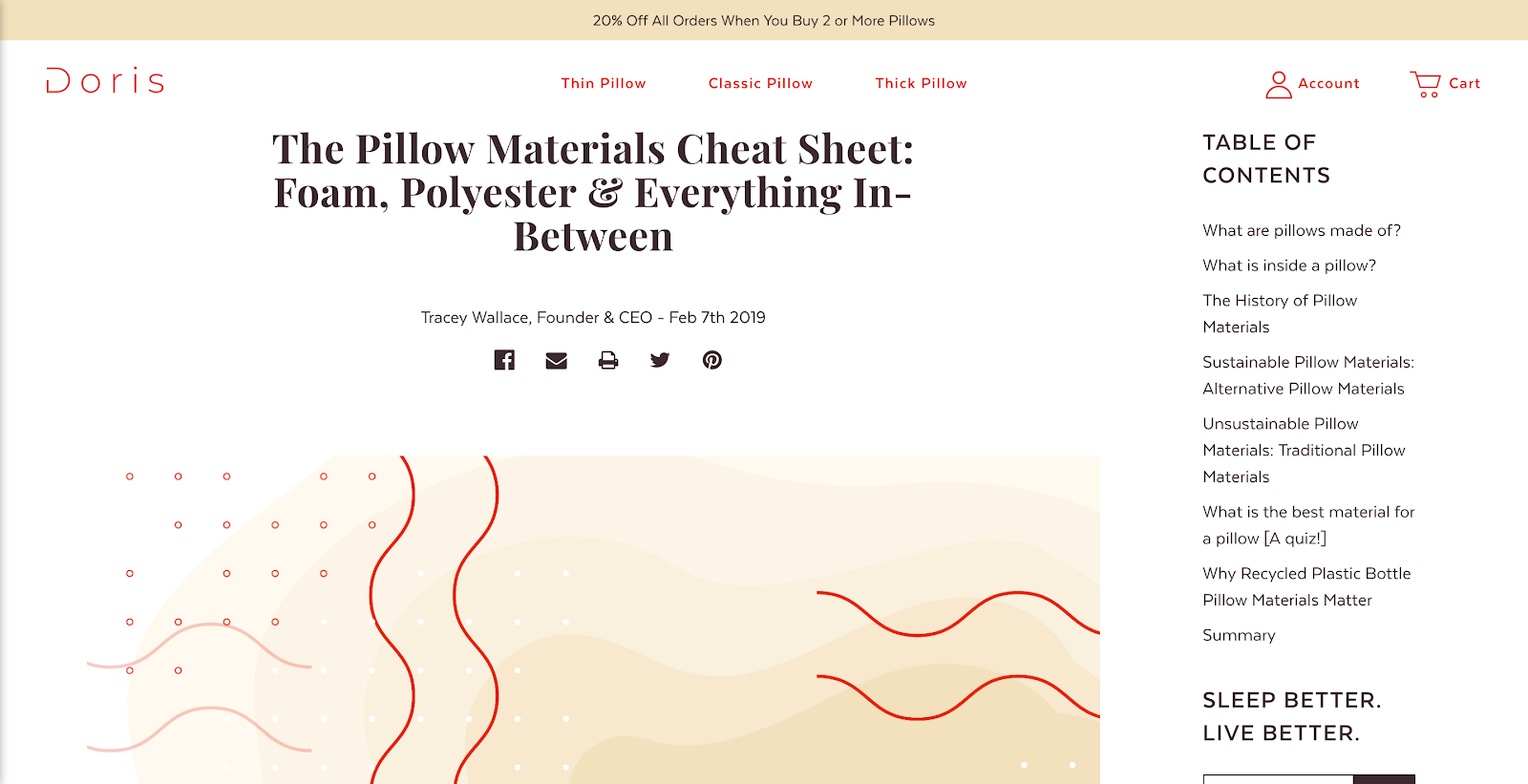 This is what a blog can look like on BigCommerce. Notice the table of content, the long-form content covering pillow materials and clear CTAs.
And that, folks, is where the industry is headed.
Meet, Gen Z –– the generation obsessed with community, distrustful of media, and hell-bent on taking stances.
Here are 7 important trends pulled out from The Morning Consult's research:
Reversing a trend of declining generational trust, Gen Z adults put slightly more faith in capitalism than millennials. Gen Z adults also have the most positive view of socialism of any generation.
Collectively, Google and Apple's suite of products make up 11 out of the top 25 brands that Gen Z adults are most likely to use on a daily basis.
Gen Z is widely distrustful of institutions and powerful interests, from Wall Street to the news media. Seventy-eight percent say there is a lot of corruption in America.
Gen Z liberals are more likely to boycott a brand for political reasons: 39 percent say they've done so in the past year.
The first digitally native generation has a starkly different media diet. A 49 percent plurality get their news from social media, and a majority are on YouTube daily.
Gen Z Republicans are far more comfortable with "large government" and socialism than elder Republicans. They also hold more socially liberal views.
Gen Z adults are far less America-centric than older adults. They are less likely to say that being an American is important to their identity, and more skeptical that the U.S. sets a good example for the rest of the world.
To win this group, community will matter. With the success of Glossier, Goop, Gear Patrol, and more, it is already clear that it does –– and that content is how you build it.