The holiday season is upon us, and many ecommerce sellers are beginning to feel the stress of order fulfillment. Now is the time to get ahead of holiday shipping with some tips from our friends at ShipStation.
Customer Expectations
Shipping
It's important to understand customer expectations around shipping. All ecommerce sellers know how important a satisfactory delivery and returns process is for customers. ShipStation conducted a survey of 1,220 online consumers in the U.S. and Canada to understand more about consumer shipping opinions, and 80% of them say the shipping experience is the most important part of shopping online. With companies like Amazon setting new expectations for shipping speed, 88% of consumers expect other companies to follow suit and increase their shipping speeds as well. These crazy-fast speeds are out of reach for most ecommerce businesses, but we can help you structure a shipping plan that keeps the importance of an excellent shipping experience in mind.

If, like most businesses, next-day shipping or 2-day shipping is out of reach, consider including an expedited shipping option at an extra cost. 51% of consumers would pay for next-day delivery, and 76% would be more willing to pay for shipping for gifts. Offering an expedited delivery option is important for last-minute online shoppers still expecting to receive their gifts in time for the holidays. However, many consumers are still price-sensitive when it comes to shipping. Offering a low-cost or free shipping option is important to have during the holidays, but also all year long.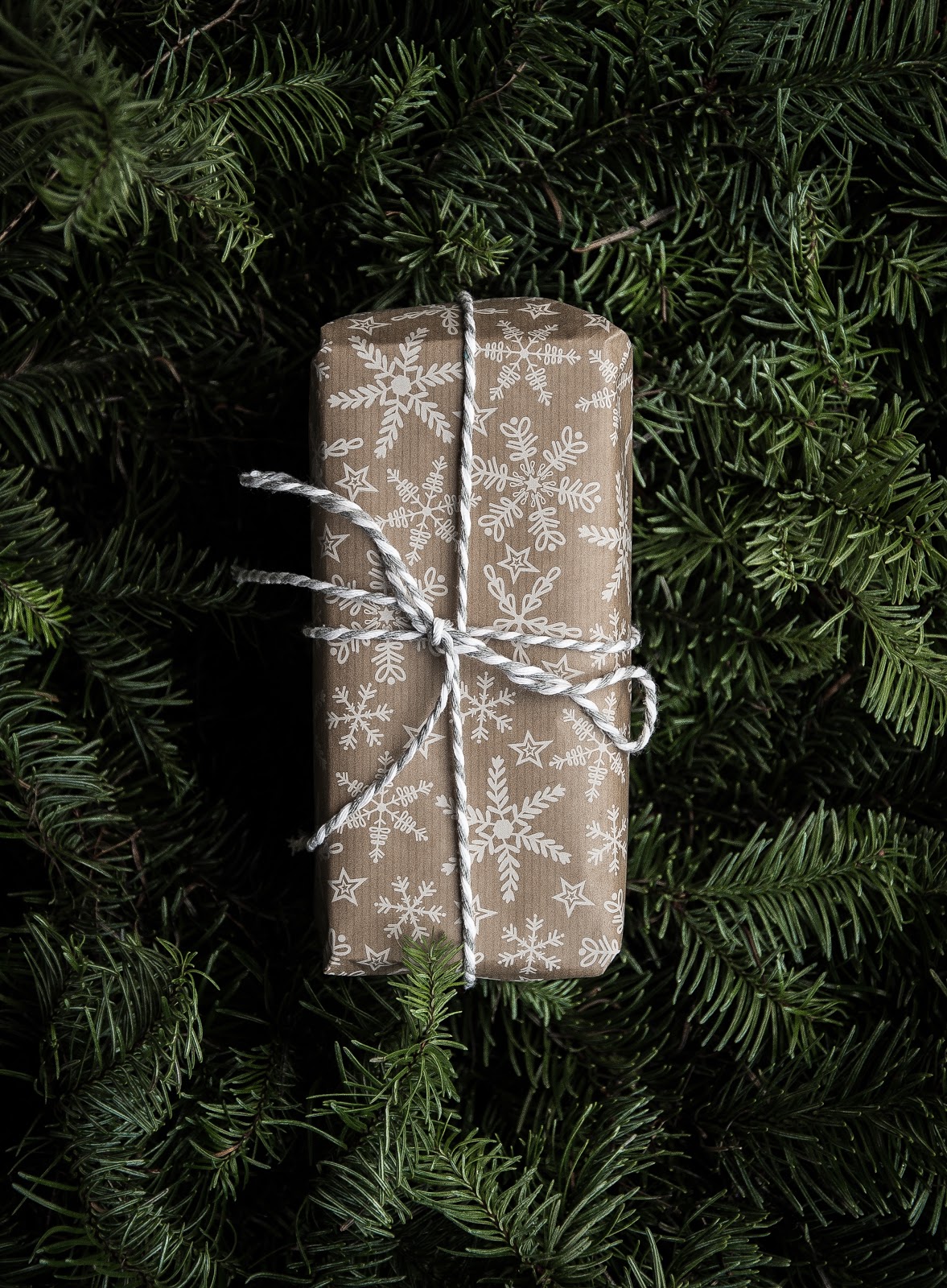 Returns
Returns are another crucial component of the shipping process. 72% of consumers say return policies directly influence their decision to buy from an online merchant. Having a transparent and consistent returns policy all year long makes consumers more likely to purchase from a seller and increases loyalty. 94% of consumers want returns to be free and easy. Consider providing an extended return or exchange policy for the holidays to allow for any gift corrections or exchanges.
Summary of Customer Expectations:
Offer customers an expedited shipping option, even if for extra cost. 76% of consumers are willing to pay for expedited shipping for gifts.
Make sure your returns are free (or as cheap as possible) and easy. Consider extending your returns or exchange policy for the holidays.
Creating a Holiday Shipping Process
With these customer expectations in mind, here are three simple steps to set up your holiday shipping process:
Establish a clear, fair returns policy
We've established that returns are an important decision point for consumers. A strong returns policy includes at least a 30-day return window, which can be extended for the holidays. Consider offering holiday customers the chance to return until mid or late January.
86% of consumers think the returns process should be self-service, meaning they can set up their return and print a return label without the assistance of a company employee. Sellers should consider setting up a self-service return process to appeal to holiday shoppers, as well as yearlong customers. .
Stock Inventory
Before the holiday rush really sets in, see that you have your inventory stocked and organized. This will expedite the process of fulfilling and shipping orders, as well as allow you to offer more transparent information about product availability to customers.
"Our advice for ecommerce merchants during the holidays would be to plan your inventory to the best of your ability. Review your numbers from last year and plan accordingly. Running out of stock during the holidays is no fun."—Fluxmob, ShipStation user
Order Shipping Supplies
Order all of the shipping materials you need to prepare for an influx of orders. Be prepared with tape, labels, boxes, and packing materials. Keep in mind any holiday-specific shipping materials, like branded gift packages.

Shipping Workflow:
An organized and productive shipping workflow can make all the difference during the holidays.
"The increase in packages you have to ship out on the busy days is what makes the holidays different. We'll ship four times the amount of a typical Monday. So you have to have your ducks in a row. Tape, boxes, packing materials, dry ice, staffing, all of that needs to be prepped."—Paleo Treats, ShipStation user
If you are concerned about warehouse capacity for the holidays, consider an external fulfillment provider. Fulfillment by Amazon (FBA) can help you avoid excessive costs needed to expand warehouse space or hire more employees. FBA warehousing costs and fulfillment fees vary depending on the season, warehouse space required, and package size. ShipStation's 2019 Holiday Prep Guide lays out FBA pricing based on square footage and fulfillment needs.
Use the ABC analysis to organize your warehouse and prioritize your most popular items. Keep top performing products (Category A) closest to the packing area to minimize traffic in your warehouse. Category B products are middle-of-the-road products that customers will purchase less of than those in Category A. Category C is overstock and should be kept furthest from the packing area.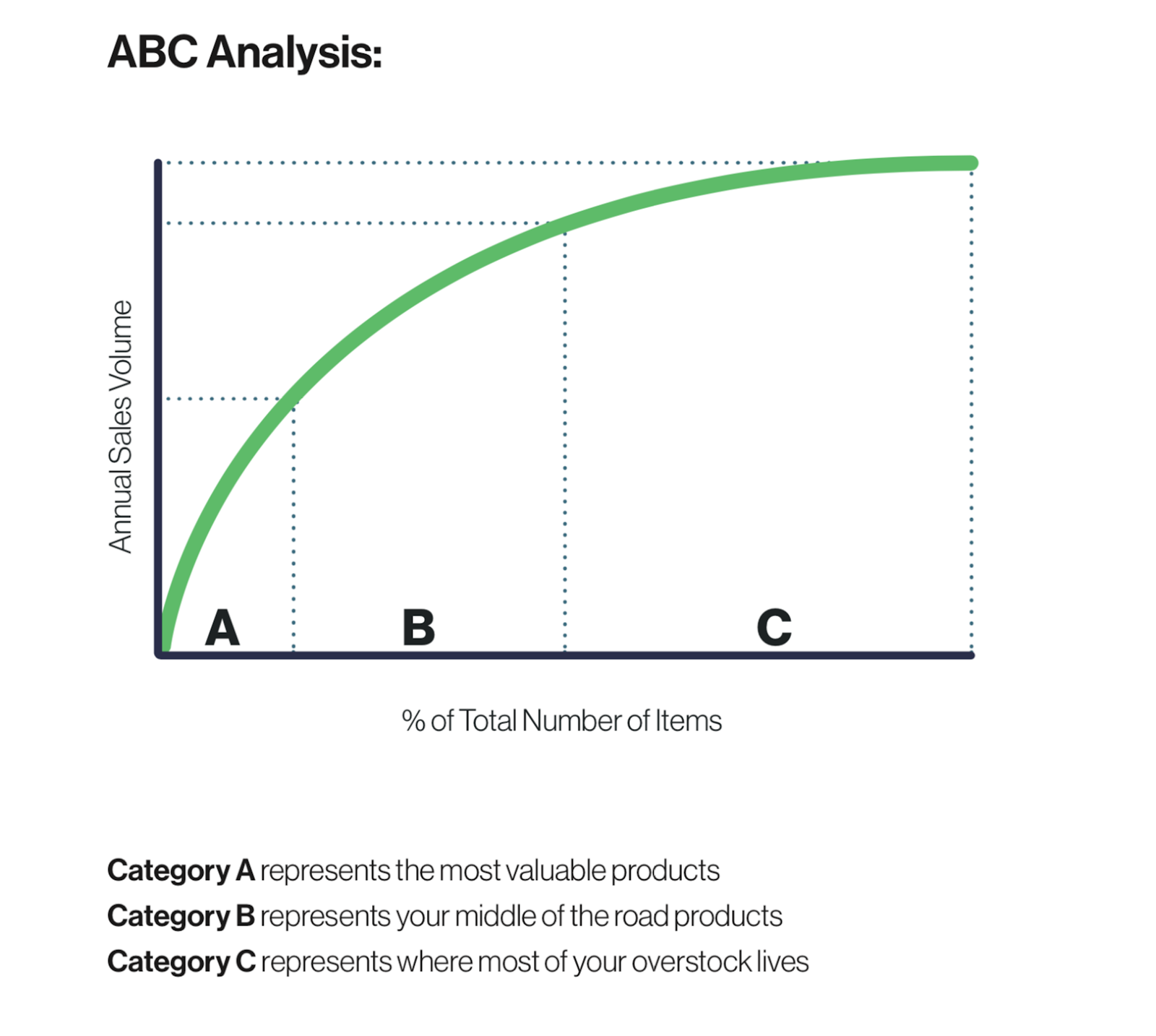 Software designed specifically for shipping and inventory management will also make an organized workflow more attainable. A robust shipping software like ShipStation will pull all of your orders from any selling channels you use into one centralized hub. With a little help from ShipStation, you will be able to organize orders by urgency, compare shipping rates from different carriers, and print labels. Keeping orders in one location not only lends organization to your fulfillment process, but also helps your team avoid any errors that may compromise an order.
Summary of Shipping Workflow:
Consider an external fulfillment provider if you are worried about space or labor availability.
Use organization processes like the ABC analysis to keep your warehouse fulfillment flowing smoothly.
Shipping software can help you organize and manage all of your orders in one space.
Carrier deadlines:
Carrier deadlines are important to keep top of mind, as they should influence the delivery cutoff dates you list on your site. Setting clear cutoff dates for deliveries will help lower stress for your employees and offer a more transparent experience for your customers. This infographic lays out the various shipping deadlines for USPS, FedEx, and UPS: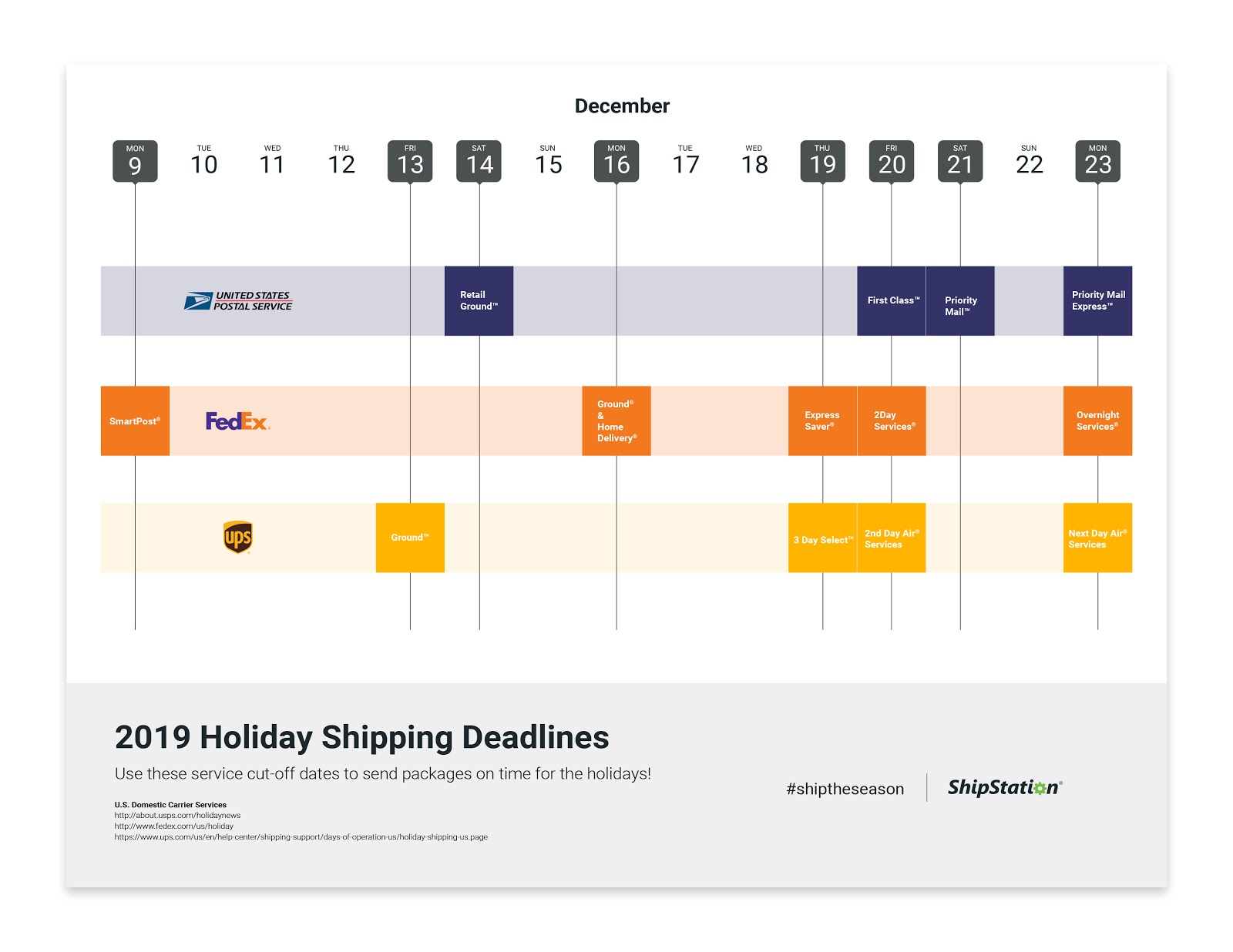 Download and print the infographic for your fulfillment space here.
Conclusion
Dealing with a high influx of orders during the holidays can be stressful. Ensure your business is prepared to deliver a consistent, accurate, and expedient shipping experience to your customers this season despite the high volume of shopping. Providing a great experience to customers during the most important time of the year is a great way to build customer satisfaction and brand loyalty.