For many ecommerce business owners, fall is the biggest and most profitable time of year. As consumers approach big holidays like Thanksgiving, Christmas, Hanukkah, New Year's, and others, and start marking their calendars for Black Friday and Cyber Monday, it's a great time for ecommerce businesses to start thinking about how to get the most out of the upcoming shopping season.
Consider the following statistics about the state of the holiday shopping season in previous years:
In ecommerce, you can't afford to be apathetic about the holiday shopping season. The opportunity and potential ROI is just too big to ignore or miss out on.
If you're looking for actionable ways to boost word-of-mouth and sales for your ecommerce business as you head into what could be your biggest months of the year, start with these 8 tips:
Tip #1: Delight Your Best Customers
If you want to get more people talking about you over the next few months, one of the best things you can do is mobilize the people who love you the most: your happy customers.
I've talked about customer delight a few times on this blog before, and if you haven't taken the time to look into it or take advantage of it, now is the time. Customer delight can mean a lot of different things for a lot of different companies, but here's how I've defined it in the past:
Customer delight simply means to create outstanding experiences for people in an effort to create and nurture lasting relationships. It's a way of thinking that goes beyond customer service. Delighting customers usually happens through the use of gifts, rewards, communication, and with the help of your team.
So how can you take advantage of customer delight during this time of year in order to drive more word-of-mouth for your business?
The idea is relatively simple: look into your data and identify the people who have purchased most often from you over the past few months, the ones who have spent the most money, and the ones who have taken the time to leave verified customer reviews on your website about your products. Once you have your list in hand, narrow it down to 15-20 people. Then surprise those people by sending them one of your products for free. It could be a product they've purchased in the past that you know they'll want again, or it could be a related product that you know they'll love based on past purchases.
Include a handwritten note thanking them for being a great customer. And leave it at that. Don't ask them for anything or make them feel like they owe you one. Just prove to them that you genuinely care enough to do something nice for them, without expecting to get anything back in return. If you can approach this idea in this way, the chances that these 15-20 people get on social media to say thanks and rave about you and your products even more is very high.
Pro Tip: document the entire process and share it on your blog or social media pages. Let people know that you randomly picked 15-20 people to delight, and that you'll be launching similar campaigns in the future to show your appreciation to a new group of customers.
Tip #2: Launch a Campaign with Influencers
If you have the budget for it, another great way to boost brand awareness and word-of-mouth is by working directly with a handful of well-known influencers in your industry. Industry influencers, bloggers, Instagram celebrities, and YouTube personalities can be great partners to work with if you can put the right plan in place.
Here's how it could work: do some manual research to find a dozen influencers that you would like to work with this fall. Once you have their email address or contact information in hand, reach out to them letting them know that you'd like to send them one of your products to test out. There are two ways you can approach these relationships:
1. You could ask them all to review your product write about it, and share their thoughts with their social media followers.
2. You could simply tell them that you love what they do, and you want to send them a gift to say thanks for everything they do for your industry.
Both options can be effective, it really just depends on your preference, your industry, and the people you're reaching out to.
Pro Tip: Create a unique hashtag for influencers to use when they spread the word about your product—don't just use the name of your product or company, be more creative. For example, if you sell fall boots, your hashtag could be something like, #steppingintofall.
Tip #3: Host Weekly Facebook Live Events
Another great way to drive more exposure and word-of-mouth for your business this holiday season is to experiment more with running and hosting Facebook Live events for your customers and followers to watch and participate in.
Facebook Live exploded in popularity among users in 2017, and brands have started to take notice. Each week, more and more are businesses are now going on Facebook Live to promote their products, answer questions, and engage with their customers and followers in real-time.
If you haven't used Facebook Live yet for your business, give it a try. Think of a creative campaign that you can tie to your Facebook Live events. For example, some companies are using Facebook Live to announce new products or throw virtual parties. Others are using it to host Q&A's with industry influencers or customers. Try to develop a campaign that puts you live on your Facebook page once a week for the rest of the year.
Pro Tip: Don't use Facebook Live to simply promote or demo your products—that's boring. Have more fun with it, and use the experience as an opportunity to be more transparent and authentic with your audience.
Tip #4: Leverage Holiday-Themed Graphics
Get your website visitors and email subscribers excited about the holiday season and the upcoming sales you're launching by leveraging new, holiday-themed graphics in your email campaigns and website design. Here are some common places you update:
Your website homepage hero section
Your Facebook cover photo
Your Twitter cover photo
Your blog rss email header
Your next custom email campaign
Your Facebook and banner ads
Your product pages
The banner or header section on your website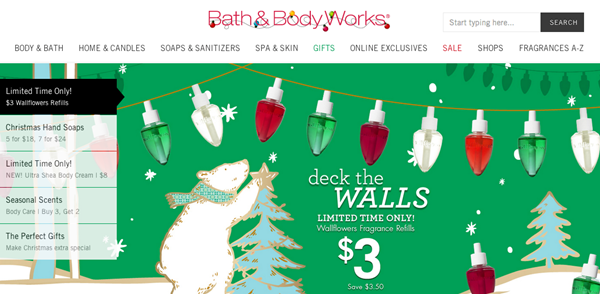 Website example from Bath & Body Works
Pro Tip: To boost success, attach your new holiday-themed graphics to an actual holiday promotion or sales event that your customers, visitors, and subscribers can take advantage of.
Tip #5: Partner with Another Company
Another creative way to boost sales and gain access to new customers is by partnering with a company that aligns well with your mission or the products you sell.
This idea may require a bit more planning and investment, but if you can put the time in and find the right partner, it could drive serious word-of-mouth and eventual ROI for your business.
Here's how it works: find a company that you can collaborate on a product with. Think about other similar companies in your industry, or other brands that you admire, and reach out to them to see if they'd be interested in manufacturing a small batch of products to sell on both of your stores for a limited time. The idea here is that you will (1) gain access to each other's customer bases; and (2) you will drive urgency by only offering a limited supply of the product you collaborated on together.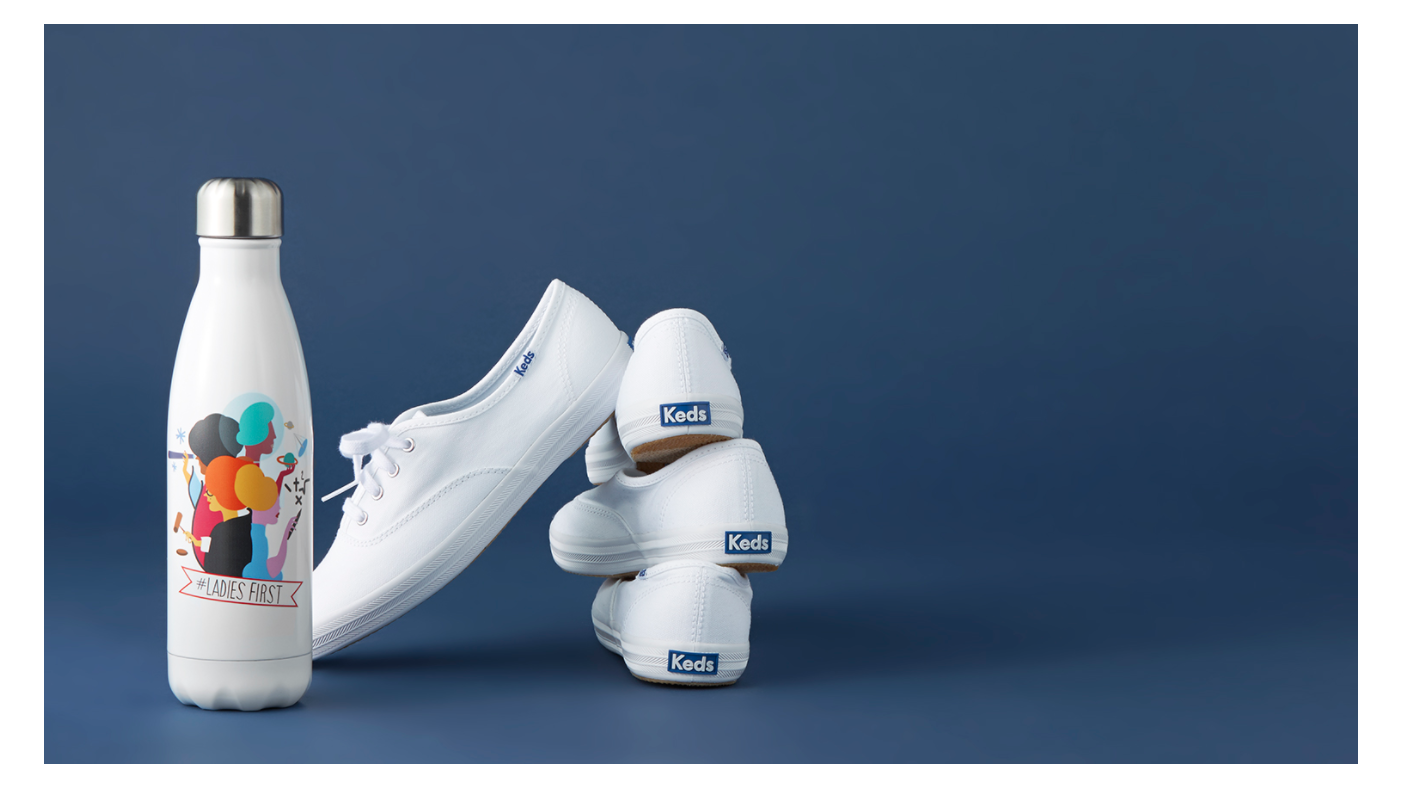 Example of a product collaboration between S'well and Keds
Pro Tip: Agree ahead of time with the partner you choose on promotion and marketing plan for the product you intend to sell. Make sure that each party is investing the same amount of money  and effort on getting the word out about the product.
Tip #6: Launch a Giveaway
Use a tool like Gleam to launch a really big giveaway for your ecommerce store. In order to make this idea successful, you can't just give away one of your products—you have to think bigger. To really drum up excitement and word-of-mouth, think about a prize package that you could afford to give away to one person only once. In other words, don't give away a $20 product that anyone could easily pay for themselves, give away a $500 gift that people might not be very likely to purchase for themselves.
For example, if you sell travel bags, give away a free stay at a resort somewhere. If you sell makeup, offer a weekend trip to a spa. The bigger you think and the more you can spend, the more people will talk and share the contest with their friends.
When you build your giveaway using Gleam, participants can enter by providing their email address to you, or by entering via their Facebook account. They can then get extra entries for taking additional actions that you build into your giveaway ahead of time. Examples include, visiting a website or landing page, answering a question, sharing the contest on Facebook or Twitter, or emailing a custom referral link to one of their friends.
Pro Tip: Before launching your giveaway, spend time thinking about how you're going to promote it. Can you send an email to your list? Write a new blog post about it? Launch a Facebook advertisement? Get help from other vendors, partners, and businesses in your industry? Without a good promotion plan in place, you risk putting a lot of time, energy, and money into something that might not ever gain traction.

Tip #7: Prepare for Black Friday & Cyber Monday
If you've been in the ecommerce business for more than one year, you likely have experienced the good, bad, and ugly that comes with Black Friday and Cyber Monday before. Use your experiences and the data you collected from your efforts last year to build a new strategy that you can implement this year.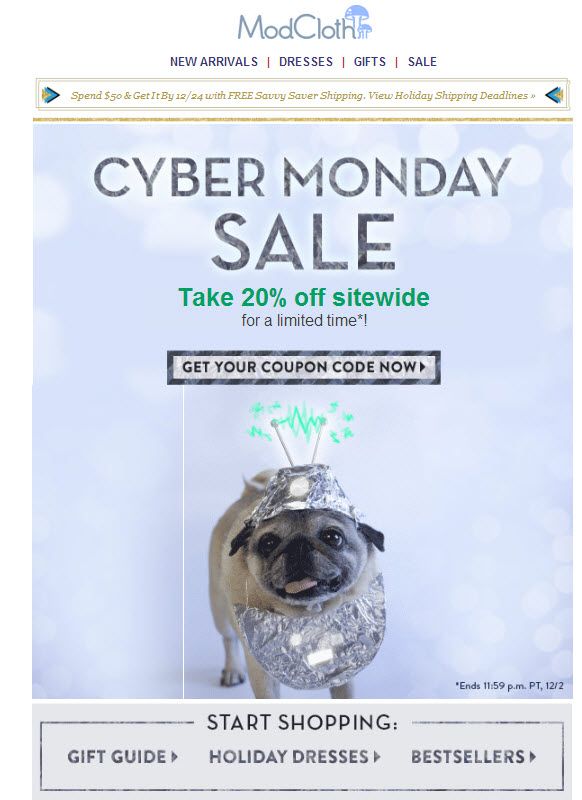 Cyber Monday example from ModCloth
Pro Tip: If you're not sure where to start, spend some time going through this resource from Shopify. It provides you with a 26-point checklist that you can use to prepare your store and business for Black Friday and Cyber Monday.
Tip #8: Promote Products as Gifts
Finally, build product awareness by promoting your products as gifts for different types of people. This time of year, gift guides are incredibly popular—everyone is searching for the right gift to buy for their mom, dad, brother, sister, boyfriend, girlfriend, coworker, boss. Make it easy for them by positioning your products as perfect gifts for _______. To promote your products as gifts for certain types of people, create your own gift guide lists on your blog, launch Facebook ads targeting the people who would buy your products as gifts, and create new product bundles in your store.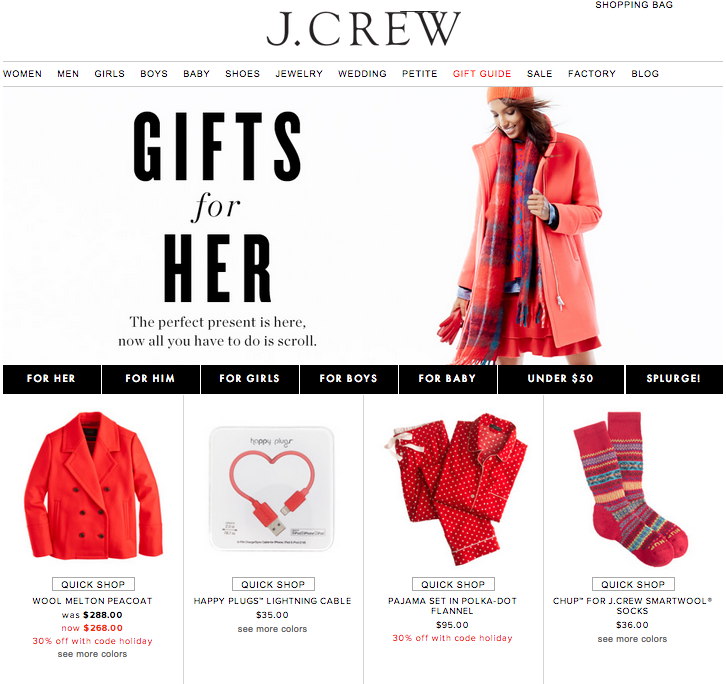 Example from J. Crew  (image source: Klaviyo).
Pro Tip: To find even more success with this tip, reach out to other blog editors who made gift guides for 2016—see if you can get your products added to the lists that they're likely already working on for 2017.
Over to You
What else are you doing to increase sales and brand awareness this fall? Tell me in the comments below.