Using affiliate marketing to grow your ecommerce sales is a solid strategy, and something that Mike Ugino recently wrote about. But I want to take you behind the scenes of our own affiliate business so you can start to piece together how this all works.
My wife Kayla and I built a six-figure affiliate marketing business in under two years. To give you an idea of what that looks like, here's a screenshot of our Amazon Affiliates dashboard last month:

I'm going to share how we built The Wandering RV step-by-step from brand new site to life-giving business, including our mindset and struggles along the way. I'll also share how you can use some of our strategies to see similar success. Let's dive in!
The Backstory: How It Began
I'll be the first to admit it—we got lucky picking our niche. We didn't do any research before choosing it. In fact, we didn't even plan on making money with the site when we first started; it was just supposed to be a place to keep friends and family up to date on our adventures when we lived in an RV for 6 months after college.
It wasn't until I wanted to start practicing my SEO and content marketing skills on a live site that we realized the potential we had. The first post I wrote that made us an income was this one about RV space saving and organization tips.

The inspiration was Brian Dean's Skyscraper Technique. My basic idea was to build out a post that was far better than anything on the internet. The next best piece had 30 space saving ideas, so I went all the way to 97.
We published the article, built a few links to it through guest posts, then let it roll. I didn't think about it for a few months because I thought it wasn't working. About six months later, long after I forgot about it, we got a check from Amazon for about $100. The article ended up ranking for its keyword "RV space saving ideas."
That's when I knew there was something to this skyscraper SEO strategy. We decided to put the majority of our time towards creating more content and building links to try and scale up our income.

The Crucial Factors: Link Building & Content
If there's one thing you take away from this article, let it be this:
The best way to rank on Google is to write excellent content and build links to it.
I am not a technical person. Yes, I can build a WordPress website and know how to use plugins, but I know virtually nothing about code. Neither does Kayla.
We've achieved over 200,000 monthly visits from Google through nothing more than solid keyword research, great content that matches user intent for those keywords, and building links to that content through email outreach and guest posting.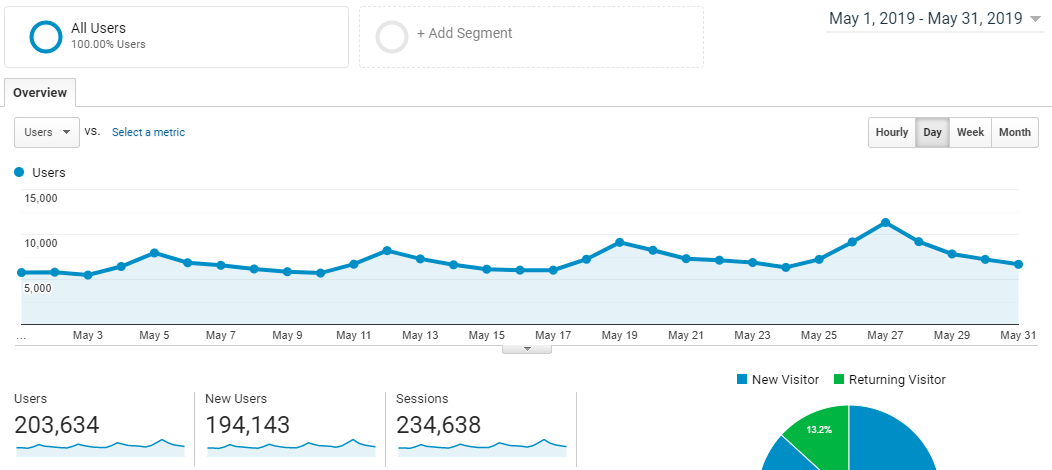 I outlined my keyword research strategy here, but it basically goes like this:
Find your competitors by Googling a keyword you think you'd want to rank for.
Plug your competitors into Ahref's content gap tool.
Choose keywords with a Keyword Difficulty (KD) of less than 30 and a volume you'd be happy to see for your effort.
Build a list of the keywords you deem worthy, prioritize them by volume, difficulty, and income potential, then get to writing.
How to Prioritize Which Keywords to Target
Create a Google Sheet, export the list of keywords from Ahrefs, and then import it into your sheet. Delete all the columns except Keyword, Search Volume, KD (Difficulty), CPC and Clicks. Then create two more columns titled Click Ratio and Priority.
It should look something like this (minus the parent keyword):

Ahrefs will give you all the data except Click Ratio and Priority. To get Click Ratio, simply use the formula =E2/C2.
This will show you the ratio of clicks to search volume. For example, if ten people search "Bill Widmer" but only one of them actually clicks on a result, the click ratio is 0.1 or 10%.
Pro Tip: If you highlight the column and press the % button in the menu, it will convert those ugly decimals to pretty percentages.

The final step is to look at the keywords with the highest volume potential but the lowest keyword difficulty. You should also factor in income potential, although defining an exact number for this can be harder than the other values.
One option is to look at the CPC. Keywords with a high CPC typically have a bigger income potential. However, a low CPC doesn't necessarily mean a low income potential for you.
For example, the keyword "rv storage ideas" only has a CPC of $0.80, yet is responsible for hundreds of dollars of revenue per month. There are some intricacies here like ranking for multiple keywords, but the main reason is because the article has almost 100 Amazon affiliate links and, despite being an informational keyword, it still has a high buyer intent once the reader gets the information.
I recommend you prune your keyword list one by one, looking at CPC and also the current results to see what people are doing to monetize that keyword and your best guess at their income from that page, then prioritize each keyword on a scale of 1-3.
Next Up: The Content Outline
I spent a lot of time choosing the right keywords because keyword research is arguably the most important part of SEO. Find the right keywords and the rest is (fairly) easy. Go after the wrong keywords and you could waste years of effort.
After you chose your first keyword, you do NOT want to just dive in and write the article.
The reason the vast majority of content we write ranks on Google is because we create a meticulous outline before even thinking about putting words on a page.
You can get a copy of our content outline (with instructions) from my guide to making money blogging. I also cover keyword research, finding affiliates, building links, and more, so it's worth a read!
The outline process involves:
Writing down your target keyword.
Finding LSI keywords to include in the article.
Researching the top ranking articles for your main keyword to see average word count and what they tend to cover.
Creating the flow of the article, with headings and subheadings.
Preparing your research to make writing easier.
After that first post started earning us a recurring revenue, our next project was this article on RV supplies recommended by other RV bloggers. The idea was to get the best recommendations from people who actually use them on a day-to-day basis, then link those recommendations to Amazon for an affiliate commission.
The reason we went with this approach was to then reach out to everyone who contributed to the piece to try and build some easy links to the post and get initial shares and traffic.
SEO Tip: It's important to build links directly to the content/pages you want to rank, not just to your homepage. Always practice deep linking whenever possible.
Finding Affiliates and Diversifying Your Income
It is really hard to reach six-figures (or more) with Amazon's Affiliate Program. They only give ~3% commission per sale. To make $100,000 you'd have to send them about $3.9 million in sales.
That's why it's important to diversify your income and find other affiliates. There are a few ways to go about it:
Sign up for affiliate marketing programs using tools like Avantlink, Rakuten, or Impact Radius.
Reach out to companies directly to set up an affiliate partnership with them.
Obviously, the first option is the easiest. But the second option can be far more lucrative with the ability to make twenty, thirty, and even fifty percent commissions on each sale. So get on that phone!
For us to ramp up to six figures and beyond, we diversified by pairing up with six different affiliates for various products and partnered with Ad Thrive to manage our display ads.

Efficiency Using Content Templates
Once we found some additional partners, it was important to ramp up content creation without sacrificing quality or SEO. To get around this problem, I created several content templates so we could scale quality content creation and efficiency.
I created three different templates based on general content:
Product reviews (such as this post on wifi boosters)
Travel content (such as this post about things to do in Destin, Florida)
RV-related guides (such as this guide to RV insurance)
We made these templates using Thrive Architect, though Elementor is another excellent tool that's a bit more user-friendly. Basically, the templates looked like this: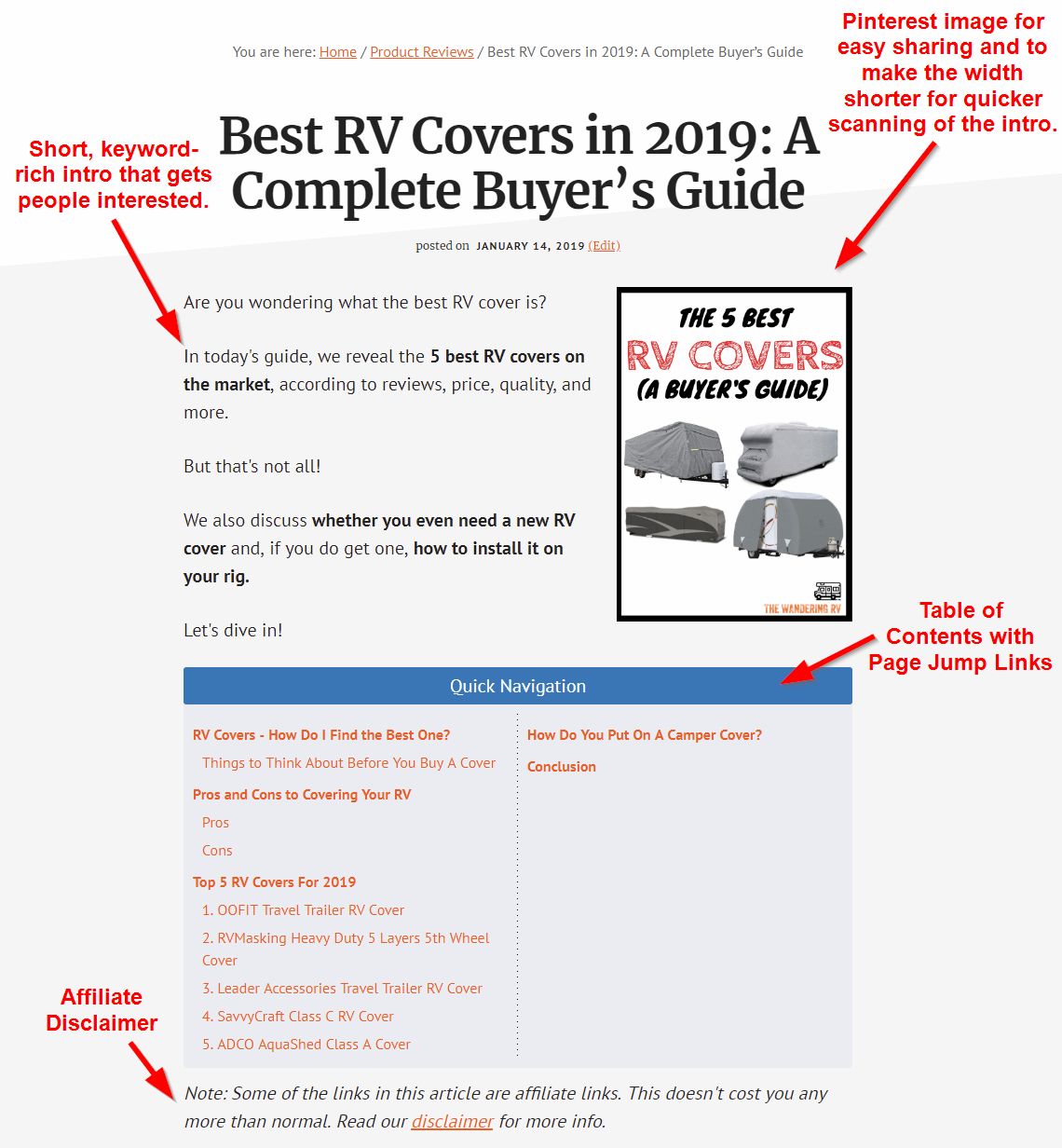 The intro is written using Brian Dean's APP method (Agree, Promise, Preview).
I ask a question they will answer yes to, promise them something they'll want (such as the best RV covers), then preview the content by sharing what we'll discuss. It's short and doesn't tell my life story, which is exactly what Google and Google's users want.
After inserting the intro template to a post, we'll then create the outline right inside Thrive, adding all the headings and subheadings before we start writing. This cuts down the time to create each article by an hour or more, which adds up over dozens of posts.
To give you an idea of what this might look like using Elementor instead of Thrive, here's an example template Kayla made on her new site, in a post titled "Why go vegan?":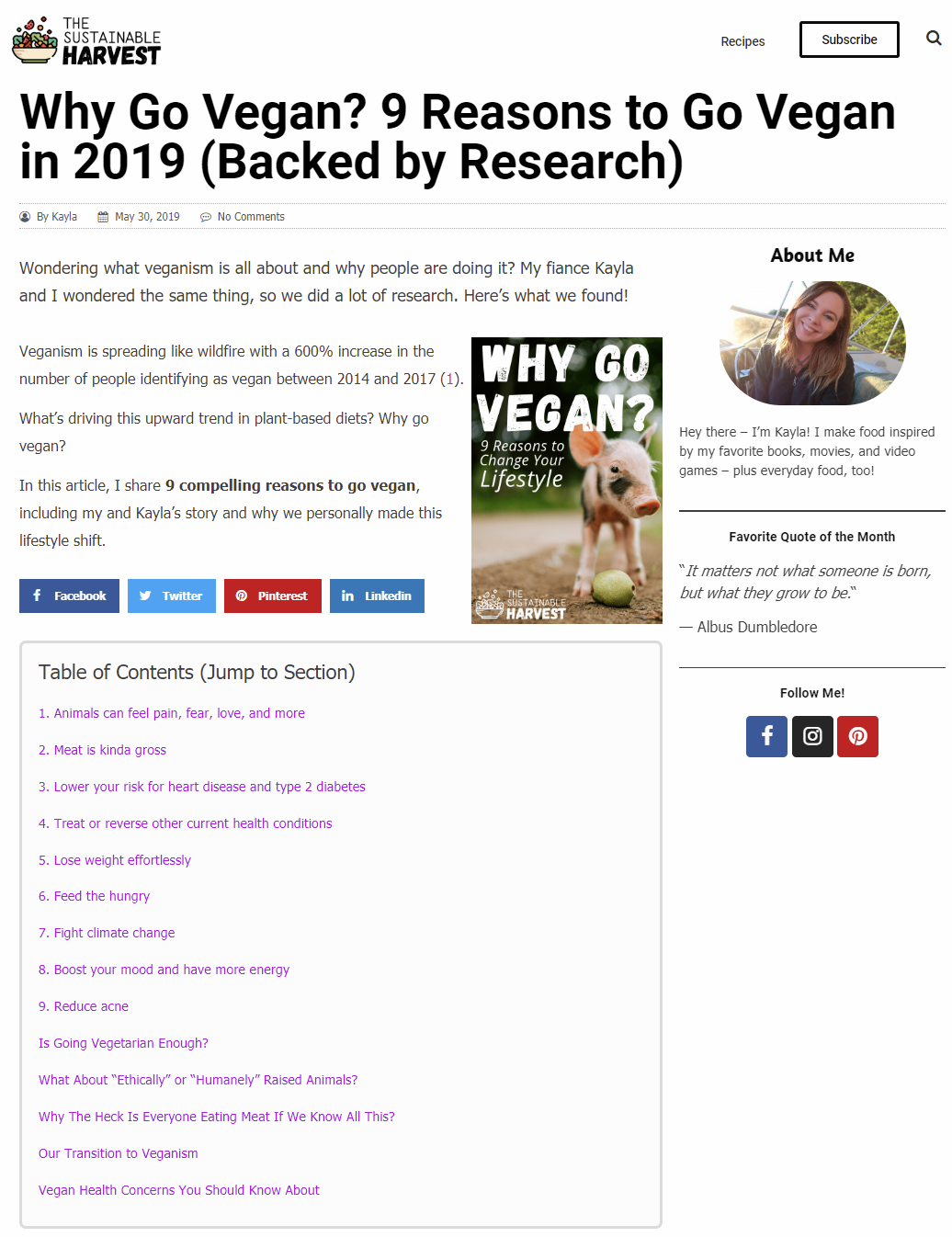 You can see that it's very similar, but she took some inspiration from popular content sites like Medium and Healthline. With these visual builders, your imagination is the limit.
Getting Advanced: Using the Hub and Spoke Method
Up to this point, I shared how we created content one-by-one to target keywords, then built links to those articles using guest posting and relationships. But, finally, a big part of our success is known as the "Hub and Spoke Method."
Essentially, you research a cluster of related keywords and create content around those keywords, just as we did in previous explanations. The difference here is that you create a central "hub" page to target the main, most difficult-to-rank-for keyword.
The rest of the content—your "spokes"—all link back to the hub page, as well as to each other. It looks sort of like this: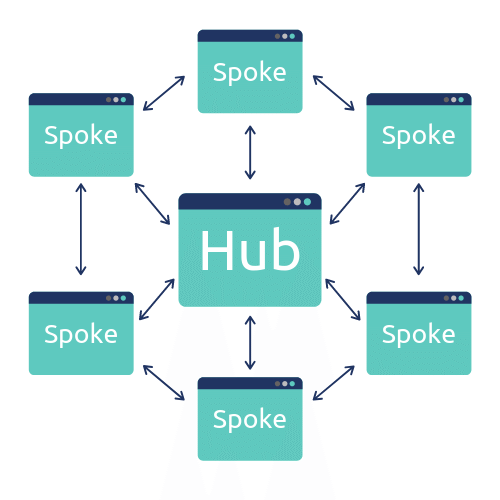 We utilized this method on The Wandering RV like this:
Hub Page: Info on RV rentals
Spoke Pages: RV rentals in [City] (Such as this piece on RV rentals in Las Vegas)
We created the hub page and 19 spoke pages to accompany it. The result? The hub page was ranking on page 1 of Google for its main keyword within two weeks of being published.
The hub and spoke method wasn't the only reason for this (it matched user intent better than many of the other search results and we built links to the page), but we've replicated this method multiple times with similar success across our own sites and our client's sites.
This is because Google uses relevancy as part of it's algorithm; if you rank for a lot of keywords around a given topic (such as RV rentals, RV rentals in Las Vegas, RV rentals in Hawaii, etc.), it becomes easier for you to rank for other similar keywords (such as RV rentals in Los Angeles).
Additionally, internal links pass pagerank, or "link juice", from one page to another. So if you create a hub page using the Skyscraper method and build a ton of links to it, the internal links from your hub page to your spoke pages improves rankings across all the pages. And vice-versa.
It Will Take Time And You'll Probably Want to Give Up
This guide shares the nitty-gritty of how to create a new site, rank for keywords on Google, and find affiliate partners to earn a higher income. But what I didn't share were the struggles and psychological blocks along the way.
Until you decide to treat your website like a real business—you give it the time and attention it deserves, you review the financials often, and you create a true business plan—you probably won't earn any significant money from it.
We spent a year and a half basically working for free before we saw any return on our investments. We poured a few thousand dollars into things like hiring writers, improving our hosting provider, speeding up the site, and buying tools like ConvertKit and Thrive Architect. There were many, many times we wanted to just drop it altogether.
At the end of the site's second year, we'd only made ~$12,000 from it and spent more than that getting it there. At the end of our third year, we broke six figures. Halfway through its fourth year, we more than doubled the revenue from it.
What I'm saying is this will take time. It's not a "get rich quick" scheme. It's likely that you'll work hundreds, if not thousands, of hours before seeing a dime—and it may even lose you money for a while. You'll probably want to give up more than once. It won't be easy.
But it can be done if you just commit to the process and continue learning. Read more articles like these on SEO, take some courses, practice writing and link building, and eventually you just might build a multi-million dollar empire (or at least be able to retire). You got this!
Recap
To sum up, if you want to build a strong affiliate site that makes six figures (and beyond), you need to:
Choose a niche that you're passionate about and can stick to for the long term since it can take 2-3 years or more to reach these income figures.
Focus a lot of time up-front choosing the best possible keywords to target before ever considering writing an article. This is assuming Google will be your main traffic driver, which, in my opinion, is the best method.
Outline your content by researching the current search results to figure out what Google wants to see before you start writing.
Use the hub and spoke method to rank for more keywords more easily.
Diversify your income by finding multiple affiliate partners and don't be afraid to call a company directly to set up a private partnership because that's where the money is.
Obviously, there's more to SEO than this 2,000-word article can teach you. But if you understand the above ideas, the rest is just bonus to help you rank faster. Best of luck to you, and if you have any questions, feel free to leave a comment or send me an email!