The largest online sales day of the year is quickly approaching: Cyber Monday is 37 days from today.
How have you been preparing for the day? Do you have a clear strategy in place for your ecommerce business? Are you taking what you learned from last year and putting a revised plan in place that will help you drive more sales this year? If you haven't thought much about it yet, the time to start is now. Based on last year's statistics, you simply can't afford to miss out.
According to Adobe, online consumers spent a whopping $3.07 billion on Cyber Monday in 2015. That's roughly 16 percent more than consumers spent on Cyber Monday 2014. The total amount spent by consumers over the entire Thanksgiving-through-Cyber Monday period was an astounding $11.1 billion, a 17 percent increase from the previous year.
Based on those numbers, I think it's pretty safe to say that it's going to be another big year for ecommerce business owners—but only for the ones who prepare.
If you're new to the ecommerce game, or if you've just never invested in participating in Cyber Monday as an online retail business before, today's the year to give it a try. But in order to get any sort of ROI from the day, you have to be willing to go all in. You have to put a strategy in place well before the day arrives.
Not sure where to start or what to focus on? Here are 15 genius ecommerce hacks you can use to drive more sales on Cyber Monday this year:
1. Dedicated Graphics
One of the most important tasks you need to get done before Cyber Monday is to design or hire someone else to design custom graphics for your business and products. On 12:01 AM on Cyber Monday, you should be ready and prepared to update your website, send emails, publish social media updates, and launch new product pages and landing pages with custom-branded Cyber Monday graphics. Your custom graphics should:
Alert current and prospective customers that your business is participating in Cyber Monday

Educate people on the types of deals that you plan to offer during Cyber Monday

Prominently feature your products (especially your best-sellers and the ones that will be on sale)

Help people understand any rules and requirements you plan to associate with Cyber Monday deals.

Direct people where to go to purchase your products
If you plan on making graphics yourself, try using a tool like Canva. It's fast, convenient, and extremely easy to use.
If you need to hire a freelance designer to help, find one using Dribble, 99Designs, Fiverr, or Upwork.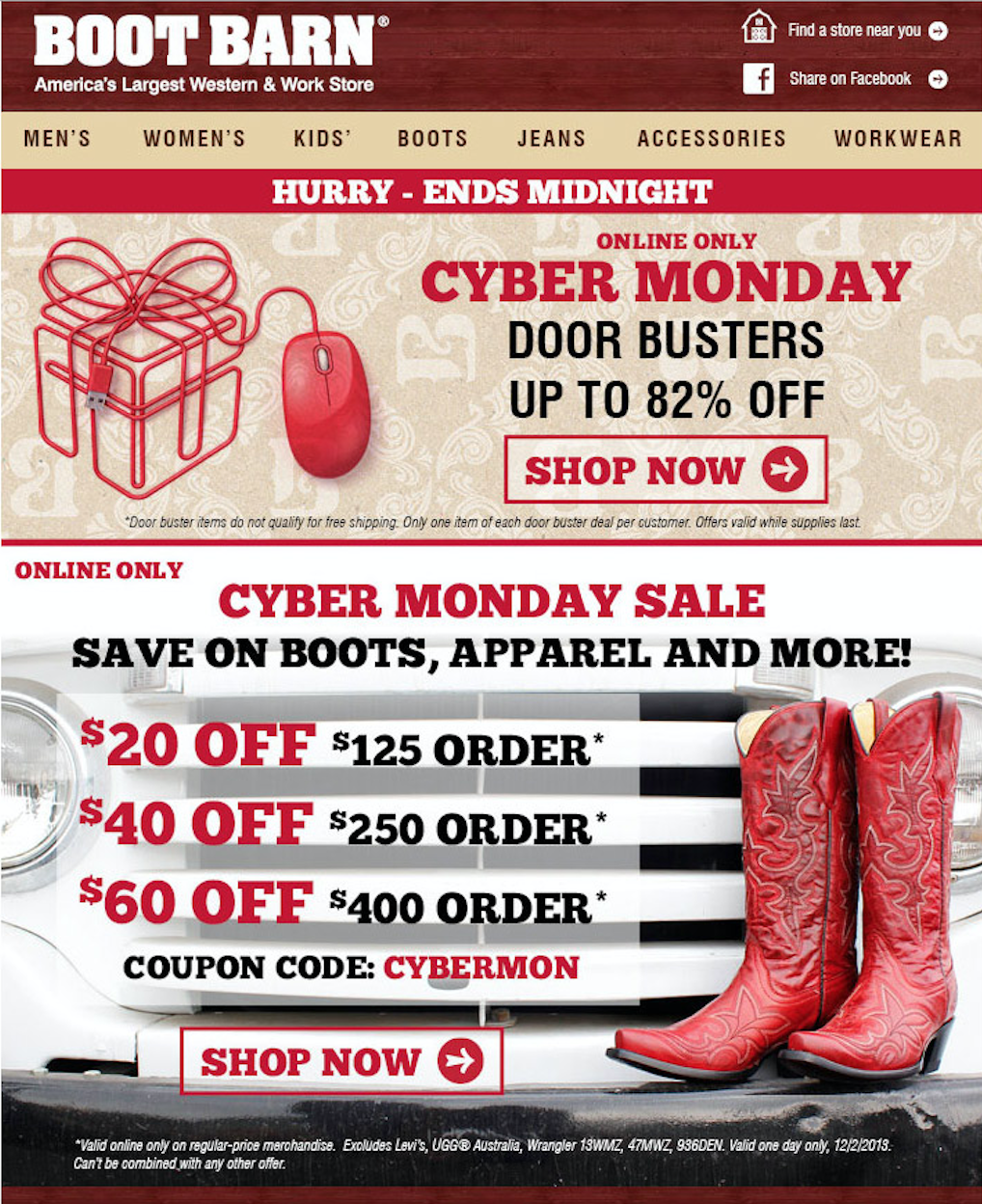 2. Social Media Countdown & Website Countdown Timer
To create buzz about your deals in the days leading up to Cyber Monday, consider posting daily countdown updates on your Facebook and Twitter pages. If you have an email list, you can also send out countdown emails reminding subscribers about your upcoming sale (but be careful – you don't want to steal sales from today). Your countdown updates should also include specific information about the sale you plan on launching, the products you're featuring, and any other information that will encourage them to stop by your store and purchase one or more of your products.
To drive more conversions on the day itself, consider adding a real-time countdown timer in various places throughout your website and in your promotional emails. A live countdown timer will create a sense of urgency and persuade visitors to buy in the moment, rather than leaving and buying at a later time.
There are a lot of tools out there that you can use to incorporate a live countdown timer into your ecommerce store. The one you end up using will depend largely on the ecommerce platform you use. If you're using Shopify for example, take a look at the following options: Hurrify, Countdown Timer Bar, Timer Panda.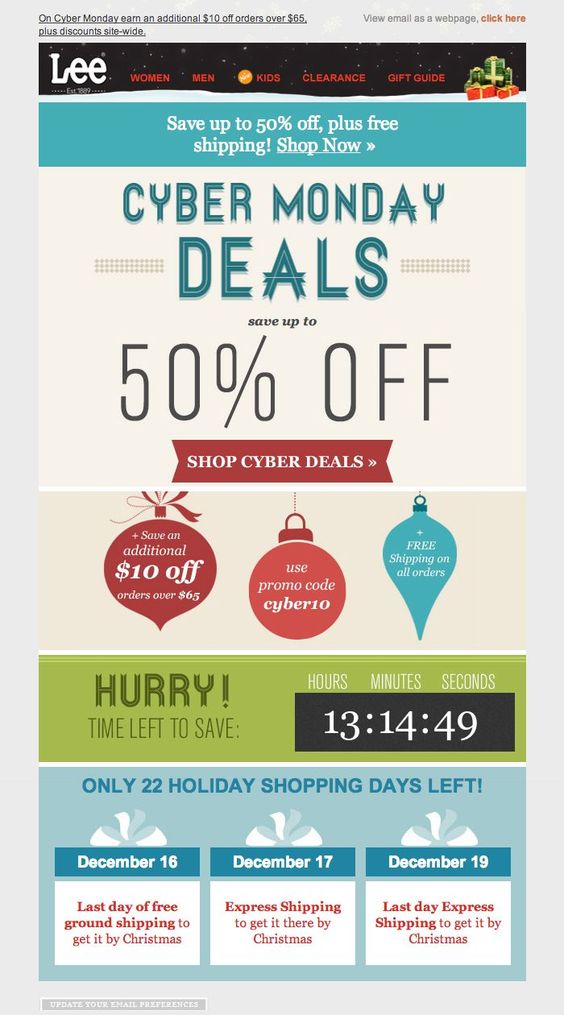 3. Live Chat
If you're new to Cyber Monday as an ecommerce business owner, it's important to understand this: consumers are being inundated with offers from a lot of other businesses, and their wallets are only so big. It's up to you to convince them that your products can help them feel better, happier, healthier, stronger, more popular, more successful, etc. It doesn't happen through your website alone. You have to be willing to have a conversation with the people who are interested in buying from you. You have to show them that there are real, caring human beings behind your business.
One of the best ways to do it on Cyber Monday is by turning on live chat for the day. Live chat will give prospective customers the opportunity to ask you and your team more questions about your products in order to make a decision about whether or not to buy.
There are many tools available that you can use to put live chat on your website. Here are a few:
Keep in mind: if you decide to offer live chat on your website on Cyber Monday, you need to be prepared to answer questions. A LOT of questions. It might require you to dedicate a few of your team members entirely to managing live chat for the day, or it might require you to hire additional temporary help. Not sure where to look? Try college campuses! You're bound to find a few business, sales, or marketing students who would be more than happy to gain some real-world experience.

4. Gift Idea Angle
With Christmas and other winter month holidays just around the corner, Cyber Monday presents you with the perfect opportunity to remind visitors that they need gifts for their family members and friends! In the days and weeks leading up to Cyber Monday, consider creating a variety of content that encourages your visitors and followers to buy your products as gifts for their loved ones. You can do this in a number of ways:
You can write a blog post that highlights a handful of gift ideas for the upcoming holiday season (some can be your products, some can be other products from around the web that you like)
You can write social media updates that ask your followers what they're planning on buying for their friends and family members in the next few months.
You can send out intentional email campaigns that remind your customers that the holidays are right around the corner.
For every example above, you should educate your audience about your upcoming Cyber Monday deals in an effort to drive them to buy their gifts when your sale goes live.
5. Promotion Emails
I've already mentioned it a few times in this post already, but it's worth mentioning again: one of the most effective ways you can drive more sales during Cyber Monday is by sending your subscribers emails in the days and weeks leading up to the day when your sales and deals go live.
Your emails should aim to get your customers and subscribers excited about the upcoming deals you plan to offer to them. Your emails should also feature the products you're most interested in selling on Cyber Monday.
To create effective promotion emails, you need:
captivating images of your products
attention-grabbing subject line and headline
lots of white space
Cyber Monday-branded graphics
Important information about your Cyber Monday deals and sales
Your customers are likely going to be flooded with emails on the actual Cyber Monday day itself, so the earlier you can engage with them through email, the better.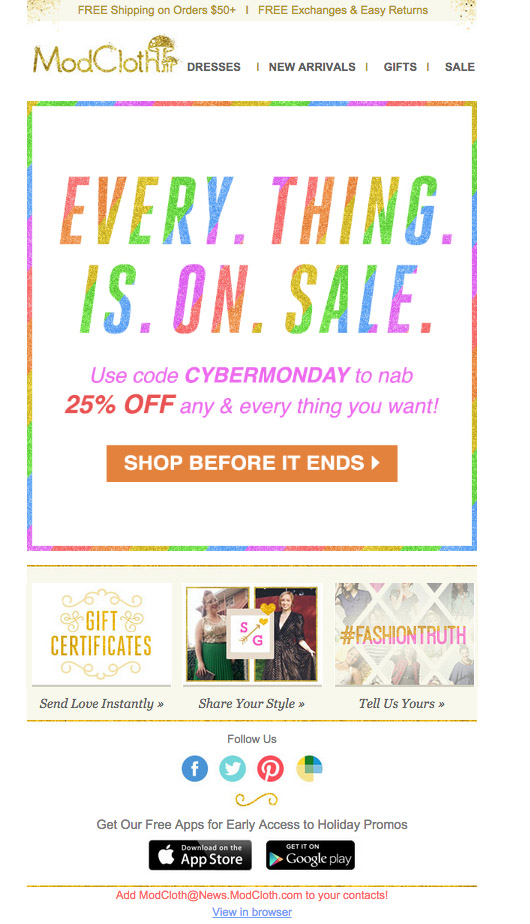 6. Support a Charity
Another great way to drive more sales on Cyber Monday is to show your visitors that it's not all about you and you're not just in it for the money. One of the best ways to do it is by partnering with a nonprofit or charitable organization and agreeing to donate a certain percentage of all proceeds from sales that occur on Cyber Monday to that organization. On a day when consumers are being hammered by every business for sales, it's a great way to differentiate and, more importantly, it's a great way to give back to those in need.
In order to make it successful, you'll need to do a bit of work ahead of time. Here are some steps you should make sure you take in preparation for supporting a charity on Cyber Monday:
Use social media, email, and order receipts to let your customers and followers know that you plan to support a charity on Cyber Monday.
Create partnership graphics that provide more information about the campaign to support the charity you chose to work with.
Write a blog post announcing the partnership and use it to provide more details about how much money from customers will be donated, and how it will be used.
7. Give Away a Freebie
To drive more buzz about your Cyber Monday specials, consider giving away a "freebie" product to anyone who purchases over a certain amount (example $100) before Cyber Monday ends. This tactic can help you achieve a few goals:
it can help you nudge your visitors to buy from you
it can help you get rid of an excess supply of merchandise
it can help you educate your customers about related products that they might not have known about
it can help you build buzz on social media during the day itself
Online consumers love anything that they can get for free (free shipping, free returns, free try-before-you-buy), so make sure to feature the freebie deal prominently on your website and product pages with copy and custom graphics.
8. Make a Video
In addition to making custom graphics to help you promote your Cyber Monday deals, you could also consider creating an original video to share on your website, across social media sites, and in your promotional emails.
As I've mentioned already in this article, every business is going to be competing for the attention of online consumers on Cyber Monday. It's essential that you put a strategy in place that helps you differentiate and cut through the noise.
Thanks to Snapchat, Instagram, and Facebook Live, video is insanely popular among online users right now, and surprisingly underutilized by businesses and brands in every industry.
Your Cyber Monday video should achieve the same goals that your other campaigns are supposed to achieve: to build brand awareness, educate people about the deals and specials you plan to launch, and help interested buyers understand where to go to buy your products when Cyber Monday finally arrives.
Want to go the extra mile? Hire a popular YouTube celebrity or video blogger to star in your Cyber Monday video.
9. Get Listed
Every year, content marketers and publishers all around the web publish hundreds of "Best Cyber Monday Sales Happening Right Now" articles. In most cases, the writers of these blog posts are desperately scouring the web for good and popular deals, so it's a great opportunity for you as an ecommerce business owner to proactively reach out to bloggers and website editors ahead of time to let them know about the sale you plan on launching once Cyber Monday hits.
So how do you connect with the right people? Here are some simple steps you can follow:
Do a Google search for last year's top articles [search for best cyber monday deals 2015]
Find the name of the author and see if they have a Twitter handle or email address attached
Reach out to them via email or on Twitter a few weeks before Cyber Monday and ask them if they'll be writing another article this year. They'll either ignore, respond, or forward you to someone they know who is.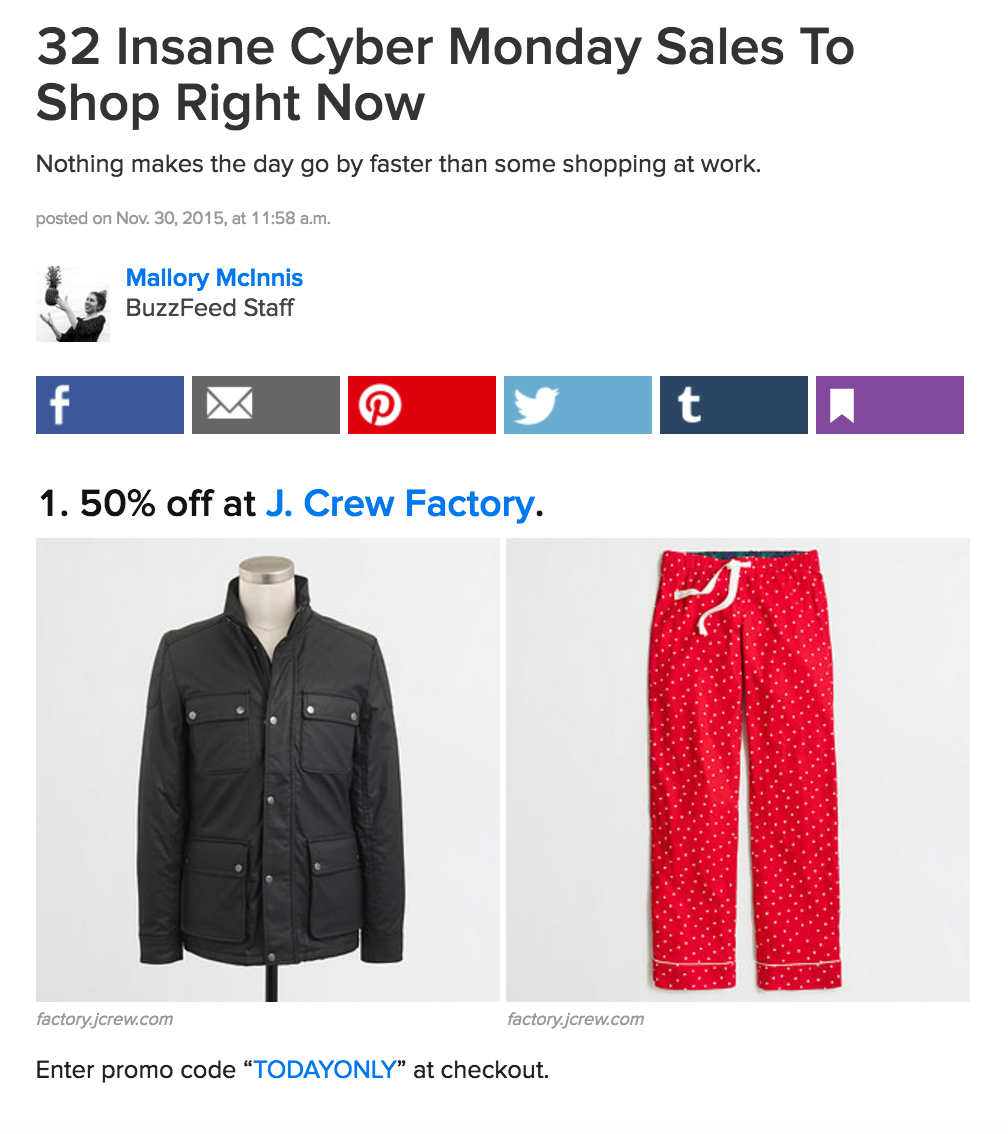 10. Create and Promote Product Bundles
It's always a good idea to offer product bundles in your ecommerce store, but it can be especially effective during Cyber Monday when consumers are trying to get the best deals available from the stores and businesses they love supporting.
In preparation for Cyber Monday, think of a special bundle package that you can create and launch only for one day. The key is to make it as enticing and special as possible—i.e. something that they will not be able to get if they were to visit your shop a few weeks later. For example, you could include a limited-time only product, or offer a really attractive deal on two or more products bundled together.
As with all tactics mentioned in this post, your success will ultimately depend on your ability and willingness to promote, promote, promote.

11. Real-Time Social Proof
As I mentioned earlier, it's important to build trust as fast as possible with the people who land on your website on Cyber Monday. On any other day, you might have a few extra minutes to convince people that your products are worth buying, but that's not the case on Cyber Monday. You have to act fast.
One of the best and fastest ways to build trust with your visitors is by presenting them with social proof statements from other buyers. This usually comes in the form of reviews, testimonials, or photos submitted by customers who purchased the product in the past. But to make an immediate impact on Cyber Monday, you need something faster.
So what can you do? I recommend using a tool called Fomo. It presents visitors with immediate social proof by pulling in customer interactions in real-time. In other words, the tool literally tells your visitors each time a new customer has purchased your product. It's a powerful tool for creating a sense of urgency, driving action, and boosting conversions. See it in action on your own site here.
12. Facebook Live
Facebook Live is still a relatively new medium for most brands and businesses, but it can provide another way for you to build buzz and differentiate from competitors. On Cyber Monday, you can use Facebook Live to stream and communicate with your customers and followers in real-time. For example, you could literally thank customers for buying your products "on air" within seconds of them making their purchases.
You could also use Facebook Live to announce exclusive Cyber Monday deals that customers can only get access to by tuning into your live broadcast. You can also take the opportunity to feature your products, give customers a behind-the-scenes look at your operation, and even meet some of your team members.
13. Customer Stories
In preparation for Cyber Monday, you should also gather and organize as many stories and testimonials from happy customers as possible. You'll likely receive a lot of new visitors to your website when you launch your sale—to build trust with this group, present them with third information that helps them understand what other people think about you and your products. You can share customer stories on your social media pages, in your emails, on your product pages, on your Cyber Monday landing pages and homepage, and in any ad campaigns you build to promote the day.
14.Incentivize Sharing for Additional Deals
To truly benefit from Cyber Monday, you need to get your customers and visitors to send their friends to your website to purchase from you before the day is over too. That's really the whole point of the day—to drive as many sales and capture as many new customers as you possibly can. So how do you get people to talk about you? By incentivizing with additional deals. You can set up incentive programs and attach special promo codes to certain actions by implementing a referral or ambassador program at your ecommerce business. The premise is simple: customers get rewarded for telling their friends about you, and in most cases, those new friends get rewarded too.
Need to a tool to get started? Check out ReferralCandy, FriendBuy, or Sweet Tooth Rewards.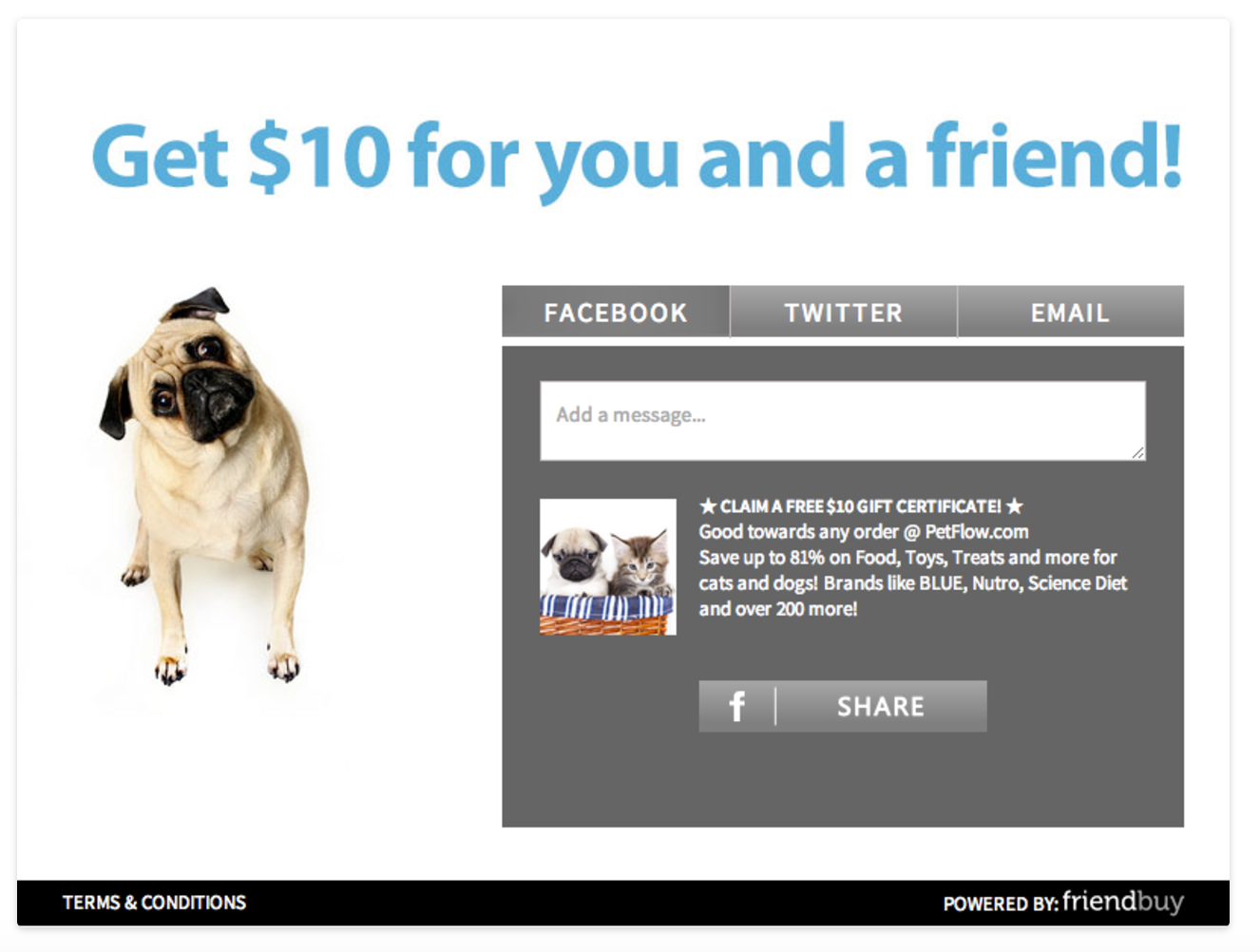 15. Be Mobile-Ready
The final way you can drive more sales on Cyber Monday is by ensuring that your shop is mobile-friendly. According to Adobe, "on Cyber Monday [in 2015], 44 percent of shopping visits were made from smartphones or tablets, accounting for 26 percent of online sales—$799 million."
You don't want to miss out on sales because people who are ready to buy can't load your website! If your website or shop isn't optimized for mobile, start working to update it now so that it's ready in time for Cyber Monday.
How else are you planning on driving sales on Cyber Monday this year? Tell me in the comments below.