Ecommerce is growing at breakneck speed as the online shopping experience becomes more seamless. With a few taps on a mobile device, shoppers can browse and buy just about anything. However, one aspect of ecommerce that lots of sellers still struggle with is the dreaded abandoned cart. Somehow, no matter how well your store's set up to guide shoppers to buy, abandoned carts are simply unavoidable. Estimates put abandoned cart rates between 50% to 80%, which amounts to $4.6 trillion in lost revenue every year!
One way to recoup lost revenue is to use abandoned-cart email best practices to follow up with shoppers. Even if you have a steady stream of traffic to your store every day, it makes sense to use this opportunity to capture as much revenue as possible. Your email campaign could be the difference between steady annual growth and a disastrous sales year.
We've put together this handy email best practices guide to help you create abandoned-cart email campaigns that get people to come back and finally check out. Let's dive in!

Abandoned-cart emails: the saving grace of ecommerce
You probably spend a lot of time advertising your products online to attract traffic to your site, right? All of your efforts pay off when there's a noticeable increase — especially on your product pages. You can see people are browsing and adding products to their cart — everything is as it should be. This is great except for the fact that the majority of shoppers who add products to their cart don't follow through and buy those items.
Unexpected shipping costs are just one reason why shoppers stop short of buying something. Other reasons:
They get a better deal elsewhere.
They "forget" to check out.
They get distracted.
They weren't ready to make the purchase.
They put the item in the cart to see the sale price.
They pressed the wrong button.
Your site crashed, or your payment gateway failed.
Whatever the reason, it's important for you to address these "lost" customers and lost revenue. You might not win back every single customer who leaves before checking out, but you stand a better chance of winning back some shoppers if you proactively ask them to come back.
An abandoned-cart email is a notification you send customers to remind them about their cart and encourage them to come back and complete the sale. Like this email from Adidas, cart-abandonment emails are usually fun and informal: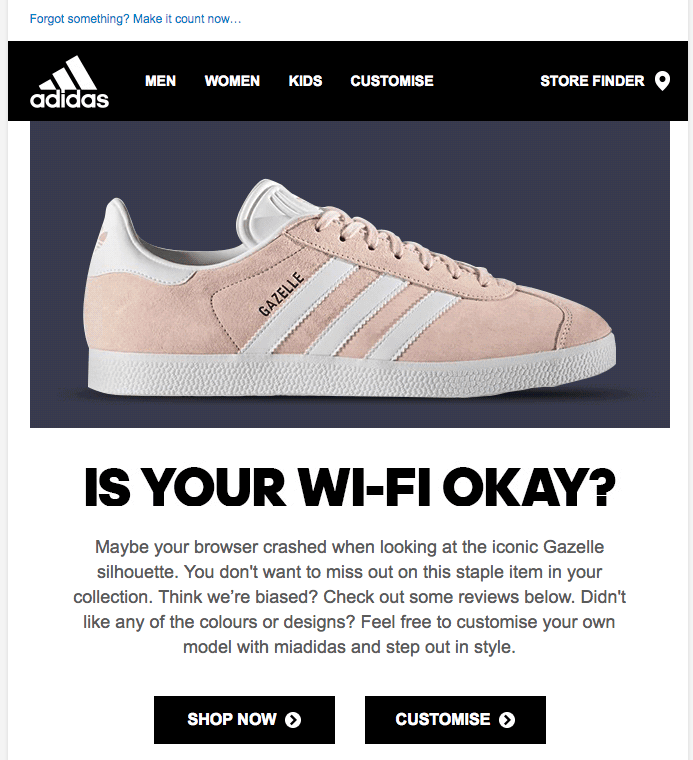 Abandoned-cart emails are effective because they're one of the most direct ways to connect with shoppers. Emails don't just remind shoppers of pending purchases; they also help you offer a positive customer experience as a way to win back shoppers. Your email campaign is a little like a shopping concierge who shows up in a place shoppers spend a lot of time already — millennials spend 6.4 hours a day checking their emails — and steers them back to the store and checkout page.
To make sure customers open your emails and take action, let's look at six elements to include in your email campaign.

6 effective abandoned-cart email best practices
The goal of cart-abandonment emails is to help shoppers get past the obstacles that made them stop short of checking out and nudge them to buy. With that said, there are some best practices winning cart-abandonment emails MUST have:
1. Send multiple emails to engage shoppers.
One email sent within an hour of abandonment is great timing because this speed to inbox can lead to a higher conversion rate compared to waiting for shoppers to come back on their own. Why within an hour? Because the shopper is more likely to still be on the site, and the experience is still fresh in their mind.
However, since it takes more than one attempt to get shoppers to act, abandoned-cart email campaigns should include more than one email that are sent over a period of several days. An abandoned-cart benchmark report by Klaviyo found that sending up to three emails in an abandoned-cart campaign results in higher conversion revenue. Set up a simple drip campaign that includes the following types of emails:
Email #1 – Cart reminder email: If customers don't return to check out within an hour, send a reminder that their cart is still available.
Email #2 – Follow-up reminder: Send this email 24 hours after the first email is sent or after the abandonment. If you are running a sale, add a sense of urgency by explaining that a sale is ending soon and products will be available only at full price afterward.
Email #3 – Promotional incentive email: This final email should be sent up to seven days after the cart was abandoned. If shoppers still haven't come back to buy, include a discount offer to save on items already in their cart.
Here's an example of an abandoned-cart email Dyson sends shoppers shortly after they leave the site: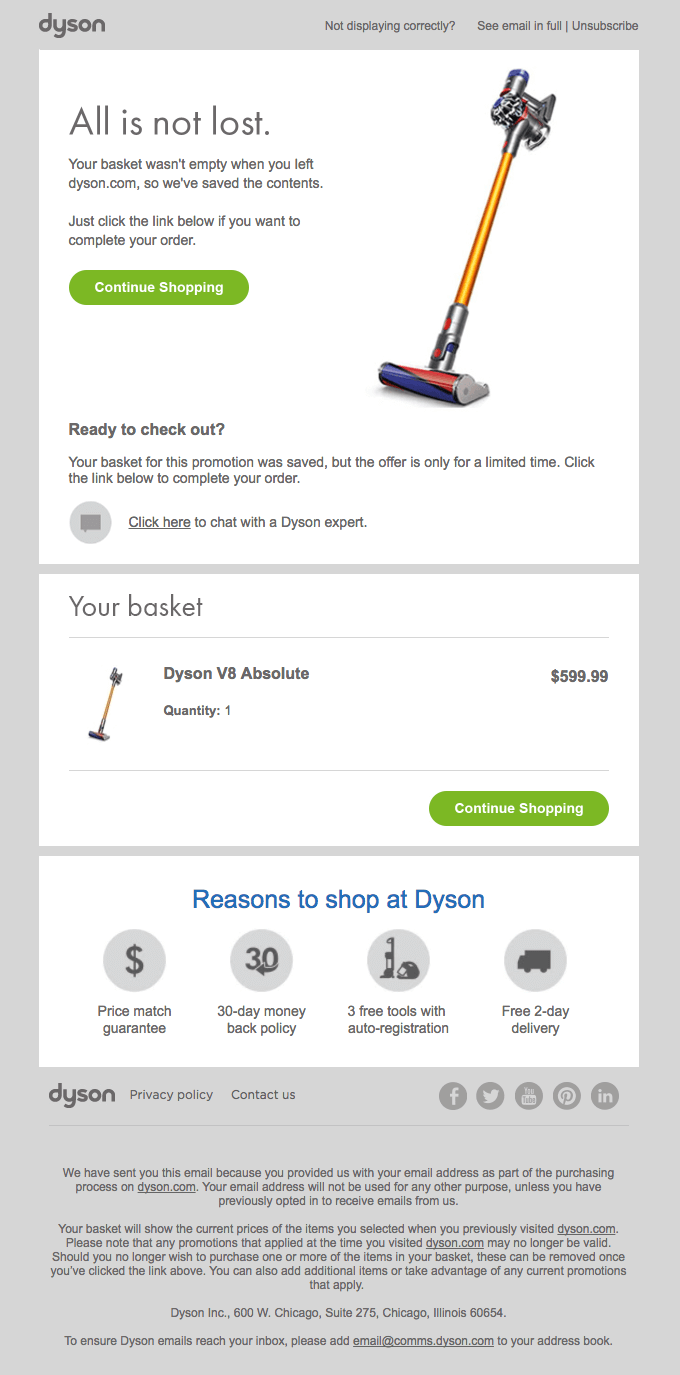 What's great about this email:
It includes a link to customer support to make it easy for shoppers to get the information they need before buying.
It reiterates the value Dyson products offer. The "Reasons to Shop at Dyson" section reminds shoppers why they were on the site in the first place.
Depending on the email marketing software you use — for example, Mailchimp or Constant Contact — do some A/B testing to figure out exactly what follow-up time frame gets the most shoppers back to your site.
2. Increase open rate with a killer subject line.
Subject lines can get tricky. You need options that invoke emotions — like joy, curiosity, and even FOMO — and excite people enough to take action and open the email. Subject lines shouldn't sound spammy, because that causes people to distrust your headlines and, worse, mark you as spam.
Again, some A/B testing will go a long way here. Most email marketing software lets you send a split-test campaign that includes two different subject lines. That way you can see stats like open rate and click-through rate for both versions.
Here are a few examples of subject lines that get shoppers to stop scrolling and open your emails:
You don't want to miss out on these!
Your items feel lonely – help them out!
Uh-oh! Looks like you forgot something.
Hey! Come back here! Pretty please?
You can even get creative with your subject lines. For example, check out this adorable email BlackMilk Clothing sent their shoppers: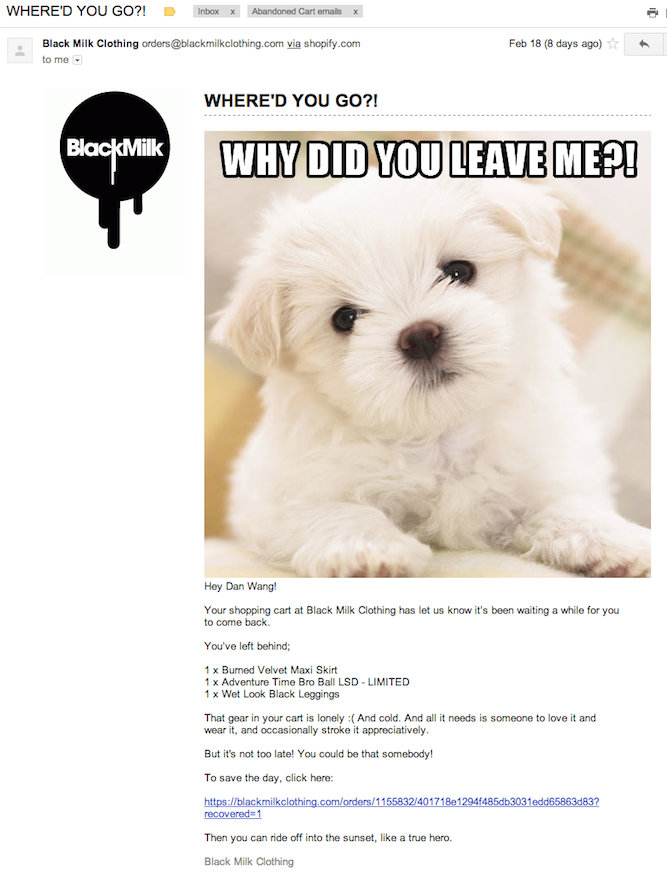 [Source]
This subject line plays on shoppers' curiosity and uses humor to get them to open the email, and the image makes them reconsider abandoning their cart.
While humorous and light-spirited subject lines encourage people to open, we've also found that even though a really descriptive subject line might get a slightly lower open rate, click-through rate is still high. This is a bit counterintuitive and likely happens because people know exactly what they're opening, so they open with intent.
Again, best practices dictate that you test different subject lines to figure out which types get shoppers to open your emails.
3. Remind shoppers of what they've left behind.
While not every shopper wants to receive an abandoned-cart email — for example, they think your shipping costs are too high — there are some who feel that reminder emails are helpful and influence their purchase decisions. One way to get those shoppers to act is to include images of the items they left in their carts. This is a great way to add a visual element to your emails and recreate the feelings shoppers had when they first added the items.
In addition to images of items in the cart, include details like price, color, style, and size — like this example from Dote — to create even more appeal to complete the purchase: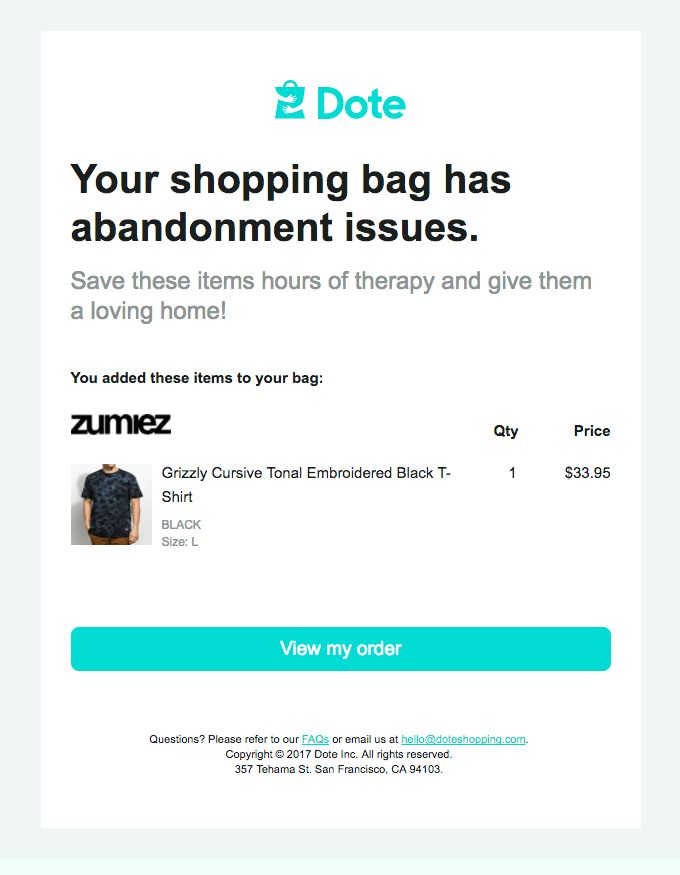 Something to note about this approach is how similar the email layout above looks to Dote's checkout page. Both have the same minimalist look and feel.
Having the layout of your emails mimic the layout of your store reminds shoppers of their first impression of your store and their experience so far. The majority of shoppers are visual learners, so use your email campaign to get them to click and head back to your checkout page.
4. Write copy that encourages action.
Have you ever received an email that you struggled to read to the end? Shoppers do too, all the time. They often get emails that use stilted language and feel like they were written by a robot. Boring content falls flat and doesn't do anything to get shoppers to take action. Instead, write emails like you're writing it to a buddy of yours.
The human element is crucial for getting people to feel connected to you through email and for getting them to click and buy. Shoppers should feel like you genuinely care that they've left items in their cart, so your tone should be engaging and conversational. Your copy should do three things:
Remind shoppers about their items.
Create urgency around completing the purchase. For example, say something like, "Your cart is expiring soon."
Make shoppers feel good about the products they're looking at.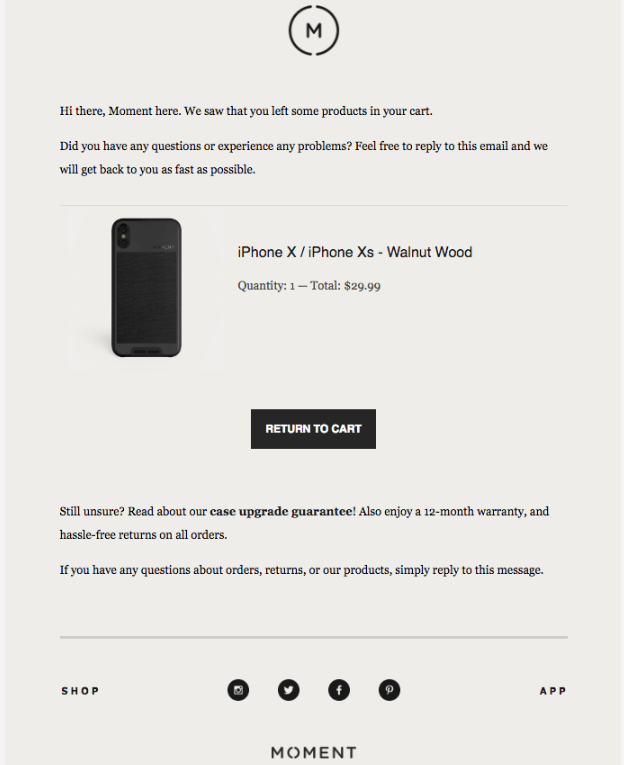 Like the example above from Moment, you can suggest shoppers respond to your emails with questions. Also, include more details about the products in the cart to help shoppers make a purchase decision. This approach is perfect for shoppers who are unsure and need more information before buying something.
Your copy should also include an obvious call to action (CTA). It's one thing to grab people's attention when they open your emails, but you need a way to direct that attention. Here are some popular CTAs:
Go to basket
Claim my item
Finish the job
Go to cart
Both email copy and CTAs are good opportunities to A/B test your emails. Every audience is different, so you have to figure out what your audience responds to. Send two different versions of the same email to different groups and see which one gets the highest click-through rate. The more you test, the better you become at providing the kind of content your audience enjoys and are eager to follow through on.
5. Use an incentive to tempt shoppers back.
Shoppers love deals. Whether it's free shipping, a dollar-based discount, or percentage based discount, shoppers are open to saving whenever possible. When you've sent two or more abandoned-cart emails with no response from shoppers, go one step further and offer them an incentive to come back and check out. Bonobos offers shoppers a 20% discount: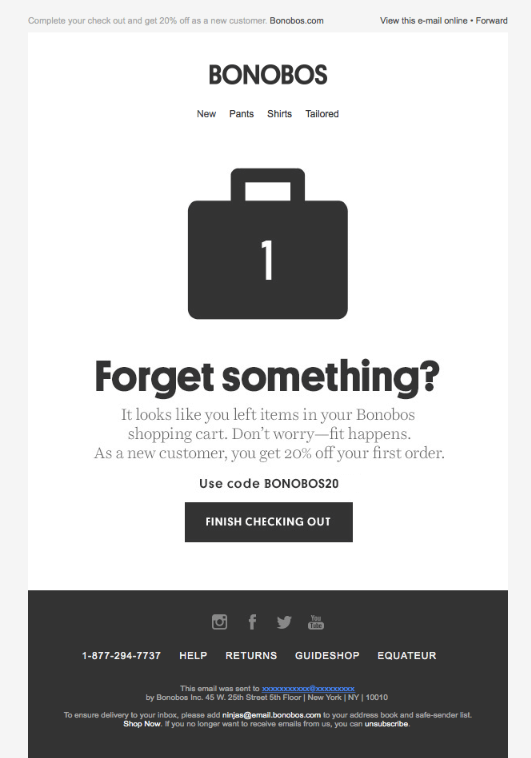 To simplify the checkout experience, you can even apply special offers directly to shoppers' carts so that all they have to do is click or tap to complete their purchase — there's no need for them to enter a code.
If you find that your simple, one-CTA cart-abandonment emails aren't meeting your expectations, cross-sell popular or related items — like in this email Jack Wills sent to its shoppers:
The "You may also like" section in this email is one way to win back shoppers because you show them what else you offer. This approach is especially helpful if you've introduced new products in your store since the shopper last visited. You can encourage them to view the new products and add them to their cart before checking out.
6. Use social proof to create urgency.
Since shoppers can't physically touch your products to decide whether the items are a good choice, social proof is the next best option. Depending on why shoppers abandoned their cart — they might have felt your prices were too high — social proof gives them insight into the experience of other shoppers.
Your product might cost a little more only because you offer premium quality. If shoppers can hear about your product benefits and quality, you have a good chance of tempting them back to complete their purchase.
Incorporate reviews and testimonials to influence purchasing decisions because shoppers use these to make their buying decisions. Choose your best reviews and testimonials from your website or a site like Trustpilot, and include them in your emails.
Abandoned-cart email best practices evolve over time
Lots of revenue is lost when there isn't a cart-abandonment email campaign in place. These emails take a little bit of time and work to set up, but the incremental revenue they generate more than pays for the effort.
As you incorporate these abandoned-cart email best practices into your campaigns, keep testing. Customer expectations evolve over time, so testing makes sure your emails not only get opened but also get shoppers to come back and buy something.
Do you have any great success stories with using abandoned-cart emails? Tell me about them in the comments below!
Note: This post is a combined post, pulling from two older posts on our site that were originally written by William Harris and Scott Cohen.