Between the millions of products Amazon sells itself and the millions of items available on the website from third-party sellers, it's no surprise that many merchants often sell the same products. These identical items compete for sales, but some have a particular advantage over others: They've won the Amazon Buy Box.

The Amazon Buy Box is the top-right section of a product page where customers can add items to their cart or even make a purchase with a single-click, as illustrated below.


Eighty-two percent of Amazon sales are made through the Buy Box. This percentage is even higher for mobile purchases because the box is positioned right below the product image, so winning this coveted position is a major victory for Amazon sellers.

Unfortunately, there's no guaranteed method for winning the Amazon Buy Box. However, understanding the ecommerce giant's algorithms and how to take advantage of them will increase your chances of beating the competition and securing the Amazon Buy Box for your product.

How to Be Eligible for the Amazon Buy Box
The first step to winning the Amazon Buy Box is to ensure you're an eligible seller. To be eligible, you must meet the following requirements:
Sellers must have a Professional Selling Plan.
Sellers must be recognized as Buy Box Eligible. You can find this information by logging into your Seller Central account. If you sell items in multiple product categories, you'll have to check your eligibility for each individual product category. Just because you're eligible for Buy Box in one category doesn't mean you'll be eligible for it in all of the ones you sell in.
Sellers must sell new products. However, there is a separate Buy Used Box for pre-owned items.
Sellers must have available inventory. Amazon's algorithm favors sellers with available inventory, so even if you've won the Buy Box before, it'll rotate to another seller with adequate stock if you run out.
How to Win the Amazon Buy Box
Which seller's product wins the Amazon Buy Box is dependent on several factors, and just because a seller's item wins the box once, doesn't necessarily mean they'll maintain that position.

Also, while getting this preferred placement is referred to as "winning," a seller of a particular product doesn't actually "win" that position 100% of the time — the seller wins only a share of the Buy Box for that product. For example, if you and another eligible, highly ranked seller both offer the same sweater for sale, you may each win 50% of the Amazon Buy Box. This means that your product will appear with the Buy Box only half the time.

Let's take a look at which factors affect your chances of winning the Amazon Buy Box in order of how much impact they have.
Fulfillment Method
The fulfillment method third-party sellers use has the most impact on winning the Buy Box.

Those who use Fulfillment by Amazon, which has Amazon fulfill third-party sellers' orders and is illustrated below, are at an advantage to win the Buy Box. Users enrolled in Seller-Fulfilled Prime, which involves merchants fulfilling their own orders according to specific Amazon standards, are also more likely to get it.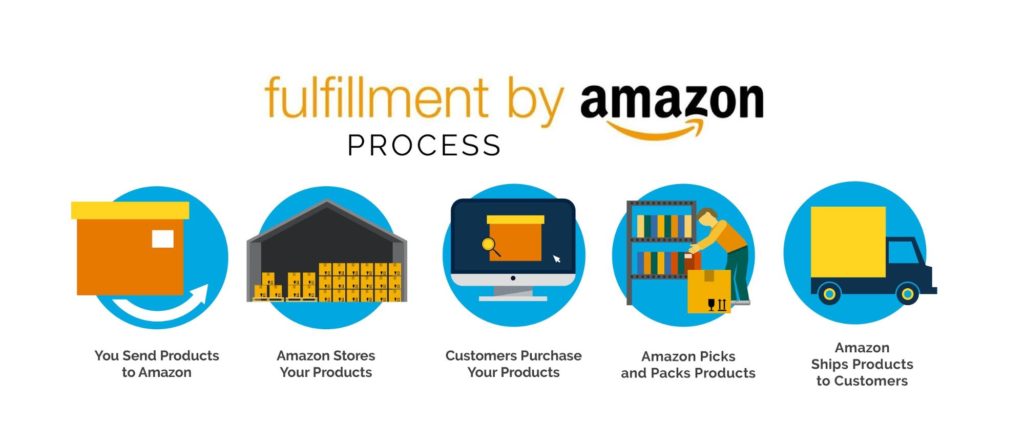 Why does Amazon favor these fulfillment methods? Because sellers enrolled in these programs meet Amazon's high standards for customer service and fast shipping and delivery.

Sellers who fulfill orders themselves and aren't part of Amazon's Seller-Fulfilled Prime program can still win the Buy Box. However, they must offer low prices and have high scores across numerous other performance metrics, such as feedback score and Order Defect Rate (ODR).
Landed Price
The landed price is the total amount an item sells for on Amazon, including its shipping cost. After fulfillment method, landed price is the most important factor in winning the Amazon Buy Box.

While a low price can make your product more competitive for the Buy Box, it's not a guarantee that you'll actually win it. When it comes to price's impact on the Buy Box, it depends not only on how your price compares with your competitors' prices but also on how your performance metrics compare.

For example, if you have higher performance metrics than your competitors, you can price your product higher than they do and still win your share of the Buy Box. However, if your competitors have better performance metrics than you, you'll have to decrease your product's price in order to maintain your share of the Buy Box.

Shipping Time
How quickly you fulfill orders is another major metric Amazon considers when determining which seller will win the Buy Box.

As a general rule, the faster you ship, the better. And the best way to win the Buy Box is to match Amazon's own Prime delivery and get shipments to buyers within two days.

However, shipping time is weighted more heavily for certain product categories. For example, if you sell perishable goods like food, shipping time will have a greater impact on winning the Amazon Buy Box because consumers expect such products to be delivered promptly.
Feedback Score
While fulfillment method, landed price, and shipping time are the most significant factors in winning the Amazon Buy Box, the platform's algorithm also takes other factors into consideration, such as a seller's feedback rating.

Amazon's third-party seller rating system is one to five stars, with five being the best possible score. A seller's average rating appears next to their name on Amazon, and you can visit the seller's page to see a breakdown of their positive and negative feedback, as illustrated above.

Learn how to remove negative feedback on Amazon.
Customer Response Time
How long it takes you to respond to consumers' questions and complaints also has a medium impact on a seller's chances of winning the Buy Box.

Third-party sellers seeking to win a share of the Buy Box should aim to respond to all messages within 12 hours of receipt.
Order Defect Rate
A seller's Order Defect Rate, or ODR, is a measure of their ability to provide good customer service. It encompasses all orders with one or more defects represented as a percentage of total orders during the past 60 days.

There are three types of ODR that Amazon measures:
Negative feedback rate, which includes comments and ratings from your customers
A-to-z Guarantee claim rate, which are claims made by consumers when their orders are unsatisfactory
Credit card chargeback rate, which is the number of times a seller refunds customers' orders
In order to sell on Amazon, you must maintain an ODR below 1%. Third-party sellers with an ODR greater than 1% may have their accounts deactivated.
Valid Tracking Rate
Your valid tracking rate refers to a seller's percentage of orders that are sent with proper tracking information over the past 30 days.

To increase their chances of winning a share of the Amazon Buy Box, sellers should aim for a perfect score of 100%. This means that all customers should be provided with correct tracking information for their orders.

Late-Shipment Rate and On-Time Delivery Rate
The late-shipment rate and on-time delivery rate are the number of orders a seller ships after the expected ship date and the number of orders they ship on time over the past 30 days, respectively.

For the greatest odds of winning the Buy Box, third-party sellers should aim for a 0% late-shipment rate and a 100% on-time delivery rate.

However, you don't have to maintain perfect scores on each of these metrics to win the Buy Box. Sellers with a late-shipment rate below 4% and an on-time delivery rate greater than 97% are also in good standing and can win a share of the box.
Inventory Depth
Accurately maintaining inventory may have only a low impact on your chances of winning the Amazon Buy Box, but it's still important. Frequent large fluctuations in inventory depth can negatively affect your chances. And while back-ordered items can win the box, Amazon's algorithms favor sellers with consistently stocked inventory.

Many retailers use inventory management solutions like Sellbrite to make sure they reorder consistently instead of just replenishing stock when they've already sold out.
Cancellation and Refund Rate
How often a seller cancels orders and how often buyers request refunds from a seller affect the likelihood of winning the Amazon Buy Box too, but these also have a low impact.

Still, third-party sellers should aim to keep these percentages low. As a general rule, a cancellation rate of less than 2.5% is considered acceptable.

While metrics relating to customer experience (cancellation and refund rate, inventory depth, late-shipment rate and on-time delivery rate, order defect rate, and feedback score) aren't weighted as heavily in determining which seller wins the Amazon Buy Box, they're still important. Amazon favors its most reliable third-party sellers, which is why sellers enrolled in FBA and Seller-Fulfilled Prime are more likely to win a higher share of the Buy Box.
Pricing Strategies to Win the Amazon Buy Box
Because price is a major factor in winning the Amazon Buy Box, third-party sellers may focus on lowering product prices below those of their competitors. However, as noted above, lower prices don't always translate to a Buy Box win and higher sales. There's a lot to consider when determining how and when to lower your prices.
Manually Repricing Products
This involves updating the price of each of your items within your seller's account individually. While it may work for sellers who offer only a handful of products, those who sell dozens of items or are working to grow their business may find this method time-consuming and unsustainable.
Setting Rules for Repricing
Another option to altering your prices to make them more competitive for the Amazon Buy Box is to use rule-based pricing.

You can set up Amazon pricing rules from your Seller Central page to trigger an automated price change when certain requirements are met. For example, you can create a rule that keeps your product's price $1.00 below the Buy Box price, as in the example below. Or you can create a rule that keeps your price $1.00 above the lowest marketplace price that uses the same fulfillment channel.
However, there are some drawbacks to this pricing method as well. For one, rules are based on other sellers' pricing, so there are limited capabilities. Also, establishing pricing rules can be time-consuming and require regular updates because these rules can often contradict one another. Plus, setting up rule-based pricing can easily create price wars among sellers, which can decrease profits across the board.
Using Algorithmic Repricing
Algorithmic pricing, which is also known as dynamic pricing, readjusts product prices in real time, reacting to variables such as competitors' changing prices and sellers' inventory levels.

Amazon is more likely to feature sellers in the Buy Box who use algorithmic pricing even though their prices may be higher. At least 60% of sellers using algorithmic pricing charge more for products than other sellers, according to a Northeastern University study.

This data-focused approach to Amazon pricing returns the highest profits for third-party sellers and requires the least amount of upkeep. However, it's also the most expensive pricing method because it requires subscribing to an automated pricing service, such as those offered by Feedvisor, SellerEngine, and RepriceIt.
Focus Your Efforts in the Most Important Places
Because of Amazon's Buy Box algorithms, there's no surefire way to guarantee your product will land the coveted position. However, sellers can increase their chances of winning the Amazon Buy Box by focusing on the three most important factors: fulfillment method, landed price, and shipping time.

By enrolling in FBA and ensuring their products are fairly priced and shipped quickly, sellers will undoubtedly increase their odds of winning the Amazon Buy Box.

Learn more about winning the Amazon Buy Box in this post from Shopify.