When you buy something in a store, what you see is what you get. You can inspect the item for yourself, make sure it works, and have a chat with the salesperson before you make your purchase. You know exactly what you're going to walk out of the store with.
That's not true when people buy online. Buyers can't see items before they buy, so they have to take the merchant's word for it. But how does a buyer know they can trust the merchant?
For Amazon sellers, it can be tricky to establish this level of trust because they can't meet their customers face-to-face. Instead, they have to rely on online review systems and their digital customer service to establish the level of trust that makes strangers willing to buy from them.
Curating your seller image like this is no less important than any of the Amazon merchant's other tasks. Prioritizing your relationship with online buyers is critical because it ensures that you retain your customers and encourage new ones to purchase.
Having said that, the nitty-gritty of building your online reputation isn't always intuitive. There are a lot of factors that contribute to a buyer's impression of a merchant.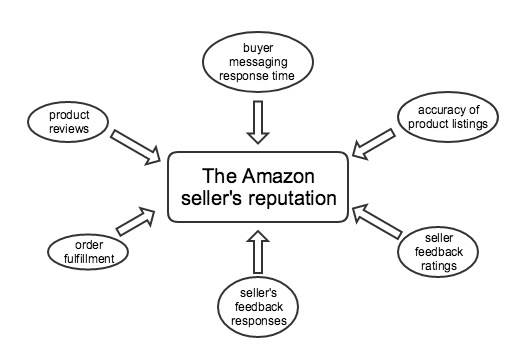 Diagram made using Gliffy.
To help you get started, here are 7 tips for boosting your merchant reputation on Amazon.
Solicit product reviews
According to a study by YouGov, 78% of consumers read reviews before deciding whether to buy a product. Buyers listen to product reviews because they serve as a form of social proof, indicating how others feel about a product.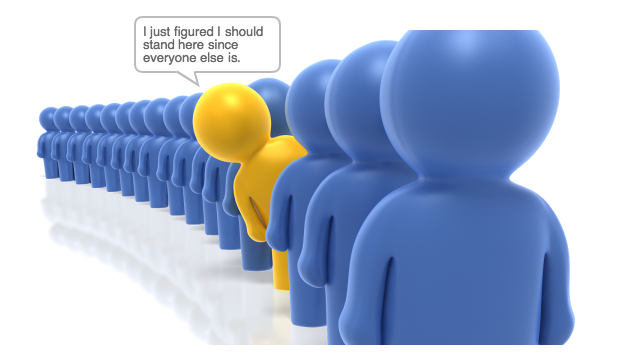 The buyer assumes that these feelings are correct since they're held by so many people. As a result, they adopt the same feelings about the product.
Given the powerful influence of product reviews over buyers, it's critical that you solicit large numbers of high ratings for your products—otherwise, buyers won't trust you as a seller.
Up until last October, sellers were able to solicit positive product reviews by sending potential reviewers their products for free, but Amazon banned this practice to keep reviews honest.
To incentivize leaving reviews today, sellers can use Amazon's Early Reviewer Rewards program. Customers are asked by Amazon to write an honest review in exchange for a small Amazon gift card from $1 to $3. Amazon does charge sellers a fee for each product in this program, but for many sellers the cost is worth enhancing their reputation with more reviews.
Beyond this program, sellers can also solicit reviews by:
These methods offer buyers no incentive, but they're still worth trying since they could lead to additional reviews. Here's an example note for feedback requests and packing slip messages that Amazon recommends.
"Thank you for purchasing our products on Amazon.com. We strive to offer you the best value and service possible. Please take a moment to rate us as a seller on the Amazon.com website."
Your solicitation methods won't necessarily bring positive reviews with Amazon's new restrictions, but they will encourage more reviews. If this feedback is positive (which it should be if you're a decent seller), buyers will be impressed by your higher number of reviews and find you more trustworthy.

Respond to customers quickly
When a buyer sends you a message or email about your products, it's an opportunity to enhance your seller reputation.
These buyers are most likely contacting you with a question or problem that they have with your product. The quicker you can respond with a solution, the happier the buyer will be. Customers remember when you make them feel great like this, so your efforts will leave them with a positive impression.
If you have trouble keeping track of customer messages, start a daily habit of checking your buyer messages under the Performance box of your seller account home page.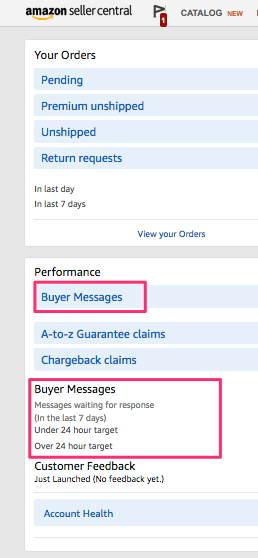 Amazon's research indicates that messages that receive a response within 24 hours are 50% less likely to result in negative feedback. To help sellers avoid a low rating, the Performance box notes the number of messages responded to under and over this time target.
Sellers who are constantly on-the-go may also want to consider downloading the Amazon Seller app, which allows sellers to quickly message customers from their smartphone.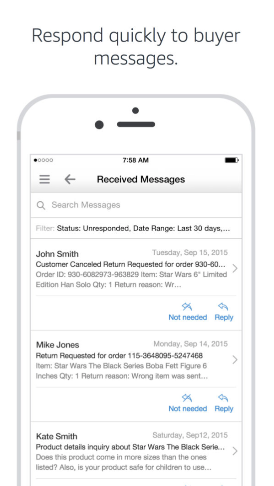 By promptly replying to buyers and resolving their problems, you'll leave a positive impression on them and strengthen your seller reputation.
Let FBA handle order fulfillment
A buyer might have a seamless experience placing their Amazon order, but that positive experience will go to waste if the delivery of the product goes poorly. Did the product arrive on time? Was it packaged properly?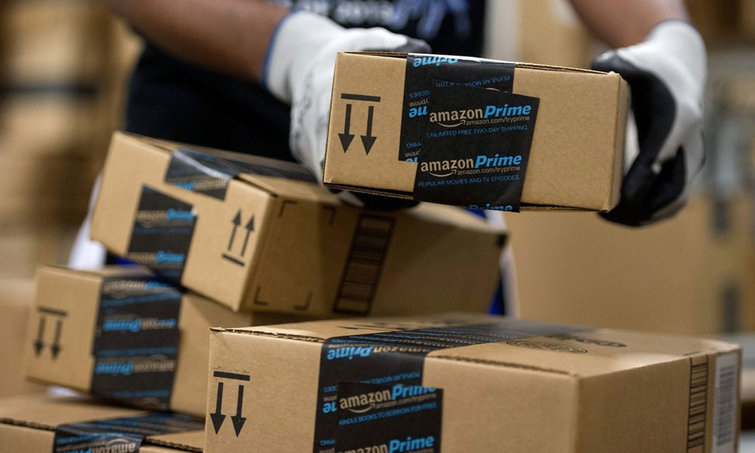 Buyers care about these questions and will form a negative impression of the seller if their product delivery goes terribly.
To avoid risking their reputation with shipping errors, many Amazon sellers opt to register for Fulfillment by Amazon (FBA). For a fee, Amazon stores FBA sellers' inventory, packs and ships their orders, and handles customer service for these orders. By putting these responsibilities in the hands of Amazon, sellers can rest easy knowing that their customers' orders will be fulfilled successfully, maintaining their positive reputation as a seller.
Amazon is a trusted brand, but even the corporate giant can make mistakes in fulfilling FBA orders. If their error leads to negative seller feedback, the feedback won't hurt your seller rating — Amazon leaves a strikethrough line through the negative feedback and includes the following message:
This item was fulfilled by Amazon, and we take responsibility for this fulfillment experience.


With this fallback, registering for Amazon FBA is an easy way for sellers to ensure that their reputation isn't hurt by order fulfillment.
Double-check product listings for accuracy
Inaccurate product listings confuse and disappoint buyers by creating expectations that won't be met.

Avoid hurting your seller reputation with misleading listings by ensuring that your product information is correct.
When sellers create a product listing, they enter the SKU product identification number, the product quality (if the product is used), the available quantity, the price, and the shipping method. Other than product quality, these fields require objective information that should be easy for the seller to fill out. Double check the information you enter, particularly the long chain of SKU numbers, to make sure that your product listing is entirely correct.
For product quality, be honest about the condition of your used product. You might consider stretching the truth here to boost sales, but listing used products inaccurately only hurts the seller by upsetting the customer.
For example, a buyer is going to be annoyed and angry if they receive a "high-quality" used product that is actually quite worn. Listing products inaccurately to push inventory will backfire when customers return the product and leave negative reviews. It's a net negative effect on your merchant success.

Accurate product listings are a basic expectation of the Amazon experience. Protect your seller reputation by making sure your product listings are accurate.
Jump on negative feedback
When you receive negative seller feedback, don't dismiss the unhappy customer as a lost cause. Treat the negative rating as an opportunity to make the customer happy and restore their trust in you by resolving their issue as quickly as possible.
Send the buyer a message that includes a brief, but sincere apology and your plan to fix their problem. Take the time to clearly understand their issue so that you can address the problem correctly. The best way to send this response is by following these "Resolving Feedback" steps on your seller account.

If you're worried about this negative feedback lowering your seller rating and hurting your reputation, here's the great news — Amazon gives buyers the power to remove their negative seller feedback. All the buyer has to do is log into their Amazon.com account and visit their 'Your Submitted Feedback' page to find the feedback and remove it.

If the buyer responds to your message, follow up with a polite request for removing the negative feedback. Solve the customer's issue before making this request so that they have a great reason to remove their negative feedback. Buyers are only given 60 days after leaving their feedback to remove it, so make sure that you send your initial message shortly after receiving the feedback.
There's no guarantee that your request will result in feedback removal, but hopefully your success in solving their problem will make the buyer happy to fulfill your request. At the very least, your prompt response and resolution of the buyer's issue will repair their impression of you and encourage them to buy from you again.
Do you need more help getting rid of negative feedback? Check out this guide we wrote here.
Make your customer service transparent
If a buyer leaves a negative seller review, the seller will send them a message in hopes of resolving their problem. But there's always the possibility that the buyer will never respond or remove their feedback, preventing the seller from repairing their reputation with that customer.
In this situation, you can still maintain a positive reputation within the Amazon community by leaving a direct response to the feedback on Amazon's site. This way, another buyer who sees the negative feedback will also see that you made the effort to fix that customer's problem.
To leave a response to feedback, sellers should select View Current Feedback on their Feedback Manager page and click Respond to submit their comment.


By showing that you've listened to and worked on a buyer's problem, you'll leave the Amazon community with a positive impression of your customer service.
Track your progress
Achieving a high feedback rating and positive messages from buyers isn't enough to maintain your reputation as a seller. To sustain your buyer's positive impression of you, you'll also need to track your reputation management efforts to determine which actions are leading to positive results.
To help you iterate on your reputation maintenance efforts, here are a few questions to ask yourself:
Which of my review solicitation efforts are resulting in the most feedback?
Does customized or generic messaging to buyers lead to more engagement?
How many days after an order should I solicit for reviews?
Answering questions like these will help you figure out where you should devote your energy to improve your reputation the most.
Another great way to begin monitoring your reputation is by checking out the Performance box on your seller account home page.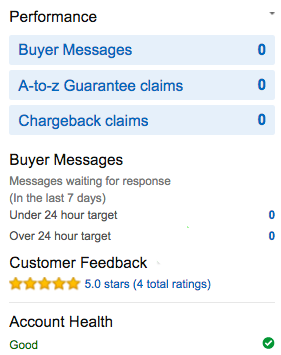 This box provides sellers quick access to insights, like the customer feedback rating and account health description, which signals whether the seller is leaving a positive impression on customers.
Customer behavior is constantly changing, so what enhances your seller reputation today might not be as effective a few months from now. Consistently track your reputation management efforts to determine which are leading to positive results.
Building a trustworthy image
Buyers' purchase decisions are always influenced by their impression of the merchant. On Amazon, customers can't interact with sellers face-to-face, so their impressions of them are influenced by other shopping experience factors. This is why the merchant's overall feedback rating can make or break their success. Sellers who are mindful of the factors that influence this rating will know how they need to adapt to maintain an image that inspires trust in new customers and encourages customer loyalty.