Jeff Bezos must be spinning in his chair, knowing that over 30% of the world's population is on Amazon. That's mind-blowing, right? Well, it's true. As of June 2021, 2.45 billion people visit the #1 ecommerce website every month.

With this constant traffic flow, it makes sense that many retailers are eager to become Amazon sellers. But in the rush of selling on such a popular marketplace, it's easy to overlook some of the Amazon seller fees that apply. Unfortunately, these charges are significant enough to impact your success as a seller in the marketplace.

Besides Amazon's basic seller account fees, there are additional selling fees to know about. We've put together this handy guide that breaks down all the Amazon seller fees you'll encounter, so you're prepared before clicking that "Sign up" button.

1. Basic Amazon plans
When you land on almost any marketplace page on Amazon, one of the first things you see is this call-to-action (CTA):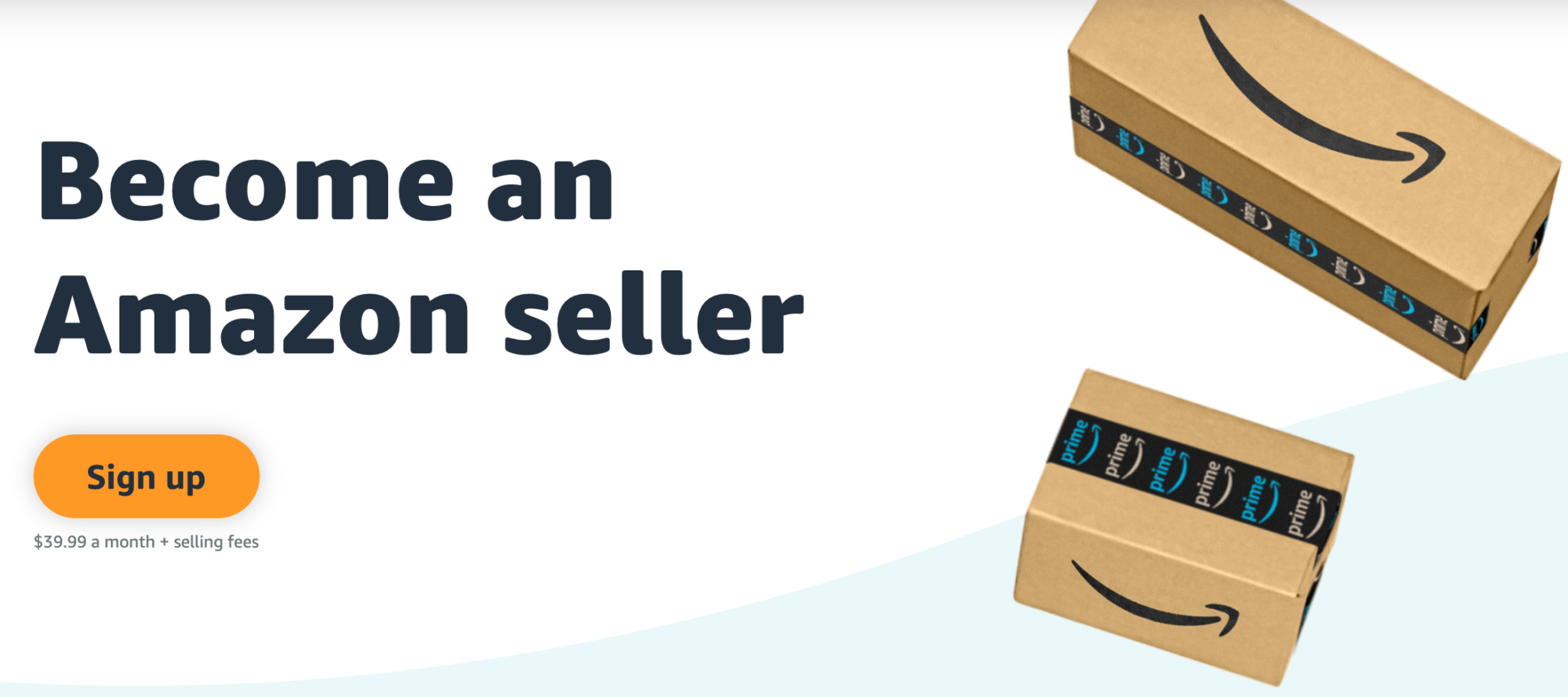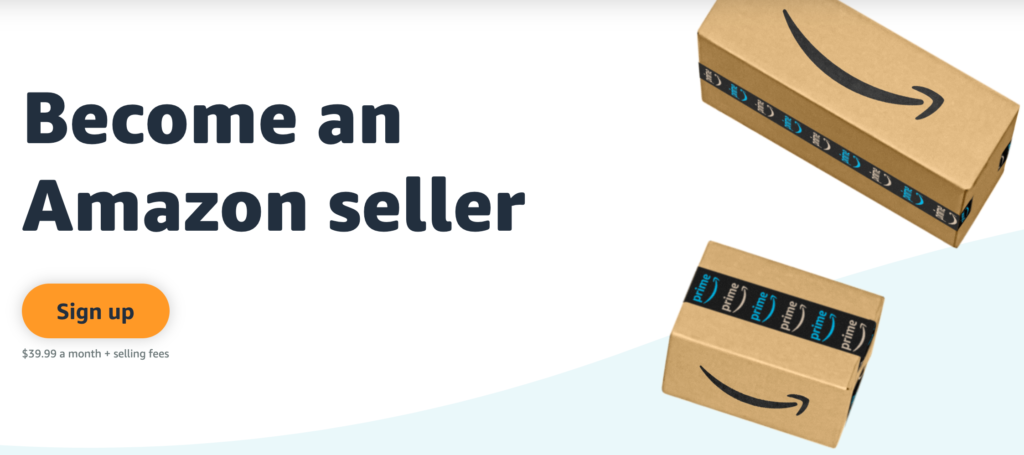 [Source]

Notice the fine print under the CTA button? Amazon offers two plans for you to choose from: the Professional seller and the Individual seller. The Professionals seller plan is a recurring subscription that costs $39.99 a month, and the Individual plan costs $0.99 per item sold.

The plan you choose depends on your expected sales volume. If you think you'll sell 100 or more items a month, the Professional selling plan is your best bet. On the other hand, the Individual selling plan caters to smaller retailers that sell less than 40 items a month. There isn't a monthly fee with this plan, so it's an excellent place to start if you're new to ecommerce and not yet sure of your sales volume.

Both plans include additional selling fees that vary depending on the types of products you sell. We'll get into what these fees are in a minute.

Comparing these plans side by side, here's a summary of what each one offers: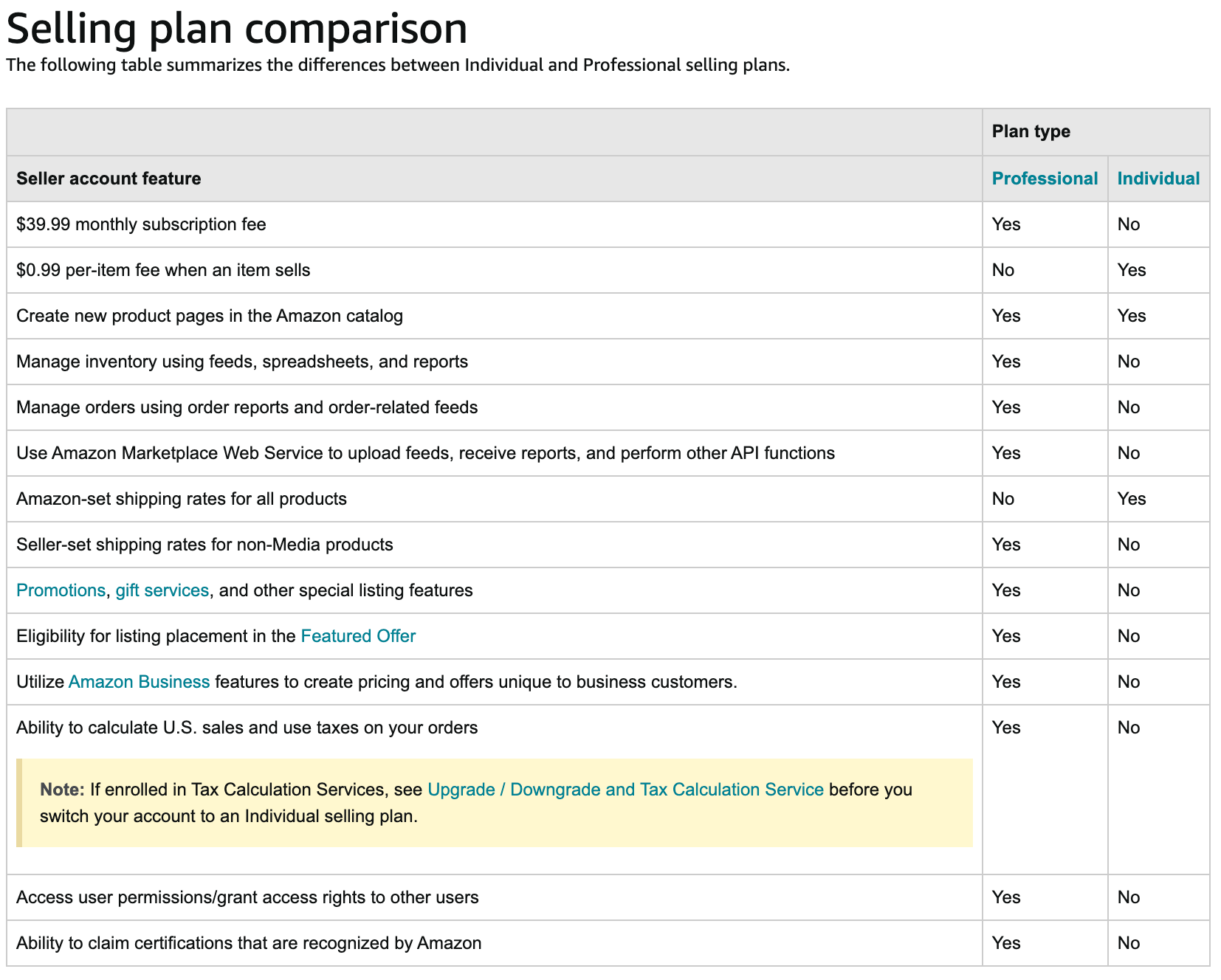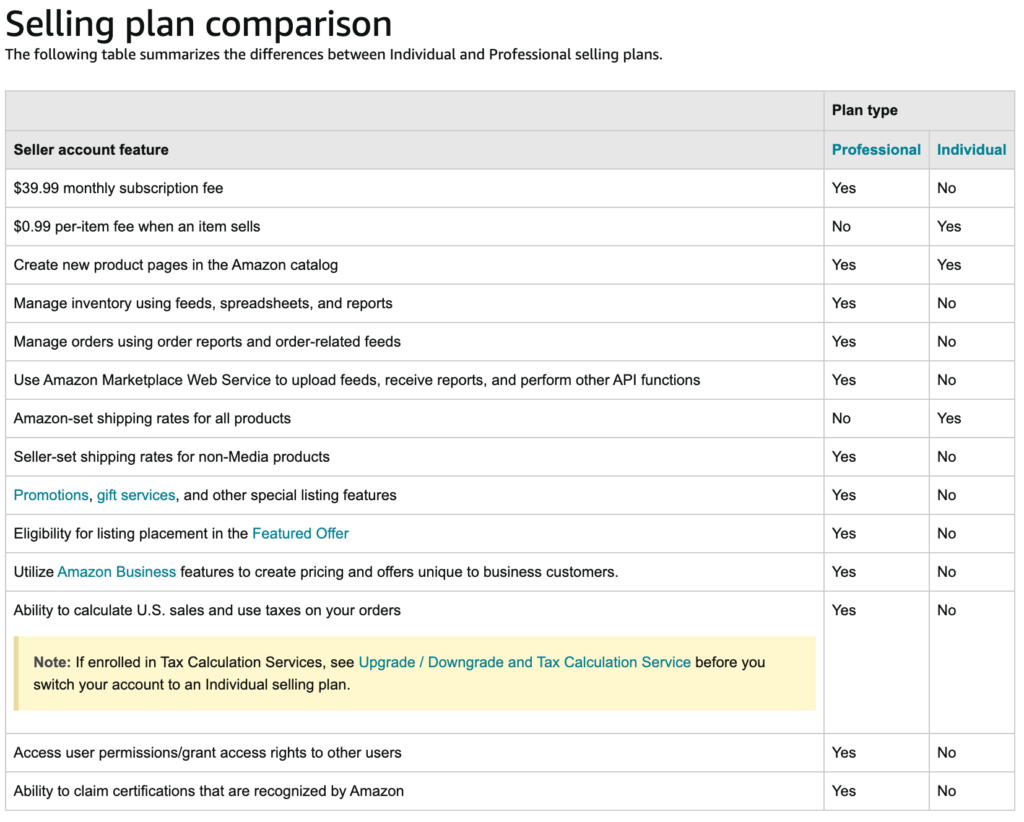 [Source]

The Professional seller plan gives you access to reports and inventory tracking. It's the seller plan that gives you a better idea of the value before jumping onboard. Since you're managing large, multiple bulk orders every month, it's helpful to understand what types of products customers are buying and your inventory levels.

This plan also gives you access to the Featured Offer — also known as the Buy Box — the offer toward the top of a product detail page, allowing customers the option to buy now or add to their shopping carts.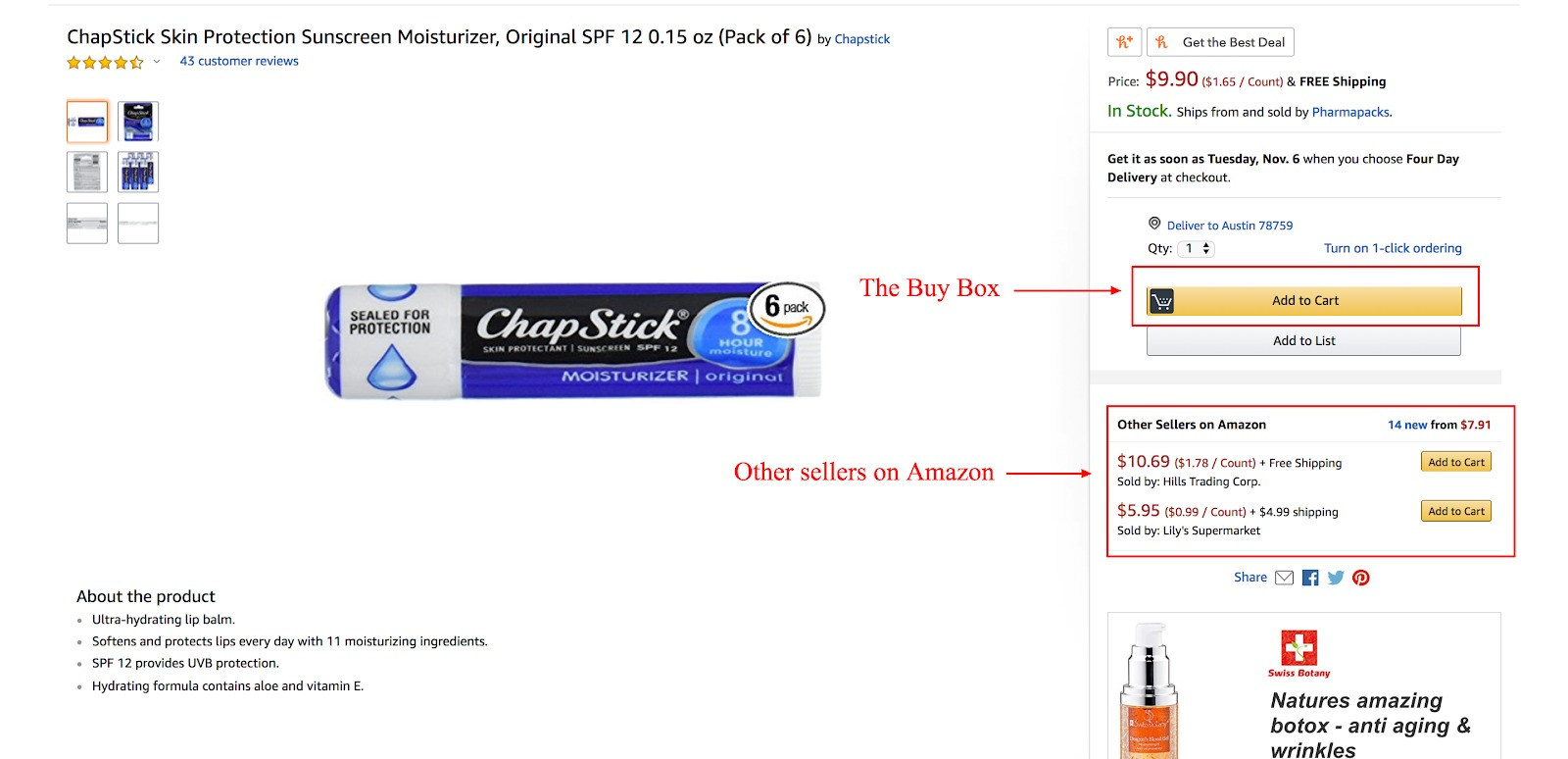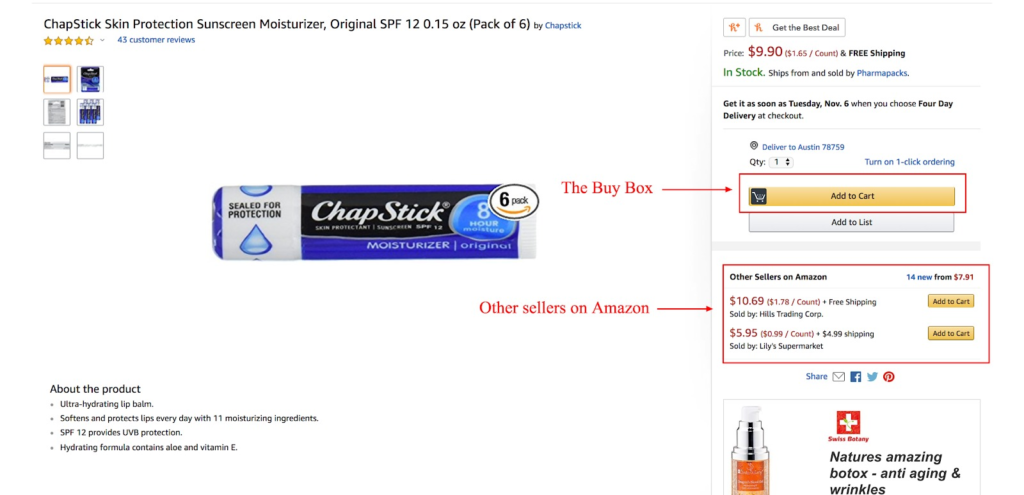 [Source]

You don't have access to the Featured Offer with the Individual selling plan.

Keep in mind if you choose the Professional plan, you pay the monthly subscription fee regardless of whether or not you sell anything in a given month. If you're a business that thrives on seasonal sales, consider conducting a cost analysis to decide whether the Individual or Professional plan is right for you.

Let's say you sell sporting equipment, and sales spike in late spring and early winter. During these times, you might sell 300 items a month, which offsets the monthly subscription cost. However, if you only sell 30 articles a month during seasonal lulls, it costs you more to maintain your subscription than it does to sell. With the Individual seller plan, you'd only pay $29.70 based on what you sold — 30 items sold x $0.99 per item fee — which is much lower than the $39.99 Amazon seller fee with the Professional plan.

Run the numbers based on your historical monthly sales to determine which plan is the most cost-effective and gives you the features you need. If you aren't a seasonal business, consider starting with the Individual plan to test the waters. Of course, you can always switch to the Professional plan if you start selling more than 40 items a month.

2. Fulfilment by Amazon (FBA)
The Fulfilment by Amazon (FBA) program was launched in 2006 and effectively set the ecommerce industry on fire. For the first time, individual sellers didn't have to worry about logistics and storing. Nor should you worry about shipping rates — the service fees when utilizing Fulfillment By Merchant (FBM). With FBA, Amazon business sellers can leverage the experience and network of the Amazon marketplace to manage fulfillment so they can focus on other areas of their business.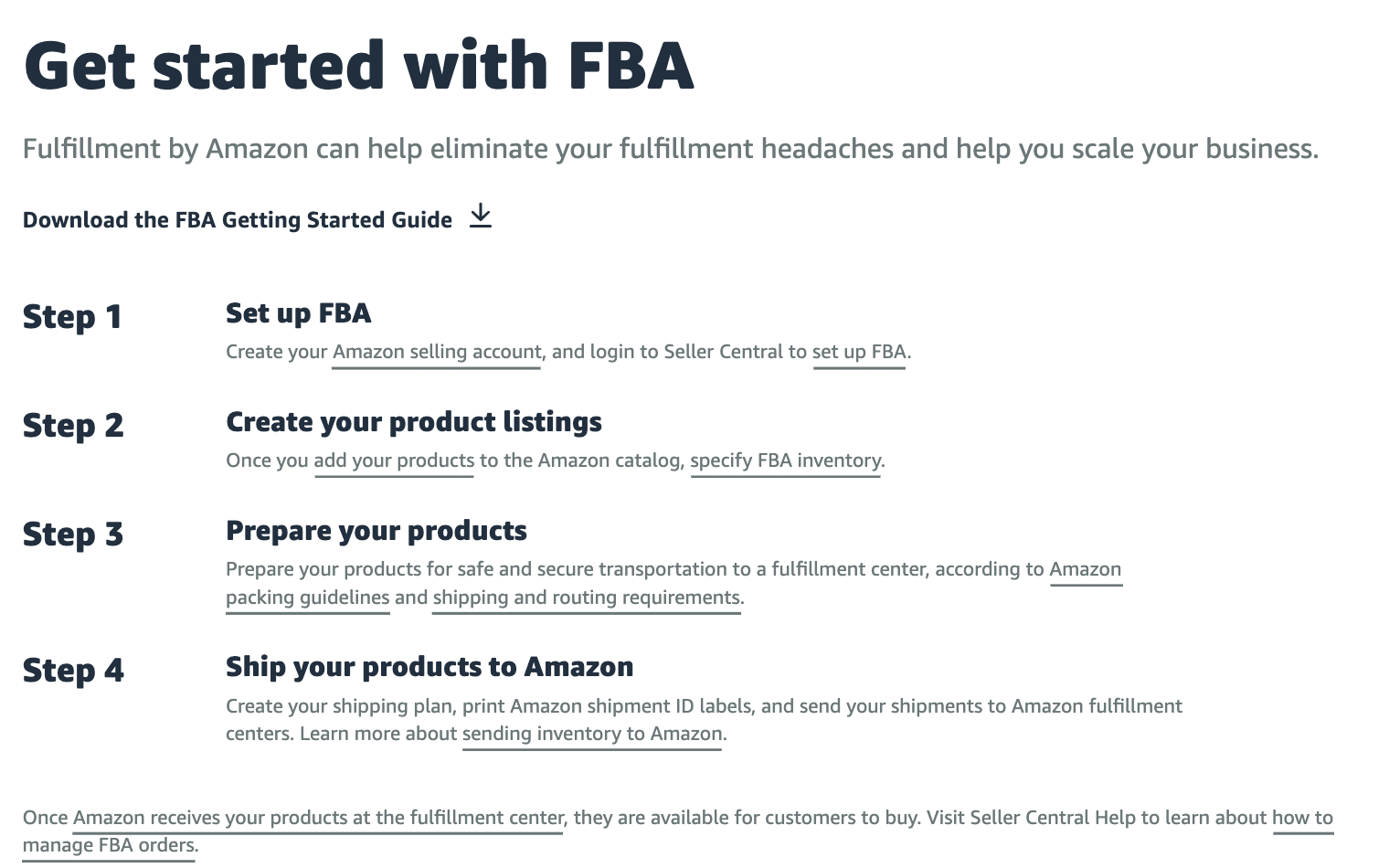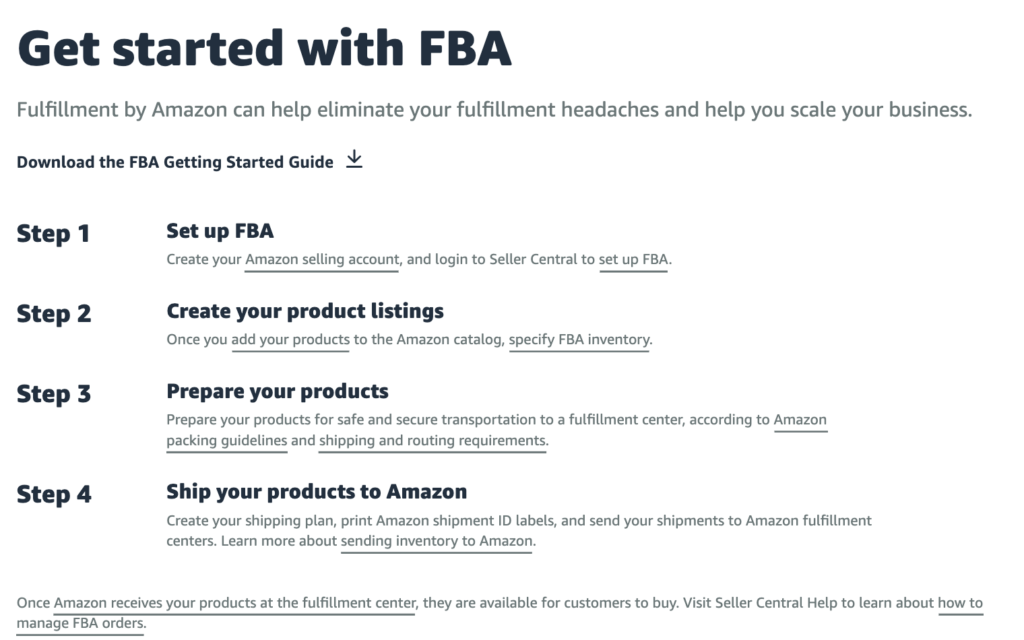 [Source]

For large retailers shipping hundreds or thousands of items across the U.S. and globally, FBA often cuts costs. In addition, merchants stress less because they know Amazon will store, pack, and ship products on their behalf.

And with the growth of Amazon Prime's 2-day free shipping, FBA sending customers their products in that 48-hour window is incredibly important and valuable to their business.

But FBA feeds depend on factors like product weight and quantity. Here's a summary of FBA fulfillment and storage fees: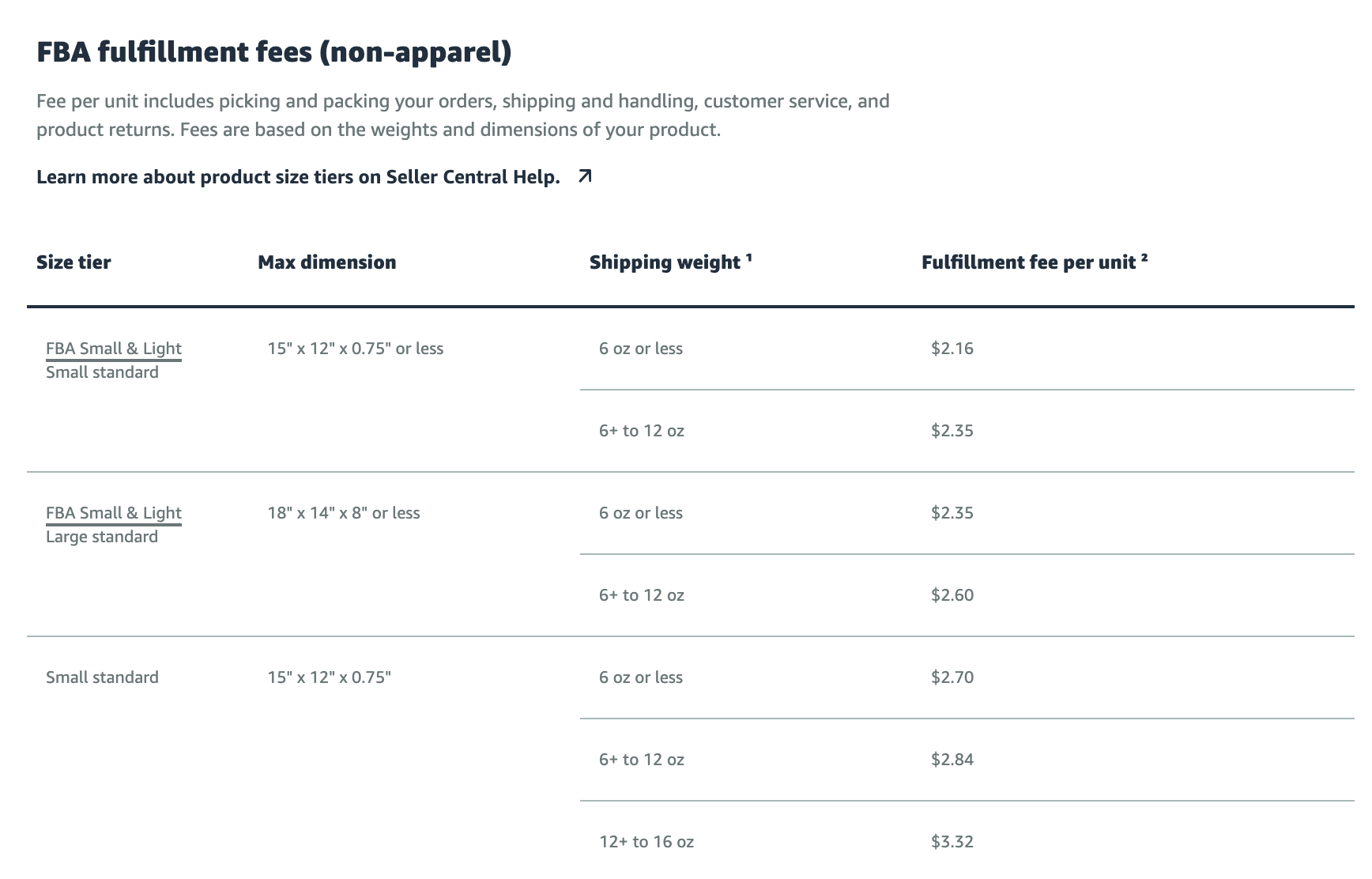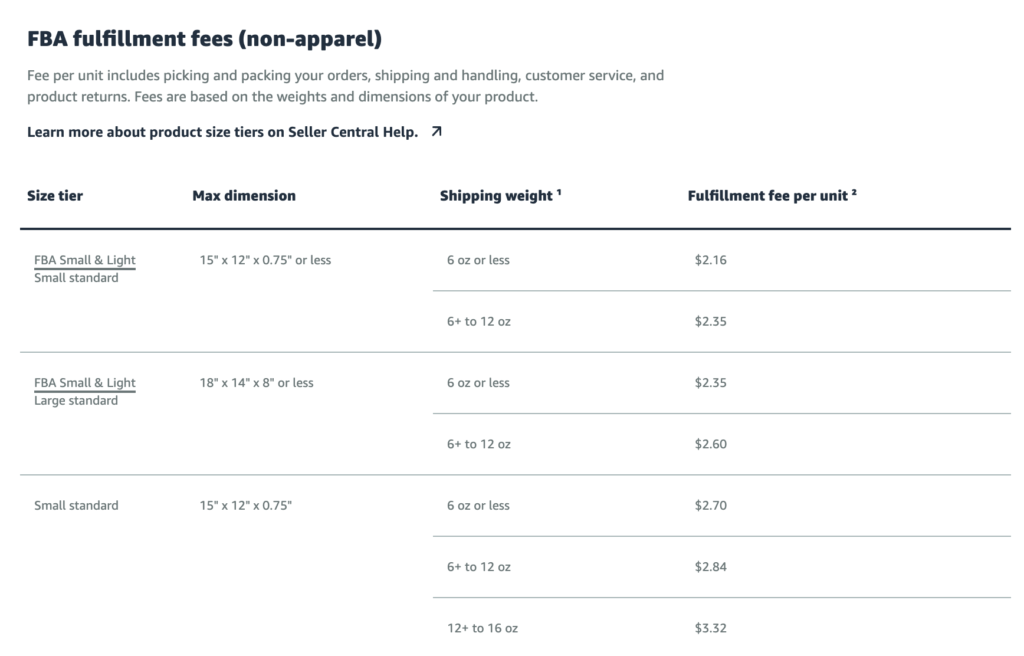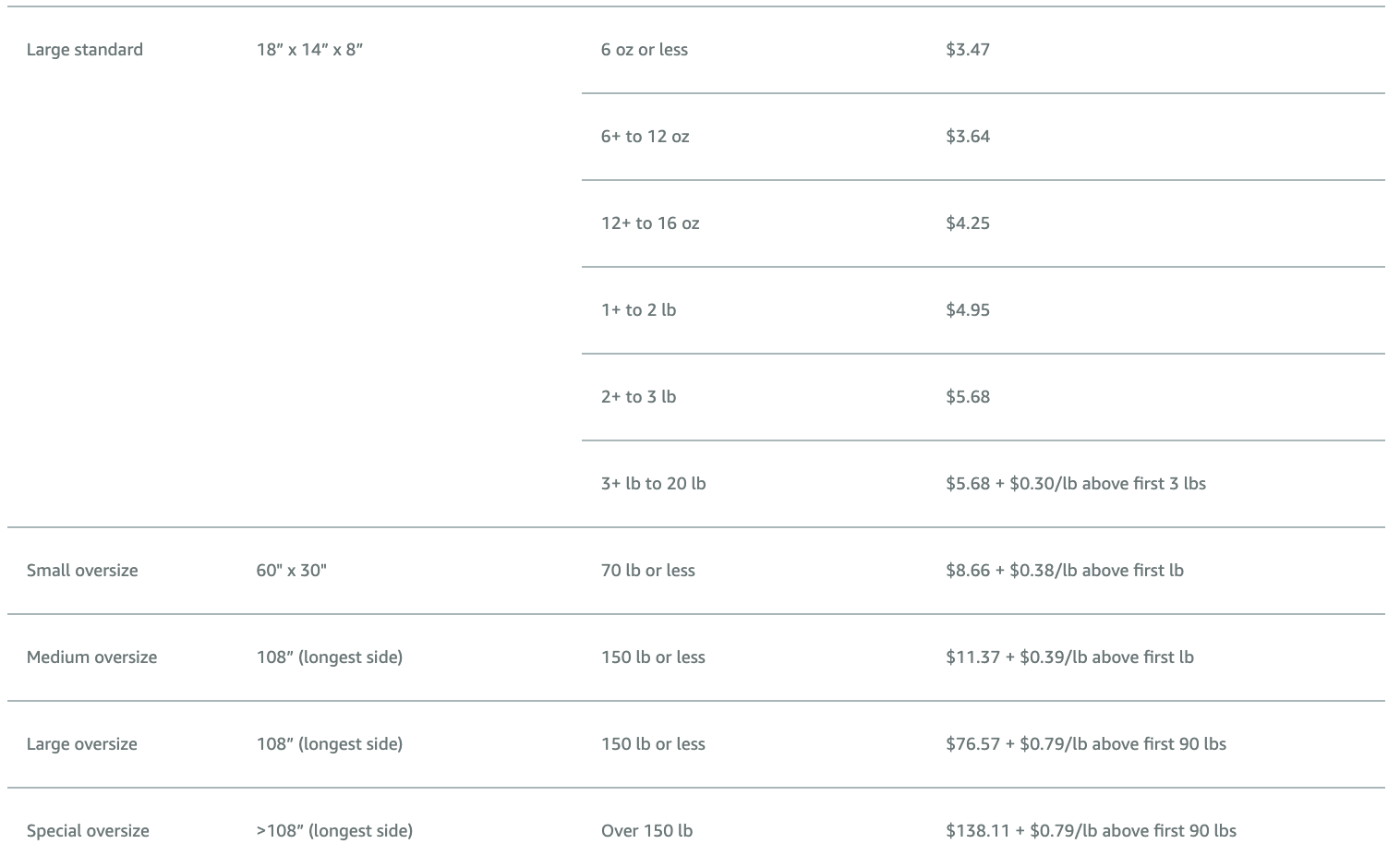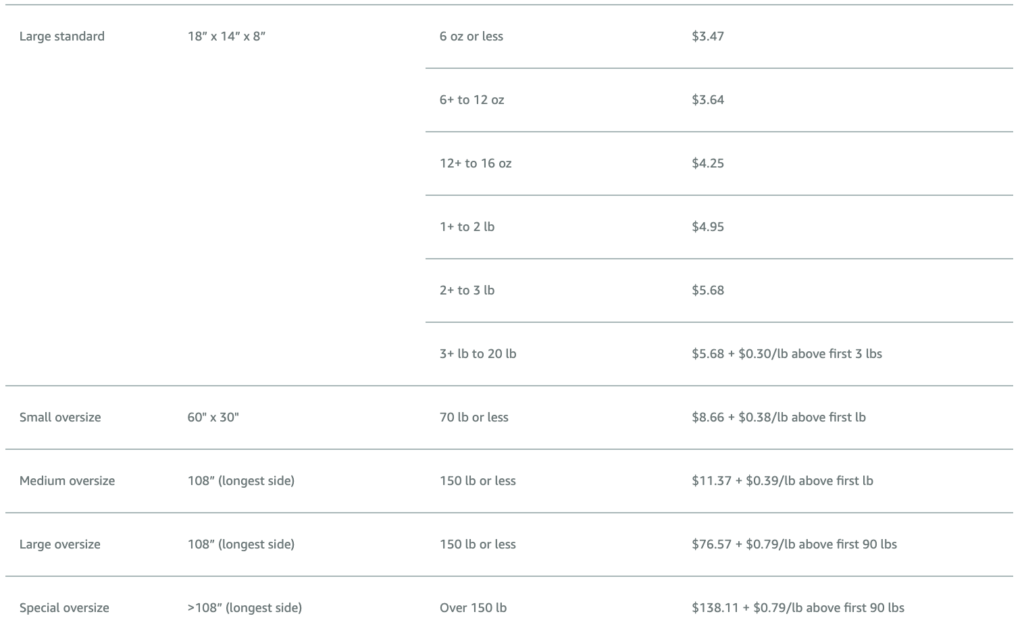 [Source]

If sending clothes to the Amazon fulfillment center, keep in mind there are slightly higher fees per unit. While the fulfillment fee per unit is $2.70 for non-apparel items, the item fee is $3 for apparel for inventory storage. There are also no oversize options for apparel — which makes sense unless you plan on shipping clothes that weigh over 20 pounds.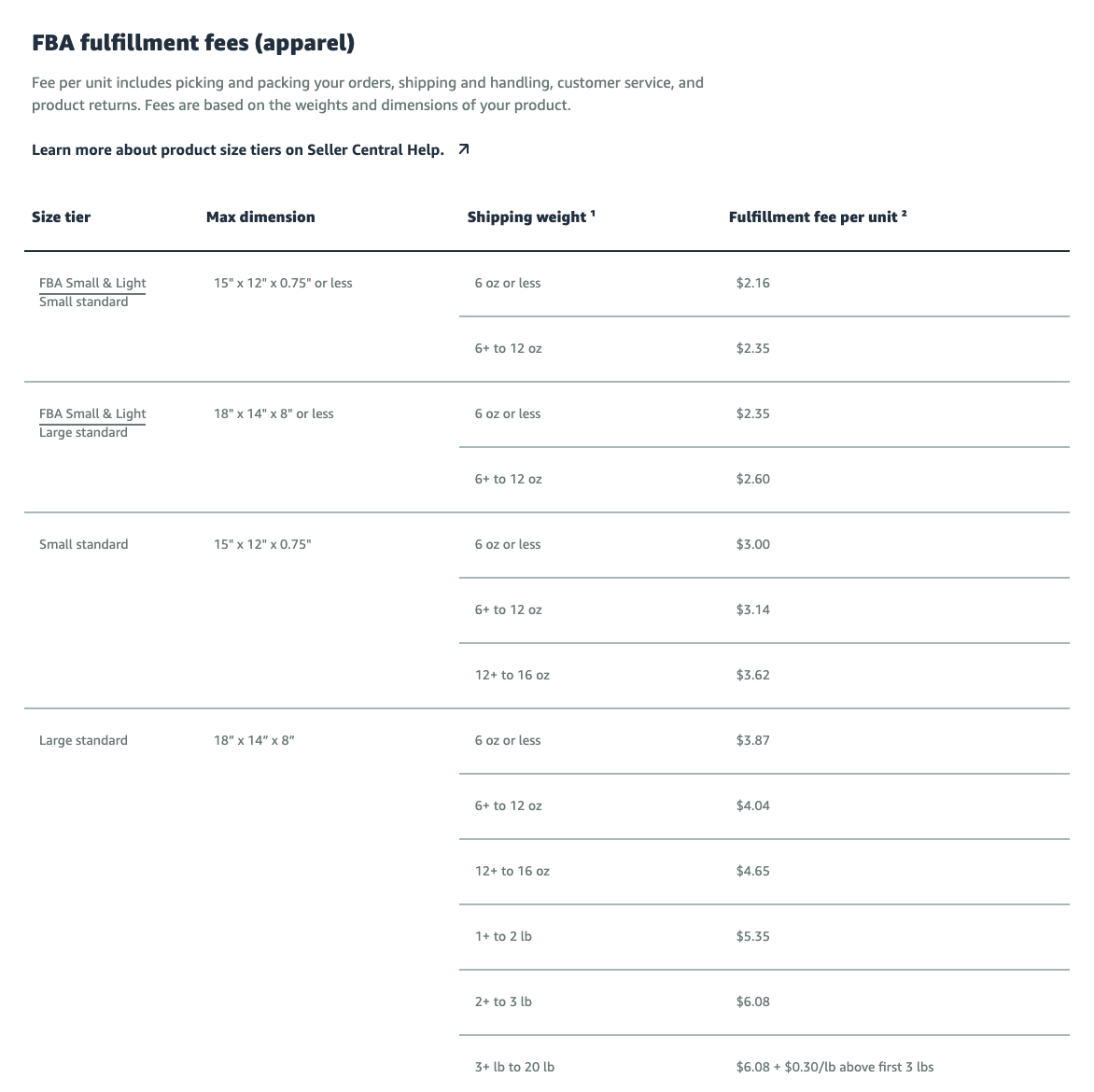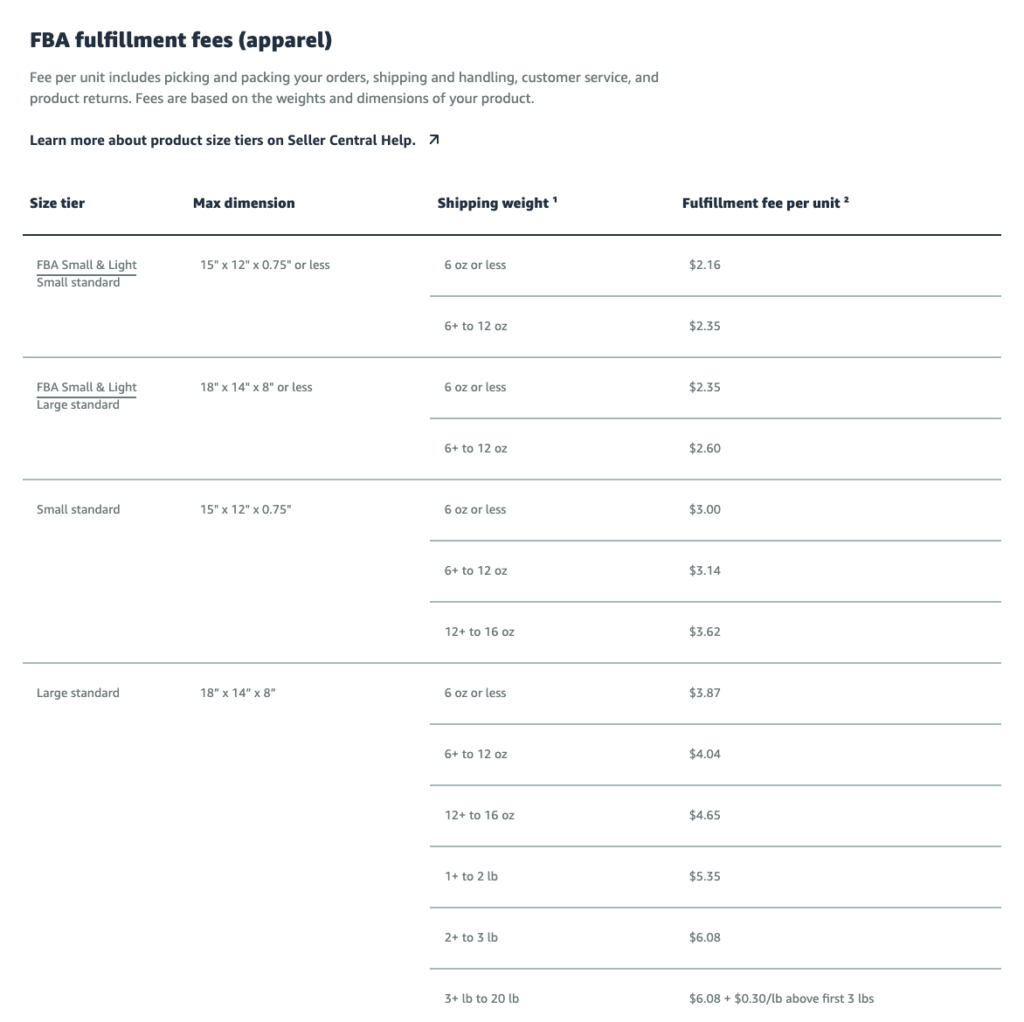 [Source]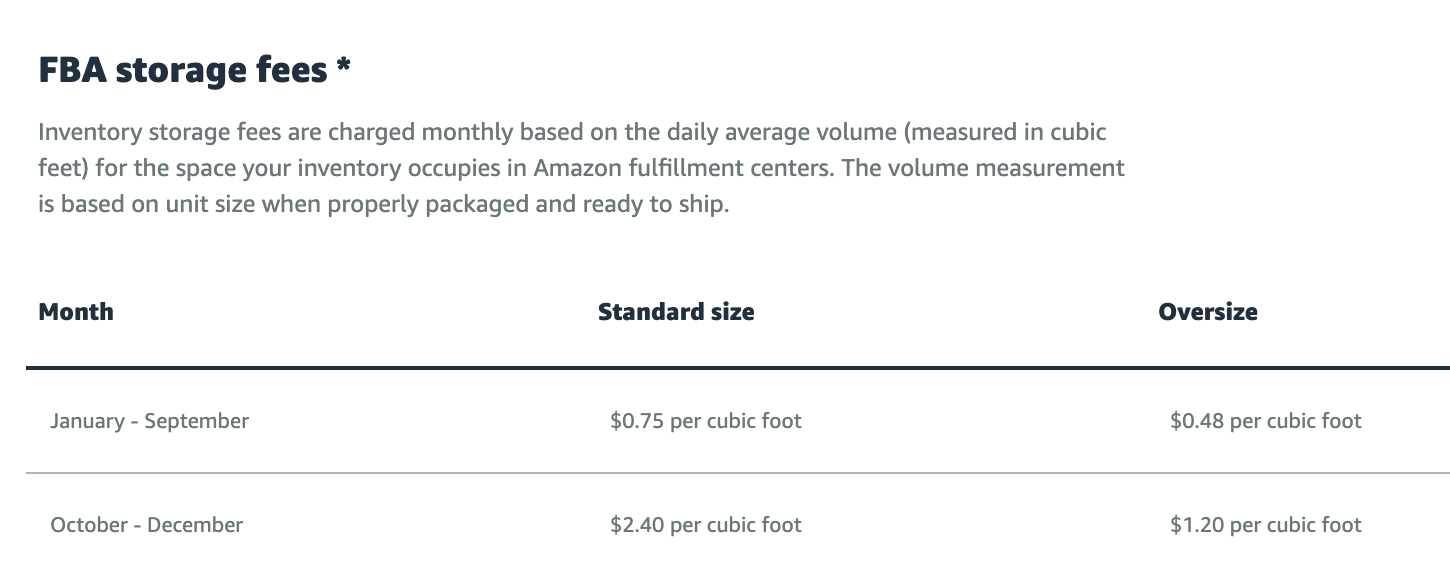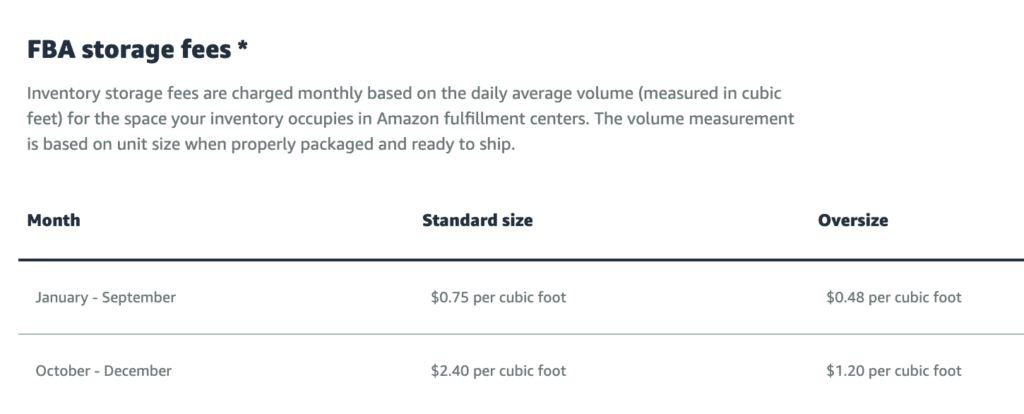 [Source]
Additional FBA options
If you're like 80% of people with an Amazon seller account who also sell on other platforms, you might qualify to use Multi-Channel Fulfillment (MCF). Then, regardless of where you sell your products online, Amazon will store and ship your products for you.

Here's how much it costs to send standard-size and oversize products via shipping rates: standard, expedited, and priority.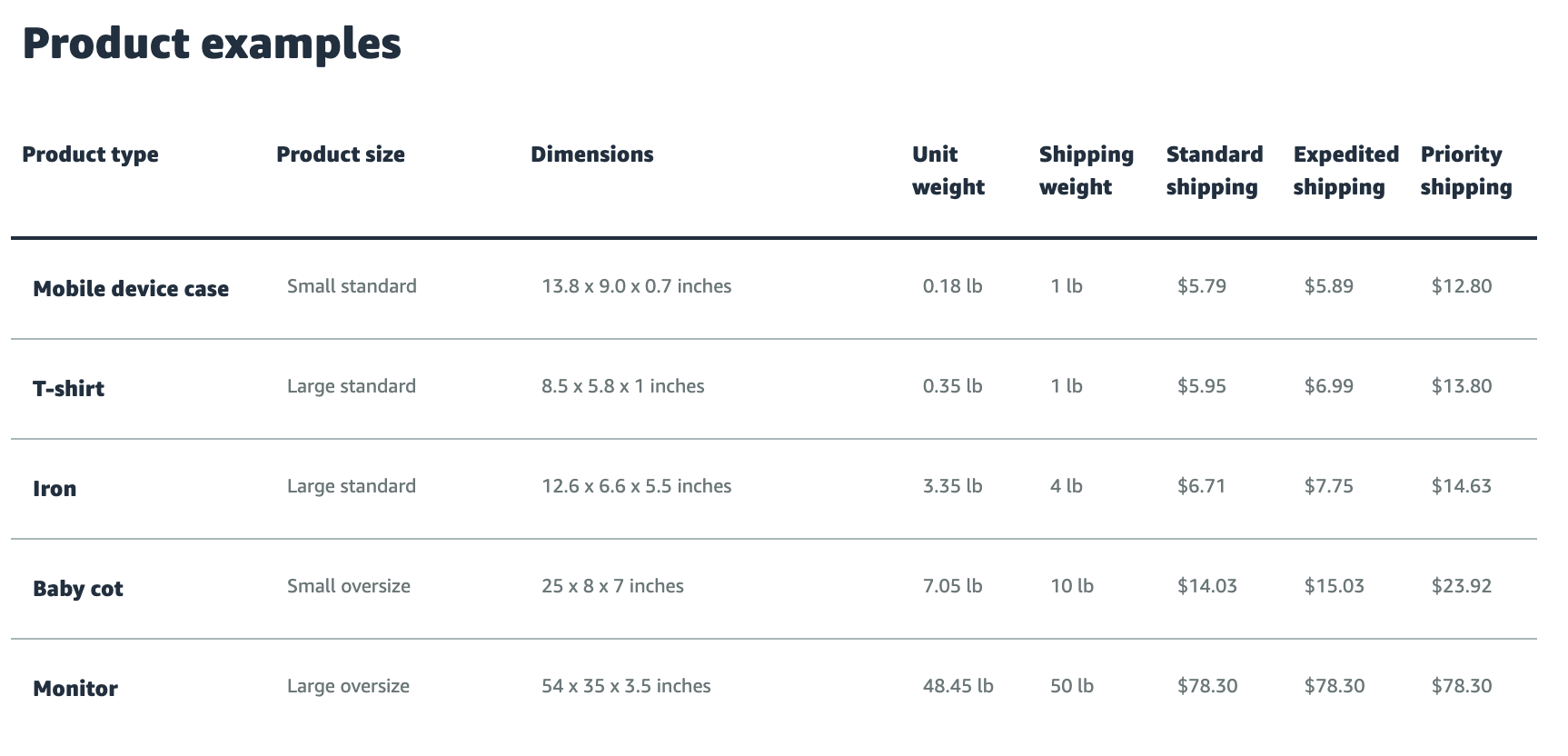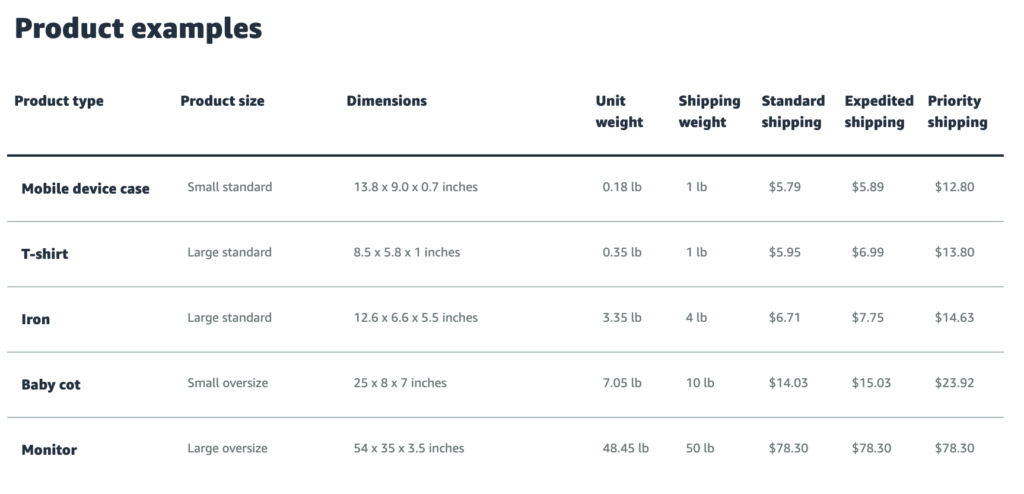 [Source]

If you sell small products like jewelry or certain clothing, Amazon also offers an FBA Small and Light option. This plan allows you to save even more on shipping since it doesn't cost much to store, pack, and ship small items. To access this option, you have to sell qualifying products and enroll.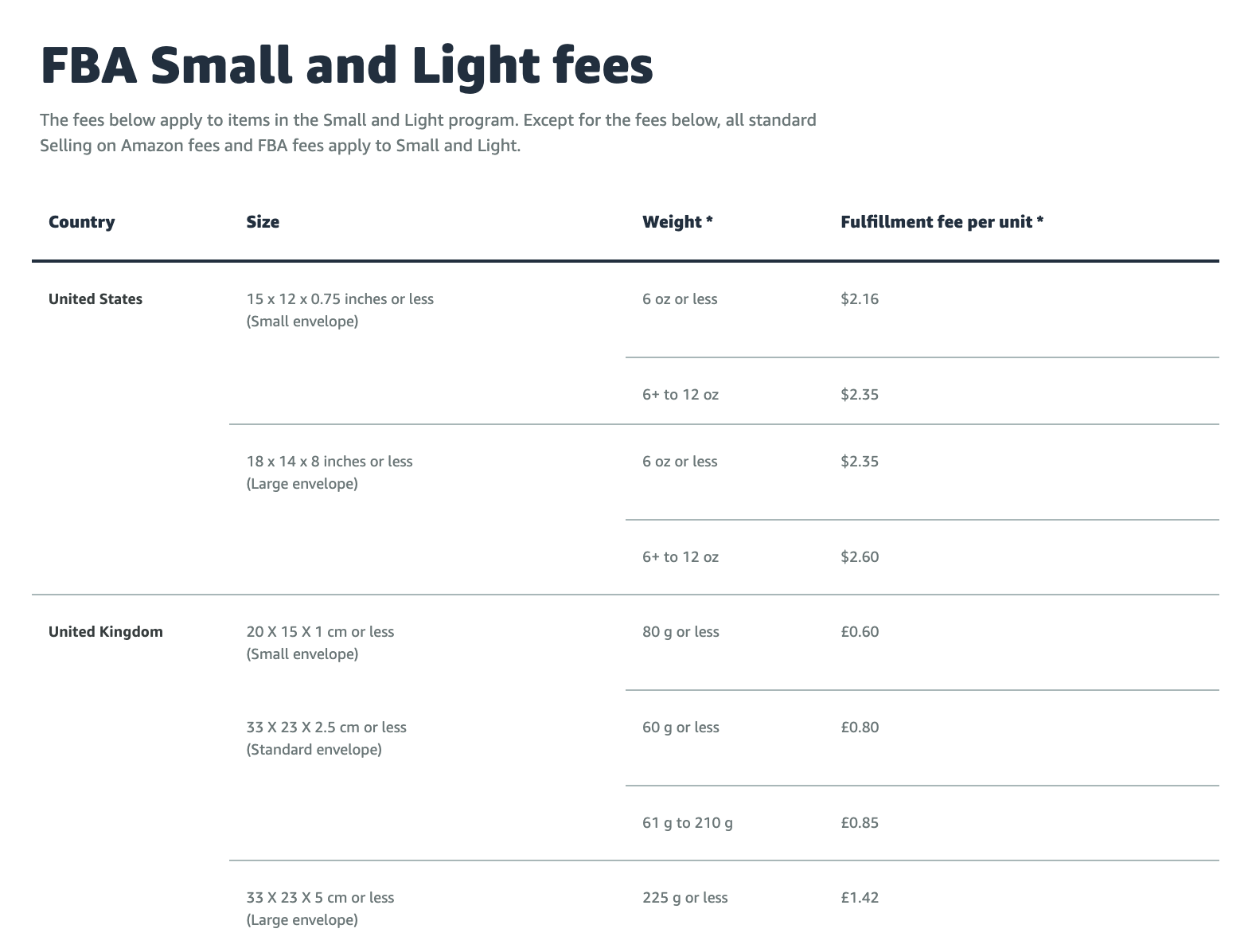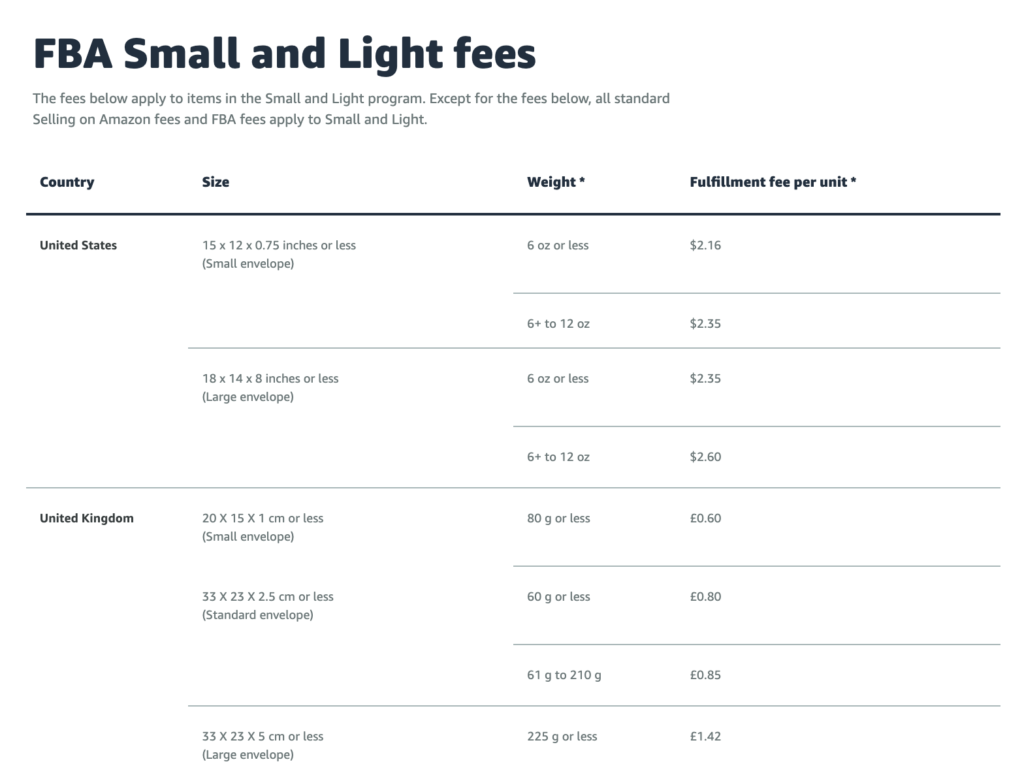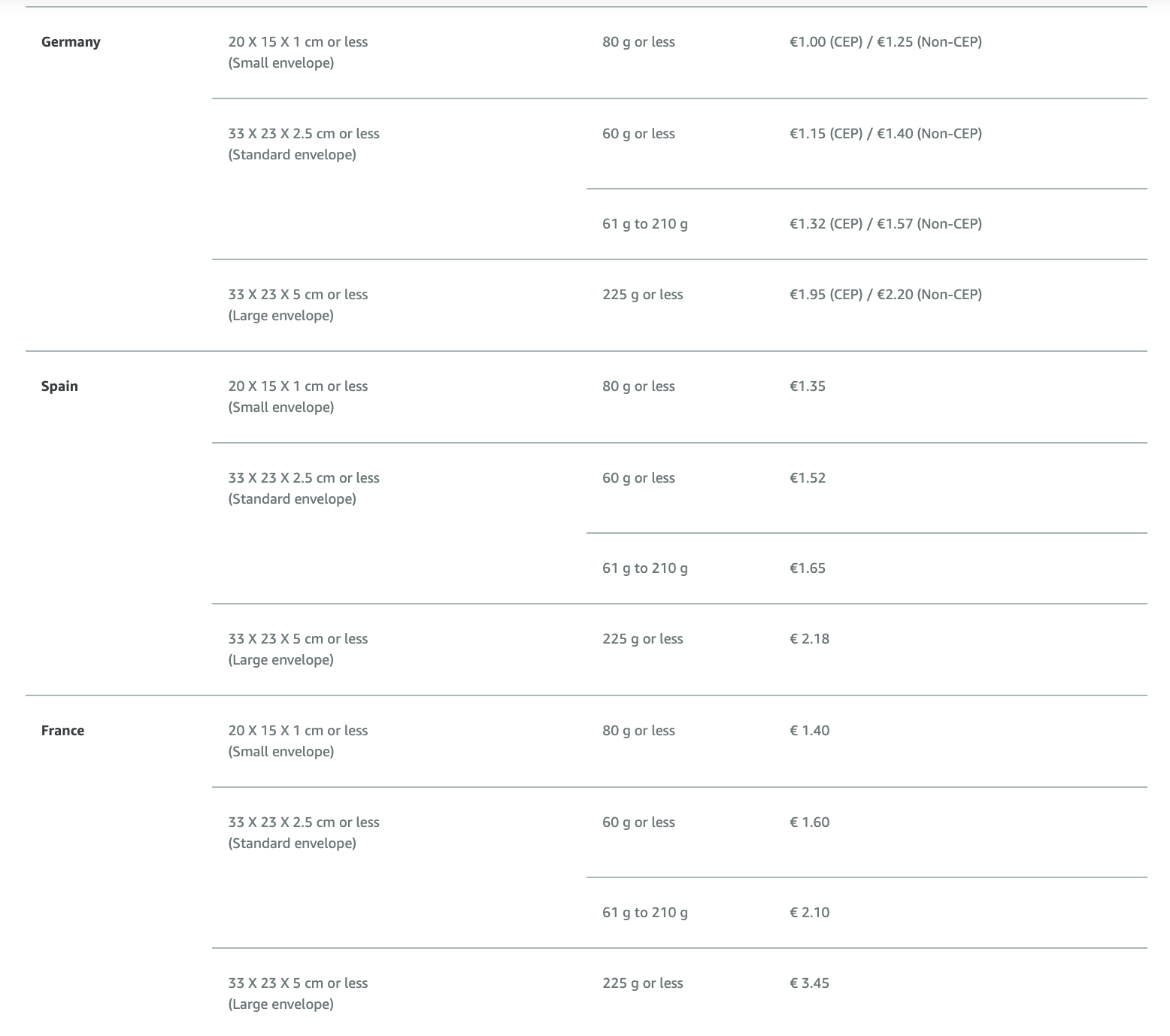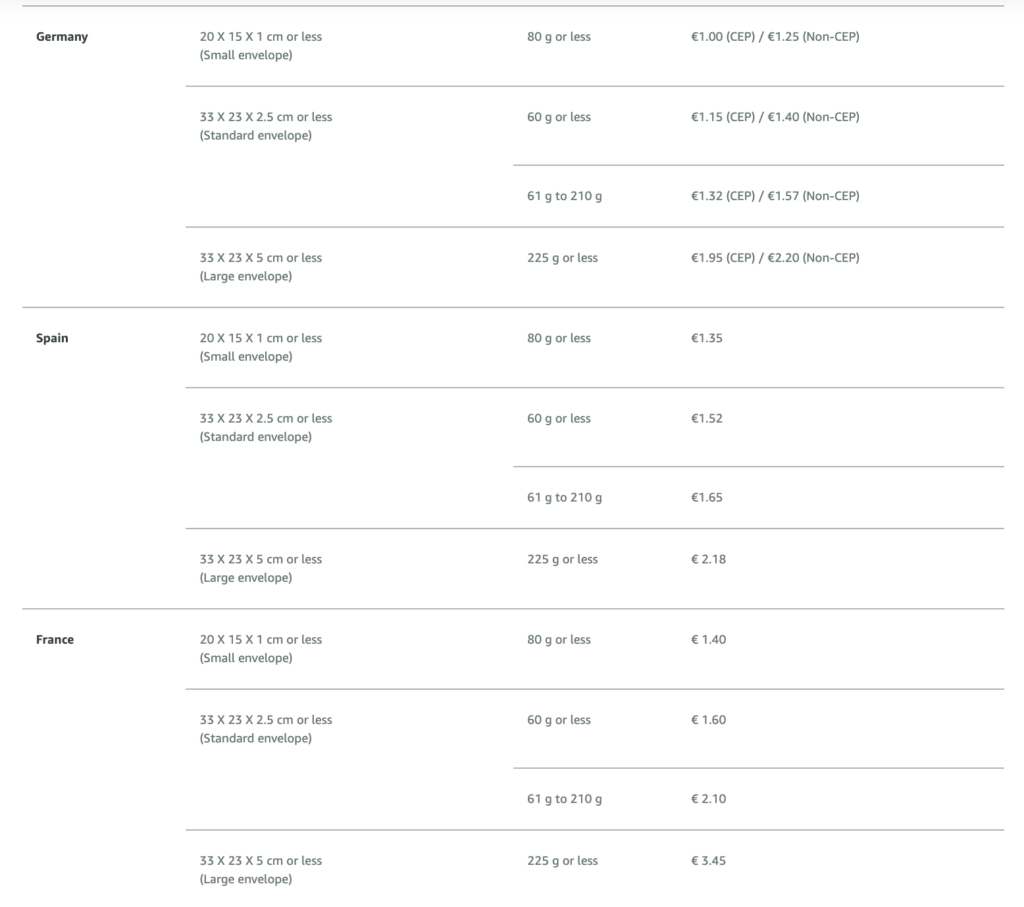 [Source]
FBA Comparison Calculator
To figure out whether FBA is right for you, Amazon has an FBA Revenue Calculator to help you compare how much it costs you to fulfill your orders on your own vs. Amazon.

As a part of the FBA service fee, Amazon manages returns and customer support for sellers. This feature offers considerable cost and time savings since you don't have to hire a larger support team or manage the cost of receiving returns and sending replacements.

To get started, enter one of the 12 million products Amazon sells:

Then plug in fulfillment details and calculate the difference: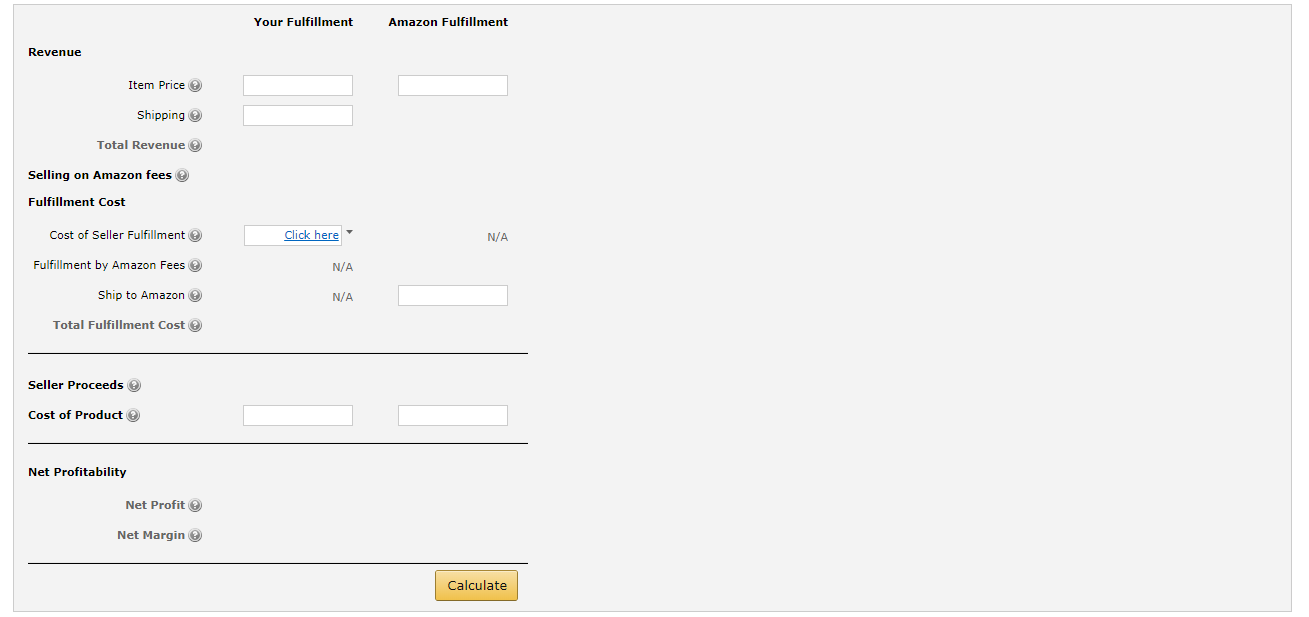 [Source]

Non-FBA shipping costs
If you're not using FBA, shipping costs vary depending on which base plan you choose. Regular Amazon shipping rates apply to books, music, videos, DVDs, software, and video games if you're on the Professional plan. If you're on the Individual plan, Amazon shipping rates vary depending on the category. Based on which shipping option shoppers select at checkout, Amazon charges that back to you.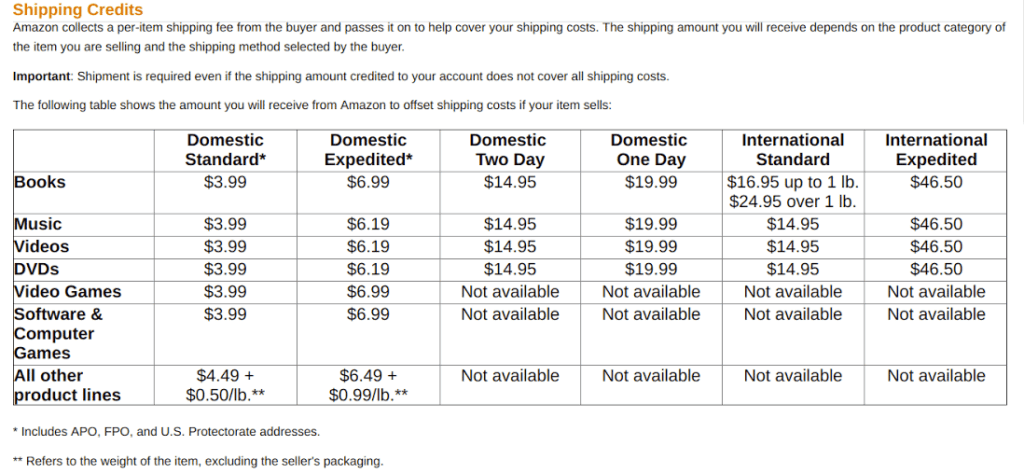 [Source]
In the shipping fee summary above, the first several horizontal rows pertain to sellers on the Professional plan. In contrast, the last row — "all other products lines"— pertains to sellers on the Individual plan. Again, the Professional plan offers more perks and flexibility than the Individual plan.
3. Advertising fees
With 2.2 million marketplace sellers on Amazon, it's possible to get drowned out by all of the competition for shoppers' attention. One way to stand out and get noticed by more shoppers is to advertise. Luckily, with Amazon, you don't have to leave the marketplace to drive traffic to your product pages. Instead, Amazon offers advertising services within its marketplace.

There are three main types of ads to choose from:
Sponsored Products
Sponsored Brands
Stores
These advertising options are only available to you if you're on the Professional plan.
Sponsored Products
Use this ad format to promote specific products. Say you want to sell excess inventory or boost sales for a new product. Use Sponsored Products ads, and these products will show up in search results as shoppers browse. The 'Sponsored' tag appears at the top of Sponsored Products listings.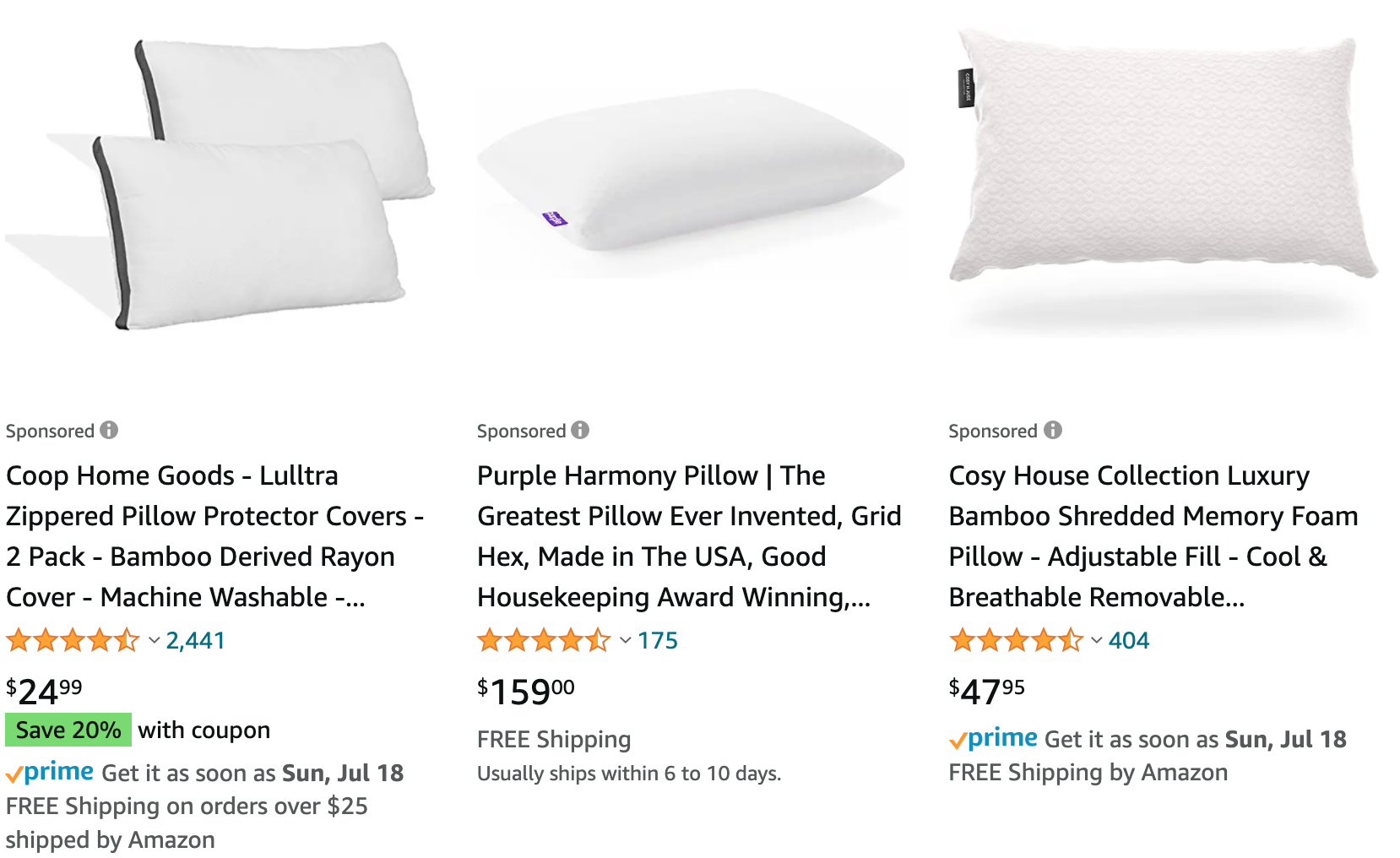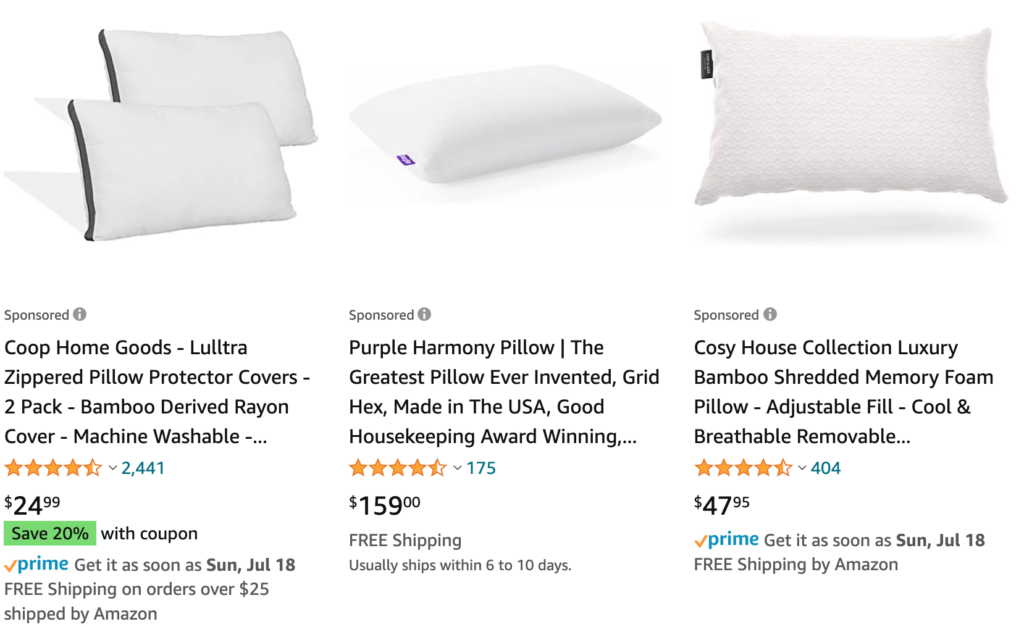 [Source]

These ads are similar to the pay-per-click (PPC) ads you see on Google — you only pay when shoppers click on your ads.

What's great about Sponsored Products ads is you control the cost. You set the bid amount per click and can decide to increase it to attract more traffic or lower it to save money.
Sponsored Brands
Use Sponsored Brands ads if you're new to Amazon and want to increase your brand exposure. Like Sponsored Products, Sponsored Brands ads also appear in search results, but the difference is:
Your brand name is visible
Three of your products are displayed
You get to include a custom headline


[Source]

When shoppers click on these types of ads, they're taken to your product page, where they can browse and find more items.

Ads are PPC, so establish a budget to control the number of clicks you receive. The budget you set determines your level of exposure. Identifying your brand, developing awareness, and linking buyers to your merchandise are all a part of Sponsored Brands.
Stores
Many customers like to research products before making a purchase. Help them find the information they need with Stores ads. This ad format lets you promote products using a custom Amazon storefront: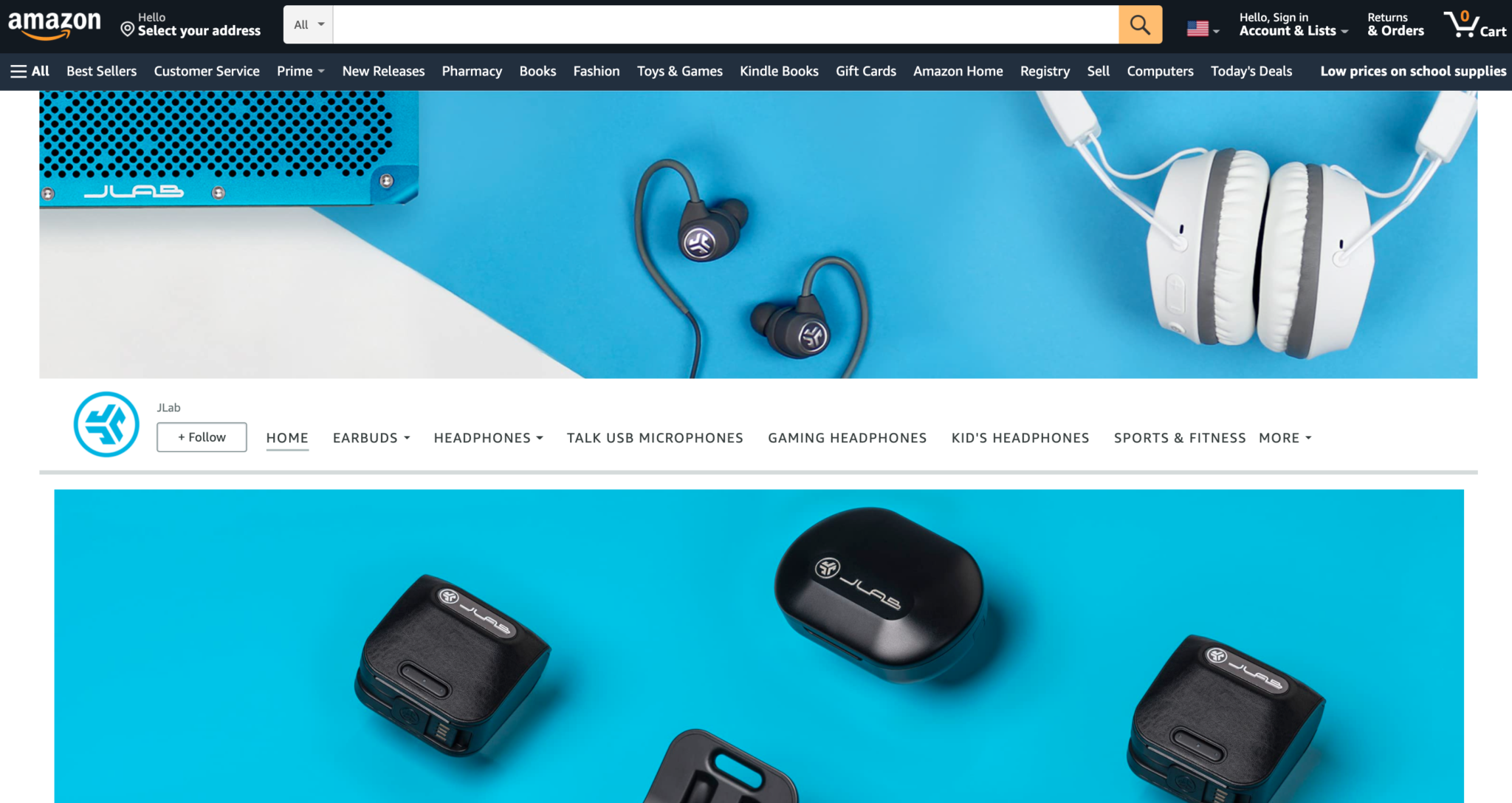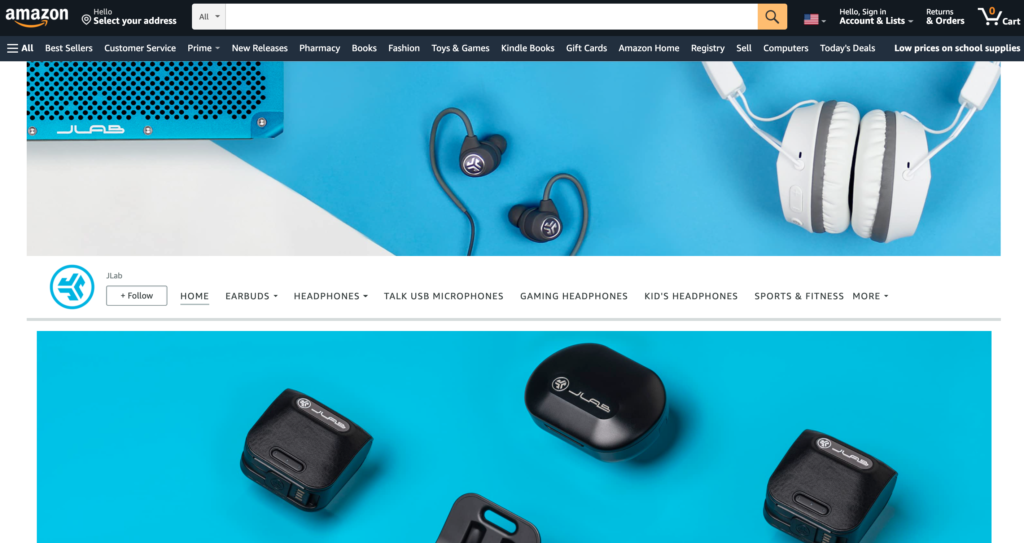 [Source]

What's great about this option is creating a Store is free. To get started, create multiple pages using Amazon's drag-and-drop tool. Once complete, share your custom Amazon URL in all your advertising campaigns — both on and off Amazon. Use the Stores analytics feature to review traffic to your storefront, products clicked, sales made, and more.
Additional ad types
To diversify your ad strategy, you can choose from four additional types of ads:
Pricing for all ad types — except custom ads — depends on the placement and formats you choose.

With so many options and flexible budgets, experiment with the different ad types to find the ones that help you increase exposure and sales. Then, split your ad budget across the types you choose until you find which ones are the best fit for your product types and audience. From there, you can reallocate your ad spend to focus on solid ad types.
4. Referral fees
Despite going through COVID-19, most small businesses increased their Amazon sales by more than 55% year-over-year from April 15, 2020, to January 15, 2021. With an almost 200% revenue increase since the beginning of COVID-19, Amazon made adjustments to its referral fee percentages.

For every product you sell on the Amazon marketplace, you have to pay a referral fee. This increases your Amazon seller fees because you're paying for the attention the marketplace throws your way and the traffic being driven to your product pages. This amount varies by product category and ranges from 6% – 45% of the sale price.

Below you'll see the adjustments of referral fees — that took effect June 1, 2021: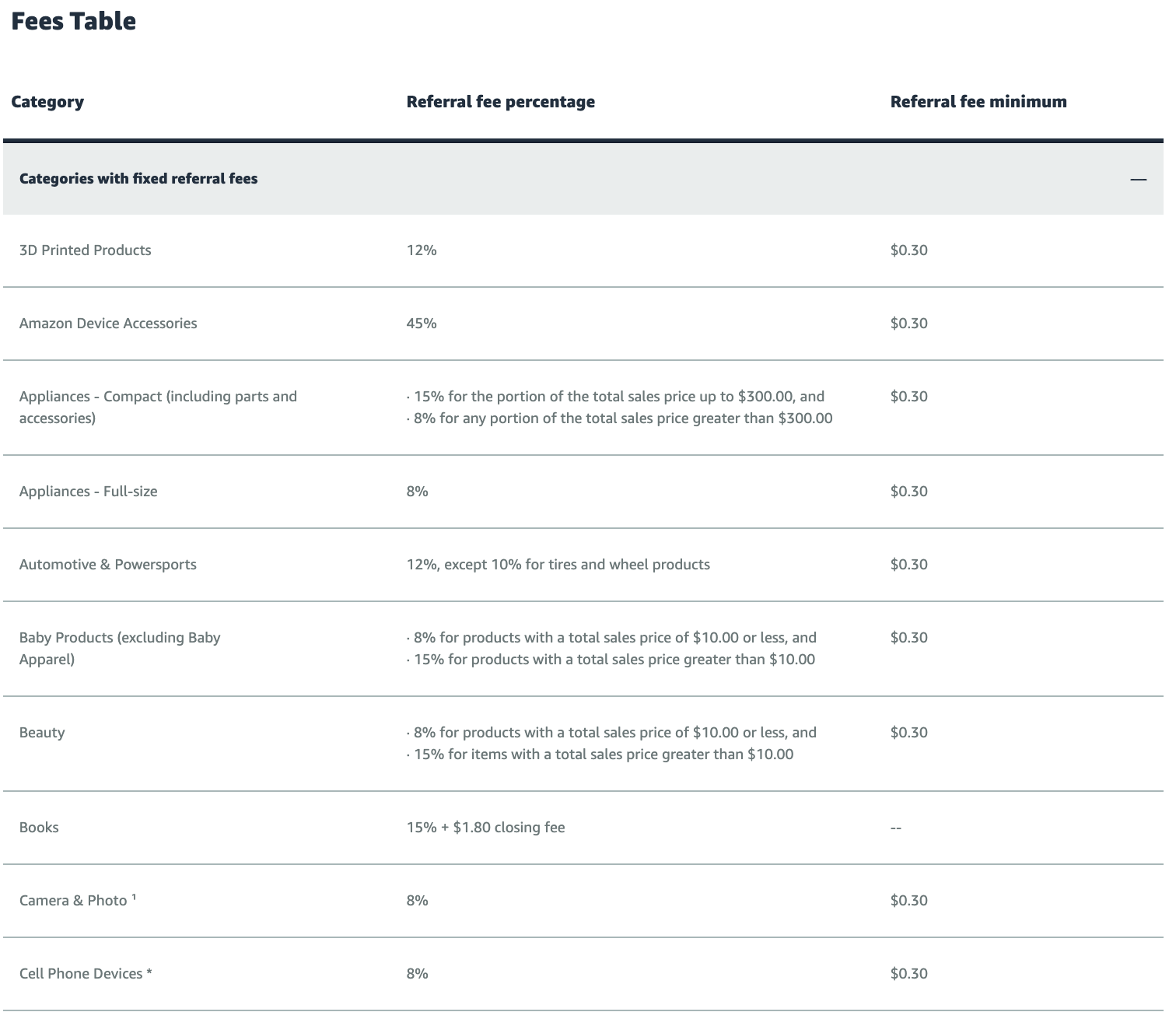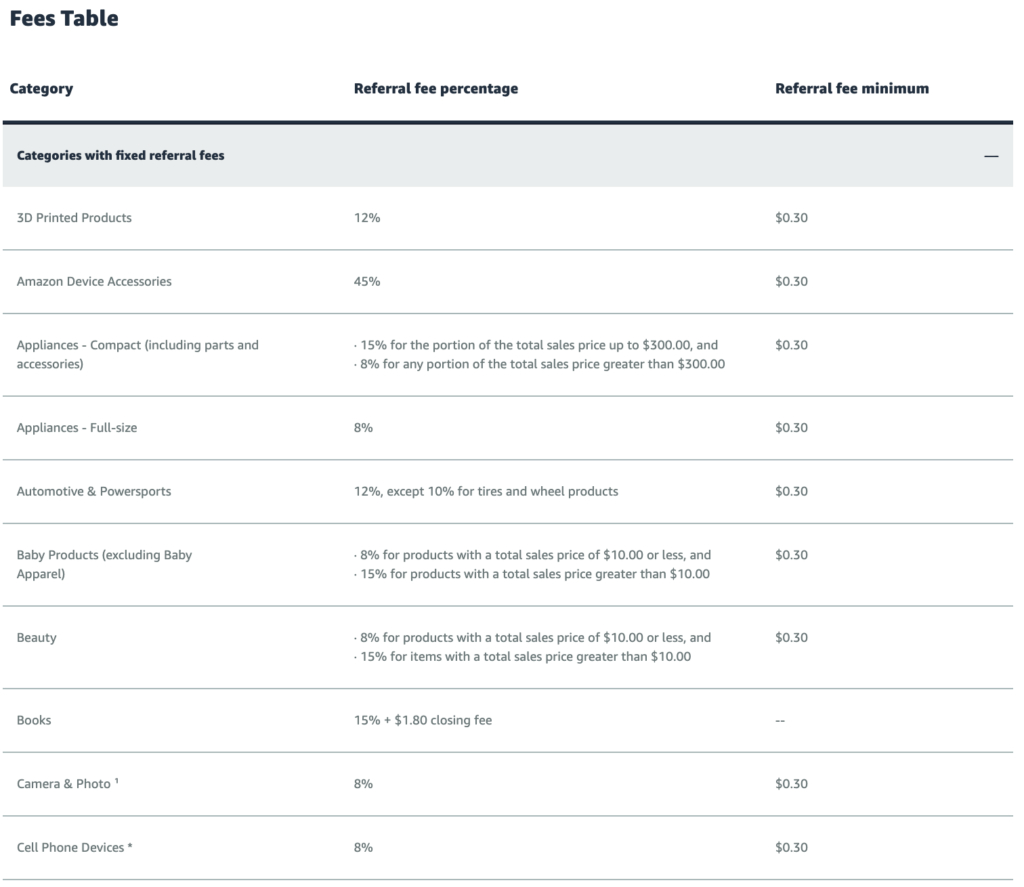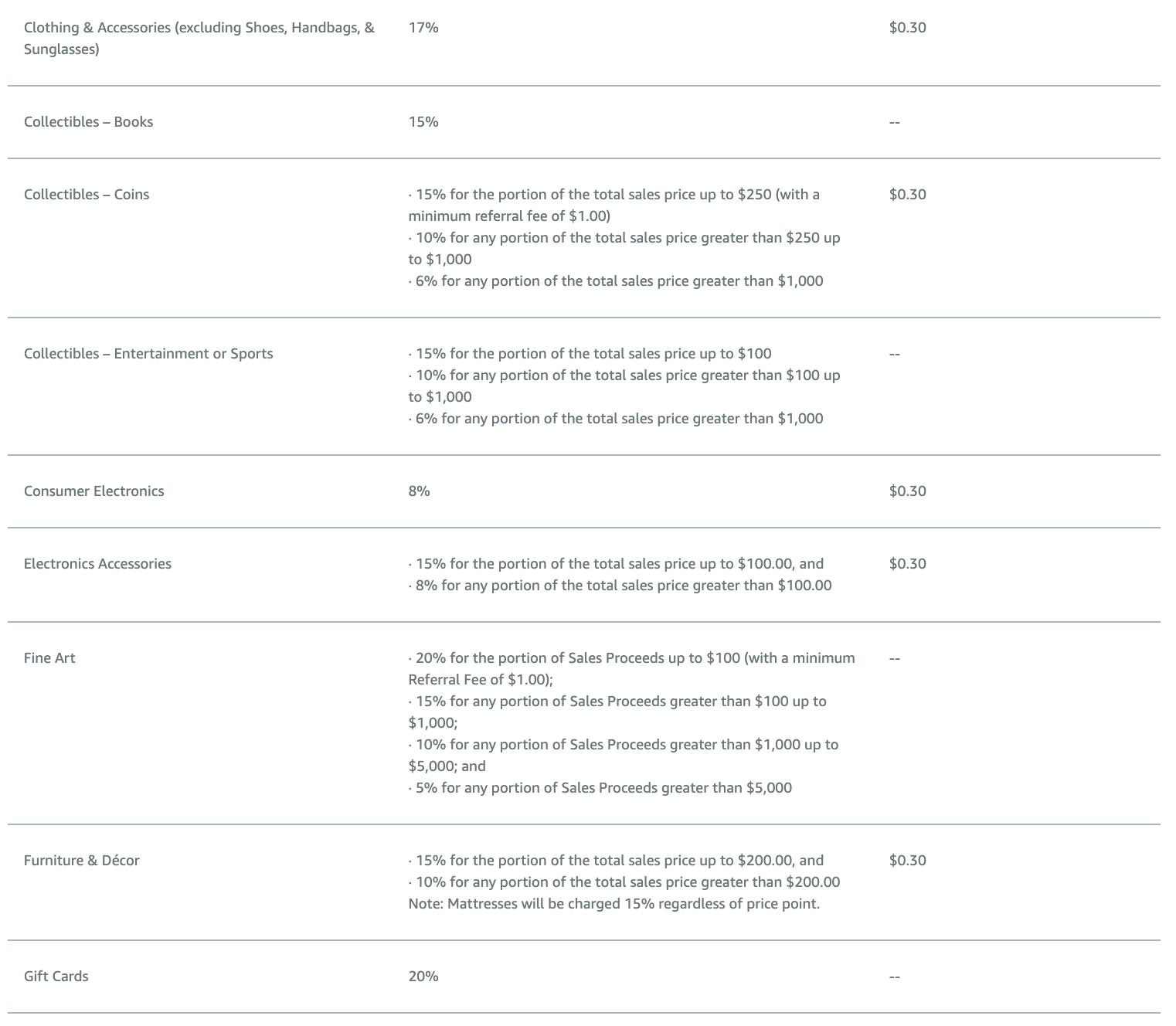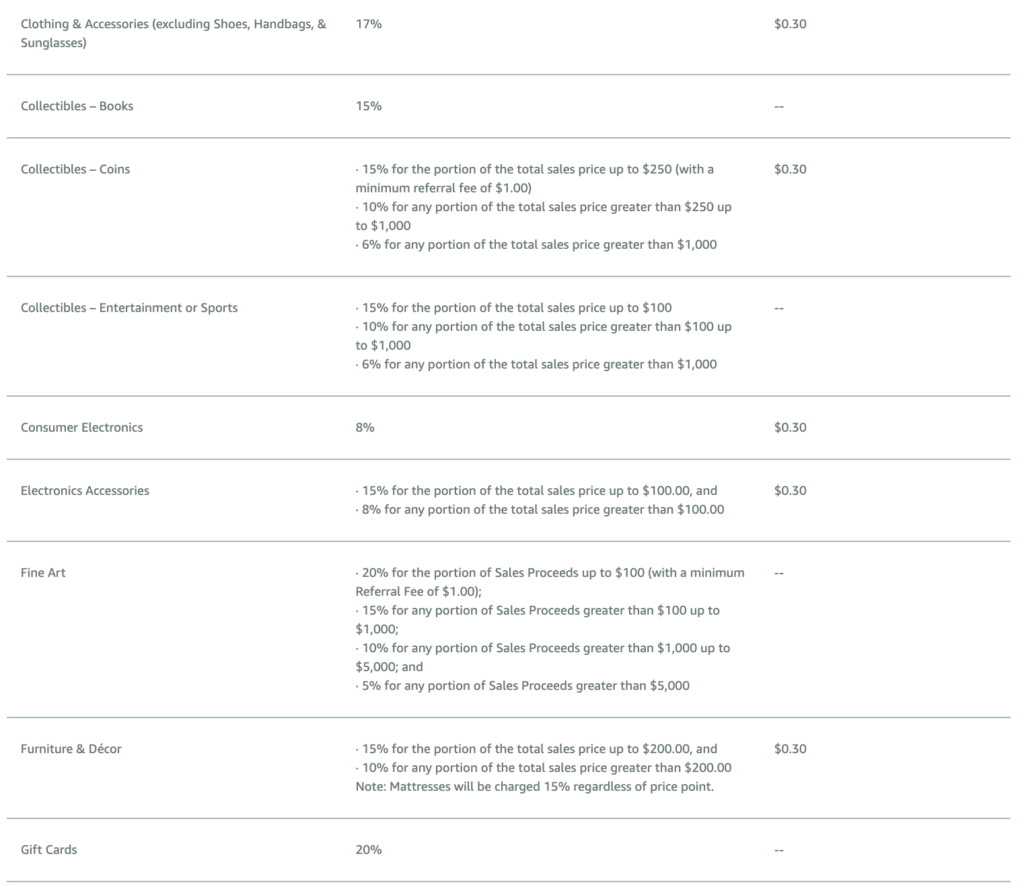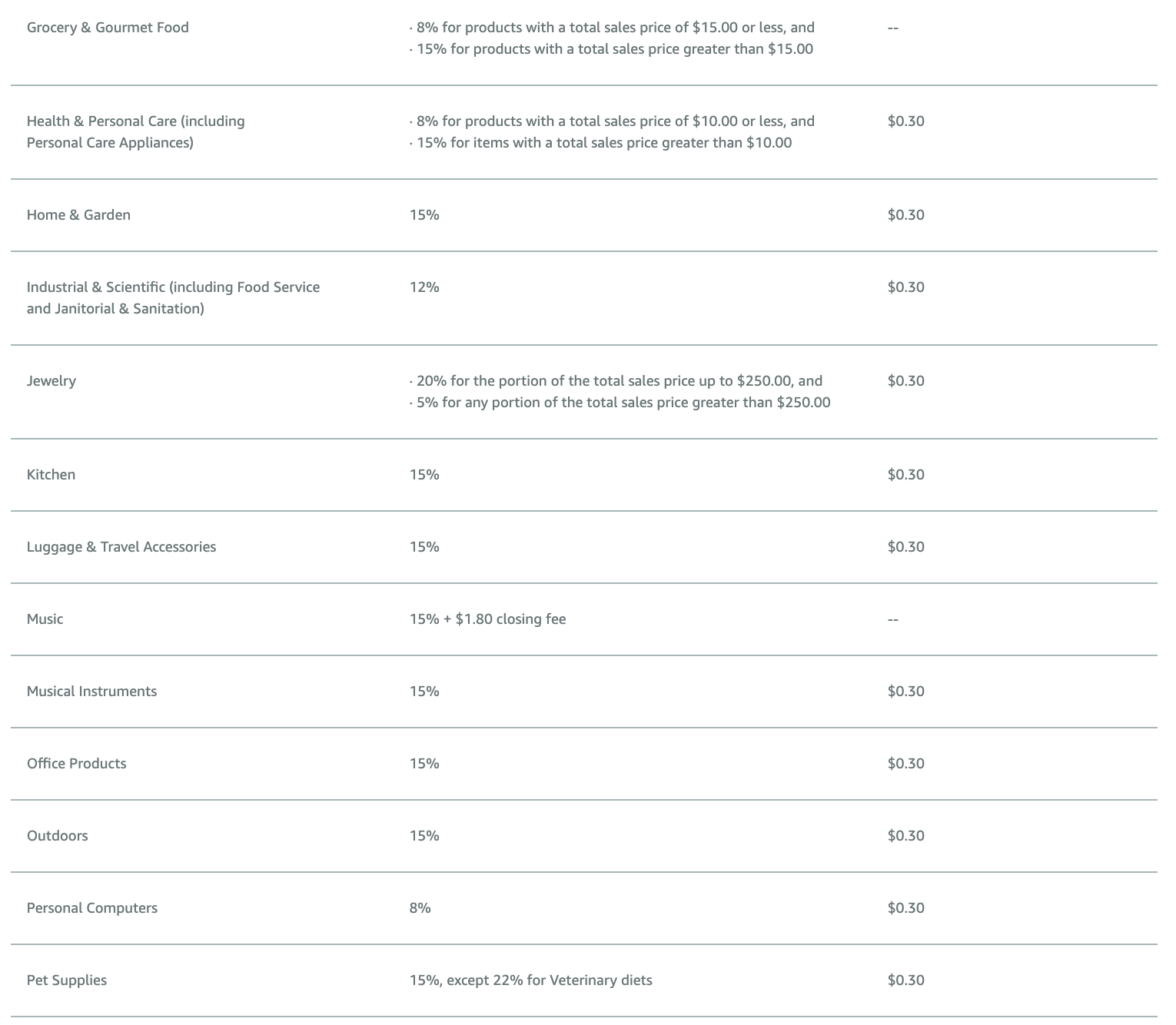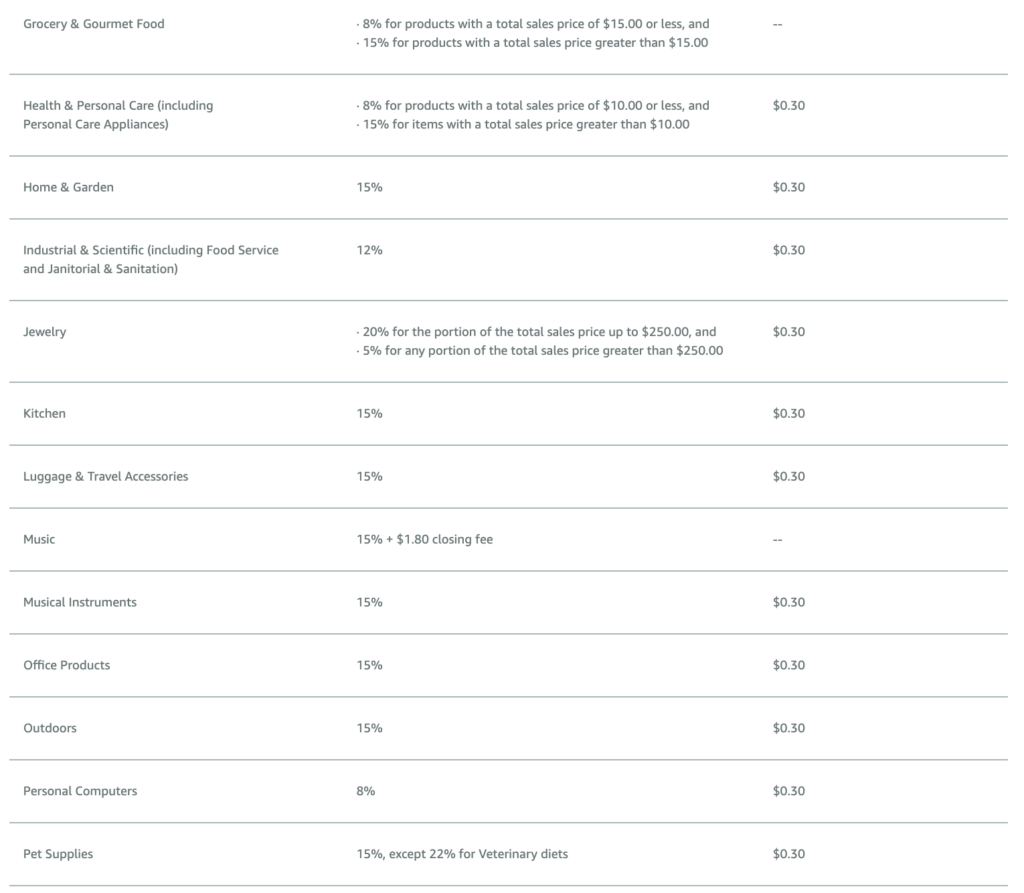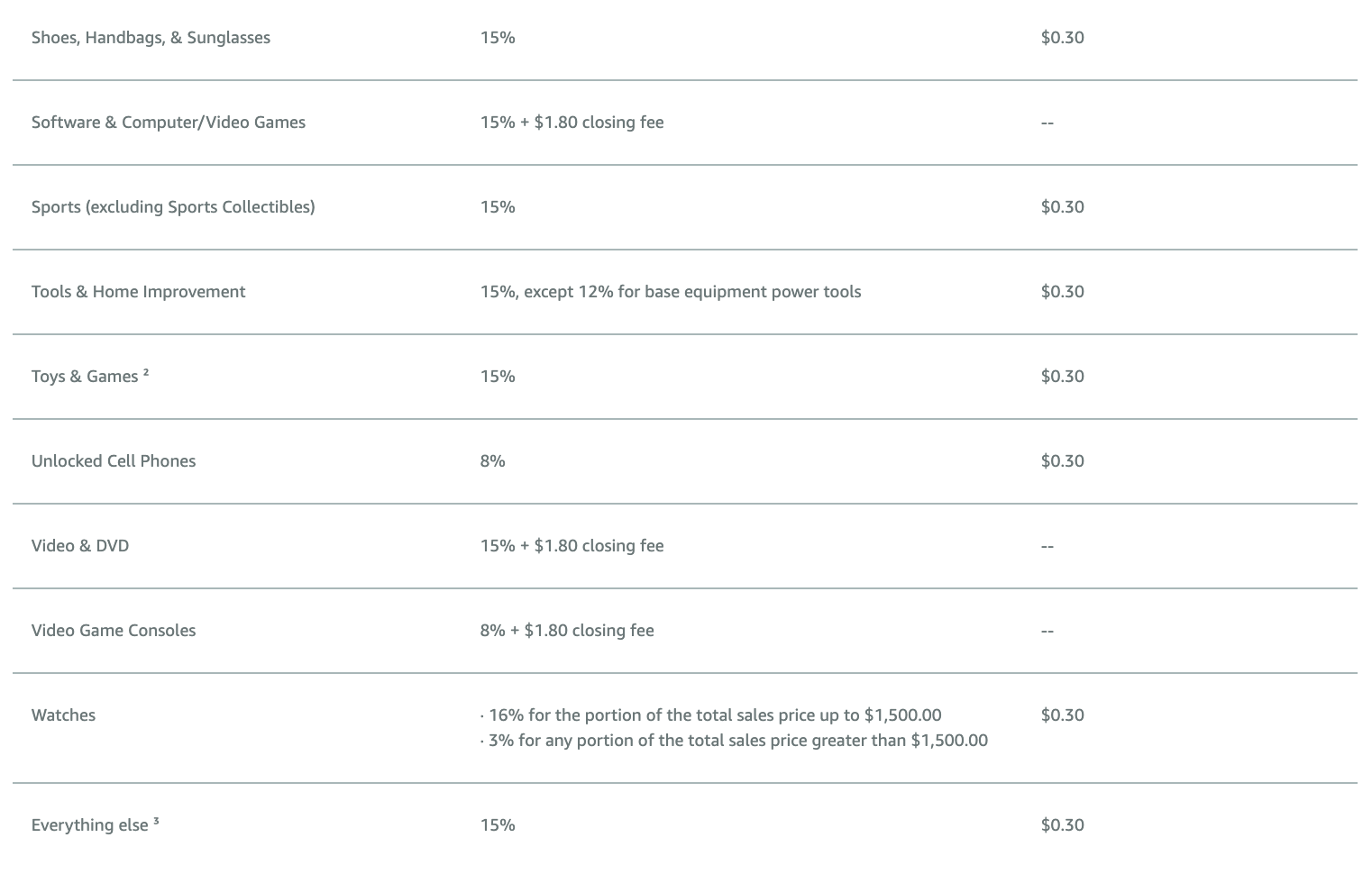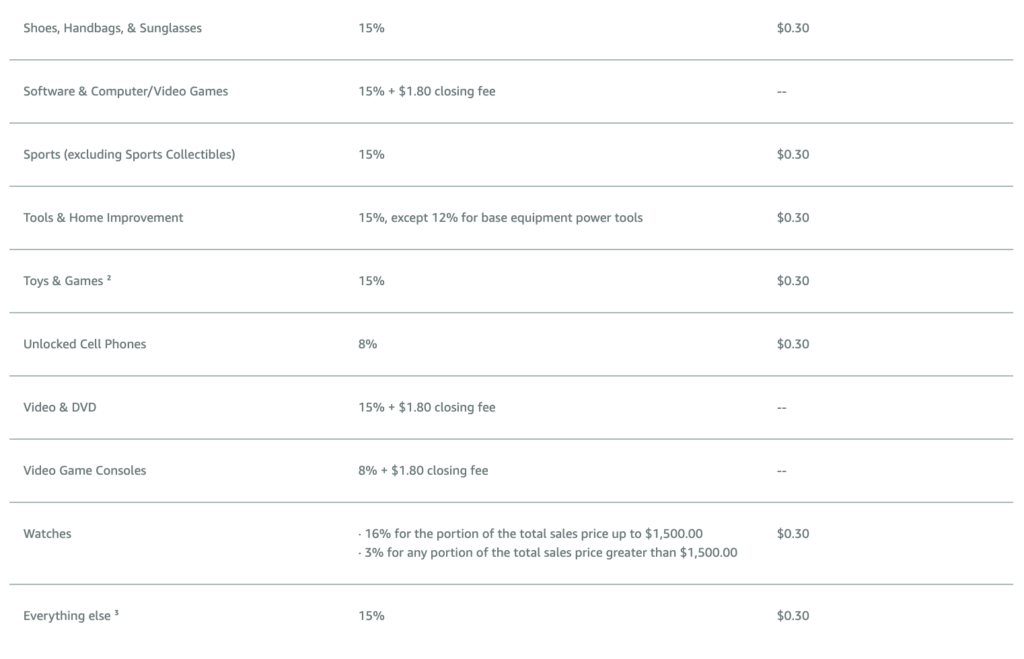 [Source]

In addition to the referral fee, you also have to pay a variable closing fee of $1.80 for any media products in the media category. These products include:
Books
DVDs
Music
Software and computers
Videos
Video games
Video game consoles
Video game accessories
The variable closing fee is paid regardless of which selling plan you're on: Professional or Individual.
Use Amazon seller fees to prepare for success
There are many Amazon seller fees to consider, whether you have an Individual or Professional seller account. Now that you know what to expect, you can plan accordingly. The more you know about Amazon seller fees, the fewer surprises your credit card will have.

Remember, you have plenty of flexibility when it comes to choosing fees. Pay for the Amazon expenses that will help you create a unique, engaging shopping experience for your customers — whether that's investing in FBA for logistics support or paying Professional plan fees for the extra perks.