Online shopping has become the place people head to when they want to buy anything from food to furniture to cars. It's fast, convenient, and often times less expensive than shopping in-store.
Even though brick-and-mortar shopping sometimes falls short in this digital age, there are advantages to shopping in-store that ecommerce businesses can't compete with. For one, customers shopping in brick-and-mortar stores can make purchase decisions quicker based on the look and feel of products.
The good news is there are brick-and-mortar "principles" that you can use online to make it even easier for people to shop and go through the sales funnel quicker.
Let's take a look at how to bring the brick-and-mortar experience to ecommerce to make the online shopping experience even more user-friendly.

Imitate the offline experience with personalization
One reason customers like to shop offline in stores is the access to personal products. For example, if customers are in the market for new furniture, they can sit on chairs or lie down on mattresses to gauge the look and feel before deciding whether the products are the right ones. This element of getting up close and personal with products is missing online.
Customers hesitate to buy these types of products online because product descriptions might be unclear, the online reviews aren't all favorable, or there aren't enough product specs to learn from: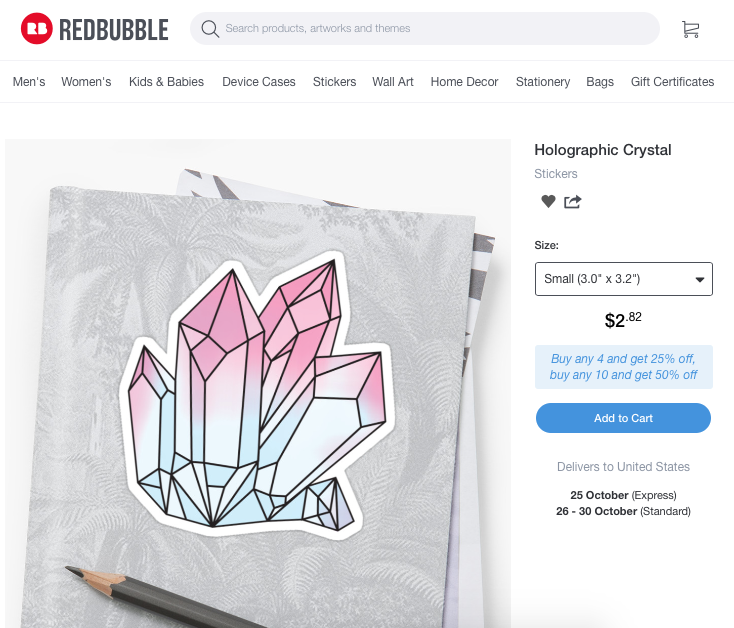 [Source] This product image is misleading because it's labeled holographic, but it's actually a stencil.
The online experience needs a way to let customers get a sense for products before they buy. This is where augmented reality (AR) in ecommerce comes in handy. Customers can see themselves using products without actually touching the product in person.
This new technology is reshaping how customers shop because more ecommerce sellers see that "AR is adding value to customer experience to stay engaged on retailer platforms."
MTailor is a virtual clothes-fitting app that's designed to make shopping on mobile easier. To start, the app scans the user's body with their phone's camera. Next, the customer customizes their clothes by selecting desired features, such as the type of fabric, the pattern, the collar, the length, and the button placement. Clothes are then made custom based on the customer's height, weight, and body type.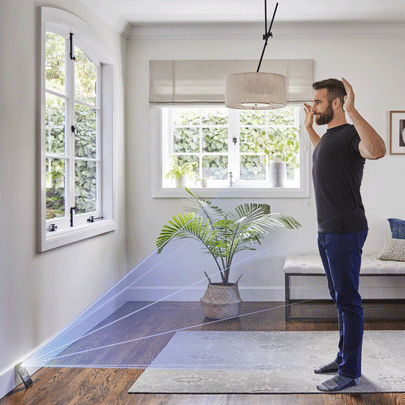 [Source]
So instead of risking buying a jacket based on how it looks on the model in the picture, only to realize it doesn't fit quite right, customers can browse, customize, and buy online, just like they would in a brick-and-mortar store.
What's also great about this level of customization is that the makers of the MTailor app say it's 20% more accurate than getting measured by a tailor—which ensures that online shoppers get exactly what they expect.
Key takeaway: Depending on the types of products you sell, consider incorporating AR (and even virtual reality) into the shopping experience. Platforms like Google, Facebook, and Apple make it easy and affordable for you to use new technology to bring the offline experience online.

Make it easy for shoppers to browse and compare
Imagine a customer scrolling through Pinterest and seeing an outfit they like. They use the visual search tool to find the items online and place an order. The only thing is, what arrives isn't exactly what they'd imagined or expected. The outfit is either too big or too tight or just doesn't feel right.
That issue is part of why subscription boxes like Stitch Fix and Trunk Club have taken off. Customers can shop online and return what they don't like or need, without a hassle. But there's one big drawback to this model: Customers still have to order, wait for delivery, try on, and then maybe send the items back.
A work-around to bring the brick-and-mortar experience online is to use videos and user-generated content (UGC) that show the product in use in different scenarios. That way, customers can get a better idea of how the product looks on "real" people, not just a model.
For example, here are the differences between these customer images:

And these brand images: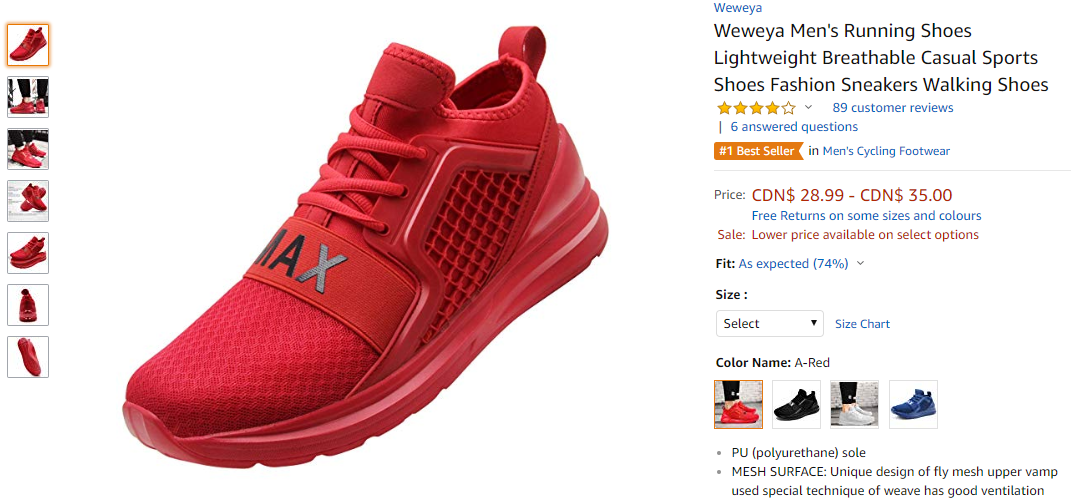 More ecommerce sites are also letting past customers upload UGC in the review section of the website.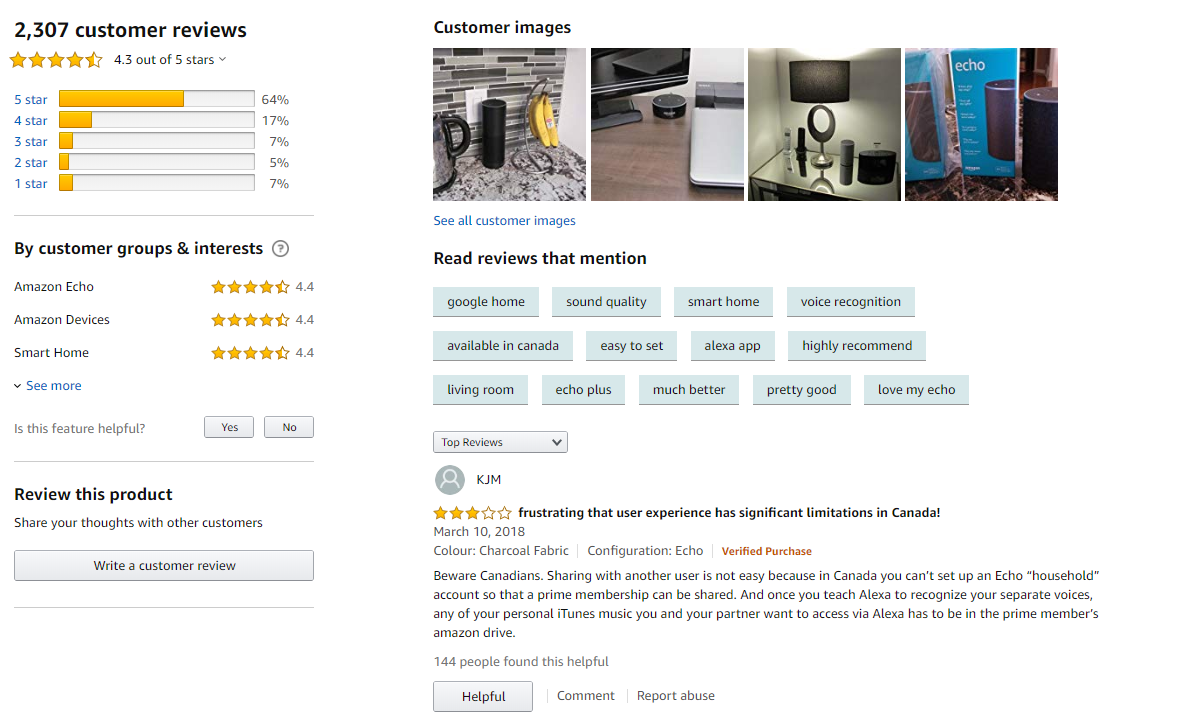 With this approach, customers get to see products being used by different types of people. New customers end up with a well-rounded idea of how the product will fit into their life vs. guessing and then hoping for the best.
For your part, share these videos and images on social media to get the attention of people who spend time on social platforms. Basically, wherever your audience spends time online researching, give them the experience of browsing the racks like they would if they were in a store.
UGC and video in action online
Over the last few years, Wayfair has seen tremendous growth in sales in their ecommerce store. As of December 2018, their annual revenue was $6.779 billion—a 43.6% increase from the year before. This success is due in part to relying on UGC to sell products. Wayfair asks customers to post photos of how their purchases look in their homes. For example, Wayfair asked customers on Instagram and Twitter to use the hashtag "WayFairAtHome" to tag this content: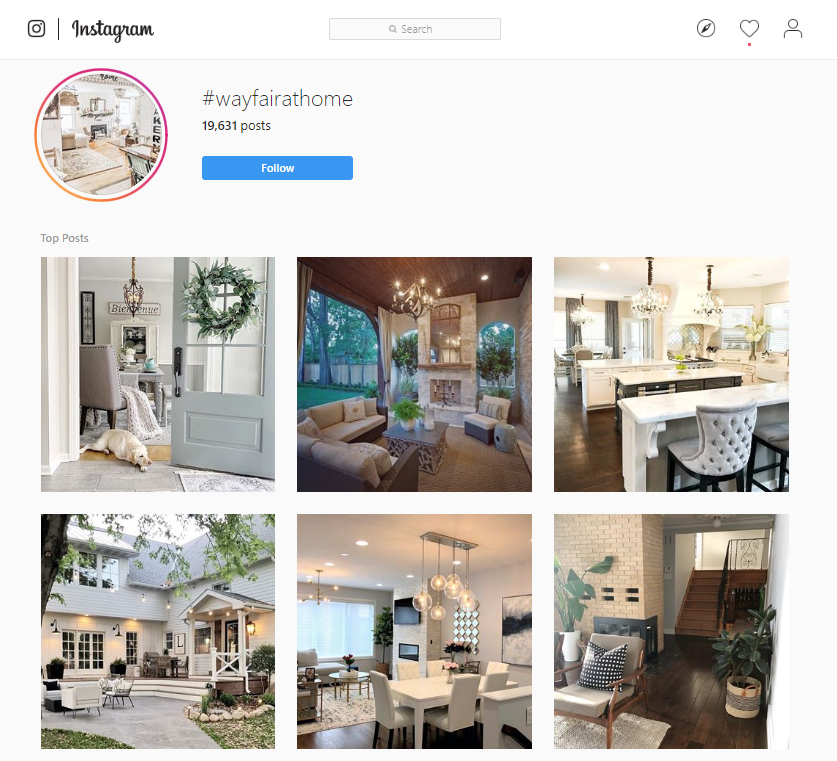 [Source]
This approach helped increase sales for Wayfair. According to MarketingProfs, "Instead of professionally taken product photos on the company website, consumers can see pictures of Wayfair's furniture in real homes—and get design inspiration at the same time. That approach also highlights happy customers who love the products they've purchased."
Another example of how to make browsing and comparing products online feel like they would in-store, lookbook videos and images are becoming more popular. Lookbooks let you create branded videos or images that showcase your products. You can take advantage of the traffic this type of content draws by including links to make the videos more interactive and engaging.
Yarose Shulzhenko—a luxury handmade-footwear brand for men and women—shares images and videos of shoes for millennial women, which is the largest segment of its target audience. Customers get a chance to see different shoe styles with different backgrounds and accessories.

Key takeaway: Use social proof to make it easier for customers to see themselves using your products. The better you know your audience, the better your chances of creating the exact kind of content they need to see to make buying easy.
Cater to shoppers' need for visual cues
If you think about the experience in brick-and-mortar stores, customers browse, try on, test out, and more to find what they're looking for. The way your products make customers feel and their ability to see themselves using these products are big factors that help customers decide whether to buy or not.
Even though customers can quickly browse through products online, they need a way to explore products the same way they would in-store. By bringing the offline experience online, incorporating online personalization, videos, and UGC into marketing and your online store, you make it easier for shoppers to decide what to buy.