Each year, ecommerce continues to grow at an increasingly impressive pace. According to the Census Bureau of the Department of Commerce, total ecommerce sales in the U.S. soared to a whopping $453.5 billion in 2017, up 16 percent from the previous year. As consumers spend more money than ever buying products online, ecommerce companies continue to look for and invest in new ways to stand out, capture attention, drive conversions, and secure customer loyalty.
To survive in ecommerce, you can't do the same thing you did last year. In order to build a sustainable and profitable business, you have to be willing and able to learn from your mistakes, double-down on your successes, and adapt to changes along the way.
Each year, new trends are introduced that help shape the way that ecommerce businesses operate, market their products, engage with their online communities, and drive purchases.
Here are the 7 biggest ecommerce trends that you need to know about in 2018:
1. Storytelling
In 2017, more ecommerce brands invested in storytelling than ever before. Here's why:
Old tactics don't work as well anymore. In previous years, the traditional blog post might have been good enough in helping you differentiate and convince your target audience to engage with you, but it's not enough anymore. Because there are so many ecommerce brands in existence, consumers are forced to cut through the noise. Stories allow you to create compelling content that your prospective customers won't be able to find or see anywhere else.
Competition is fiercer than ever. As mentioned, new ecommerce brands are popping up each day, and their stepping onto a generally leveled playing field—i.e. Most brands now understand how to create and execute on common social media and content marketing strategies, and they have access to inexpensive tools that make it easy. As a result, every brand that wants to survive has to work harder when it comes to marketing to and engaging with online consumers.
People crave experiences over products. In general, people don't want to be sold to online. They care much more about creating and sharing experiences than they do about buying products. For ecommerce businesses, that means that old sales tactics, like banner ads, might not work as well as they used to. Instead, you have to invest in marketing campaigns that help you focus on selling target customers on the experiences they'll have when using your product, rather than focusing on the features your products have to offer. Stories can help you connect with people on an emotional level.
Social media sites want everyone to create and share rich, visual content. Social sites like Facebook, Instagram, Snapchat, and Twitter are all giving more weight to original, visual content that can be shared natively on their platforms. As a result, more ecommerce brands are packaging high-quality photos and videos into compelling product, customer, and brand stories that they can share with their followers.
As an ecommerce business owner, you have to constantly be fighting for the attention and dollars of your target audience. Being able to use storytelling to help your customers understand why they should be paying attention to you instead of the other guy is going to be hugely important in 2018.
Dig Deeper
To dig deeper into this trend and figure out how to start creating and sharing more stories for your ecommerce business, explore these resources:

2. Transparency
In 2018, online consumers will expect more transparency from the brands they interact with than ever before. There's no such thing as a faceless ecommerce business anymore. Some bigger brands might be able to get away without it for another year, but if your ecommerce business is new or still relatively young, being open and honest with your audience will be key to your initial and ongoing success.
In ecommerce, being transparent means helping your target audience understand:
Who you are and why you started your business
What your products are and why you decided to create them
How your products are sourced, made, and distributed
How you're hurting or helping the world
What policies exist that could impact their decision to buy from you (ex. Returns & Exchanges)
How your products will be shipped to them and what they should expect
How you're treating your employees and the other people who help make your business a success
How you've  treated other customers that have purchased products from you in the past
How you've managed or fixed situations where customers weren't happy or their expectations weren't met
Honestly, the list could go on and on. The point here is that online consumers want to know and trust that at the end of the day, they're doing business with good people who care. If you can't convince them of that, you're not going to grow or even survive in 2018.
Dig Deeper
To dig deeper into this trend and figure out how to build more trust with your audience, explore these resources:

3. Personalization
Personalization will continue to be big this year, as consumers desire more authentic and personal relationships with the brands they buy from. Again, they don't want to feel like they're being sold to—they want to feel like they are finding and being presented with solutions that address their own personal pain points and problems.
As an ecommerce business, you have to create the perception that you're selling to each individual person, while still leveraging tools and automation that allow you to scale your operations as your business grows.
In ecommerce, personalization means doing things like:
Including first names in the emails you send to subscribers and customers
Sending personalized handwritten thank you cards to your customers after they buy from you
Asking for first names when you engage with customers in a live chat or in social media direct messages
Customizing the recommended product areas that show up in your email campaigns or your website
Offering personalized website experiences to visitors based on location or if they've purchased from you before
Personalizing the pop-ups or offers you present to visitors based on intent, demographics, and past purchasing behavior
In ecommerce, it's important to remember that your prospective customers usually don't have the opportunity to meet you or your team face-to-face, and they don't have the opportunity to feel, touch, or look at your products in person. As a result, you have to go above and beyond when it comes to developing trust with people and making them feel like they're getting the same customer service and experience that they would get when they walk into a brick-and-mortar store. Personalization can help you create and manage authentic, trust-driven relationships with your audience.
Dig Deeper
To dig deeper into this trend and figure out how to invest in personalization, explore these resources:
4. Messenger Automation & AR/VR
In 2017, early adopting eccomerce brands started investing more time and dollars in two emerging trends: messenger automation and augmented/virtual reality. This year, more brands will dip their toes and experiment to determine if either can help boost their productivity and drive more sales for their business.
So what is messenger automation? It's essentially a way to provide real-time answers and customer service to website visitors and customers, without having to necessarily have anyone on call or present from your team answering questions. With messenger automation, you use tools like Manychat or Morph.ai to build customized chat automation drips (i.e. chatbots) that your customers enter into if they reach out to you with a question. This type of service can be particularly useful if you'd like to provide customer service outside of your normal working hours, or if you simply don't have the resources to hire and train a full-time customer service agent yet.
What about AR/VR? Augmented or virtual reality allows ecommerce business to leverage increasingly affordable technology to create new shopping experiences for customers. As Google (Google Cardboard), Apple (ARKit), and Facebook (Oculus), all continue working hard to develop new AR/VR software and hardware tools, ecommerce brands are starting to think more about how to leverage the technology to create better in-store and at-home shopping experiences for their customers.
As an ecommerce business owner, it's up to you to investigate these emerging trends and determine if they could be useful for your business and your audience.
Dig Deeper
To dig deeper into these trends, explore these resources:
5. Voice Search & Mobile Shopping
In 2018, voice search and mobile shopping will also continue to grow in popularity among consumers and ecommerce brands.
As more consumers use their phones almost exclusively to buy products online, ecommerce businesses are tasked with improving and simplifying shopping experiences that occur from smartphones and tablets, rather than from computer and laptop browsers.  
In addition, as voice assistant technology continues to advance and improve, thanks to Google Home and Amazon Echo, more people are now making purchases without ever needing to pick up a device, perform a search, or visit a website.
If your target audience is young, these are two trends you'll definitely want to spend more time researching and possibly investing in over the next year.
Dig Deeper
To dig deeper into these trends, explore these resources:
6. Community/Movement-Driven Branding
This year, more ecommerce brands than ever will invest time, energy, and resources into developing or supporting movements that their audiences care about. As consumers are forced to choose between more ecommerce companies than ever, brands are differentiating by again, focusing on experiences rather than products.
Consider these examples:
Patagonia is mobilizing people to take action on important issues: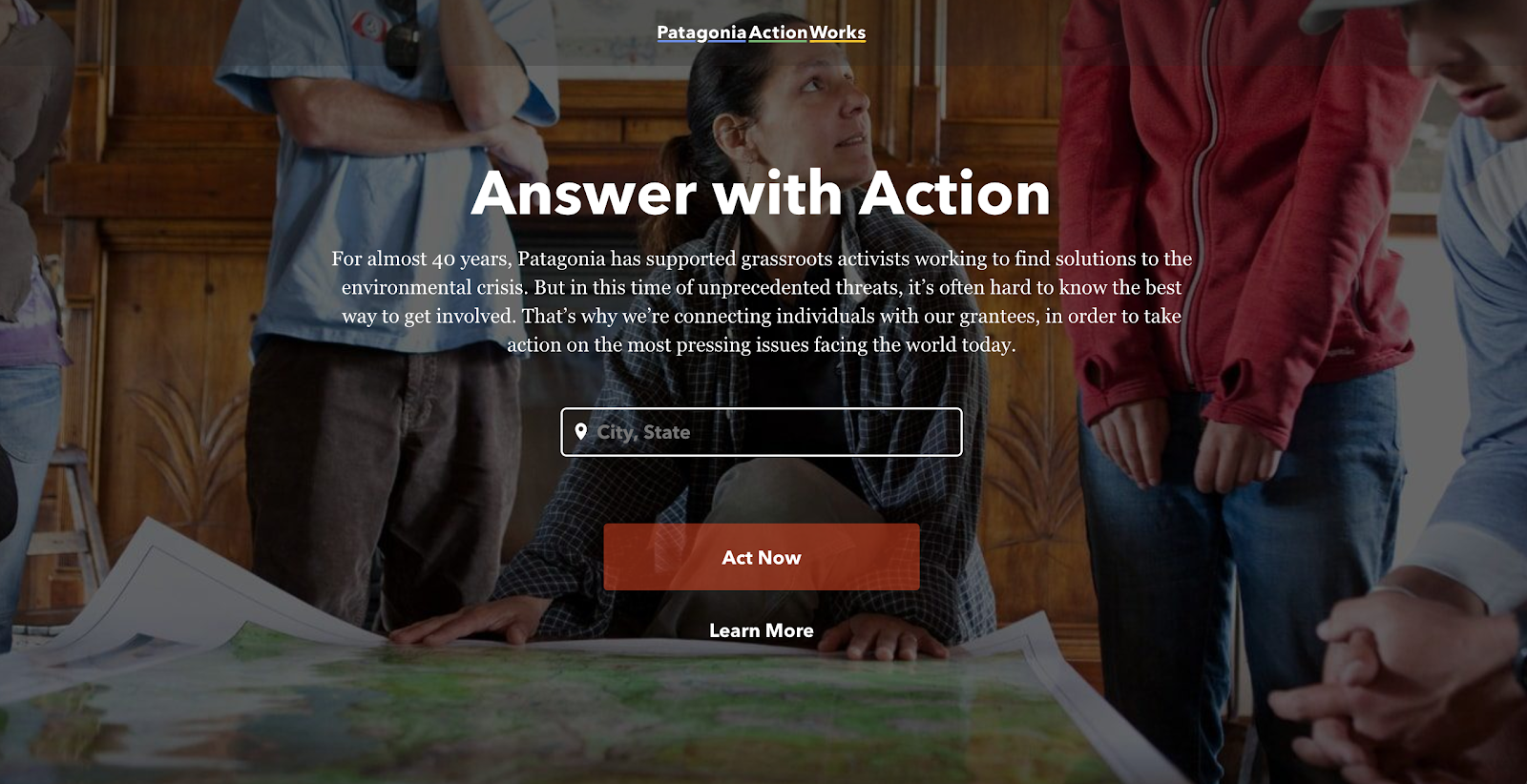 Chaco is building a tribe of like-minded people who love adventuring and sharing their travel experiences with one another: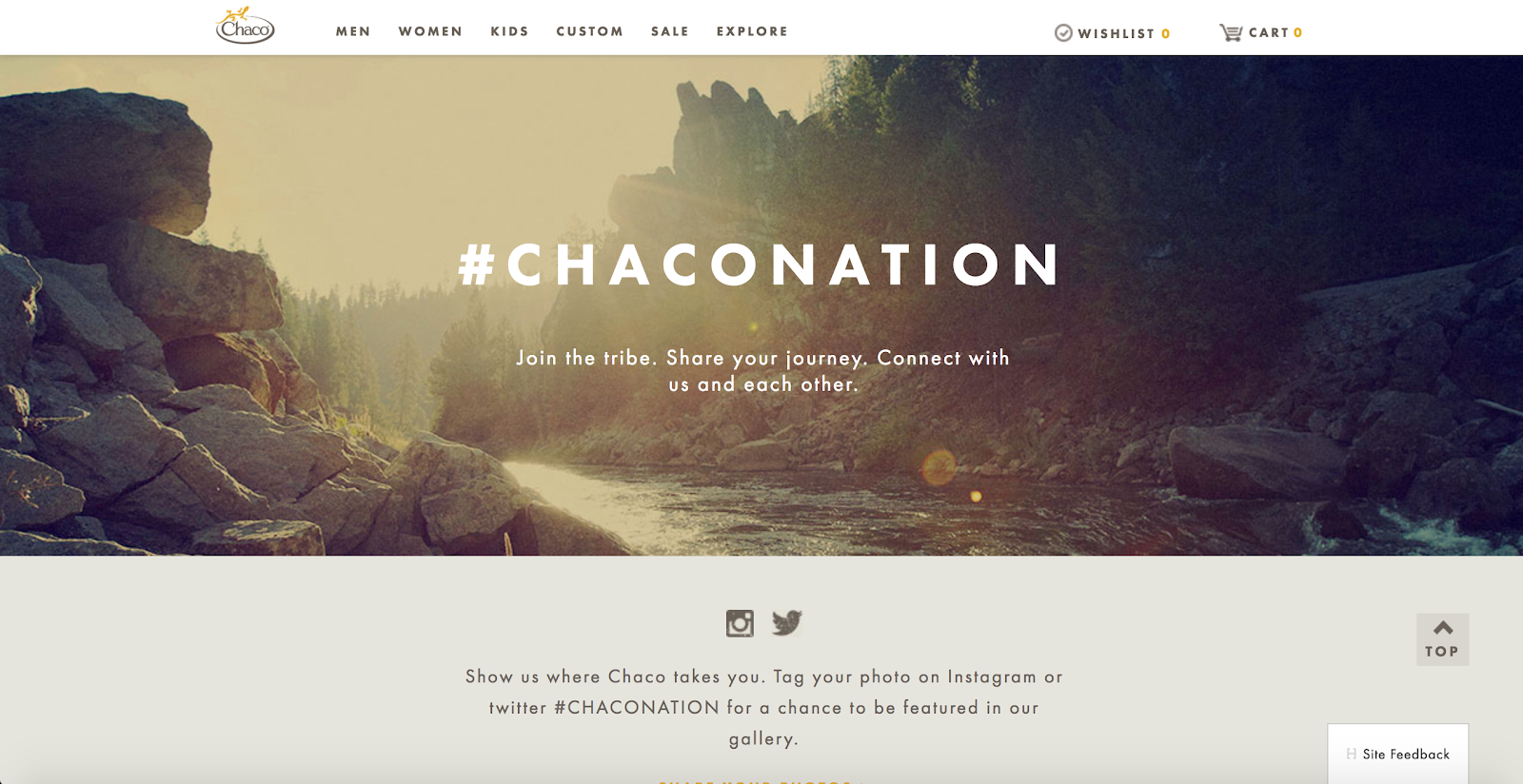 Wildbird is encouraging customers to join a community to meet and talk with others moms: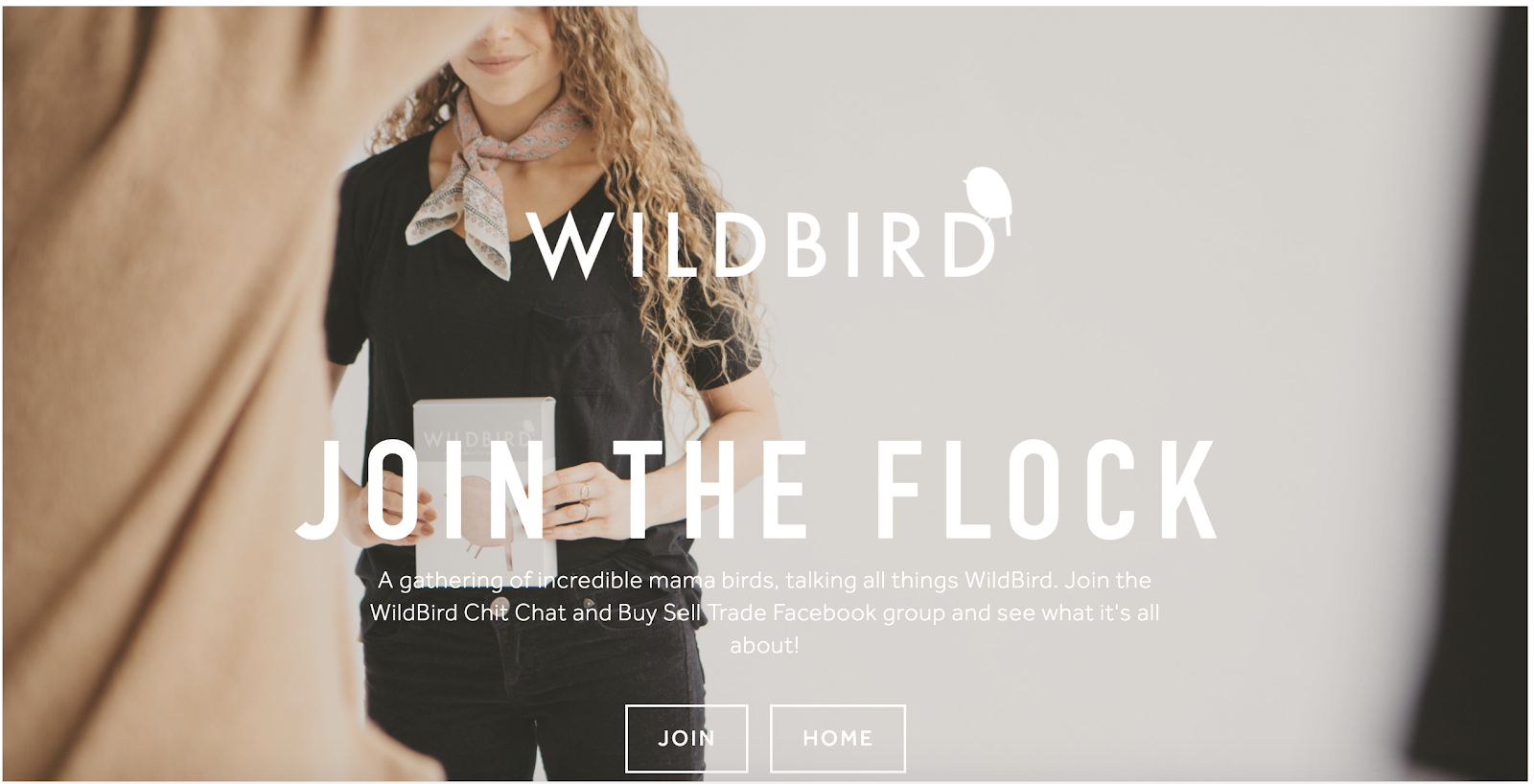 To succeed in 2018, ecommerce entrepreneurs need to get at the heart of what their customers and audience care about—they need to focus less on selling products and more on helping them achieve their goals and become part of something bigger.
Dig Deeper
To dig deeper into this trends, explore these resources:
7. Influencer Marketing
In 2018 influencer marketing will continue to grow in popularity as people and social media sites give more weight to updates from individuals, rather than from brands.
Influencer marketing is a strategy you can develop and implement for your ecommerce brand in order to tap into more audiences that you otherwise may not have had direct access to. The way it works is pretty simple: you find people who have large followings on Instagram, Facebook, Snapchat, Twitter, or their own blog, you pay those people to try, talk about, and link to your products, and you benefit from more brand awareness, more website traffic, and more sales.
There are many tools that you can use to connect with influencers. I've mentioned a few on this blog before, but can share a few here again. If you're interested in connecting with an influencer and you don't want to go the manual outreach approach (i.e. you'd rather pay for a service that offers access to an entire community of trusted influencers by industry), check out Famebit, Tribe, or Peg.  
Dig Deeper
To dig deeper into this trend and figure out how to start leveraging influencers to grow your ecommerce business, explore these resources:
Over to You
What other trends have you noticed lately in your industry? Tell me in the comments below!