Kylie Jenner. Kate Hudson. Michelle Phan.
When a celebrity—of screen, stage, or YouTube—makes it big in business, it's easy to write them off as fortunate.
The truth is, though, that many of the biggest celebrity-founded ecommerce companies have a lot more going on behind the scenes than you might expect.
In many cases, they're inventive, ingenious, and legitimately compelling businesses—using tactics that can set any kind of business apart, not just ones founded by a celebrity.
That's right—noncelebrity owners of ecommerce stores, without any big name to fall back on, can succeed using some of the same strategies celebrity businesses rely on.
We'll explore how strategies like social media engagement and the resolution of a clear customer problem help boost sales and customer loyalty. Anyone can use these strategies to grow a massively successful business. Let's dig in!
Ipsy by Michelle Phan
Founded in 2011, Ipsy is the brainchild of YouTube beauty vlogger Michelle Phan, Marcelo Camberos, and Jennifer Jaconetti Goldfarb. For $10 a month, subscribers receive a "Glam Bag" with sample-sized beauty products.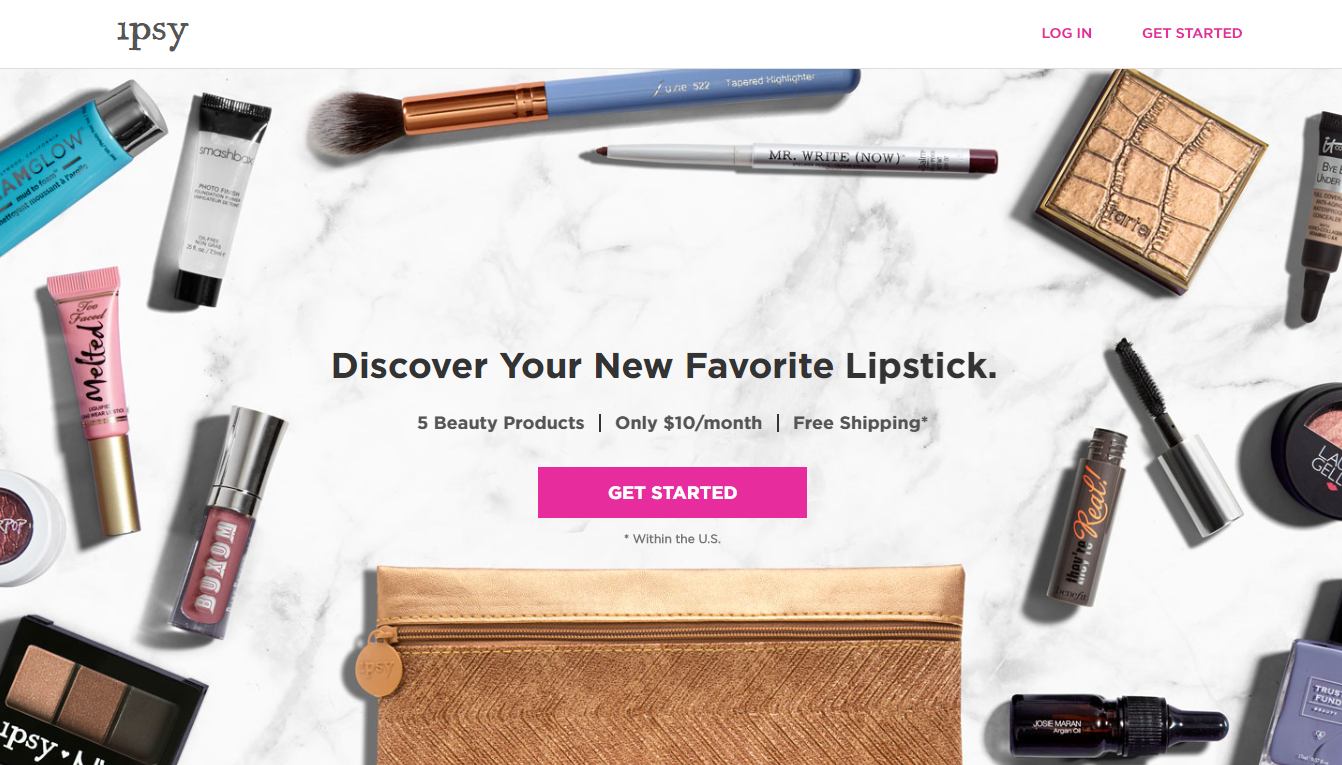 [Source]
Ipsy most recently raised over $100 million in Series B funding in 2015, and with well over 2.5 million monthly subscribers, the site continues to dominate the beauty subscription-service industry. In comparison, Birchbox, Ipsy's closest competitor, has 1 million monthly subscribers.
Ipsy spends very little on paid advertising; in fact, its growth is mostly a result of Michelle's social media influence. As a beauty influencer, she's amassed a following of over 8 million on YouTube and over 2 million on Instagram. What Ipsy does spend on paid advertising focuses on channels like Google networks — specifically mobile ads.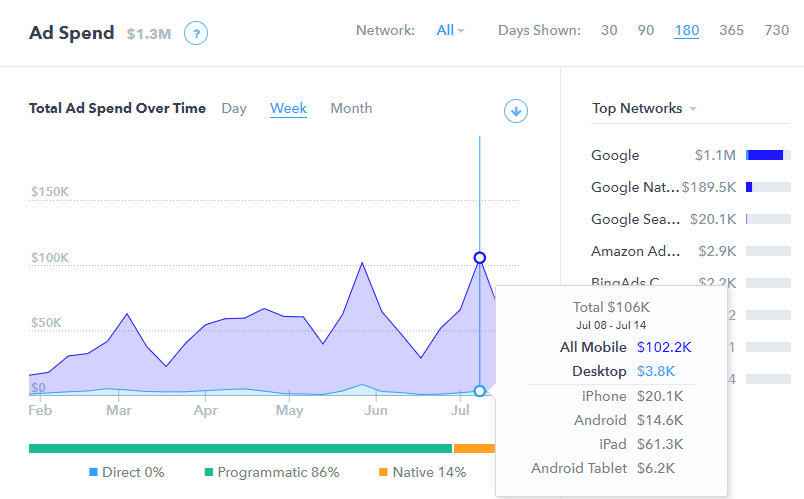 Data courtesy of Adbeat, an advertising-insights tool
Instead of paid ads, Ipsy relies heavily on a network of beauty influencers to help market products on platforms like YouTube and Instagram. Ipsy has a dedicated space — a 10, 000-square-foot setup called Open Studios — for beauty vloggers to use to film their tutorials; their social influence helps drive awareness for the brand.
Vloggers have published hundreds of videos that get in front of a larger target audience — women 18 to 25 — so that vloggers can grow their own network of followers as well.
This model works so well that brands donate products in exchange for the exposure they get with Ipsy's audience and the tens of thousands of vloggers who post videos every month.

Key Takeaway
Leverage your social influence and partner microinfluencers — noncelebrities on social media with a large following — in the same niche to help you grow your audience. Offer something of value in exchange. For example, Ipsy gives its beauty vloggers flexibility to create any video they want, as long as it feels authentic to the brand. In exchange, vloggers get full access to in-house cameras, props, state-of-the-art lighting, mentoring and networking opportunities, and more. Based on how much Ipsy continues to grow month over month, this seems like a fair trade.
Fabletics by Kate Hudson
Fabletics was founded in 2013 by Adam Goldenberg and Don Ressler in partnership with Kate Hudson. The brand has grown exponentially over the last five years to find a very specific niche — athleisure. This is athletic wear, designed for the gym, that women can wear in any setting — at home, to events, or even at work. Other companies in this niche include Lululemon and Uniqlo.
Starting at $19 a month, subscribers receive a box of specially curated yoga gear based on their individual needs.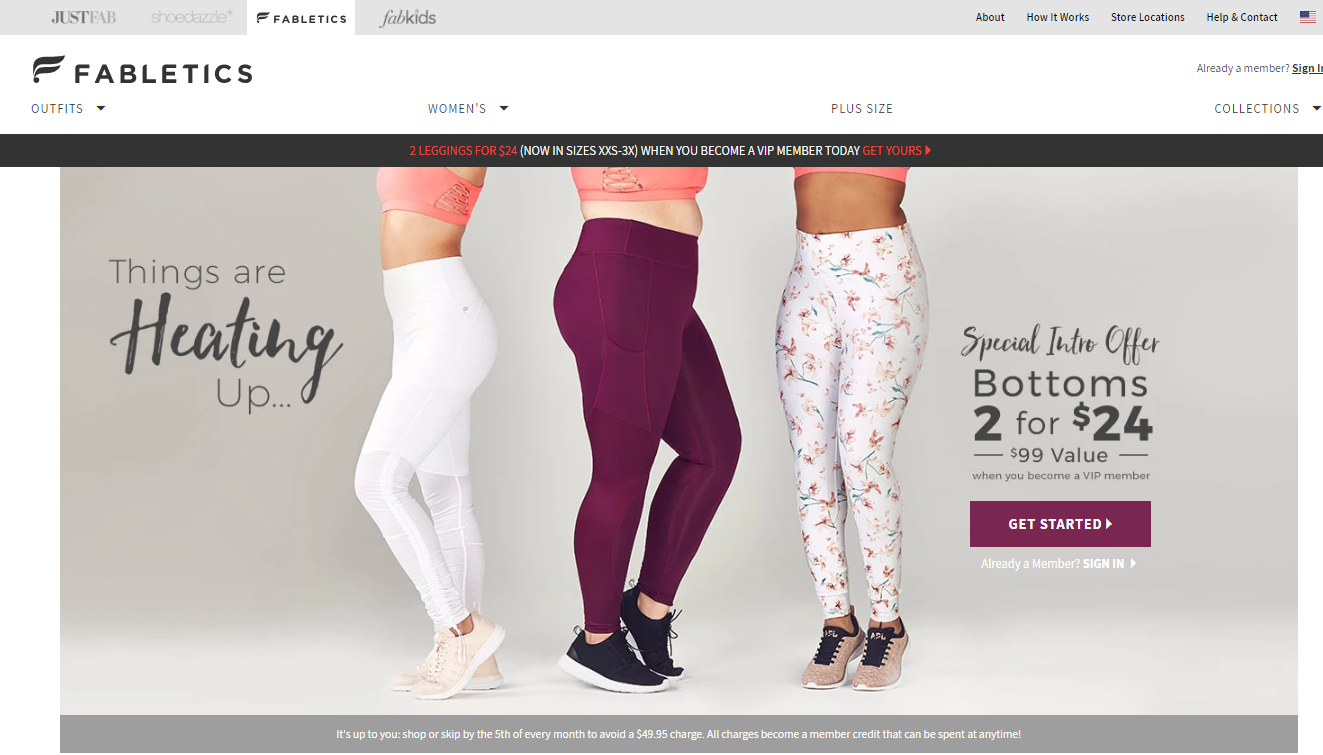 [Source]
The brand has taken something casual that thousands of women wear (yoga pants) and turned that into a style movement. The homepage uses images of women getting fit and while looking good. Spokeswoman Demi Lovato said this about the brand: "The company is all about inspiring women and empowering them to be the best version of themselves, to be strong, and it doesn't matter what shape, or size, or age. It's just about empowering women and I love that."
To date, Kate's star power has helped pull in well over 1.4 million subscribers and guided Fabletics from its humble beginnings as another clothing subscription company to where it is now: worth over $250 million.
Much of their growth is tied to direct-response advertising, where they share highly targeted ads with specific calls to action (CTAs). For example, Fabletics recently ran video ads on TV and YouTube for their premium performance leggings. The CTA was to log onto the website and save. On YouTube, there was also a CTA in the video that linked to a landing page with more information about the product and the special offer.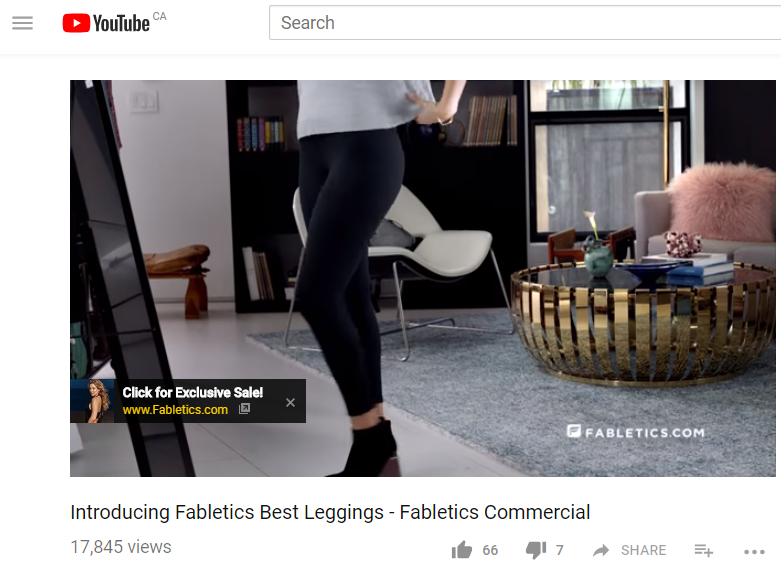 [Source]
What's also made Fabletics successful is their commitment to delivering quality products and customer service. These are two variables that any company can focus on to stand out from competitors. For Fabletics, this resulted in a revenue bump of 43% between 2015 and 2016.

Key Takeaway
Find one or two variables you can focus on so that you stand out in your niche. For example, look at your competitors for ideas on how you can improve. For Fabletics, it was product quality and customer service. For you, it could be inventory management to make sure customers have access to the products they want. This helps to build their trust in you and creates a loyal customer base that won't hesitate to recommend you to their friends and family.
The Honest Company by Jessica Alba
Best known for her roles in movies like Fantastic Four and Sin City, Jessica Alba is also a businesswoman. In 2011, with Christopher Gavigan, Brian Lee, and Sean Kane, she founded The Honest Company.
This celebrity business launched in response to families who wanted alternatives to standard baby products, which often contain harmful chemicals. The company has since grown to include a wide range of consumer products, such as cleaning supplies and skin care products. The founders have built the company into a brand that is passionate about providing nontoxic, eco-friendly products to customers — and was once valued at $1.7 billion.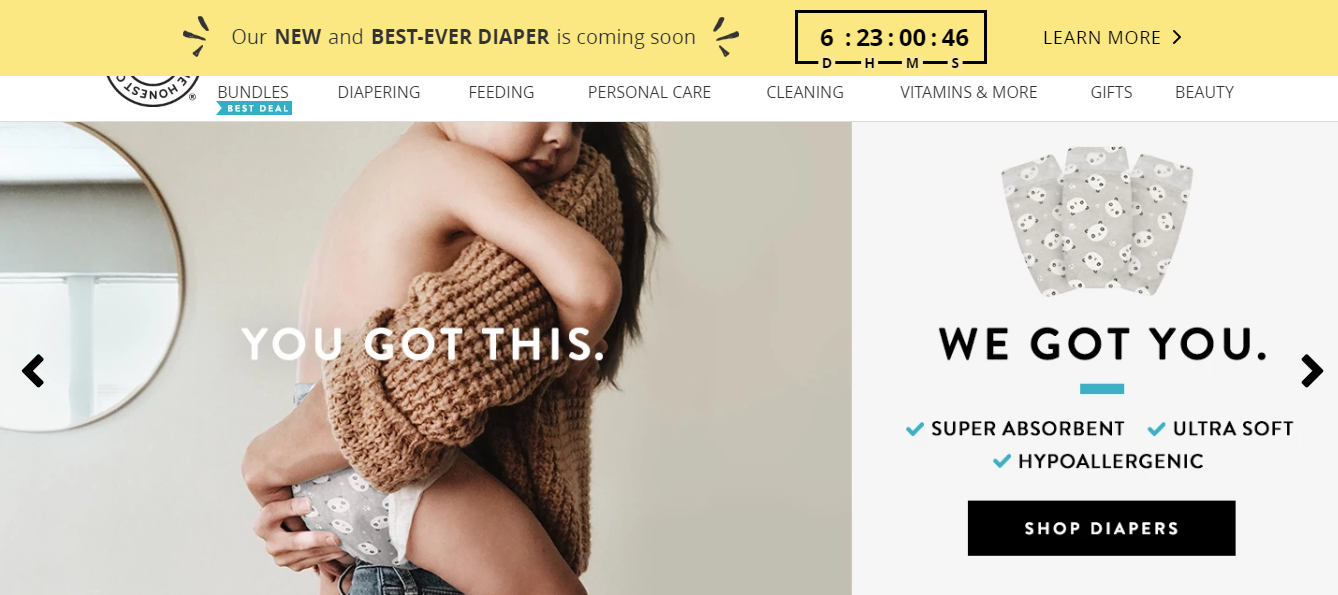 [Source]
This brand caters to people who are concerned about the types of products they use in their home and who want a natural alternative to other commercial brands — an alternative that they can trust.
Despite the company philosophy, The Honest Company has received its fair share of negative press over the years. In September 2015, they were hit with a lawsuit claiming a child was burned after using an Honest-brand sunscreen. In 2016, they were sued by the Organic Consumer Association because it was found that Honest's organic infant formula included synthetic ingredients. In January 2017, the company was forced to recall their baby powder due to a possible infection risk. And just this month, actor Leslie Jones tweeted her displeasure over repeated late deliveries of the brand's diaper cakes — despite paying for rush shipping.
But what The Honest Company has been able to do well is bounce back from adversity and continue to grow. They've addressed the complaints head-on, made staffing changes, and more to maintain customer trust in their product.
Key Takeaway
No company is immune to product issues and customer complaints. What's important is that you learn from these mistakes and make changes as quickly as possible. Share these changes with your customers to show that you hear their feedback and have an action plan to rectify the situation. The Honest Company has gone as far as bringing in a research and development team to help ensure quality. This way, the company has full control of their formulas and can stand behind them, rebuild customer trust, and grow.
OVO Store by Drake
The OVO Store is part of a much larger brand — OVO Sound, which launched in 2012 by hip-hop artist Drake. OVO Sound is a record label based in Drake's hometown of Toronto, Canada, and has launched the careers of several up-and-coming artists.
Several subsidiaries have sprouted from OVO Sound, including the following:
OVO Fest, which is an annual concert in Toronto that is headlined by Drake and other A-list artists
OVO Sound Radio, a weekly radio show hosted by Drake
OVO Clothing, which includes a collaboration with the Toronto Raptors — for which Drake is the Global Ambassador. The OVO Store carries this line of clothing, available online and in stores.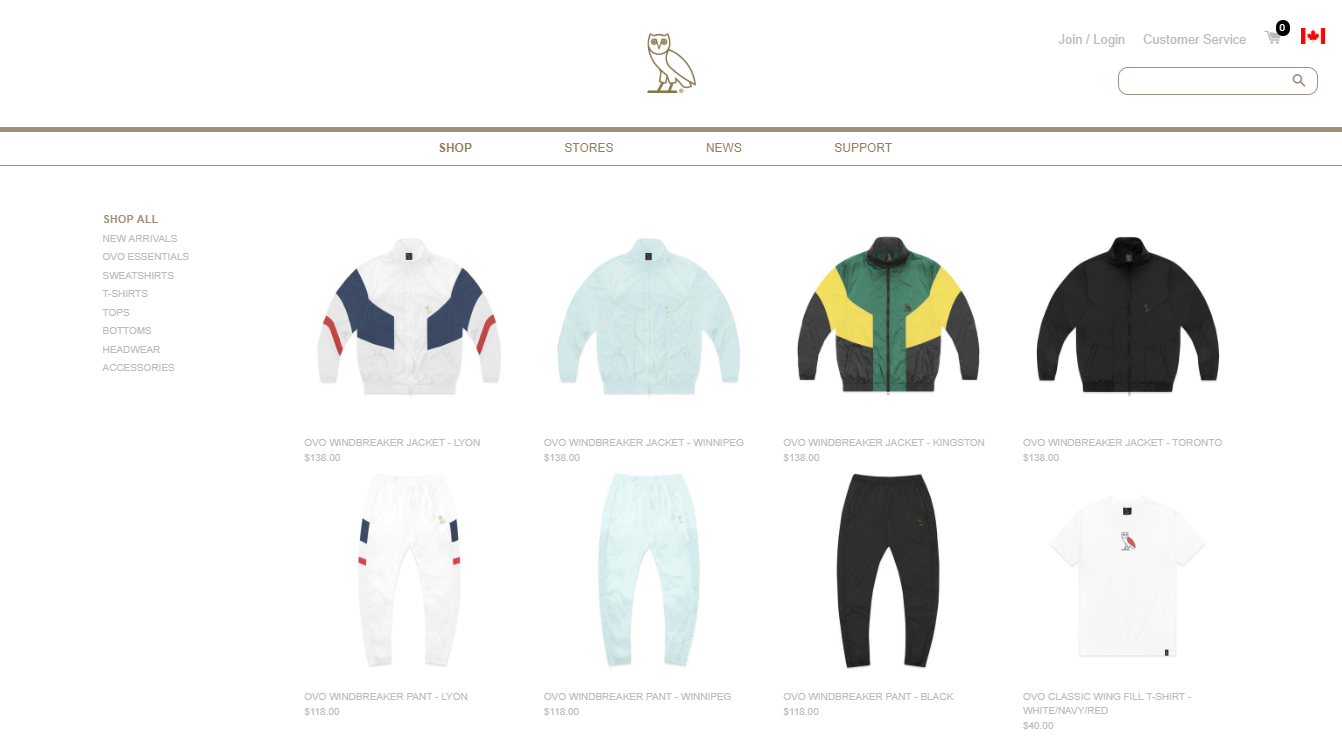 [Source]
The fact that the OVO brand is thriving isn't just because of Drake's name and social influence. Almost everything he does is tied to Toronto — he built a local community of followers who want to be associated with him and his brand.
More than any other artist before him, he's put Toronto on the world stage and made it cool to be Canadian. The people who buy Drake's products and follow his music and the community on social media are the driving forces behind the brand's growth.
OVO has grown through distinct branding that people are receptive to. The gold-and-black brand style is striking compared with similar high-end clothing brands that use more color.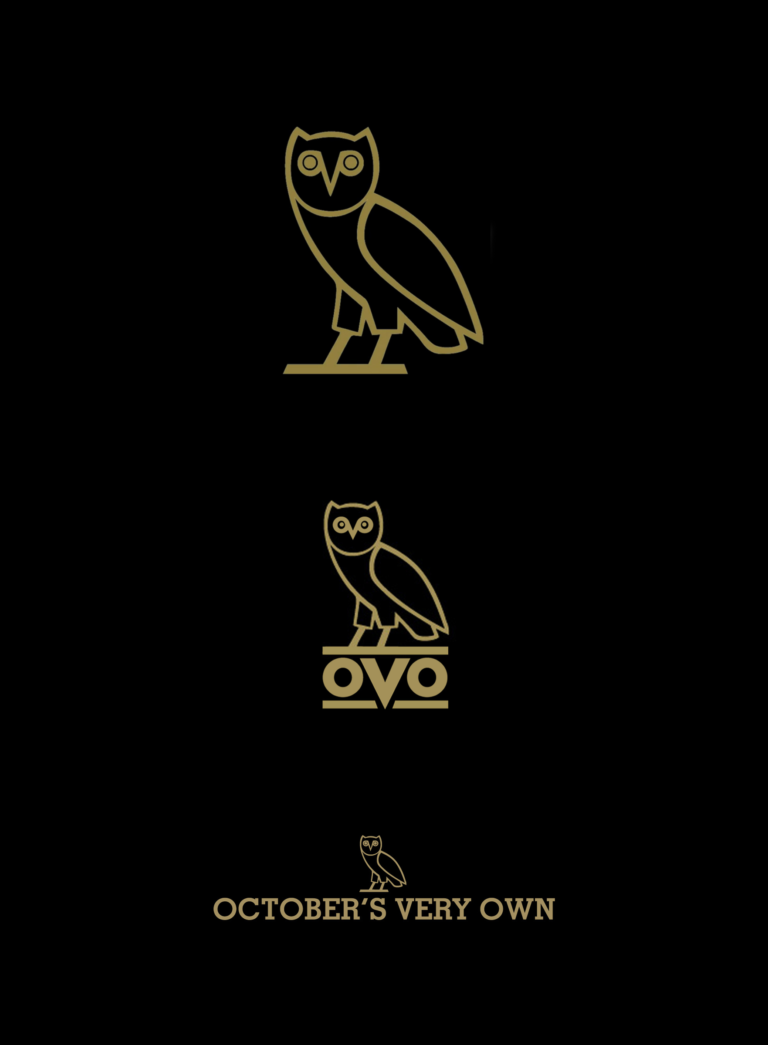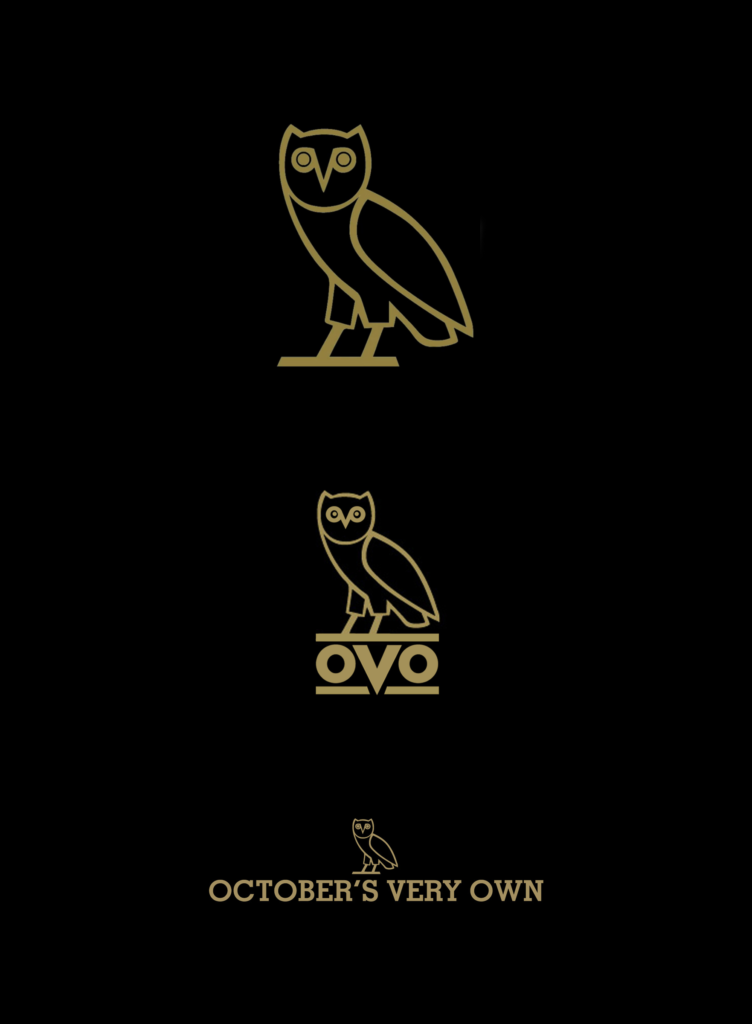 Drake has also positioned his brand as a lifestyle that his followers identify with and want to be a part of. It's not only about getting customers to buy great products; it's also about getting them to aspire to and enjoy a certain lifestyle.
Key Takeaway
The success of the OVO store — in addition to the online store that uses Shopify's platform, there are now a handful of brick-and-mortar stores — shows that you can start small and local. The key here is to build a relationship with your core audience. As customer loyalty grows, show them your appreciation so that they become advocates. Talk about your customers, and remind them that you value them. They'll be willing to share your product with their network of friends and family, and you'll see sustained growth.
Kylie Cosmetics by Kylie Jenner
As a family that has made a name for themselves through multiple business ventures, it's easy to think that having the Jenner name and an association with the Kardashians would be enough to propel 20-year-old Kylie Jenner to near-billionaire status. While her name and family may have given her a platform to market her business, Kylie Cosmetics has grown because, at it turns out, lip kits and makeup advice are exactly what her target audience wants right now.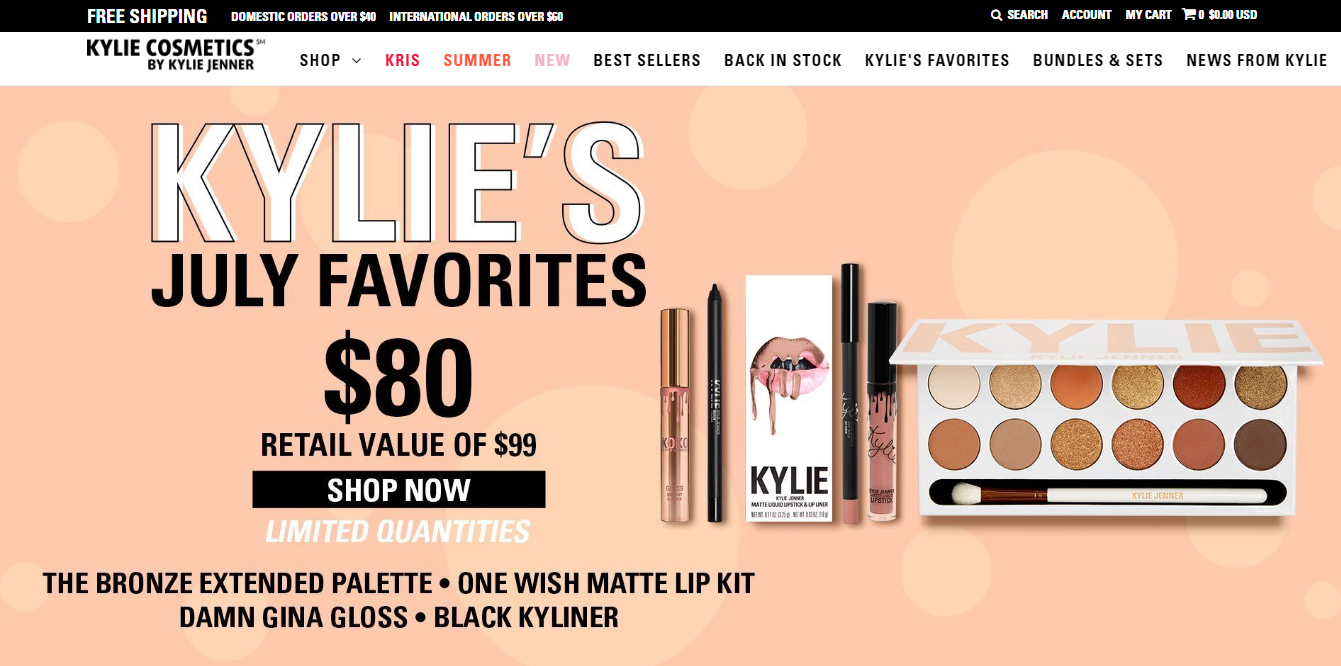 [Source]
Founded in 2015 as Kylie Lip Kits, Kylie Cosmetics began its foray into the beauty industry by selling kits that included a lipstick and a matching lip liner. The kits have been wildly successful, with the first release of kits selling out almost immediately.
In December 2015, just one month after the lip kits launched, sales moved to Shopify's ecommerce platform. Since this upgrade, Kylie Cosmetics has gone on to earn over $630 million in revenue — in just three short years. This includes about $330 million in 2017 alone.
This represents only a 7% growth between 2016 and 2017 — revenue was approximately $307 million in 2017. Additional products have been added to the line and now, customers can also buy other cosmetics, like concealer and eye shadow.
Key Takeaway
Much of the brand's success is due to Kylie's social media influence. Her strategy consists of almost-constant posts on Instagram and Snapchat that show her using her product and teasing new product updates. You don't have to have millions of followers like she does, but make sure you're sharing regularly on social media and reminding your followers about what you offer. You want to get them excited and curious about what's coming next.
What you can learn from celebrity businesses
Being an A-list celebrity is only the first step in achieving business success. All of these celebrity businesses use different strategies to promote their products, but at the core of it all is the fact that they've all built communities of loyal followers.
These communities have given these businesses a solid foundation to build on. This way, each company is free to experiment with how they interact with their following and use this connection to grow their companies.
Remember, you don't need millions of followers. Treat your community right, and manage the relationship with care. Your community will be thankful and will want to share your business with their networks. That's how you grow your business.