Driving conversions falls at the intersection of development, design, and marketing.
This convergence is tricky. Picture this: You work hard to make the interface of your e-commerce site slick and responsive and to simplify the buying process. But for reasons outside your control, after lots of activity, the only thing you hear from some of your customers is crickets.
But you can win them back! Anything from sending customer surveys to funnel analysis to analyzing metrics will give you some clues about how to get people to return and finally go through with checkout. But there's something even more simple that will help you move the needle. It's your reengagement email design.
It's one thing to send a generic email asking customers to come back. It's an entirely different ballgame when your emails are insightful, personalized and designed to get customers to take action. This reminds them of why they fell in love with your product in the first place.
Throw standard designs out and build something that demonstrates how well you understand your customers' needs. Show that you've thought through how to make the customer experience easy for them.
Let's look at how to get started designing reengagement emails that inspire customers to follow through.
Create personalized messages for lapsed customers
A lot of work goes into creating and curating great products, designing your website, and producing thoughtful marketing campaigns that are tailored specifically to your customers. That's why it's so frustrating when potential customers don't actually follow through to checkout, or when engaged customers suddenly stop making purchases. But by identifying those who ghosted you and creating a system to reach out to them again in a personal way, you have another chance to turn them into customers once more.
Let's say you launch a new product line. In the first few weeks, customers flock to your website to learn more about the products and what they offer. They sign up for the newsletter, buy a few items and leave reviews. Then after a few more weeks, nothing. They stop coming back to your site or they stop buying things. They're lapsed. Here's what their customer journey looks like: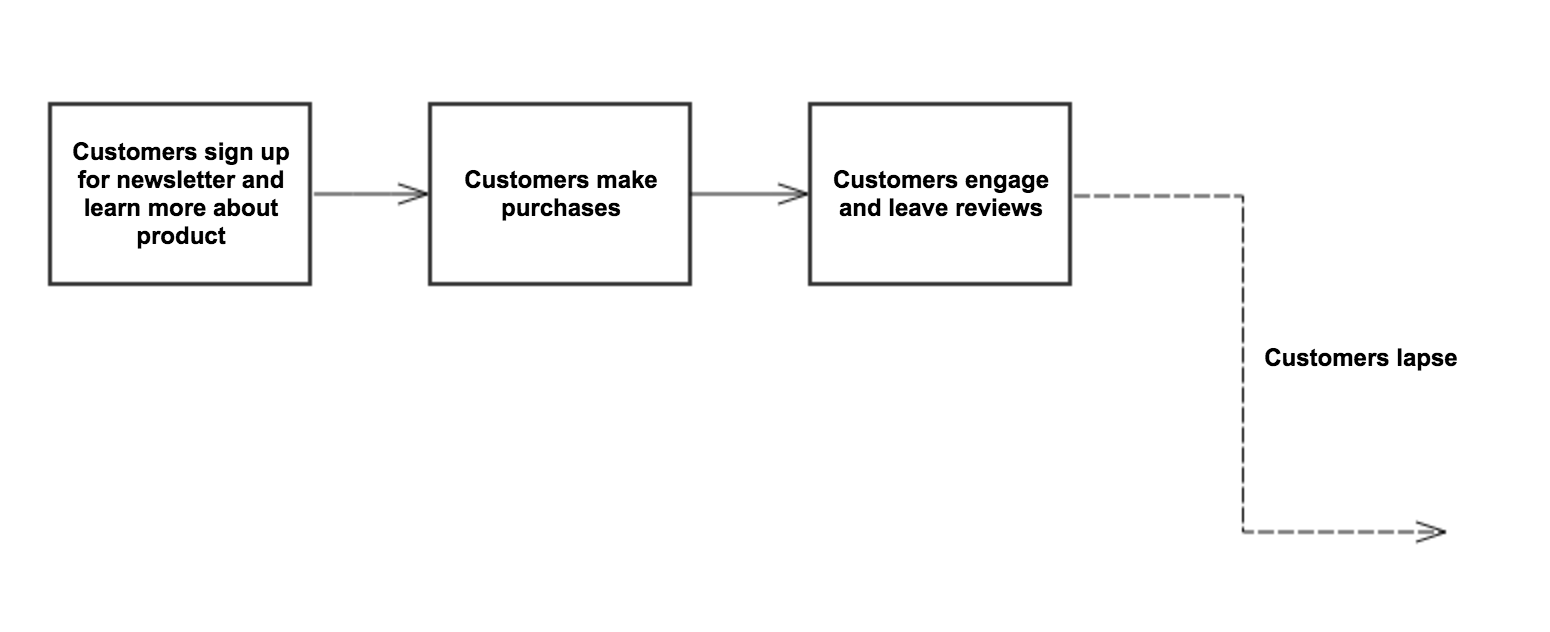 But there's still hope to revive the interaction. There's still a chance to win them back and re-activate them with the right motivation. They're a little bit like new customers in that you have to market to them all over again. But the difference is that lapsed customers have already had some exposure to your products. They're your low-hanging fruit, so re-engaging is "easier" than attracting.
For customers like these, who "drop out of a segment," bring them back by designing personalized emails based on customer journey mapping. You can set these up by creating automated emails triggered by actions in a customer journey—like when, for example, a potential customer hasn't visited the site in three months. These emails can generate 320% more revenue than standard promotional emails. That's a major boost to profitability from lapsed customers.
To re-engage lapsed customers before they become immune to your efforts, meaning nothing you do will ever make them come back, use an email campaign tool to:
Set up the rules that decide what will trigger automated emails.
Automatically send reengagement emails that encourage customers to come back and buy something.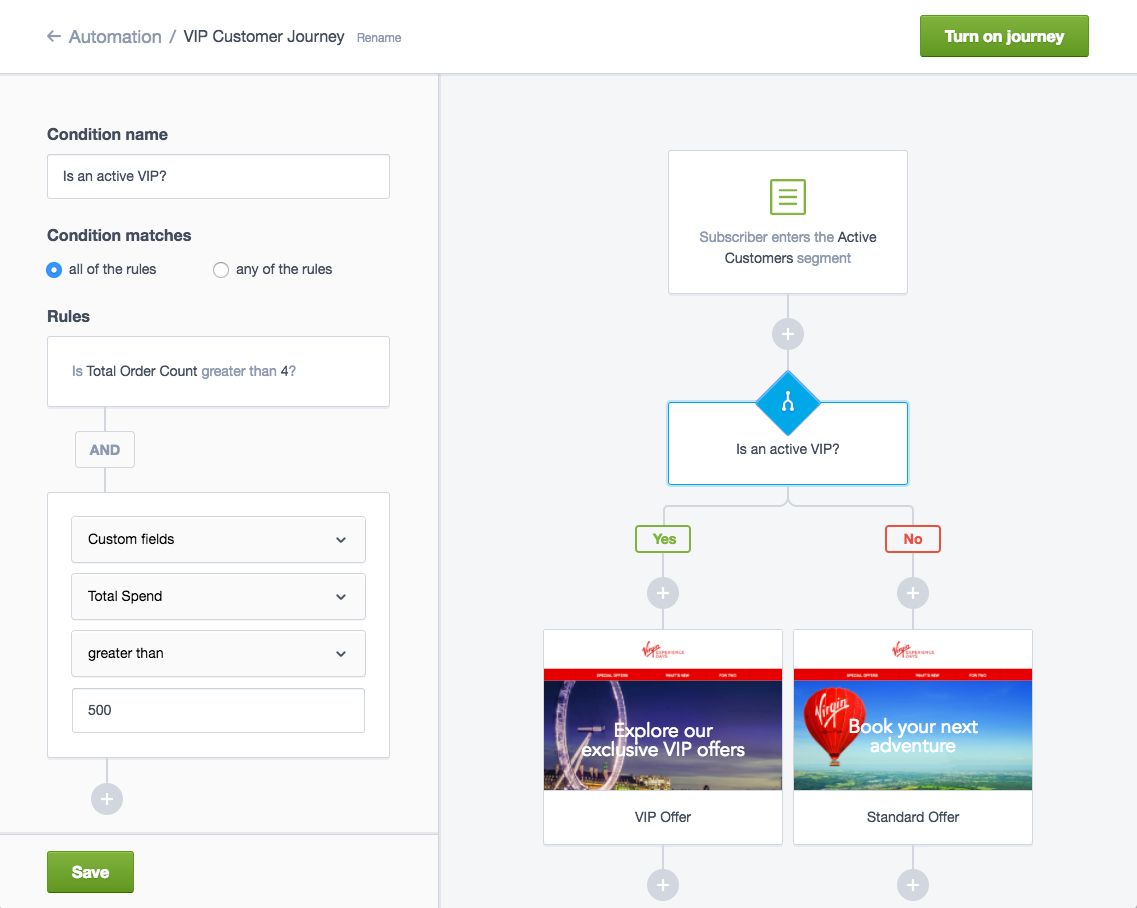 In this example, we explored using Campaign Monitor to set up these automated customer journey triggers because you can set up default designs within the automated emails. You can make these different designs specific to different customer segments.
Let's say you're a subscription service that relies on monthly customer purchases. If a customer signed up for three months of deliveries and then put their subscription on hold for six months, the condition to trigger a specific email might be whether they were a premium or regular customer.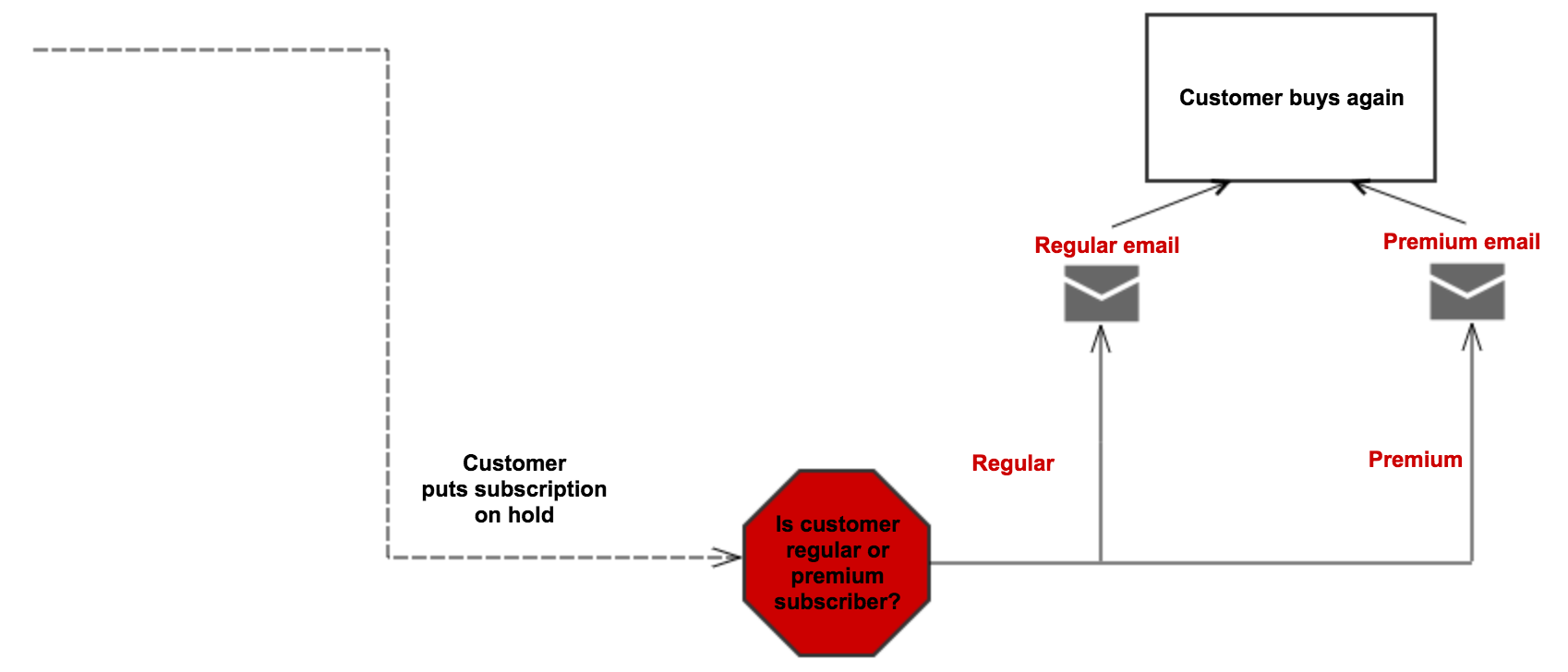 For premium customers, you could create email design and copy to speak to the benefits they can enjoy. The email to regular customers will be offering a value deal for returning.
Look at how Adidas used customer journeys to design their apparel campaign:

The condition differentiating the email segments was subscriber gender. The obvious differences are the spokespeople for each and the colors used.
The goal is to personalize the design and speak to the needs of each kind of customer. It gets them interested in something relevant to them. A targeted ad means customers are more likely to re-engage. This is great because a 5% increase in retention can boost profits by a whopping 75%.
Trigger emails for different segments of lapsed customers aren't the only way to re-engage customers. You can get even more personal and more helpful.

Use data to personalize your offers
To create reengagement emails that inspire users to come back to their checkout cart, it's helpful to use data. The more aligned emails are with customer preferences, the more engaged they'll be.
For example, if a customer stops buying, include a snapshot of purchases they've made in the past. Help them remember your value so they convert from lapsed to active.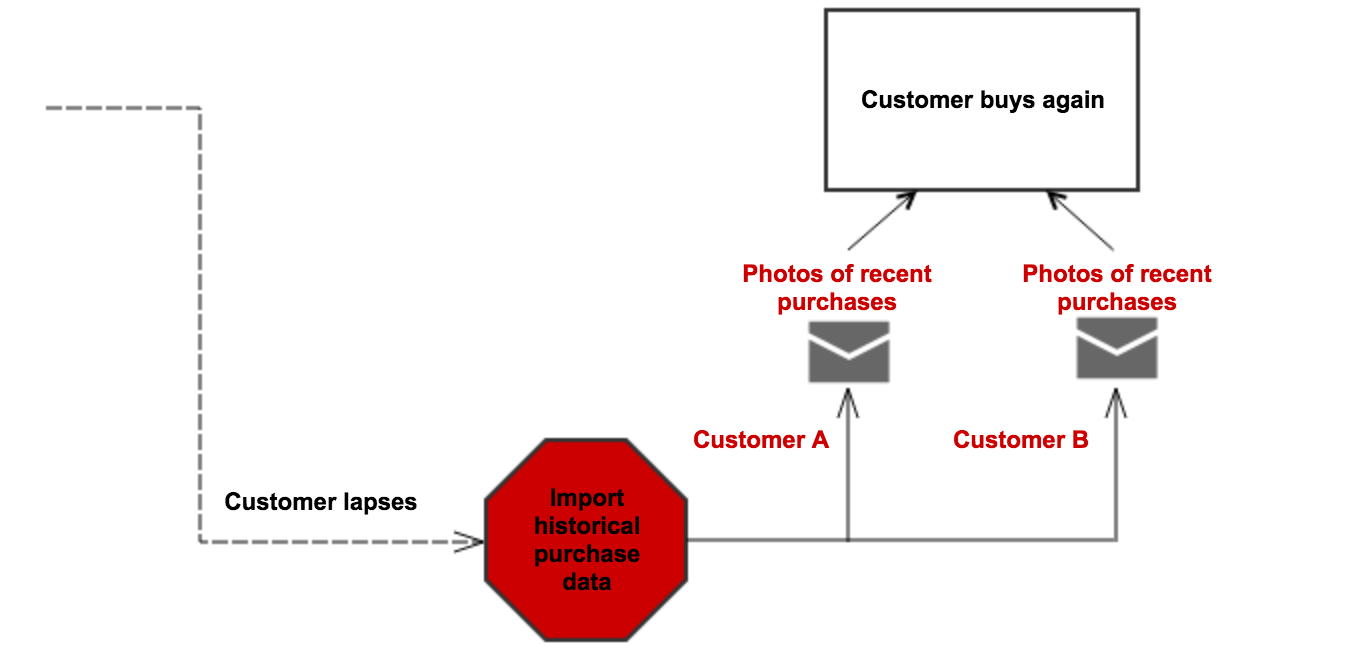 Email opt-in forms are popular on lots of sites for brand new visitors. While they're a good way to collect lots of customer data, they interrupt the user's browsing experience and might actually defer conversion.
Instead, integrate your email campaign account with other tools like Salesforce and Shopify to import data, like historical purchases. Every email is unique, which helps reengagement because it treats customers as individuals.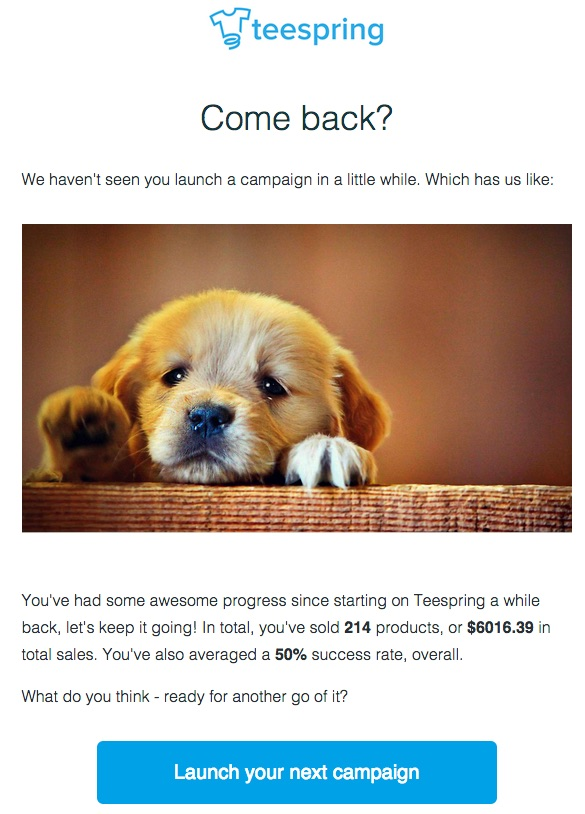 [Source]
The design in this Teespring email is simple. It has a catchy header and cute picture. They've taken a simple copy template and plugged in details for the customer to see. It's a great approach because it gives the customer something to think about. Perhaps they've made more progress than they thought and this is just what they needed to see to jump back in and get engaged again.
At the bottom of the email is a large call-to-action (CTA) button that likely takes the customer to the campaign page on the website. This enhances the user's experience. The easier you make it for your customers to do something — especially lapsed customers — the more likely they are to follow through and convert.

The next step in creating reengagement emails is to optimize the most important real estate in your emails, like subject lines and headers, to inspire customers.
Build a content strategy to complement design
To win back lapsed customers who haven't done anything in a few months, your copy is an opportunity to excite them and get them interested in you again. You only have a few seconds of their attention, so make the most of it. Get creative with your content and accompanying graphics.
The content should be focused on a specific message so that it's clear to lapsed customers what they can do next. This increases the chances of them re-engaging.
Try this two-step reengagement strategy that combines your email subject line and the email header. These are the first two things customers see when they get your email.
First, use a subject line that gets customers to stop and open the email. You can A/B test within your email tool to find the version with the most potential for opens. Go with phrases like "We Miss You" or "We Haven't' Seen You in a While" or "We Have An Offer For You" to get their attention.
Next, carry this message through to the email header so that customers are drawn in and want to read more. You set the stage with the subject line, and drive home the point with the header and body.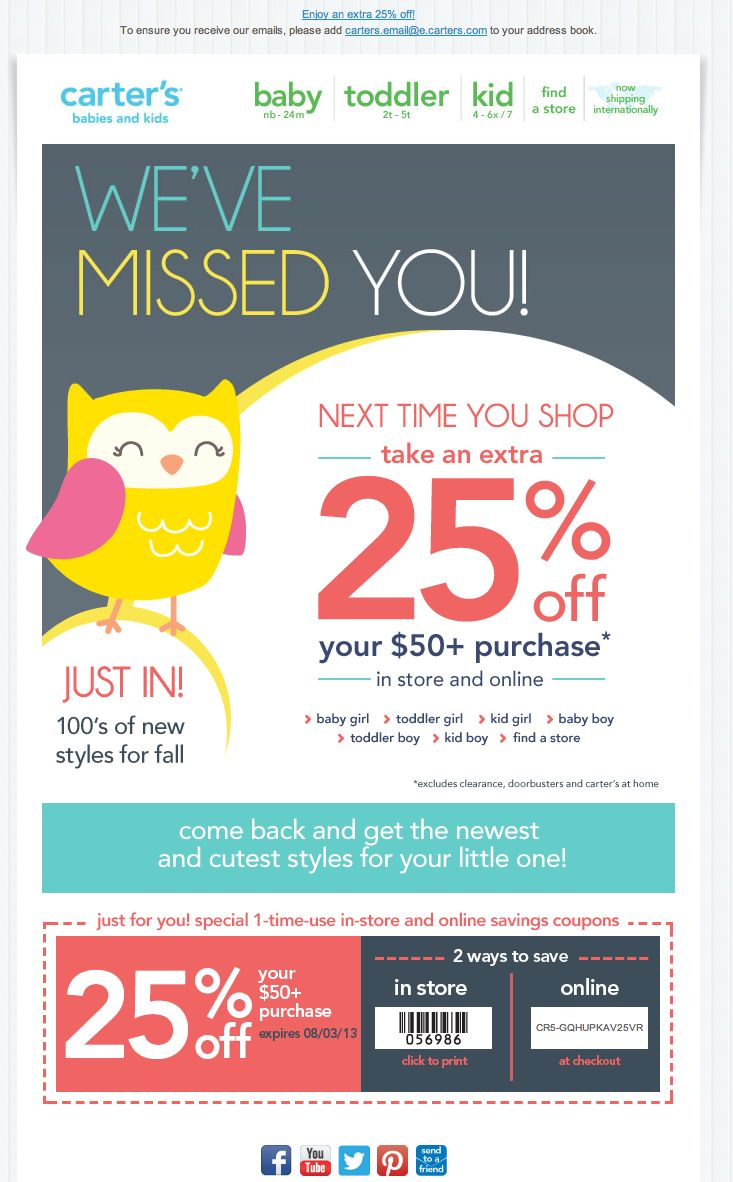 [Source]
When you look at this email from Carter's, it's clear that the header and the offer stand out the most. They're large and the color choices draw the eye. There's other information in the email to explain the offer and the benefits of shopping at Carter's, but they don't distract from the two main pieces of content. Emails like these are effective because they capitalize on the most important real estate of the reengagement email.
Design to drive reengagement
Here's the thing about lapsed customers: they're still customers. They're potentially some of your best customers, too—it costs five times more to attract and onboard completely new leads than to keep current customers happy.
It's in your best interest to revive the relationship. Find out what slowed their engagement, and design a personalized campaign to show them you get it and want to help them. Get creative with your design and create something eye-catching and informative.
It'll pay off in the end when you win those customers back.