If you're in the business of ecommerce, you know that consumer habits are constantly evolving over time. Each year, people who buy products online behave a little bit differently from the year before. They expect something different or more from the businesses they buy from, they rely on new people or sources to help them make the right purchasing decisions, and they buy products in ways that they haven't before.
As a business owner, it's your job to understand how your customers approach buying products online. To continue sustaining and growing your business this year, you need to know what ultimately stops or persuades your target audience from buying from you, and you need to know what actions to scale what is working and remedy what isn't.
Here's how consumer habits are evolving in 2018, and what you can do about it as an ecommerce business owner:
1. Consumers watch more video.
Consumers are noticing and watching videos from brands this year more than ever before. As social media algorithms change and it becomes increasingly difficult for brands to reach their intended audiences organically, business owners are investing in new forms of content in an effort to stand out.
Consider the following statistics from Wordstream:
45% of people watch more than an hour of Facebook or YouTube videos a week (WordStream).
More than 500 million hours of videos are watched on YouTube each day (WordStream).
Over 500 million people are watching video on Facebook every day (WordStream).
Video posts on Facebook have 135% greater organic reach than photo posts (Social Media Today).
Prospects that view videos of a product are 85% more likely to buy (Vidyard).
Tweets with videos are six times more likely to be retweeted than tweets with photos, and three times more likely to be retweeted than tweets with GIFs (Hootsuite).
From these statistics and countless examples that can be found of ecommerce brands creating and sharing videos with their audiences, it's clear that video is something you should be investing more time, money, and energy into this year.
What You Can Do About It
So you want to invest in more video? Here's how to get started:
Step 1: Read through these blog posts:
Step 2: Hire a freelancer, video consultant, or internal employee who can help you create videos going forward. Alternatively, you could start with a much more lean approach and just start creating videos for your audience using your smartphone (this guide can help).
Step 3: Brainstorm video ideas. Think about why you want to create more videos for your audience. What is your goal? Do you want to educate? Entertain? Build authority or community? Feature your products? Drive traffic and conversions to your website? The type of video you create will ultimately depend on your goals. If you want to help your prospective customers overcome any objections they might have, for example, you might start by creating more product demo videos. If you're trying to connect with your audience on a personal level and convince them that you're different than your competitors, you might focus more on creating videos that tell stories about your customers, your business, or your team.
As you work to create more videos for your audience this year, don't be afraid to test a lot of ideas. It may take you a bit of time before you land on something that your audience really responds positively to. Don't give up, and don't forget to be creative!

2. Consumers crave community and purpose.
Online consumers don't just look for good products anymore—they look for good companies. I've mentioned it more than once on this blog before, but in order to connect with buyers in 2018, you can't just focus on marketing the features or uniqueness of the products you sell. Instead, you need to focus on selling prospective customers on specific experiences, movements, and missions that matter to them.
Let's look at a few examples:
TOMS Shoes is probably the most famous example of social entrepreneurship in ecommerce. They essentially coined the "One for One" business model that has been increasing in popularity over the past decade: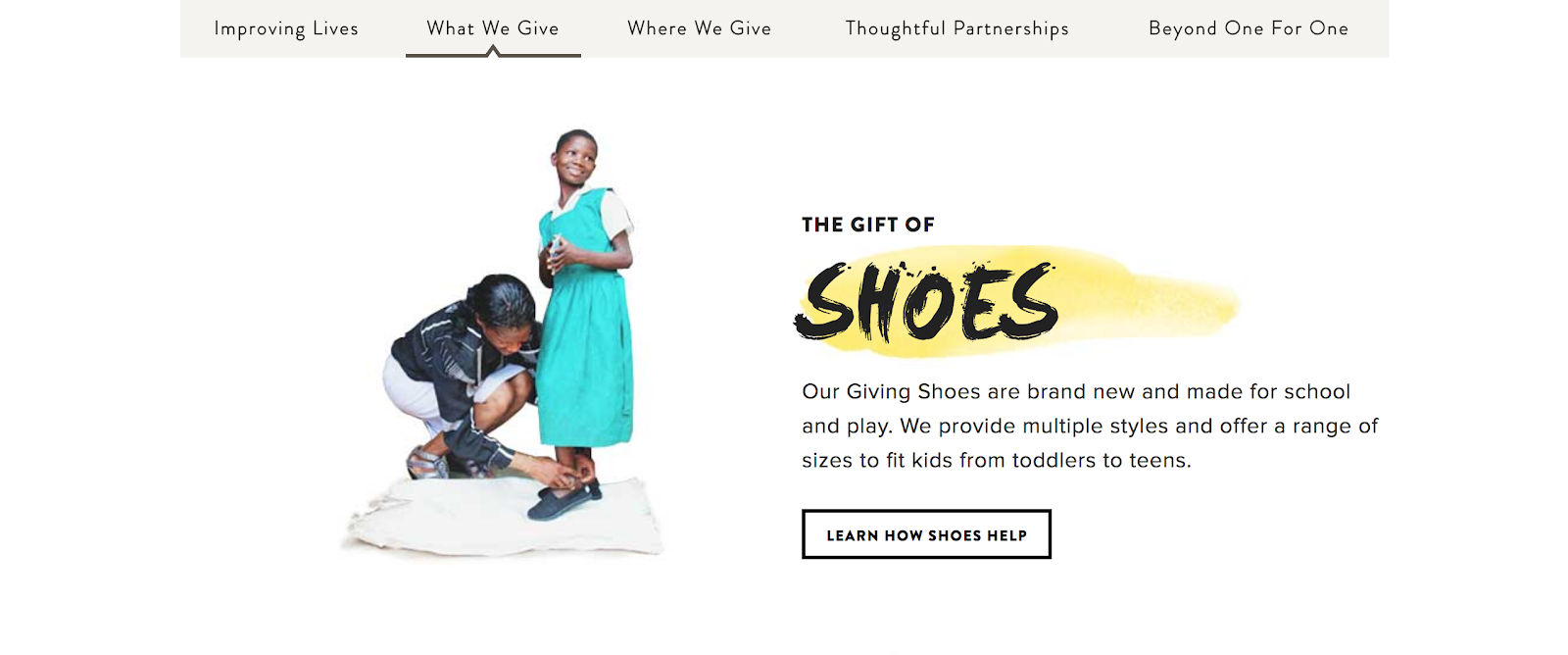 Wildbird offers a private Facebook group to customers who are interested in connecting with and talking with other mommas around the country: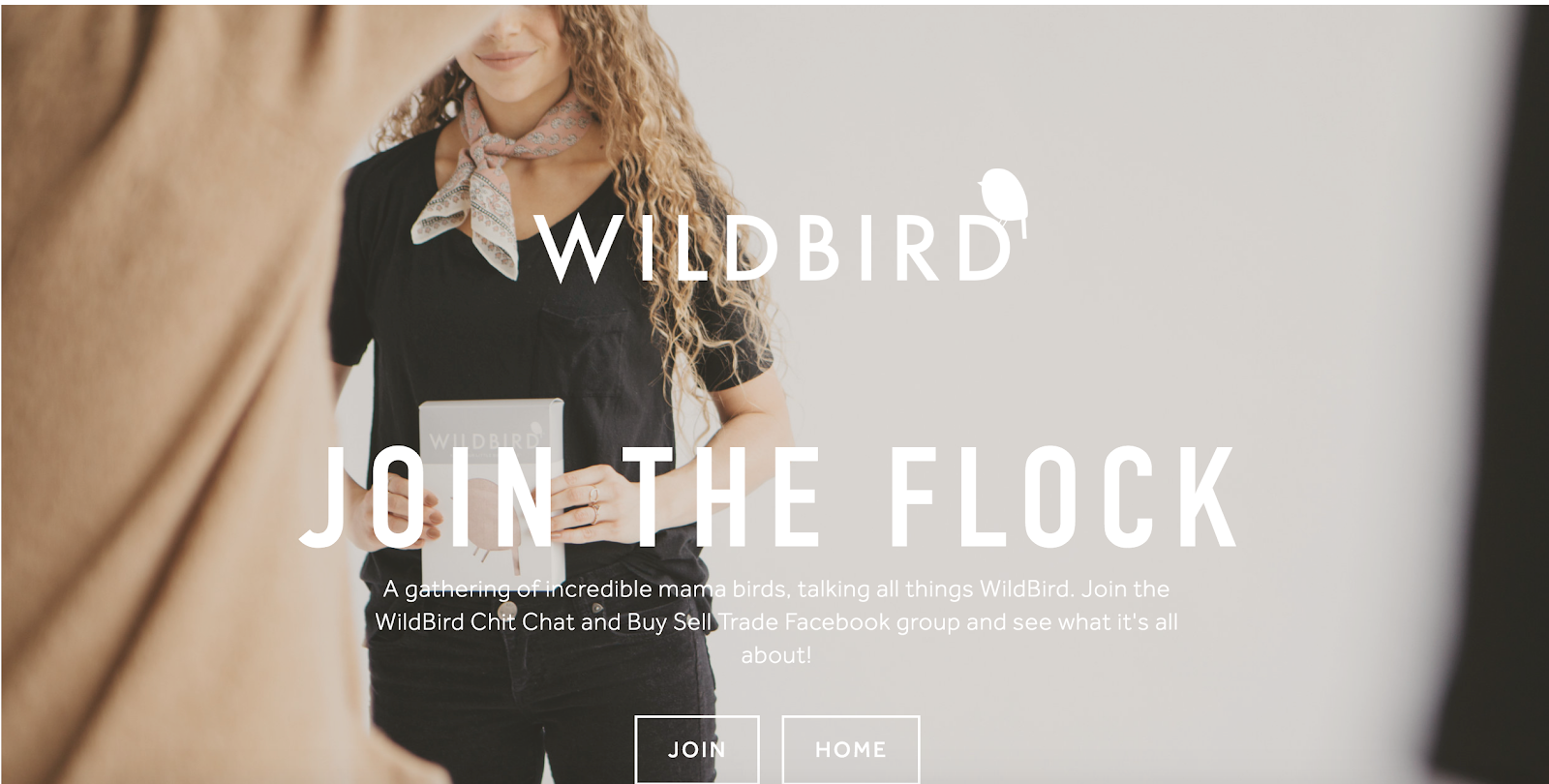 Chacos encourages customers to share photos of their travels. It's a great way to leverage user-generated content, and mobilize a group of people who have like-minded interests and passions in life: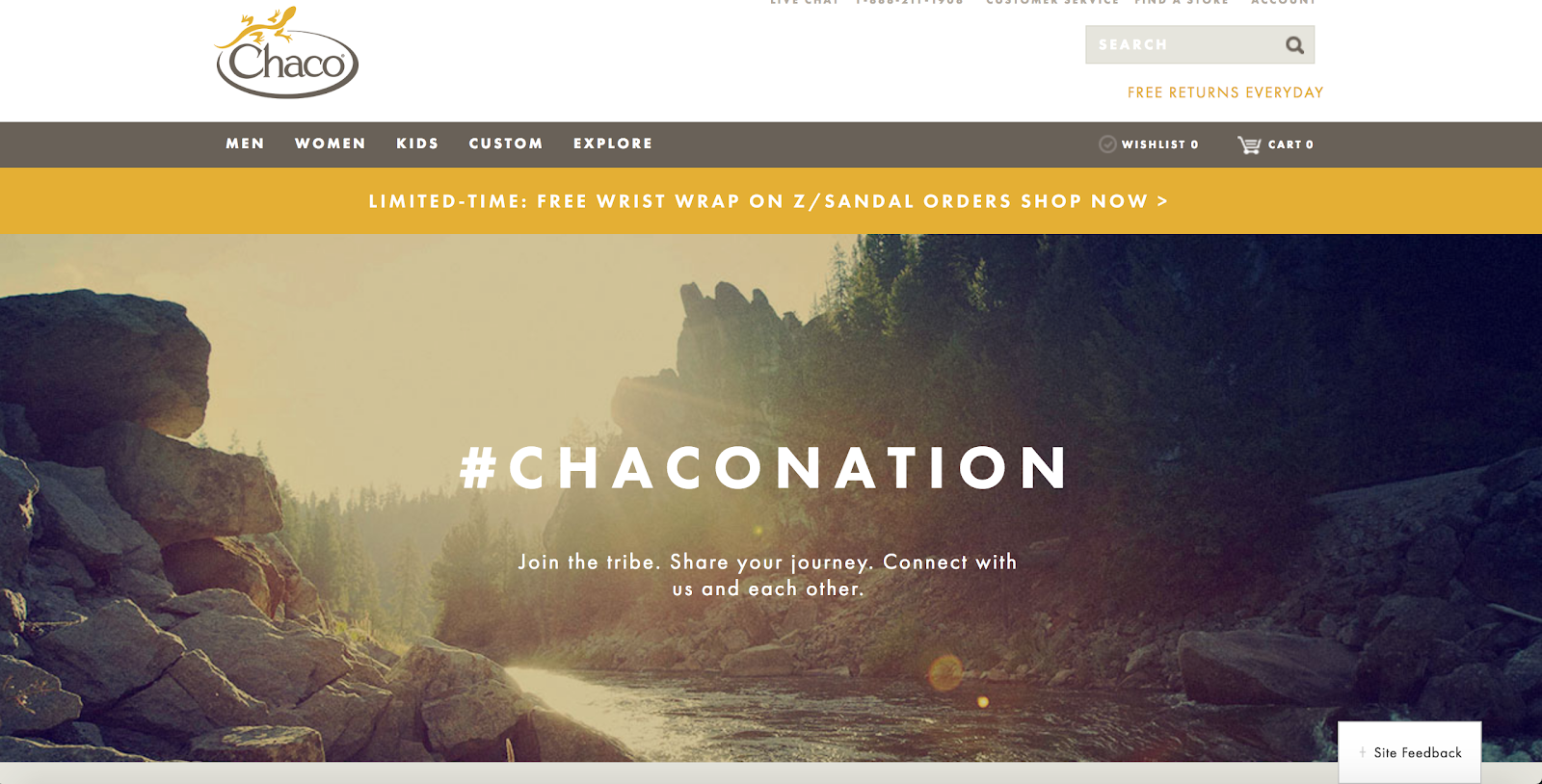 Love Your Melon has a fund that they use to support nonprofit partners, create therapeutic experiences and fund charitable programming initiatives for children battling cancer: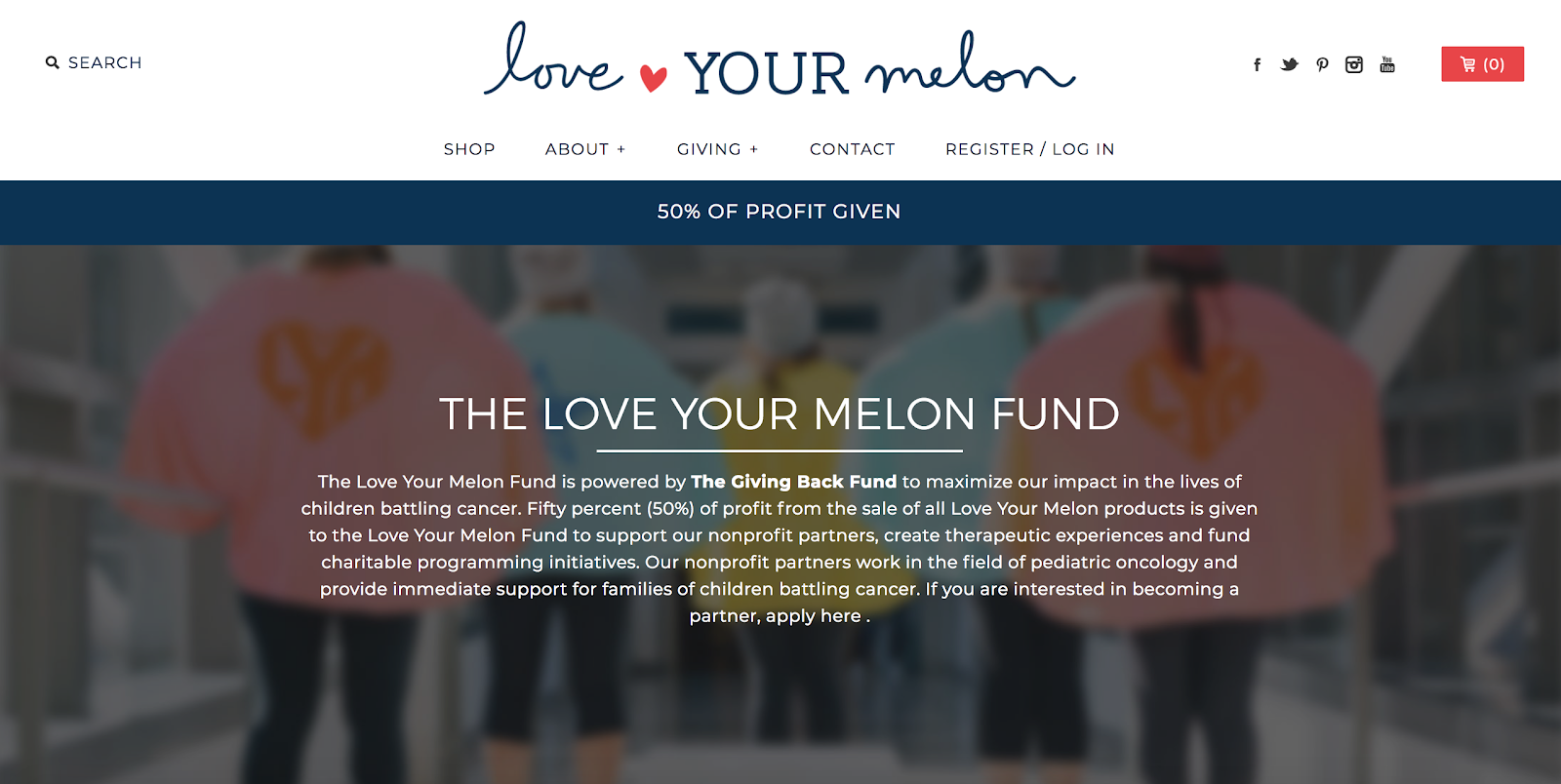 What You Can Do About It
Want to add more meaning and purpose to your ecommerce business? Here's how to get started:
Step 1: Think about the 'why' behind your business and products. What problem are you ultimately trying to solve. Next, think about the shared experiences your customers likely have, whether they relate to your product directly or not. For example, are they all mothers? Do they all seek more adventures? Are they fitness enthusiasts? Find the ONE theme that can connect everyone together.
Step 2: Brand the movement you're trying to support. Chacos uses #ChacoNation and Join the Tribe, Wildbird uses Join the Flock, TOMS uses Every Purchase Has a Purpose. Think of what language or phrase you can use consistently throughout marketing material to help your audience understand what community you're inviting them to join, and what cause, mission, or purpose they'll be supporting when they buy products from you.
Step 3: Decide if you want to support a cause financially right away, or if you'd rather focus on building the community first. Both options are fine. You can find both in the examples above. It's great if you are in a position to support a nonprofit or cause, but if you're not there yet, don't worry about it. There is still great value in creating and supporting a community for your customers to join and participate in.
The goal here is to ultimately show your audience that you're not just marketing to them for a quick buck—instead, you want your audience to believe that you genuinely care about people and are willing to do what it takes to make the world a better place.

3. Consumers want more transparency.
Despite how popular online shopping has become over the past decade, consumers still have hesitations and concerns about buying products online. They worry that the products they buy won't reflect what they saw online, they worry about sharing their personal and financial information with companies they aren't familiar with, and they worry about not being able to easily return products if they don't meet expectations.
As an ecommerce business owner, it's your job to start building trust with the people from the minute they become aware of your brand and products for the very first time. You need to help people feel confident that they're making the right decision by buying your products, and you need to manage expectations throughout the entire customer journey—from discovery to deliver and beyond.
Put plainly, online consumers today don't like being surprised. They want more transparency than ever from the brands and website they're buying products from.
What You Can Do About It
Want to start building more trust with your audience? It's all about investing in transparency. Here are a few steps for getting started:
Step 1: Provide real-time communication. Now more than ever before, you have to be willing to communicate with your prospective customers in real-time. In the past, you might have been able to get away with never interacting with customers in the same way that traditional brick-and-mortar retail business owners do, but that's just not the case anymore. Today, there are more tools than ever that make it possible for you to have real-time conversations with your audience, no matter where they are in the world. Use these tools to answer questions, nurture relationships with prospective customers, and overcome objections. Recommended tools: Intercom, Facebook Messenger, Google Hangouts.
Step 2: Make your policies known. Make it easy for your website visitors to find your shipping policy, returns and exchanges policy, and any other policies that they might want or need to know about before deciding whether or not to purchase a product from you. The best way to do this is to include links to policies in the footer section of your website, and on shopping part pages.
Step 3: Use content to alleviate fear throughout the entire buyer journey. Use testimonials, videos, trust badges, and language to help remind prospective customers at every turn that they are not taking on risk by purchasing a product from you. Help them understand how other people felt when they ordered and received your products, how you keep their information secure and private, and how they can communicate with you at any time if they have questions or need help.
The time of hiding behind your website is over. In order to continue growing your ecommerce business in the year ahead, you need to be accessible, helpful, truthful, and always willing to communicate.
4. Consumers respond to personalization.
To sell more products in 2018, you need to invest in personalization. Consider the facts:
88% of consumers say they're more likely to shop with retailers that deliver personalized and connected cross-channel experiences (Optimizely).
Personalized emails deliver 6x higher transaction rates (Campaign Monitor).
75% of consumers are more likely to buy from a retailer that recognizes them by name, recommends options based on past purchases, OR knows their purchase history (Accenture).
In previous years, personalization may have seemed out of reach or not possible for small shops, but the tools are much easier to use and much more affordable today than they've ever been.
Consumers want to feel like you care about them. In addition, they don't have a lot of time, so they expect seamless and optimized shopping experiences from the ecommerce shops they buy products from.
As an ecommerce business owner, it's your job to provide them with an experience that they're not going to be able to get from any of your competitors.
What You Can Do About It
Want to add more personalization to your ecommerce business? Here's how to get started:
Step 1: Read through these resources:
Step 2: Pick your tool. You can start by personalizing your email campaigns using the email automation tool you're already using, or you can go all in and start investing in a tool like Optimizely. What you end up doing first will ultimately depend on how much time you have to spend on personalization.
Step 3: Test and test often. The key to using personalization to drive conversions is to constantly be testing new personalization ideas and pulling actionable learnings from your efforts. Not sure what kind of tests to run? Dig into the resources shared in step 1—they present a handful of great ideas that you can start with.
Personalization might seem like a complicated or tech-heavy concept, but it's actually relatively simple and the tools being introduced today are making it easier than ever. It's up to you to give it a try!
Over to You
What else are you doing differently in 2018 to meet the evolving needs and demands of your customers? Tell me in the comments below.