Let's face it, the ability to return an item is a very important part of shopping today – and it is a courtesy service that is expected of all retailers, online or off. How likely are you to buy something if you know that the sale is final (excluding clearance items, of course)?
A return policy is a safety net for customers. If your product does what it is supposed to do, 9 out of 10 people won't return it, but just knowing that they can return is a big plus in driving conversions.
Return policies – whether you actually process a lot of returns or not – are a big part of customer service. Sometimes a change on your store as simple as prominently displaying your policies makes a difference.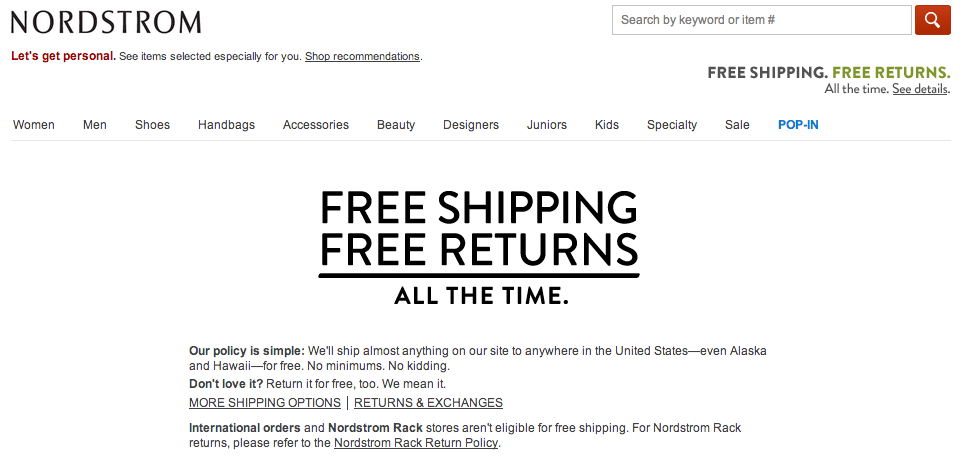 So how are we supposed to craft a decent return policy that strikes a balance between burning us (too loose) and driving away customers (too tight)?
Let's have a look at return policies for some of the biggest names in online retail.
Amazon
Amazon's return policy is 100% customer-first. Their policy is pretty straightforward – you can return most items as long as they are in an unopened, resalable condition. Even if you did open it, as long as you pack it up again like new and the product doesn't show any wear and tear, they'll probably take it back.
If you are a marketplace seller on Amazon, you can set your own terms – but some sneaky customers might decide to go around those terms and file an A-Z guarantee claim. These claims are almost certainly adjudicated in their favor and never yours. This is just a part of doing business on Amazon.

Zappos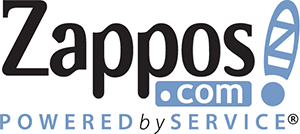 One of the biggest reasons Zappos became so successful was their fantastic customer service. Zappos offers a 365-day return policy and provides free shipping both ways. They do stipulate however that the product must be in its original packaging and in the same condition.
If you read through their policy, you'll come across something really interesting and amusing: their policy states that if you buy something on a leap year (say February 29, 2012), you'd have four whole years to return the product – all the way till February 29, 2016!
Read between the lines
Such an outrageous return policy is a play on human psychology. No one is actually going to return a product after four years – but just the fact that Zappos shows how far they are willing to go sends a very powerful and resounding message to a customer.
This is especially important since Zappos is selling shoes! I for one could never buy shoes online until Zappos. Even when I buy shoes from a store, I have to try 2 or 3 sizes in each style before I find a good fit! If I had to pay return shipping on every pair I sent back (usually because of a poor fit), I'd never buy shoes online.
Zappos' return policy is crafted around mitigating these customer fears – their policy is tailored to their product.
Your return policy should be similarly crafted. You don't have to offer a 365-day return policy like Zappos does – your policy is best when it's suited to the product you sell. For example, it's very possible that you don't wear a new pair of shoes right away, possibly even for weeks.
But a phone? You'd start using it right away – so a 30-day policy is fine for something like that. Besides, if you waited a whole year before you used your new phone, there would probably be a new one out already!
Prevent returns before they happen
Good communication with your customer is essential to prevent returns from happening at all. The first level of communication is your product photo and description. Make sure that your customer knows exactly what they are getting!
By providing detailed descriptions, high-quality pictures, and even videos of the product, you can avoid having disappointed customers that expected one thing and received something totally different.
If your product is technical in nature, or tricky to use, make sure that your customer is using it correctly before you accept a return!
A good way to get around this is to have a series of videos that you can automatically send to your customer one or two days after they order. In these videos, you explain how to set up the product and how to use it correctly.
This way, you don't have to spend hours and hours handling customer service, and you can also cut back on potential returns.
Craft your own return policy
Unless you happen to be selling to lawyers, write your return policies in plain, easy-to-understand language!
The fewer words you write, the better. No one is going to sit and read a return policy that could have passed as an academic paper. Usually, returns are two scenarios – and your entire return policy should just cover how you handle those two types of returns.
Scenario 1: The product is defective/damaged. This kind of return is considered to be our (the merchant's) fault, so good customer service would dictate that we pay for return shipping and sending a replacement or refunding their purchase.
Scenario 2: Everything else: If the customer didn't like what they received, or changed their mind, or just didn't feel like keeping the item, you can ask them to pay return shipping, or even charge a restocking fee, depending on the nature of the product. If you can manage to do it for free and write it off, that's even better.
Now that your return terms are out of the way, next come your return instructions. It's good practice to have a returns system built into your shopping cart – and hosted carts like Bigcommerce and Shopify do have features where a customer can login and request a return.
If you have a more customized solution, you can even let your customer print return labels from the store itself – even choosing the reason for their return.
You would then be automatically notified of the return, and once you receive it, you can decide what to do with it – if the customer's claim is genuine or not.
Remember to tailor your return policy to your potential audience. If your customers are tight on cash, they'll probably be more likely to take you up on outrageous return policies. If they are from a higher-income demographic, the chances of that happening are lesser.
Some companies even go one step further by offering 10% extra cash back if the customer is not satisfied with the product – calling it a 110% guarantee. You may have read about something similar in the Four Hour Work Week by Tim Ferriss.
I tried this with one of my stores, and in one year of operation, not a single customer took me up on it. But then again, I was selling a higher-end product, so it was unlikely that would happen.
What to do if you drop ship
If you drop ship, you'll usually have to contact your supplier and get a return authorization from them first before your customer sends the product back. In this case, make sure your return policy states to contact you before sending anything!
Often, a supplier's fulfillment address and the address for their returns facility are different. So you don't want the customer sending the product first – then have to deal with everything with your supplier.
If you drop ship, you'll also have to tailor your return policy to your suppliers. Sometimes, it may be worthwhile to simply take a return back yourself, if you know your supplier will give you trouble over it, and then sell the item on eBay or on Amazon's marketplace. It's better to do this and take a loss rather than refusing a return.
If you get into an argument with your customer and they become disgruntled enough to leave a bad review on BizRate or Reseller Ratings, you'll quickly learn that losing a few dollars on a return is A-OK next to the potential negative impact of the bad rating.
Additional reading
5 Retailers With Great Return Policies
9 Tips On Creating An Ecommerce Return Policy