When it comes to digital marketing we hear a lot about influencer marketing. With billions of users logging onto popular social media platforms every day, you have an unprecedented opportunity to get in front of a larger segment of your target audience than ever before.
But what about affiliate marketing? It's been around for a long time but is not nearly as widely discussed as influencer marketing. Is it still relevant?
The truth is that both influencer and affiliate marketing are powerful ways to educate your target audience and turn them into customers. Not understanding the differences and how each strategy works means you miss out on opportunities to increase your reach and grow your business. You see, it's not about relying on just one strategy all the time but instead figuring out which one meets your current goals and alternating between the strategies.
Let's get into how each strategy works and how to know which one to use — and when — to maximize your exposure and improve your chances of growing a thriving ecommerce business.
How influencer marketing works
Influencer marketing is the process of partnering with influential people in your niche and getting their help to promote your products and services. This form of marketing is one of the quickest, most powerful ways to get brand exposure in a short amount of time. Influencer marketing is personal by nature, so when the influencers have influence over your ideal target audience, their followers are much more likely to take action to find out more about you.
A quick search on social media platforms like Instagram, Facebook and YouTube reveals a large number of influencers who cover a range of markets. With over 3 billion people estimated to use social media by 2021, the potential for brand exposure is enormous.
There are even platforms like Upfluence and NeoReach that match businesses with influencers based on factors like their niche, budget and goals.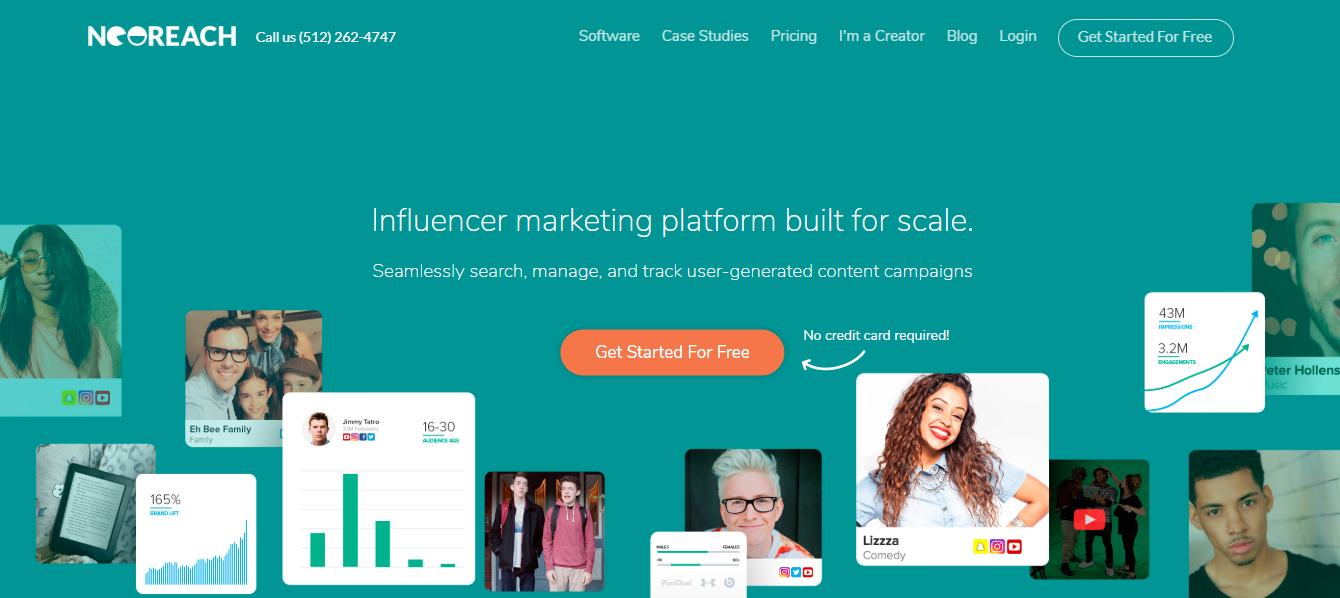 [Source]
To figure out whether your influencer marketing campaign resulted in increased brand exposure, the following tactics are helpful:
Number of new followers. New followers mean the campaign drove traffic back to your social media pages. Check to see if the increase was greater during the campaign compared to other times.
Social media engagement. Check to see if there's an increase in comments, likes, shares, link clicks and your post views. Social media platforms track these metrics and provide analytics that makes it easier for you to see how effective the campaign was.
Website traffic. Successful campaigns drive traffic to specific pages on your website — like your shop page. You can then track which leads went on to buy something.
Lead generation. If you have a lead magnet or signup form available, check to see whether you received more email signups during the campaign.
If these metrics increase during your campaigns, then you know they were a success.

How affiliate marketing works
Affiliate marketing lets you promote your product or service on websites other than your own. When leads see your content on these sites, click on them and buy something, the affiliate — the site your content appears on — receives a small percentage of the sale.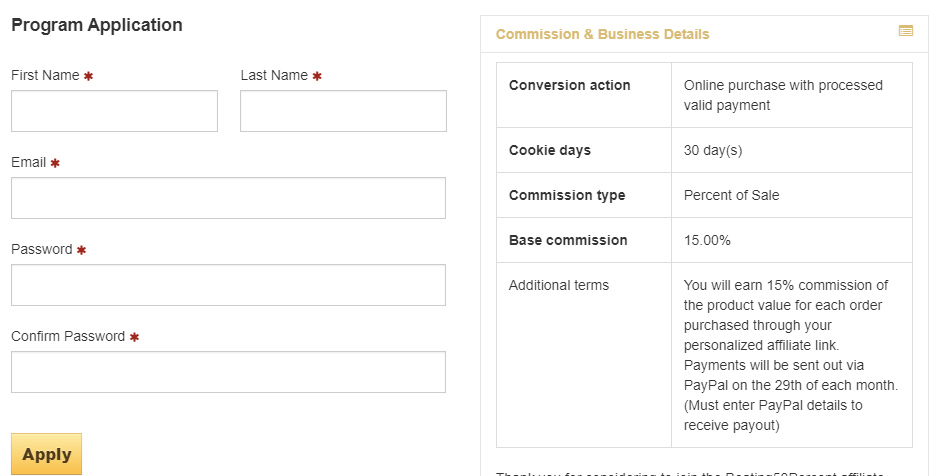 [Source]
Unlike influencer marketing, affiliate marketing relies on building partnerships with established blogs, companies and publishers vs. influential people. The goal of affiliate marketing is to grow revenue by offering your audience special offers, discounts and sales.
Affiliates often work with multiple businesses to ensure that your product is positioned well and gets noticed and offer support, training and other opportunities.
One benefit of affiliate marketing is the fact that you don't have to spend time looking for affiliates that match the types of sites your target audience visits. There are affiliate marketing service providers, like ShareASale and FlexOffers, that connect you with businesses, manage payments, offer tracking tools and make sure your content only shows up on reputable sites.
To gauge the success of your affiliate marketing campaign, track the following metrics:
Average order value. Check to see whether leads buy the minimum or go above and beyond and buy multiple products. Also check to see if they're buying high-value products.
Sales volume. Track your sales numbers to see whether the products you're promoting through the affiliate program experience a sales lift.
Site traffic. Are there more visitors to your site exploring pages? Also, check to see if there's an increase in the number of new lead signups and downloads of your free content.
To help you see the differences between influencer and affiliate marketing, we've put together this quick-start guide for you: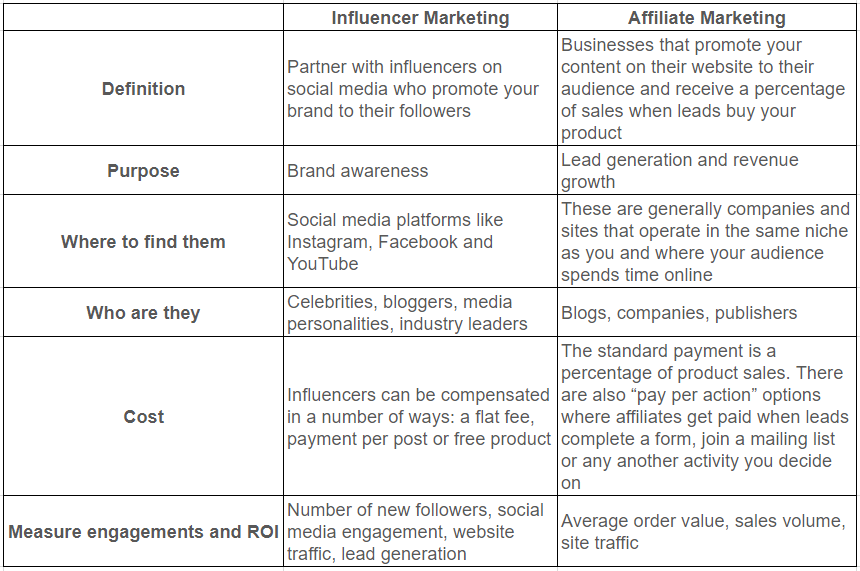 What you choose depends on your needs and goals
The marketing approach you choose should be based on three factors:
What your goals are
Who your audience is and where they spend time online
Your budget
As these three factors shift over time, you'll find that you alternate between influencer and affiliate marketing. You don't have to stick to one approach; you can instead switch between the two as your needs and goals shift and evolve. Here's what you need to consider as you review each of these factors.
Your goals
If you have a special offer or want to promote specific products or get your audience excited about an upcoming launch or campaign, use influencer marketing. Because influencers are in front of your target audience, the influence they have over their followers and the established trust have the potential to drive a great deal of awareness to your brand. The key to successful influencer marketing is to use influencers who believe in your product and don't promote products that compete with it.
On the other hand, if your goal is to get people to promote your product or service, special offers, discounts and more through channels other than social media, then use affiliate marketing. Target bloggers, companies and publishers with content that complements or relates to your brand base. Understand your customers' needs and their interests so that you speak to your target audience about what matters most to them. If you sell workout gear, then partner with health and fitness publishers that focus on weight loss, healthy eating and more. This approach of speaking to specific customers with specific needs works because affiliate marketing is designed to generate leads and help you grow your revenue.
Your audience
Your approach also depends on who your audience is and where they spend the most time online. In order for your campaign to be successful, you want to reach as many people as possible. For example, if your products cater to millennials, then spend more time using influencer marketing.
If you want to target a specific group of people instead of your entire audience, then use affiliate marketing. If you're launching a new product feature or an entirely new product that power users will be receptive to, use affiliate marketing to target specific sites that these power users spend time on. Instead of marketing to everyone, you speak to the people most likely to use your product.
Your budget
The approach you choose should also depend on how much you're willing to spend. A larger budget allows you to partner with larger influencers who can get you as much exposure as possible. However, influencer marketing is known to be expensive. Another option is to target micro-influencers in your niche who don't have millions of followers but have thousands of highly engaged followers.
If you'd rather wait to see results before paying or want to have the option to end a campaign based on your budget, use affiliate marketing. You only pay affiliates after a lead buys something, and depending on how large a campaign you're running, you can track your expenditure in real-time.
Examples of the differences between influencer and affiliate marketing
Now that you have the basics behind the differences between influencer and affiliate marketing, let's look at some examples. This will help you see the range of options available to you and help you start to think about the types of campaigns you'd like to run based on your goals, audience and budget.

Affiliate marketing
Affiliate marketing examples are everywhere online. Visit any niche site and chances are you'll find some kind of affiliate marketing. You'll notice that affiliate marketing looks a lot like display ads. With display advertising, you create ads that appear on other websites. When site visitors click on them, they're taken to a landing page where they can learn more about your product and convert to become a paying customer.
LIVESTRONG
LIVESTRONG is a popular health and wellness site. They provide readers with content to help them maintain a healthy lifestyle. They don't sell products on their site, but sites like these are able to promote products, like yours, on their site and generate an income based on the purchases their audience makes on your site. Choose affiliates whose content closely matches your product, so that site visitors are already primed and interested to take the next step and click through.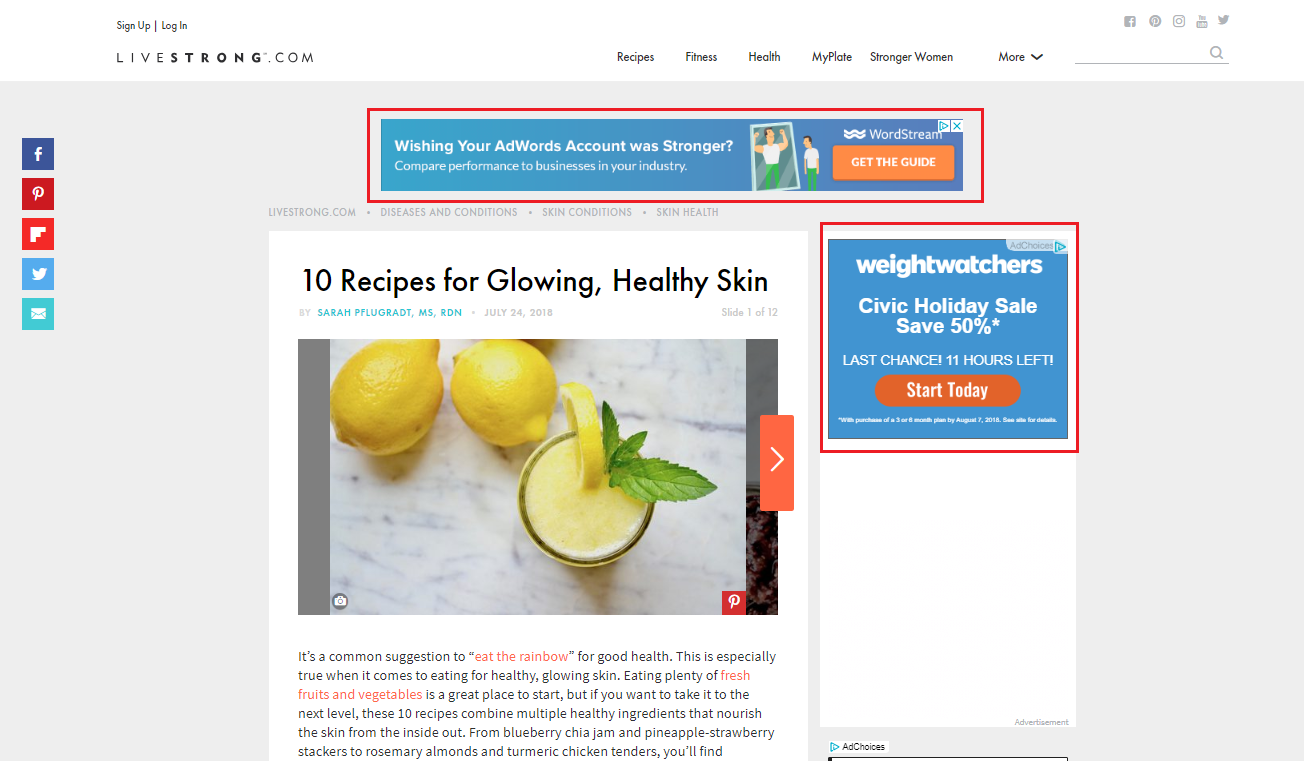 Shape
You'll notice at the top of Shape's website that there's an ad for a 50% discount offer at a thrift store. This ties closely to the content on the page because people who can't afford brand name clothing can take advantage of the thrift store deal.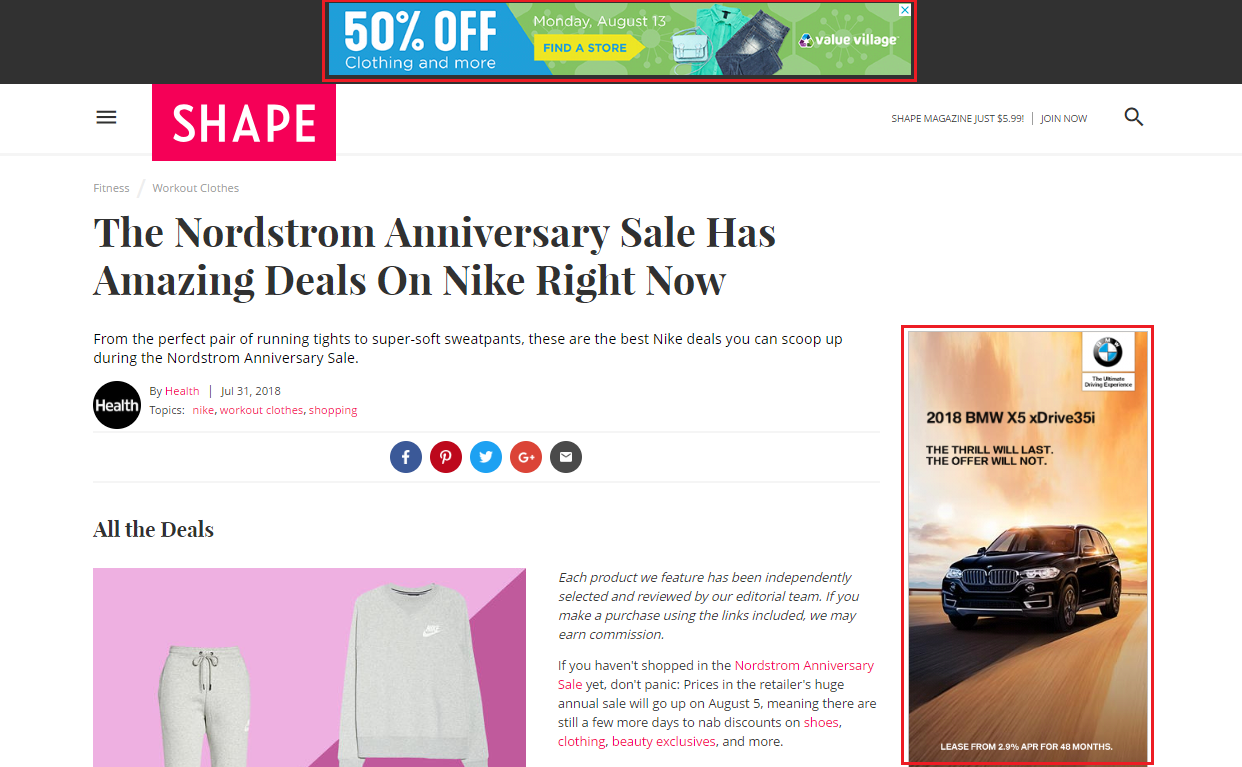 Expedia
This example of the popular Expedia travel website shows three different ads:
The Capital One credit card
Discounts for the city the user is traveling to
An offer for a premium hotel experience in the destination city
All of these ads are positioned well in order to entice users to learn more about the offers. Users are already making travel plans, so the ads speak directly to their needs. The potential for users to click on these ads and buy something is much higher than if they were looking at ads for a new app that doesn't fill an immediate need.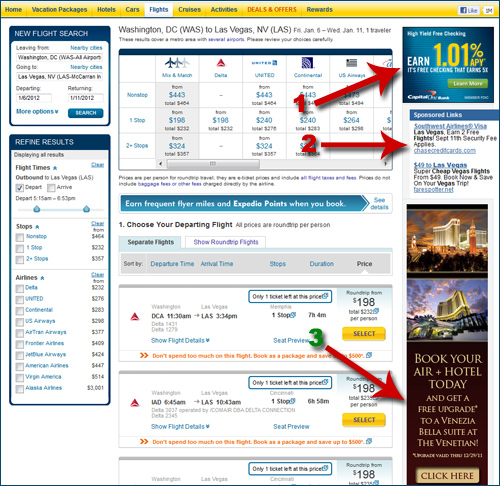 [Source]
Influencer marketing
Influencer marketing is extremely popular on social media. If you're hoping to raise brand awareness in a short amount of time, choose the platform your audience spends the most time on and partner with influencers they're likely to follow. The following examples focus on the three main platforms for influencer marketing: Instagram, Facebook and YouTube.
Instagram
When you partner with an influencer with a large following, make sure there's a clear CTA. The influencer will get engagement in the form of likes and comments, but you need their followers to click through to your page. Instead of asking an influencer to show your product and mention it by name, give them a promo code to share with their followers. The benefit of a special promo code is getting followers to act and the ability to track conversions based on it. For example, you can see how many people used the code to buy something during the campaign.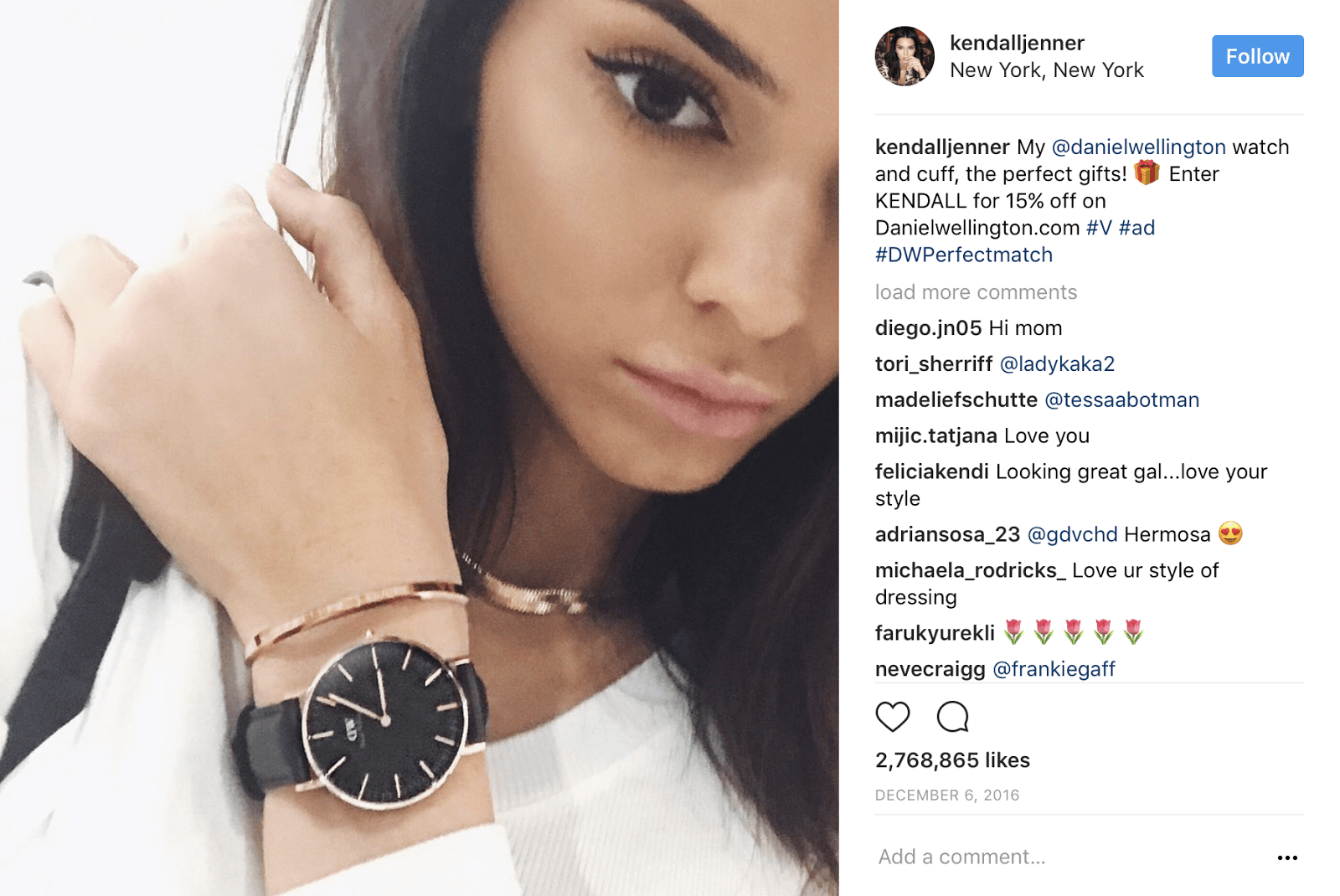 [Source]
Facebook
Facebook users may be declining, but there are still billions of users to segment and target. In the example below, the influencer goes one step further than simply showing the products she's promoting. She also includes a video overview of her experience. This approach is important because followers don't have to make a decision based solely on her word: they can watch her use the product and make a decision based on that. Using video also gives an authentic feel to the campaign because it's easier for followers to imagine that this influencer uses these products.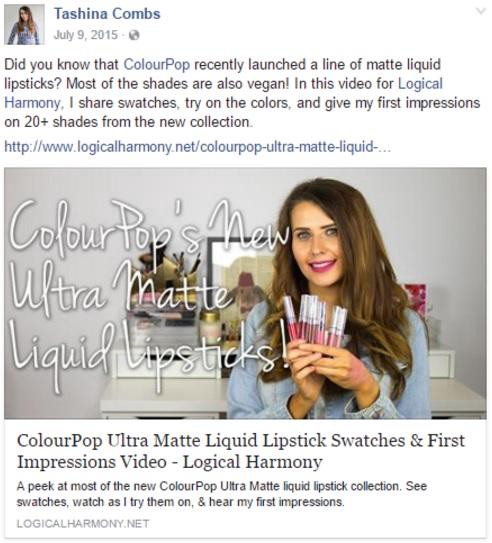 [Source]
YouTube
With the boom in subscription boxes, unboxing videos have become quite popular. If your audience spends a lot of time on YouTube, then partner with an influencer who can showcase your product. The benefit of influencer marketing is how personal it is. Think about how powerful your campaign will be when followers feel as though they're experiencing the unboxing along with the influencer. They'll likely be receptive to clicking the link the influencer shares in order to learn more about you and your products.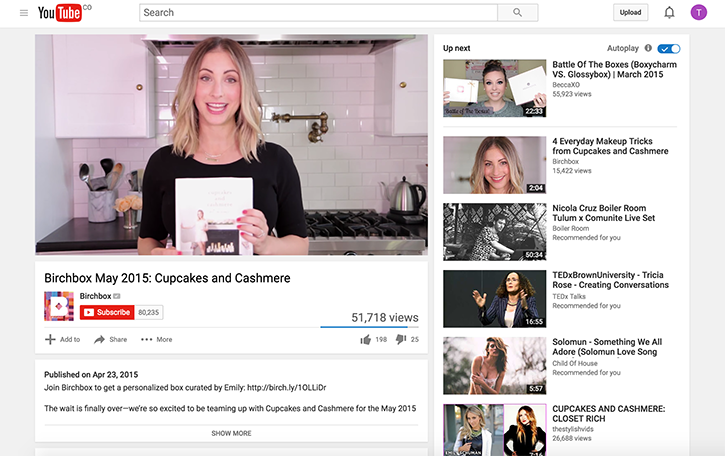 [Source]
Making your choice
Digital marketing doesn't have to pit influencer marketing against affiliate marketing. They can actually work together. A better way to look at the differences between influencer and affiliate marketing is to figure out what your campaign goals are and then choose the marketing strategy that's most likely to get you results.
Keep in mind that you can switch between these two strategies as needed or even run more than one campaign at the same time using both marketing techniques. The point is to experiment to find what works but also be flexible so that you cater to the interests of your audience.