It's time to take your eBay venture to the next level. You're listing more products, seeing more sales, and ready to establish your own ecommerce business on the marketplace.

An eBay Store subscription is designed to help you take that next step and expand your business. This advanced seller plan allows you to create your own storefront on eBay and even offers a few perks, like free and discounted listings.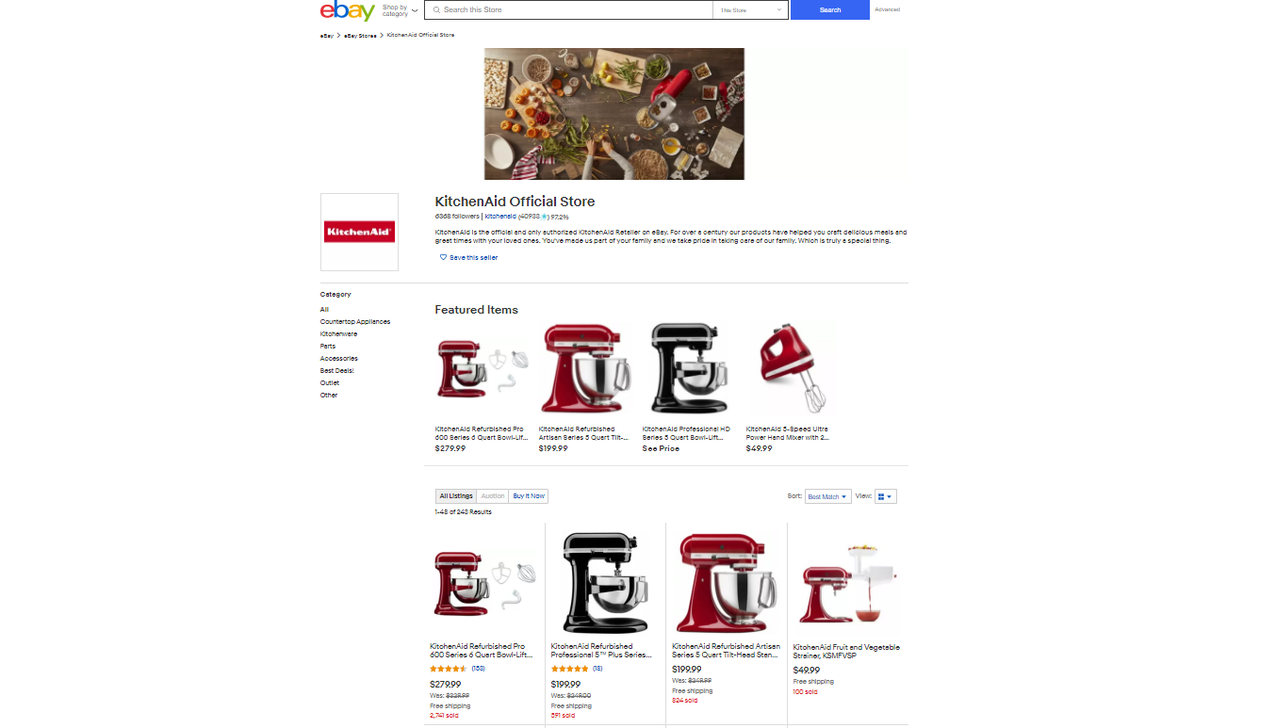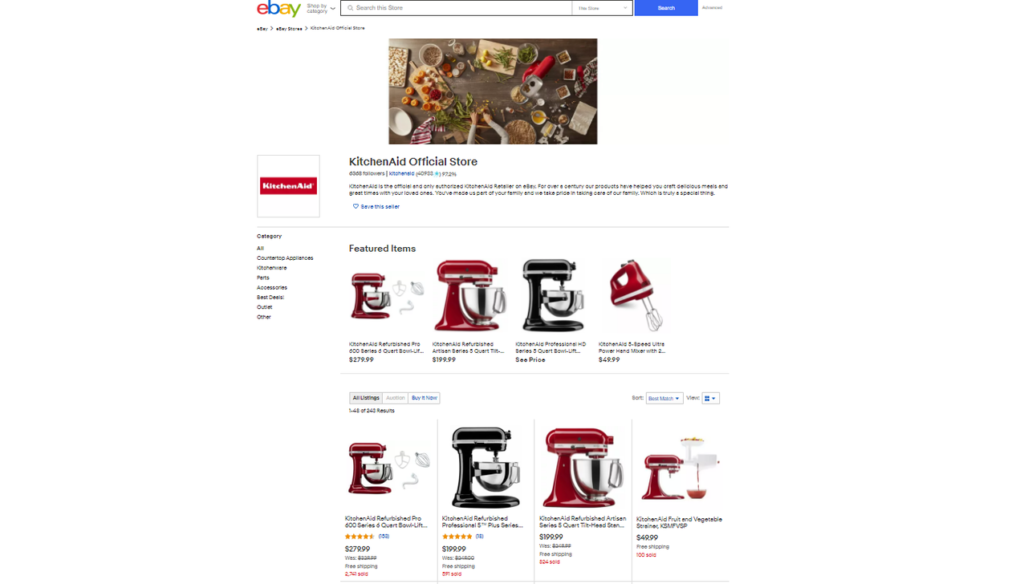 In this article, we'll teach you how to brand, design, and launch an eBay Store that attracts your target customers and boosts your presence on the marketplace.
1. Sign Up for an eBay Store Subscription
Before you create an eBay storefront, you'll need a Store subscription plan.

The default mode of selling on eBay involves two main fees: insertion fees (for posting your listing) and final value fees (eBay's cut of the final sale price). Store subscriptions work a little differently—you pay a monthly fee in exchange for more features and zero-insertion-fee listings.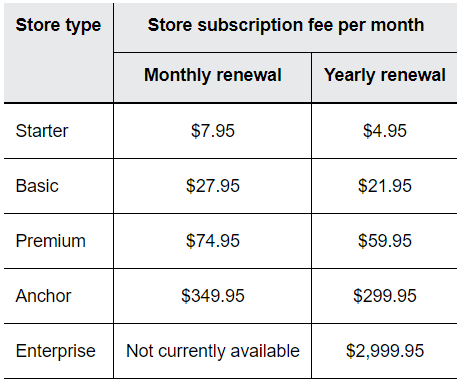 [Image source]

Final value fees are also reduced for sellers with Store subscriptions. This discount and the number of zero-insertion-fee listings depends on your subscription tier. The best subscription plan for you really boils down to your monthly volume of listings.

In addition to reduced fees, your subscription allows you to run sales or offer coupons via the Promotions Manager. It also gives you access to eBay's product insights tool, credits for shipping supplies, and discounts on business software like QuickBooks Online.

Once you've subscribed, the process of setting up your new eBay Store is fairly simple:
Choose your store name. While you can use your seller username for this, we recommend choosing something that looks more professional and describes what your store offers. For example, Caroline's Vintage Finds is a far better name than cfvintage87.
Customize your design. Add design elements like your logo, billboard, and featured items. We'll cover the details of designing your store assets later.
Set up your store categories. Categories help buyers navigate your store—and reduce the risk of them abandoning it because of not finding what they want.
Take your store live! Don't worry about making everything perfect all at once. You'll build your store in draft mode and can preview before launching to make sure it's working correctly. It's also easy to update your store once it's live.
Now that you know the nuts and bolts of setting up your store, it's time for the real work: creating a brand strategy and your eBay Store design.

2. Build Your Brand Identity
Before you launch your store, you need to create your brand identity. A strong brand fosters trust with buyers, creates customer loyalty, and drives repeat purchases. In fact, a consistent brand has been shown to increase revenue by 33%!

We don't have room for a full discussion of branding in this post. If you're interested in learning more, check out our guide on building ecommerce brands. For a quick overview, here are four branding steps you should take before launching your eBay Store.
When you're a small operation, these strategic steps might seem unnecessary. But trust us: This strategic work will make it much easier for you to reap the benefits of brand consistency—and design a great eBay Store in the process.
3. Get Creative with Your Product Images
eMarketer found that 83% of online purchase decisions are heavily influenced by images, so you can't afford to undermine your hard work with poor or generic product photos. Your listings should include images that convey your product's details and also get shoppers excited about your product. Think informative yet engaging.

The first rule of good product images is to follow eBay's best practices and guidelines. Make sure your photos are well-lit, high-resolution, and set front and center against a plain white background. While there are exceptions to this (especially when it comes to additional product images), white backgrounds really are the standard. Keep your image clear and focused on the product.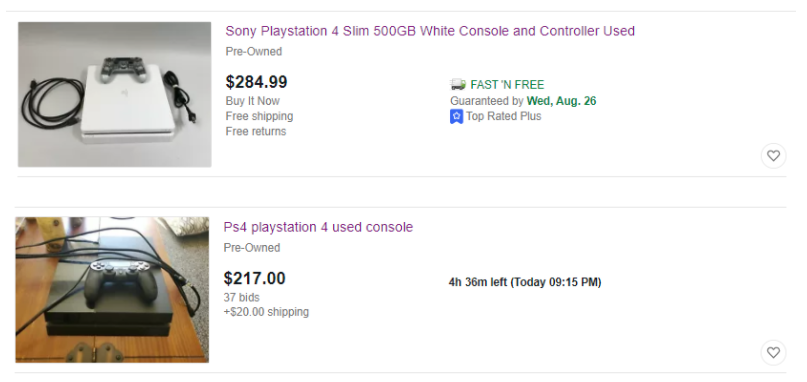 You also need to communicate information through your images. Use multiple photos from several angles, not just a stock photo from the manufacturer. In the example below, the seller puts effort into highlighting the product's details—such as size and design—while also creating fun staged images.

You also need to make sure that you position sets of items together in your primary image. This makes it immediately clear to buyers browsing through search results or your store what you are and aren't listing.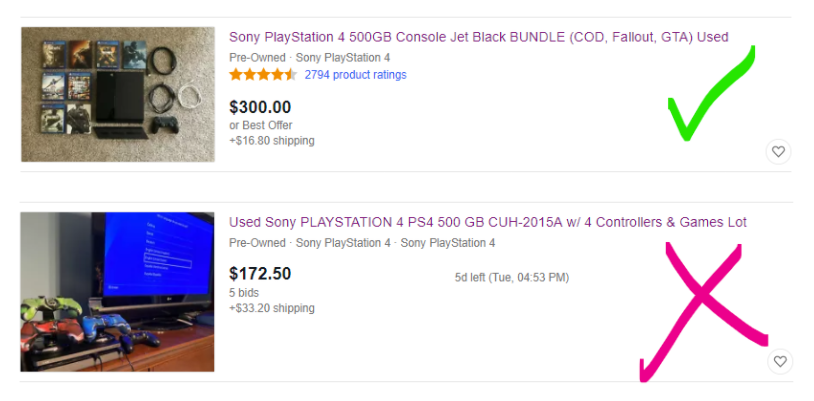 Lastly, try as much as possible to match your product photos to your brand style. Use your images to communicate your business's personality. The eBay seller carolinacharm35 uses an exposed brick backdrop to communicate her store's urban chic personality.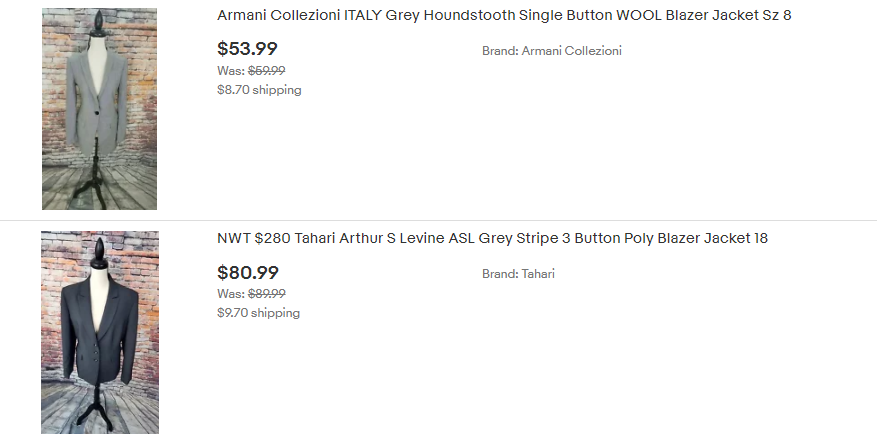 When it comes to creating these images, you can either learn to take the photos yourself or find a professional product photography service to do it for you. Both have associated costs and benefits, so consider both your budget and the value of your time to your business.

4. Create Your eBay Store Design
You have your brand strategy. You have some eye-catching product images. Now, it's time to combine these two to make your eBay Store design!

It should be noted that as of 2018, you can no longer create a fully customized store. Every eBay Store now follows the same layout, which is why your images and product listings are so important (more on that a little later).

These are the elements of your store that you can control and how you should use them:
Your billboard is like the Facebook cover photo for your store. Don't let this space go to waste—you can communicate a lot about your personality and value through this simple banner image (see example below). Canva makes it free and easy to design this—they even have eBay billboard templates.
Your logo shouldn't be a personal picture or avatar. Instead, it should represent your business in a simple and professional way that's consistent with the rest of your branding.
Your store description is your chance to tell sellers what you have to offer. Use it to describe what you sell and why they should buy from you. In the example below, the jewelry retailer IROFFS highlights their brand and value with phrases like "handpicked selection" and "best quality pre-owned goods" in addition to naming designers and artisans.
Featured items allow you to highlight certain products. Choose your bestsellers, as well as products that represent your inventory well.
Categories help shoppers find what they're looking for, and communicate at a glance what it is you sell.
IROFFS does a great job of creating a cohesive eBay Store design that immediately gives you both a sense of their brand (timeless luxury) and straightforward information about what you can expect from them.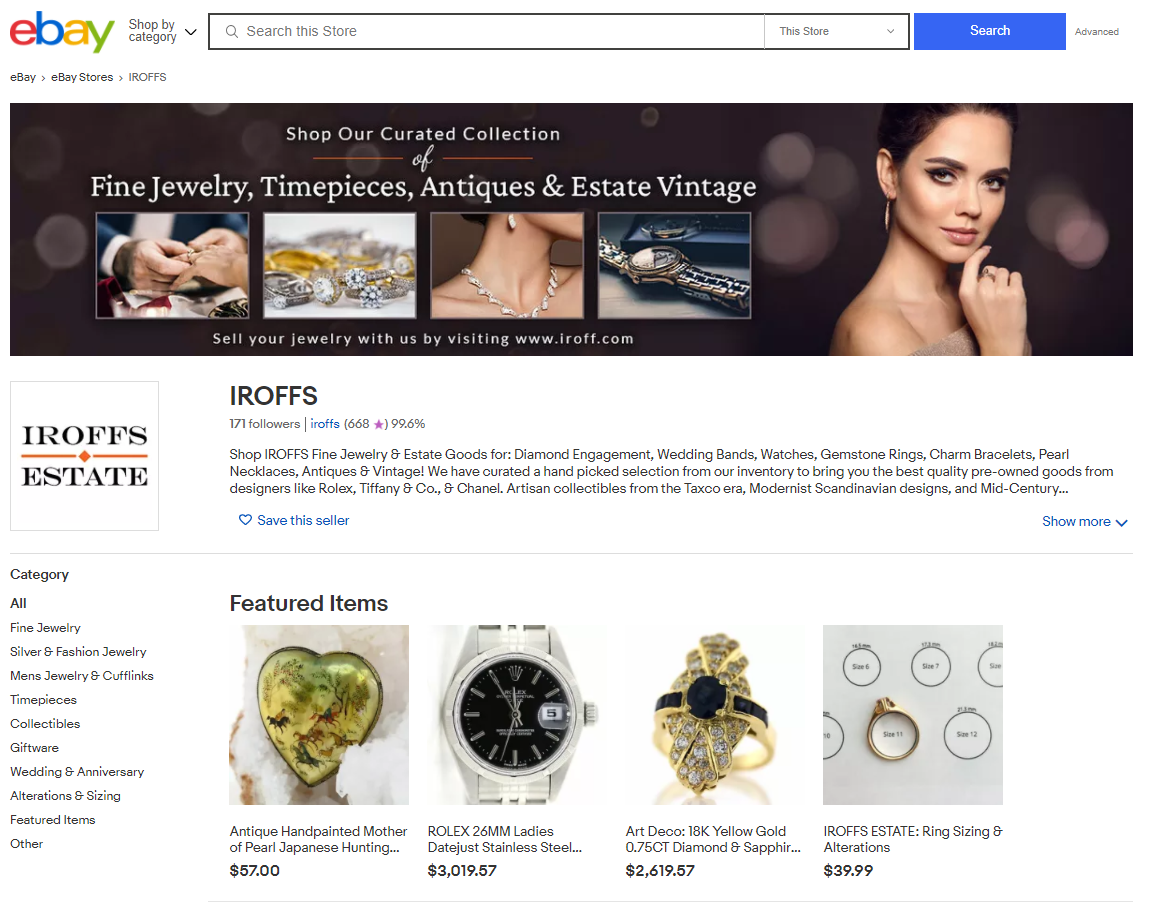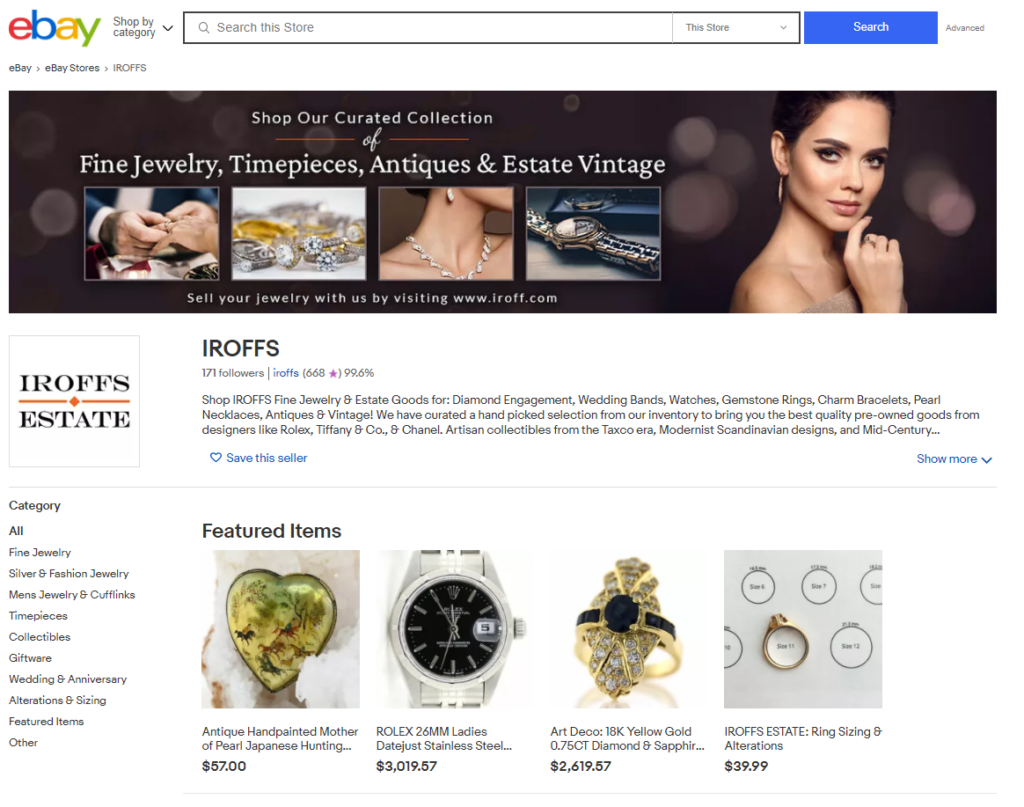 Take the time to think through how you can use all these layout elements to showcase your store's personality.
5. Leverage eBay Listing Templates
The majority of shoppers interact with you through individual product listings. Keep them on these pages by using templates to create engaging, branded product listings.

IROFFS used Sellbrite and NinjaTemplates to create the mini-store you see below—within their product listing. This listing gives a strong sense of IROFFS' brand and provides helpful details and value-adds (such as 24/7 customer support). The links to other product categories encourage jewelry shoppers to explore IROFFS' store.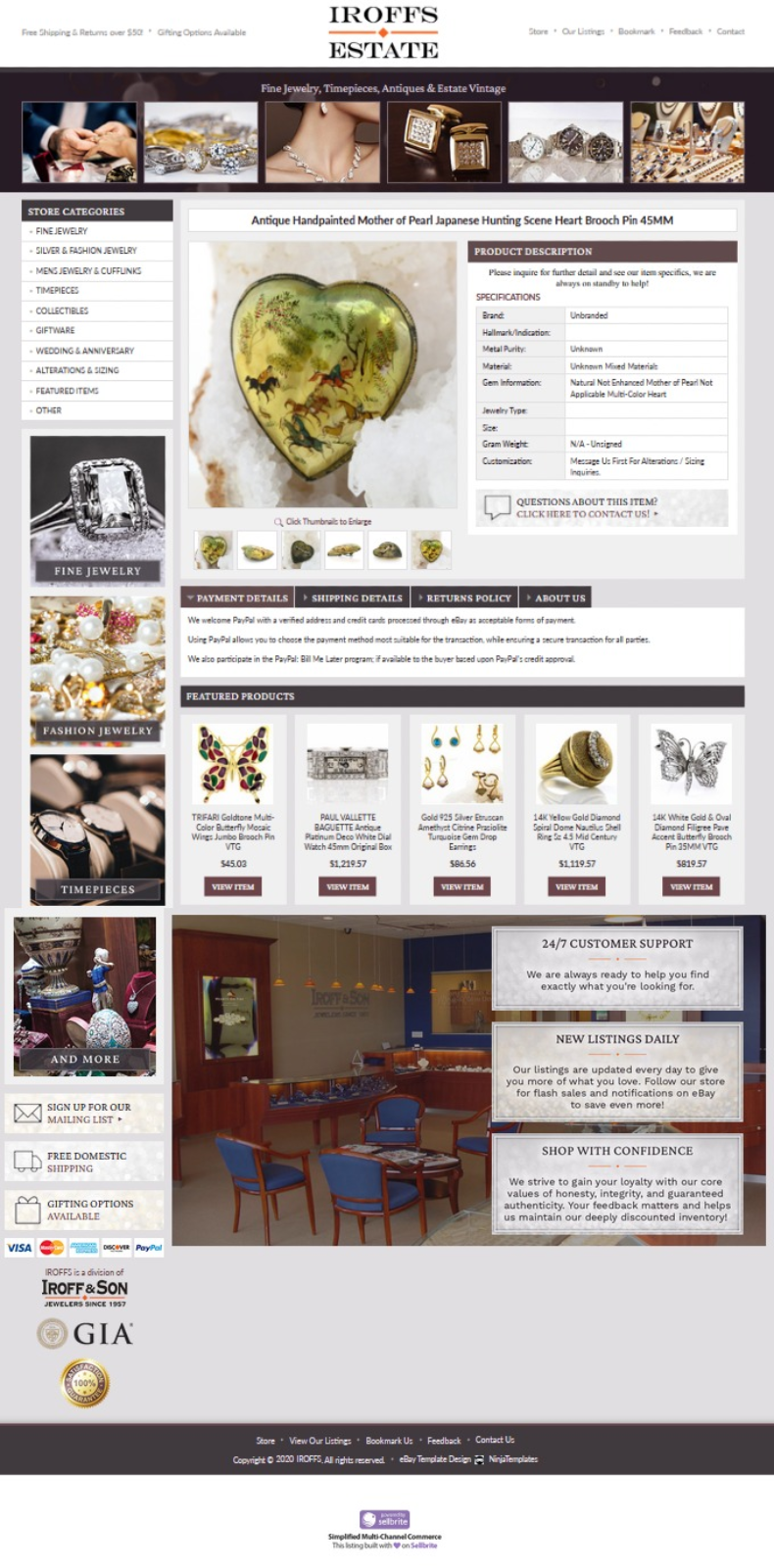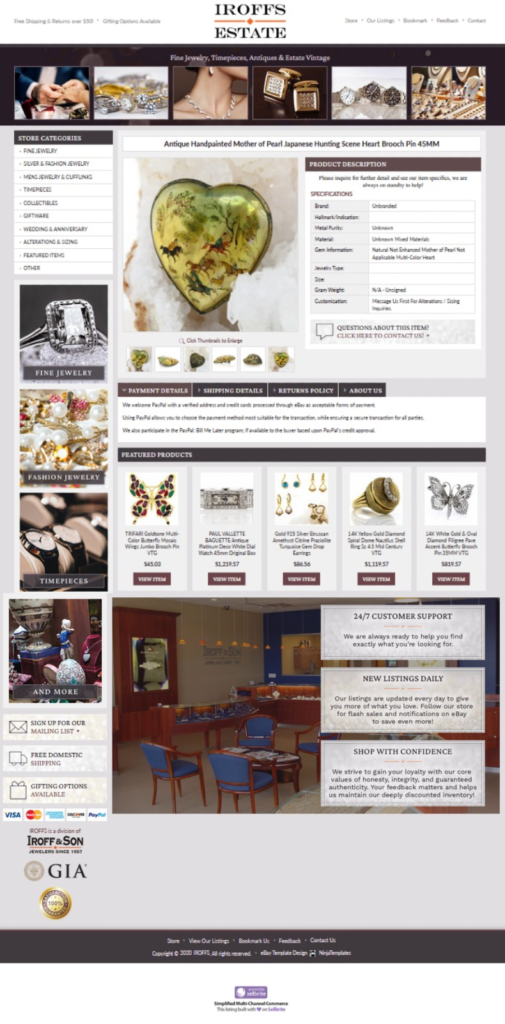 To create this listing, IROFFS inserted custom HTML into the product description section. An HTML listing template gives you a lot of opportunities to develop your brand; however, it does involve an investment of either time or money. There are three ways to create this kind of template:
Use a free or paid tool to create an HTML template yourself.
Pay for software that includes a library of listing templates you can edit and use.
Hire a designer to create a custom listing template, as in the example above.
We break down the three best tools for designing your own listing template—and introduce you to some of the best custom designers—in our article on the best tools for designing eBay HTML templates.

Whether you're designing your template yourself or hiring someone, your product listings should stay consistent with your eBay Store design. Make sure categories, images, and general aesthetics are aligned so your brand is easily recognizable to shoppers.
It Pays to Invest in Your eBay Store Design
An eBay Store is a financial commitment and an investment in the future of your business. While technically all you need to launch is a subscription and some products, a haphazard approach won't get you the kind of results you want. Put time and effort into crafting your eBay Store design, and you'll build a strategic foundation for your eBay business.