Most people think of Twitter as a dumpster fire of strong, opinionated content—not a library of knowledge. But for ecommerce sellers, the platform is incredibly valuable for learning how to build and grow an online store.
Finding people to follow isn't that hard. But filtering through the noise and finding ecommerce content that both come from reputable sources and provides quality information can be a little trickier. That's why you need to know who the ecommerce experts are and engage with their content.
If you're looking for ecommerce best practices for different platforms or just a community of like-minded people, we've got you covered. From ecommerce store owners to tech founders to writers and consultants, we have listed out active ecommerce experts on Twitter in reverse alphabetical order (just to keep things interesting).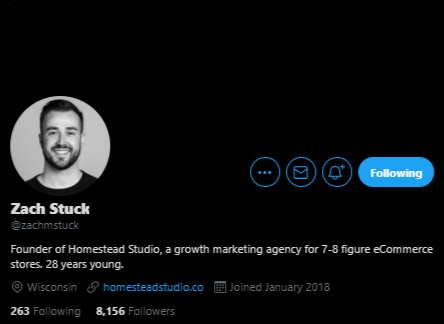 Zach Stuck is the founder of Homestead Studio, a growth marketing agency for ecommerce companies. Follow him for tweets that offer an in-depth look into running marketing campaigns for clients—planned and impromptu.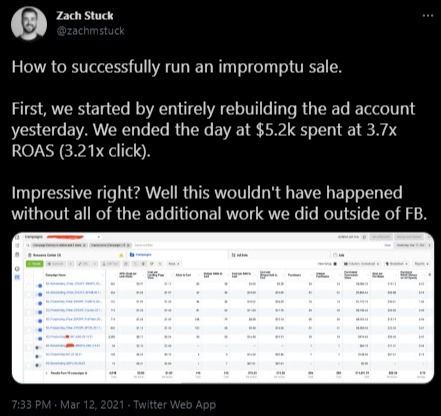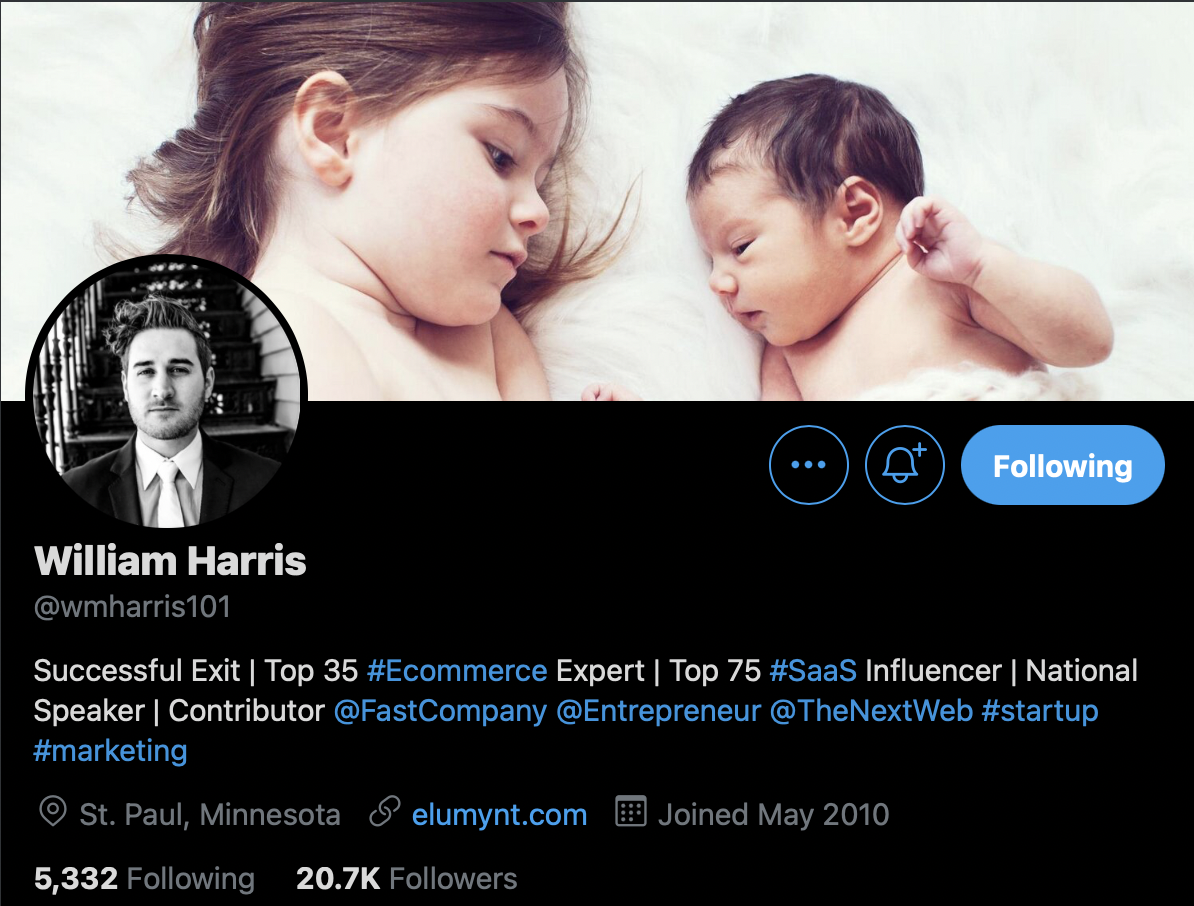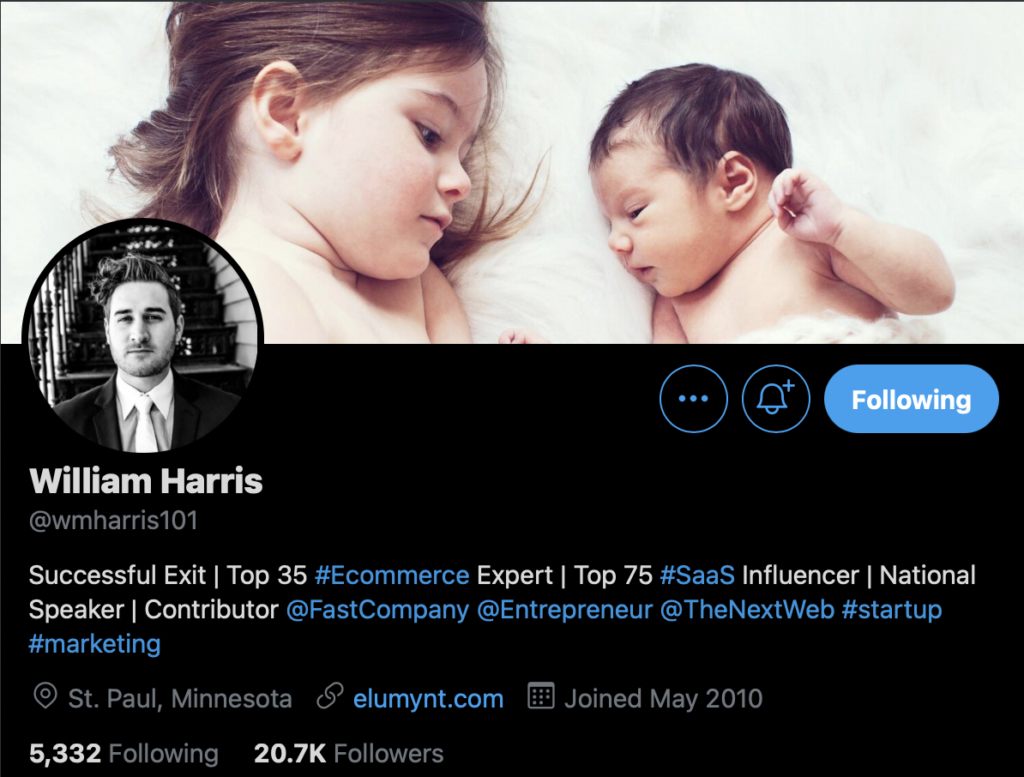 Our very own, William Harris, who has led a lot of the growth marketing work at Sellbrite, is also the founder and CEO of Elumynt, an ecommerce growth marketing agency. In addition to running one of the best advertising agencies (I've heard they're routinely getting 200%-400% growth YoY for D2C brands), as well as understanding what it took for us at Sellbrite to grow and get acquired by GoDaddy, he's also personally run 7-figure/month Amazon accounts, eBay accounts, and was one of the first to really pioneer large merchants moving over to Shopify Plus (before they even had a 10×10 booth at IRCE!) while he was in-house at a large ecommerce brand. This gives him a lot of unique perspective for understanding growth holistically. Here's an example of him looking past the typical reasons for Facebook advertising performance by understanding the nuances of how SaaS businesses/algorithms iterate.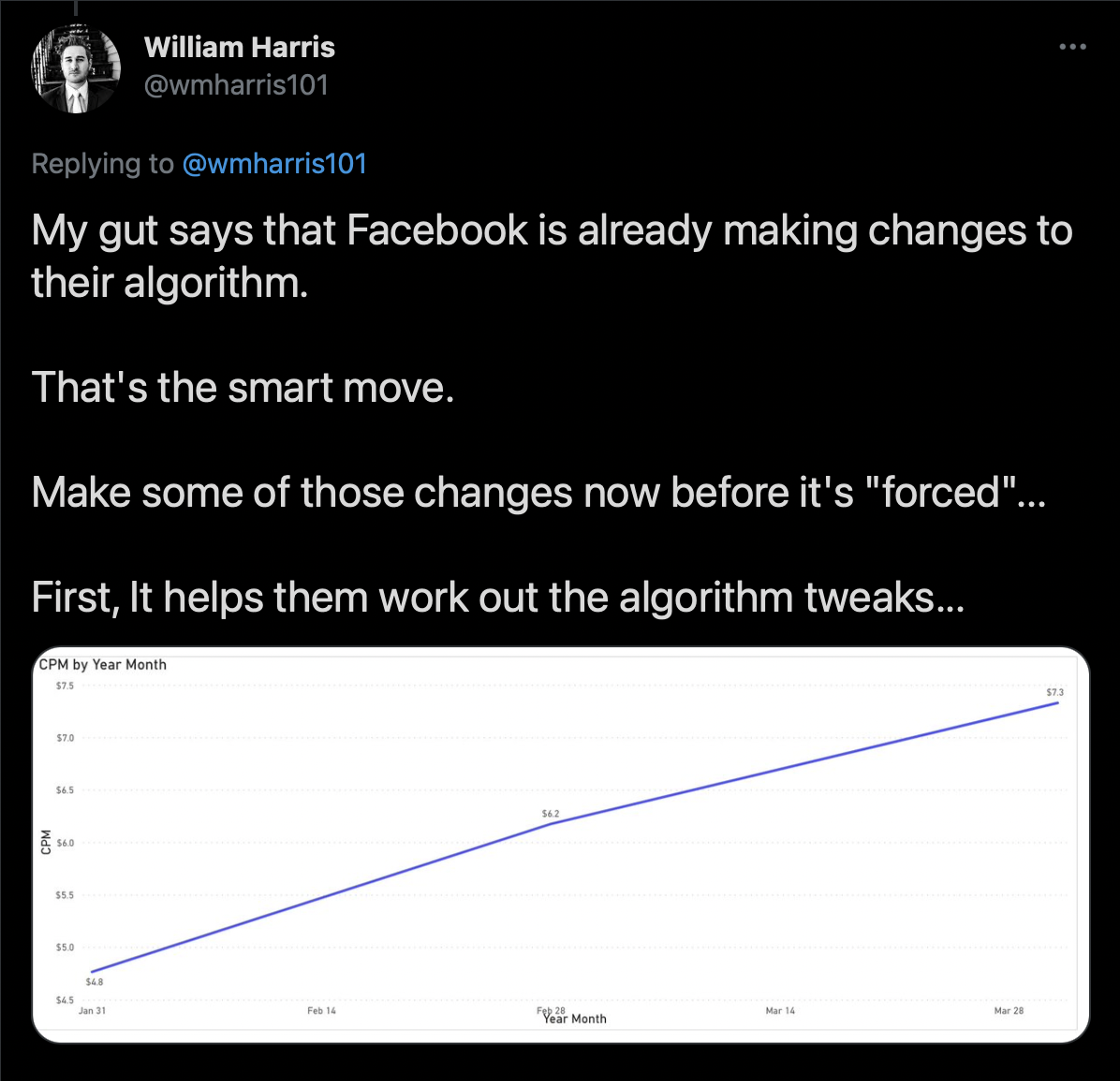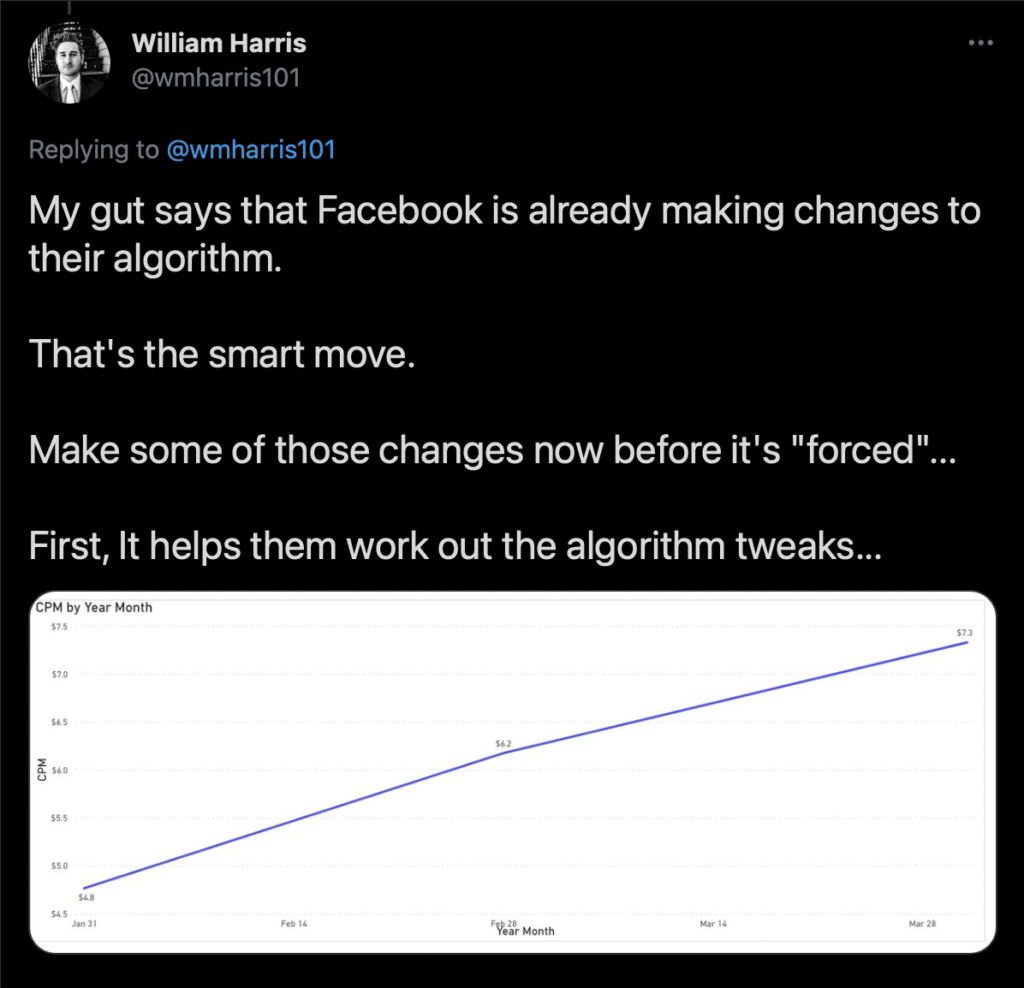 3. Web Smith – @web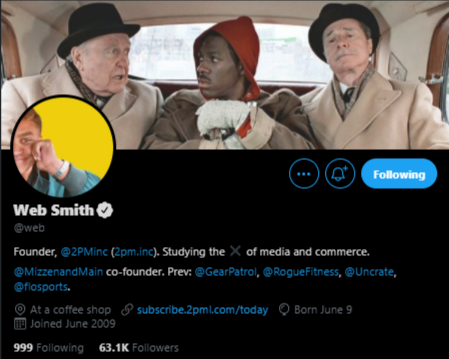 Web Smith is the founder of 2PM, a newsletter that analyzes trends and reports in digital media and the ecommerce space. He shares his views on the growth of different industries and the potential effects of this growth, and according to William Harris, Web is probably the smartest person on D2C twitter.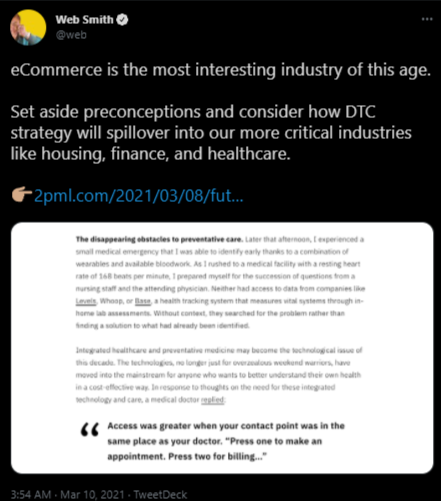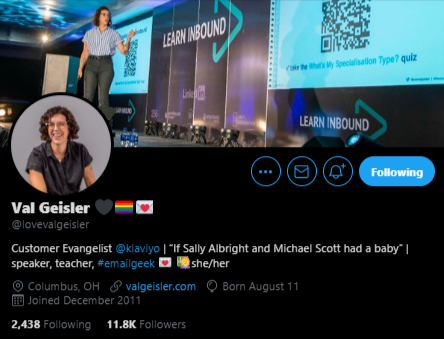 Val Geisler is a Customer Evangelist at Klaviyo, an email and SMS marketing platform. Her tweets are valuable for learning about what and what not to do when communicating to customers through those channels.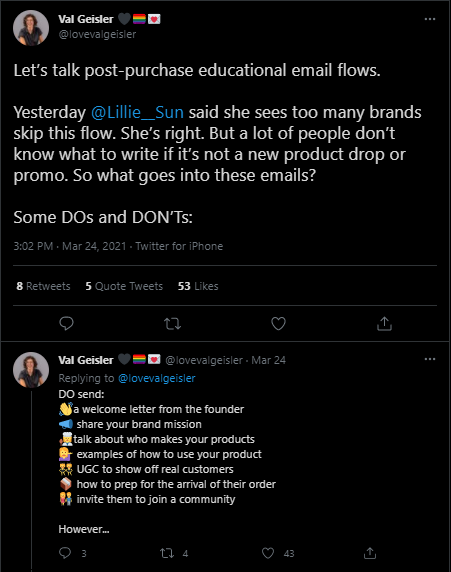 5. Tobias Lutke – @tobi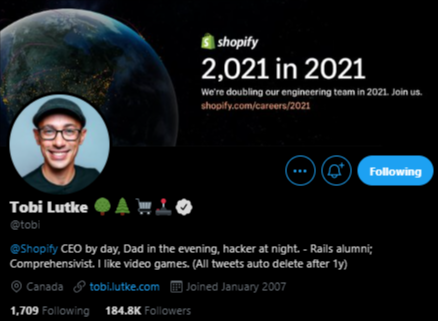 Tobias Lutke is the founder and CEO of Shopify. Follow him to stay on top of new developments—like announcements about new initiatives—inside one of the biggest ecommerce platforms in the world.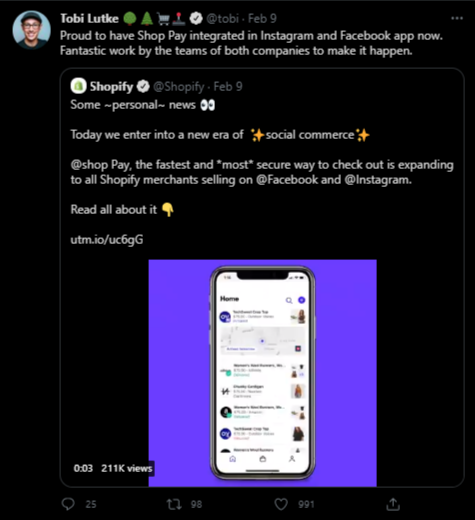 Steve Chou is the founder of Bumblebee Linens and My Wife Quit Her Job. He tweets about his experiences running these two companies, his entrepreneurial journey, and advice for ecommerce founders.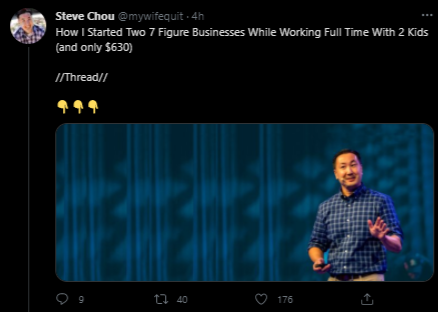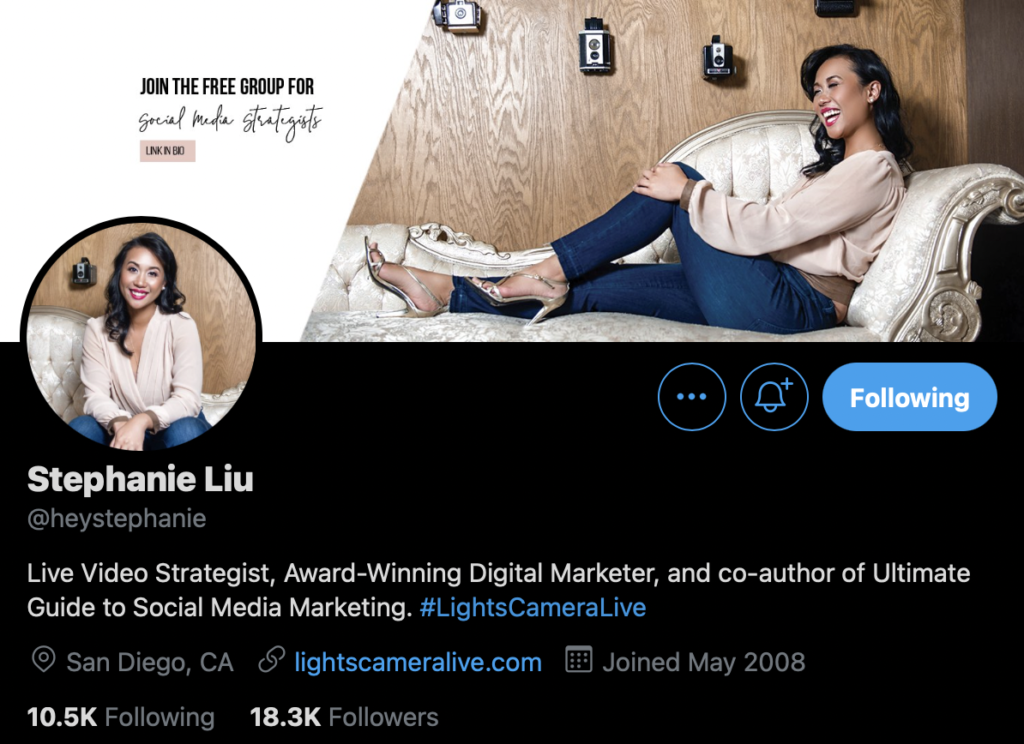 Stephanie Liu is a live video strategist running Lights, Camera, Live, an agency that works with ecommerce businesses to leverage live video in their marketing. Follow her for engaging videos featuring tips on how to use live streaming to build your brand and sell products.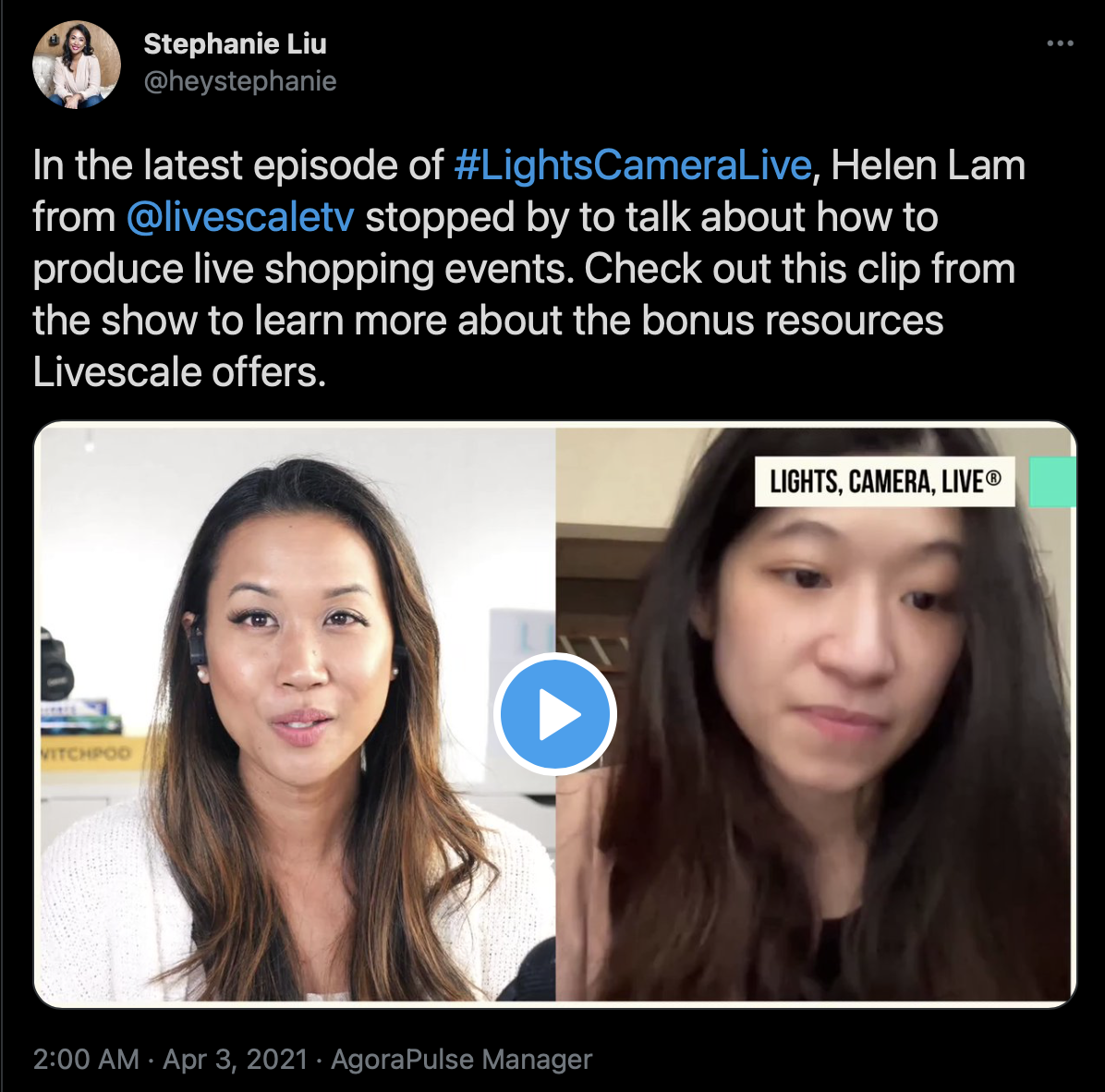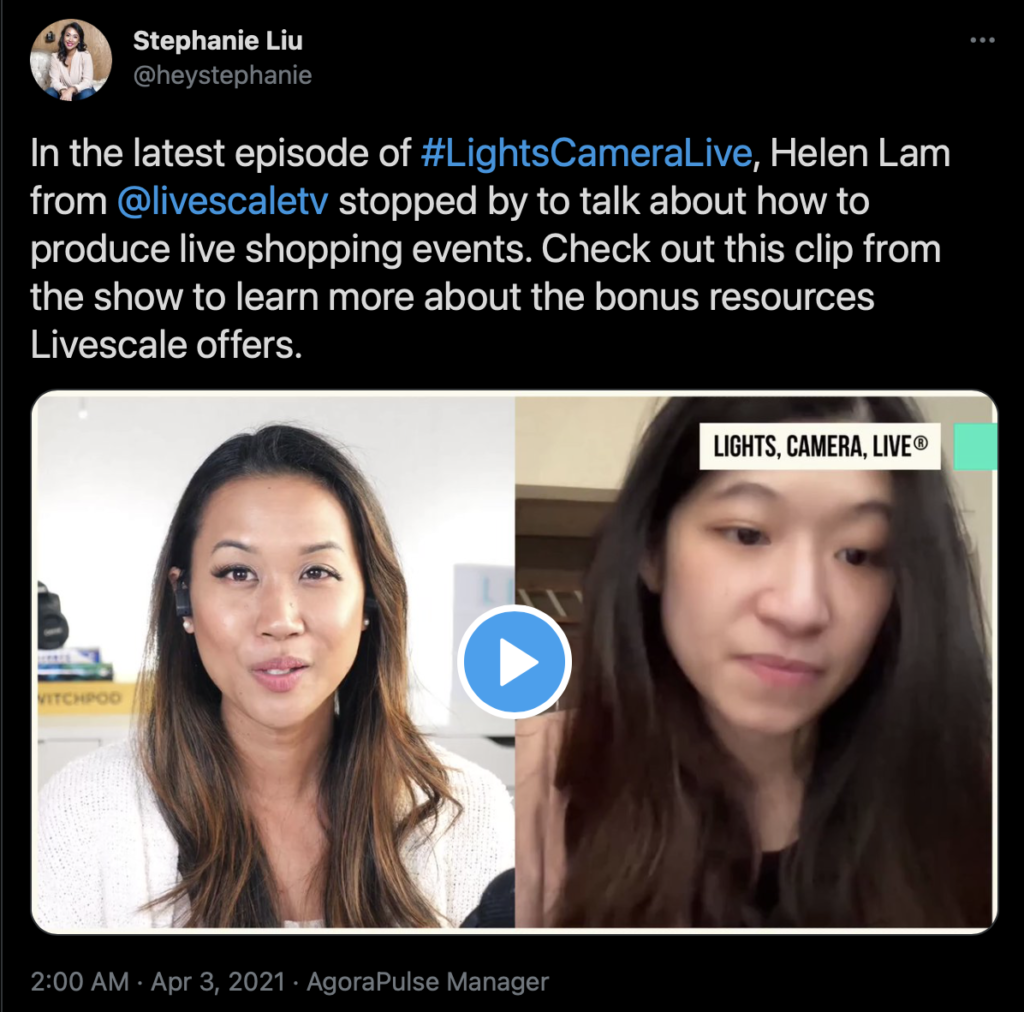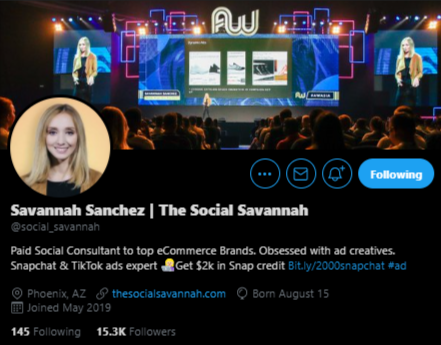 Savannah Sanchez is a paid social consultant for ecommerce brands like J.ING and DRMTLGY. She works with ecommerce brands on their media buying and creative ad strategies on Facebook, Snapchat, and TikTok. She shares tactics and content around how to use these platforms and provides a look into how she applies these tactics to her clients' accounts.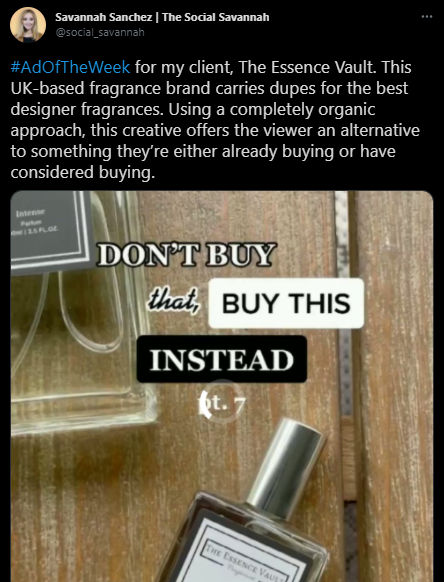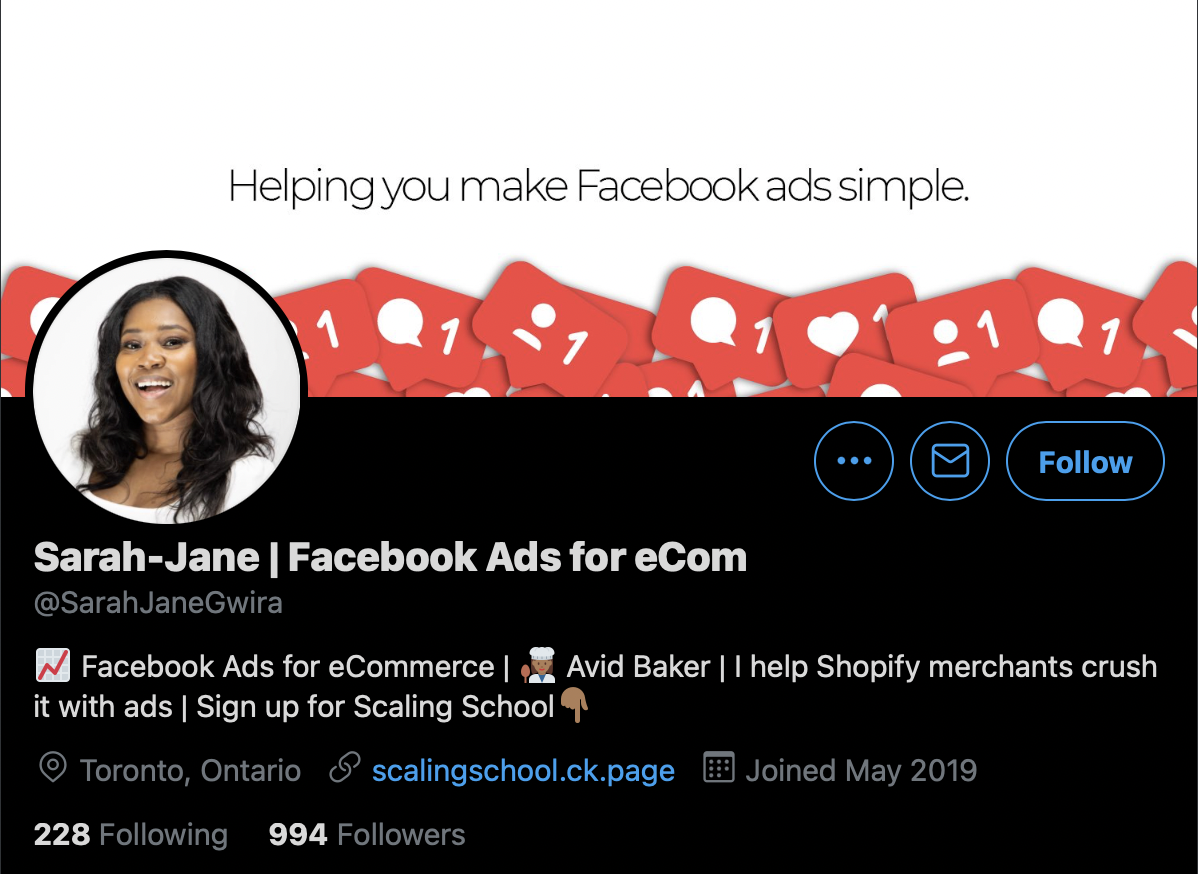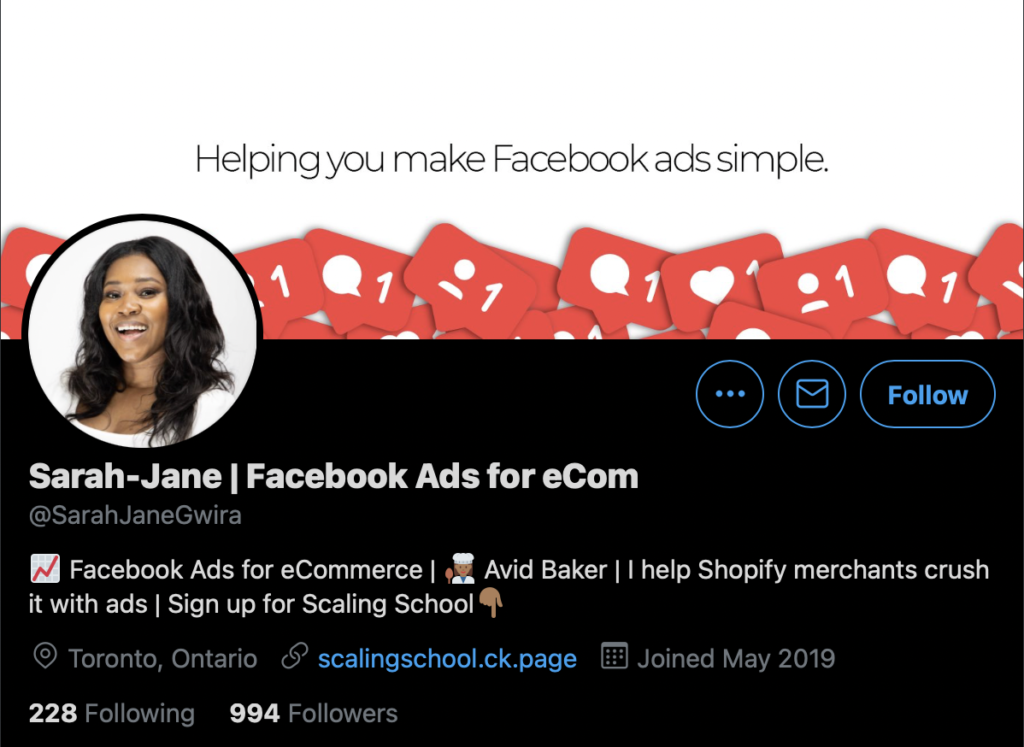 Sarah-Jane Gwira is a Facebook Ads specialist, working with Shopify merchants to scale their advertising. Follow her for tweets about tactics for targeting and reaching your customers.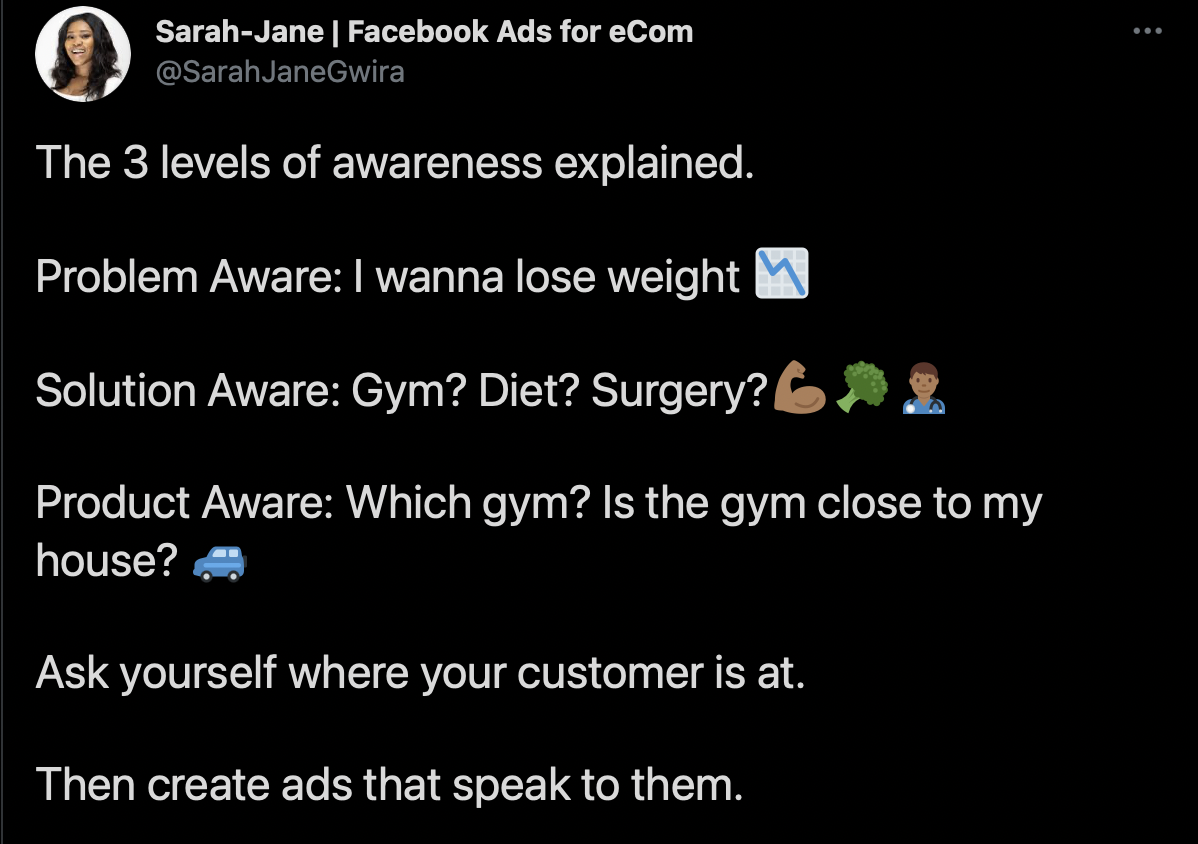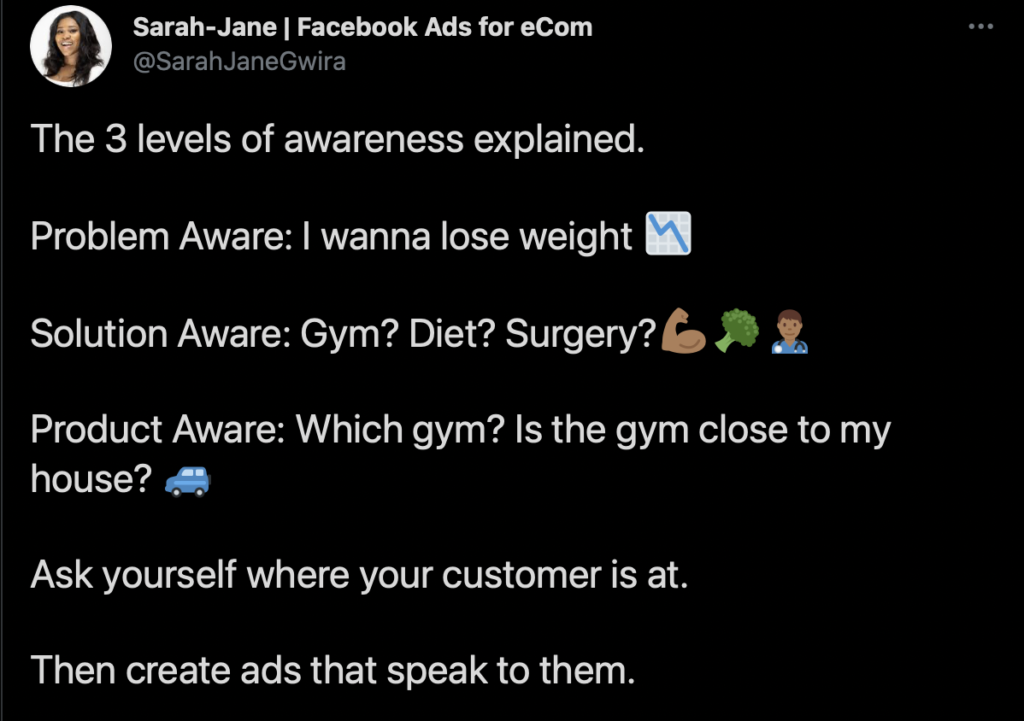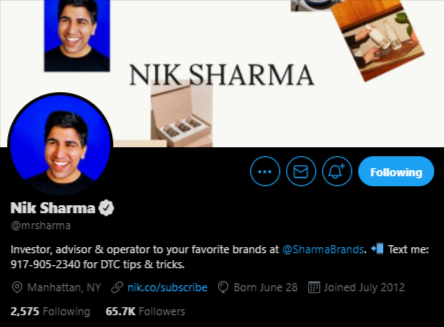 Nik Sharma is the CEO of Sharma Brands, a strategy consulting firm that helps ecommerce brands grow. He is also an investor and advisor to many CPG brands. He shares content around growing an ecommerce business, from website optimization to developing the right copy for your landing page.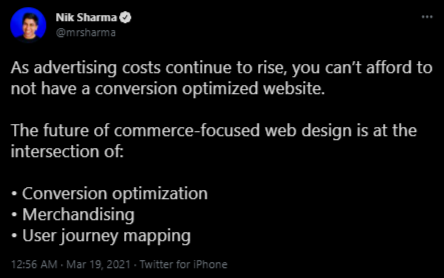 Moiz Ali is the founder of Native, a personal care CPG company that was acquired by P&G in 2017. He shares a lot of insights into his entrepreneurial journey, raising capital, and advice regarding ecommerce as a whole.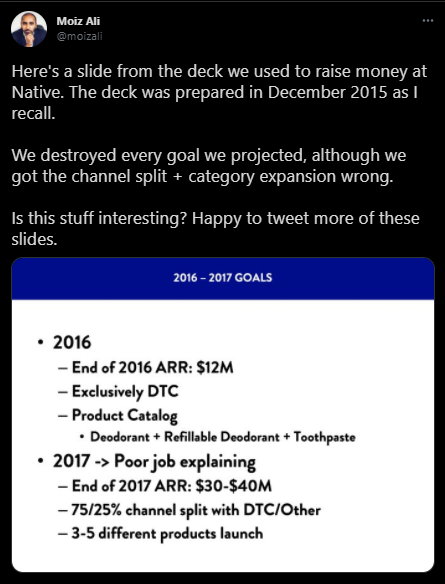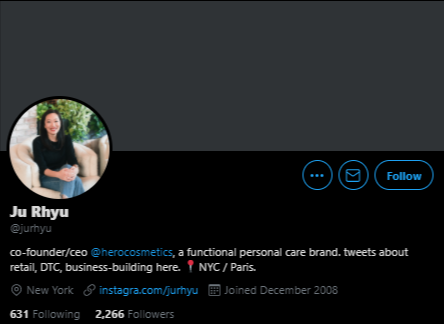 Ju Rhyu is the founder of Hero Cosmetics, a personal care brand. Follow her for tweets about the practical aspects of building and running a DTC business, as well as insights into growing a company.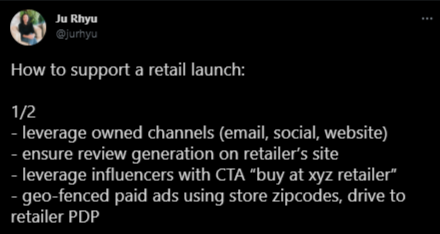 13. Kurt Elster – @kurtinc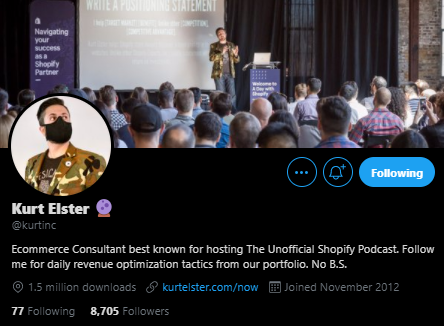 Kurt Elster is an ecommerce consultant and host of The Unofficial Shopify Podcast, where he interviews successful Shopify entrepreneurs about how they've grown their businesses. He shares content around revenue optimization tactics for ecommerce companies.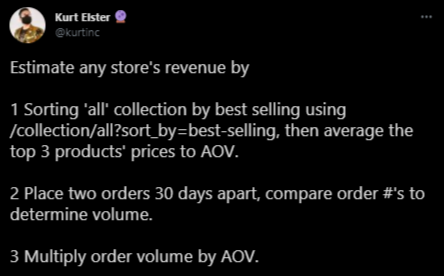 14. Kristen LaFrance – @kdlafrance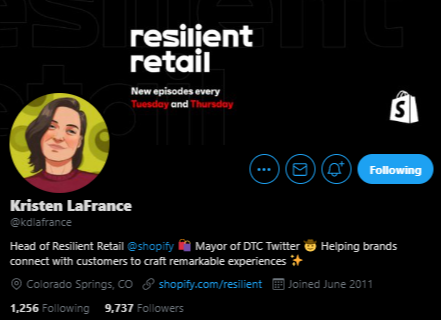 The self-appointed "Mayor of DTC Twitter," Kristen is an experienced ecommerce podcast host who currently hosts Shopify's Resilient Retail podcast. Follow Kristen for content centered on ecommerce strategies by DTC brands and updates from a top ecommerce-focused podcast.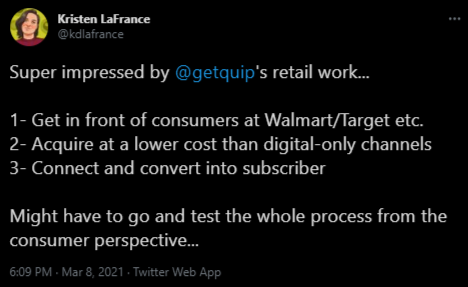 15. Katelyn Bourgoin – @katebour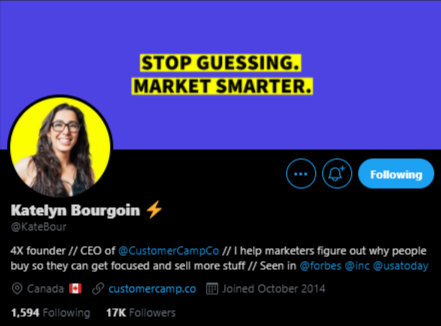 Katelyn Bourgoin is the CEO of Customer Camp, an agency that helps ecommerce companies gather deep insights about their customers. She tweets market research insights as well as broader content geared towards helping business owners and marketers understand consumers.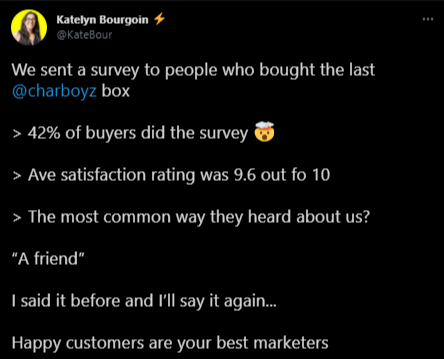 16. Kaleigh Moore – @kaleighf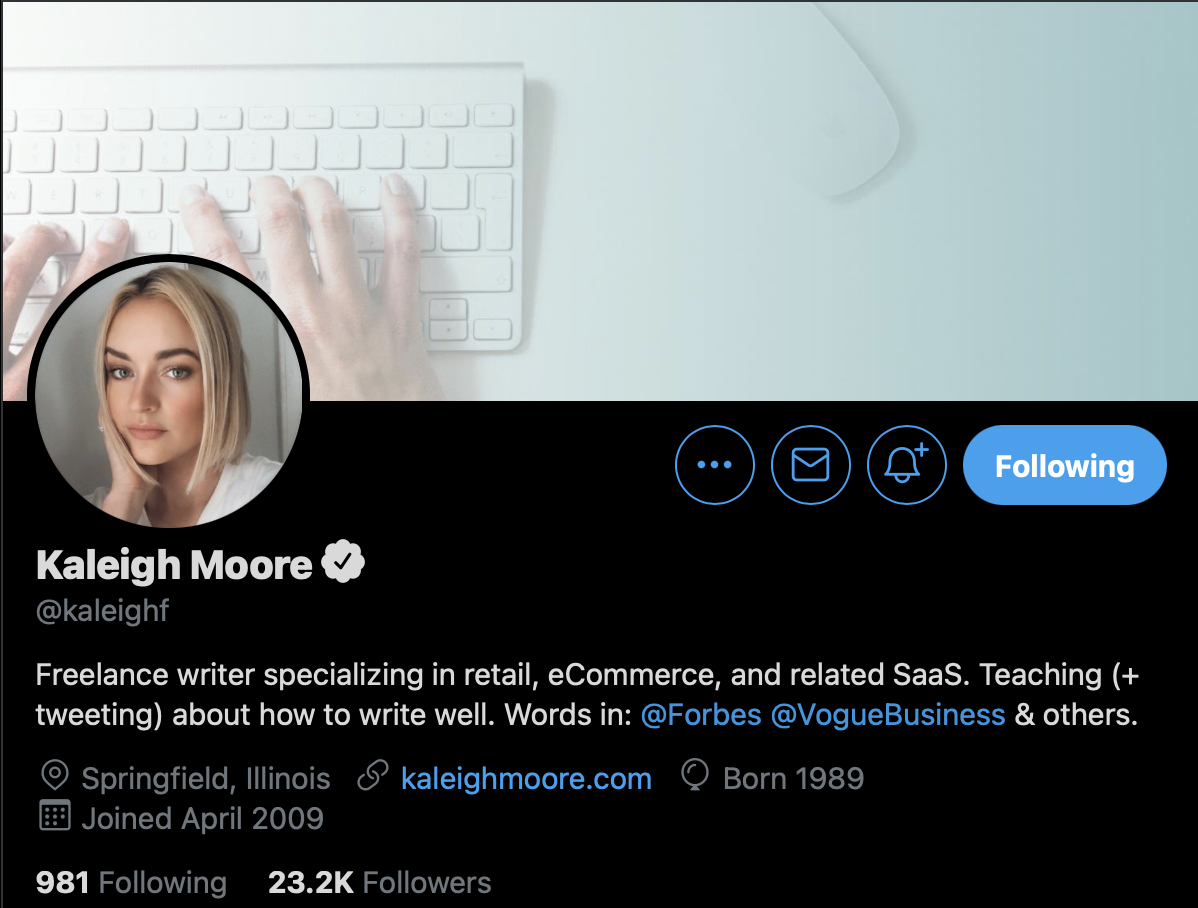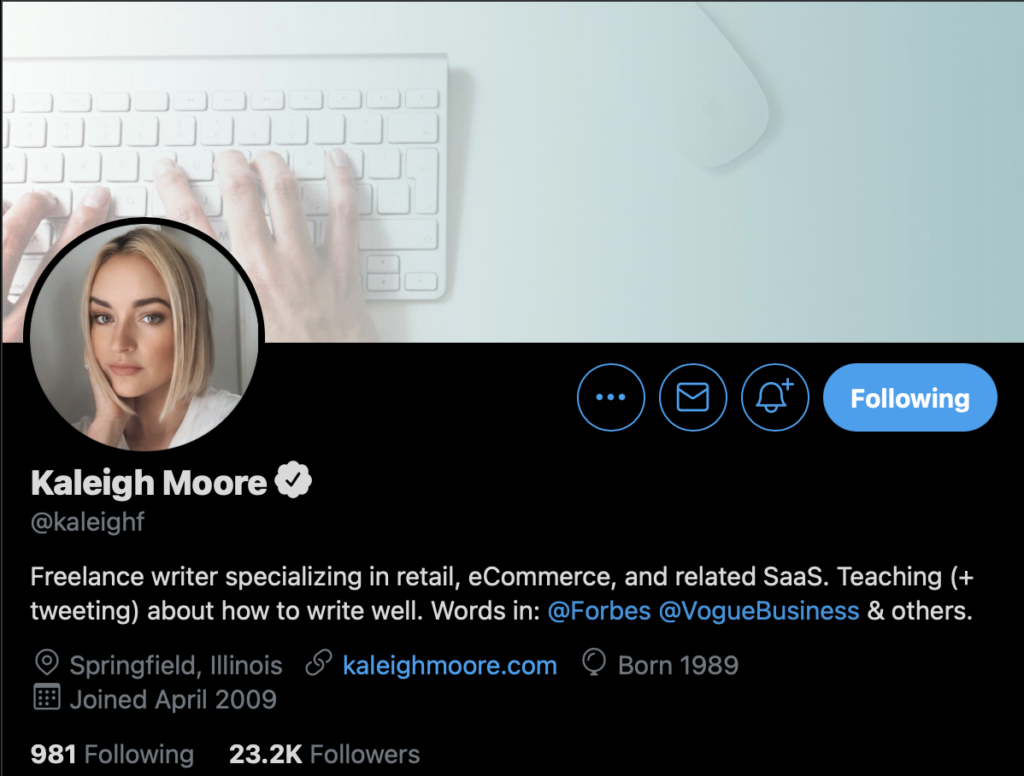 Kaleigh Moore is a freelance writer for ecommerce and Saas businesses. She has worked with companies like Stripe and Shopify, writing blogs and articles that produce results for her clients. Although she doesn't tweet specifically about ecommerce, her tweets are a great resource for smaller business owners who want to leverage writing as a marketing tool.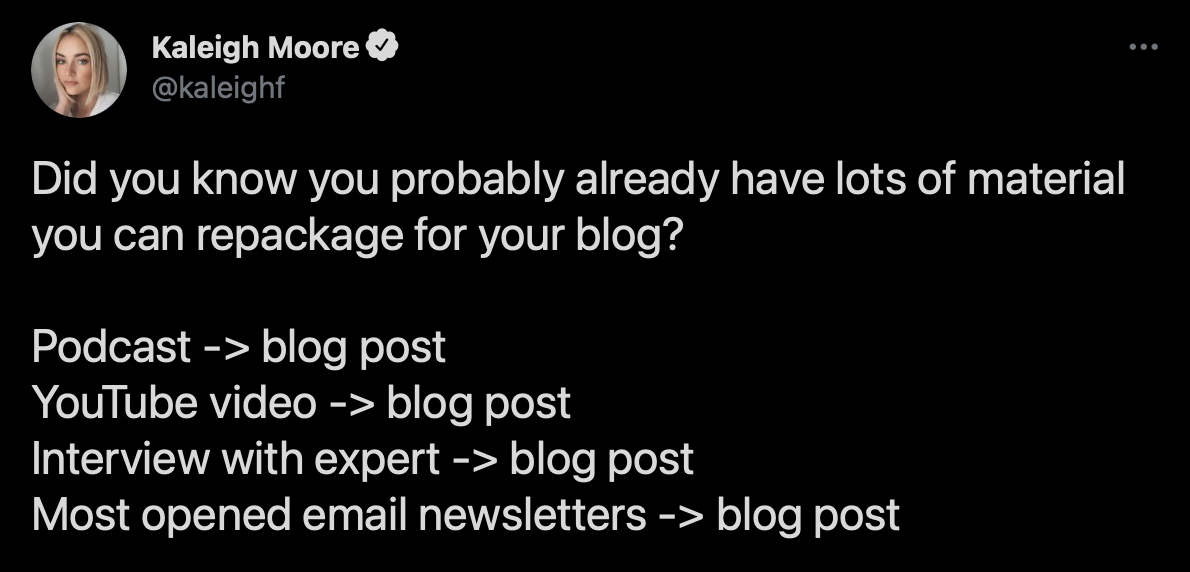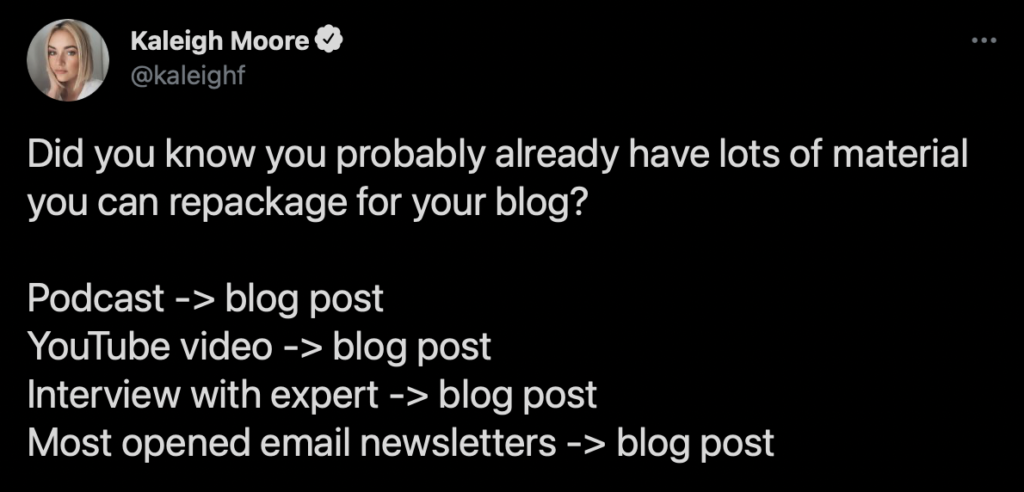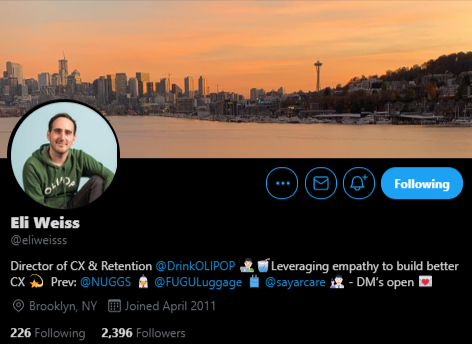 Eli Weiss is the Director of Customer Experience and Retention at DTC brand OLIPOP. He shares content around the process of running a DTC brand with actionable advice about gaining and retaining customers.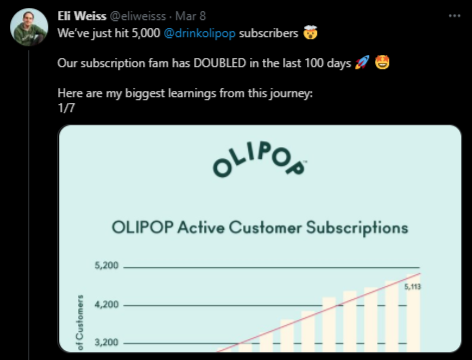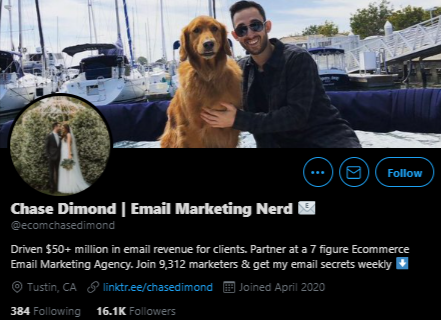 Chase Dimond is an email marketing consultant for ecommerce companies. He tweets advice for ecommerce businesses about maximizing ROI on email marketing. He's a great resource for business owners that handle email marketing by themselves or are heavily involved in the process.

19. Bill D'Alessandro – @BillDA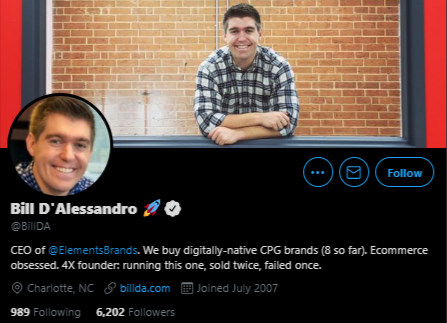 Bill D'Alessandro is the CEO of Elements Brands, which owns a portfolio of DTC companies that are acquired and scaled. Follow him for his insight into ecommerce company acquisitions and growth.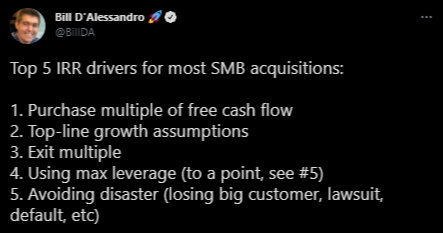 20. Austin Brawner – @a_brawn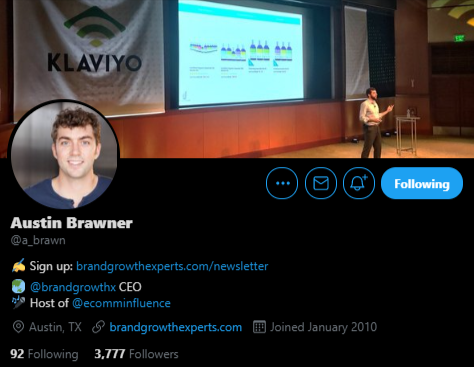 Austin Brawner is the CEO of Brand Growth Experts, host of the Ecommerce Influence podcast, and business coach for ecommerce companies. He has proven experience growing ecommerce brands and shares tactics in his tweets and podcast.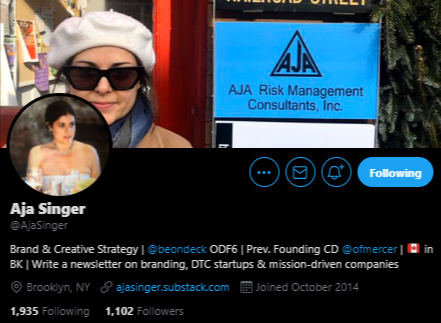 Aja Singer is a branding and creative strategist best known for her newsletter For the Love. The newsletter breaks down the branding of DTC startups, and her tweets reflect her wealth of knowledge about branding and strategy. Follow her tweets for stories about ecommerce companies and their growth strategies.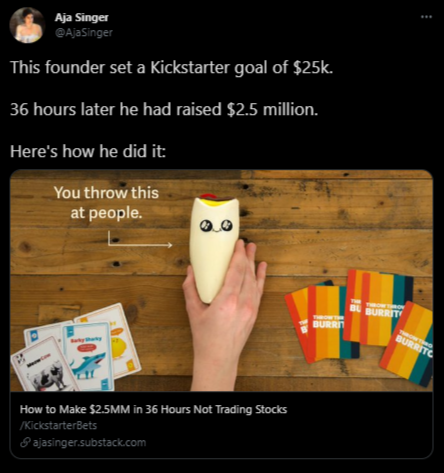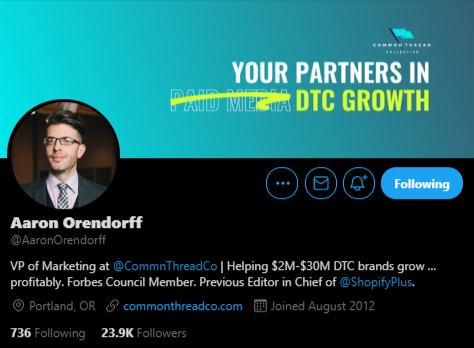 Aaron Orendorff is the former editor-in-chief of Shopify Plus and current VP of Marketing at Common Thread Collective, a company that helps ecommerce brands grow and scale profitably. Aaron's experience writing about and working closely with ecommerce brands makes him a great Twitter follow and resource and even though they're direct competitors now, William Harris claims that Aaron is his "content marketing crush" because he truly has a way with words. Follow him for tweets about marketing, SEO, and growing a business.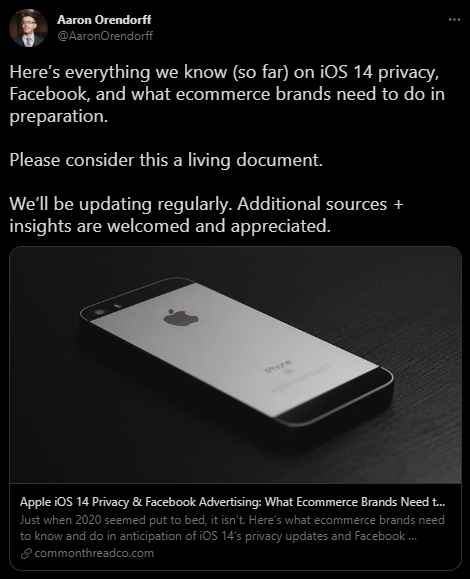 Don't rely on social media for all your knowledge
Social media is a great jumping-off point when it comes to gathering knowledge about running your business. But remember, you shouldn't rely on it solely. Read the books and blogs that the people on this list publish, subscribe to their newsletters, join their webinars, and listen to their podcasts. These formats will have far more in-depth info than 240-character tweets. Take advantage of all the content that's available to you to improve your ecommerce knowledge.