If you're an ecommerce seller, we have good news—online shopping isn't slowing down any time soon. According to Statista, there are 4.28 trillion U.S. dollars in the ecommerce industry, and it's expected to rise to $5.4 trillion in 2022.
With this rise in shopping activity, ecommerce marketing automation(EMA) is a no-brainer for sellers. EMA and its software will make your life easier, allowing you to dedicate more time to high-priority tasks like fostering customer relationships. So instead of trying to finish more jobs than you can handle each day, let ecommerce marketing automation take a few off your plate and work its magic.
What is ecommerce marketing automation?
Ecommerce marketing automation is software that keeps track of tasks, processes, and campaigns to help your business run smoothly. EMA puts ads, email sequences, lead management, and social media content on autopilot. The goal of EMA is to increase work productivity and reach more customers with little to no effort.
Why invest in ecommerce marketing automation?
If there are tasks that you know you can automate, why spend time doing them manually if you don't have to? With tedious duties off your hands, you'll have more time to focus on the high-level areas of your business that can't be computerized. As a result, you'll develop better relationships with customers and improve the retention of your staff.

You'll save time and boost productivity
There are a wide variety of ecommerce marketing automation tools out there to help you save time at various campaign stages.
Say you're getting ready to release a new toner for your all-natural skincare line. You could:
With these tools set up, your ecommerce marketing team—whether that's just you or multiple people—can put their feet up knowing that EMA is handling their core processes.
You'll satisfy every customer
Sending birthday, thank you, and welcome emails to 10 customers seems manageable, right? But what if each one of those 10 customers spreads the word about your genuine customer service and fantastic product(s)? You could be counting 100 customers before you know it. You'll either need to dedicate more time to manually sending out tailored messages or hire and train someone to complete the task for you.
With email marketing automation, you can keep all of your customers satisfied—even as your base grows—without stretching your resources. EMA tools pull from all of your customers' data to send personalized messages—whether that's celebrating a birthday, recognizing engagement, or acknowledging loyalty.
"Ecommerce marketing automation allows me to develop deeper relationships with customers at different stages of their journey," says marketing consultant Colin Little. "You can offer automated messaging specific to first-time customers, big spenders, repeat buyers, and so on, without any manual work."
3 EMA software to get you ahead
The days of doing manual email marketing, customer research, and engagement tracking are over. Instead, there is a diverse range of EMA tools to handle all of the cumbersome aspects of campaigns—and give you more time to focus on high-level work.
Through ecommerce marketing automation software like Klaviyo, Drip, and Bloomreach, you can sleep peacefully and wake up to high sales numbers.
Klaviyo: Improve your email marketing
Manual email marketing management is a headache. For example, you might find yourself with a massive spreadsheet for tracking customer birthdays and frequent purchases. Or even worse, you might need to run home by 2:50 p.m. to ensure your newsletter draft sends at 3 p.m. on the dot.
Rather than keeping track of all the details to send out, use an email marketing tool like Klaviyo. Its software stores customer information and then sends tailored emails based on their activity on your website. Automation allows you to grow faster because of the accurate messages it delivers.
To measure its success, Klaviyo focuses more on revenue results and less on opens and clicks. As you can see in the example below, revenue is at the top of its list of metrics.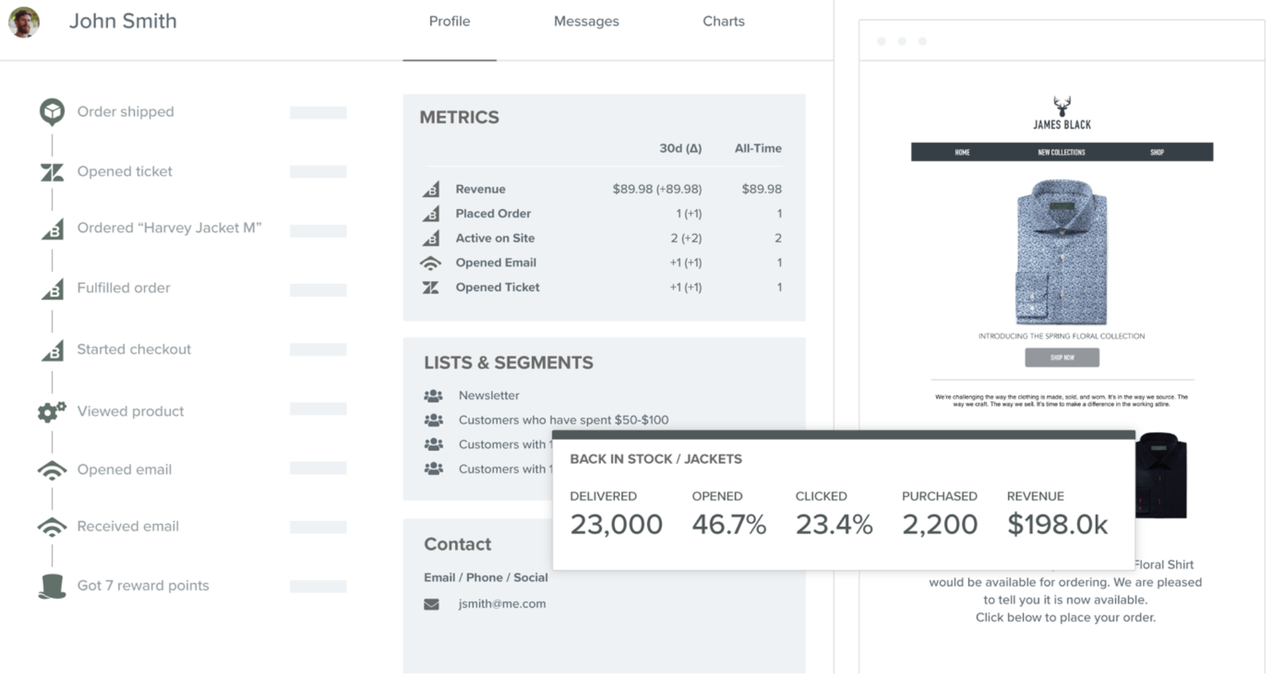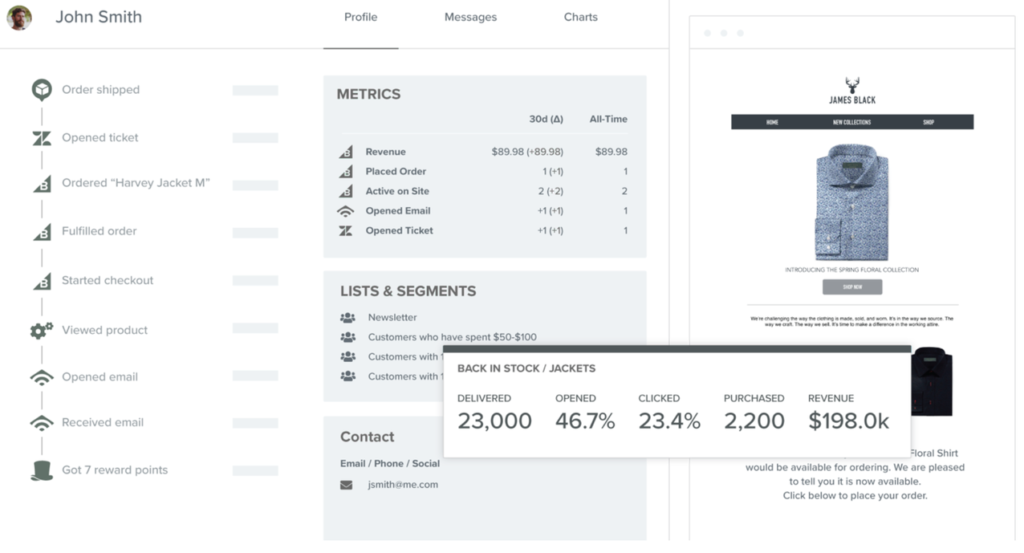 [Source]
To grow your revenue, set up email flows—a single email or a series of emails sent to subscribers contingent on their activity on your platform. Some of those activities include people adding themselves to your email list, simply browsing your online store, or adding things to their cart without purchasing (also known as cart abandonment).
There is also room to implement other email automation series and flows such as:
Without Klaviyo's email flows and series, your sales will stay stagnant instead of generating tremendous growth.
Ecommerce marketer Henry Hoe is a big advocate for Klaviyo, as it improves his eCommerce marketing efforts.
"You're still not maximizing your emails if you're only doing 10% sales from email. You can easily get it to 25-30% just on automated flows—and another 10-15% from campaigns. Klaviyo is that powerful," says Hoe. "And not just that, we get Facebook, Google My Business reviews, and customer surveys through it as well. All automated."
Klaviyo is best for ecommerce merchants that are looking to retarget their campaigns without lifting a finger. To get started with Klaviyo, check out their free course, which covers everything you need to know and how to navigate the software.
Pricing is flexible with Klaviyo. It's free if you have 250 contacts or less, $20 a month for 251-500 contacts, and goes up to $1,200 a month for 100,000 contacts.

Drip: Grow your audience
Interviewing previous buyers and connecting with loyal customers to learn about their interests is often time-consuming. As an alternative, consider using Drip—a tool that collects your customer data so you can make customized cross-channel journeys for customers on the software.
Use Drip to create appealing, one-of-a-kind sign-up forms that make a great first impression and attract potential customers.
Popup Forms allow you to engage with your shoppers at a time that makes the most sense. With the ability to customize each popup with your branding, you can build relationships and engage more effectively. In addition, with the essential information that you collect from people who submit these forms, you can use the data to create better experiences. As a result, customers will look forward to coming back to shop with you.
Targeted Forms send offers to the right people—allowing you to specify who you want to sign up for your emails. It targets customers who have gone without making a purchase recently and then offers deals and discounts.
Drip's targeted forms use behavioral form targeting—automation that measures customers' behaviors— to help identify who you should target in your forms. For instance, say you are sending out a new sign-up form. Behavioral form targeting will prevent existing customers from receiving that targeted form—allowing only new shoppers to receive it.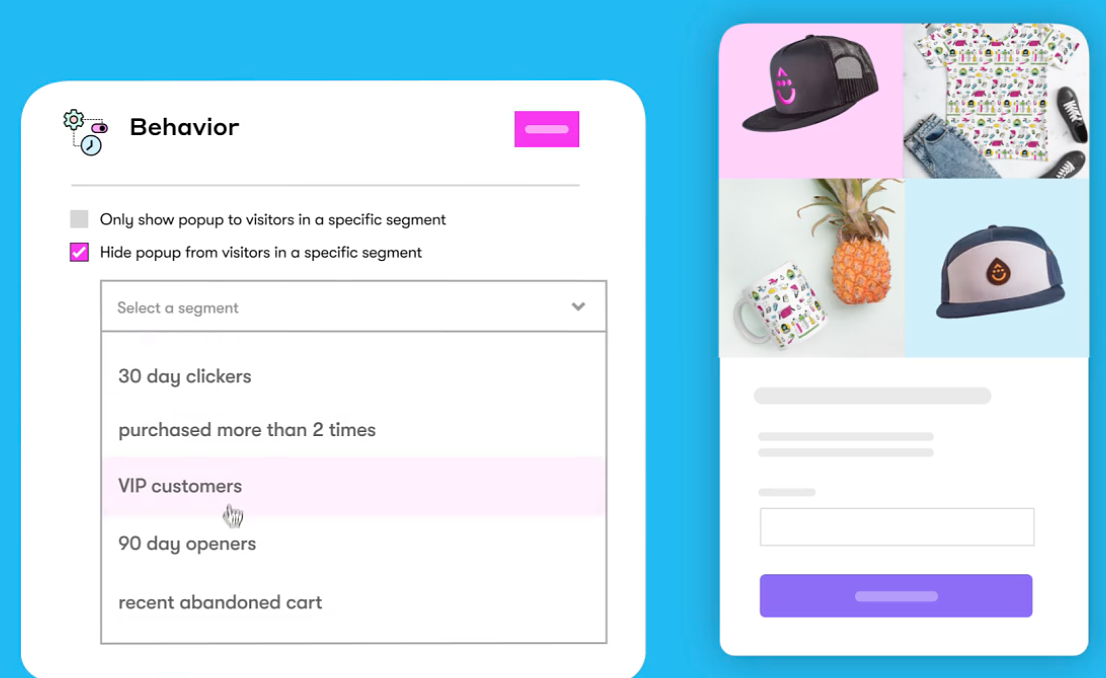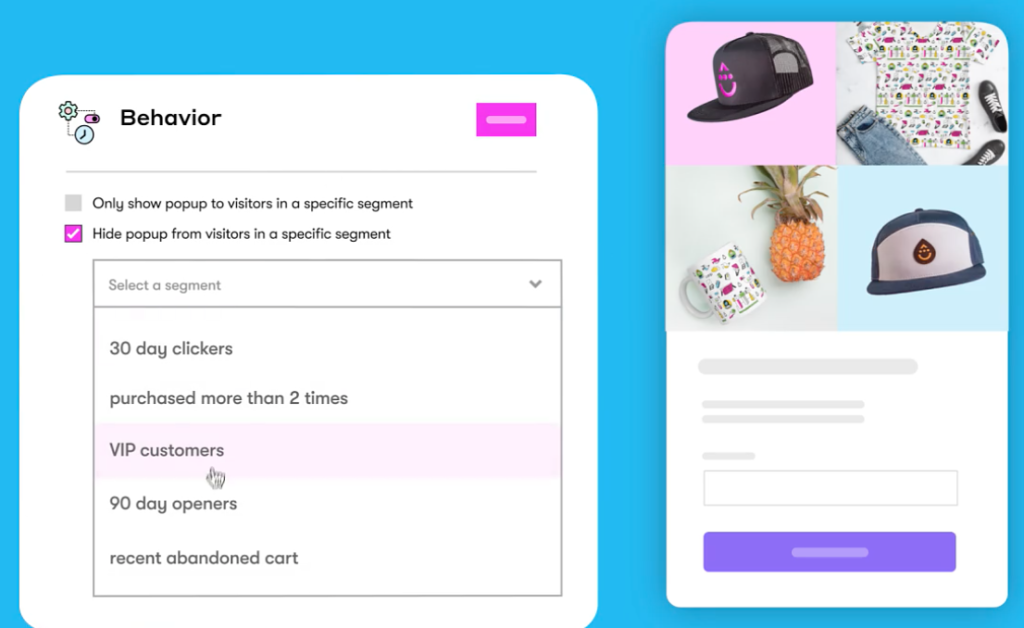 [Source]
In addition to sign-up forms, Drip also lets you set up SMS to track active customers, orders, total revenue, revenue per person, and active customers. The software also lets you know when each factor takes place—no more reaching out to customers manually.


[Source]
With SMS, Drip takes care of all the behind-the-scenes work, allowing you to focus on growing your audience. Sending a cart-abandonment message, "Hey Cleo, you left this skirt in your cart!" is a gentle reminder that drives urgency.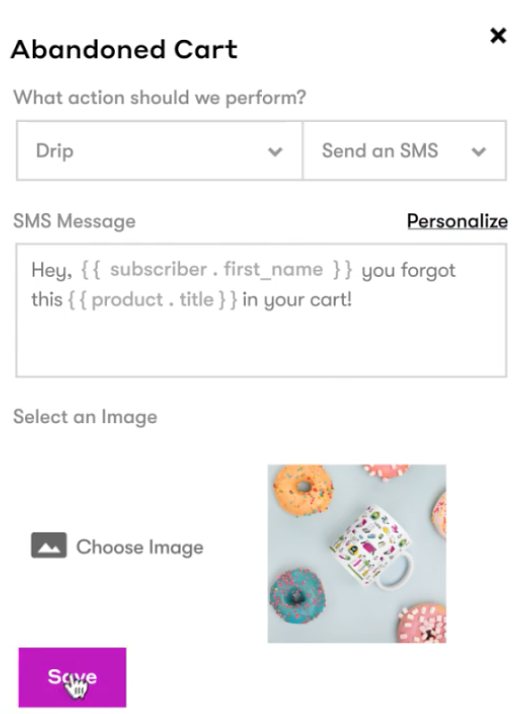 [Source]
Drip's SMS feature is beneficial to both you and your shoppers. They get instant access to new releases, deals, and discounts, while you get to see the results of how well people respond to your automatic messages.
And if you ever worry about whether or not subscribers will appreciate receiving information via text, set up a strategy that involves deep personalization to help produce better results. Finally, of course, asking customers for feedback can be beneficial as well.
"For years, I thought I would hate getting texts from businesses. I've heard from customers that they like getting SMS from the business, and I was surprised by how many people signed up quickly," says David Lindah, founder of Rainier Watch.
Once you're confident in Drip and its tools, you can get started. With up to 500 subscribers, Drip is $19 per month. If you have or work your way up to 5,000 subscribers, it's $122 per month.
Bloomreach: Improve content engagement
Content is one of the best ways to interact with online buyers. Look at it as a priority rather than the icing on the cake for the success of your business. Bloomreach helps strengthen your content engagement—showing you website visitors, what turns browsers to subscribers, and how long someone stays on a web page reading your blog post.
The goal of Bloomreach is to better the digital experience on your platform. The software collaborates with professional marketers, content authors, and digital merchandisers through its automation tools and platforms.
Bloomreach Experience Platform (brX) is a platform that impacts content engagement by connecting customer data with product data. It focuses on commerce-specific digital experiences and delivers content across all digital touchpoints.
One touchpoint, in particular, includes optimizing a landing page to align with your unique visitors. When building your audience, implement Bloomreach Engagement and use segment data to target the most accurate shoppers. With this feature, you can collect customer data, then brX automatically organizes that data into one system. With such precision, you'll be able to target the right customers at the right time.
Get started with Bloomreach if you want to gain insights into how engaged shoppers are with your shop.
You can schedule a demo or start a free trial. However, if you're looking to jump right in, pricing depends on the product pillar you are looking to implement—either content, discovery, engagement, or all three. In addition, Bloomreach's pricing considers a few factors, such as the number of customers you serve and your product inventory size.
Invest your time wisely with ecommerce marketing automation
Ecommerce marketing automation tools help you use your time wisely. After implementing some of the tools mentioned above, you'll see for yourself. But your marketing efforts as an ecommerce seller are only one of many sectors that helps keep your business running seamlessly.
Now that you have EMA processes under your belt, use Sellbrite to put some of your inventory processes on autopilot as well. With Sellbrite, you can save even more time by streamlining all merchandise into one place automatically. In addition, by enabling Sellbrite's Inventory Sync, you'll spend less time checking inventory and more time generating sales.