There's no better advocate for your company than a satisfied customer. That's why referral programs work.
When existing customers refer their friends and colleagues, they're telling them how valuable your service truly is.
As new customers come in, people will stick around longer, and your business will grow and become more successful. Referred customers have 16 percent higher LTV and 18 percent less churn than those acquired by other methods—and customers with high LTV and low churn are the backbone of any strong, fast-growth ecommerce business.
If you haven't started an ecommerce referral program, you're missing out on that potential growth.
So where do you start?
Choosing the Right Strategy
Not all referral programs are created equal. When you're starting out, it's important to consider what will work best for your business and be the most valuable for your customers.
Customers won't recommend your service just because you ask them to; you need to show them the value you provide and leverage it in your ecommerce referral program.
When you find out what motivates your existing customers to refer their friends, you can use that to build your referral program.
Here are six strategies you can use to find the right balance between what you value and what your customers value in your referral program strategy
The Cash-in-Hand Approach
A simple monetary ecommerce referral program is one of the easiest ways to start generating referral traffic for your business. You can start by offering your customers cash rewards in exchange for promoting your service.
The specific amounts will differ based on your business model. When you're planning to offer monetary incentives, it's important to make sure you're not losing money in the process.
Project management software Basecamp took this approach by offering their customers and referrals $50 each for signing up. This 50/50 split gave the current customer and the new referral an equal incentive to get started.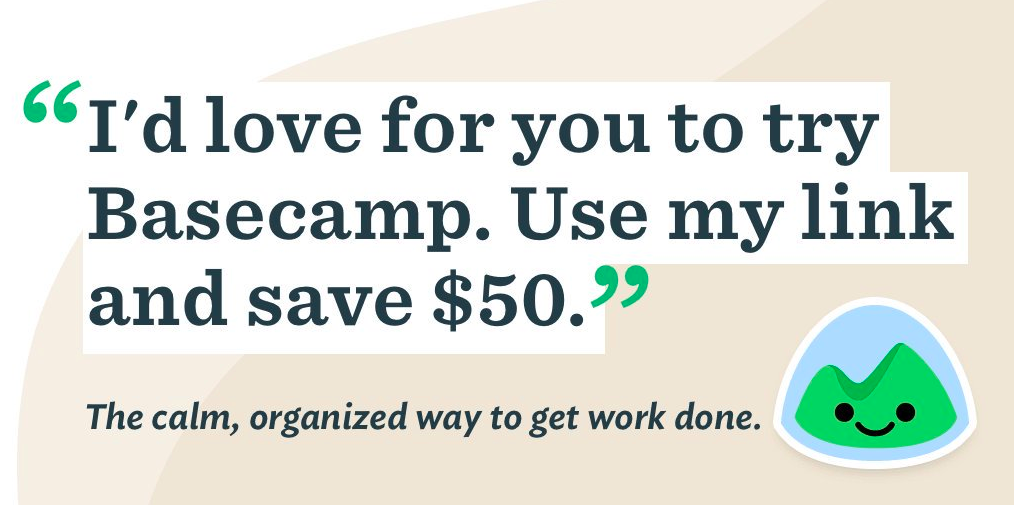 Basecamp gained traction for their new referral program by:
Blogging about their referral program. They offered up an honest assessment of why they moved away from paid advertising and focused on customer referrals.
Promoting their referral program via social media and modal pop-ups in Basecamp accounts. This increases exposure and lets their current customers know how easy it is to refer a friend.
Creating easy-to-use referral links and sharing buttons. This helps their customers promote the program to their networks.
This kind of referral program is easy to get off the ground and doesn't require that much in terms of resources. All you need is a PayPal account, the ability to create discount codes, and a way to track referral traffic, such as ReferralCandy or Forewards.
A third-party service can take the difficulty out of starting your own referral program.
The Account Upgrade
If monetary incentives aren't feasible for your business, you can encourage customers to refer their friends in other ways. Giving customers additional services is a good option.
You could offer extended warranties, priority access to new products, concierge-style advice, etc. Find out what is valuable to your customers and then provide it in exchange for their referrals.
A great example of this is Dropbox, which used the offer of additional storage space in return for customer referrals. By adding storage space to their existing customers' accounts for each referral, Dropbox was able to make their accounts more valuable. Typically, a customer would need to pay more to receive that additional space.
By making customer accounts more valuable in return for a referral, Dropbox was able to increase their active users 40x in 15 months.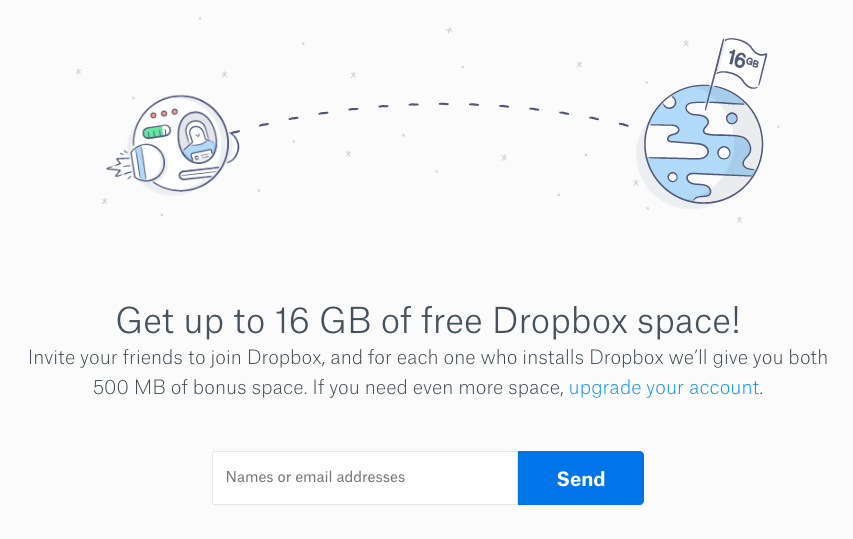 Dropbox implemented a simple landing page for their referral program. Their customers are prompted to enter a friend's email address directly in order to send the invite. It's a low-impact way to let customers easily reach out to people they know who can benefit from the service.
They also go a step further and let their customers import a Gmail contacts list, copy the referral link directly, and share to Facebook.

Each method lets Dropbox customers reach out to their network, which helps them promote the referral program easily.

The Extra Perks
You can structure your ecommerce referral program to provide current customers with exclusive perks or gifts as well. That helps you incentivize customers based on the number of new people they refer to your business.
This turns your referral program into a kind of game, in a good way, giving customers the push they need to continue referring new people to your service.
When you provide an additional perk or exclusive gift, you need to make sure that it's beneficial to the customers. Tesla does an excellent job of this in their referral program.
Tesla offers different perks to their existing customers, based on the number of people they've referred. These tiers give customers a new goal after each referral has been made. The more they refer new customers, the better their perks will be.
The perks start with exclusive charging outlets and move on to new wheels or a free home battery.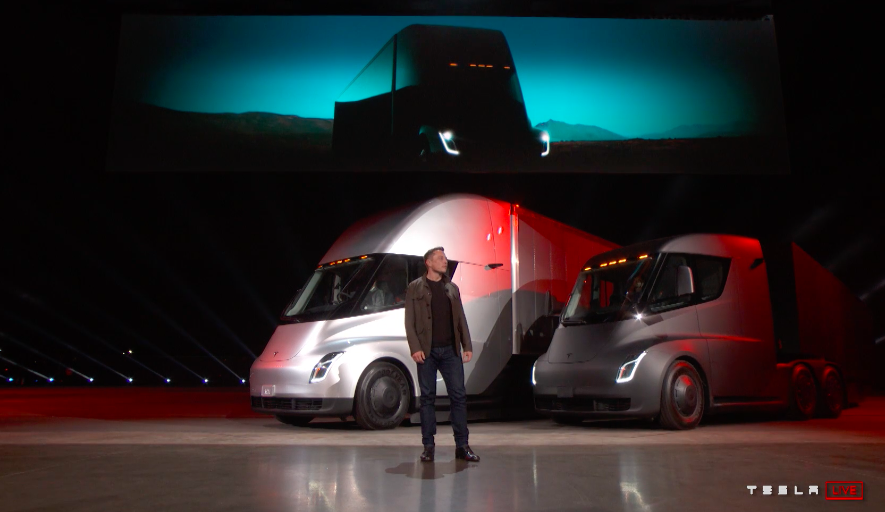 Top referrers were also entered into a contest to win a ticket to Tesla's unveiling events.
These big-ticket offers help push existing customers to use their referral links. The more frequently customers refer to Tesla, the more value they get out of the perk or gift they receive.
That's not to say that referring just one customer isn't valuable. Tesla provides their customers with great referral payments at each level. But when you give your customers a goal to strive toward, they will push harder to achieve it.
The Strongest Advocates
Each of your current customers has the potential to make a referral. Being able to target the customers who are more likely to be successful helps you build your referral program faster.
Finding out which customers are likely to refer their friends and colleagues is easier than you think. With a bit of outreach and a way to track results, you can use an NPS survey to target your best advocates.
If you're not familiar with the NPS, or Net Promoter Score, it is a great way to track how your customers feel about your product. You do this by asking a simple question, such as, "How likely are you to recommend our product to a friend?" Based on the results, you can categorize customers into three groups:

Airbnb tracked their NPS survey results in an effort to find out which customers were most likely to recommend their service to others. They found that the closer to 10 a customer replied, the more likely they were to recommend the service to others.
Use email to run a simple feedback survey and see which customers are most likely to recommend your service, and then segment those customers to conduct a more targeted outreach. You can use this kind of outreach to boost engagement with your ecommerce referral program as it is getting started.

A service like Ambassador can help you offer additional perks or gifts to the customers you know are more likely to recommend your service.
The Conversation Starter
The tactics we've gone over so far speak to how you can motivate individual customers to refer new people to your service. While this is a great way to get your ecommerce referral program off the ground, you provide more value by connecting customers with one another as well.
Giving customers an outlet to talk about your brand and connect with their peers is a great way to build a network of influencers who can refer customers to you.
When you empower customers to share their stories, it helps all of them become more successful.
Online beauty retailer Glossier did this through social media, specifically Slack and Instagram. It's easy to keep track of these social media accounts using a service like Extole, which categorizes and helps build advocacy for your brand.
The customers who refer Glossier's products make a commission on anyone who makes a purchase through the specific referral link. Glossier encourages their customers to act as evangelists for their product.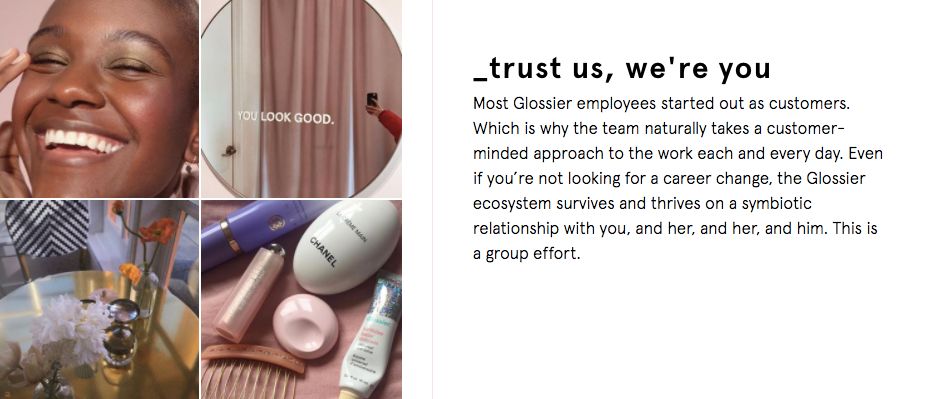 By leveraging social media platforms like Instagram, Glossier's customers can share pictures of themselves using the products, and tutorials on how to use them, and they can interact with their friends and family all at once. This not only helps boost referral sales but also builds a community of ever-expanding customers who advocate for Glossier's brand.
It's that kind of social proof that builds trust and credibility for your brand. It's not impossible to garner that kind of reputation on your own, but if you have current customers who can speak for you, it makes the process much faster and a whole lot easier.
The Social Media Influencers
Using social platforms to encourage conversations between your customers is a great way to make meaningful connections. And, it's a good way to promote the value of your referral program.
By connecting with your customers on social media you're able to tap into the existing grassroots marketing they're participating in.
Pura Vida Bracelets talked about how they had success with their micro-inflluencers rep program on Instagram.
They combined a social media strategy on Facebook and Instagram with targeted email campaigns to build an astonishing number of brand evangelists. They were able to use these micro-influencers to sales and drive down cost per acquisition (CPA) as well.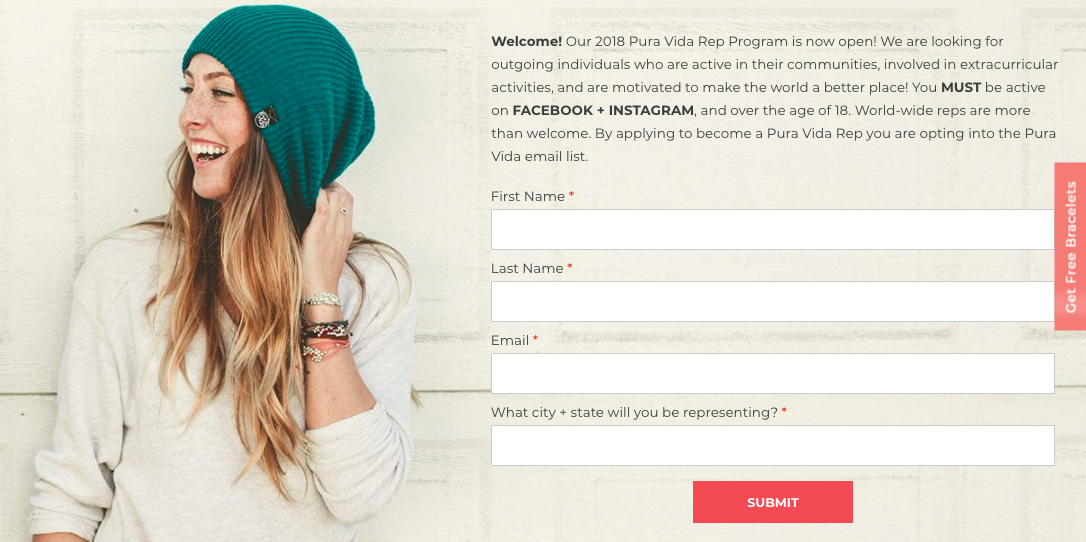 By offering a simple sign up process, Pura Vida Bracelets also reduced the friction it took for their customers to sign up.
Using a tiered reward system, Pura Vida Bracelets was able to offer quality perks to their customers at any level. They tracked this growth and managed their new reps via a service called Refersion, which helped them scale out the program as it grew 300% year over year.
The Affiliate Program
You should refine and reevaluate your ecommerce referral program as your business grows. When customers start referring your service more, it might not make sense to continue the same pricing model.
The tactics we've discussed today cover a wide variety of referral programs, but scaling them to your business needs to be a consideration as well. It's important to grow along with your customers and continue providing them with a valuable ecommerce referral program that works for everyone.
Take outdoor retailer Huckberry. Their previous referral program was pretty straightforward: When an existing customer referred a new customer, the new customer got $10, and the existing customer got $20. This served the company well for several years
As they grew, Huckberry moved to an affiliate program. Now, customers receive a percentage of each sale made through the referral link.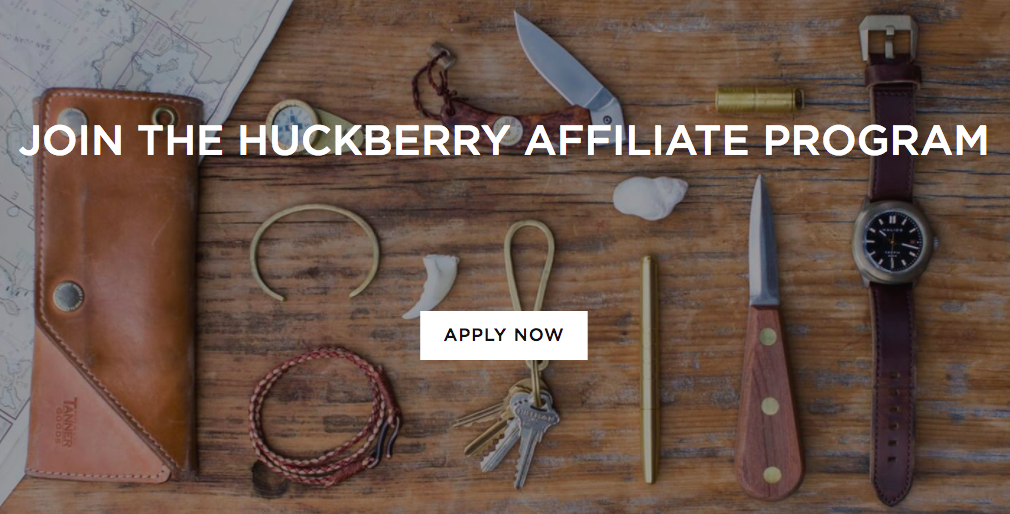 Huckberry uses iDevAffiliate as their affiliate tracking software, which gives customers a way to earn more commissions on their referrals and has helped Huckberry scale out their program.
Over to You
Getting started with an ecommerce referral program might seem daunting, but with the right strategy for your business, it's much easier.
How has your referral program been successful? Have we missed anything? Let us know in the comments.