Not every customer who lands on your site will end up buying something.
They search, they land on your site, they look around, and they leave. It happens.
That used to be the end of the story — but Facebook retargeting has flipped the script.
Facebook retargeting ads have changed advertising because now you can advertise to people who've spent time on your site but didn't buy anything before leaving. Retargeting ads are more than just showing ads to people who've visited your site.
These ads are most powerful when you know which stage of the buying cycle potential customers are in because you can narrow the focus of your ads to highlight specific benefits and encourage people to buy.
Let's look at how to create a Facebook retargeting ad campaign and review strategies you can use to improve your returns.
The power of Facebook retargeting ads
Facebook retargeting ads are powerful for two reasons:
They give you more chances to engage prospective customers who've already shown an interest in your product or service.
They let you target prospective customers in the place they spend the most time — their Facebook News Feed — and remind them that you have something they want.
Facebook retargeting ads are meant to focus on people in the Information Search and Evaluating Alternatives stages of the buying cycle.


[Source]
Let's say a prospective customer wants to buy a camera. In the Information Search stage, they visit your site and a few others to see what camera options are available to them. In the Evaluating Alternatives stage, prospective customers have narrowed down their choices to a few options that closely match their needs. For example, after doing their research, they might decide that they need a high-speed camera to capture action shots.
It's at these points in the buying cycle that retargeting is the most effective because prospects haven't made a purchase decision yet. You still have a chance to restate your product's value and rehash the features that are the most important to this audience. The result of Facebook retargeting ads is higher returns because instead of losing a potential customer forever when they leave your site, they see your ad and are reminded of the options you offer.
Here's the thing though, successful retargeting is more than showing ads to people who've spent some time on your site. It's more strategic than that. You have to differentiate between the types of people visiting your site to find the ones most likely to buy something after they see your retargeting ad.
"Facebook retargeting is hands-down the most lucrative Facebook ads strategy you can master.
While other kinds of Facebook ads require you to study your target market in detail to turn strangers into customers, retargeting ads do most of that work for you.
With retargeting audiences, you already know exactly who you're showing your ads to. It's either people who visited a certain page (like a blog post) and left, people who abandoned their cart, or people who have already bought and just haven't come around in a while.
You can use that data to quickly create a hyper-targeted ad, showing the Facebook users exactly what they want to see – be it the product they were considering buying, or products related to what they were reading about on your blog.
It's SO easy and SO lucrative, you'd be crazy not to give it a shot!"
– Bill Widmer, Digital Marketing Expert
Now let's look at how to set up a campaign and choose the right strategy based on the types of prospects visiting your site.

Getting started: How to create retargeting campaigns
Here's how retargeting works:

Keep in mind that the flow isn't so linear. Customers will likely have to see your retargeting ads more than once before they decide to buy something. The purpose of your ads is to keep people engaged and excited about your product and not ignore your ads. The Marketing Rule of 7 says that prospective customers have to see an ad at least seven times before they convert and buy. This example just illustrates how the process works when potential customers first see your ads to when they eventually buy.
To get started, you need to first set up a Facebook Ads Manager account. Once complete, open the menu and click on "Audiences."

The Audiences page is where you specify the types of audiences you want your ads to target. You can create as many as you need based on the customer segments you've already identified. For example, if you have a lead generation form on your website, you can upload a list of leads to Facebook, create a new audience called "website leads," and run ads that retarget this group because they've already shown interest in your product.
To create an audience, click "Create Audience"…


…and then "Custom Audience" to define who you want to target with the ad. Click on "Website Traffic" to target people who've visited your site but haven't bought anything.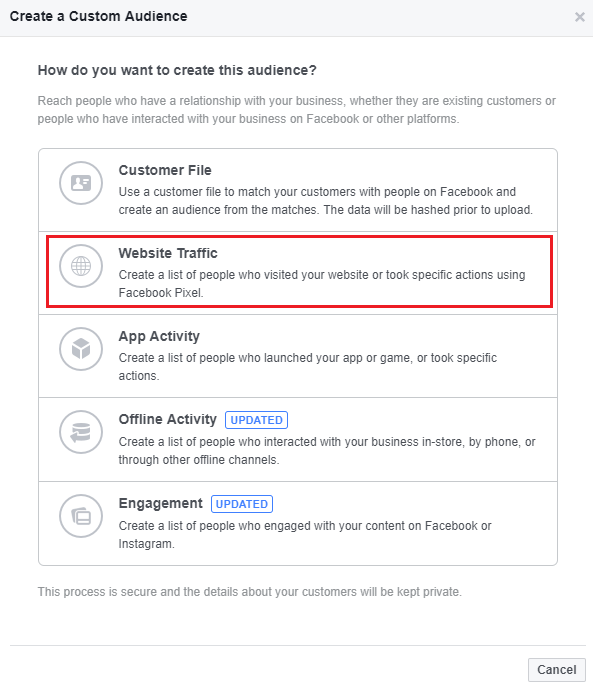 Next, define who you want to target with your ads.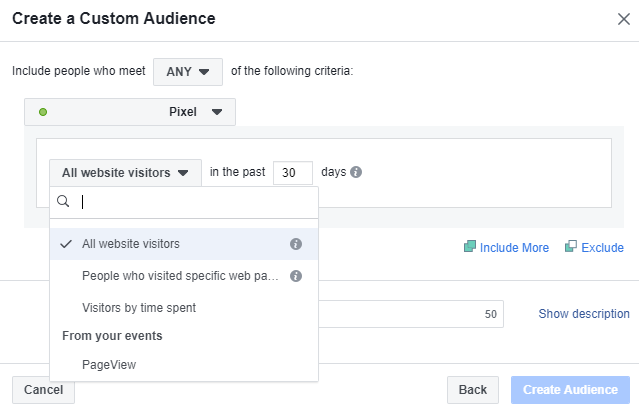 Note, you can create multiple audiences manually or click on "Include More" to target more than one audience type in your campaign. For example, the audience you create can focus on people who visited a specific product page or people who spent more time on a product page than other visitors. This helps you maximize your ad's exposure because instead of running separate campaigns that look at different audiences, you can use Facebook to look at multiple audiences within one campaign.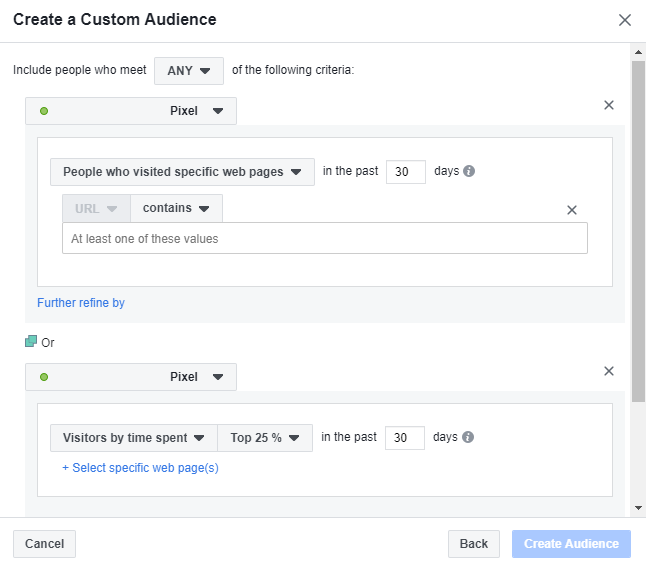 Click "Create Audience" and you're ready to create your ad. To create your retargeting ad, click on "Ads Manager" in the menu to create a campaign.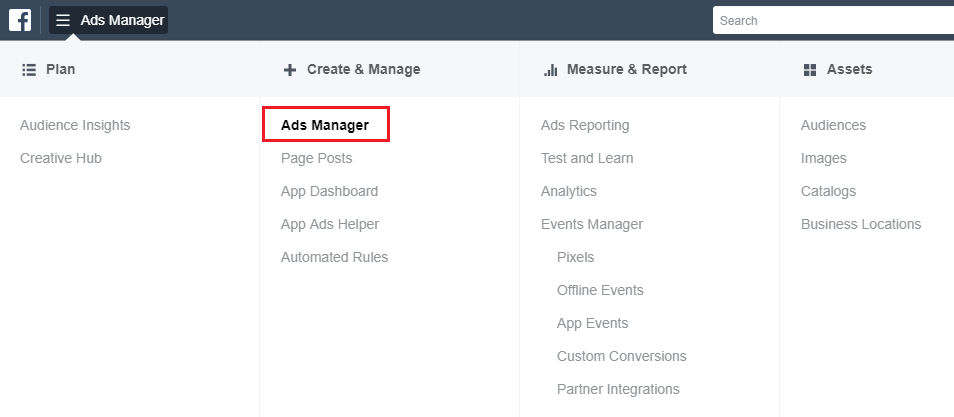 Give your campaign a name and use the ad set to choose the audience you just created, set a budget, and decide how long you want the ad to run. Write your ad copy and choose a call to action (CTA) based on your offer and the action you want people to take. For example, use "Shop Now," "Book Now," or even "Sign up." Finally, choose an ad type — for example, single image or carousel — and your retargeting ad is ready.
Remember, avoid showing prospective customers the exact same ad over and over. If you have a special offer, use a single image for your first ad. Run the ad again but this time use a carousel, for example, to showcase more of your product to "sweeten" the offer.
Also, test when to send your retargeting ads. You don't want to start showing them too soon and risk annoying potential customers, because it seems as though you're only interested in making a sale. And you don't want to wait so long to send your ads that they become irrelevant or prospects have already bought a competitor's product.
Three strategies to maximize conversions
As you set up your ads, it's important to think about the strategy. Think about who you're targeting — remember people browsing your site are at different stages of the buying cycle — and make sure that your ads speak to the specific need or pain point potential customers have.
Depending on the buying-cycle stage potential customers are at and the reasons they don't convert right away, here are three strategies that you can use to make sure your retargeting ads are as effective as possible.
Retargeting prospects who visited specific pages but didn't buy
This group is in the Information Search stage and is considering different product options. They've spent time on your product pages or they've browsed product feature pages. To get these prospects to convert, you have to speak to their need for information as a way to pique their interest and choose you when they're ready to buy.
Do this by offering an incentive, like a free trial if you have a service or a discount if you have a product.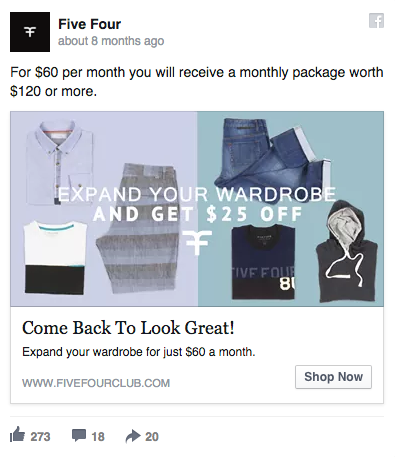 [Source]
Your retargeting ads should reinforce the information on the pages they were looking at. For example, this ad reminds potential customers of the variety available to them at a low cost.

Retargeting prospects who abandoned their cart
These prospects are in the Evaluating Alternatives stage and are close to making a decision. They're ready to buy but something stops them from completing the process. For example, prospects visit your page, find a product they want, add it to their cart but decide not to check out.
To figure out why potential customers changed their minds and to make retargeting ads effective, ask yourself questions like:
Do specific products have a higher abandon rate than others?
Does your checkout process flow or is it complicated? Are there multiple steps included?
Are there additional costs — like delivery — that show up at checkout but aren't clearly explained?
Make adjustments based on the issues you identify and use retargeting ads to let people know that you've made changes. For example, this ad makes it clear that free shipping and returns are available.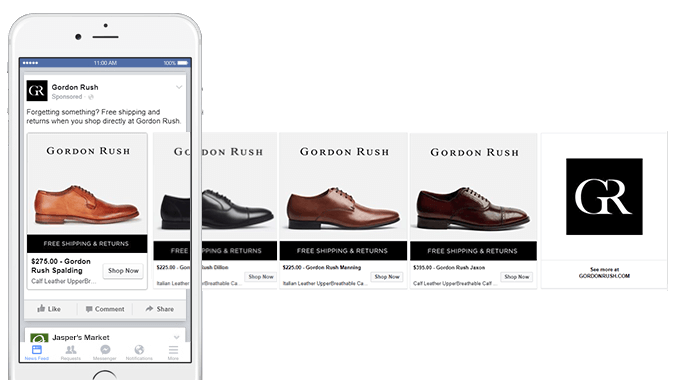 [Source]
Retargeting prospects who haven't visited in a while
This group of customers has visited and browsed your site more than once in the past but hasn't come in a while. They may have forgotten about your product or started using a competitor's product. There's still potential with this group and an opportunity to get them to come back to see what's new on your site.
For this group, your ads should highlight new product offerings, new prices, and special offers to engage them and get them to purchase again.
Take the idea of getting potential customers excited to come back and try your product by incorporating social proof into the ad.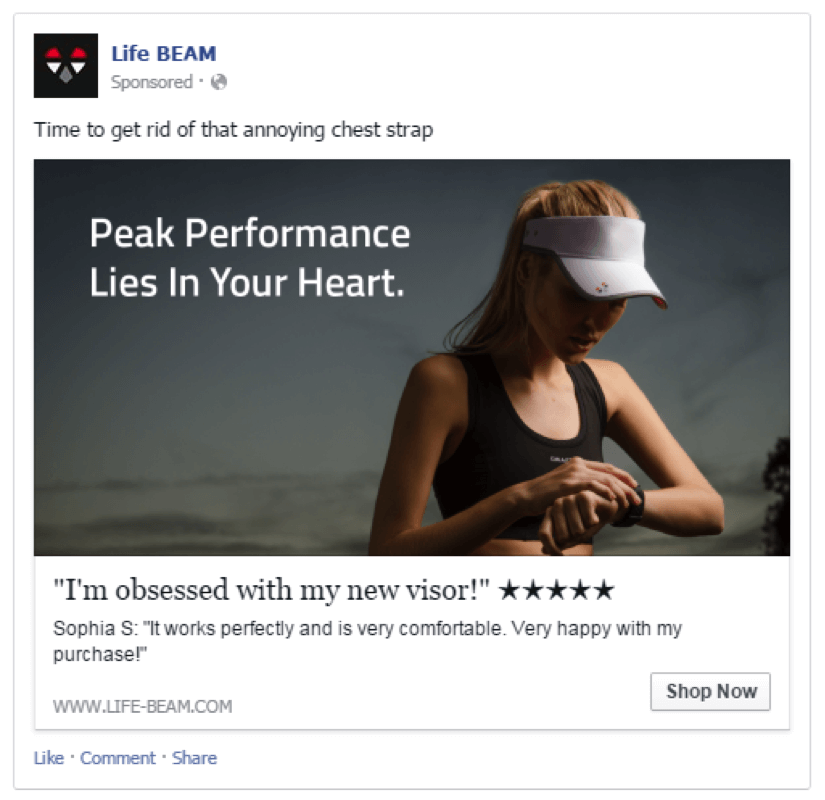 [Source]
This ad puts a testimonial right into the ad's description and the five-star rating that goes along with it. So rather than the brand telling a potential customer how great the product is and asking them to come back, the testimonial speaks volumes. Other customers are enjoying the product and have their needs met.
You're ready to boost your returns
The most important thing to remember with Facebook retargeting ads is to strategize before you get started. Take a minute to review your Google Analytics to see which pages have the most traffic and check your sales funnel to see how many of your leads make it through and buy something.
Understand the journey you expect customers to follow and review it to see where along that path people drop off before they make a purchase and figure out why. Once you know why potential customers are dropping off, tailor your ads to speak to that reason. By addressing specific concerns — like pricing — you show your audience that you understand their needs and have what they need.