Most brick-and-mortar store shoppers find it annoying when a salesperson constantly shadows them. Even though it's meant with the best intention, customers get uncomfortable when they know the salesperson is just trying to push a sale.
Email marketing works similarly for ecommere companies. When you send too many company-centric emails to push your products, you turn into that nagging salesperson.
Email isn't just a way to get people to buy stuff—it's a way for you to make meaningful connections with your customers by showing that you understand their interests. That's how you build trust and long-term relationships that turn new customers into repeat customers. As you get to know each other, they see you as a partner and not someone trying to push something on them.
Let's take a closer look at how to make email marketing successful for ecommerce. Below, we'll walk through five tactics that will help you build your next email campaign. These are tricks of the trade that can fly under the radar but when used consistently, they help you achieve higher sales and stronger customer retention.
1. Not all acquisition channels are created equal
Everyone knows multi-channel selling increases your customer reach. Each of your channels, including your ecommerce store and your marketplaces, get you in front of people you may not find if you weren't right there, ready to sell, exactly when and where they're shopping.
Yet, the quality of email leads from each channel differs. It's likely that someone finding your website through a targeted search is more willing to buy from you AGAIN than someone who randomly saw your ad on Facebook, Instagram, or Twitter. Remember, email marketing for ecommerce is all about repeat purchases.
You get email addresses from all of your customers—though certain marketplaces like Amazon will try to anonymize those addresses—but just because you have an email address doesn't mean you have high intent. That's why your email campaigns need to differentiate between customers from each channel. Put each channel into its own group and ask yourself these questions:
What types of new customers come from each channel?
What actions do they take?
How engaged are they?
What do they like to buy?
Let's say you've integrated your eBay marketplace with Sellbrite. Based on your eBay orders, product category, average order value, or maybe even time of day, what can you learn from your buyers?
Take all of the information you have and import it into an analytics platform like Amplitude. They have a behavioral cohort analysis feature that lets you segment customers based on their actions.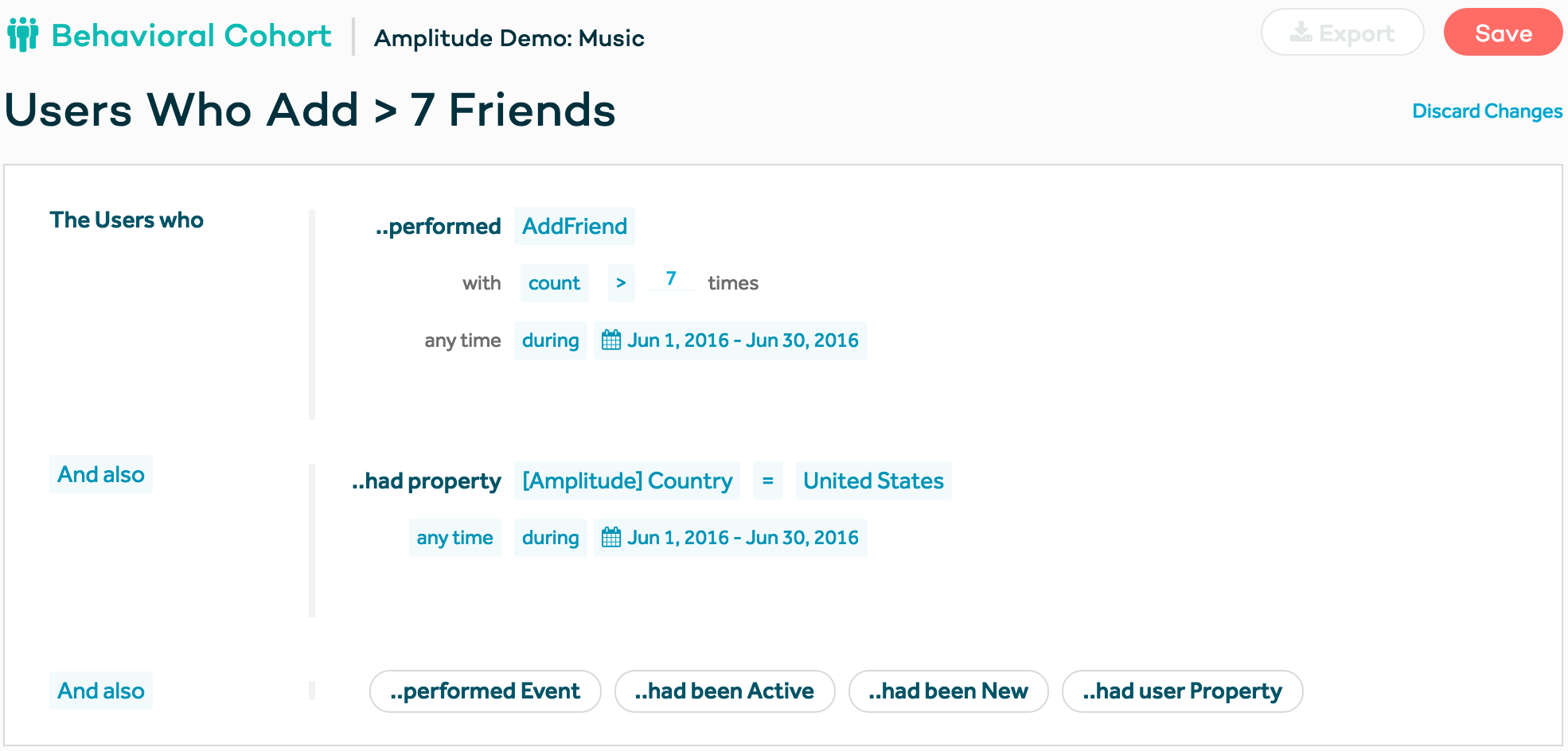 [Source]
The platform lets you set what actions and properties — like the ones above — you want to analyze. From there, you paint a picture of the types of customers you're attracting from each channel.
Next, segment them into groups to send each one targeted and relevant emails. The result is a better customer experience and more successful emails.
2. When you send emails matters as much as what you send
When it comes to ecommerce, you have a few short seconds to grab attention. People are bombarded with ads everywhere: in their apps, while they're surfing the web, and especially in their inbox.
Emails are key to reaching customers, but inboxes are prime real estate. You're competing with lots of other emails for attention. And with mobile use so high, the majority of emails are opened on phones. As soon as you send an email, your customer's phone notifies them.
It shouldn't come as a surprise then that the time of day and day you send an email influences open rates. The point of your emails should be to maximize open rates, get customers to read them and then click-through to your website. You want customers to see your email as a welcome notification.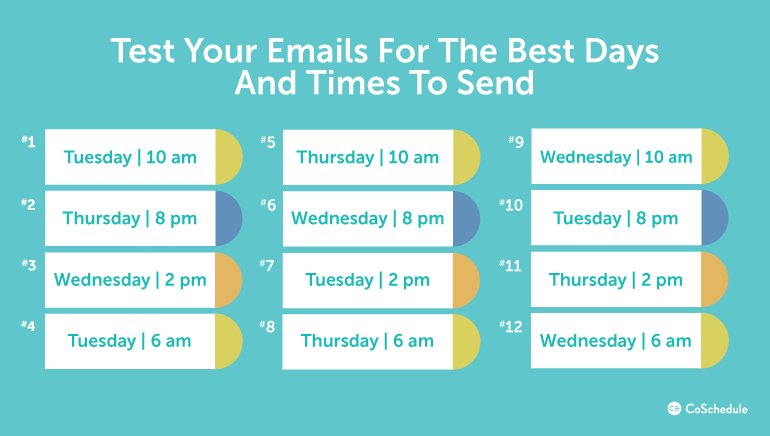 [Source]
Lots of research has been done to figure out the best time and day to send emails. CoSchedule used 10 studies from email marketing leaders like Campaign Monitor and MailChimp to figure this out. Even though the data ranges among the companies, there are a few common takeaways:
The best day to send emails is Tuesday. Thursday and Wednesday are the next best days if you send at least two emails a week.
The best time to send email is at 10 am. As an interesting side note, Campaign Monitor suggests 8 pm to midnight is a close second. These are likely people checking email before bed.
While timing is important, your content and the quality of your subscriber list tie it all together.
When you time your emails right, you show customers that you respect and understand their day-to-day habits. You also increase the chances that customers open your email, take the time to read through and digest what you're telling them, and click-through to purchase.
3. Consistency builds your reputation
When you have the customer's attention you need to make the most of it. You don't want them to open your email and click out because the content didn't resonate with them. Consistent quality is a must.
What you need is a recognizable brand standard, something that sets you apart from competitors. The two major components of a strong brand standard are content and design. Let's break this down.
Content
In order for your content to resonate with customers, you have to understand what they care about. Go back to past campaigns to find some indicators:
Look to see which campaigns had the most open and click-through rates.
Check analytics on your website to see what content different types of visitors are reading.
Check your product pages. What products are the most popular? Check comments, reviews and the number of times they're added to checkout.
A deep understanding of what your customer likes and wants can help you deliver really meaningful information in your emails. The more useful your content is, the more you encourage customers to take an interest in your emails and seriously consider what you have to say.
Design
It doesn't matter if you've found the ultimate message that customers want to hear—if your email doesn't look appealing, customers might not give it a second glance.
To make your emails aesthetically pleasing, use an email building platform with drag and drop capabilities. They've become the norm because you don't have to know any code to build a professional email newsletter. For example, Campaign Monitor is a good place to start designing emails—either with drag and drop options, or from pre-built templates.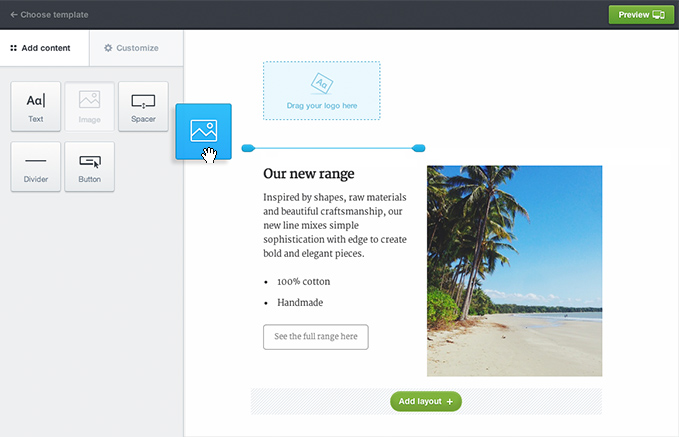 [Source]
With Campaign Monitor, you can use their editor to import images and to customize content and layout.
Sometimes visual communication is better than words—and for that, you can make diagrams using a tool like Gliffy. You can easily import these into Campaign Monitor.
When you create a brand standard, content and design help your emails reflect the look and feel of your website. They'll also match branding in other places like social media or marketplaces to create a recognizable and cohesive presence. Be consistent across all platforms to boost the customer's recognized perception of your brand.

4. Build social currency with automated emails
Automated emails are a great way to re-engage customers. But instead of being the nagging salesperson, you can do this in a customer-centric way.
The last thing you want to do is to send emails just for the sake of sending something. Your goal should be for customers to see you as a partner and not just another retailer trying to make a sale.
A good way to do this is by sending customers snapshots of their history and interactions with your company. For example, the SaaS company AdRoll sends a monthly automated performance report highlighting user progress and providing personalized tips through liquid templating.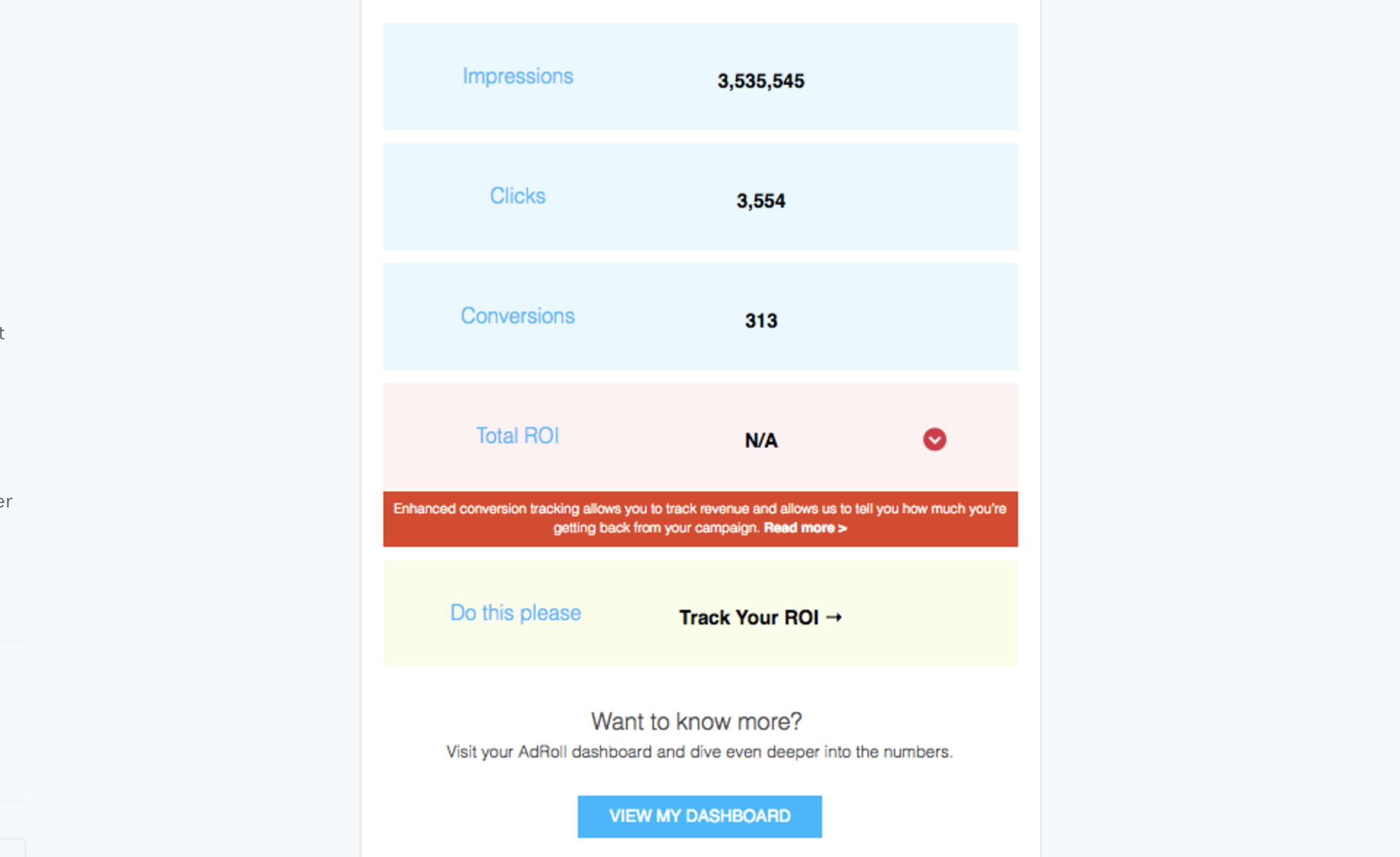 These emails are valuable because they help the customer accomplish what they want to do.
There are many ways to make this work for your company when you're selling products rather than services. For example, if a customer comes to your website, adds products to their cart but doesn't checkout, instead of sending a "finish your checkout" email, send an email that tries to get to the root of why they haven't logged in. Use the dashboard your email marketing platform offers to gauge things like engagement and performance.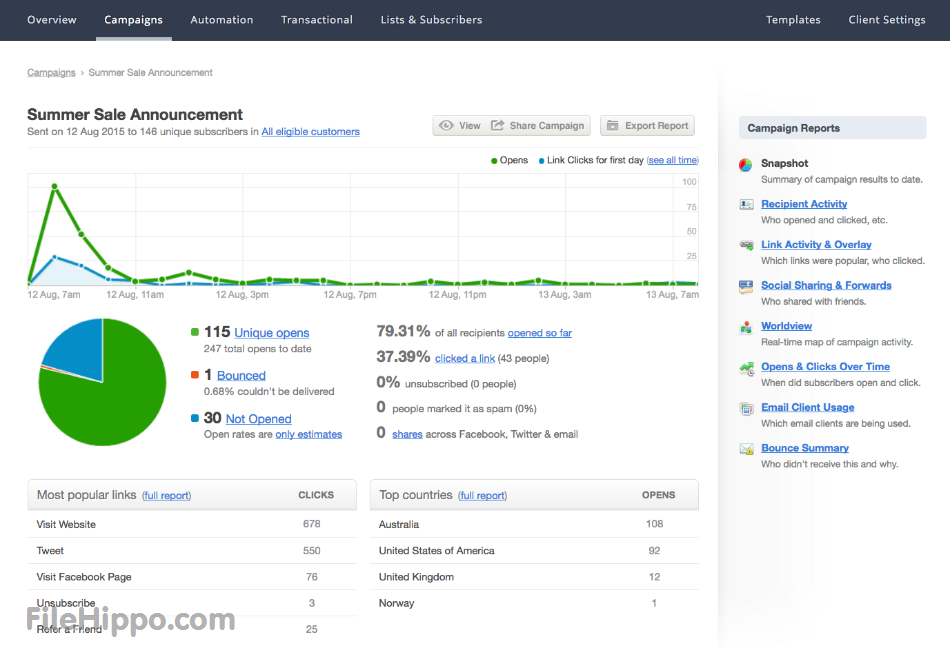 [Source]
Here you can see all of the general email metrics like opens, clicks and bounces, but you can also dig further into other campaign reports. For example, the Worldview link on the right will tell you how your campaigns perform in different regions. You might need to consider adjusting how you communicate your product offering or features to cater to different regions and boost your conversions — a.k.a. customers clicking through the email, adding products to their cart and completing checkout.
If you have to treat groups of customers differently, use something like Campaign Monitor's customer journey feature to create targeted emails. For example, show customers in Canada a slightly different variation of the same campaign you send in the US. You want them to buy the same product but you introduce it to them differently.
This way your emails are more meaningful. They resonate with customers and build social currency — they're more likely to open your emails than filter them into spam.
5. Master the art of reciprocity
You can never go wrong with making your customers feel like they matter to you. Remember, the purpose of email marketing is to build relationships and retain customers. It's not about just getting people to do what you want them to.
Instead of only sending emails that aim to get customers to buy something, take a break and send emails that ask customers for feedback, say thank you or teach something new. This approach leaves a positive lasting impression that builds customer trust and loyalty.
CloudApp proactively seeks out customer feedback to make sure customers needs are being met. They talk to customers to avoid losing them and give them a chance to voice their pain points. These kinds of emails have helped them see increased customer retention.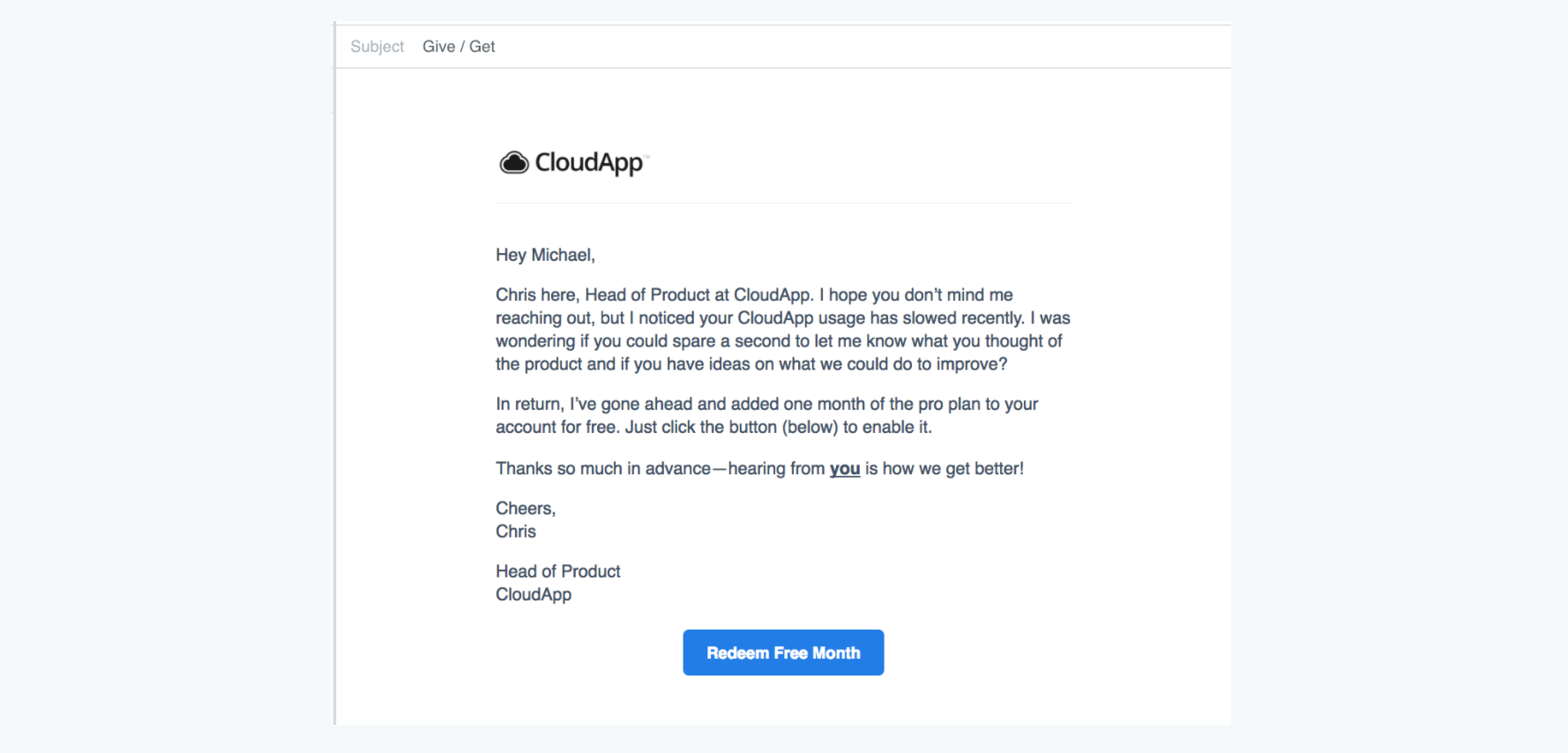 This Thank You email from Fitbit is another great example of a company reaching out to customers: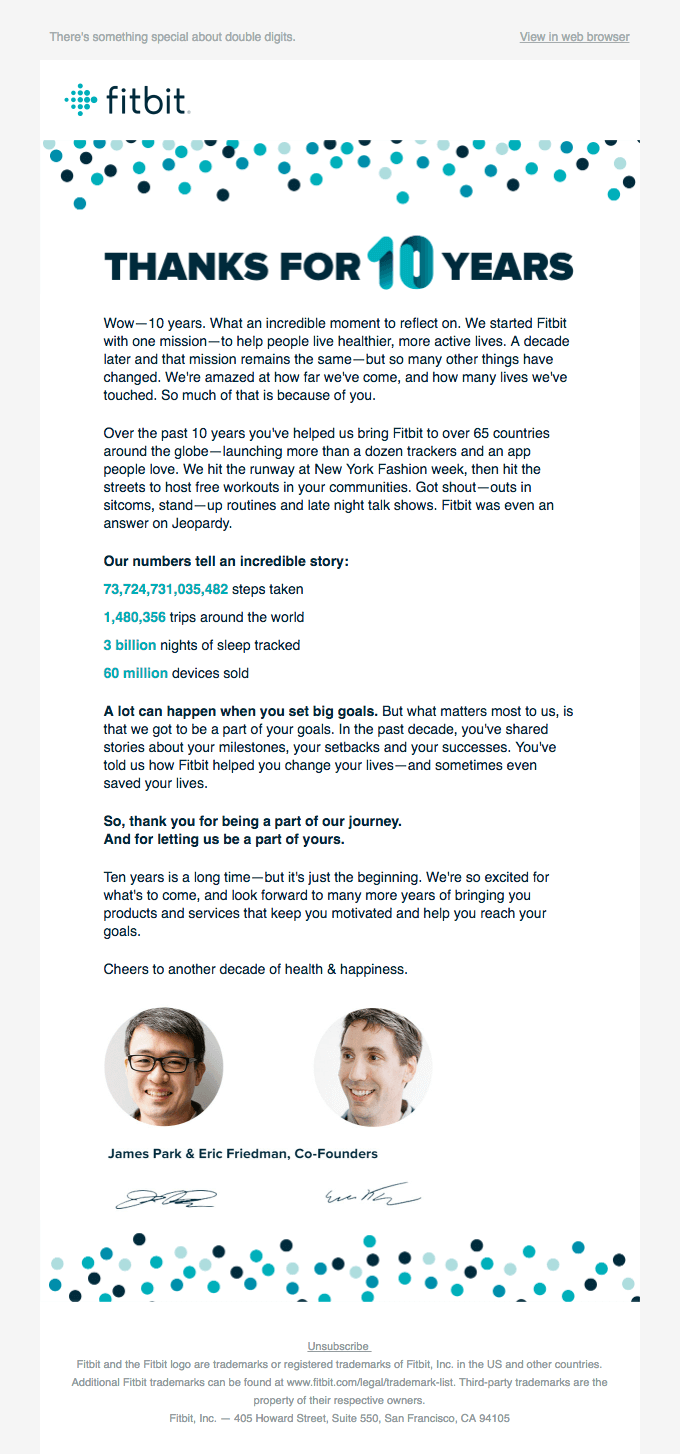 [Source]
It gives a short overview of where the company started and where it is now, 10 years later. Including a short list of accomplishments is a great way to show customers how they've contributed. It reinforces the commitment they've made to the company.
If you want to teach customers something new, highlight some new industry trend or fact and what your company is doing about it. Long-term this helps build personal connections and brand awareness. It also helps with retention since customers appreciate the extra attention and care you've given.
Building your email marketing ecommerce plan
We know how important email is for communicating with customers. It sets the stage for you to introduce yourself and build a relationship that goes beyond just buying stuff.
Start by understanding who your customers are and how they found you. Treat them as individuals and make an effort to meet their specific needs.
Once you've figured this out, put a delivery plan in place to maximize open rates. Back this up with content and design that make you stand out. Make it recognizable, memorable and uniquely you.
And remember, you're building relationships, so don't make your conversations about business all the time. Show customers you care about them and their experience. Ask for their input and show them how you've implemented it.
Adopt one or two of the suggestions we've walked through and measure how well they work for you. Gradually add more and they'll help you beef up your email marketing strategy and keep customers coming back. You know your customers better than anyone so use what you know and show them you care about more than just making a sale. Do that and we see a lot of happy, satisfied and loyal customers in your future.