Picture a shopper in front of two jewelry stores deciding which one they should visit. One storefront is rusted and dimly lit with no products on display. The other has a fresh coat of paint and well-lit products in the window. Which one do you think the shopper will enter?
If you guessed the second, you're right. The first impression a customer has of your store matters, which is why Etsy shop banners are so important. It's the first thing shoppers see when they interact with your Etsy store.


Use your banner to capture shoppers' attention, create a cohesive brand experience, and offer a taste of the types of products customers can expect from your store.

To stand apart from the competition, you'll need to make a memorable Etsy banner—one that introduces your brand or shop using eye-catching imagery and messaging.
Step 1: Plan your Etsy shop banner design
Brainstorm your banner design in advance so you know which graphic design tool will best fit your needs or whether you'll need to outsource a designer (more on that in Step 2).

Keeping Etsy's image requirements in mind, there are a few design ideas to consider when planning your banner.

Create a moodboard
A great way to plan your banner design is by creating a moodboard. It's an arrangement of images and text intended to illustrate a concept, and it inspires the visual direction of a project.

A moodboard helps you get your creative juices flowing before you get into the nitty-gritty details of planning, like where to place your logo or your font size. You can use digital platforms like Pinterest or Canva or a physical medium to create your moodboard.
Maintain your brand identity
Be sure to include all the visual elements that make up your brand—logo, brand colors, and fonts—in your Etsy shop banner. Using these assets creates a consistent, reliable brand experience for consumers.

If you don't have a visual brand identity, check out our guide to branding for ecommerce, as well as this guide to building a brand from scratch.

A great example of an Etsy banner that incorporates branded elements is MRC Wood Products. They've added their logo, brand fonts, and colors to their banner.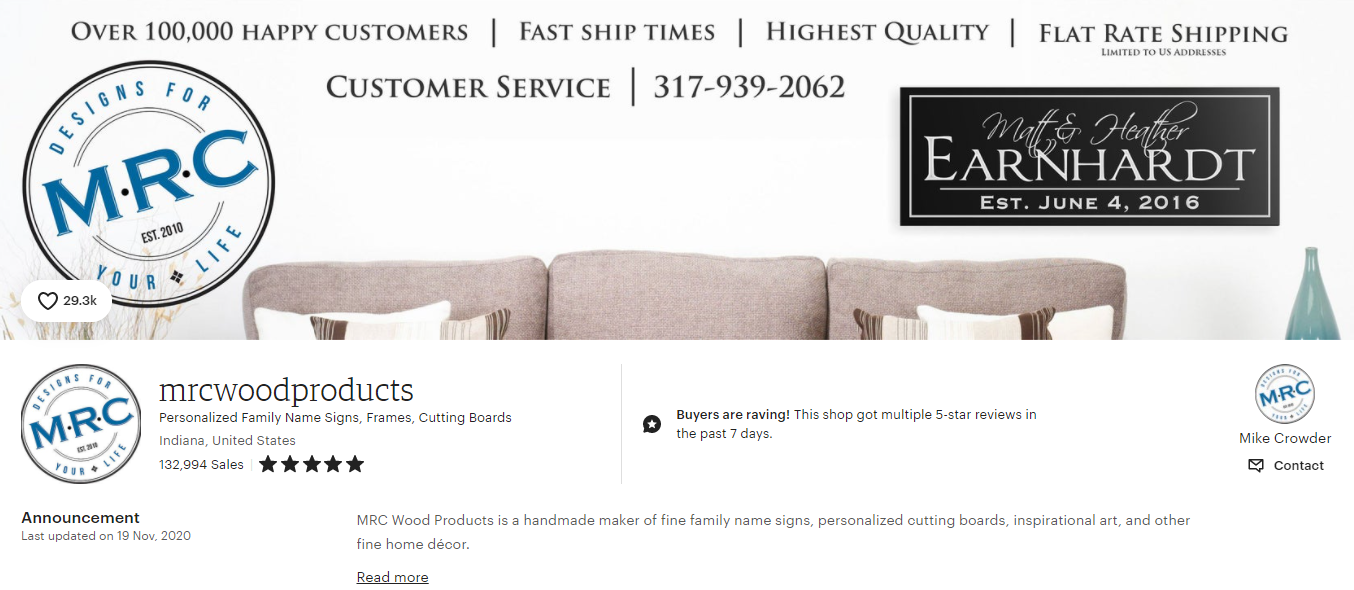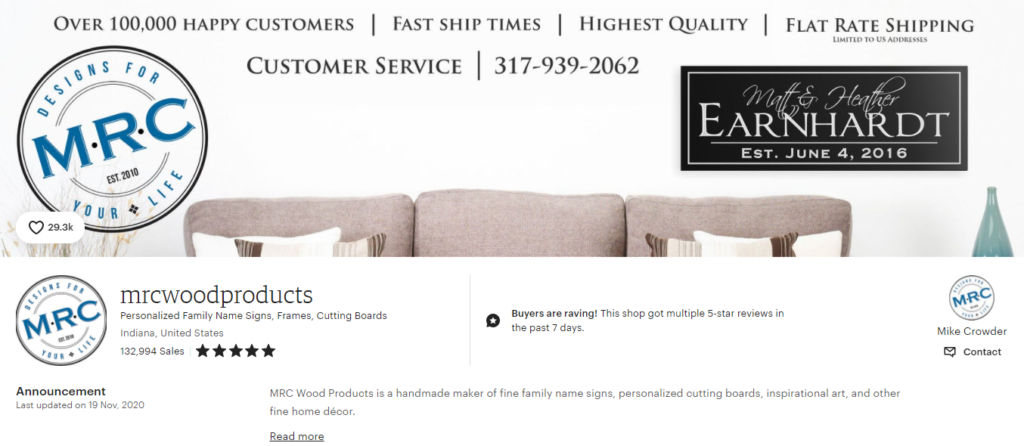 Source

Show off your social media accounts on your Etsy shop banner to create a cohesive brand.


Source

Fabulously Feminist promotes their social accounts on their banner by placing Instagram and Facebook logos and their account handles at the bottom of their banner.
Show off your products
Your Etsy shop banner is a great place to highlight your products. You might choose to show off one main product or a variety of products available in your store.

Be as imaginative as possible with your product photos. Where possible, hire models and change up the location of the product shoots for variety and to add a level of professionalism to your store.

An Etsy shop that highlights products in their banner well is Portland Leather. They show off their products using a variety of models—from a dog to humans—and a plain background.


Source

The jewelry Etsy shop CaitlynMinimalist uses their banner to showcase close-up product shots.


Source

True to the store's name, their stunning photos have a minimalist look.

Need help taking product photos? Check out this helpful guide to product photography.
Promote a sale, season, or holiday
One way to keep your Etsy shop fresh is to change up your banner once in a while. Consider promoting specials and sales, whether it's 50% off or free shipping.

One Etsy shop that uses the promotion tactic is Petite Peppermint by advertising its free shipping policy.

Source

Your Etsy banner can also help you highlight holidays and season-specific events. Celebrate these events with your shoppers, even if the events don't have anything to do with your products.

Show off your customer reviews
Has your product been featured in a major publication or platform? Do you have testimonials to share? Your Etsy shop banner is a great spot to place this information.

The Etsy store Dreamy London added text pulled from customer reviews to the banner as social proof. They also added the specific product that the review was placed under, attracting customers to that product.


Another store that shows off their accolades well is Petalworks Dayton.


The banner shows off all the platforms that the store's products have been featured on, with logos at the bottom of the image.
Step 2: Pick your graphic design tool
Everyone has different design skill levels and budgets. Thankfully, there are a variety of available tools and methods for creating a banner that suit various needs.
For those on a budget
Leverage free online design tools to create your banner. They typically come with pre-made templates that are built around Etsy's recommended sizes, making it easy for you to create compatible banners. These design tools include:
Several of the sites mentioned above will allow you to create banners for free, but they also offer a paid option that provides a few more features.
For those with great design skills
If you have graphic design experience, consider creating your banner from scratch with these advanced tools.
With these tools, you'll have full creative control over the look of your banner. They allow you to manipulate any element of your design.
For those who would rather outsource
If you're short on time, consider commissioning a professional to create your banner. Although this means you'll have less control over your banner than if you were designing it yourself, outsourcing is a great option if you have the resources to hire a designer. Some great websites where you can find professionals are:
When browsing these websites, look for designers within your budget who have well-rounded portfolios and positive client testimonials.
Step 3: Upload and adjust your Etsy shop banner
You have a complete Etsy shop banner, whether you created it yourself or a designer made it. Now it's time to upload your banner to your store. Etsy provides a walkthrough of the uploading process here.

Consider signing up for Etsy Plus to maximize the available banner space. With Etsy Plus, you can create a collage or a carousel banner, as it allows you to showcase multiple banners and show off products, sales events, and branded looks simultaneously.

One store that leverages Etsy Plus is Paperboy Party.
Source

Their Etsy shop banner uses a carousel feature to show two different colorful images of their products. Both banners highlight "free shipping" in the center to encourage visitors to place an order.
Don't be afraid to refresh your Etsy shop banner design
Your banner is a fundamental aspect of your store—but its design doesn't need to be permanent.

Consider switching things up with your banner design every now and then to keep store visitors engaged. Just remember to keep your designs consistent with your brand identity so that repeat customers don't feel disoriented.

For more advice on succeeding with Etsy, check out The New Seller's Guide to Etsy Marketing.