Making the sale is a big win—but it's only half the battle. If you want to keep making sales, you need to deliver products quickly and without friction.

Customers want fast, cheap shipping. They want easy returns. And most will happily go to your competitors on Amazon for these benefits if you're unable to provide them.

At the same time, you can't afford to lose all your profits delivering on these expectations—renting storage space, managing warehouse employees, paying USPS for their fastest shipping options. The money—and time—invested in fulfillment can quickly become unsustainable when you try to expand your small business to new channels or scale your existing ones.

That's where a fulfillment center comes in.
What is a fulfillment center?
A fulfillment center is a place where a third-party logistics provider (3PL) provides warehouse management and order fulfillment and arranges last-mile delivery of your product to the customer. You ship your products to a fulfillment center and set up a system that notifies them of orders—ideally, automatically via your ecommerce platform or another order management system (many 3PL providers have custom software for this).

A fulfillment center gives you the opportunity to scale your business operations without investing in overhead like warehouse space and employees. The logistics provider will store, pick, package, and ship your products from the fulfillment center, and most manage returns as well.
Fulfillment center vs. warehouse
There's often some confusion between the terms "fulfillment center" and "warehouse." The terms can get confusing because many 3PL providers offer limited warehousing as part of their fulfillment center offerings.

Both are places where you store your inventory, but that's where the similarities end. The best way to think of the difference here is long-term vs. short-term inventory storage.

A warehouse is meant to house your products, usually long-term. This is where you'd keep inventory, for example, while you fulfill orders yourself. Most warehouses will help you receive and store your inventory, and some warehouses will let you rent space to do fulfillment, as well. But ultimately, you are the one responsible for picking, packing, and shipping—not the warehouse.

A fulfillment center will store your inventory, but it is focused on getting your products into the hands of customers. Ideally, your products are always moving in and out of a fulfillment center. Some fulfillment centers will actually charge you additional fees if you have inventory that's been sitting on their shelves past a certain time threshold.
What exactly does a fulfillment center do for me?
While exact service offerings may vary a bit depending on who you choose as your 3PL, these are the services you should generally expect a fulfillment center to provide:
Inventory receiving and storage
You can have your supplier or manufacturer ship products directly to a fulfillment center.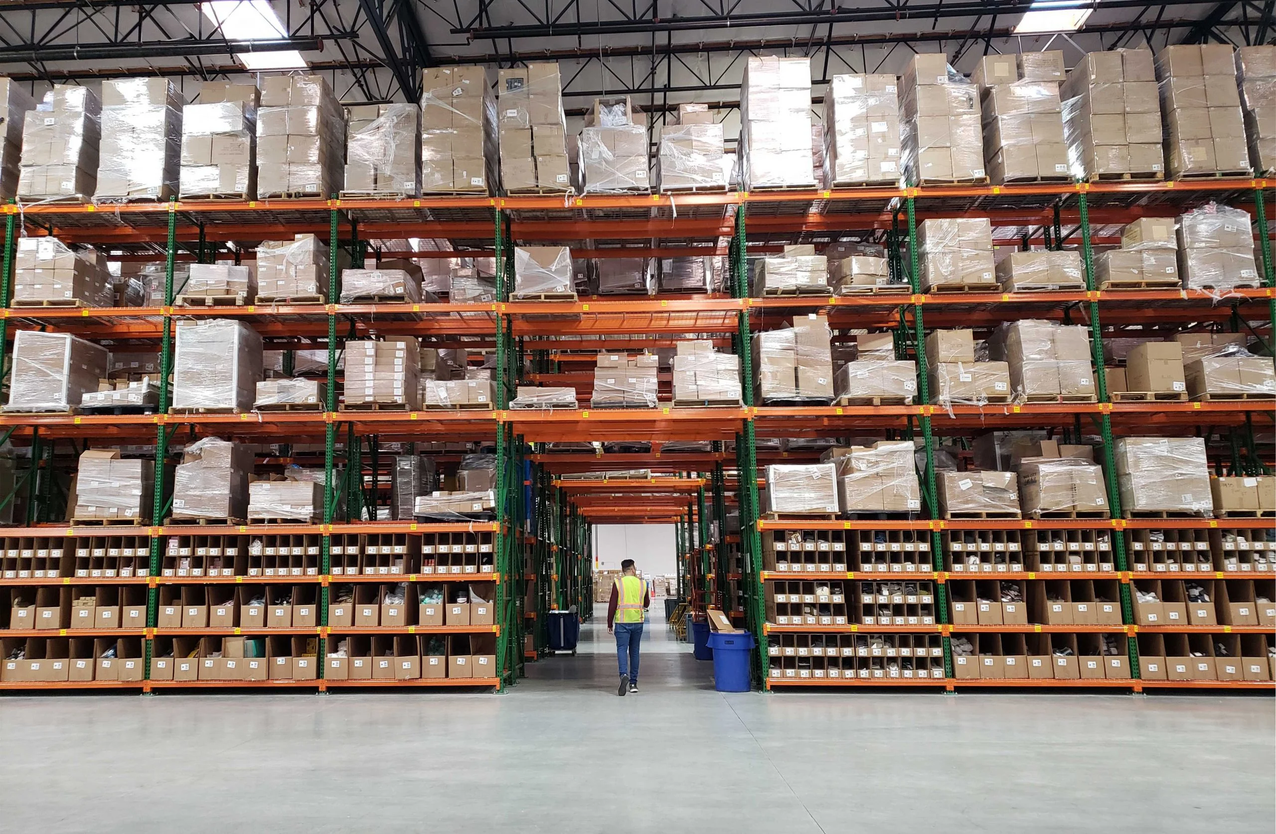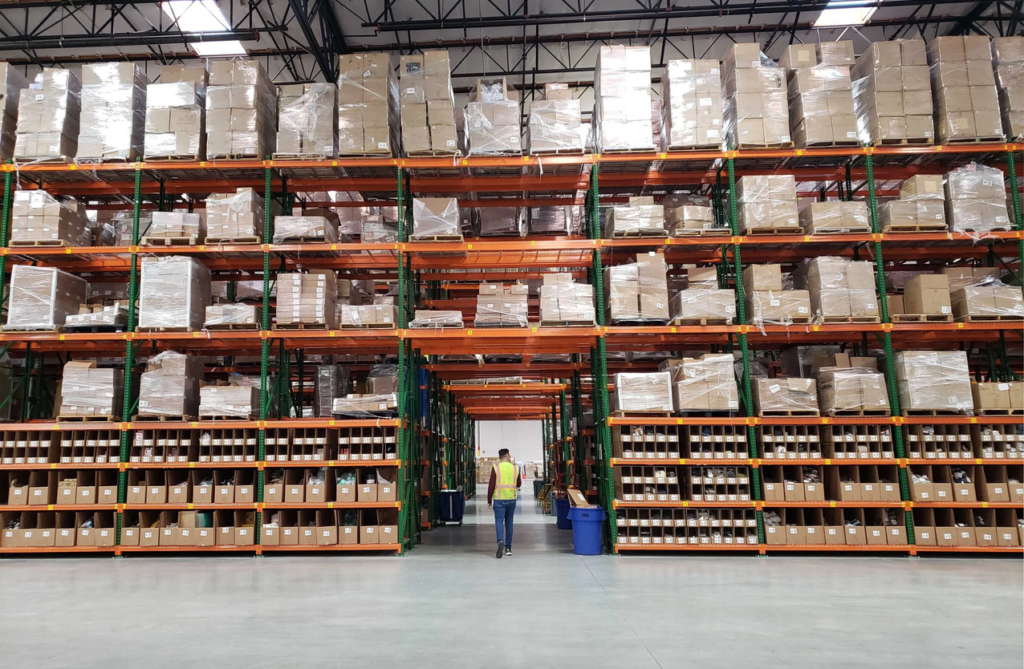 If the 3PL provider has multiple fulfillment centers, you can split inventory shipments to place your products strategically around the country (or globe). The fulfillment center stores your products by SKU until an order comes in and then ships it to the customer.

Shipping and delivery coordination
When an order comes in, the fulfillment center will be notified and start picking your order—which just means grabbing the appropriate products. It'll then package the order and ship via the appropriate carrier.

A fulfillment center will often offer a variety of shipping options, such as seven-day shipping via USPS or two-day shipping via UPS. Many fulfillment centers are rising to the challenge of providing affordable two-day shipping.

Many fulfillment centers also offer additional packing services, such as kitting—assembling multiple products into a single package so that you can sell them as a "kit" on your online store.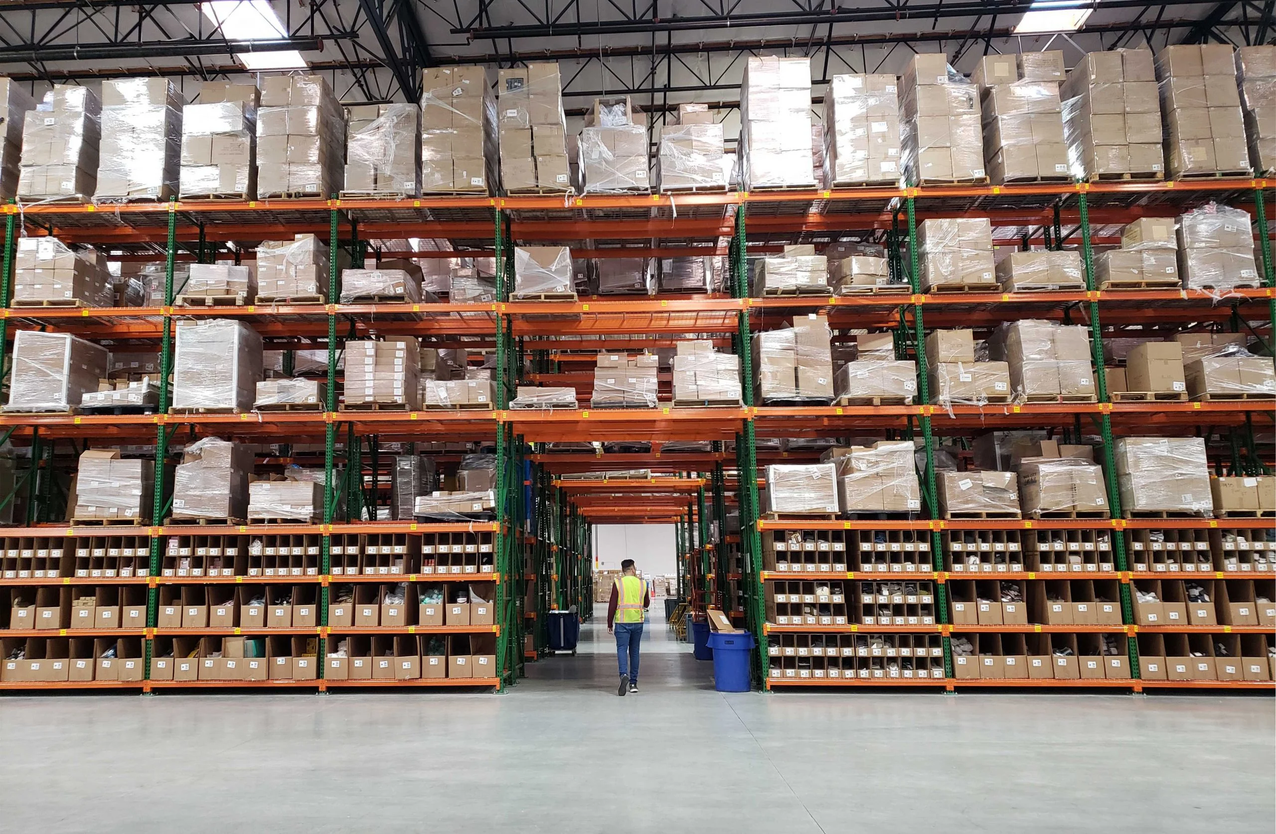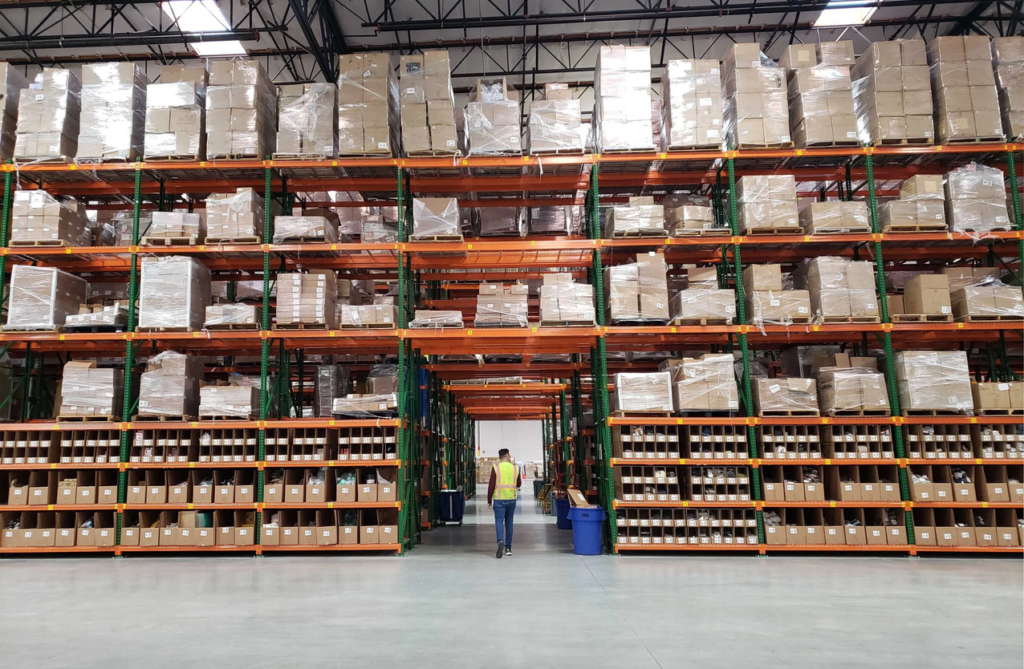 Returns management
The returns management process is another standard part of what a fulfillment center offers. Your 3PL provider will coordinate return service and process undamaged items back into inventory without you needing to take the products to your HQ and cycle them back to a warehouse. A fulfillment center will also process exchanges and ship the customer a replacement item quickly.
Software and channel integrations
The exact integrations a 3PL offers will vary, but most fulfillment centers have the ability to integrate with:
Popular online marketplaces (e.g., Amazon)
Ecommerce platforms (e.g., Shopify)
Shopping carts (e.g., OpenCart)
Inventory management software (e.g., Sellbrite)
Some fulfillment centers also offer their own software systems or apps to give sellers extra visibility. If you're using a specific software stack for your business, it's a good idea to look into the integrations offered by a fulfillment center before you commit.
The benefits of a fulfillment center
The major benefit of a fulfillment center is, of course, the time and effort it saves you. Your alternative is to manage all order fulfillment and shipping in-house (or, in a few cases, dropshipping).

For small businesses that have limited staff and space, these other options can create a lot of strain and result in lower customer satisfaction due to longer fulfillment times. Fulfillment centers focus on getting your customers their orders as quickly as possible, so you can spend your time on the other parts of running your business.

Outsourcing fulfillment often saves you money over fulfilling in-house, as well. When you manage your own fulfillment, you have to handle warehousing, labor, order management, packaging costs, and shipping—not to mention the resources to keep track of all these various costs and supply needs. Because of economies of scale, fulfillment centers can often offer you all of these services at a lower cost.

3PL providers also have enough volume to get the best discounts from carriers. As a small business, you don't have the shipping volume needed to negotiate discounts with major carriers. Unless you use a shipping platform that negotiates discounts on behalf of customers, you're going to end up paying a lot more for shipping than you would through a fulfillment center.

In short, fulfillment centers let you offer your customers a better delivery experience while also costing you less time and usually less money to achieve that delivery experience.

Want to learn more about the pros and cons of various fulfillment methods? Check out our guide.

What to evaluate when choosing a fulfillment center
When you're evaluating a fulfillment partner, you should be looking at scalability. You want to find a fulfillment center that helps your business with its current needs while also having the capacity to grow with your business. To that end, here are some of the factors you should consider with any fulfillment center:
Fees
Fulfillment providers often have different fee structures. Some may only charge a per-order and storage fee, while others may break down fees into various services (such as a picking fee, packaging fee, etc.). Onboarding fees are charged by some providers, too.

Bear in mind that many fulfillment centers will scale their fees based on how many orders you process in a given month. The more orders, the cheaper the fees. Some fulfillment centers won't even do business with you unless you meet a certain minimum monthly order volume.

For more details on the typical fees charged by a fulfillment center, check out this guide to fulfillment costs.
Multiple fulfillment centers
To meet the demand for fast, free shipping, many fulfillment providers offer multiple strategic fulfillment center locations (both national and international). Choosing centers that have multiple locations can significantly cut down on shipping costs by sending products shorter distances. By using trends in your order data, you may be able to identify particularly high-volume locations, which will help you narrow down your ideal fulfillment center(s).
Multichannel fulfillment
Even if you're not currently selling on multiple channels, you should always leave the option open. Many fulfillment centers offer support for multiple sales channels and marketplaces. Keep an eye out for any additional fees or hoops that might come with multichannel selling.
Integration with key systems
Partner with a fulfillment center that integrates with the channels and/or platforms you use. If you have a WooCommerce site, you'll need to make sure your fulfillment center has a way to take orders directly from your website. The same goes for any returns or order management platforms you might use. The last thing you want to do is add extra steps for yourself.
Best ecommerce fulfillment centers for small businesses
While there are a lot of great 3PL services out there, not all of them are well suited to a growing business. To get you started in your search, here's a quick shortlist of some of the top fulfillment centers. They balance value, speed, merchant support, and scalability in ways that support small businesses better than other providers.
Amazon FBA
Fulfillment by Amazon (FBA) is the go-to fulfillment center for sellers on Amazon. Products fulfilled by Amazon are automatically eligible for Prime shipping at no additional cost. FBA also offers multichannel fulfillment, which means that Amazon will fulfill orders that come from your own website or another marketplace (for an additional fee). If Amazon is your primary sales channel, FBA is an easy and valuable option. (We've got you covered on the pros and cons of FBA fulfillment in this article.)
Shipbob
ShipBob is one of the best 3PL providers for ecommerce for small businesses. It offers top-of-the-market services, like a nationwide warehouse network (in the U.S.), dedicated account reps, and a full range of services. However, unlike other big fulfillment providers, it'll take on sellers with only 100 sales/month. It also accepts batch shipments (such as for subscription boxes or crowdfunded projects). ShipBob emphasizes simplicity and transparency and has many tools and integrations to support those goals.
FedEx Fulfillment
FedEx Fulfillment offers an obvious advantage in that it's, well, FedEx. It has full-service fulfillment centers to store, pick, and pack orders while also leveraging its massive logistics network. (If you get a lot of international sales, this is particularly helpful.) FedEx's size makes it ideal for scaling—you get access to a "big player" fulfillment network and features without hefty costs or the need to make tens of thousands of orders a month.
Deliverr
Deliverr specializes in two-day multichannel fulfillment and takes a very different approach to pricing than other fulfillment centers. It aims to offer FBA's ease of use and transparency by providing a flat, per-order rate on products (based on size/weight) that includes all fulfillment and shipping fees. Its cost calculator makes it easy to estimate fees, and it features a wide range of integrations with all kinds of platforms and management software. Using this center is one of the easiest ways to start offering affordable two-day delivery service.
Whitebox
Whitebox is another unique fulfillment provider that specializes in multichannel fulfillment. It offers end-to-end services, as well as warehouses across the U.S. designed to make two-day shipping more affordable. Its biggest advantage, however, is its marketplace management tools. In addition to tools like warehouse and order management across channels, it also offers product listing and advertising services for Amazon and Walmart marketplaces, with a goal of helping you drive more sales. If you want a fulfillment partner who specializes in growing your overall business, Whitebox has a lot to offer.
Red Stag Fulfillment
Red Stag Fulfillment is perhaps the best provider for handling products that are fragile, oversized, or have other special packaging requirements. It offers sellers excellent customer service and is willing to work with very small (100 orders/month) businesses. Its fees are competitive when it comes to specialty fulfillment (when you factor in the quality of the service), but it is a lot more expensive than other options when it comes to more "standard" products.
Walmart Fulfillment Services
Walmart Fulfillment Services (WFS) is Walmart's answer to FBA. While this service is currently only available to those already selling on the Walmart marketplace, it's a cost-effective way to offer guaranteed two-day shipping—which in turn boosts your Buy Box share and search rankings on Walmart. WFS costs are comparable to FBA, although they offer a simpler, more transparent fee structure and no long term fees. Other differentiating factors (such as dedicated inventory pools) also make WFS worth looking into, even if you are using another fulfillment center for channels like Amazon.
Fulfillment centers: An investment in long-term growth
When you're at the "growing pains" stage of expanding your ecommerce business, invest in partners that can help you reach the next stage of your business. Fulfillment centers are one of the most important investments you can make when you're a small business that wants to scale. You'll likely see the benefits for your customers and your bottom line with more time and energy to pour into the parts of your business you can't outsource.