Getting noticed on eBay is getting harder and sellers have been forced to engage in a costly price war to place highly in search rankings.
How do you get consumers to buy your products over the competition, when you want to win buyers without slaughtering your bottom line?
If you sell on eBay, you can use eBay Guaranteed Delivery (eGD) to stand out and increase conversions. eGD allows you to focus on customer experience and fast shipping to differentiate yourself.
Let's take a look at how sellers can outrank and beat their competition without resorting to drastic price drops or shady tactics like false scarcity.
What is eBay Guaranteed Delivery?
eBay Guaranteed Delivery is eBay's fast shipping program, their answer to Amazon Prime. Sellers who want to be on eGD must ensure their products reach buyers within a set time frame. If you consistently get your items to customers within 3 days or less, you'll receive a huge visibility boost.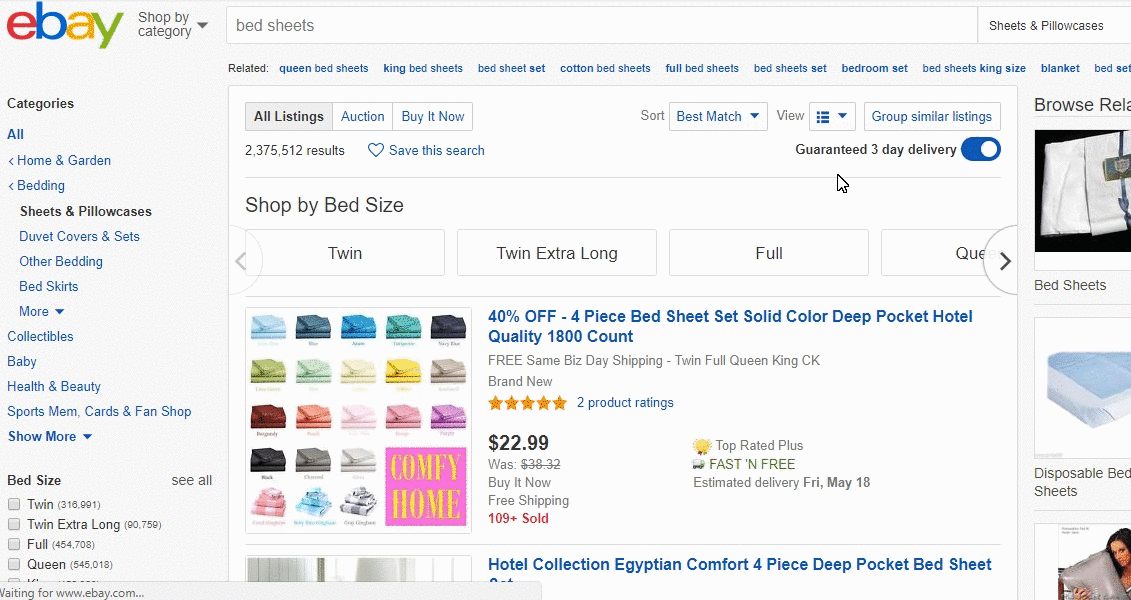 In order to be eligible for eGD, you need a minimum of 100 transactions annually and a late shipment rate of 5% or below.
There are two types of guaranteed delivery options for sellers to choose from; the handling time delivery option and the door-to-door delivery.
In the handling time delivery option, the seller is required to prepare the item to ship within eBay's time requirements. Usually, a seller will have 1 working day from order placement to get the item ready to send out. Then, eBay handles shipping and calculates delivery time. If a delivery arrives late, eBay takes responsibility and handles the return arrangements.
This option is good for small sellers who can prepare their items quickly, but limits your options to eBay's carriers and capability. Sellers who use the handling time option are usually limited to a single warehouse, and must ship using eBay's rates.
The door-to-door delivery option means the seller is responsible for calculating delivery dates and ensuring items reach the customer by those dates. If an eGD order is delayed in this scenario, the customer is entitled to keep the product and get a refund on shipping, or return the product with a full refund (and free shipping label), covered by the seller.
This option comes with more responsibility, but potentially greater payoff. If you have multiple warehouses, or a reliable 3PL that integrates with eBay Guaranteed Delivery, you can set your own rates and put multiple items on eGD. You can expand your coverage and offer faster delivery times than the handling time option.
To learn more about the basics of eGD, check out What is eBay Guaranteed Delivery and why should I care?

How eBay Guaranteed Delivery helps you compete
For those sellers who can't (or don't want to) compete just on price, eGD is a good way to stand out. Let's look at three ways eBay's answer to Prime can help you capture more of eBay's 171 million active buyers.
1. Rank higher in search
How often do you scroll past the first few pages of search results unless you are looking for something specific? Most of your customers aren't willing to go beyond page one. On eBay, the page your listings appear on directly affects how much you sell.
However, getting those top spots isn't easy. eBay's search engine Cassini has its own ideas about SEO. Like any worthwhile search engine, Cassini's interested in showing shoppers the most relevant results.
While eBay have been tight lipped on how their engine decides what listings buyers see, Todd Alexander, the director for search of eBay Australia, shared that Cassini focuses on four key factors; relevance, value, trust, and convenience.  
Opting for guaranteed delivery can increase customers' trust in your listings, and add convenience thanks to quick delivery times. It can also boost search relevance.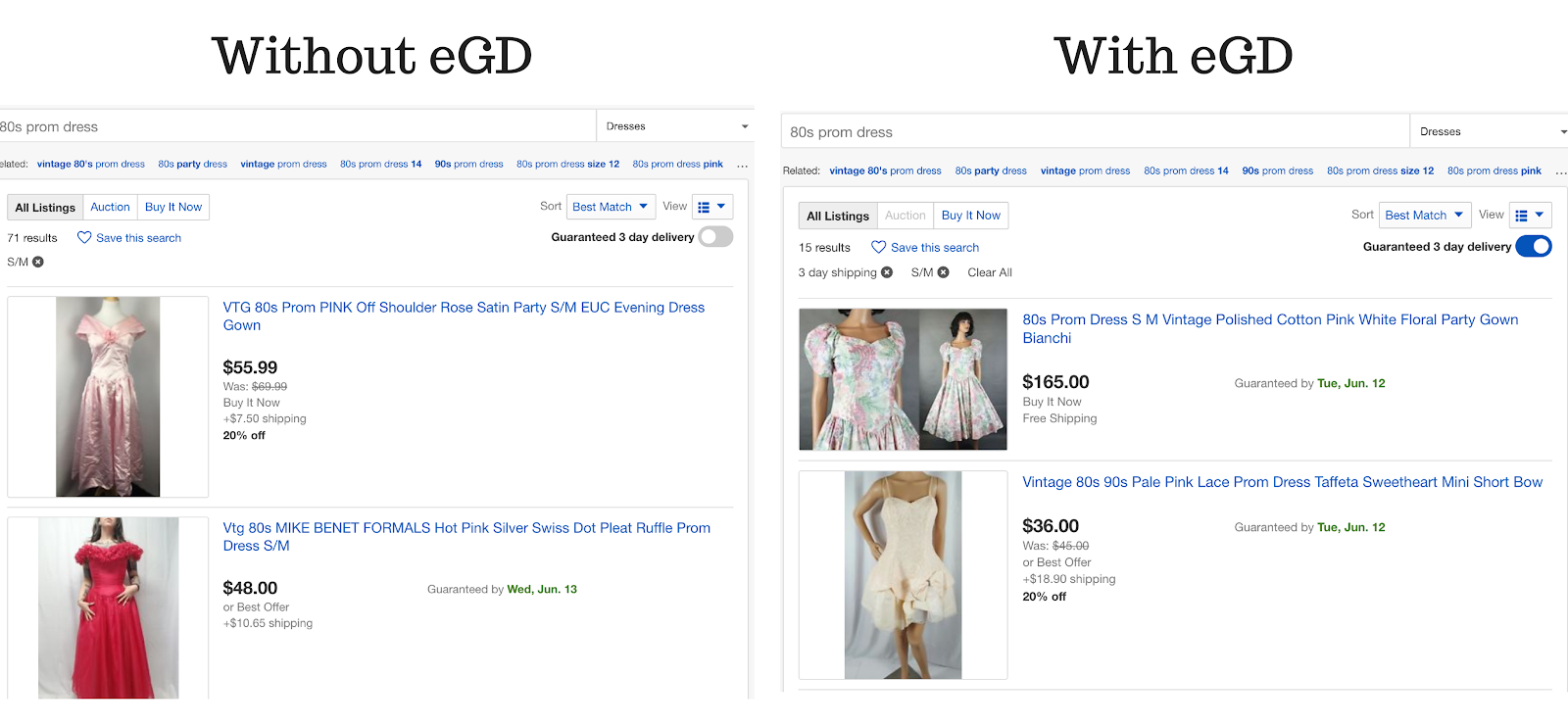 In the image above, you can see the search results for an "80s prom dress" for sellers that use eGD and those that don't.
The top ranking dress from an eGD seller is more than three times the price of the top result on the left. By choosing to use eBay Guaranteed delivery, you can rank highly in the relevant category without competing only on price.
2. Capture last minute shoppers
Doing last minute shopping? Up until now, eBay didn't really support the last minute shopper. Yet, according to the International Council of Shopping Centers, the majority of shoppers fall into that category, especially during the holidays. During the 2016 holiday season, 76% of customers were planning on buying last minute items in the week leading up to Christmas.
Last minute purchases are nothing new; they happen year round mostly due to consumer procrastination. Many of those last minute shoppers turn towards brick and mortar stores even though the items they are looking for are probably cheaper online. Why? Because your potential customers are afraid their items won't ship on time.
With guaranteed delivery, you've got a demonstrable way of showing customers that you will deliver. You can use your track record and reviews from other happy shoppers to demonstrate reliability and market to holiday shoppers (and those looking to buy gifts for other special occasions). This meets another one of Cassini's SEO requirements.
3. Win customers without racing to the bottom
By guaranteeing that your product will arrive on time, you'll appeal to customers who are willing to pay a bit more in exchange for certainty.
We value fast guaranteed shipping, no matter what the experts tell you. How do we know? In 2014, the Harvard Business Review published an article based on consumer data.They polled Prime subscribers and asked them if they would pay a proposed increase in price– 47% of respondents said they wouldn't pay more than their current subscription of $79 USD.
When this poll ran, Amazon Prime had 25+ million subscribers in the US. Today, a membership costs $119 USD and Prime has over 90 million US subscribers (and more world wide).
Prime customers aren't just numerous, they are loyal. They convert 74% of the time compared to non-Prime customers who buy at a rate of just 13%. Not only have consumers kept using the service, we are still flocking to it.
What does this have to do with eBay? Guaranteed delivery is eBay's answer to Prime. It's still new, but has a lot of similarities with Prime's early days.
Back when Amazon first started Prime in 2005, they excluded businesses and third party sellers from the program while they were trying to convince investors that Prime could compete with eBay. eGD is raising similar doubts among some eBay sellers because of the newness of the program.
But just like Prime has done for Amazon sellers, eDG elevates the most trusted and reliable eBay store fronts to the forefront of their customers searches.  
Here's a comparison of search results filtered by 3 day delivery, and the regular search results.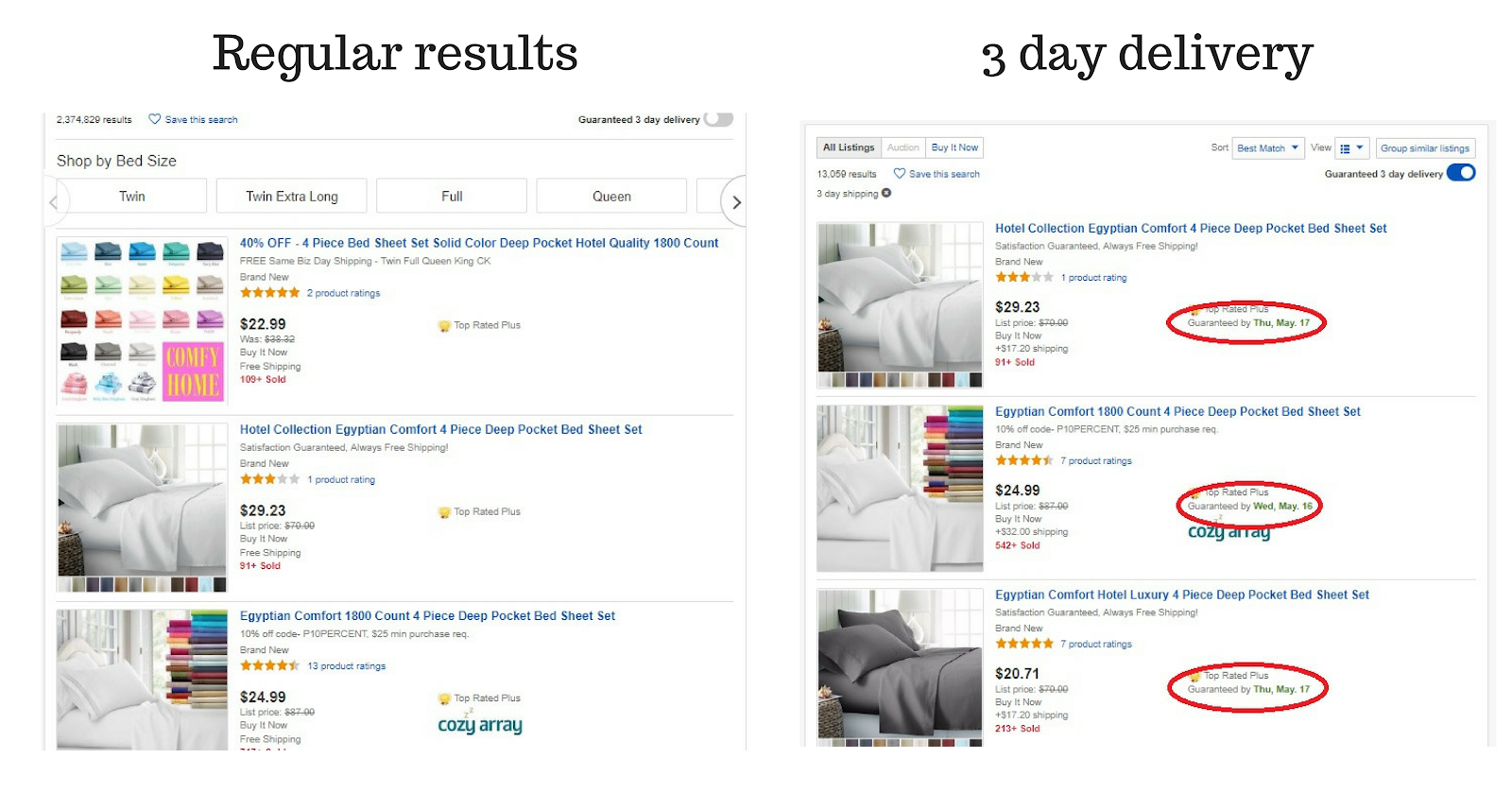 In the regular search results (on the left), we see the cheapest option is $22.99 USD, which is almost $7 USD cheaper than the next listing. Delivery dates are not highlighted, but they do mention "Free Shipping" where applicable.
These listings are designed to target price shoppers, more than anything else. However, in the Guaranteed 3 Day Delivery filtered results (on the right), we see the more expensive option bumped to the coveted top position, even though it's pricier than the next two listings.
Results from other sellers
According to anecdotal evidence from eBay website, sellers that have been on eBay for a few years saw more than 100% growth upon the launch of eGD.
"Guaranteed Delivery gives me a leg up by helping people see my listings and know that I ship fast." -Kerri S. (Taken from eBay)
In our own experience, we've seen a 10% lift in sales when eBay sellers join eBay Guaranteed Delivery, and this is a conservative estimate.

Getting on eBay Guaranteed Delivery
Ready to start selling with eGD? As of May this year, eBay began opting eligible sellers in, so you may have gotten your invitation to the program already.
Not sure if you are eligible? To qualify for eGD you must:
Shipping and fulfillment on eBay
Achieving fast shipping and fulfillment is difficult to start off with in-house. So, once you've fulfilled the basic requirements, the easiest way to get on eBay Guaranteed Delivery it is to use a fulfillment service that is pre-integrated with eBay Guaranteed Delivery. This guarantees delivery dates and eliminates rate table complications.
Why not a traditional 3PL service?
There are several problems with the traditional 3PL service;
Many don't guarantee delivery dates, which makes sellers ineligible for services like eBay Guaranteed Delivery.
3PLs tend to be expensive, especially so if you opt for quick shipping times.
If you go with a cheaper 3PL, they likely use ground shipping, which is slow[er than your competitors].
Pricing is complicated, and sellers often won't be able to calculate their costs and revenue until they get the invoice (which is too late to change by then).
3PLs may not be able to comply with branding and labeling requirements.
The key is to find a service that ensures on-time quick delivery, at prices that won't hurt your profits.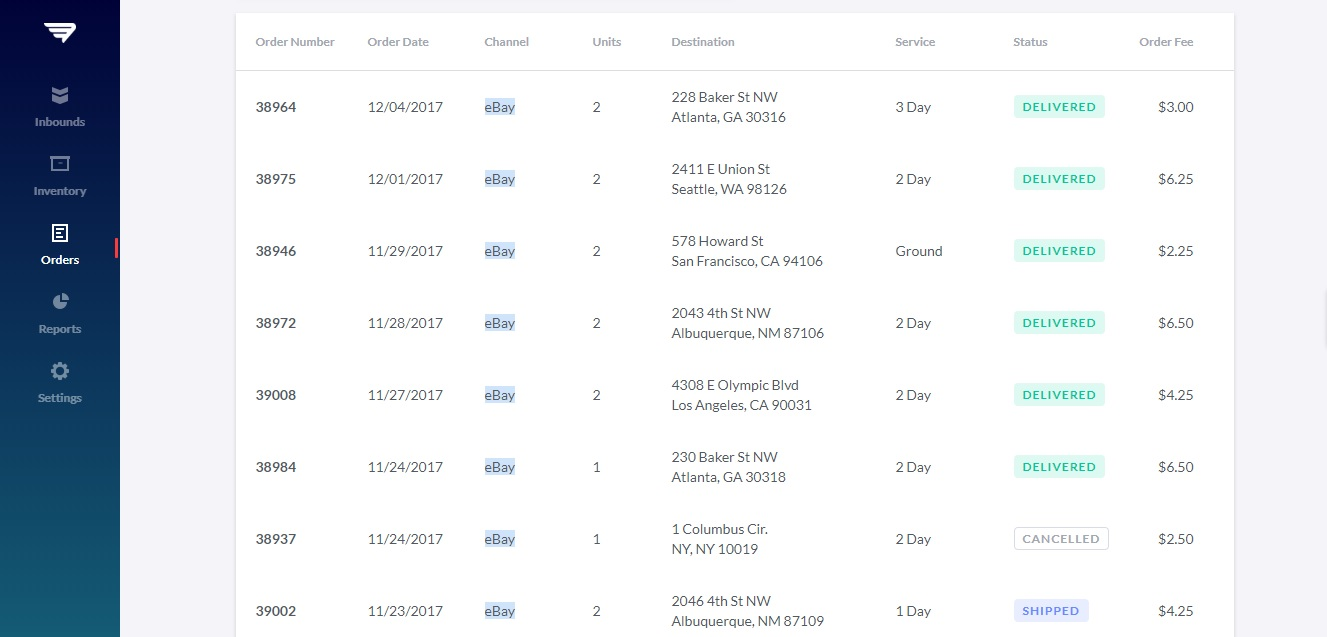 Sellbrite and Deliverr have partnered up to provide an integration that gives you almost-immediate access to eBay Guaranteed Delivery and more.
Check out the integration here to get started.
Using eBay Guaranteed Delivery to hone your edge
eGD can help sellers like you gain visibility and improve conversion rates. It rewards the efforts you've already made toward satisfying your customers by placing you among the most trusted and reliable sellers on the platform.