One of the most important things to do in business is to validate your ideas. Validating an idea is the process of putting your idea into practice and assessing whether or not it's a viable business opportunity.
While a lot of business owners don't bother validating their idea, it's often a good idea to try and do so before sinking resources like time and money into a venture that may be doomed to fail from the very outset. Most industries in business are cutthroat – only the leanest and fittest survive. Why expose yourself to the potential cost of full-scale failure, when you can validate your ecommerce idea upfront with very few resources?
Validating ideas isn't something I've always been particularly good about – one of the first ecommerce websites I launched dealt in branded headphones. The website made three sales over the space of ten months – owing to tough competition and a lack of funds for me to invest in the website. The project was a complete failure and a total waste of time and money.
If I'd spent just a few weeks trying to validate the ecommerce idea I would have learned, without significant investment, that it was a bad call. Instead, I flogged a dead horse for nearly a year without realizing my idea was a total non-starter.

How I validated my latest ecommerce idea
Recently I launched nailbox, a monthly subscription service dedicated to nail products. I decided to validate the business model by launching with a very simple website and a small number of boxes. The fact that we were able to sell out while drawing in a large number of subscribers suggests to me that the business has been validated. It can be a success.
The best thing about nailbox is that the website cost me less than $100 to put online. In theory, I could continue using this super simple website – but now I know the business has potential, I'm going to invest in a new, much nicer website that should convert a lot better than this one: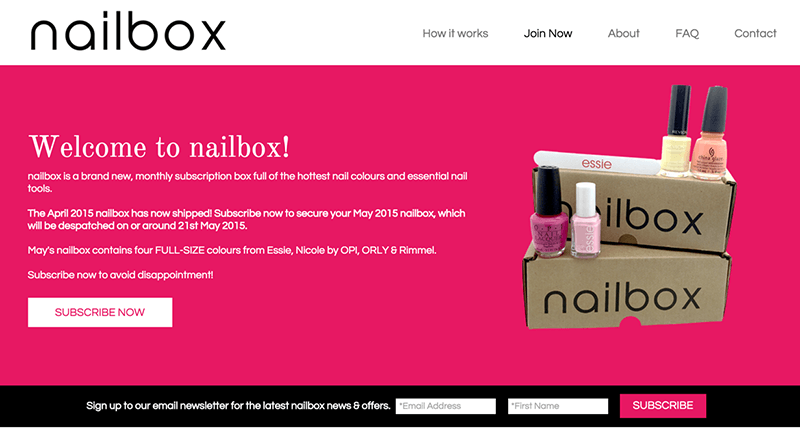 So many times I've spent $5,000 or more on a website design and build, then tried to launch it and failed – or realized the business was a bad idea before I even came to launch it. Nowadays, I like to keep things simple.
I throw basic websites online, send a lot of targeted traffic to them, and look out for the results. If sales are made and a small profit is turned – I have validated the idea. If I can't make any sales for love nor money, it's time to cut my losses and move onto the next ecommerce idea.
I think nailbox can be a lesson to us all. You don't have to spend a fortune on a swanky new website to test out your own ecommerce idea. A cheap (or free) theme/skin for an existing content management system is a great way to start.
The only thing I had to pay for was the domain name. With a little targeted traffic I was soon able to tell that there was a real demand for my product, which meant we could really ramp up the resources allocated to nailbox.
Validating your idea is easier in ecommerce
Trying to validate a bricks and mortar business idea can be a costly experience. Most landlords require you to sign lengthy lease agreements, the costs of which can run into the tens of thousands of dollars.
You then have to worry about furnishing the premises, kitting it out with stock and, of course, insuring it. In comparison, it's possible to setup an online business for little more than $100.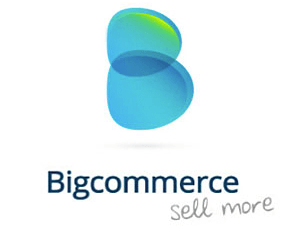 Thanks to platforms like Bigcommerce and Shopify, you can launch a fully-fledged ecommerce store in a matter of hours, for very little money. There are literally thousands of themes out there you can install on your store, giving it a professional appearance for just a few dollars.
There are thousands of great plugins too – so if either platform doesn't quite boast the functionality you require straight out of the box, there's a very good chance that a plugin or app exists to add that functionality with the click of a button.
There's no need to invest in a warehouse when you first start out in ecommerce – those first few orders won't flow in immediately so you don't need vast swathes of space to store stock that won't shift for months on end (a bit of space in your garage will suffice, or even a bit of room in the basement).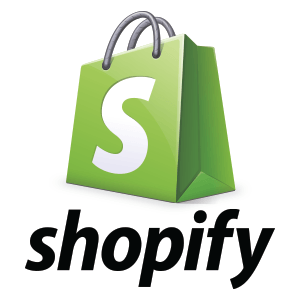 You don't even need to worry about holding stock in those early days when validating your idea – instead you can just drop ship it from somewhere like Amazon! The idea isn't to make millions when you're validating your business, so be prepared for that. The real goal is to ascertain if your business is going to stand the test of time when you scale it.
All you need to validate your ecommerce idea is a web presence, and targeted traffic. Bigcommerce or Shopify are great platforms on which to launch a web presence, and targeted traffic is easy to come by via paid click networks like Bing Ads or Google AdWords.
When you look at it in such simple terms, ecommerce ideas are fairly easy to validate. The more time and effort you put into validating your business, the less risk there is to you from the very outset. Ecommerce businesses can be scaled quickly, too, so if during the validation period you realize your idea has big potential, you can move things along as fast as you like.
Want to try Bigcommerce or Shopify? Tell them Sellbrite sent you!

Final thoughts…
I've wasted lots of time, money, and effort on ecommerce ideas that just haven't taken off. It makes me wince to think about how much money I've blown on swanky designs for flawed ideas, and how much stock I've purchased that I never managed to turn a profit on.
The thing is, you don't need to make the same mistakes I made – because by starting your ecommerce business small and simple, you really get a feel for the niche and your customers, and you'll soon realize whether or not your idea has the potential to stand on its own two feet.
Don't steam into an ecommerce business with all guns blazing – take a measured, cautious approach. Remember, if the first idea you try to validate doesn't quite come off, there's an infinite number of other ideas out there that can, and will, work for you.