Like a lot of platforms that have been around for a while, Instagram has evolved from its humble beginnings as a photo-sharing platform to become a thriving ecommerce referral tool. There are 25 million brand profiles currently on Instagram that share new products, offer discounts, promote upcoming events, and simplify the shopping experience. This approach seems to be working because 60% of users turn to Instagram to make their purchase decisions.
To encourage users to buy — not just browse — more brands have adopted a lot of the ecommerce features Instagram offers. For example, 71% of U.S. brands use Instagram Stories to promote their products and offers. And users are loving this because they can connect with brands in a way that's comfortable and familiar to them.
Brands are also using Instagram Stories ads, which look a lot like organic Instagram Stories, to drive traffic back to their product pages.
Whether you've been using Instagram Stories for a while or you're new to it, it's time to explore the benefits of ads. Instagram is ripe for finding new sales leads, so Stories ads are worth it. Here's a look at how Instagram Stories ads work and how to create your own to grow your business.

More than a picture-sharing network
Instagram has grown a lot over the last few years, and part of this is because it caters to users' appreciation for visual content. There are over 1 billion active accounts worldwide with more than 500 million people currently using Instagram Stories every day. This is huge, especially when you consider that 75% of users go out of their way to find out more about brands and products. When they see something they like, they visit the online store.
Recently, Instagram added more ecommerce capabilities to the platform. Now, users can buy products without leaving the site. With such a huge audience pool to dive into to find your ideal customers, features like these are really helpful for you to grow your business. By letting users buy products on the platform, Instagram has simplified the shopping experience so that in a few taps, customers have what they need. The benefit to you is people are moving through the sales funnel much quicker.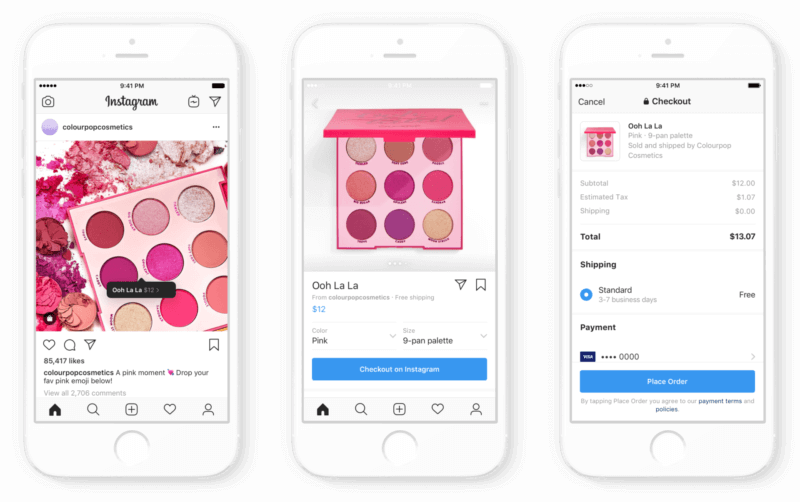 [Source]
Instagram is really making a big push to become more ecommerce friendly. This works in your favor because as more users look at Instagram Stories and pay attention to shopping tags, the better your chances of driving traffic to your website and closing sales. On the flip side, as these new features take off and users spend more time buying products on Instagram, you have to find a way to compete with other retailers for users' attention. You need a way to not just engage with your audience but to get them to buy your products. You can use Instagram Stories ads to differentiate yourself and increase your sales.
Next, let's take a look at how to access ads on Instagram and how to use Instagram Stories ads, in particular, to stand out from the masses.
Create a business account to unlock user insights
If you're already using Instagram to share content and you haven't already done so, change your account to a business one. The main benefit of switching is it opens up access to more features. For example, with a business account, you can:
Track demographics, trends, and traffic to your posts.
Include your business information — like your email address and support phone number — on your profile page.
Run ads.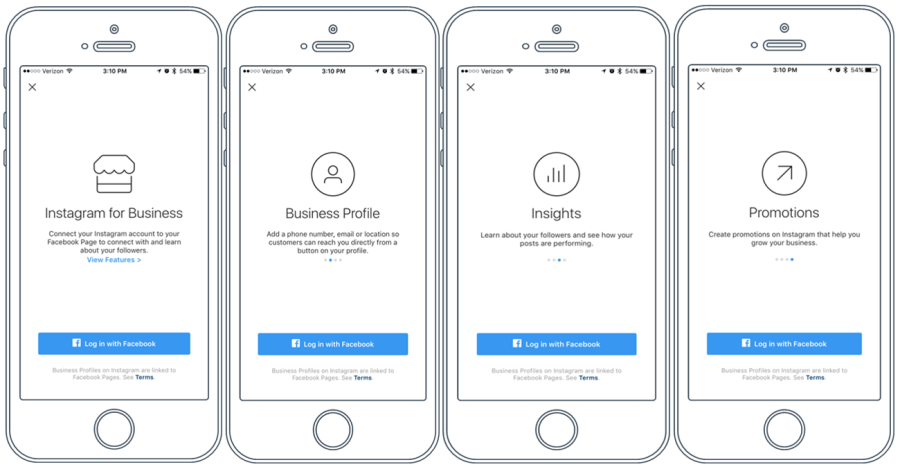 [Source]
To check whether you have a business account, head to your profile page and tap on the three horizontal lines at the top right. Scroll to the bottom of the menu and tap on 'Settings' and then on 'Account.' Next, tap on 'Switch to Business Account.'
Add in your contact information — email, phone number, address — and your business categories, and then tap 'Done.'
Once you've updated your account, you'll notice that your business category appears under your name and your contact information: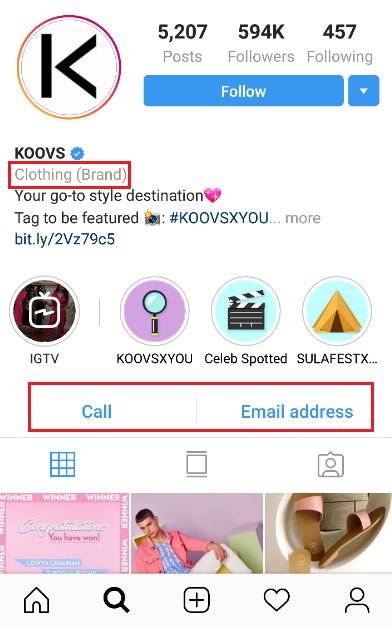 You also now have access to three types of Instagram Insights:
Activity. This shows total profile visits, clicks, and users reached over the past week.
Content. This summarizes how many posts you shared for the week and their total views. You can also see a summary of your stories and ads here.
Audience. This shows you where traffic to your page is coming from. You can break this down by city and country if you want to analyze this in more detail. You can also see the age range of visitors, gender, and how many followers you've attracted over time.
How does all of this help you attract new customers and boost sales? Well, combined, these insights help you create posts and Stories that are customized to fit your audience. (For a deep dive into Instagram, check out the Social Media Marketer's Guide to Instagram Analytics.) The more relevant your content is to your audience, the better your chances of growing a larger following, building trust, and directing more traffic to your product pages. Pay attention to these stats, so you can anticipate users' needs and offer up relevant stories for them to see.
For example, JOCO Cups sells eco-friendly, reusable cups in the store. Their target audience is passionate about the negative effects of plastic waste and want an option that's thoughtfully designed, non-toxic, and lasts for a very long time. JOCO Cups Instagram caters to this audience by highlighting specific products and their benefits.
Stories: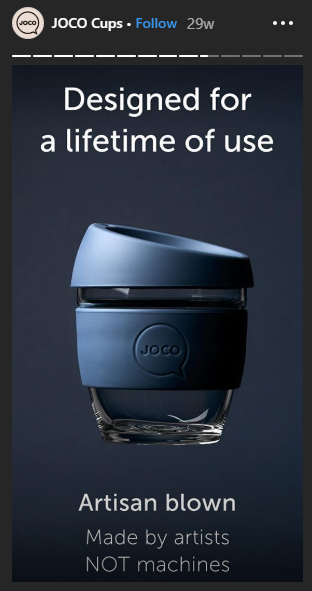 [Source]
Posts: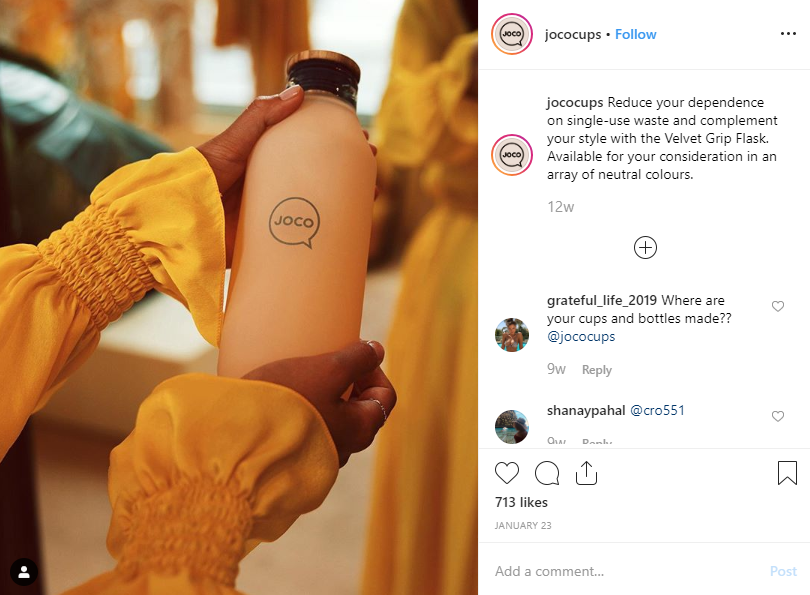 [Source]
Many of the comments on these types of posts are from followers asking where they can get their hands on this product. You can get the same results by understanding what your audience wants in your product and using Instagram to highlight this.
Create an Instagram Stories ad to boost sales
Once you're creating posts and Stories your audience engages with, start creating ad campaigns to turn likes and comments into sales. Unlike ads that take up only a portion of a user's screen on mobile, Instagram Stories ads are full-screen vertical images and videos that aren't just more immersive than other ads; they're oriented to the way people naturally use their mobile devices. There's no need for users to resize images to see them properly.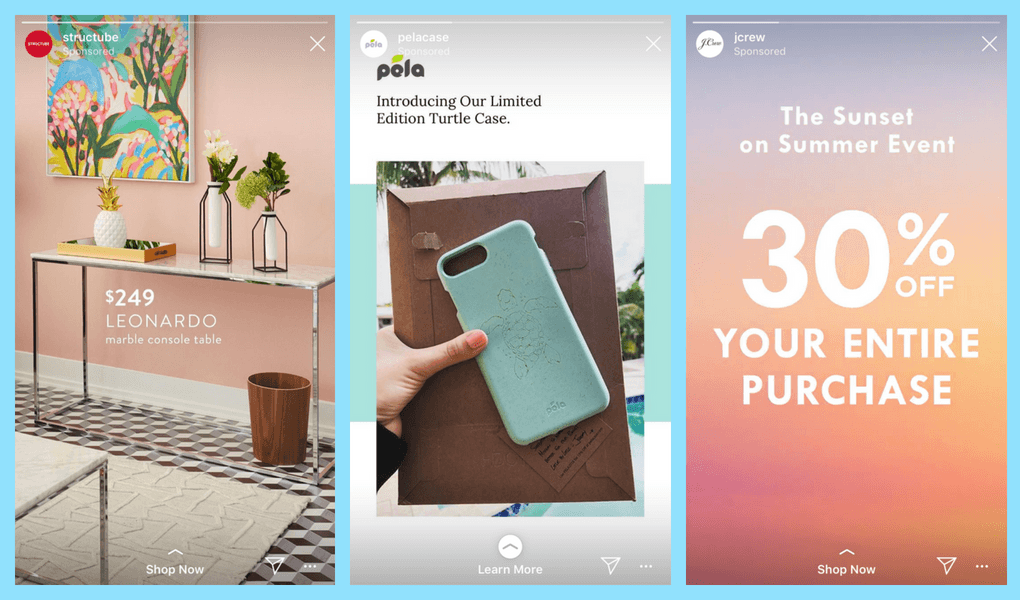 [Source]
There's no other content to distract users; all they see is your ad until they swipe up or move to a new story.
Creating Instagram Stories ads is similar to creating Facebook ads — you have to use the Ads Manager platform. First, choose an objective: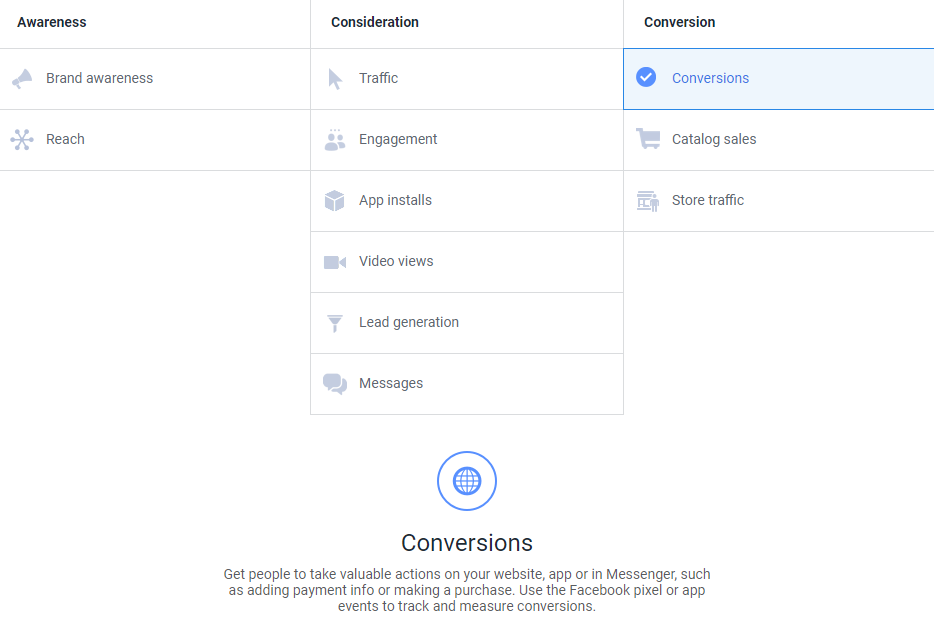 Since your goal is to attract new customers, choose 'Conversions' since these ads are designed to get people to buy something when they get to your store. Make sure you've installed Facebook pixel on your website so that Facebook can help you track conversions.

Create your ad the way you normally would:
Give your ad set a name. Aim for something unique for each campaign, so it's easier to analyze the reports afterwards.
Define the conversion you want to track. This can be 'Add to Cart,' 'Initiate Checkout,' or 'Purchase.'
Add an offer. Lead with a compelling, relevant offer that speaks to your target audience's needs.
Define the audience you want to target. Consider targeting people who have interacted with your brand in the past since they're the most likely group to convert.
Set your budget and schedule. It will take some experimentation to find a budget and ad runtime that get you the results you're after. Start with a small budget, run your ad for two weeks, and then analyze the results.
The one thing that's different with Instagram Stories ads compared to Facebook ads is the ad placement. In the 'Placement' section of the ad set, click on 'Edit Placement' and then click on 'Instagram — Stories':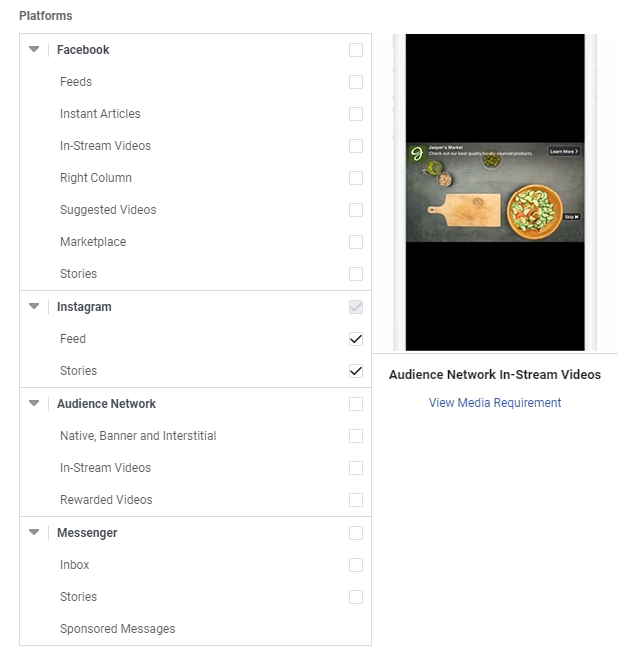 This way ads will only appear on Instagram to the audience you've selected.
Instagram Stories ads look very similar to regular Stories you post. To get people to stay on your Stories ads long enough to see the offer and click to your website:
Use high-quality images and videos that are clear and easy to see. Ads need to have a resolution of 1080 x 1920 pixels and video.
Make your videos entertaining. 60% of Instagram Stories videos are watched with the sound on, so incorporate a voice-over with a music background if possible. Remember, the max length of videos is 15 seconds, so make sure the offer is clear and stands out.
Use a single image or a carousel to showcase your products and offer.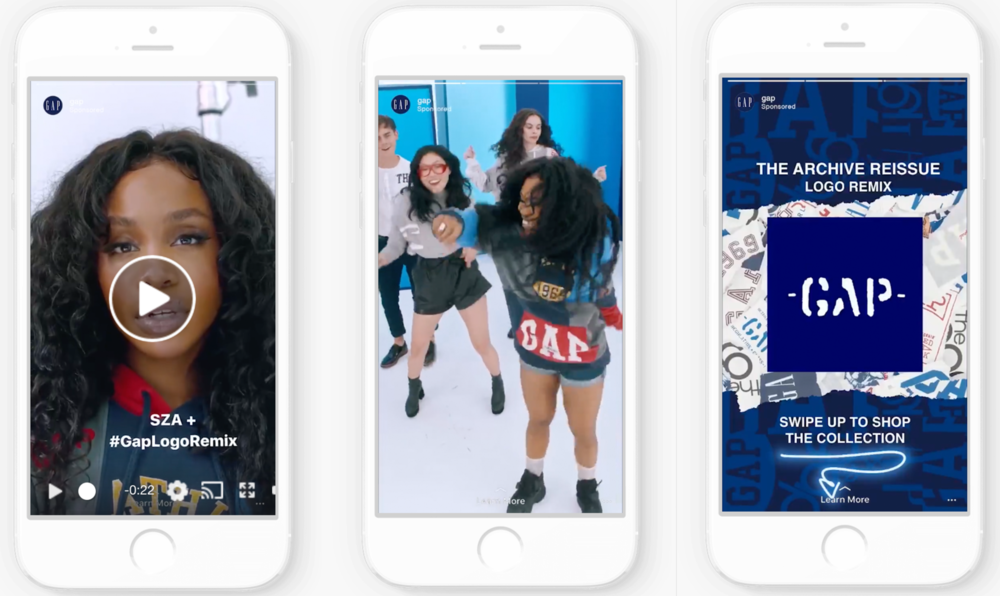 [Source]
The final step is adding in your call to action (CTA). Since we're talking about the conversion objective as a way to increase sales to your store, use 'Shop Now' or 'Learn More' to get users to swipe up to open product pages on your website.
Use simple text or one of Instagram's Stories badges to bring attention to the CTA: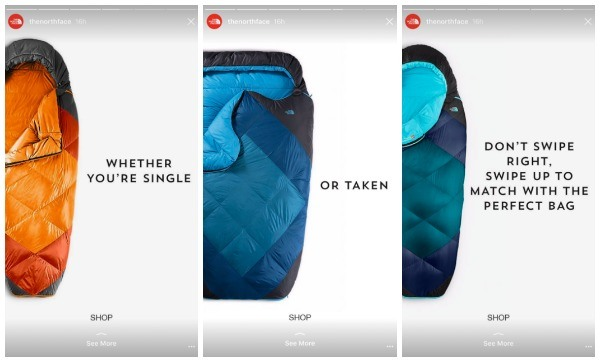 [Source]
As with this example, it can be as simple as telling users to swipe up and putting the word 'Shop' right above the CTA.
IG Stories ads best practices
It's one thing to throw an ad together and run it, and another to be more intentional about it to make sure your ads meet your objective. Here are a few best practices to keep in mind as you plan your next Instagram Stories ad campaign. Run a series of A/B tests to find the right mix of ad elements that get your audience to buy something.
Incorporate branding
Branding can include using your brand colors, a particular font based on your style guide, or the format or template you use for your regular Instagram Stories.
Nuxe, a Parisian beauty brand, uses videos for their Instagram Stories ads to lower their acquisition costs and boost sales. Their brand uses lots of earth tones and floral to attract their target audience.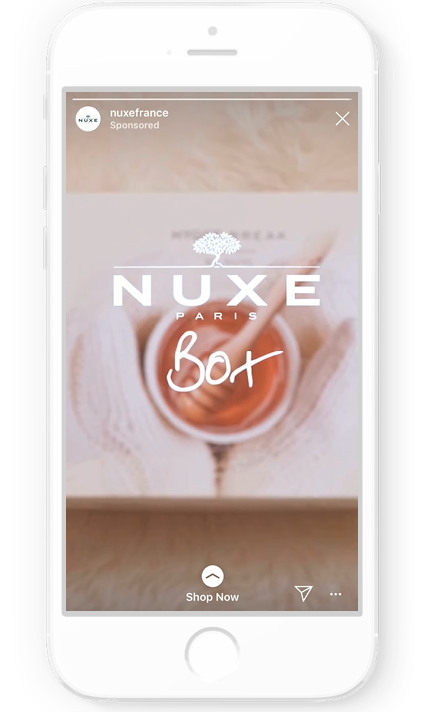 [Source]
What their Stories ads do well is to incorporate a light and airy feel with sharp graphics. At the end of the video ad is an information card with the brand's logo to help build brand awareness.
The result of their approach to ads was a 6.2X return on ad spend and a drop in cost of 62% for their Instagram Stories ads.
Don't stick to one visual style
Use a mix of images and video to make campaigns more dynamic. Vita Coco, a coconut drink retailer, uses a combination of GIFs, video, and images to target their ideal audience and attract new customers. Patrick B., Senior Global Brand Manager for Vita Coco, explained their ad strategy this way, "Facebook and Instagram allowed us efficient reach in our key markets, delivering our ads for the most pertinent occasions for coconut water based on what's most relevant to the consumer at that time."
The goal of their ads is to optimize the mobile experience by including text overlays that allow ads to be viewed with or without sound.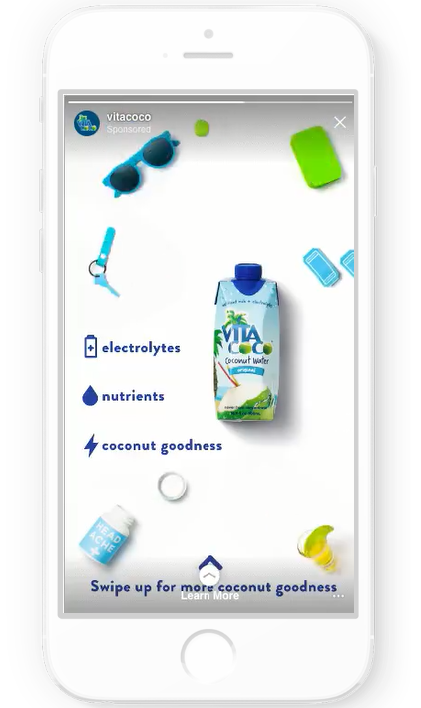 [Source]
Their approach to Instagram Stories ads was a four-point lift in intent to purchase for customers ages 18-24 years old.
Base the ad length on promo type
A product launch might call for more slides than, say, a seasonal discount offer. If you're sharing a video ad, the length stays the same but you can add in more content to make the value clear.
The following ad by Madewell includes 12 different images. Instead of feeling overwhelming, what this ad does well is to use a few words, large and in bold, to do three things:
Address an audience need
Present their products as the solution
Invite users to head to the website to shop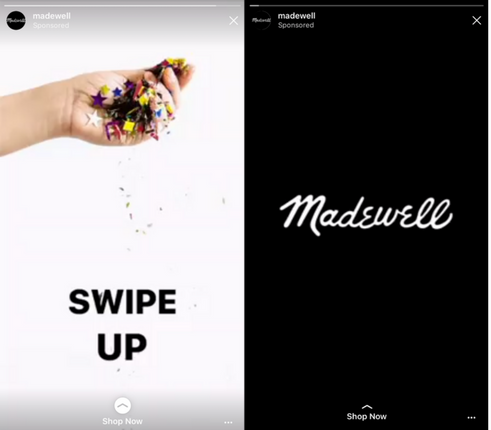 [Source]
You can use this approach by showing different products so that your ads appeal to a wider segment of your target audience. This way, by the time users get to the last frame, they've seen something that appeals to them and are more likely to click the CTA to find out more about that product.
Make your Instagram Stories ads work for you
More than 50% of brands with a business account have used Instagram Stories to build awareness about their products and drive traffic back to their site. It's clear there's value in adding Instagram Stories to your advertising strategy, so now's the time to use Instagram Stories ads to reach your target audience.
Test different variations of your ads to see what gets you the most new customers. The key is to use your Instagram business insights to track user behavior and update your Stories and ads regularly.