One of the first things your customers do when they start their day is check their email. It's one way to stay informed and connected with the world around them. For you, it's one of the most direct ways to market to your audience. And when people give you their email address, it's an invitation you can use to share more about your products.
When done right, email marketing has the power to grow your business. With ecommerce especially, emails are a good way to build relationships, educate and inform subscribers, and, of course, sell more products by moving people through the customer journey.
But before you can market to your audience you need email addresses, which aren't easy to get when shoppers are asked for this information almost everywhere they go online. You have to find more creative ways to hold your audience's attention and convince them that giving you their email address will provide increased value.
To help you get started, here are six lead generation strategies to help you get more emails.
Lead generation strategy #1: Use a lead magnet
It's one thing to get people to visit your website, and it's another to get them to stay there and share their email address. It takes more than a designer website; you need to offer something of value in exchange for email addresses. What you need is a lead magnet—an incentive that convinces site visitors to share their email addresses.
Lead magnets are a strong lead generation strategy because they're flexible. Depending on what incentives resonate with your audience, use your lead magnet to offer discount codes, newsletter sign-ups, ebook downloads, event sign-ups, and more.
For shoppers in the awareness and interest stages of their customer journey, a lead magnet acts as an introduction to the sales funnel. Once a lead shares their email address, you deliver the promised incentive and use it, along with additional nurture emails, to educate a subscriber and convert them to customers.
To figure out which type of lead magnet will give you the most conversions, experiment. What you offer should be in line with the types of products you sell. For example, if you sell clothing online, offer free shipping to new customers who share their email addresses:
Or offer a discount code for new shoppers to save on their first purchase:

Or invite shoppers to join your newsletter by offering multiple special offers: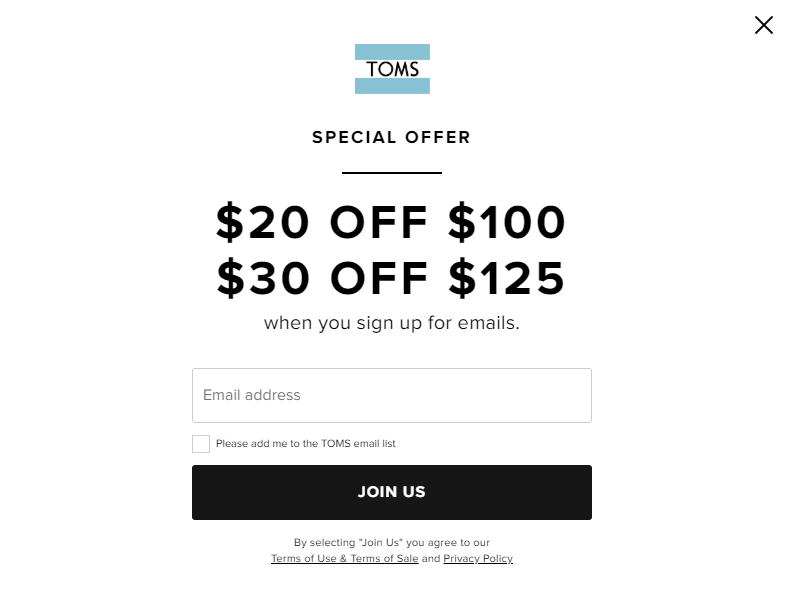 Whichever lead magnet type you choose, it should
include a clear call-to-action (CTA);
give subscribers instant access;
solve a pain point; and
include a "Thank You" note.
Tip to try
Use automation to upload new emails to your CRM, segment subscribers into different email lists, send the incentive you promised, and follow-up with additional automated messages.
A tool like HubSpot offers free lead magnet creation and connects to an email marketing tool like MailChimp. HubSpot lets you set where your lead magnet will appear on your website. For example, it can pop up after a certain amount of time, when shoppers scroll down to a certain point in the page, or when shoppers try to close a page.

Lead generation strategy #2: Use a landing page
When you run an ad campaign, you need a place other than your homepage to direct your traffic to. Use a landing page that includes additional information about the offer and a lead capture form for people to share their contact information.
Unlike your homepage, which includes links to different products and offers, a landing page has a specific focus. For example, if you're running ads for a holiday sale, the landing page should only include details about this offer.
With a landing page, the focus is to move as many leads as possible through the sales funnel and convert them. To do that, there are three elements your landing page should have:
An explanation of the benefits and value shoppers will receive by sharing their email addresses
A summary of how you plan to solve a problem for them
A clear CTA
Tip to try
Keep your landing pages simple with the value and benefits prominently displayed. Use no more than four fields. Research shows that keeping the number of fields to four or fewer results in a 160% increase in conversions.
Use a clean design, and include an action-oriented CTA that makes it clear to people what they're getting. Instead of "Click Here" or "Submit," use words like Join Now, Learn More, or Receive Your Free Gift.
Lead generation strategy #3: Use a sticky bar
This lead generation strategy acts like a CTA that's obvious as soon as people land on your website: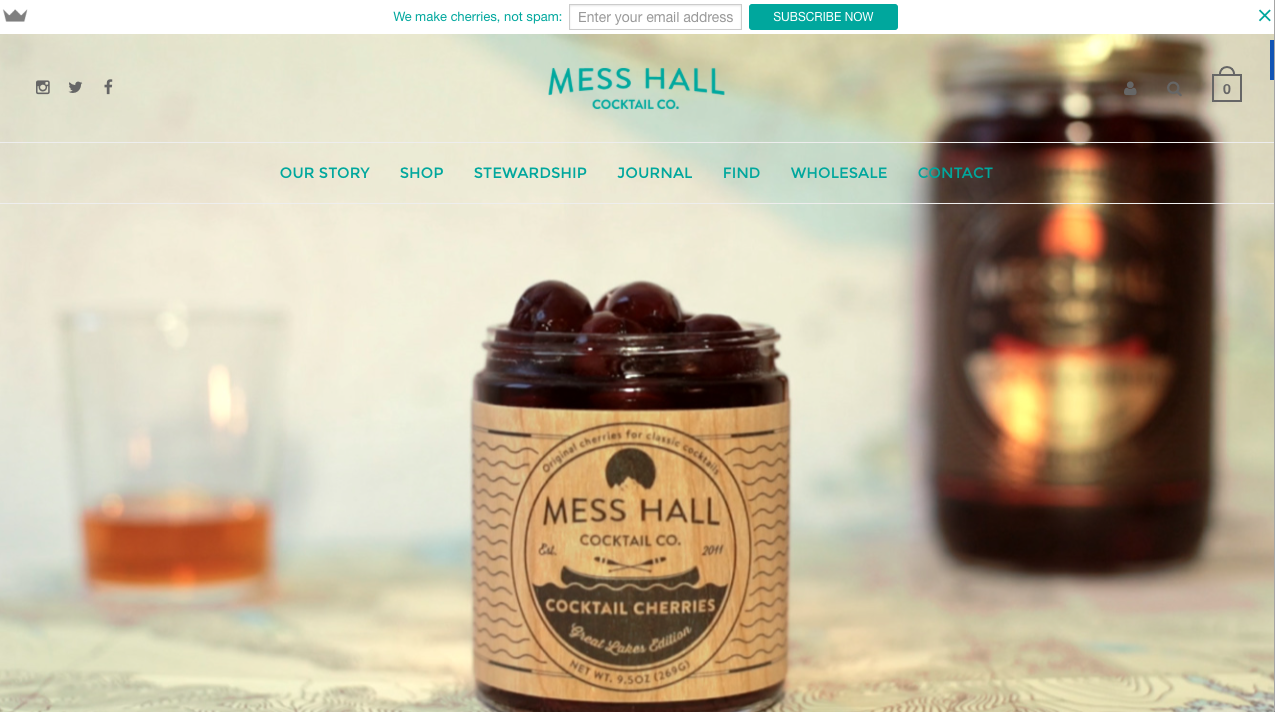 [Source]
Typically found at the top of a web page, use a sticky bar to ask shoppers to share their email addresses to join your email list, or include a special offer with a CTA so that when shoppers click, they're prompted to enter their email addresses.
Compared to a lead magnet that pops up and can be closed, this sticky bar is always visible wherever people are on the website. This acts as a constant reminder to site visitors browsing your product pages to join the email list.
Keep in mind the visual hierarchy of your website. For elements that you want to stand out to shoppers, use bright colors that contrast with the rest of your website. The goal is to make the sticky bar prominent so that it's one of the first things shoppers see.
Tip to try
Use tools like Fieldboom and Hello Bar to customize the sticky bar's location and size as well as its colors, message, CTA, and fields.
Lead generation strategy #4: Use embedded lead forms
Eighty-two percent of shoppers conduct research on their phones before they buy something. Part of this research includes reading content on your blog. An effective lead generation strategy is to use blog posts to capture email addresses by embedding lead forms within them.
If you have a blog, you're likely to see at least 67% more leads. Take advantage of this additional traffic by offering blog readers a place to share their email address. Share relevant, quality content to draw your audience in.
With a mix of relevant topics and niche keywords, the more interesting shoppers find your content, the more likely they are to share their email addresses to learn more.
Embedding a lead form in your content targets people in the consideration stage of the customer journey. If you segment your email list based on who shares their email through embedded forms, you can send additional related content as a way to convince them to convert and buy.
Use a tool like ConvertKit to embed lead forms within your blog content. Make the forms customized to relate to the content people are reading. For example, if you're a fashion e-retailer, say something like, "If you want to learn more about the latest style trends, sign up for our weekly newsletter so you'll never miss an update" to improve the chances of shoppers sharing their email addresses.
Place the embedded forms in at least two places in the post to get the 43% of people who skim posts to slow down and read.
Tip to try
Some examples of embedded forms to use include access to your loyalty program, downloadable ebooks, worksheets or infographics, or niche specific reports.

Lead generation strategy #5: Use social media posts
In addition to your website, your audience spends a lot of time on social media. Use your social media platforms to invite people to sign up for your newsletter by driving them to your website so that they can learn even more about you and your products before they buy.
This lead generation strategy works well for people in the awareness, interest, and consideration stages of the customer journey because it allows you to grab their interest in channels where they naturally spend a lot of time and then to educate them.
Share posts that invite followers to receive more exclusive content if they sign up for your newsletter. You can even share the same post at least once or twice a month so that new visitors see the invite and it doesn't get buried under new content: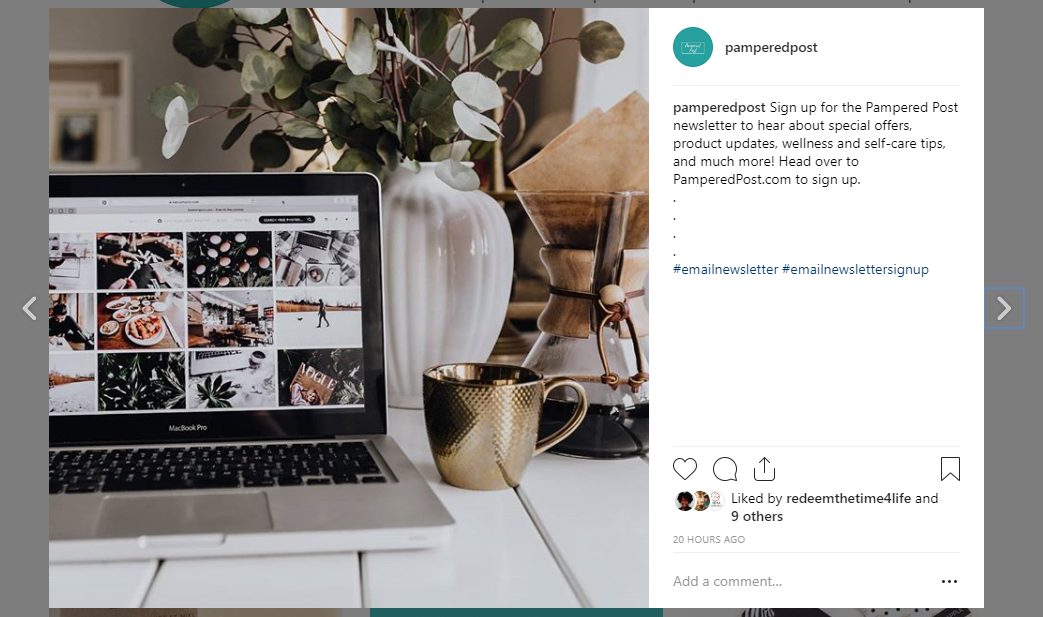 Tip to try
Customize your content and captions based on the platforms you use. For example, since links aren't clickable on sites like Instagram, use Linktree to add new links to your site and include a custom landing page for social media users to use. That way, using a tool like Google Analytics, you can see how much traffic comes from social media and how many of these leads submit their email addresses.
Lead generation strategy #6: Use gated content
In the world of marketing, reports show that "Marketers use gated content to generate leads by providing prospects with valuable information in exchange for their name, email address, industry, title, and other contact information." Gated content consists of learning resources and blog posts that are accessible only when people submit their email addresses.
This lead generation strategy doesn't work for all shoppers though. People in the awareness stage of the customer journey don't know a lot about you yet and are more likely to hesitate to share their email addresses.
Gated content is best suited to shoppers in the consideration and decision stages of the customer journey since they're more receptive to the content you have to offer and will give you their email addresses to get access. There are three reasons why these shoppers are willing to do so:
They trust you.
They are interested in what you have to offer.
They see you as having the solution to their problem.
Since these shoppers have already done their research and are close to buying, gated content doesn't slow down their purchase decision. In fact, it reinforces their decision to share their email addresses with you in exchange for more in-depth, well-informed content.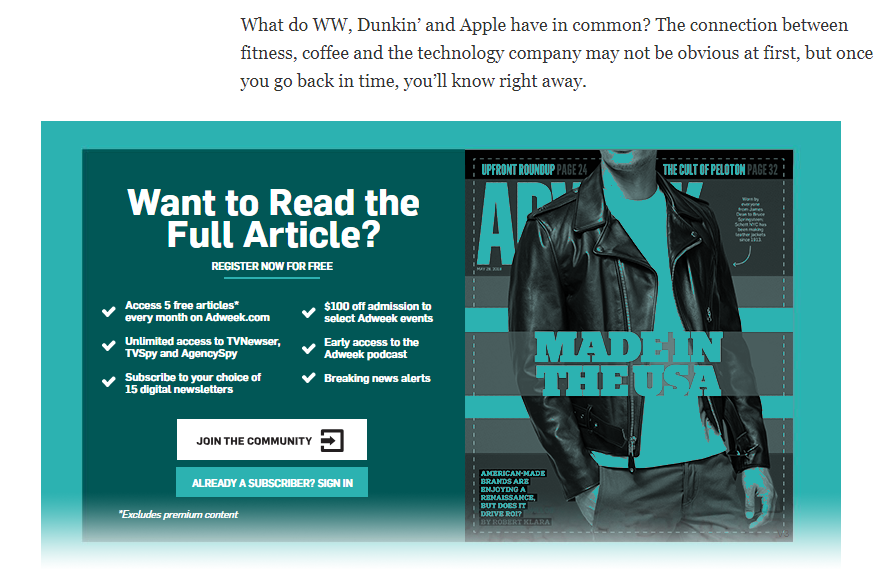 Let's say you're a wellness brand that sells vitamins and supplements; use gated content to share nutritional case studies or customizable meal plans or trackers.
Before using gated content, do some research to figure out what kinds of content your audience values and will be interested in reading about.
Tip to try
There are two ways to show gated content. For blog posts, show a few paragraphs of content to entice readers and ask for an email address for them to finish reading the piece. For more in-depth content, like an ebook, use a landing page with a lead form to collect email addresses.
Your turn
Test different lead generation strategies to see which combination leads to the most email addresses. Be mindful that even though you'll spend a lot of time implementing strategies, don't forget to nurture subscribers who've already shared their email addresses.
Email gives you the power to engage your audience more directly, so take the time to build up these relationships. Make it clear to subscribers that you value them, have a solution to their problem, and are the best choice for them.