Nate and Alysha Jackson used to be full-time public school teachers. Then they decided to start a side hustle with retail arbitrage on Amazon.

They took $100, purchased items on clearance, and sold them on Amazon for a profit. And they kept on doing it. All their free time—weekends, days off, before school, and after school—was spent scouring retail stores, searching for discounted merchandise they could flip.

Within a year, they'd made more than $180,000 in total sales.

After a year and a half, they'd left teaching behind to become full-time Amazon sellers. Nowadays, they spend about 15 hours a week sourcing merchandise, then hand it over to their team to package up and ship to Amazon's warehouses.

With results like these, you might be wondering if you should start your own side hustle with retail arbitrage on Amazon and eventually leave your day job behind. It can be profitable, but it's not as easy as buying a few clearance items and selling them on Amazon for a profit. You need to have a strategy and some tools in place.

In this article, you'll learn the pros and cons of a retail arbitrage business, discover the best approach to sourcing and pricing your merchandise, and find out how to start selling on Amazon.
What is retail arbitrage on Amazon?
Retail arbitrage is the process of purchasing products at a low price from one retailer and selling them at a higher price to earn a profit. Sellers who use this model often buy discount or clearance merchandise from big-box stores like Walmart and sell them for a higher price using an online marketplace such as Amazon.

Nate and Alysha found success going to Kohl's stores, purchasing thousands of dollars of clothes, especially bras, at low prices by layering the store's discounts and coupons. Then they sold the merchandise on Amazon for more than they'd paid.

To show you how this works, let's say they purchased 20 bras for $15 that were regularly priced at $30. They would then sell those bras on Amazon for $30. After Amazon deducts their fees—referral, fulfillment, and storage—Nate and Alysha received $21 per bra. Since they paid $15 per bra, their profit would be $6 per item. On 20 items, that would lead to an overall profit of $120.

According to "The State of the Amazon Seller 2020," 20% of Amazon's sellers use the retail arbitrage business model. It's the third most-used business model after private label (merchants selling their own products) and wholesale (merchants buying products from a brand or distributors and selling on Amazon).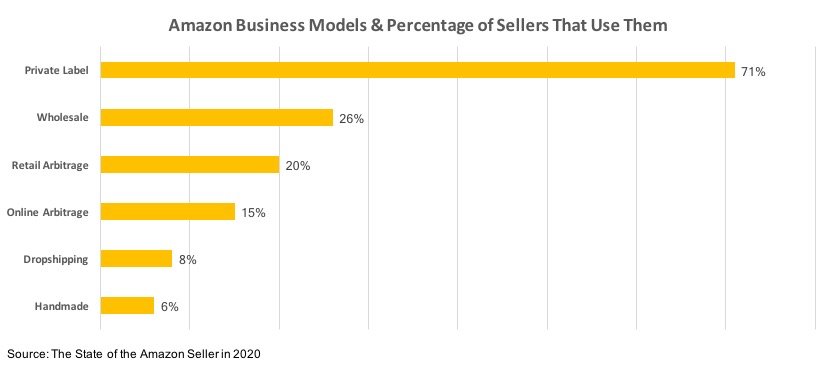 In a comparison of profit margins on the various Amazon business models, retail arbitrage ties with online arbitrage for third place with 20% of sellers making upward of 25%.

Why choose a retail arbitrage business on Amazon?
Retail arbitrage is a good model to start your Amazon business because it has low barriers to entry. But, on the other hand, it's difficult to scale this business model because so many factors are out of your control.
Pros
Retail arbitrage is an easy, low-cost way to start selling on Amazon.
It has few barriers to entry. Unlike Amazon's other business models, you don't have to start your own label, hand-make items, or develop relationships with brands or wholesalers. You don't even need to set up a business. You can simply create a personal seller account, buy clearance or discounted merchandise, and list it on Amazon.
Costs are low. With as little as $100, you could purchase merchandise to get your business started.
You can turn a quick profit. If you find merchandise that's in demand and list it for the right price—and there are tools to help with that—you can quickly turn a profit and have money to reinvest in your business.
Logistics are easy. If you choose FBA (Fulfillment by Amazon), you send your merchandise to Amazon, and they manage warehousing and shipping your products to buyers for a fee.
While it's easy to do retail arbitrage on Amazon, you might have a hard time growing your business beyond a side hustle.
Cons
Retail arbitrage is a difficult business model to scale, largely because many factors are beyond your control.
You're at the mercy of retailers. With other Amazon business models, you have your own label, make your products, or have an established relationship with a brand or distributor. In all of these cases, you can either make or purchase more of the products you need. With retail arbitrage, your selection is based on what another retailer decides to discount—and that may not be what you want to purchase or what will sell well on Amazon.
There are limits to what you can sell. There are certain products, brands, and categories that you'll have to obtain Amazon's approval to sell. Gaining approval "may include document requests, performance checks, and other qualifications."
There could be purchase limits. Retailers aren't set up to function as wholesalers, where you can purchase large quantities of their merchandise. Nate and Alysha found Kohl's had a limit of 200 items per order when they tried to bulk buy. At one point, Walmart.com had a limit of 32 items per order, and they still say they reserve "the right to limit the quantity of items purchased per person, per household, or per order."
It takes time to source merchandise. Whether visiting individual brick-and-mortar locations or searching the internet for the best retail deals, it takes time to make sure you're getting the lowest prices. There could be many days you return home with no product to show for your search efforts.
A bad buy can break the bank. If you put all your sourcing budget on merchandise no one wants to buy, you don't have the option of returning it to the supplier. You can keep lowering the price to at least try to recoup what you spent, but you may end up taking a loss and having to donate your merchandise instead.
A manufacturer could swoop in and take your profits. Nate and Alysha share a story of how they found success selling oil diffusers for $70 that they'd purchased for $35. They increased their supply of diffusers expecting the profits to roll in, but instead, the manufacturer started selling them on Amazon for $35, which erased all profit potential.
How to start retail arbitrage on Amazon
You might think the first step in starting a retail arbitrage business is sourcing merchandise to sell, but actually, you need to go ahead and create your Amazon seller account. This will give you access to the Amazon Seller app, which you'll need to help you choose what to purchase and resell on Amazon.
Choose your plan
Amazon provides two options. You can pick the Professional plan for $39.99 per month, plus Amazon's referral fees, which vary based on the product category. With the Professional plan, you get access to Amazon's advanced selling tools like reports or APIs.

If you're just starting out, the Individual plan is the better option. Instead of a monthly cost of $39.99—regardless of whether or not you sell anything—you'll be charged $0.99 per item sold, in addition to referral fees.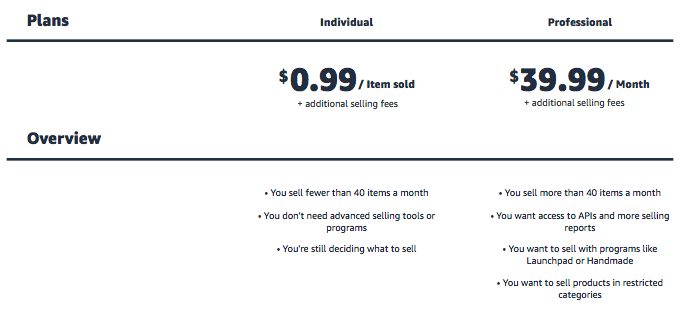 (Source)

The individual plan will cost you less while you build your business. But once you start selling more than 40 items per month, you should make the switch to the Professional plan.
Create your seller account
Now that you know what plan you want, it's time to create your Amazon seller account. To complete this process, you'll need to provide:
your contact information,
government-issued identification,
a credit card number,
your tax information, which is your social security number if you're using an individual plan,
and a bank account number so Amazon can pay you for your sales.

Define your merchandise criteria
Once your account is set up, you may want to run out and buy everything you find on clearance, but you need a plan first. You have to decide what your target categories are and how much you want to spend per item. You also need to think about product size and weight, because that will have an impact on your fees.

Product cost
You might have your overall sourcing budget figured out, but you also need an idea of how much you'd like to spend per item.

Say you find a great discount on electronics. If you blow your whole budget on a couple of big-ticket items, you run the risk of those products not selling. Instead, you could have spread out your budget among a lot of lower-priced options.

Retail arbitrage newcomers are advised to aim for products that cost between $10 and $30. The strategy behind starting with this price range is that anything that costs less than $10 will have small profit margins, and products that cost more than $30 will take a large investment for a newcomer if they want to buy in bulk.

Categories
You want to look for product categories that don't require approval and that sell well. Here are the best categories to get you started with a retail arbitrage business because you can purchase products low, and they generally resell well on Amazon.
Toys & games
Baby
Books
Home & kitchen
Sports & outdoor
Clothing
Product size and weight
The larger and heavier your merchandise is, the more it will cost to ship, whether you're using Amazon's fulfillment services or not. If you've chosen FBA to make the process easier, they list their fee structure for "picking and packing your orders, shipping and handling, customer service, and product returns," which are dependent upon you're merchandise's weight and dimensions.
Pick your retail destination
The next step in starting your retail arbitrage business is going to retail locations to source products.

Since the goal here is to purchase products as cheaply as possible, big-box retailers are the best place to start. Because they sell a high volume of merchandise, they're able to lower their per-product profit margins. Even at their regular sales prices, these stores usually sell products for less than other retailers.

For retail arbitrage newbies, you should start sourcing your products by hitting the clearance sections of big-box retailers like Walmart, Target, The Home Depot, Best Buy, Lowe's, CVS, and Walgreens.
Scan your product options
You've set up your seller account, defined your merchandise criteria, and now you're standing in the clearance aisle of your nearest big-box retailer trying to decide what to buy. It's time to pull out your phone and open your Amazon Seller app.

Scan the barcode of the product you're considering, and the Seller app will help you decide if you should buy it. The information the app provides includes:
Amazon's sales rank,
the number of other sellers offering that product,
the lowest price available,
your estimated fees using FBA,
and your profits based on the price you're paying.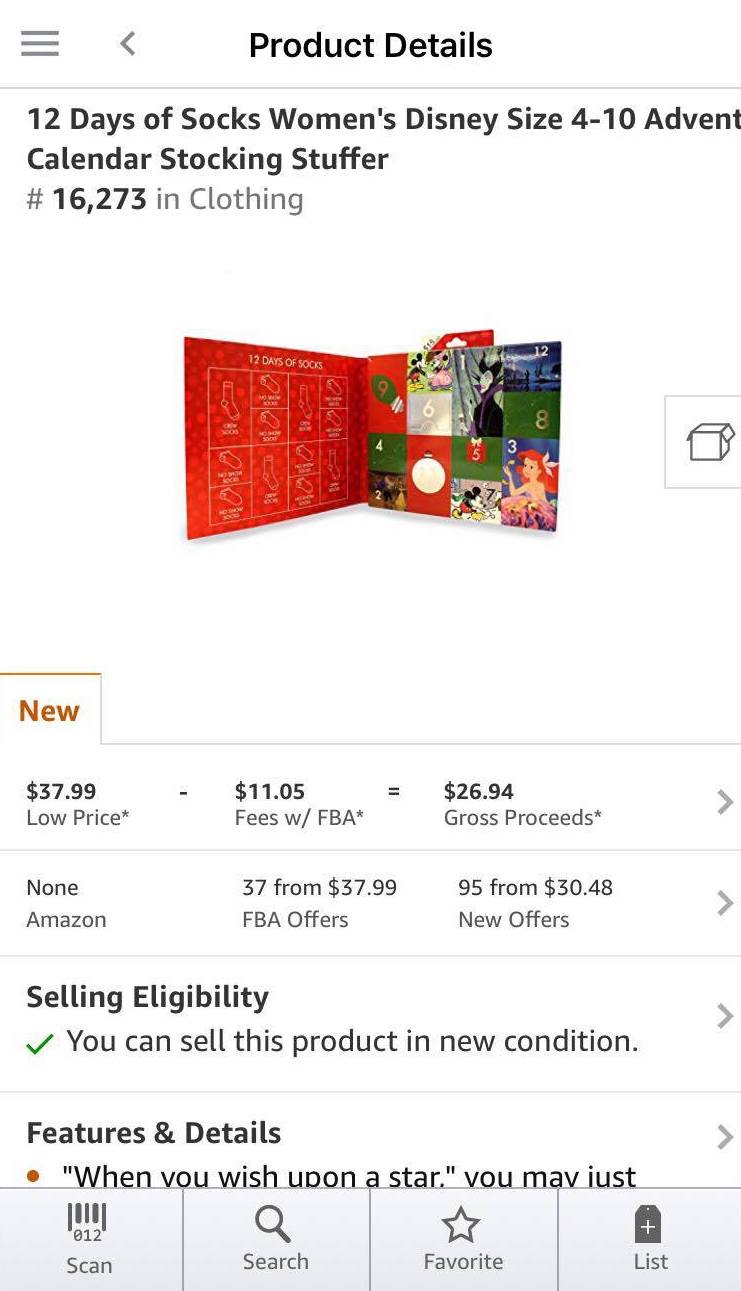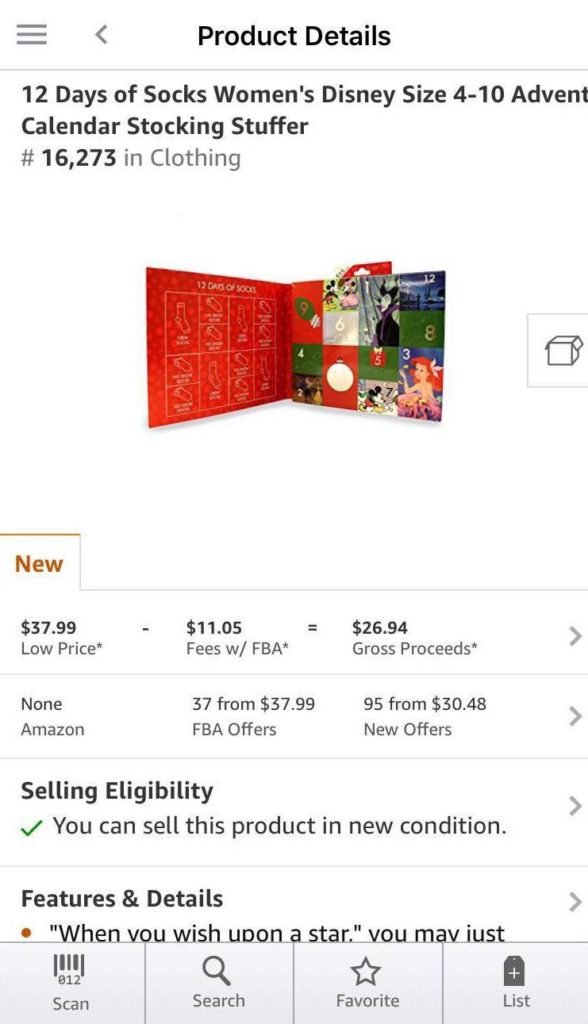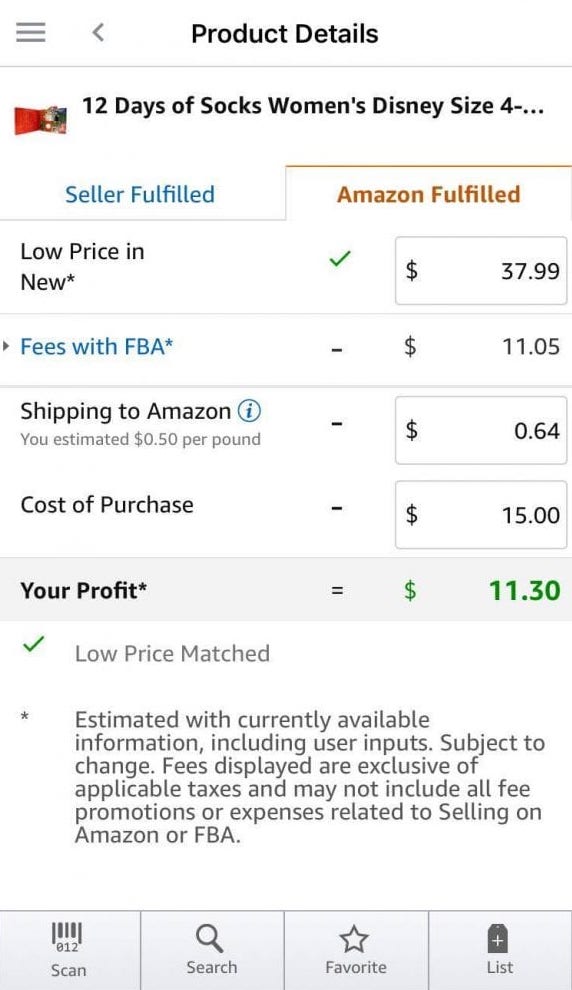 (Source)

You can see from the Amazon Seller app that if you were to buy this Disney Advent calendar for $15, you could sell it on Amazon for $37.99. After deducting Amazon's fulfillment fees and the cost to ship it to Amazon, your profit would be $11.30. If you sold 10, you'd make $113. If you sold 20, you'd make $226.
Estimate your sales
Using Amazon's free Seller app will give you most of the information you need to decide if you should purchase a product for your retail arbitrage business. But you could add an additional layer of research and use Jungle Scout's free Amazon sales estimator tool.

You can find out the estimated sales per month for that product by entering the product's best seller's rank number, Amazon category, and the country you plan to sell in.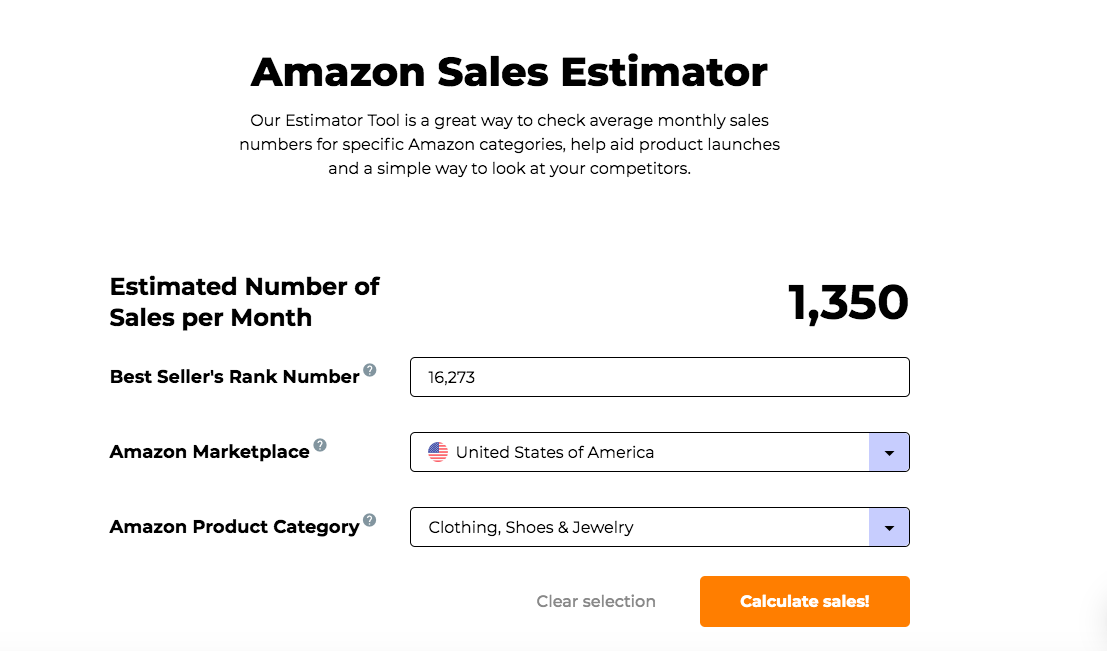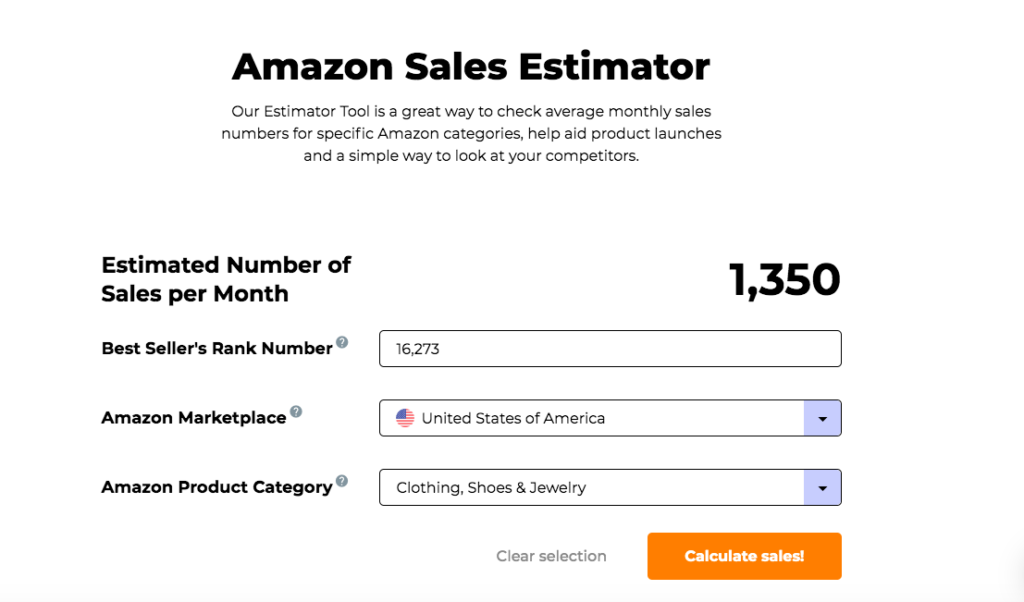 Entering the rank number Amazon's Seller app provided for the Disney Advent calendar, we can see that there are 1,350 estimated sales per month for this product. Based on that information, along with the info from Amazon's Seller app, it looks like this would be a great product for a retail arbitrage business.
List your products
Now that you've got your first arbitrage product, which in this case is the Disney Advent calendar, it's time to list it on Amazon. You can do this through the app as well.

When you add a new item, you'll be prompted to enter information about your product. You'll need a product identifier, but since this product is already on Amazon, you'll just match an existing listing; a SKU; your offer details like price, condition, and available quantity; and product details such as brand, name, category, and product images. Lastly, you'll need to add keywords to help buyers find your product.
Is retail arbitrage on Amazon right for you? Try it and find out.
Give retail arbitrage a try if you're looking for a side hustle, have the time to search for deals, and have a little bit of a budget to get started. It's a simple business model, you can quickly turn a profit, and there are free tools to help you decide which products to buy. You might not bring in enough to quit your day job—at least not immediately—but it could provide a steady stream of extra income.