As you know by now, I'm a huge fan of PPC. For a long time, I let my PPC campaigns chug along in the background, quietly bringing in a respectable ROI for my business. Until recently, I didn't realize that there was further profit to wring out of my campaigns – turns out, there was.
In this post, I want to share with you six simple PPC opportunities that can help you increase your marketing ROI this year. The changes I'm going to talk about – when implemented correctly – will increase click-through rates and Quality Score, and reduce your CPC/CPA (depending on which bidding method you use).
Use Google callout ad extensions
Just before Christmas I had a call from my Google AdWords rep. She mentioned the new callout ad extensions, but I dismissed them as irrelevant to my business like so many of the other ad extensions on Google AdWords.
Fast-forward a few weeks and I noticed a couple of my competitors had this extra ad copy – it looked like it was bullet pointed. Sure enough, my competitors hadn't been so dismissive, and they'd realized that Google callout ad extensions were actually a pretty good idea.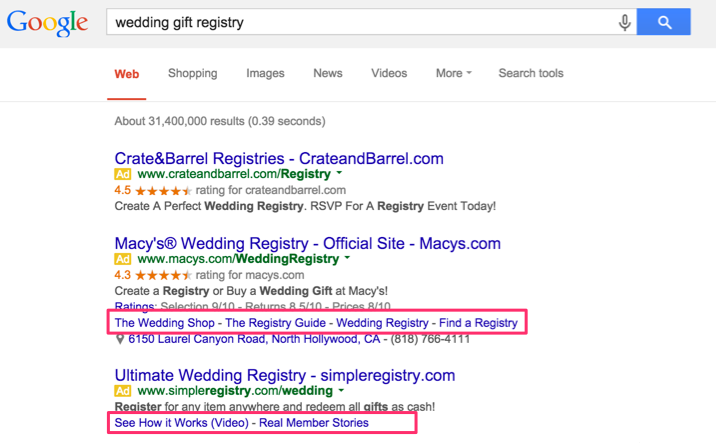 A little taken aback, I called my rep and she talked me through adding callout extensions over the phone. I managed to add about 15 extensions in less than 10 minutes. The process was a whole lot easier than I had envisioned.
Callouts are basically short snippets of text that are sometimes displayed below your main ad copy. They're really good, because you can add selling points and reasons why customers should click your ad and buy from your business. You can also use them to advertise other categories of products, brands, services you offer, etc.
If you advertise on the Google AdWords search network, I strongly advise you to employ the use of callout extensions. You can use them at no extra cost, they increase the size of your ad when potential customers see it (increasing the chances they'll click it) – there really is no downside as far as I can see. Take my advice and add 10-15 callouts them optimize them every week by removing poor-performing callouts, and adding fresh new callouts to test.
Reduce CPAs and CPCs
Every year, big businesses go absolutely bonkers with their online ad spend in the run up to the holiday season. Small businesses do too. Often small businesses will get caught up in PPC bidding wars and they'll have to bump up their CPAs and CPCs, far beyond what they're comfortable with. Sound familiar? Of course it does!
As soon as the New Year rolls around and major retailers and other small businesses have gotten over the excitement of the holiday season sales, they'll gradually reduce their PPC advertising budget, or stop using PPC advertising altogether until the next Q4.
Stopping your PPC ads altogether isn't a smart idea – in a time of low sales the worst thing you can do is to cut your marketing budget. Realigning your CPA and CPC costs can be a shrewd move, however. Over the holiday period we often find ourselves bidding up to 100% more than we would usually, just to remain visible in Google's paid search listings. There's just no need to bid that high in January though when average checks fall through the floor, and when swarms of advertisers have paused their campaigns.
Take my advice and spend a day realigning your CPAs and CPCs to ensure you're making the best possible ROI – without over or under-spending on PPC ads.
Try liquid remarketing via the Google display network
I've tackled the issue of remarketing at length here on the Ecommerce Blog – I'm a big fan of it.
One problem people keep mentioning to me, however, is that the remarketing network I always recommend, AdRoll, only allow you to use liquid remarketing techniques when you hit 60,000 unique visitors per month on your website – and a $2,000 monthly spend. For many smaller and startup ecommerce businesses, those figures are out of the question.
The good news is that with Google's display network, you can configure and run liquid ads without having to hit the ridiculous figures prescribed by AdRoll. The setup of liquid ads on Google is fairly straightforward too, and there's a nice GUI liquid ad designer so you don't need to pay someone thousands of dollars to design a few pretty ads in Photoshop. The reach of Google's display network is vast – although not as vast as AdRoll, because AdRoll buy space on lots of different display networks.
If you're looking for a quick, simple remarketing solution then the Google display network is perfect for you. Maximize your ad spend by retargeting offers and products to people who have previously visited your website – the results are often amazing.

Increase your budget
In point two I said you should potentially reduce CPAs and CPCs following the Q4 splurge, so it might sound a bit contradictory that I'm now saying you should increase your budget – right?
Well, it's important to understand that CPAs and CPCs are totally separate to budget. CPAs and CPCs determine how much you pay for clicks or actions/sales – whereas your budget dictates the actual volume of clicks or actions/sales that your website can receive. Starting out with a small budget is always a smart idea while you find your feet with PPC, and while you work out which ads convert, which keywords convert, and which you need to remove from your campaign.
It's amazing how many people I talk to who run vastly profitable campaigns that are impeded by a stupidly low budget. If you have a profitable PPC campaign then you have to scale it – you have to scale it effectively, quickly, and obviously profitably. So if you're running PPC campaigns that turn a nice profit for your business, but those PPC campaigns often run out of budget before the end of the day – now's the time to crank that budget right up. It's absolute madness to have a profitable PPC campaign restricted by your budget.
Review "Search Terms" in the Keywords tab
If you're only bidding on exact match keywords then you don't need to worry too much about this (but ideally you shouldn't be bidding on just exact match keywords!)
If you're bidding on phrase or broad match keywords, then this tab will be a budget-saver for you. In your AdWords account look for the Keywords tab – then select the Details option on the bottom. You'll then see the option of Search Terms. These are the specific search queries that people have entered into Google to trigger your ads. Cool, right?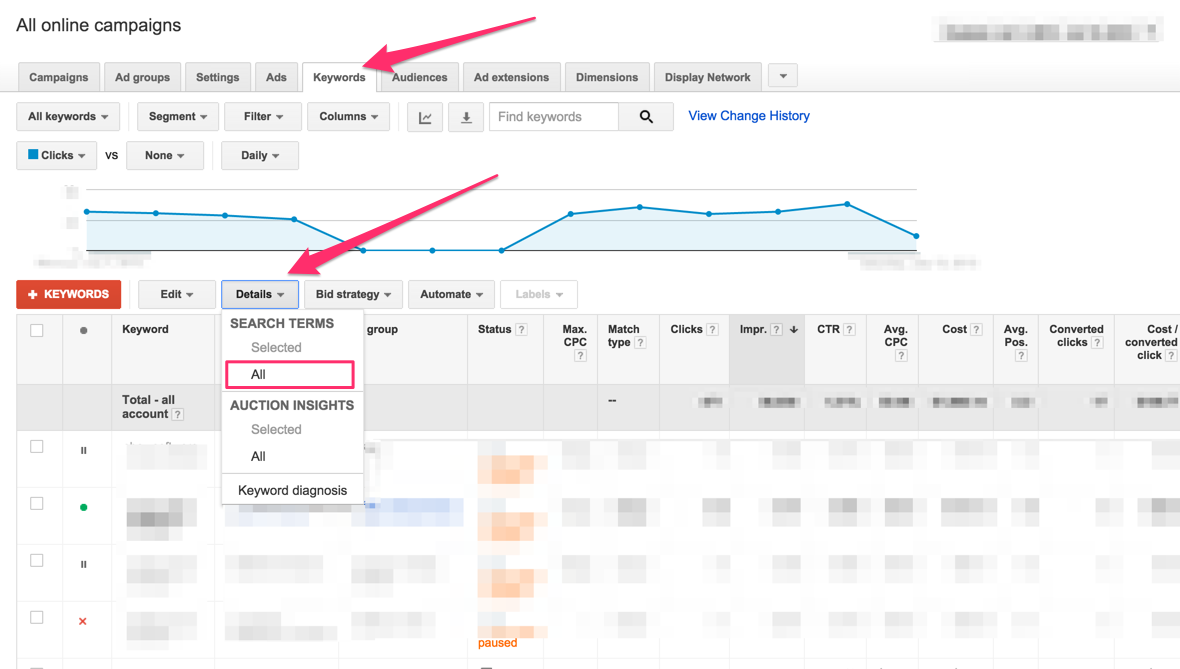 I make a point of looking through this list on a monthly basis (more frequently when campaigns have just been set up) to weed out keywords that aren't converting, or keywords that won't convert. For example, I found a lot of people were finding my website after searching for "free nail polish" or "nail polish free in uk". Obviously we're a business, and we don't give out nail polish for free, so this traffic is irrelevant and highly unlikely to convert. I put the word "free" on my negative keyword list and immediately cut down on around 10 junk clicks each day – saving my budget.
I also discovered that my ads were being clicked a lot for searches like "wholesale nail polish". We only sell nail polish on a B2C basis for a variety of reasons, we don't wholesale it – and we couldn't even if we wanted to. Anyone who's looking for wholesale nail polish will find my website irrelevant, so I've added the word "wholesale" to my negative keyword list, too.
It's essential that you pay attention to the search terms people are using to find your website – you can cut an awful lot of money off your monthly spend by eradicating "junk" traffic clicking through to your site from irrelevant searches.
In the past I've heard people try to justify irrelevant traffic in a number of ways: "Oh well, the clicks are only relatively cheap!" or "Well there's a chance the visitor might convert". My train of thought is mighty different, however, and there's never an excuse for buying traffic that stands a large chance of not converting. It's silly, and it's a total waste of money that could be spent on better, profitable keywords.
Make use of day parting features
Certain times of the day will see more conversions than others. The simplest analogy I can make is that during the day while at work, people are far less likely to draw out their credit card and make a purchase right under the nose of their boss (when they should be doing work…)
In comparison, while people are lounging around in front of the TV at home with a big glass of wine, they're far more likely to whip out their credit card and buy something from your website. A largely underexploited area of PPC optimization comes in day parting.
AdWords and Bing Ads allow you to tweak bids at different times of the day. For example you may find that conversions are particularly forthcoming on a Monday evening between the hours of 8 and 10pm. If that's the case, you can make a bid adjustment, ensuring your ads appear higher during this time period – making it more likely that potential buyers will click on your ad. You may find that conversions are particularly slow on a Friday morning between 10 and 11am. You can modify your bids between these hours to lower how much you spend on ad clicks – there's no point paying money for clicks that simply don't convert! At some times of the day, it might be better just to have your ads turned off.
Day parting is one of many ways in which you can manipulate your PPC ads to ensure that ads are visible during times of high conversion rates – while minimising visibility during those slower times. It certainly makes sense to bid more when there's a chance to make more sales – while bidding less when sales are harder to come by.
A few final words…
Paid clicks aren't cheap and there's always a temptation to hit "pause" on your PPC campaigns if they're not going quite as well as you'd hoped – especially in January when money is tight. By taking my advice and reviewing these PPC opportunities, you can maximize your click-through rates, conversion rates and of course your overall advertising ROI. Don't rest on your laurels after a busy Christmas, be proactive in further improving your ecommerce business!