Unlike pre-internet days where everyone watched the same 10 channels on TV and read the same newspapers, people have access to hundreds of channels across multiple platforms. Between social media campaigns with popular influencers and display ads that pop up everywhere on the web, it's no wonder customers are distracted online. It's harder than ever to grab their attention and convince them to buy from you.
In order to grow your ecommerce business today, you have to find new and innovative ways to get noticed.
This is where visual search comes in. With a search engine like Pinterest that has grown to 250 million active monthly users in nine short years, we can see that people are drawn to visual search. People can see and experience products digitally before they buy.
If you take the benefits of visual search that attract people to sites like Pinterest—for example, shareable visual content and personalized recommendations—and apply them to ecommerce, you can attract more shoppers to your online store despite all of the distractions around them.
Here's how to use visual search to grow your ecommerce business.

Get your customers involved
Compared to customers from 10, 15, 20 years ago who shopped at the same stores within a small radius, customers today are a different breed. For one, customers today have access to countless channels to help them research their options before they buy.
One channel that customers use to learn about products they're interested in is other customers. 55% of customers rely on user-generated content to make decisions because they trust it more than other types of marketing. Anything from reviews to referrals will answer customers' questions, confirm whether products deliver on the promised value, and highlight whether current customers are satisfied with their purchase.
When it comes to visual search for ecommerce, help customers find the information they need by encouraging current customers to share about their experience on social media and create campaigns on your website that support this.
Fitbit uses social media to show:
How current customers use their products
The difference the fitness tracker has made in customers' wellness journeys.
For example, on Instagram, Fitbit uses Stories Highlights—archived Stories that you can pin to your homepage—to share user-generated content (UGC). One particular Stories Highlight, called #MyReasonls, features users explaining their fitness goals for the year and how they're using Fitbit to help them meet these goals: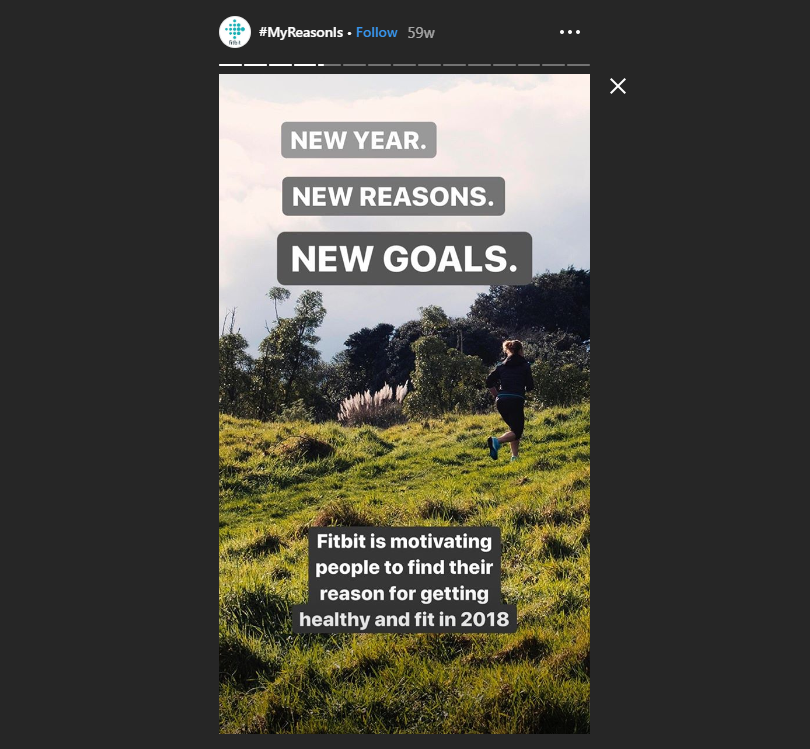 Fitbit also features these customers on their website on a page dedicated to customer success stories: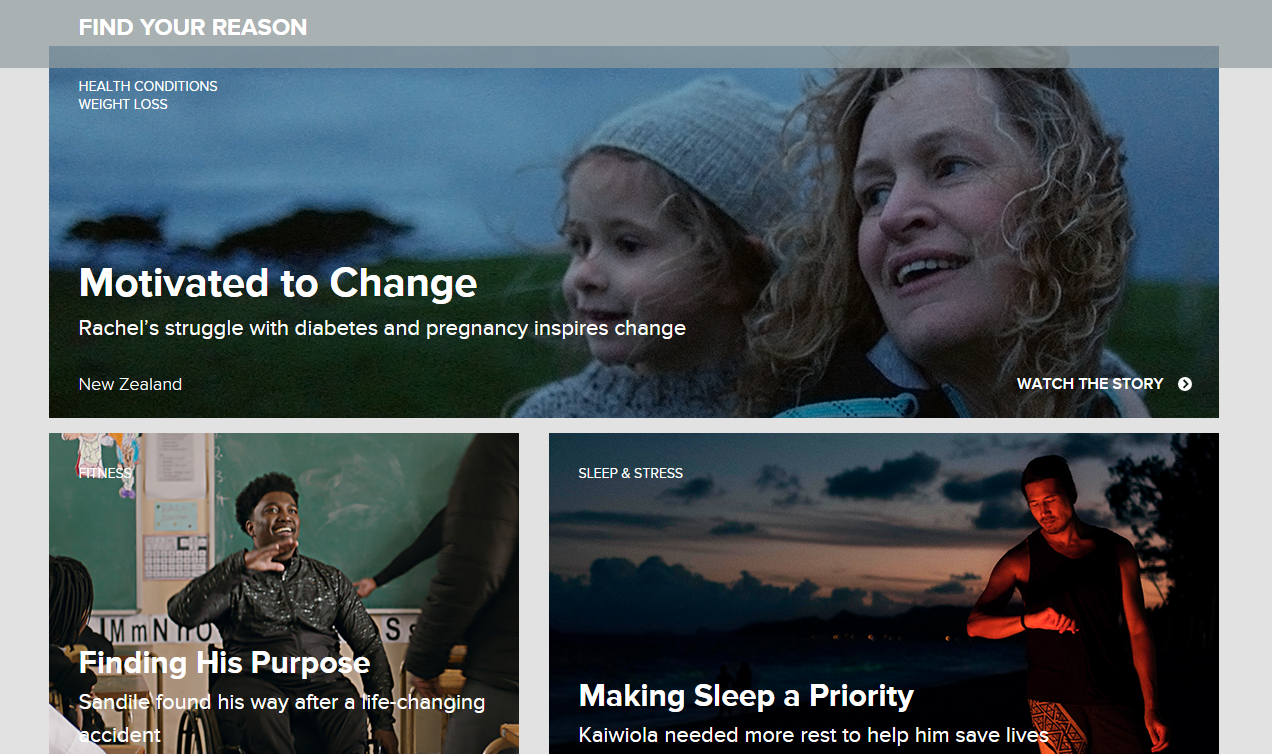 There are also videos of customers talking about their fitness and health goals, images of them using their Fitbit of choice in their day-to-day lives, and a more in-depth written interview about each featured user's healthy choices. At the bottom of each customer feature is a call to action (CTA) to purchase the Fitbit model shown in the customer interview.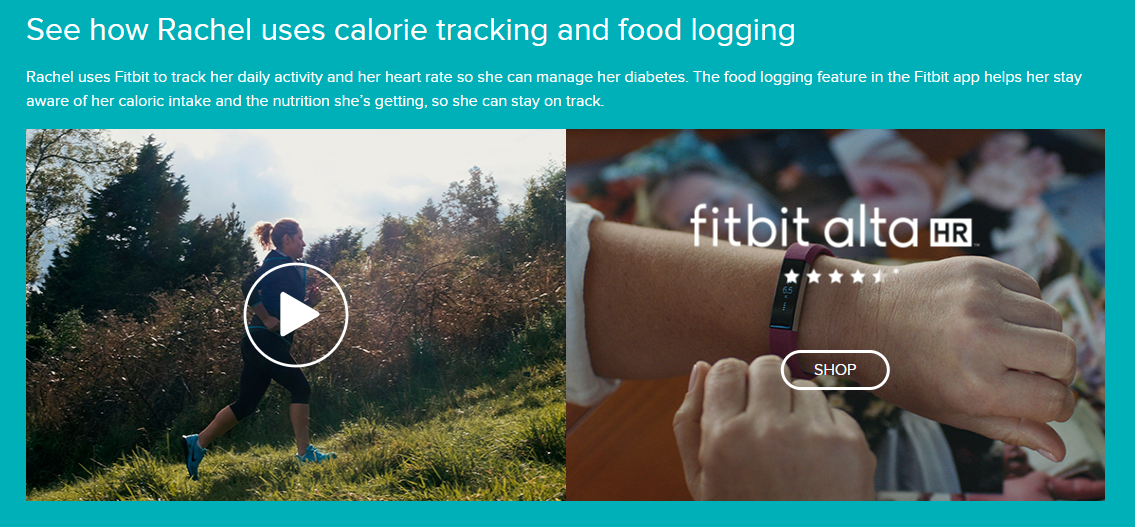 Your current customers are also your advocates—they've used your products and experienced the promised value. You've established trust with them, so use their loyalty and willingness to share their experience to help potential customers make their buying decision quickly. Like Fitbit, create a campaign across multiple channels that highlights customers using your products and sharing about their unique experience.
Personalize search content
Visual search in ecommerce is the first step potential customers take in their journey to buying something. Shoppers spend time browsing your product pages and categories, reading product descriptions, and comparing prices. Use this stage in the buying cycle to encourage shoppers to stay on your site longer by personalizing their search.
For example, show product recommendations based on what's been searched for recently or show a search history. This visual search reminder creates a sort of web for customers to explore and potentially add more to their cart.
Ecommerce giant Amazon uses both of these tactics to guide shoppers to make a purchase decision. When a shopper returns to the homepage, they're greeted with a summary of their previous searches and links to pages they've visited the most:
Further down on the homepage are product recommendations, similar products, and products related to recent views: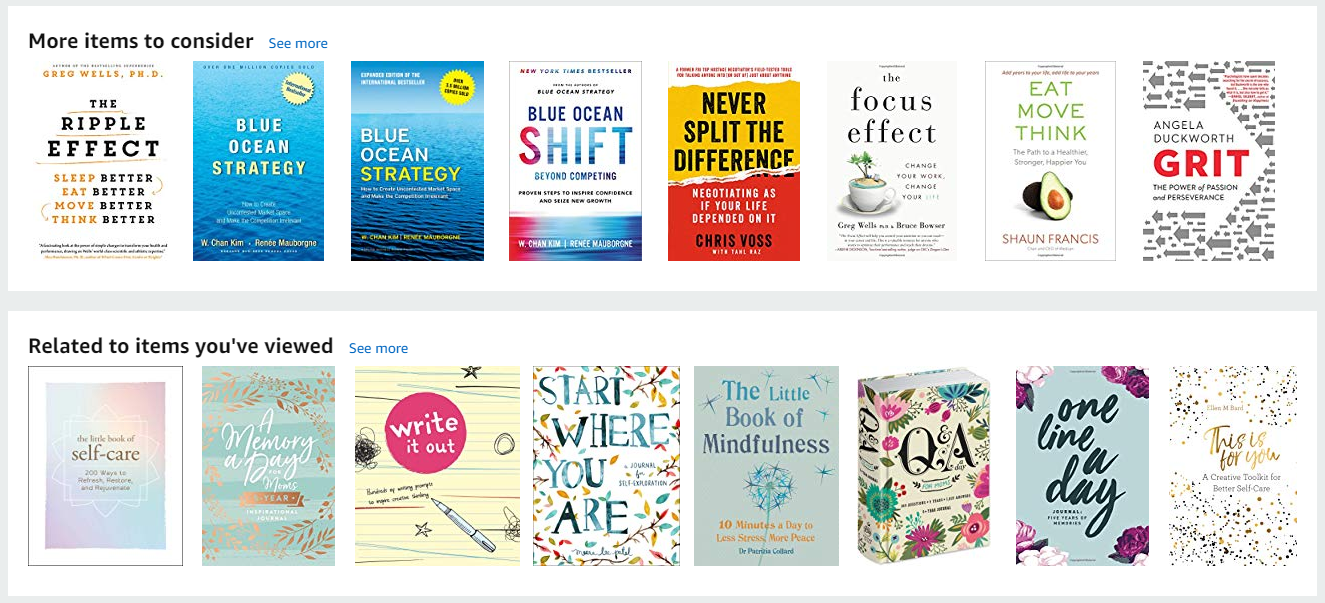 Instead of shoppers starting a brand new search each time they visit your website, they're given a visual starting point based on their previous searches. Keep in mind 88% of shoppers spend time researching online, so chances are they'll come back to your website more than once before they buy something. Use visual search within your ecommerce store to make it easy for shoppers to continue their research.
Plus, as shoppers search, update their personalized recommendations. For example, the user above is interested in business and self-care books. If they start looking at electronics and other tech gadgets, the recommendations should also change so that it's easy for the shopper to find similar products and keep track of what they've already searched for.

Consider the customer experience
From free shipping to real-time delivery tracking, ecommerce is constantly evolving to make it easier and more attractive for people to shop online. Ecommerce retailers want to create a positive customer experience to make their online store more attractive and encourage shoppers to keep coming back.
Use visual search as a way to further enhance the shopping experience. Give users the option to create their own looks; with the help of visual search tools, incorporate video features of new products in use, and more. Make your site interactive and informative so that customers can establish an emotional attachment to your brand and make their purchase decisions quicker.
Uniqlo, the Japanese fashion brand, includes as much information as possible on its product pages without overwhelming shoppers. Its product pages aren't text heavy but instead have a visual appeal that makes it easy for shoppers to explore each product in depth: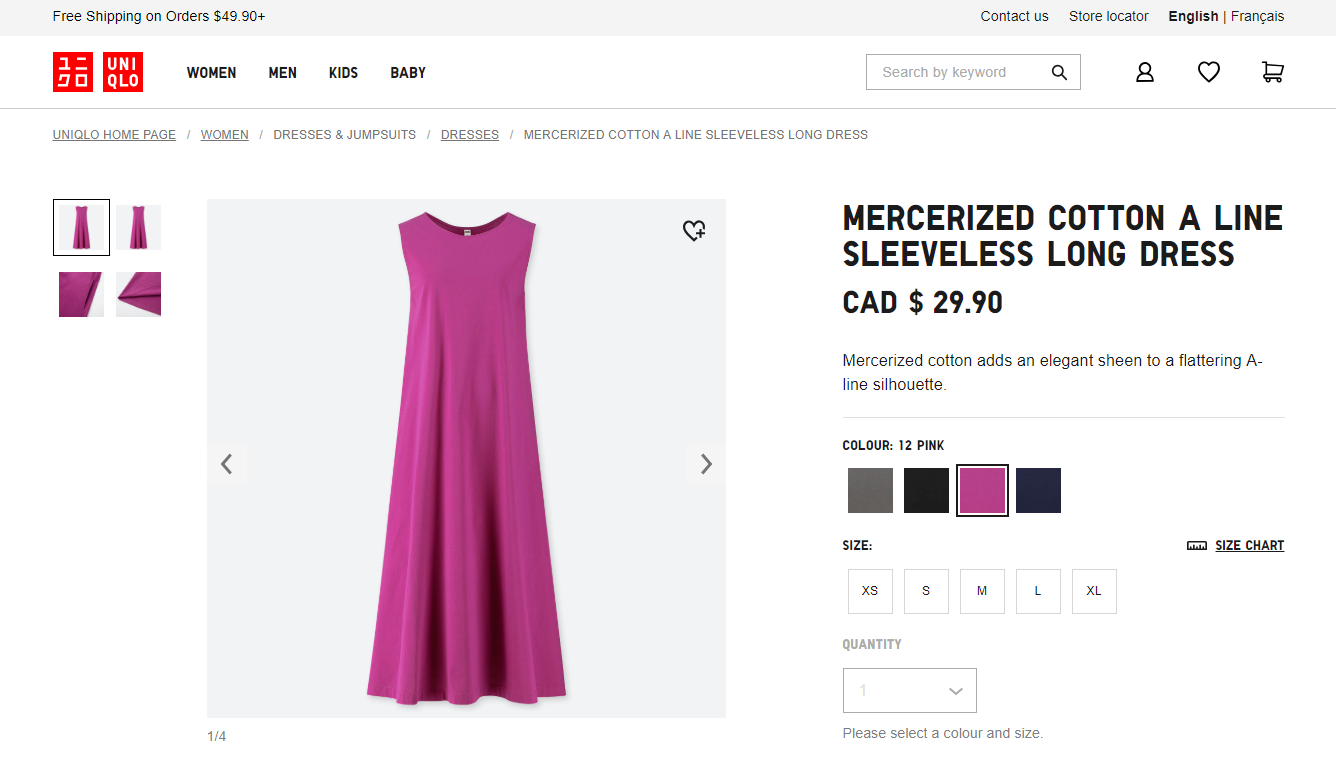 At the top of the page, shoppers are reminded that shipping is free if they qualify and have access to links to find a brick-and-mortar store if they want to take their research offline.
Each product page also includes:
Multiple high-def images of the product to replicate the sense of shoppers turning a product around in their hands to examine and learn more about it.
Color and size options to make it easy for shoppers to compare different versions of the same product.
A size chart for apparel to help shoppers find their size.
Beneath this section, there's an accordion list that includes more information about the product, the materials used, and the return policy. Shoppers can also add each item to their cart, save it to their wish list for later, or find a store.

You'll also notice that at the bottom of this product page are links to Uniqlo's social media accounts. Shoppers can click the icons to find out more about the company, read customer reviews, and find special offers.
Combined, all of this information works to keep shoppers on the page longer by providing them with the most relevant information. Talk to your customers, listen to the types of questions they ask or the feedback they leave, and look at how they search your site to figure out what types of information is most relevant to them.
Then incorporate these features into your product pages to increase the amount of time shoppers spend on your site and increase the chances of them adding products to their cart.
Making visual search in Ecommerce work for you
The majority of people are visual learners. It's easier for them to understand and learn from images than from text-heavy websites. Use this insight to find new ways to cater to your audiences' preference for visuals and track how sales improve. The goal of this approach is to make it easier for people to shop and move forward through their buying journey.
The less friction there is in the consideration and purchase stages of the journey—for example, access to UGC, product recommendations, and image-heavy product pages—the better the chances of shoppers buying. This in turn helps you grow your customer base and revenue.